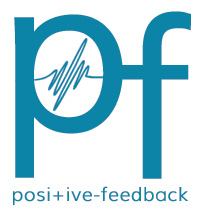 You are reading the older HTML site
Positive Feedback ISSUE 52
november/december 2010
Notes of an Amateur: Timothy McAllister, saxophone; Brahms' Fourth.
by Bob Neill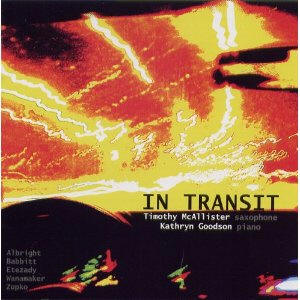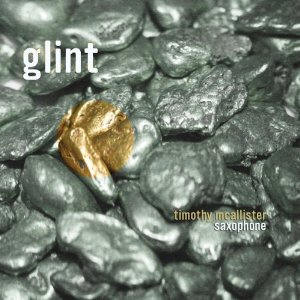 In Transit, Timothy McAllister, saxophone; Kathryn Goodson, piano. Innova 652.
Glint, Timothy McAllister, saxophone; Robert Spring, clarinet; Lucia Unrau, piano. Innova 764.
For most of us, the saxophone is a jazz instrument, arguably the principal jazz instrument, with apologies to the trumpet, piano, vibraphone, clarinet, acoustic bass, and drums. There is an extensive classical repertoire for the saxophone (soloist McAllister has premiered over seventy such works himself); but most of us have not heard it. To hear a sax seriously associated with the classical idiom takes a period of adjustment; but based on my experience of these two releases by McAllister, it can be done more easily than we'd think. Once into William Albright's Sonata for Alto Saxophone and Piano (1984), feature work on the In Transit CD, I was pretty well over the fence and into the yard.
This is the first time I've really listened to the instrument rather than having it come after me, as it does with Coltrane, Ornette, and Jackie McClean. This is the first time I've heard its relation to the flute, for example. To hear it as cousin to the clarinet, oboe, and bassoon is easier. Then I began to hear the distinctive softness it opposes to the oboe's hardness - it can take on both single and double reed voices. And finally, I found its defining warmth: even at full screech and squawk, there is a breathy warm underbelly that is all its own. McAllister can do all of the sax's voices compellingly, as the composers require, but never strays far from his instrument's core identity. He seems equally at home on soprano, alto, and tenor.
All of the music on these two discs has been composed since 1984, all of it is contemporary modernist in style, and none of it sounds like jazz. Very little of it even makes us think much about jazz, though there are passages here and there (Zupko's In Transit, the title work) where our knowledge and experience of both the lyric and more extroverted sides of jazz invite us to hear traces of shared terrain. The Third Stream was not entirely a wrong idea. What most of this music sounds like is a compelling traversal of contemporary classical music terrain by a fine woodwind, accompanied by a deeply committed piano. A great deal of the music on Glint, the newer of the two CD's, is for unaccompanied saxophone, giving the set a more dramatic and freer form. The two albums complement each other perfectly.
The chief impression I've taken away from these two CD's is how surprisingly wonderful and versatile is the saxophone. Its identity as a classical music instrument is what someone who had never heard jazz would expect. I realize that I am slighting the music by focusing so heavily on the instrument, but the truth is, most of the music here seems to be as much about the saxophone as it is about itself. The composers seem to be as drawn to its largely unexplored sonic and musical possibilities as we are. I hope some composers will hear the music on these recordings and consider commissioning some longer works with more extensive musical interests of their own. That said, these recordings provide a wonderful and unique listening experience.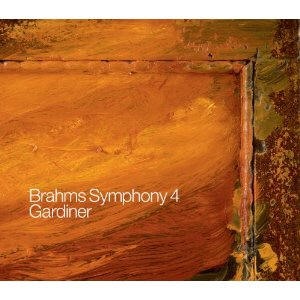 Brahms, Symphony 4. Orchestre Révolutionnaire et Romantique. John Eliot Gardiner. Soli Deus Gloria. SDG 705.
Part of what the early music movement is about is letting us hear works in relation to the music that came before—to hear them in their own context. Modern performances of Brahms 'hear' him mainly in relation to what came after him, late romanticism. He works very well that way, many will say best. We all have a sense of how this music is supposed to sound; but it can be fascinating to hear new things we are not used to hearing. What the early music movement performances of Brahms, primarily by Roger Norrington and John Eliot Gardiner, have let us hear is essentially how Brahms sounds coming to him as his contemporaries did. And presumably how he came to his music himself. Even in these terms, he is already a mile or more closer to the future than Schubert and Schumann.
In this recording of Brahms' Fourth Symphony, set among short works by Beethoven, Bach Gabrielli, Schutz, and two other Brahms works, the composer is clearer, less lush, less blended, less weighty, faster paced, and more articulate than we are accustomed to hearing him from Furtwangler, Szell, Walter, and the like. If you've heard Gardiner's versions of the composer's first three symphonies, you will know what to expect here. Lyric passages, especially the gorgeous adagio section of the second movement, make their own cases, without the assistance of vibrato and the richness and weight of modern instruments. As a result, they are more exquisite, less passionate. It feels as if there is more mind in them, less body. When low strings are essential to a passage, they sing more, purr and rumble less. There is less weight to the scherzo but more pace. It is more dance-like, less mighty. This movement may drive modern romantic Brahmsians crazy. The fourth movement also has more pace than modern conductors give it. It is less ponderous and weighty which it has to be coming after the dance-like scherzo.
For some perspective, I broke out my 1959 vinyl recordings of the Fourth by Furtwangler. Here the music breathes deeply and deliberately, swells and recedes. Everything is heavier, slower, quieter, darker. There is a sense of the composer wrestling with powerful contending forces, but also an overall hush to the proceedings as if great energy lies deep beneath what we are hearing. This is the antithesis of the Gardiner performance: Wagner is not far away, Richard Strauss and Mahler are coming.
Music scholar Richard Taruskin famously found Roger Norrington's early music interpretation of Beethoven's Ninth fascinating but in the end felt it was "trivialized" by the lightness and briskness of the sound and the quickened pace. Those who want grandeur and scale and profundity in their Brahms may well make the same criticism of Gardiner's view of him. To my ears, Gardiner does not trivialize Brahms, he refines and lightens him. And he does so with sufficient eloquence to keep traditional conductors of him from having the last word.
I so much wanted to hear Gardiner's Fourth that I spent very little time on the other works on the album. I apologize for not evaluating the musical context that Gardiner has provided here, but leave that to you.
System used for this audition: Audio Note CDT3 transport, Blue Circle BC501ob dac, BC FtTH integrated amplifier. Jean Marie Reynaud Offrande Supreme, V2 loudspeakers. With Blue Circle BC6000 line conditioner. Audio Note Pallas and Sootto interconnects; Audio Note Lexus speaker cables.
Bob Neill, in addition to being an occasional equipment and regular music reviewer for Positive- Feedback Online, is also proprietor of Amherst Audio in Amherst, Massachusetts, which sells equipment from Audio Note, Blue Circle, and JM Reynaud, among others.