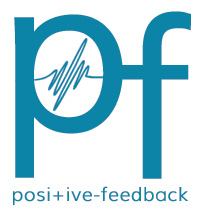 You are reading the older HTML site
Positive Feedback ISSUE 52
november/december 2010
The 7th Annual Positive Feedback Online's Writers' Choice Awards - for 2010
Beginning at the end of 2003, PFO established its first annual awards for fine audio. The Brutus Award was established for the best that Dave Clark and I had heard in our own listening rooms during that year. You can think of it as our equivalent of an "Editors' Choice" award.
The Gizmo Award, on the other hand, was established in memory of my very good audio friend, Harvey "Gizmo" Rosenberg, and is given by me to the most conspicuous audiomaniac(s) of the year. Only one Gizmo is given per year.
The following is an opportunity for our editors and writers to recognize superior merit in the audio arts though their "Writers' Choice Awards". Our writers and reviewers have been given broad leeway to cite excellence in fine audio wherever they find it: products, people, recordings, events, groups, etc., so that our readers can be better informed.
It is our hope that you will find the PFO Writers' Choice Awards to be helpful to you in your audio journey.
All the best,
David W. Robinson, Editor-in-Chief
MIT Oracle MA-X Phono cable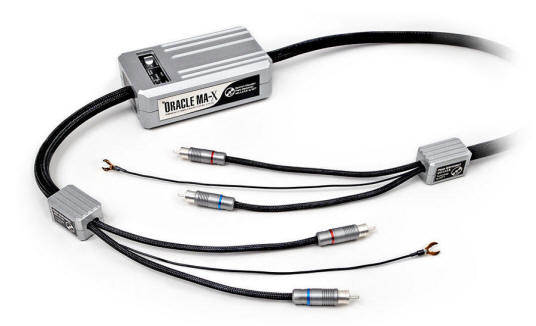 It's time for true audio confessions: I despise all audio cables. Unfortunately for me (and all audiophiles), cables are a necessary evil! And until the arrival of MIT's newest MA-X phono cable, choosing between audio cables was an exercise in picking the lesser of two evils. Not any more. MIT's MA-X phono cable is far and away, the absolute finest wire to sit between my tonearm and phono section. For the first time in my experience, I'm listening to a cable without any major sonic compromises.
The latest MIT MA-X phono cable incorporates the company's highly successful adjustable multi-pole technology (68 poles of articulation) as well as adjustable cartridge impedance matching values of 47 k, 1000 ohms, 100 ohms. (For a more succinct and simple definition of the multipole technology and "articulation" go to www.mitcables.com/reference-library/multipole-technology.html.) Best of all, these cable's flexibility doesn't place any strain on your equipment's RCA connectors!
And it's the MA-Xs neutrality and lack of overt coloration that sets them apart from their competition. As HP first observed many years ago when listening the original Goldmund Reference turntable (and is applicable in this instance), the MIT phono cable is the first wire that allows one to hear what's really going on in the table/cartridge/tonearm realm. The MA-X phono cables really preserves the most delicate information on the LP, as well as excelling at both ends of the frequency spectrum, dynamics, quietness, imaging, low level resolution and sense of space. $7999 for 1 meter pair.
Soundsmith "Counter Intuitive"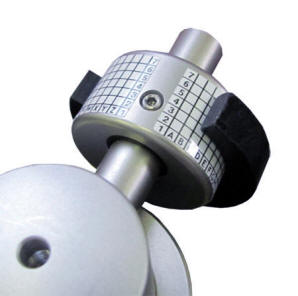 Confession number two. I've had an extended love-hate relationship with tonearms from companies such as the Wilson-Benesch or VPI where the counterweight is used to set both azimuth and VTF. The problem with this arrangement is simple. It's near impossible to affect changes in azimuth without disturbing VTF or vice versa.
Luckily this problem didn't escape the attention of Peter Lederman of Soundsmith. Peters's ever-so elegant solution to the problem was to design a lightweight ring that slips over the counterweight and allows for extra fine azimuth and VTF adjustments (0.2 to 0.3 gms). The "Counter Intuitive's" instructions are clearly written and there's no assembly required other than trimming the azimuth/VTF grid tape to fit the size of the appropriate VPI tonearm's counterweight. An added bonus is that Soundsmith kit comes two grid tapes that allow each "Counter Intuitive" to be swapped to over to a second VPI arm. $49.95.
conrad-johnson ART Amplifier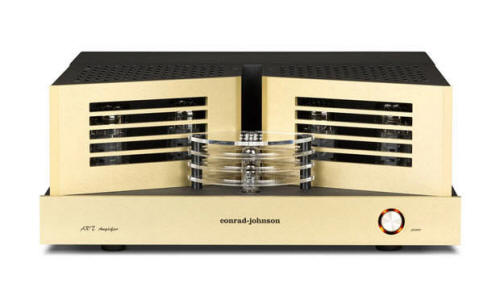 Third and final confession. Bill Conrad and Lew Johnson's new limited edition ART amplifier is my first foray into the wonderful world of high powered tube amplifiers and they didn't disappoint. When fully broken in, these 275 wpc monoblock behemoths using 8-6550 output tubes per channel (yes, they double nicely as space heaters) possess the silky smooth midrange and dimensionality of the best triode amplifiers blended with the balls, authority, control and frequency extension of the best pentode push-pull amplifiers. Then again, once these amplifiers are fully broken in, the ART's effortless quality, a trait missing with lower powered amplifiers, really takes center stage.
A word of warning to the wise or impatient. These amplifiers take every hour this side of 300 hrs—and arguable even a touch more—to thoroughly break-in. Despite having arrived on the doorstep with about 100 hrs of play-in under their belt, the ART's sounded compressed, dark and boring. In fact, I thought the amplifiers were defective (as we all know, patience isn't necessarily an audiophile virtue and those big Teflon caps really do try one's patience). But given another 200 or so hours of playing, these big monsters really started to bloom and strut their stuff.
According to Conrad, the major circuit change in the ART was the elimination of tube paralleled sections and switching to the Russian 6N30P "Supertube" and Mullard 8080 tubes. These changes allowed designers Conrad and Johnson to lower the input stage's impedance, and improving the amplifier's frequency response and linearity. And it's at those frequency extremes where Bill Conrad and Lew Johnson have made the biggest strides with both the ART amplifier and GAT preamplifier. $33,000.
Von Schweikert VR4 MKIII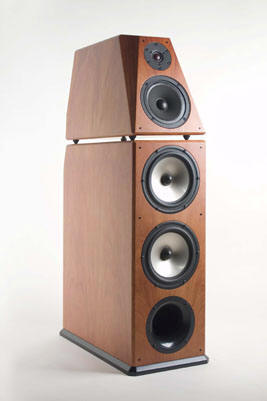 Simply put the VR-4SR MkIII pulls you into the performance by delivering the music in a way that does not draw attention to the speaker itself but rather faithfully reproduces, in a neutral way, only what was in the source material and anything added by the electronics. The speaker is an elegant delivery vessel for the music. Nothing added, nothing taken away. That is the mark of a great speaker. The VR4 MKIII is 95% of the MKV Anniversary for about 65% the price making it one of the best values in 2010 also. $14,000
Reviewed in Issue 49
Ayon CD-07 CD Player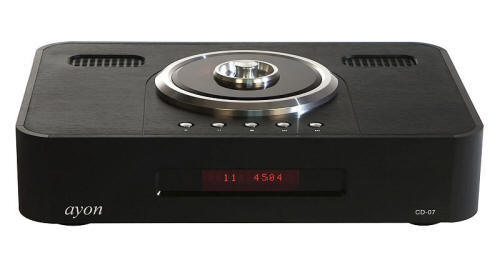 Overall the CD-07 represents a great value and a remarkable feat at the price. You get a top flight CD transport and player with the added bonus of the iPod capability. If you do not care to have the convenience of the iPod deck then look right to the CD2 from Ayon. It is a world class CD player and a steal for the money. But for those who truly believe there is a future in iPods and their storage capacity combined with their ease of use, then the CD-07 is the obvious alternative to a standard CD player. $2999
Reviewed in Issue 51
PMC FB1i Loudspeaker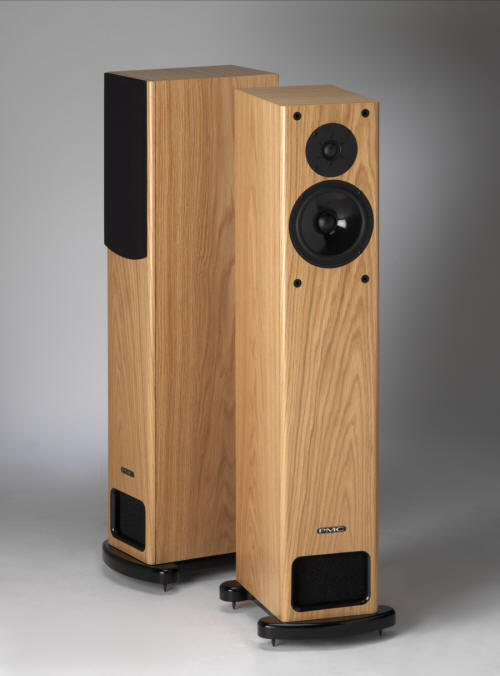 Taking a design that was already superlative and making it stellar- that is what PMC has accomplished with the current version of their long-running transmission design two-way floorstander. Incredible imaging from the fantastic new tweeter, and incredible bass extension for its size and price, combine to make this a key value-for-$ product in high-end audio. $4849 per pair
Reviewed in Issue 48
Nola Boxer Loudspeaker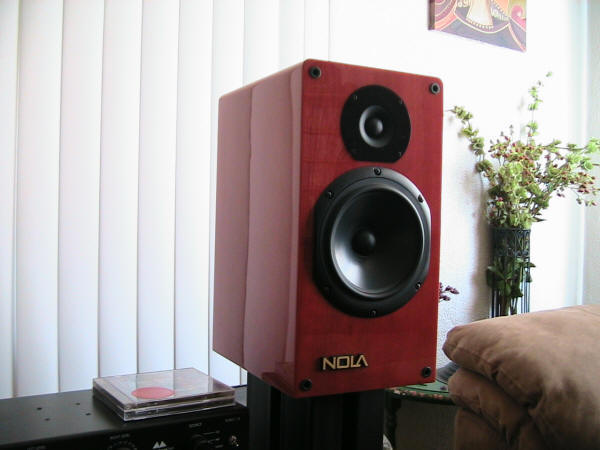 It's a golden era right now for loudspeakers- you can get a far higher quality product for less money than you could a decade ago. And there's no one right way to skin a cat. Designer Carl Marchisotto is known for his open driver designs—fantastic and pricey models. Credit to him then for tackling a smaller two-way stand-mounted traditional box design, and making it sound incredibly good! It took me exactly two minutes of listening at Lyric Hi-Fi in New York to know that these are something very special and an incredible value. This was later confirmed for me when I then read Michael Mercer's review in Issue 46, and Dean Seislove's in Issue 49. I bought a pair for my son for his college graduation—I wish I had them, that's how good they are. $1499 per pair
Reviewed in Issue 46 and Issue 49
Miles Davis, Bitches Brew 40th Anniversary Box Set (Vinyl). Columbia
The Grateful Dead, The Warner Bros Studio Albums (Vinyl). Warner Bros.
We all know vinyl is a happening thing these days. X-mas is coming up folks. Self-gift yourself with these two amazing box-sets. Both sound outstanding, and have wonderful extra materials galore. It's the analog re-masterings that put these at the top of the class. I agree with others that 'Bitches Brew' has never sounded better—literally better than the original vinyl release And the Dead set is also outstanding, particularly for their most creative album—Anthem of the Sun. Far out!
Bitches Brew - $124.99
Grateful Dead - $134.98
I know it's usually the gear that gets the annual PFO awards, but since I'm a music lover first and a gear head second, I feel it's my duty to award those folks who work so diligently and passionately (and tirelessly!) to bring us the wonderful recordings we get to enjoy on our hi-fis. And while I've listened to many fine albums over the past year, I found myself, over and over again, choosing to spend my time with albums from two labels in particular whenever I wanted maximum musical and sonic pleasure. So on that note, here's my two cents on my two PFO awards picks.
Speakers Corner Records Germany
My first exposure to a Speakers Corner release was as a starving college student: I'd managed to save enough of my student loan money to buy the Ella Fitzgerald George and Ira Gershwin Songbooks boxed set, and to this day it remains one of my most cherished records. Little did I know that Speakers Corner had been making excellent records long before that (and, as it turns out, longer than anyone else in the vinyl reissue game). Since then, they've reissued marquee records from all kinds of legendary labels, including the Mercury Starker/Sebok Brahms Sonatas I wrote about in Issue 46 and the Impulse Roy Haynes in Issue 52. All of my vinyl from these fine folks have been dead-flat, supremely quiet, and immaculately pressed, and even the included catalogs are printed on top quality paper. So who says you can't have great music and audiophile sound on one record? Whoever it was obviously never listened to a Speakers Corner release: With every one of their LPs, I know I'm pretty much guaranteed both. Thank you Speakers Corner for all the years of musical bliss!
Pentatone Music
Love new classical music and SACD? Me too, but unfortunately the major labels have completely abandoned the format, even as classical aficionados continue to actively seek out SACD discs. Thank goodness then for Pentatone Music, a small, classical music label whose fine recordings are all multi-channel hybrid SACD releases featuring talented musicians both well known (Julia Fischer) and still emerging (Arabella Steinbacher). The Julia Fischer catalog alone would be enough to merit an award, but I've found the lower-profile releases to be just as rewarding (such as the Storioni Trio discs I reviewed way back in issue 37). And if that weren't enough, Pentatone has also been reviving older quadraphonic, Philips Classics recordings from the '70s by polishing them up for release as Re-mastered Quadro Recordings (or "RQR" for short), and they've been a pleasant surprise thus far, full of natural tone and realistic (i.e. not overblown) imaging perspectives (reviews forthcoming). If you love classical music and haven't given up on SACD, check out what Pentatone has to offer: Time and time again, they've proven to me that, yes, there are still quality-focused labels out there who care about great music and sound. Viva la Pentatone Music and SACD!
Kubala-Sosna Elation and Genesis loudspeaker cables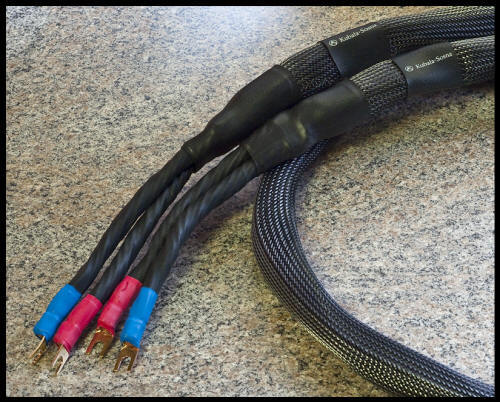 Two companies earn my Writer's Choice Award for outstanding speaker cables. Kubala-Sosna's Elation speaker cables are extremely rugged, thoroughly open and, most of all, brilliantly faithful to sonic sources. They extend the K-S cable line's pedigree as the most musical as well as sonically accurate cables in the audio market. They literally define "an absolute standard" at present for truthful and seductive sound delivery. Gary Koh's Genesis Absolute Fidelity speaker cables are astonishingly transparent and thoroughly "honest" sonically. They impose no footprint of any sort on music and its sonic complexity. Less expensive than the Elations, they approach that cable's state-of-the-art sonic quality.
Kubala-Sosna Elation speaker cables: $6000 for the first meter - Reviewed in Issue 47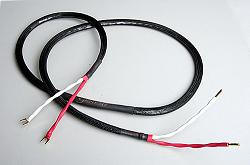 Genesis Loudspeaker cables: $3000/2 meter pair ($1200/additional meter)
High Current Loudspeaker cables: $5,600/2 meter pair ($2300/extra meter)
NuForce CDP-8
NuForce is a small northern California audio research and music product development team that continues to emerge with a series of excellent audio products at essentially "bargain" prices. Their new compact disc player, the CDP-8 (at $1450), has an uncanny ability to transform the much maligned and often truly underwhelming audio quality of 16/44.1 playback by lifting it to the seductive majesty of 24/96 DVD-A quality. The NuForce guys are clearly proud of their creation but do not designate technical specifics responsible for such rich tonal clarity and dynamic vividness. With equal performance savvy, the NuForce "special edition" of the OPPO BDP-83 Blu-Ray universal disc player (at $1295) makes a stunning addition to any home theatre system while, simultaneously, serving as a superior SACD, CD and DVD-Audio disc player. These two units deserve my PFO Writer's Choice recognition for their genuine excellence (and virtual similarity) of performance as well as their light touch on audiophile budgets.
Tascam, Kawero, and Audience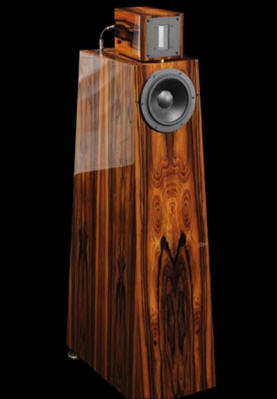 Three ultra high-end audio companies emerge in a tie for crafting this writer's Audio Product of the Year. Tascam's magnificently portable "recording studio in a box," their eight-channel HS-P82 high-rez masterpiece, takes my ultimate year end kudos for audio recording because it successfully (and with ease of use) fulfills my longstanding wish for a single unit recording system that can literally record anything, anywhere and anytime—with or without electrical access. A recording engineer who knows how can record a twenty two piece orchestra with eight well-placed microphones. Tascam's HS-P82 gives an experienced, sometimes frustrated audio engineer all the help he needs. This is a product capable of forever transforming live recording.
Alongside the tangible audio karma of such an astonishing device, Kaiser's Kawero speakers are one of the small circle of music reproduction products I trust to accurately, with thorough musicality, deliver the full spectrum and total dynamic as well as harmonic truth of high-resolution recordings. The Kaweros do that in spades with complete transparency. At $65,000/pair, they are by no means inexpensive. However, among speakers at that price and higher, they are bargains of the first magnitude. Their only rivals for utter, unflinching truthfulness in audio reproduction, in my estimation, are a pair of Audience speakers long in gestation and refinement. Audience's behemoth ClairAudient LSA" bi-pole speakers, with no crossover network to "control" or (falsely) "integrate" its thirty two proprietary drivers on each unit, create a dynamic soundstage with jaw-dropping harmonic and tonal accuracy that literally recreates the "you are there" sonic and ambient quality of a well-recorded live event. Like Kawero speakers, LSAs are well over 90dB efficient and extremely effortless and relaxed. In fact both speakers share a wonderful "driver illusion" not unlike the way a Bentley or five-series Mercedes Benz feels when you ride behind the wheel. To mention the Audience LSAs as an "ultimate" product for the year now closing is (without evasion) to invoke the surprising but inevitable top of the heap partnership between the gigantic LSAs and the smallest Audience speaker, the "ClairAudient 2+2" dragon-slayers. Never in my audio lifetime have I experienced such a small and totally modest pair of transducers performs as if they owned the entire Sonic Universe. One must witness their musical and sonic profundity to understand why, alongside two speakers that resemble Joe Louis and Rocky Marciano, these miniature overachievers, the 2+2 power houses, equally deserve my hard to win choice as an ultimate Audio Recording and Reproduction for 2010.
Tascam's HS-P82, $7995
Kawero speakers: $66,000 - Reviewed in Issue 51
Audience ClairAudient 2+2 @ $5000/pr and ClairAudient LSA 16+16 @ $54,000/pr - Reviewed in Issue 44
Ray Samuels F-117 Nighthawk Phono Stage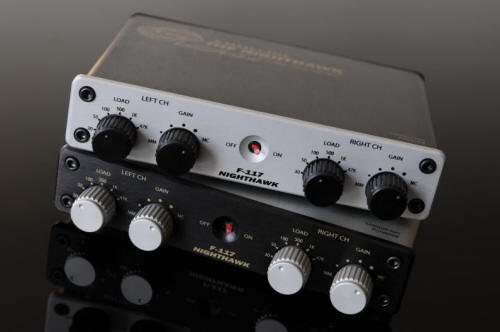 After one listening session with the Ray Samuels F-117 Nighthawk phono stage I was confident he had something very special.
Easy to use, with outstanding build quality using many mil-spec parts, the Nighthawk features a 3-year unlimited transferable warranty, including parts and labor.
The tiny Nighthawk simply soars in most areas of vinyl reproduction and make no mistake, it will compete with phono stages priced much higher. After spending three months with the F-117, I bought the review sample. Outstanding. $795
Reviewed in Issue 51
Cathedral Sound Panels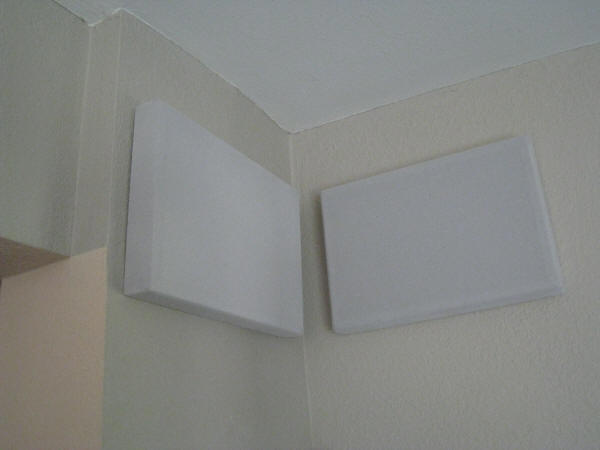 HiFi Tuning Disk Demagnetizer
When it comes to accessories, the folks at Ultra Systems seem to have that corner of the market figured out quite well. Last year I tried out their Tuning Fuses to great effect. This year it was their Cathedral Panels and a trick little item called the Disk Demagnetizer (reviewed in issue 50). So you think spinning disks is passé? But you want to rip them to your PC right? Well do yourself a favor and run any and I mean any optical disk through this device first. If you want the final results to have less of those digital nasties such as hash, haze, edge and a flat sounding soundstage, run those disks through this thing first. If you want your DVD's and Blue Ray's to have richer color, more contrast in black and white, less grain and better depth and dimension, run those disks through this thing first. The bottom line is that this device works in improving the quality of any optical disk that will fit in it. And just for the record, I don't think spinning disks is passé. See below.
In August of last year I bought a Marantz PM-15S1 integrated amplifier and SA15S2 SACD player. What partly prompted this move was that I have been a hair shirt audiophile for too long and wanted some creature comforts in my musical pleasure. Another part of the motivation was that I just wanted a simpler system plain and simple. The PM-15S1 integrated has a built in MM/MC phono section, head phone amplifier and tone controls, yes tone controls which I proudly use on occasion or when the spirit moves me or when a recording is just too bloody awful to listen to un-aided! My SA-15S2 doesn't play DVD-A's, DVD's or Blue Ray's but I don't care. I didn't want an all in one player due to their notoriously slow response time in loading a disk. The reason I am adding these two units to my best of the year is not necessarily for the two Marantz units. It is because I had them both modified by The Upgrade Company. It took me literally two years to decide to finally have this company actually do modifications to my gear. When I first started researching them, I didn't even own the Marantz gear. After reading and reading their website for the umpteenth time, I could have literally sent them any piece of gear from any high end manufacturer under the sun and they could improve the sound of it. I picked the Marantz gear for several reasons. The first reason(s) I have stated above. Secondly the stock units worked well with my speakers. Thirdly I didn't want an expensive bare bones audiophile unit from a small company that would send me back to hair shirt land. Well folks as our esteemed editor, David Robinson have stated in the past, "I don't drive stock". Well, I don't either. I have had modifications done to some of my gear down through the years but never and I mean never have they sounded as fantastic as the modifications done by David Schulte of The Upgrade Company. Qualities such as deep powerful and impactful bass, images that sound as if they were carved out of stone, excellent coherence, accuracy, natural richness, lack of grain, glare, harshness or haze on a level I really haven't experienced before regardless of price. In fact this small paragraph is not enough space to do justice to the level of quality and craftsmanship that has been implemented to my gear by the Upgrade Company so a full review is in order. I have plenty to say about this subject so stay tuned!
Cathedral Sound Panels: $179.95 pair
Reviewed in Issue 50
HiFi Tuning's Disk Demagnetizer: $299 each
Reviewed In Issue 41
The Peachtree Audio iDecco Integrated Amplifier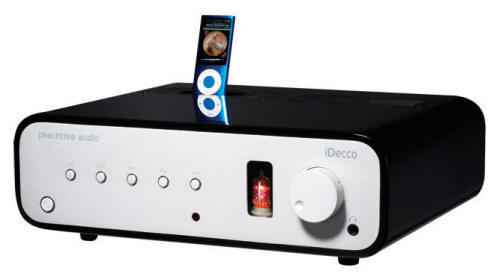 This amp has so many uses at such a ridiculously low price; it should've been hawked by the late infomercial cyclone Billy Mays. "It's an iPod dock extraordinaire! A six star integrated amplifier! A Class A preamp that has no equal, and stand alone DAC to beat the band! It's even a world Class A headphone amplifier! Folks, you would have to be locked in a safe five miles down in the deep blue sea not to see that this amp is the buy of a lifetime!" For slightly less than a thousand bucks, the iDecco delivers an exceptionally fast, immediately appealing sound. The "Pure Digital" iPod Dock" uses its own internal DAC to transform the lowly iPod into a very praiseworthy music source, too. The default choice for any bedroom or second system, and its amazing versatility and excellent sound make it a strong contender for any main system integrated amplifier costing under a grand... and probably double that! $999
Reviewed in Issue 48
The Nola Boxer Loudspeaker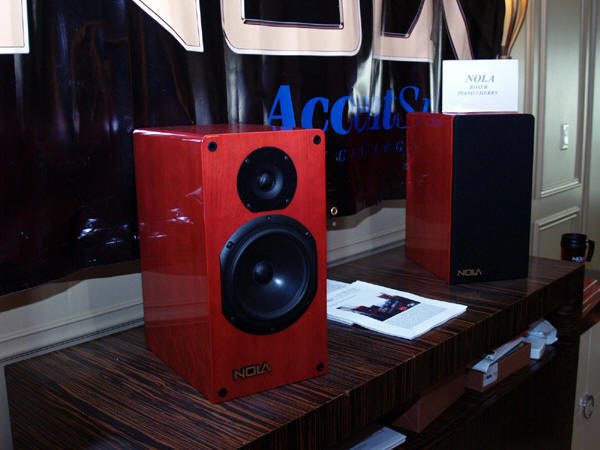 The manufacturer boasts that these 2-way monitors feature a 6 1/2" bass/midrange driver and silk dome tweeter to produce "the best possible mid-range quality." All I know is, these standmounts have delivered marvelously open and airy sound in combination with a variety of amps, cables, and DACs, and have never delivered a harsh or discordant note all year. Even though midrange is stellar, indeed, there is a surprising heft to the low frequencies, as well. Clearly a winner from a highly respected speaker manufacturer, the Nola Boxers give more than little taste of truly high end sound for those of us who can only dream of their premium models. Absolutely beautiful sounding speakers for those who appreciate high quality and subtle grace. $1499
Reviewed in Issue 49
Virtue Audio Sensation M901 Integrated Amplifier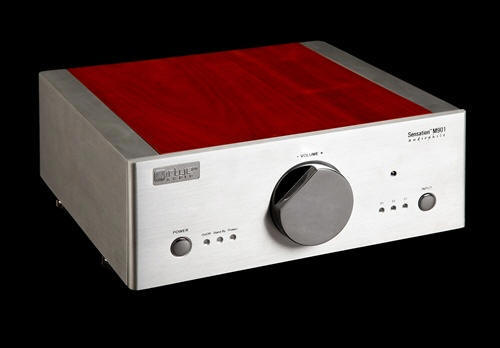 Virtue Audio defiantly aims at making unbelievably fine sounding audio gear at a fraction of the cost of its competitors. Value aside, the M901 produces sound rich in detail, depth, and transparency, and the tube buffer option enables the customer to flip a switch to engage a rich, warm sound as well. For those who loved the Virtue Audio Two (and count me among them), but wished that there was a fully integrated amp with multiple connections and power to spare, the M901 is the answer. Tube rolling and adding the Dodd battery pack increase the price, but the results are simply stunning, and even the most discriminating audiophile will have thoughts of junking their high dollar system to buy more records and enjoy the music as delivered by the M901. $949
Reviewed in Issue 50
PFO limits each writer to three products for its Writer's Choice Awards list. This does not make choosing components an easy task; still, it has to be done. For me these three products stood out in 2010.
Zentara Reference Interconnects and Speaker Cables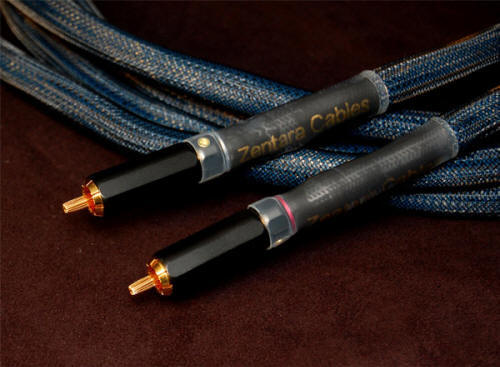 I found the Zentara Reference Cables to be outstanding performers at a price that is actually quite reasonable for a company's best product. I purchased the speaker cables and they are my reference cable for use with my Magneplanar MG1.6s and any other speakers that can be bi-wired. Their ability to get surprisingly tight and dramatic bass from my 1.6s continues to impress me. Their soundstaging—what it is all about for me—is superb.
These are self-effacing cables that let me hear how the other components around them actually sound. 1m Reference Interconnect $800
Reviewed in Issue 49
Wyred 4 Sound STI-500 Integrated Amplifier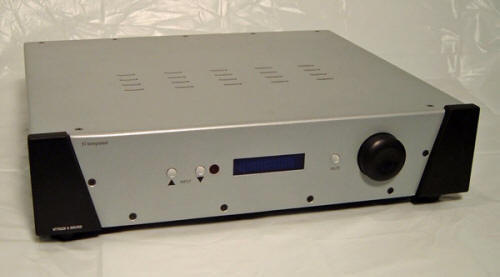 I have been a tube person and, in many respects, I still am. The Class D STI-500 surprised me by offering sound that was as nuanced as I could have asked for from anything tubed with imaging that was as good as I have ever experienced. The STI-500 was also deathly quiet, had a lot of power (250WPC into 8 Ohms/550WPC into 4 Ohms), and only cost $1,999. As a listener, I absolutely fell in love with it.
As a reviewer, the STI-500's ability to offer separate preamp and amplifier sections is an extremely useful feature. Finding a previous volume setting is also simplified thanks to its digital readout, which can be either dimmed or shut off when not wanted. The STI-500 has both balanced and RCA inputs as well as the ability to drive virtually any speaker.
In short, the STI-500 does it all and it does it exceedingly musically. STI-500 $1999
Reviewed in Issue 48
Grant Fidelity huguang Psvane 12AX7-T Tubes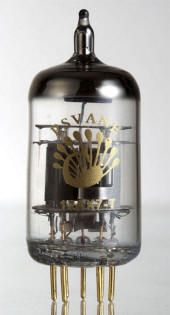 I have finally found tubes for my Dodd Midline tube line stage that have upped its performance level from the very good to the outright exciting. The Psvane tubes are not be fully broken-in as I write this but their treble clarity, midrange richness, and bass impact are already causing me to re-evaluate the capabilities of my all-tube set up (using my Rogue 90 amplifier). This all-tube bass through my MG1.6s is now far closer to what I get from the W4S STI-500 in quality, if not in absolute quantity.
And then there is the silence. No more digging through a dozen Russian tubes to find four quiet enough to use. No more paying through the nose for dubious NOS tubes either. The Psvane 12AX7s are guaranteed for thirty days and retail for only $95 per matched pair.
Reviewed in Issue 51
Von Schweikert Audio Vortex VR-33 Loudspeakers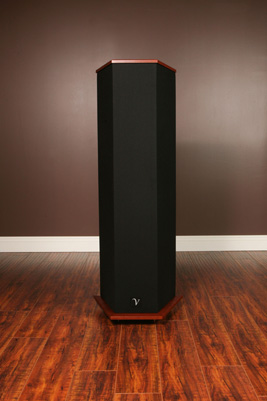 These remarkable, highly affordable, and wonderfully crafted speakers simply must be heard to be believed. Anything but commonplace, they are a significant achievement in the performance to cost category. I predict that they will be THE budget loudspeaker to beat for some time to come.
Built incredibly solidly, as if they were meant to take a direct hit, when placed properly, these speakers can seriously outperform anything else I've heard in their price range— in many cases, even times two. Keep in mind, these speakers are meant to be placed as close as 10 inches from the wall behind them and are meant to be listened to off axis, with no toe in, as that is how their radiation pattern was engineered.
In my experience, across a number of differing systems of widely varying price ranges, they simply stunned me with their consistently inspired performance. Earth shaking bass, like you've NEVER heard from any other speaker with a single 10 inch driver, nuanced and realistically textured mids, and crisp, detailed highs with no glare or edge, unless present in the recording itself. And, the soundstaging and imaging will leave you astounded, especially when you recall that they are right up against the wall!

You really owe it to yourself to hear them just to see how much performance can be achieved at such an unassuming price point. $4000 a pair
Reviewed in Issue 51
Channel Islands Audio D-200 Mk II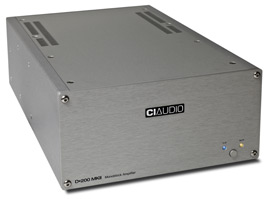 If you thought that the original D-200 was a great product, and it was, wait till you get an ear-full of the Mk II version. When asked how he had accomplished such sweeping improvements over the original, award winning, Class D, UcD based, D-200, Dusty Vawter, chief designer at CIA, explained it this way. In essence, the D-200 was an award winning D-100 stretched to the practical limits to make a superb 200Wpc mono block amp. However, once he had successfully achieved the D-500 (500Wpc monos), the D-200 Mk II essentially packed everything he learned making the D-500 into that 200Wpc package. And, I'm here to tell you it is an exhilarating triumph!
The Mk II has more bass—both quantity (extension and impact) AND quality (bloom and pitch definition). Mids are sheer magic now; where they were very good, they are now more airy, full of breath, and texturally more replete. Highs shimmer with even more luminescence, yet there isn't a hint of graining or disparity, something I cannot say of ALL Class D designs. These were so good, I bought my review pair and they are now my reference amplifiers!
I have a full review in the works, so stay tuned. But what's not to like, tremendous value, versatility (single-ended or balanced inputs), and high efficiency. These are truly world class amps. With the Channel Islands Audio 30-day in-home trial period, what have you got to lose? $3500 a pair
Reference Recordings for their dedication to high resolution digital in all forms
From 24 Bit 88.2kHz and 24 Bit 96kHz high resolution downloads available from HDTracks to SACDs and 24 Bit 176.4kHz HRx data discs. Their recordings are very realistic with wide frequency response including the impact and weight of lower frequency percussion instruments like I experience in the concert hall. Great balance of direct and reflected sound and very warm sounding. In addition most of the music they choose to record is often definitive with many premieres of brand new compositions.
http://www.referencerecordings.com/
Universal / Japan for their SHM-SACDs
Bringing the SACD format to an even higher level of performance but at an extremely high cost. I am hoping that Universal / Europe offers something similar soon at more reasonable prices in the future. See my Getz / Gilberto SHM-SACD review http://www.positive-feedback.com/Issue51/getz_shm.htm
http://www.universal-music.co.jp
Well it's time once again for us Positive Feedback Online Hi-Fi writers to hand out the PFO Awards for those stellar few items that we have reviewed over the past year that really impressed us with their musical prowess. We writers get to pick three awards maximum, so that means there are other deserving products that get left on the cutting room floor. This was a banner year for me on the equipment front, and it made it really easy for me to pick out deserving awards.
Tannoy Westminster Royal Special Edition loudspeakers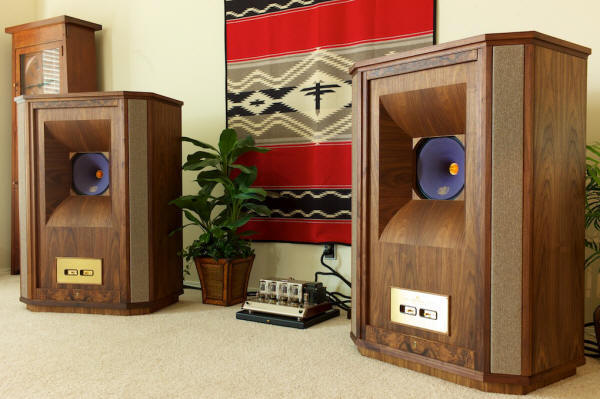 Tannoy Westminster Royal Special Edition loudspeakers ($35,000 USD): The Scottish Tannoy Westminster Royal Special Edition is the best loudspeaker I have used by a country mile. As the oldest loudspeaker manufacturer in the world, Tannoy has put everything they've learned about loudspeaker performance over the years into the Westminster Royal Special Editions, and as listener after listener to my listening room has said, the Westminsters are really something special, and are a couple of performance levels above either of my previous reference loudspeakers, the Avantgarde Duo or Harbeth Monitor 40.1. They should be considering the price differential: the Harbeth M40.1 is around $12K, the Avantgarde Duo is double that, and the Westminster is about triple that. In the case of the Westminster Royal SE they are expensive enough to make your teeth hurt, but you really do get what you pay for and a lot more, they are simply the most musically satisfying Hi-Fi purchase I've ever made. Using the Stereophile rating system that places the Avantgarde and Harbeth in highest category of Class A, the Westminsters are simply off the rating scale somewhere above Class A.
As my friend Ron said after hearing the Westminsters, "Where do you go from here!" Well, for me, nowhere. I'm finally done searching for loudspeakers that I can live with and love for the long haul. The Westminster Royal SE represents the end of long a journey through many different loudspeakers, all of them good to great, but in the Tannoy Westminster Royal SE I've finally found 'my' perfect loudspeaker. Maybe it's my Scottish DNA kicking in, but I like everything about them, and I can't imagine living without them. I hope I never have to.
For more information about arranging for an audition or purchasing the Westminster Royale Special Edition loudspeaker in North America contact Darrin Kavanagh, VP Residential Sales, Tannoy, TC Group Americas at darrink@tcg-americas.com or 866-668-9061.
Reviewed in Issue 49
Leben RS-30EQ phono preamplifier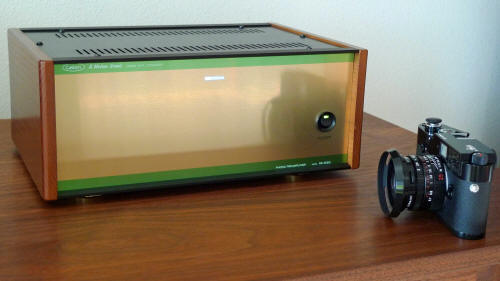 Leben RS-30EQ Phono Preamplifier ($2495 USD): Unlike the staggeringly expensive Westminster Royal SE loudspeakers described above, my next award recommendation is the vacuum tube Leben RS-30EQ phono preamplifier, which falls into everyman's land price-wise at $2495 USD, so nearly all of us can experience its musical charms if we want to.
This handmade piece of audio art has been wowing music lovers around the world at the Salon de Image show in Toronto in the hands of Jonathan Halpern of Tone Imports. Jonathan imports Leben electronics (and other audio delicacies) to the North American market, and has been using the Leben RS-30EQ as the anchor for winning combinations of Hi-Fi gear that punch WAY ABOVE their weight, often winning 'best sound of show' over competitors with Hi-Fi systems that are 10 to 100 times more expensive, and that's coming from the hard to impress Stereophile writers like Stephen Mejias, John Atkinson, Robert Deutsch, John Marks, and Art. Interesting eh?
Whether the RS-30EQ is paired with the CS-600 or the CS-300X integrated amplifiers, the Leben RS-30EQ phono stage demonstrates a combination of low noise, freedom from obvious coloration, high transparency, high resolution, extended high frequencies, gorgeously liquid mid-range performance, deep and articulate bass response, superb dynamics, superb imaging, impressive soundstaging, and a natural musical expressiveness that makes it extremely involving to listen to LPs with. Not only that, but the Leben RS-30EQ is fun to listen to LPs with. Fun isn't something that fits into musical or sonic categories, but is perhaps more important than either, and over and over again I find myself forgetting about Hi-Fi stuff and just found myself getting lost in the fun of listening to music on LPs, which at the end of the day is what it's all about for me.
I'll tell you what, the combination of the Leben RS-30EQ phono preamplifier, the Leben CS-300X or CS-600 integrated amplifier, and my Tannoy Westminster Royal SE loudspeakers makes for a shockingly good Hi-Fi system—a minimalist super-system for the music lover—and one I could easily be content with until my last breath on planet Earth!
So there you have it. The Leben RS-30EQ phono preamplifier is really something special, and a stone-cold bargain at its $2595 US asking price. You can build a superbly musical high-performance audio system around a Leben RS-30EQ phono preamplifier and Leben integrated amplifier that doesn't cost a fortune by using a pair of smaller Harbeth, ProAc, or DeVore Fidelity loudspeakers. Knowing that a simple Leben system KO'd some of the biggest names in audio at Salon Son and Image two years running, you can just sit back, relax, enjoy the music, and quit worrying about gear. The line to sign up for a Leben RS-30EQ forms at the right, but don't dally too long, or you might be in for a long wait.
Reviewed in Issue 43
Acoustic Revive RST-38 & TB-38 Quartz Under-Boards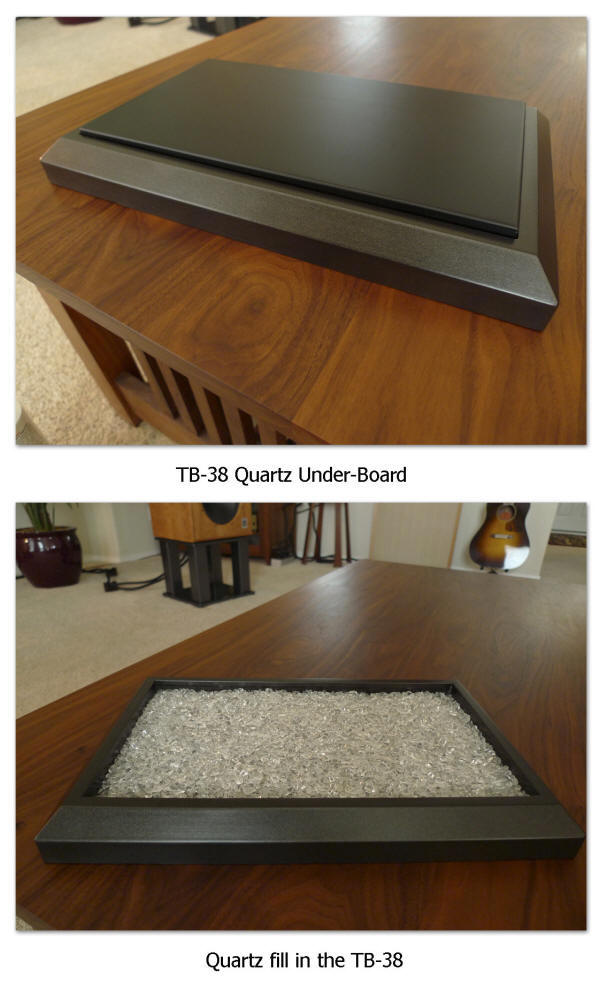 The Acoustic Revive Chronicles series of articles were a lot of fun for me to write. I always got excited when I'd hear that there were Acoustic Revive products coming my way for review, because Mr. Ken Ishiguro's innovative applications of physics, materials science, and audio engineering principles to his product line of high-performance audio products never failed to amaze me in their effectiveness in enhancing the performance of my audio system. The hard part for writing this third award for Acoustic Revive was figuring it out how to narrow it down to just one item, and I didn't succeed. Instead I narrowed it down to a subset of all the Acoustic Revive products I reviewed for 2010, and which continue to blow my mind with their performance enhancing attributes.
The Acoustic Revive RST-38 and TB-38 Quartz Under-Boards really impressed me and see daily service in my primary system. The Quartz Under-Boards are stands, or more correctly, vibrational energy dissipation platforms, to place your audio equipment upon. The RST-38 and TB-38 Quartz Under-Boards are designed to quickly route vibrational energy away from audio components and dissipate it, eliminating its deleterious effects of music reproduction. The Quartz Under-Boards feature a composite wood chassis that is filled with quartz granules, upon which a birch plywood top plate is placed to sit components upon.
The Acoustic Revive Quartz Under-Boards had the following effect on the overall sound of my Hi-Fi rig: transparency increased, and the music becoming more natural and less electronic sounding at the same time. Well, what can I say? Everything gets better; you get better sonic performance and better musical performance at the same time—they're a no-downside addition to a Hi-Fi rig for sure. One thing that I do like in particular about the RST-38 and TB-38 Under-Boards is that you don't have to pump them up like you do pneumatic isolation devices. Once you set them up and place your components on them you can forget about them, which is a nice touch.
The Acoustic Revive RST-38 Quartz Under-Board Isolation Platform is $1100 USD, and the Acoustic Revive TB-38 Quartz Under-Board Isolation Platform is $725 USD.
Reviewed in Issue 47
Acoustic Revive Single Core RCA speaker cables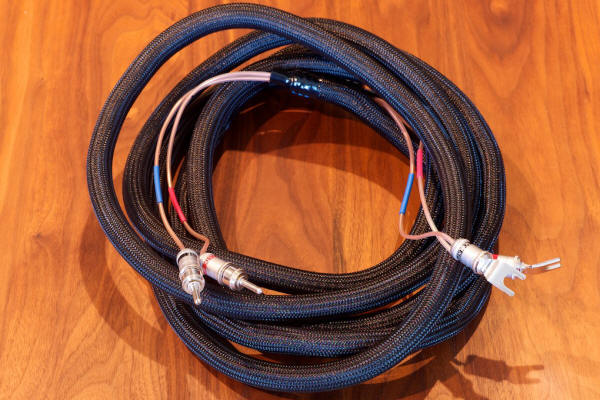 I started out the PFO review of the Single Core cables with a quote from Confucius (551 – 479 BCE) that reminded me of the Acoustic Revive Single Core cables: "Much can be realized with music if one begins playing in unison, and then goes on to improvise with purity of tone and distinctness and flow, thereby bringing all to completion."
The overall effect of the Single Core cable set has been to make music through my Hi-Fi rig more dramatic, bigger, more exciting, and more entertaining—more like you experience in life—more naturally life-like. The Single Cores are very good at portraying the sonics captured during the recording process, but more importantly they are simply outstanding at portraying the musical content of a recording and turning it into an astonishingly pleasing musical experience—for that bit magic they receive my highest recommendation.
The improvement in the musical and sonic prowess of my system was not subtle with the Single Core cable set installed, it was transformative—it was HUGE. The Acoustic Revive Single Core are the finest set of cables I've ever had the pleasure of listening to in my system, and you should interpret the review as a rave lauding the virtues of the Single Core cables.
The Acoustic Revive Single Core RCA speaker cables are $1800 USD for a terminated 2-meter pair, the Single Core RCA interconnects are $1275 USD for a 1-meter pair.
Reviewed in Issue 49
Dynavector XX2 Cartridge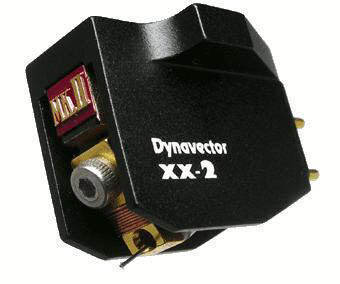 An outstanding transducer priced above mid fi, but delivering dynamic, neutral and realistic performance near the heavens. But it's not the cartridge for those seeking to extend the golden glow of beautiful sunsets all day long or to create beautiful music out of a punk rock collection. It's good coffee, not a Frappuccino, it's organic milk, not Nestlé's Quick, it's water, not Kool-Aid. Its strengths are exceptional dynamics, truth of timbre and a well and clearly articulated midrange without the conceit of using a bright and forward presentation to achieve it. Oh, yeah, to complement the dynamics is good depth to bass with revealing texture. Blessed with neutrality that won't punish you and your records with ruthless and musical revelations. For double or quadruple its price, you probably get a sweeter, more refined or more holographic presentation, but it may be only small gradients of two of those. Dynavector's mid-priced ($1950) cartridge is a no-brainer recommendation.
Reviewed in Issue 48
M2Tech hiFace 24/192 USB connector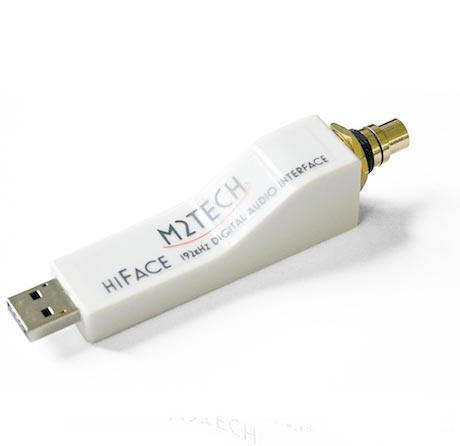 In the early days of computer audio, $150 buys you a high quality RCA connection for the high resolution recordings on your computer to a high resolution DAC for up to 24/192 performance. BNC at $165 is less popular but slightly more open sounding. Perhaps the hiFace is bettered by more expensive connectors that you'll probably replace in a couple of years. Do you want to replace a $150 connector next year or an $800 connector? Hmm, let me think .
Reviewed in Issue 51
John Shepherd, Media Vita. Stile Antico. Harmonia Mundi, HMC 807509.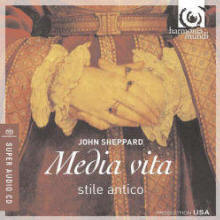 In a year of such great religious choral releases as Les Voix Baroques's Carissimi Oratiorios from Atma (http://www.positive-feedback.com/Issue48/amateur3.htm); the Cardinall Musik's concluding release from their William Byrd Edition on Hyperion, just named best record of the year by Gramophone (http://www.positive-feedback.com/Issue47/amateur2.htm); and the last two volumes of John Eliot Gardiner's (review forthcoming), to me, definitive cycle of the Bach cantatas on Soli Deus Gloria, that Stile Antico's recording of Sheppard's Media Vita should emerge as even more notable is an outstanding achievement. Stile Antico has grown into the leading acapela group in the world performing early religious choral music. Their singular talent as musicians (performing as a chamber group, without a leader), assisted by a brilliant recording engineer, Brad Michel, with this recording lifts composer Shepard into the top rank among renaissance composers. A great release.
Reviewed in Issue 47
Beethoven, Cello Sonatas, Volume 2. Daniel Muller-Schott, cello; Angela Hewitt, piano. Hyperion Records CDA 67755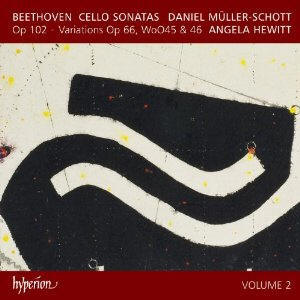 David Muller-Schott and Angela Hewitt's second volume of the Beethoven cello sonatas came out of the blue to me. I had ignored their first volume, based on my so-so reaction to Hewitt's restrained performances of the composer's piano sonatas. All I can say is that whatever reservations I had of her Beethoven disappear in the company of cellist Muller-Schott. The synergy between them turns this album (and volume one which I proceeded to track down) into great music-making. Call it balance, contrast or what you will. Between them, everything that we think of as Beethoven comes out, suggesting that opposites are the way to play him! To be good enough to nose out Isabelle Faust's Bach violin sonatas (http://www.positive-feedback.com/Issue50/amateur.htm) and Rubbra's quartets by the Dante Quartet on Dutton (http://www.positive-feedback.com/Issue49/amateur3.htm) says a great deal about this recording. Dave says we only get three picks...
Reviewed in Issue 50
Shostakovich, The Preludes and Fugues. Alexander Melnikolv, piano. Harmonia Mundi HMC902019.20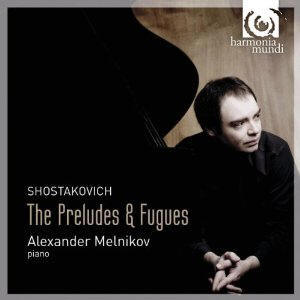 Shostakovich, renowned for his flamboyant concertos, electric symphonies, and searchingly meditative, melancholy, and tragic string quartets, is seldom idolized as the composer of these consummately crafted and enthralling works for solo piano. They are among the principal monuments of twentieth century music and here receive their most compelling and revealing performance to date by Russian pianist Alexander Melnikov.
Reviewed in Issue 49
London Reference Phono Cartridge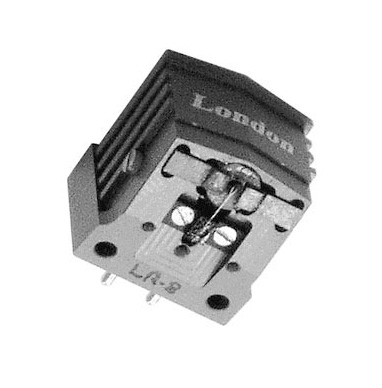 The numbers of cartridge choices for the avid audiophile have ballooned to proportions surely eclipsing the salad days of the 1960s and 1970s. I think back to that era and dream of cartridges past... the ADC XLM, the Sonus Blue, the Shure V15 Mk.2, the Ortofon MC30, the blue and gray Decca, Grado Reference, and many others. Those and many more showed such promise and that promise has now been fulfilled at least in one historic and creative design.
It was my favorite 30 years ago and is, in its current incarnation, my favorite now. It is finally and simply the best phono cartridge in the world known to me. It is the London [Decca] Reference Phono Cartridge and it is a vastly sophisticated version of a design that dates back to 1951! With dynamics, neutrality, and overall definition eclipsing even the most expensive moving coils, it often sounds quite real replicating height, width, and depth with aplomb. Other designs costing two and three times the London sound wimpy or etched, cold or romantic when compared to this powerhouse. We have become so used to a warm glaze produced by so many designs or a skeletal-like rendition that pretends to be music that hearing the London for the first time is often a jarring experience.
You see, the London has no cantilever. Once you lose a half inch of aluminum or boron, guess what? The cartridge sounds more real. With an output of 5mv instead of .5mv, the cartridge sounds much more dynamic with a jump factor that makes the tiny output coils sound forced and artificial. Sporting an exotic stylus directly connected to the coils and held rigidly in place by a strong aluminum body, the perfected London is extraordinarily realistic in the right setup. It now tracks extremely well, correcting a flaw of its predecessors.
Without a cantilever, the tonearm becomes paramount and vastly more important to its performance. I found the Helius Omega an excellent match. Others have recommended the SME 5 and the Graham. I heard a London in a VPI 9 and it worked pretty nicely in this economy arm, but did not sound as dynamic or special as it should have. The new Townshend Rock 7 turntable with tonearm damping trough might just be the ultimate ticket with your current arm. We shall see. Nevertheless, mounted in the Helius with stylus positioned at 92 degrees VTA and tracking at 1.9 grams with some anti skate applied, you will even eclipse reel to reel tape performance. I know many love the tape medium and its limited reemergence, but I'd get a London Reference and move on. It's that good.
The London Reference Phono Cartridge is an easy pick for a Reviewer's Choice Award. One suggestion, I'd buy it before the price goes up! $5250
Reviewed in Issue 48
The Grado PS 1000 Headphones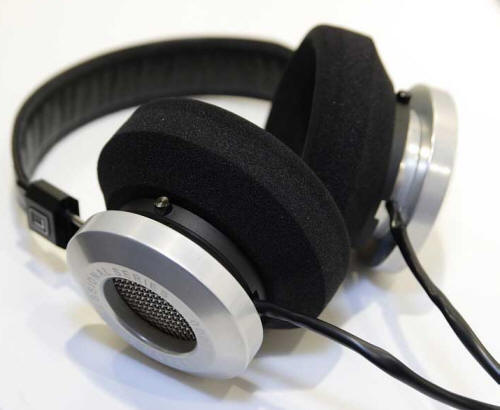 Thanks to Apple and their IPOD, we now love two channel and great headphones...again. We have so many choices thanks to new research and development of advanced headphone technology and top notch headphone amplifiers. I have always enjoyed headphone listening and truly believed that no dynamic cans could ever eclipse the Stax electrostatics or even the vintage Koss ESP 950 electrostatics [which are still available by the way.] Sennheiser's newest HD 800 offering and the Ultrasone Edition 8 are terrific and will really shine in a top notch amplifier. However, neither design is as linear, neutral, dynamic, comfortable and as detailed as the top of the line Grado PS 1000s.
These cans do it all. They are easy to drive and perform well in about any phone jack around. The magic happens when you plug these beauties into a really great headphone amp like the amazing E.A.R. HP4 Headphone Amp from Tim de Paravicini. With this amp, you will hear a performance that makes electrostatics sound bland and limited in the frequency extremes. Other headphones are less neutral and less realistic than the Grados. These cans tell the truth. In the E.A.R., the Grado's outperform all others and I've tried about all the latest top models.
The PS 1000s are the product of 50 years of research! Plus, Grado has realized that the body of the headphone must not resonate so they enclose the drivers in a hardwood covered by aluminum. As a result, the bass is subterranean and the definition never blurs. This is a fully mature design and built right here in America. Grado has also researched and developed new connecting cables offering a much more sophisticated wire and connector than ever before. It all results in a killer set of cans. They are the best performing headphones in the cost is no object class and the most comfortable, too! Well done Grado! $1695
Reviewed in Issue 51
The Marantz 10B FM Tuner
Production ceased in 1970, but they still perform more musically than any current production tuner around. Designed primarily by Sid Smith and Dick Sequerra, the 10B is Saul Marantz's inspiration and achievement. Now selling for a whopping $4000 in excellent condition, that's not bad for a piece of gear that retailed for $695!
What do you get for your money? You get six IF stages, 19 tubes, an oscilloscope, a permanently adjusted tuning stage needing no alignment, a wonderful tuning dial that's easy to use and read, lots of controls and adjustments to fiddle with, and stellar gorgeous sound to die for. Think a great Koetsu phono cartridge and that's what the 10B does for your favorite FM station.
If you find one used, Brooks Berdan LTD in Monrovia, CA, can bring it back to life. So can Audio Classics. It may cost you $1500 for a so-so unit and another $1500 to restore it, but so what…in the end you will have a masterpiece. I connected mine with single ended Kimber Hero and it clearly outperforms my second favorite Day Sequerra FM Reference Tuner with Kubala-Sosna Emotion Interconnects. The 10B is that good!
I love this tuner and you should acquire one if you call yourself an accomplished audiophile. Get one and I am sure Sol will look down from heaven and smile.
The Marantz 10B FM Tuner deserves and receives my Reviewer's Choice Award!
The Locus Design Keynote Power Cable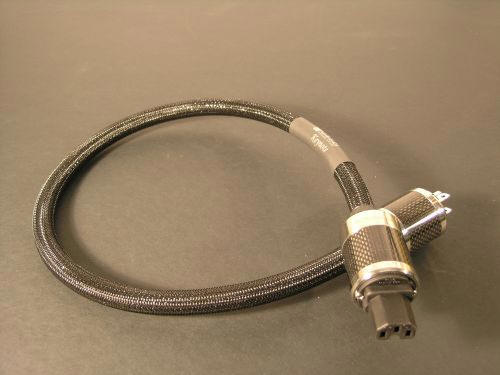 One can find many power cables that make extraordinary differences in sound quality in the range of $2000-$3000 (or more)/meter. If you want another, possibly more affordable power cable option, I will say that the extremely thick and robust Locus Design Keynote AC cable made some extraordinary improvements in the sound of my dCS Debussy DAC, part of my digital music server. I think the Keynote is a masterpiece. It added a sense of depth and richness to a previously "thin" sound; and the Debussy cost $11,000 on its own, so a $2000-$3000/meter power cable would not have been inappropriate.
Although the Keynote is very stiff and can be difficult to dress, it's really worth it, most notably with digital electronics; I don't know anything about power cable design, but when I got my Ayre C-5xeMP, I bought a five foot Keynote and compared to the stock cable—or any other power cable I had—it took away a "haze" that I hadn't even realized was there. Suddenly the Ayre seemed more open, dynamic and just cleaner. I would not hesitate to recommend it to my non-audiophile engineer friends for their 52" plasma televisions.
I've heard very high end cables—those priced to match Ongakus—do some remarkable things; but for $1199 for up to 3 feet, $60 / foot thereafter (that's approximately $1216 for the first meter if you do the math, and roughly $200 / meter thereafter), I don't know of any cable that can reveal such purity in the source component, and that's with the cable already plugged into a 20 Amp Equi=Tech balanced transformer. I know Locus Design is famous for the Polestar audiophile-quality USB cable; but the Keynote is an unrecognized champion and a bargain at the same time.
Reviewed in Issue 51
Once again it is the conclusion of another wonderful year reviewing and listening to fine audio components. I love what I do. Writing high end audio reviews is such a blast! This year's choices come from three different categories: A must have accessory, a headphone amplifier that is to die for, and a SACD/CD player that is the darling of the industry and all the buzz on the web and audio press
HiFi Silverstar Fuses
First up—HiFi SilverStar Tuning Fuses. I discovered these fuses at the end of last year. At first I was reluctant to spend $59 per fuse. $59 is a lot of money for a fuse. Then again, what isn't excessive in our obsessive-compulsive type hobby? I heard about these fuses through a friend who swore to me my jaw would drop once placed into my gear. He said, "You are not going to believe what you are going to hear." He was right, though it was more about what I wasn't hearing. Gone was a lot of background haze and hash that prevented my gear from sounding its best. This resulted in better clarity, micro and macrodynamics, soundstaging, and instrument focus. Vocals took on a new authority that truly brought the performers to the forefront with an increased focus. The difference was amazing with what seemed like increased amplification power much like the difference in performance when you on add a pair of headers to a car resulting in more horsepower. With the exception of one piece of gear where the change was minimal (though still in a positive direction), each and every time the SilverStar fuses were placed in gear these fuses took that piece of gear to the next level. Not only does this accessory make a true difference, no system should be without them. I have HiFi SilverStar Tuning Fuses in every piece of gear I own. They are in my humble opinion a MUST have accessory.
SA-KI Pearl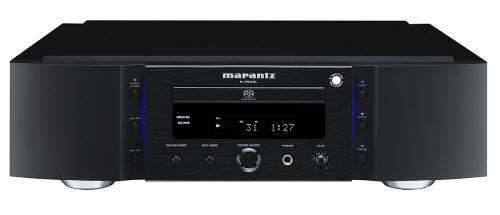 My next award goes to the Marantz SA KI Pearl. The SA-KI Pearl is a highly modified SA-15s2 that has had Ken Ishiwata's magic fingers go through it and upgrade the power supply, DAC, and input/output section of the player along with some chassis upgrades. This player is so different from the SA-11s2 that it had to have another model number. Since it was the 30th Anniversary of Ken's association with Marantz, what better to celebrate that fact but to name the player after Ken's initials of KI and include the KI Pearl into the Pearl line up. The player is drop dead gorgeous to look at with its sculpted look and Black Pearl casing. Equal to or better than its great looks is the fact the KI Pearl sounds terrific. Right out of the box the KI Pearl does everything right, whether it is playing SACDs or CDs the KI Pearl will not disappoint. First and foremost I love the transparency of the KI Pearl as all of the instruments and performers are present with utter clarity, but without sounding bright, etched, or spot lit. Here is the real kicker… the KI Pearl due to its phenomenal clarity, lack of digital artifacts while holding onto its musical charm truly offers what a reference instrument should be all about. All of this costing thousands of dollars less than what it would have just a few years ago in order to accomplish this same task. The KI Pearl is truly a keeper.
Cary Exciter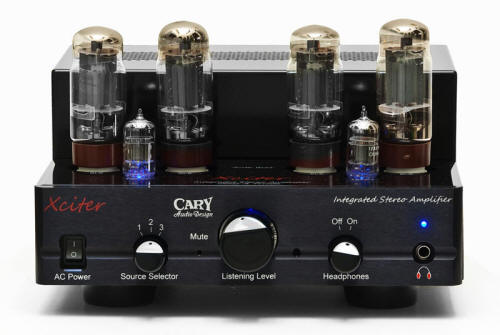 My final award goes out to the Cary Audio Xciter. As we speak I am finishing up the review with a publication date set for mid-December. Knowing the article will be published in December I had to add this ground breaking product to the mix for 2010. I stumbled upon the Cary Xciter in a convoluted way. Rather than the normal channels of acquiring a review through the manufacturer directly it was sent to me as part of a product group I was to review. Included in this group was the Xciter Headphone amplifier, a pair of Sennheiser HD-800s and a couple of headphone cables from Moon-Audiothe Blue and Silver Dragon cables (review pending).
Drew, from Moon Audio, told me upfront the Cary Xciter had some minor modifications done to it. These modifications include: Swapping out the coupling caps with Cardas Golden Caps, and replacing the stock snubber caps for a pair of Audio One caps. This is a modification designed by Drew for Cary. Cary Audio does all of the soldering and work, thus the manufacturer's warranty still applies. In speaking with a representative from Cary I was surprised to hear they offer modifications for their products. This is very smart as it increases income after the sale for the manufacturer and retailer alike along with allowing the end user to tweak a product to their personal liking. Though I did not have the pleasure to evaluate a "stock" Cary Xciter, I do have to say I am clearly impressed with the Xciter that includes these cap upgrades. When listening to headphones I was immediately impressed with the depth, sheer power and authority this little integrated headphone amplifier displays—maybe that is why Cary included a set of speaker output jacks. Though the Xciter is rated a 5 watts per channel using 6550/6L6 type tubes or 10 watts per channel with KT88's I could see the Xciter easily driving a pair of efficient speakers or a small office speaker. As far as a sonic voice goes, the Xciter has all of euphoric tube warmth we tube lovers enjoy while at the same time giving up hardly nothing to transparency and detail within musical soundstage. I was astounded! I just wish I could give the Cary Xciter a higher award other than a Writer's Choice Award. To me, this headphone amplifier should be product of the Year! It is that good! Congratulations to Cary Audio for another fine product.
It is now a year later and I find myself in the same position/situation as last year. I do very little in the way of equipment reviewing any more. I spend so much time, 2 to 3 months ultimately to review almost anything and when I am done it often seems as though I have not accomplished much in the way of helping myself or others. Now I am again waiting to receive various upgrades to the preamplifier and power amplifiers as I was a year ago. Seems as though the intervening up grades led to even further improvements all incorporated in recent models that I have not had time to have them done to my units. Relatively small companies can do that as the engineer is almost constantly experimenting with potential improvements and may not be under cost constraints. Just think what could conceivably happen if he was working for a relatively large (in the niche audio world) when the designer could get a message saying that fifty dollars of parts costs need to be eliminated immediately. It is discouraging as a year ago when I got feedback from those telling me how wrong I was in my review because they heard that component for a few minutes in an unfamiliar room in a different system and reached a different conclusion; no surprise there. It has become difficult to obtain possible competitive equipment for listening evaluations as other sources are usually reluctant to release their highly promoted gear for serious one on one sessions except possibly to media that accepts advertising and the pitfalls that entails. You have probably noticed that in nearly every listening listing, the rankings simply follow the pricing.
Enough blowing off steam; I now enjoy trying to attract more listeners to classical music mainly. While doing that, I give a brief evaluation of audio quality as that is of great interest to our regular readers. I am not referring to a missed note or flub by a performer. I do make note of selections that emphasize bass response or showoff passages as they interest that fair size group of audiophiles that 'kind of' love those things. Many graduate to being music lovers. Some of us believe that only music lovers know the differences between better bass response and more bass. Here is probably a good place to mention that the relatively new introduction of many more releases in the Blu-ray format whether it is audio only or the more common combination of video plus audio is offering fine sound quality, that with careful selection of components, equals or surpasses many if not most traditional sources, by using the simple connections of HDMI now available. There are often rather easy to solve problems with the need for a monitor to use if not part of a home theater system. Yes, there are quality differences here also.
Music Awards
With no components thoroughly tested and evaluated in depth as required, I am left with music awards.
There have been nearly sixty music reviews I've done starting with the last issue of 2009 and not counting the twenty reviews in my 'The Future is Here - Audio Still Rules" column. This does not include the other fifteen to twenty I receive monthly. It is impossible for me to remember exactly which ones are the absolutely best ones, sorry. My bias tendencies against some modern or contemporary music probably enter in my choices so I am sneaking two of them into this article right here. They are "Transmigration" on Telarc, review and info way back in Issue 45 and master audio engineer Michael Bishop's favorite and probably final effort for Telarc. Years ago I dubbed him the 'crown prince of sound effects' and here he does that to perfection as required. Even I have finally grown to appreciate this very contemporary composition. Also I will never forget his contribution of the planet "Tinsis" in "Symphonic Star Trek" many years ago. In this issue, "Circus Maximus" qualifies for sound quality only as my bias and lack of listening time has precluded full backing. Full approval is given to Strauss' famous nonsymphonic,"The Alpine Symphony" is actually a tone poem, perhaps the best one ever. Read the liner notes as you listen and see how accurate a picture music can paint. For second choice I'll call a tie in Issue 50 between Tudor's release of Mahler Symphony No.1 (SACD) and CSOR's fine SACD of Ravel's "Daphnis and Chloe". Feeling the need by many, I will put the excellent Naxos CD of McKay's excellent and interesting "Epoch, Dance Symphony" in Issue 51 as the third choice instead of another SACD such as Korngold's Symphony in F sharp on PentaTone in this month's issue. Pleasant listening to each and every one of our fine listeners.
Weizhi AC Conditioner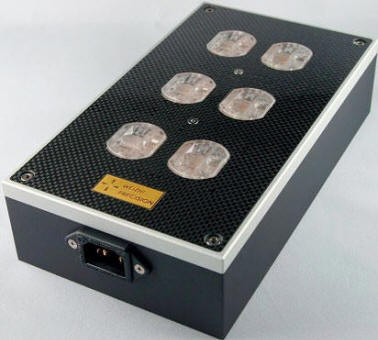 With the Weizhi feeding the whole rig, the better cord you use to feed the Weizhi, the better the whole system will sound—instant upgrade for those who like to tip-toe into higher-end AC cords. This combination of features and performance make the Weizhi a fantastic, no-brainer recommendation on my part (other than the considerable price). I ended up buying it and encourage any audiophile in the market to listen to one before making any purchasing decisions. It's that good. $3200
Reviewed in Issue 52
Audio Horizons Preamplifier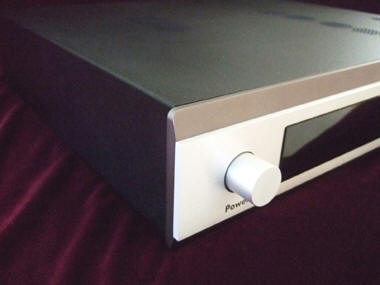 While I've come across better performance, I've not come across a better value in high end audio than the Audio Horizons TP 2.2. And while I did not buy the sample, let me end the suspense: I bought one configured to my tastes (as yours would be). This is a must audition product if you're in the market for a preamp. $2750
Reviewed in Issue 49
SoundSmith Carmen phono cartridge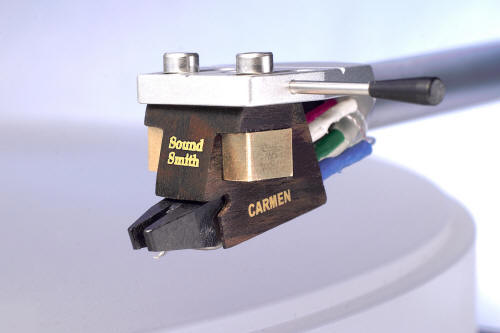 There's nothing quite like this unusual but excellent moving iron design at the price. It strikes a unique balance between moving magnet smoothness and moving coil speed – and the healthy 2.12mV output means just about any MM phono stage will do. With a notably rich and textured midrange and warm yet detailed treble, it's endlessly listenable. It's almost impossible to fault technically: tracking is superb, and at a scant 1.2 grams. Backgrounds are profoundly quiet and channel separation is exceptional. Thanks to threaded screw holes, mounting is easy, and virtually every other cartridge maker on the planet could take a lesson from SoundSmith's through setup manual. Its somewhat back-row perspective and natural, un-hyped character may not suit certain systems but on the whole, this handcrafted, wood-bodied cartridge is a great value for just a tick under $500. It also works wonders taming clinical-sounding front ends without sacrificing articulation, and for breathing new life into older mid-fi turntables. Bonus: each one is handmade in the USA and can be customized in your choice of medium or high compliance and capacitive loading of 100pF or 400pF. $499.95
Reviewed in Issue 50
Silicon Arts Next Class "Si2" Micro Integration Line Products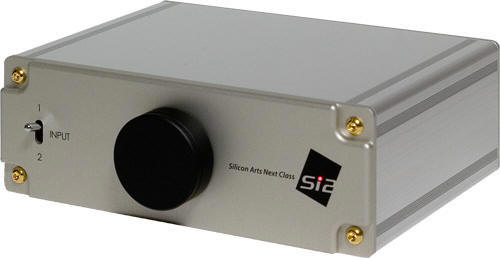 If you need a set of small stereo components for a small to medium size room you can get world class performance for a decidedly out of this world low cost. The Silicon Arts/Concert Fidelity Next Class Micro Integration Line consists of a line stage, a power amplifier and a digital-to-analog converter that are feather light and take up only about ½ square foot of space on a shelf. But the sound out of these baby size components is nothing short of amazing! The Silicon Arts/Concert Fidelity house sound is clear, fast, dynamic and transparent with outstanding timbral accuracy and spatial perspective. When teamed with a good set of interconnects and efficient, high-quality speakers you can hear sound quality out of these tots that approaches the sound of their big brothers at 1/10th the cost. I only recommend using the Micro Integration Line products as a set of three because they are picky about signal levels and dynamic range. The power amp only puts out about 10W so your speakers have to be able to reach satisfactory levels with this low drive power, but if you find a good match you will be in heaven. US distributor Hajime Sato can help you with recommendations for compatible speakers and accessories. I suggest you run to the phone and call him right away!
Silicon Arts Next Class Si2 Preamplifier: $1580
Silicon Arts Next Class Si2 Power Amp: $1420
Silicon Arts Next Class Si2 DAC: $1260
Reviewed in Issue 48