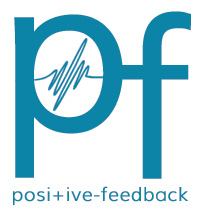 You are reading the older HTML site
Positive Feedback ISSUE 52
november/december 2010
The Future is Here - Audio Still Rules
by Karl Lozier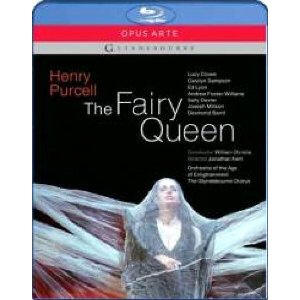 The Fairy Queen, Semi Opera, Prologue and 5 Acts, by Henry Purcell. Age of Enlightenment Orchestra, conductor: William Christie. Opus Arte Blu-ray BD 7065D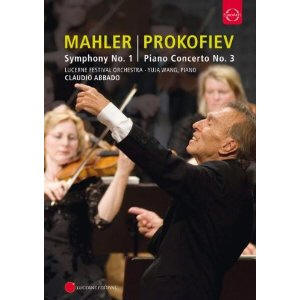 Mahler - Symphony No.1. Prokofiev- Piano Concerto No. 3. Orchestra: Lucerne Festival Conductor: Claudio Abbado. Euro Arts Blu-ray BD 2057964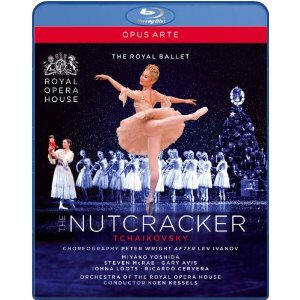 Tchaikovsky - The Nutcracker Ballet. Orchestra: Royal Opera House. Conductor: Koen Kessels. Opus Arte Blu-ray OA BD 7072D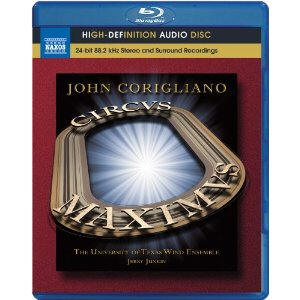 John Corigliano - Circus Maximus (Symphony No.3 for large wind ensemble). Gazebo Dances (for band) University of Texas Wind Ensemble: Conductor: Jerry Junkin. Naxos Blu-ray NBD 0008 (audio only surround sound )
Blu-ray recordings may be video, audio or most commonly video plus audio: if the video is a distraction turn it off though I would suggest watching the video at least once as at times it can be interesting. The first review this issue, the Fairy Queen is a fine example with some very surprising video. The last review is the first of many planned Naxos releases, featuring audio only-quite excellently done. This will be an improvement for most listeners particularly if HDMI digital is used instead of analog. Most listeners will hear significant audio improvement (greater clarity and smoother treble range for example).
The Fairy Queen is a huge production of Purcell's unique semi-opera that features singing and dialog that was first performed in 1692. Hey, it might easily pass as a contemporary composition. Not being the least bit familiar with it, I was actually almost shocked by it. Extremely difficult if not impossible to describe in fewer than a thousand words, I am not going to try. If you have even a slight amount of subtle humor you will be smiling and shaking your head in amazement at what happens in the first minutes. The opening offers exceptionally good audio quality of a thoroughly contemporary orchestra energetically playing music written more than three hundred years ago. Then, bam, with a loud and sudden shift to an upscale large room of a couple of hundred years ago with dad and daughter arguing about her not wanting to marry dad's choice and so on, all with glorious costuming. After that group leaves the room, six janitors from a large scale contemporary cleaning service arrive together. They start cleaning and pick up copies of the script and go on from there. Scene changes are swift, well costumed and vary from subtle to outrageous types of humor and ballet passages with outstanding performances of beautiful music for approximately three hours. My highest recommendation is easily awarded though some may not wish to indulge in frequent listening sessions but everyone will play the opening fifteen to twenty minutes to every music lover that comes over for a listening session. The video section of this superb Blu-ray recording is a must use for maximum enjoyment. Veteran PFO music reviewer, Bob Neil, explained to me that conductor William Christie probably had a great deal to do with the attractive uniqueness of this production to appeal to contemporary audiences-and then some. The following quotation in the liner notes, written by director Jonathan Kent, indicates that he may also be "guilty". "The evening cannot simply be a parade of Purcell's glorious music, and we are unabashed about attempting to remain true to the spirit of the work, while tampering with the letter".
Here is another fine overall Blu-ray production. Though listed first on the front of the case, the Mahler first symphony is saved for the final selection here and what an outstanding performance it is! The Prokofiev concerto is play by Yuja Wang. The attractive pianist does a good solid job with this piano showpiece and I have little reason to complain. Unfortunately I attended a live performance of the same piece last season featuring the justly famous Lang Lang. This fine performance simply is not the equal of Lang Lang's. About a dozen years ago, in print, I predicted that Lang Lang would become the best pianist of the first half of the twenty-first century. I can still easily recommend this solid performance as good and basically the equal of what can routinely be expected to be heard in most concert halls. Here any subtle failings are certainly compensated for by the superb Mahler performance. We can not realistically expect two great performances on a single night and recorded then on to a single disc. Things do not simply happen that way in my experiences so far.
Listening to the simply excellent performance of Mahler's first symphony kind of set me up for what I finally got to view on the next listening session by switching on the quite excellent Blu-ray video track.
Abaddo's demeanor, expressions and ultimately actions, made it clear to me that he was getting everything he wanted from this excellent group of musicians. The sound quality via HDMI multi channel output was seemingly without fault on my fairly modest home theater system. Double checking with my far more expensive reference stereo system revealed surprisingly similar audio quality. The home theater depends on a top of the line Onkyo receiver feeding a 7.2 set up of Nola loudspeakers. The Oppo BD-83 SE upgraded by VSEI's Music Technology's Bill Thalmann provided the input and a stock Samsung BD-6500 player fed the separate (otherwise reference quality) stereo system. It features Keith Herron's latest upgraded tubed preamplifier and new solid state power amplifiers that pretty much neutrally add gain to drive the Genesis Technology tower models G6.1 loudspeakers. An audio and video Blu-ray gem of the highest possible recommendation is the result here. I also received the Blu-ray disc featuring the same forces as here performing Mahler's sixth symphony. I expect to review it for the next issue of PFO.
Here's something traditionally appropriate for the holiday system. The story line of Tchaikovsky's famous and truly beloved Nutcracker two act ballet is presented in the first act. The magician Drosselmeyer had invented a trap that killed off much of the royal palace's mouse population. The wicked Queen of Mice retaliated by casting a spell over Drosselmeyer's nephew, Hans-Peter transforming him into a very unattractive Nutcracker doll. The spell can only be broken if the Nutcracker slays the Mouse King. In Act 2, the freed Hans-Peter is taken on a magical journey to the Kingdom of Sweets. There the entertainment consists of the beautifully performed and much loved unique Spanish, Arabian, Chinese, Russian and Mirliton Dances plus the famous Waltz of the Flowers. All this in the second act is performed in rather traditional ballet costumes, unlike the costuming in most of the first act. The audio quality is excellent, detailed and well balanced over the entire musical range. There is a natural pleasing fullness overall with a smooth and sweet high end, no digital harshness is to be heard. Those are qualities appreciated by music lovers of all ages. An easy recommendation is earned here. For a slightly more contemporary version, my highly recommended San Francisco Ballet's production is still an excellent choice and is also offered on the same Opus Arte label in Blu-ray.
For this issue I added an extra and somewhat unique recording. It is the first of hopefully many excellent Blu-ray multi-channel recordings in audio only format. With a bit of luck these initial efforts will be successful and then Naxos will hopefully be releasing many more of what may be the largest cache of recorded music in the world sitting in their vaults. Please remember, just good reviews does not make a company think that a new project is successful! Sales and profit make for success. We music lovers need to like these new Blu-rays and buy them for the company to keep releasing them. It might help to communicate with the company and let them know what titles you are interested in hearing in highest quality sound. I was pleasantly surprised at the quite good audio quality I heard using a good mid-fi brand player plugged into my stereo only reference system. I guessed that a brand or model that offered 7.1 multiple output channels was making audio quality efforts. Most high-end stereo preamplifiers or integrated amplifiers do not have HDMI inputs. For many if not most music lovers, if you have HDMI inputs you will probably get the best sound using them. Where I usually listen to Blu-ray recordings is in my multi-channel home theater system. There I use an upgraded OppoBDP-83ED that offers excellent sound quality at an almost bargain price.
Circus Maximus is almost an example of a musical composition (contemporary of course) designed specifically to musically "test" an audio system. The testing is really severe at times and includes multi- channel surround sound and powerful feelable extended bass response that should tickle any audiophile's fancy. This may be the first time that I thought it necessary to really take care of listening levels. Please try to understand that if you are using relatively low power amplifiers, that is not safer; they are more likely to be pushed into severe overload with brief bursts of powerful highly distorted notes and at times even far beyond the normal musical and output ranges. A really good more powerful amplifier might simply make the sound louder but not distorted. The first movement of Circus Maximus features some very unexpected powerful bursts of music and so do many of the other movements. At the other extreme, the movements entitled "Night Music" and "Prayer" are subtle in the extreme at times. I am not attempting to explain this unique composition. Do not expect to hear a continuation of Corigliano's score for "The Red Violin". Some music lovers will find much more pleasure with the more conventional "Gazebo Dances". In any event Naxos proves that they can put out clean and clear powerful sound levels in surround sound and full audio range that at least equals any that I have heard to date. Even on that basis, recommendation has to be awarded while we hope for equal treatment of more traditional compositions.