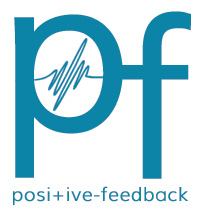 You are reading the older HTML site
Positive Feedback ISSUE 52
november/december 2010
More LPs
by Roger Gordon
Recently I bought a number of reissue LPs on various labels. Some of the reissues came from known labels such as Testament and Analog Productions. There is little risk, sound quality-wise, in buying reissues from companies like these. Other reissues that I purchased came from companies which were unknown to me. Because I wanted the music I took the gamble and bought the LPs. It's a good thing that I don't go to casinos. Only 50% of my gambles paid off. Here are the good, the not so good, and the ugly.
The Good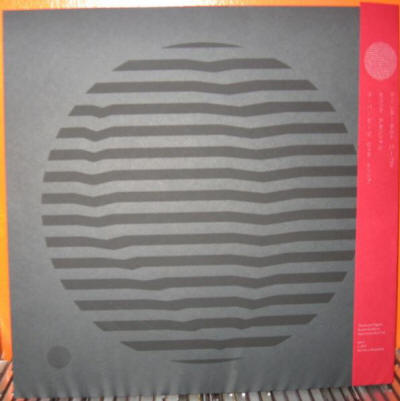 . ">
Second Ascension by Thunderbolt Pagoda, New Ruins Recordings, nuru7.
Second Ascension is Thunderbolt Pagoda's second album. Their eponymous first album released in 2008 was reviewed here: http://www.positive-feedback.com/Issue41/pagoda.htm. The band has four members: Matt Entsminger, bass and percussion, Ralph Karsten, analog synthesizers and mellotron, Dave Onnen, bass, synthesizers, and effects, and Erik Wivinus, guitar and vocals. Ralph Karsten is well known in audiophile circles as the owner and designer of Atma-Sphere Music Systems, a manufacturer of OTL amps and preamps. With this second album the band has moved on from the heavy kosmische sound of their first album. This time the music is more progressive rock. The two sides of the album are very different. Side 1 is an interesting mixture of progressive rock with heavy metal. Think Porcupine Tree with more of a heavy metal influence. There are also moments when the music sounds slightly like the symphonic metal of Aesma Diva and Therion without the classical instruments and operatic vocalists. Side 2 is completely different. It starts quietly with a wordless female vocal accompanied by what sounds like a zither. The music is slightly dark in sound. This music gives way to synthesizers playing quiet, simple music that sounds like it came from the Mid-East. Drums and bass guitar then enter. The sound turns louder and darker and the synthesizer music becomes more complex. Then you are left with just the synthesizers playing quiet, trance like music. 2/3rds of the way into Side 2 the music returns to the progressive rock of Side 1 but not quite as head-banging. Thunderbolt Pagoda definitely has a unique sound. The music is very well recorded as you would expect since Ralph Karsten is also fine recording engineer. If you want to something different to listen to, expand your horizons and listen to Second Ascension.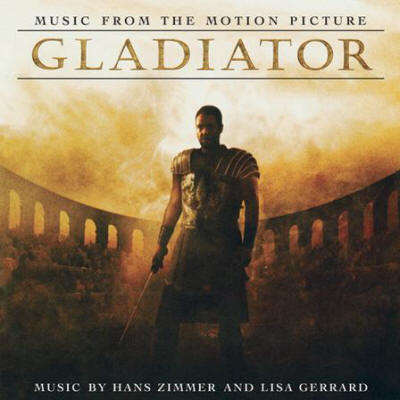 Music From the Motion Picture Gladiator (45rpm, two disks - Original Recording Group 050)
The music from Gladiator has been available on two wonderful sounding Decca CDs. The first CD "Music from the Motion Picture Gladiator" (Decca 289 467 094-2) was so popular that a second CD was issued. This second CD "More Music from the Motion Picture Gladiator" (Decca 440 013 192-2) contained 56 minutes of additional music including the original synth demo version of The Gladiator Waltz as well as some of the movie dialogue. Why then after ten years would someone reissue the original CD on 45rpm vinyl? To make money off of gullible vinyl enthusiasts, of course. That is the cynical answer - the answer why Universal Music issued the LP. On the other hand I am glad to have purchased this album. I am not sure if the difference in sound between the LP and the CD is due to the difference in the medium or if the music was remastered for the LP rather than just taking the original digital master and running it through a D to A converter. Whatever the reason, the LP sounds different from the CD in A-B-A comparisons in my system. The LP is warmer in sound than the CD. It also contains more detail that makes the sound both more musical as well as more spacious and open. At Rocky Mountain Audio Fest 2010 I got a chance to play all four sides of the LP in the Galibier Design room. The Galibier room was a large, all analog room with $77,000 of equipment not counting cables, interconnects, and power conditioners. The Gladiator LP in that room sounded so natural, so alive and so exciting. If you like the music from Gladiator and have a fairly decent vinyl setup you really should consider purchasing this LP. One word of caution. There is a lot of deep bass information on this album. My 845 single ended triode amps could not play this album due to the amps inability to handle the large amount of deep bass. Hence, I ended up having to play this album using solid state amps. Also, if you play this LP on small speakers that don't go below 45Hz you will miss a lot of the magic that makes this album so special. Subwoofers recommended for full impact.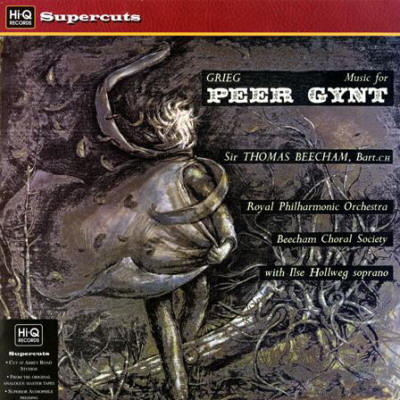 Grieg, Peer Gynt, Sir Thomas Beecham, Royal Philharmonic Orchestra - reissue of EMI ASD 258 on Hi-Q Records HIQLP002.
Beecham is a favorite conductor of mine as I find his performances to usually be highly entertaining. Critics weren't too fond of Beecham as he frequently stretched the musical envelop to give the audience an enjoyable time. Because of that the concert going public loved him. The recordings on this LP were made at Abbey Road, Studio 1 in November 1956 and April 1957. For early stereo recordings, these are quite good and are close to EMI's later recording gems with the exception of the choral parts which are too closely mic'ed and a bit harsh sounding. Fortunately, the soprano parts sung by Ilse Hollweg are wonderful. Regardless of the poor choral recording, this LP is the one single LP of Peer Gynt that all other single LPs are judged against. Beecham was totally attuned to this music—it is playful, dynamic, thoughtful. Unfortunately, only ten of the 32 sections from the entire work are on this LP. This is too bad because that means that not all of the your favorite sections from Peer Gynt are here. Mint copies of EMI ASD 258 are hard to find and expensive if you do. Buying this LP is an easier and cheaper way to obtain this great performance.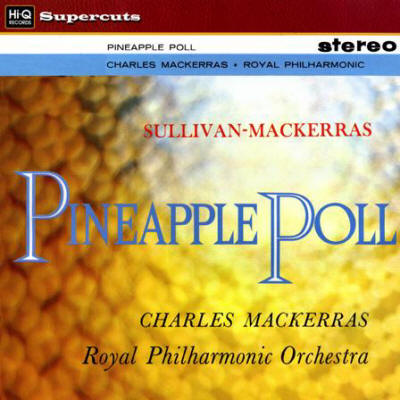 Sullivan-Mackeras, Pineapple Poll, Charles Mackeras, Royal Philharmonic Orchestra - reissue of EMI CSD 1399 on Hi-Q Records HIQLP001.
This music is based on Sir Arthur Sullivan's music from various Gilbert and Sullivan operas. Charles Mackeras arranged the Sullivan's music for a ballet called Pineapple Poll. While converting Gilbert and Sullivan to ballet may seem strange the music is quite fun to listen to. It is not heavy listening which is why it was released by EMI as part of the CSD series instead of the classical ASD series. This recording was superbly recorded and the original CSD pressing has been on many "Best Sound" lists. I have an original CSD 1399 (green label, postage stamp Nipper) and compared it to this reissue. Both LPs sound excellent with tremendous dynamics. The reissue has more bass than the original. However, I find the strings on the reissue to sometimes be a little bright compared to the original. While I could easily live with the reissue I think the original sounds a little bit smoother, a little bit more natural. Of course, that may be because the original is the LP that I am used to listening too. If you can not find an original, you should not hesitate to buy this reissue. Great music, superbly recorded, mastered, and pressed.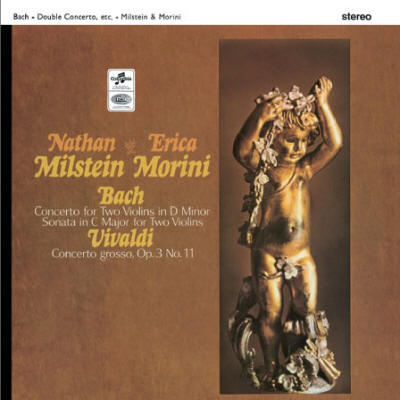 Bach, Double Concerto in d, BWV 1043 and Vivaldi, Concerto in d, Op.3, No.11, with Nathan Milstein and Erica Morini and the Chamber Orchestra - Testament reissue of EMI Columbia SAX 2579.
Milstein was one of the finest violinists of the 20th century. While he did not have the technical brilliance of Jascha Heifetz—who did—Milstein thrilled audiences for almost sixty years with a superb technique, a rich tone, and a warmer, slightly more romantic sound than Heifetz. This recording was made in 1965, nineteen years before he retired. Erika Morini was a child prodigy who made her orchestral debut in Berlin in 1917 when she was 13 years old. She was noted as being one of the finest violinists of her generation. She retired in 1976. Here we have two master violinists performing BWV 1043, one of Bach's finest compositions. The two violins weave in and out in with the orchestra and each other in perfect ensemble. An excellent performance of a much recorded piece. The Vivaldi piece is less well known than the Bach, which is unfortunate as it is a lovely work. This is a splendid baroque piece. The performance is delicate, thoughtful, and played to perfection. The sound quality of both the Bach and the Vivaldi are superb. If you are into Baroque music this album is a must have for you.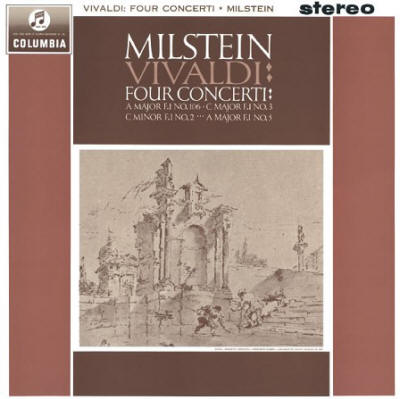 Vivaldi, Four Concerti for Violin, Strings and Cembalo, Chamber Orchestra with Nathan Milstein as soloist - Testament reissue of EMI Columbia SAX 2518.
This performance of four of Vivaldi's 221 violin concerti (Fanna 1, No. 106, 2, 3, and 5) is for all fans of chamber music. With a small ensemble of 6 violins, 4 violas, 2 cellos, bass and harpsichord Milstein creates an intimate chamber music experience. You are seated perhaps 20 feet away from the musicians, close enough to hear all the inner detail that makes chamber music so exciting to listen to live. This recording from 1962, while not meeting today's rigorous standards for the performance of early music (original instruments, original playing techniques, etc.) is still music that should be heard. The sound quality is not quite as good as the reissue of SAX 2579 reviewed above. But it is still excellent sound. Again, a must have for chamber music enthusiasts.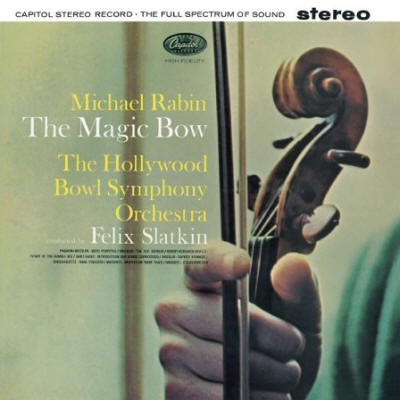 The Magic Bow, Felix Slatkin, Hollywood Bowl Symphony Orchestra with Michael Rubin as soloist - Testament reissue of Capitol SP8510.
This studio recording is collection of the short violin pieces made famous by Kreisler and Heifetz; i.e. Caprice Viennois, Hora Staccato, Moto Perpetuo, Flight of the Bumble Bee, etc. The music is very well recorded with the young Michael Rubin up in front of the orchestra. With the close mic'ing of the violin you can hear every subtle inflection of the violin. The conductor, a famous violinist in his own right, blends the orchestra in with the violin. The orchestra does not overwhelm solo violin. Instead it stays in the background letting solo violin be the center of attraction while still adding a subtle, but essential accompaniment. The original Capitol issue of this recording was on a rainbow label. The rainbow label pressings, while sounding somewhat better than other Capitol pressing, were nothing to write home about. Capitol, like Columbia, made many wonderful recordings of incredible performances which were ruined in the mastering and pressing. If you like these kind of violin show pieces you will be hard pressed to find a better sounding recording. The performances are quite nice as well.
The Not So Good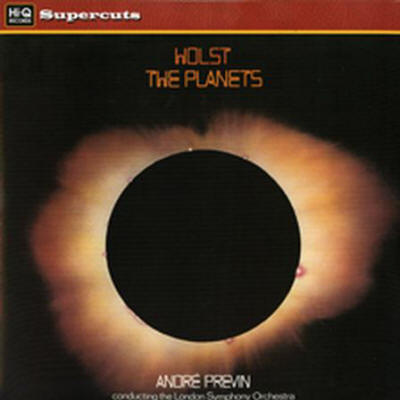 Holst, The Planets, Andre Previn, London Symphony Orchestra - reissue of EMI ASD 3002 on HiQ Records HIQLP003.
The Planets is one of the warhorses of classical music. When CDs first came out there were three CD versions of The Planets on the market before all of the Beethoven symphonies had been released on CD. The performance by Previn and the LSO is an excellent one though you may prefer one of Boult's stereo or mono performances since he was the person who championed Holst's music and brought it to the world's attention. Of all of his recordings of The Planets, I prefer Boult's early 1950s mono performance on Westminster. Of course, my favorite The Planets recordings are Stokowski's 1956 stereo recording on Capitol or the equally famous 1971 Mehta performance on London/Decca. Both of these recordings were with the Los Angeles Philharmonic Orchestra. While Previn's performance may be slightly less than Stokowski's or Mehta's, the sonics are top notch. Many people think the Previn has better sound than the Mehta London/Decca which is known for its sonics. On that issue I am in the Previn camp. I happen to own an original EMI ASD 3002 (black/white postage stamp Nipper). The first track on the LP, Mars, the Bringer of War, is a sonic blockbuster. Vinyl doesn't get much better than this. The reissue sound is equally dynamic compared to the original. However, the brass sounds a bit harsh at times and occasionally the horns have a slight megaphone sound that is not on the original. If you don't want to hunt for an original and pay the big bucks for a mint copy you should buy the reissue. My preference would be to hold off and buy an original, but not before you acquire the Mehta London/Decca.
The Ugly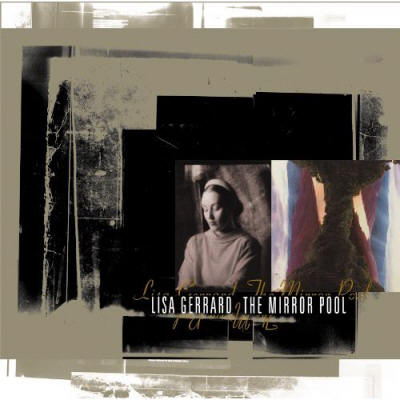 The Mirror Pool by Lisa Garrard ( two disks, licensed from 4AD to Vinyl 180)
I am a big fan of Lisa Garrard. I have all of her Dead Can Dance LPs as well as CDs of her later work (including Gladiator). I purchased the CD of The Mirror Pool when it first came out and play it quite often, loving both the music and the sonics. I even use one of tracks, Sanvean, as one of the tracks on a test CD I made to take to audio shows. Amazon.com has been selling a lot more new vinyl lately. As I was perusing the new LPs available I found this album and jumped at the chance to buy it. The LPs comes in a nice high quality gatefold album with excellent graphics. The LPs are pressed on heavy vinyl. This looks like a high cost, quality production. The sonics of the LP are very good. Quite similar to the CD. However, I can't listen all the way through even one side because the rice krispy crackles throughout the entire album. Even the run-in grooves and the run-out grooves have crackles. I always clean/vacuum dry new LPs with my home-brew solution before I play them. After I heard the crackles I cleaned both LPs two more times with two different commercial cleaning solutions. The crackles are still there. I am fairly tolerant of noise on LPs and amongst my 9,000+ LPs I do have some noisy ones. However, I found this album unlistenable. I wish I could get my money back.