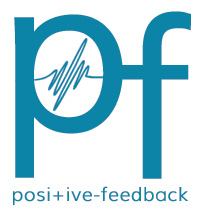 You are reading the older HTML site
Positive Feedback ISSUE 52
november/december 2010
The Best of the Best at 2010 RMAF
by Robert H. Levi
Ah Denver in October! RMAF continues to knock em dead with wall to wall audiophile riches galore! I had a splendid time and enjoyed the displays and the camaraderie. This has become much more than a regional show, it's now a masterpiece theater of fine audio!
I heard some great speakers powered by powerhouse systems that turned my head. Here is my list of the best of the best!
Speakers Over $50,000
In the Silicon Arts Design and Concert Fidelity room, the Kaiser Kawero (German made) loudspeakers, $66,000, knocked my socks off! Sporting the Raal Ribbon tweeter, a wood cabinet so beautiful it would classify as museum quality, and a rich warm detailed sound so wondrous as to win the heart of the toughest reviewer, I was amazed. This was high-end at its newest and finest.
The Concert Fidelity electronics, all hand made in Japan, is distributed stateside by Eastwind Import's Hajime Sato. The $20,000 linestage (tube), $10,000 DAC, and Silicon Arts (same company) 200 watt monoblocks (solid-state), $40,000, made for mellifluous music. The Esoteric X-01D2 SACD/CD Player and a highly modified Denon DP-3000/Denon tonearm/ Shelter MC Cartridge all made great sounds in the front end. The cables were from Turkey! They were the Echole Obsession Cables… $3800 per meter.
This system redefined exotic. However, I would not be reporting on it if it had not wowed my good old ears. No doubt about it! The Kaiser speakers are stunning. I have never heard them before, but I hope I hear them again! I heard more expensive speakers at the show, but none more musical. What a splendidly musical system! Well done! Kaiser/Concert Fidelity… Best of Show over $50k!
Speakers $40-50,000
I loved the junior Vivid G2 Giyas. Musical and detailed throughout, I heard definition and ease of presentation that was superb! I heard nothing in this price category to compare. Plus, the new Luxman class A Amp, the M800A, is fabulous. I enjoyed the unbelievably expensive but really excellent sounding CD player… the $44,000 Audioaero from France. Though, I really loved the reel to reel demo the best. Philip O'Hanlon knows great music sound and he pulled out all the stops in assembling this great system.
Vivid Audio. G2 Giya $50k
Luxman M800A $19k
Luxman C800f $19k
Audioaero La Source $44k
SonoruS Revox PR99 playing Tape Projects' master tapes
Shunyata Research's prototype cables to be formally announced at CES 2011
The G2 Giya's were a knockout. These are just the right size and seem to make this exciting design even sexier. What great fun! If you want a unique and intensely musical system that's sized right for most home, this is THE system to own. I was impressed by the extraordinary depth and breadth of the sound stage.
I heard nothing better in this price category so the Vivid system is Best of Show in my book.
Speakers $20-40,000
Joe Kubala does it again. Using the YG Acoustics Kipod Studio Speakers, $38,000, MBL Integrated Amp ($9625), Korg MR-2000 DSD Recorder, ($2000), and, of course, Kubala-Sosna Elation ($6000) and Emotion ($3000) Interconnects, (my reference), the system was a hit! He personally downloaded his favorite LPs and CDs on to the Korg at double DSD sampling and used this as a superb source. Amazing.
The mid level YGs never sounded more musical or detailed, ever. Was it the source? Cables? Room? I don't know. I do know I had a very tough time leaving to visit other rooms after my lengthy stay at Joe's. With lifelike sound, I truly heard music that touched the heart. Well done!
In this category, nothing compared! Best of Show for Kubala-Sosna and YG Acoustics!
Speakers $10-20,000
Marten does it again with its all Acuton ceramic driver Getz Loudspeakers ($20,000.) All wood and all deliciously musical, these speakers were right as rain and harmonius to the max. Driven by all E.A.R. electronics (tube) including the awesome 890 amp ($7595), superbly neutral 912 preamp ($11,500), and Acute upsampling CD player ($6195), you are there sound filled the room.
As a bonus, the brand new Townshend Rock 7 turntable ($3000) made its debut. It sported a Helius Omega tonearm ($2900) and Dynavector SV-1S ($5250) cartridge, and played classical, jazz and rock LPs with flawless perfection and intense musicality. Yikes! Here is a $3000 turntable that just may make all others at twice the price sound like a toy. Go hear the new Townshend Rock 7 soon.
The E.A.R. room and maestro Dan Meinwald was in top form for this show and wowed all listeners, me included. I went back three times.
The Marten E.A.R. system is Best of Show in this important price category and a great system for anyone for sure. Well done Dan!
Speakers Under $10,000
No doubt in my mind, the Daedalus DARMa Reference Monitors ($8595) in the ModWright room were speakers you could take home to mother! Detailed, warm, linear, rich, and truly amazing, I thought they cost $15,000! What a deal! Plus, ModWright electronics never sounded more fabulous. The ModWright Sony XA5400 with Ultimate Truth Mod ($3500) and a steal of steals, the LS 100 Linestage plus phono stage, ($3295+750), and the KWA 100SE power amp ($3995), was simply the deal of the century. The Soundstring Cable Technologies were used throughout to great effect.
Dan Wright is a young genius who may not yet have reached his real greatness. So far, he has designed extraordinary gear and each generation just leap frogs the last. This system is a class act and a wondrous great deal for any audiophile. The Daedalus speakers were stunning. They did a disappearing act you must hear for yourself.
In this real world price category, the ModWright Daedalus room was truly Best of Show.
In Conclusion
So there you have it. After three days and countless rooms, these are my choices for the best of the best. Yes, there was much more to hear and other great offerings. The fabulous TADS from Pioneer continue to WOW all listeners and Ray Kimber once again featured a show stopper of a system with five new Sony loudspeakers of truly epic sound quality. However, I choose these superb contenders as best of the best in each of these five price categories. They each truly deserve the title! Congratulations!