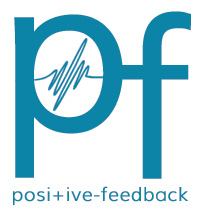 You are reading the older HTML site
Positive Feedback ISSUE 52
november/december 2010
RMAF 2010: My Audio Oasis! Awards
by David W. Robinson
[All photographs and image processing by Robinson]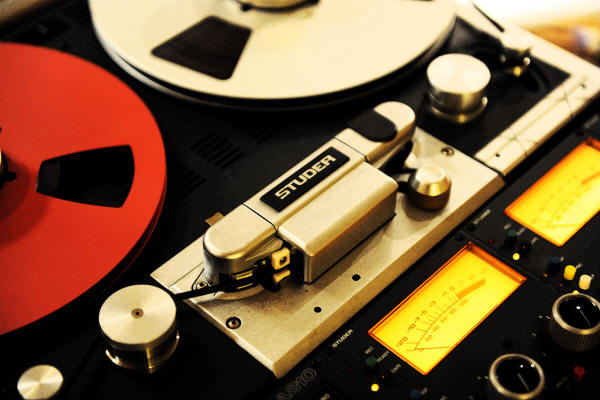 Once again, October; once again, time for the Rocky Mountain Audio Fest. I've been attending RMAF just about every year since it launched, missing only in 2008 when I was back east in Virginia. It's been the best audio event on my calendar for years now, a real audio party, with lots of people (but not too many), lots of products and vendors (but not too many… though 174 made this a challenging show to cover), and even some good music from time to time.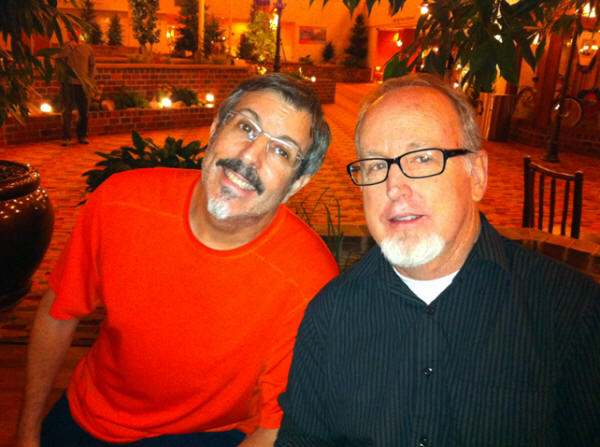 Good times at RMAF 2010! The irrepressible Alan Kafton with PF's Dave Clark… this is a pretty typical moment, actually….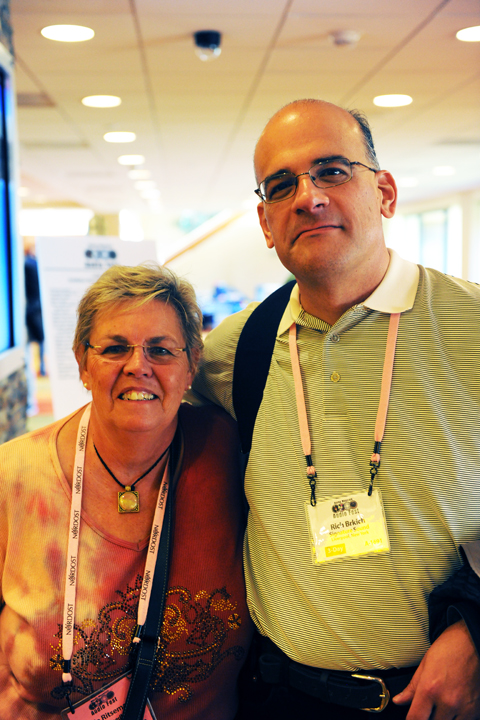 Good friends at RMAF 2010! PF's Lila Ritsema with our good audiobud Rich Brkich of Signature Sound.
No, I'm not cynical, but anyone who's spent time at audio shows knows that it's extremely difficult to wring the best sound out of hotel rooms (and power!) and exhibition spaces. Things generally improve between Friday and Sunday, as equipment warms up, tweaks are applied, and adjustments are made, but by then the show is rolling towards its conclusion, and many improvements will be missed by listeners. This is tragic, but unavoidable. Therefore, one attends with expectations that are flying at realistic levels, even for a superior show like RMAF.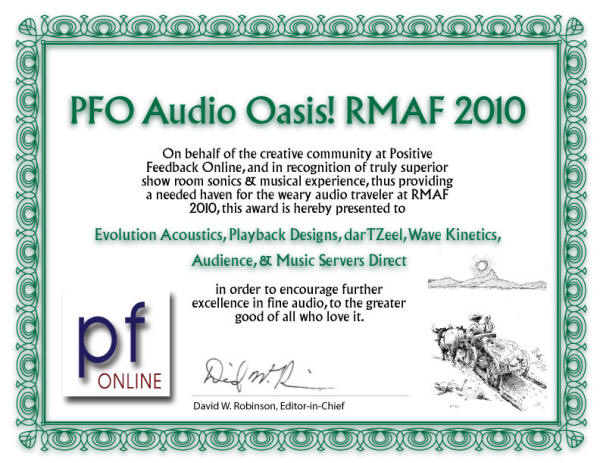 Even with a recalibrated expectations meter, though, the sound in a number of rooms can vary from underwhelming to dismaying. After years of trudging about trying to catch everything at RMAF that I could, and burning out my ears in the process, I decided to concentrate on the rooms that really drew me in with sonics that were clearly superior. Once I verified that impression, those rooms would be rewarded with my personal hallmark of special praise, the Positive Feedback Audio Oasis! Award. I've been doing the Audio Oasis! Awards for a few years now… since 2006, in fact. They address those rooms that bring me back again and again. As the name implies, such rooms at an audio show are like an oasis for the weary, thirsty, and tired traveler, who is seeking a place to rest, relax, and rejuvenate. I reckon that if a combination of gear can do this for me at an unlovely place like an audio show, then they show great promise for my listening room, and for yours.
So pay attention, amigos! Here, in no particular order, are my Audio Oasis! Award winners for RMAF 2010…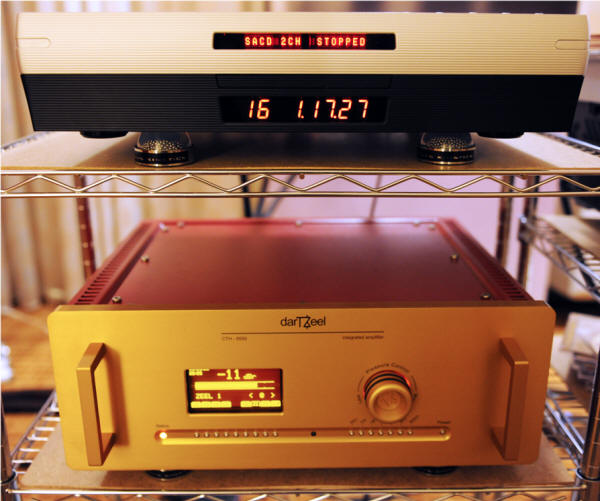 The Playback Designs MPS-5 SACD/CD player with the darTZeel CTH-8550 Integrated Amplifier was an exceptional treat for eye and ear. Pay no attention to the rack; it was there to showcase the fact that the Wave Kinetics isolation pods would do wonders even with inferior ringing metal racks. They did.
Blue Light Audio: I have to say it—the Blue Light Audio room was simply smashing in every way. Normally, I have to balance pluses and minuses when I appraise an audio show room; there are almost always things that are praiseworthy, but they are usually offset by the downside items. In the case of the Blue Light room, however, apart from the common problem of room size/acoustics/AC power, there was nothing for me to fault. How could I? Sources included the world-class Playback Designs MPS-5 SACD/CD player, which remains the best SACD/CD playback that I've ever heard; a nicely restored Studer A-820 open reel running tapes at 15 ips (utterly scrumptious, by the way, with regular cleanings of the playback heads during sessions); and a Music Servers Direct MSD-1 music server controlled with an Apple iTouch, playing back some high-resolution digital source material. They were feeding the darTZeel CTH-8550 Integrated Amplifier with a beefy 250 Watts per channel, which in turn dropped the signal to a pair of the surprising Evolution Acoustics MMMini Two loudspeakers.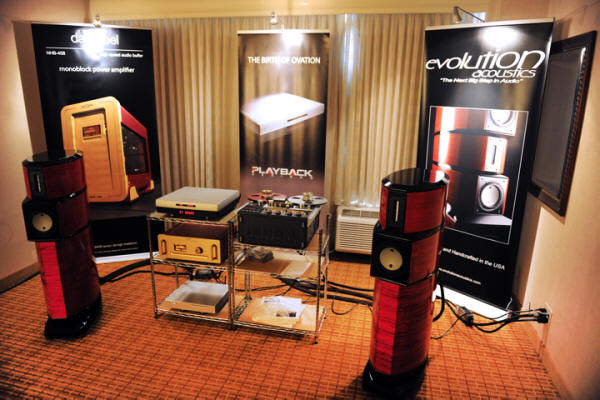 The sound of the combination was deeply satisfying, with the MMMini Two's outputting full-range, clean, and notably transparent sound. It's hard to believe that such a compact footprint and form factor could project so much superb music, regardless of the source. I was especially surprised at the bass response, evidence of the integrated subwoofer in this model… when needed, the MMMini Two's go deep. The darTZeel didn't tap out at any point, and had the signature transparency of Hervé Delétraz's design work. This is truly intriguing in an integrated amplifier. I am very familiar with the sound of the darTZeel designs, but didn't know the CTH-8550. My time with it here revealed that it is outstanding.
Naturally, the MPS-5 was sounding great for SACDs, but it was also handling output from the MSD-1 server and serving up digital recordings that were a pleasure to hear. The open reel tapes that Jonathan Tinn was cuing and playing for us from time to time were naturally reference-grade… superior open reel is a calibration for the sensibilities… but so were the DSD sources that Jonathan shared, courtesy of Bruce Brown of Puget Sound Studios. Tremendous recordings, masterfully handled… the DSD files transformed the room. While in the Blue Light room, I got to talk with Andreas Koch, the brilliant designer behind the algorithms in the MPS-5, Gus Skinas of the Super Audio Center, and Bruce Brown of Puget Sound Studios, all heavily involved in DSD recording, mastering, and design. We had some great conversations about the future of DSD… it's very exciting.
I hope to be able to tell you more about that in the near future.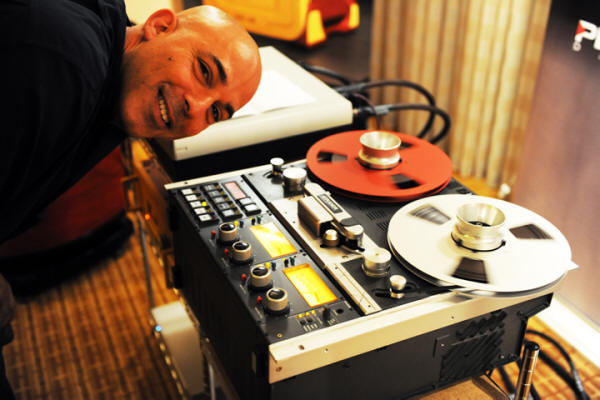 Jonathan Tinn of Blue Light Audio, Playback Designs, Evolution Audio, and Wave Kinetics, enjoys a moment with his nicely restored Studer A-810.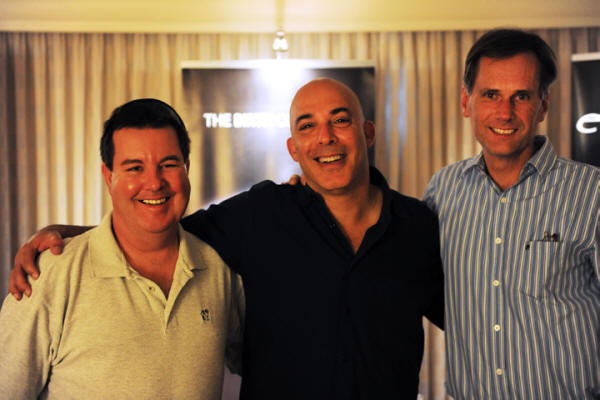 Bruce Brown of Puget Sound Studios, Jonathan Tinn, and Andreas Koch of Playback Designs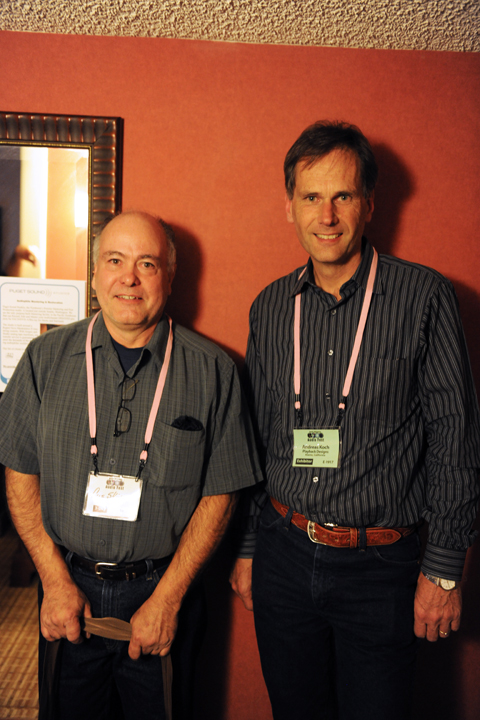 Gus Skinas of the Super Audio Center (http://www.superaudiocenter.com/) and Andreas Koch of Playback Designs, two greats in the world of DSD design and mastering.
The music and the quality of the sound had me coming back again and again…always a clue that I'm in an "Audio Oasis! Award room. "So I might as well admit it: I gave them one!
Walker Audio/Technical Brain/Silent Source/Air Tight/TAD: Another room that caught my ear early on was this one. This is no big surprise, though; after missing last year, Lloyd Walker and Fred Law were back. Featured were the latest iteration of the Walker Audio Proscenium Black Diamond II turntable system with all the trimmings and an Air Tight PC-1 Supreme MC cartridge, feeding a Technical Brain solid-state preamp, which in turn cascaded to a pair of Technical Brain solid-state monoblocks, and then ended up at a pair of TAD CR-1 Compact Reference loudspeakers.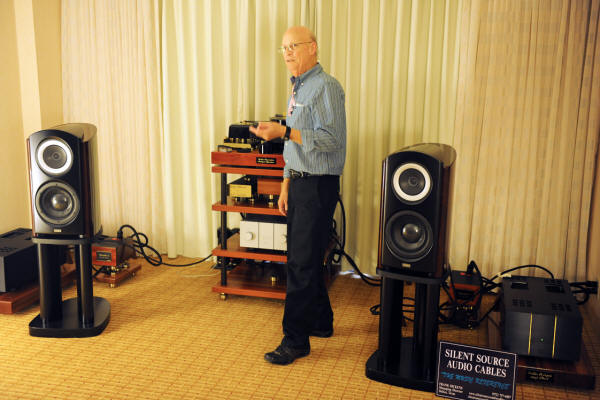 Lloyd Walker in demo mode, outlining the operation of the Proscenium Black Diamond II turntable system with its Air Tight PC-1 Supreme MC. The preamp and amps are Technical Brain, while the speakers are the TAD CR-1 Compact Reference. Power cables and interconnects are Silent Source, run to the Walker Audio Velocitor Line Enhancers. Very tasty!
As always, Dr. Lloyd's system was sounding great. The Proscenium Black Diamond II was dynamic, rich, and always musical, pulling the tunes out of the grooves in a world-class way. The music solid, round, and without veiling… Louis Armstrong was there in a big way in "St. James Infirmary"… you felt that you could reach out and touch his trumpet. This transparent, musically true and realistic presentation of the music transformed the room, and made listeners stay and listen to music, tapping feet, and nodding heads. At a show, that is significant.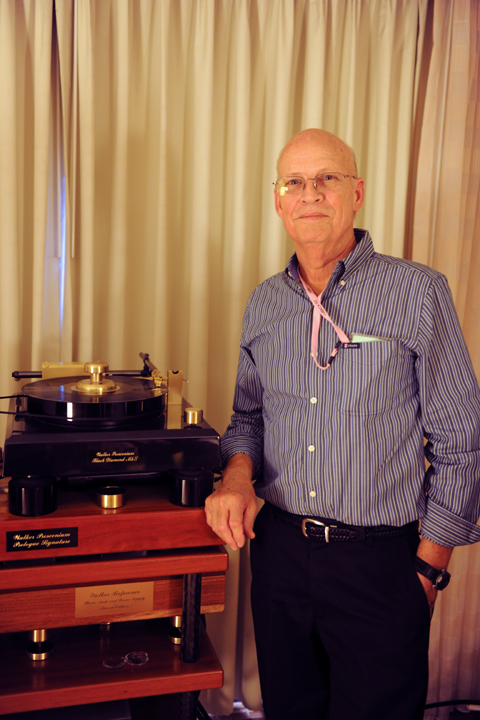 Lloyd Walker with the Walker Audio Proscenium Black Diamond II turntable system
Now, I will have to admit that I was not familiar with the Technical Brain solid-state electronics, though I was certainly aware of the buzz (no pun intended) that surrounded them. My initial impression here was quite favorable, though I could tell that they were still coming up to speed. Every time that I visited the room, the Technical Brain components were sounding better… and, of course, a Walker Audio Proscenium Black Diamond II makes everything downstream sound terrific. It was good enough to pull me back several times throughout the show, dropping in to catch Dr. Lloyd's great vinyl show! The Technical Brain TBC-Zero stereo control amplifier (preamp) was transparent enough for me to make arrangements with Frank Dickens of Silent Source to get a review sample. The TBC-Zero should be here by mid-to-later December; when it arrives, I'll be hooking it up to my Walker Audio Proscenium Black Diamond via the Walker Audio Reference phono amp to see how it stacks up in an intimately known listening space. Stay tuned in 2011 for the results.
The TAD CR-1s were speakers that I have not listened to before. They sounded promising (approximately 32Hz – 100kHz claimed frequency response…I'm assuming around -3dB for these numbers), but they kept opening up over the two days that I was in the room, so I don't really know what their possibilities are once they're fully broken in. They did seem to like the serious power (350 Watts per channel into 8 Ohms, 700 Watts per channel into 4 Ohms, and 1400 Watts into 2 Ohms) that the Technical Brain TBP-Zero EX monos deliver, that I know… the TADs were standing at attention! Once you understand that the CR-1s are a nominal 4 Ohm speaker with an efficiency of only 86 db/Watt/meter, you can see why the Technical Brains were just the sort of bullwhip that the TADs needed. I hope to be able to add the Technical Brain TBP-Zero EX monoblocks to the listening room later in the year, just to see how they sound at our very well-known home base. We've had some exceptional big iron here over the past few years… Lamm, Boulder, WAVAC, mbl, darTZeel, Joule Electra… so our ears are well calibrated. Bring on the Technical Brains!
More good news: Lloyd Walker will be making it back to Portland in 2011, to install a series of upgrades to our reference Proscenium system, to bring it up to the Black Diamond II standard. Judging by what I was hearing at RMAF 2010, this will be a significant step forward. Lloyd and company are always working hard to improve their designs, and the results always hit the spot… I'm stoked to hear the results! Bring it on, Lloyd!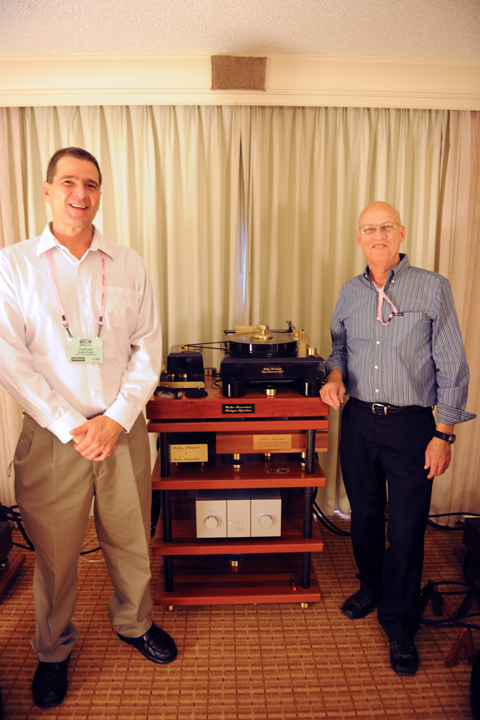 Fred Law and Lloyd Walker of Walker Audio
Overall, the sound in this room had me returning several times for an encore, a sure sign of an Audio Oasis! Award room, which I gladly awarded to Walker Audio/Technical Brain/Silent Source/Air Tight/TAD. Well done!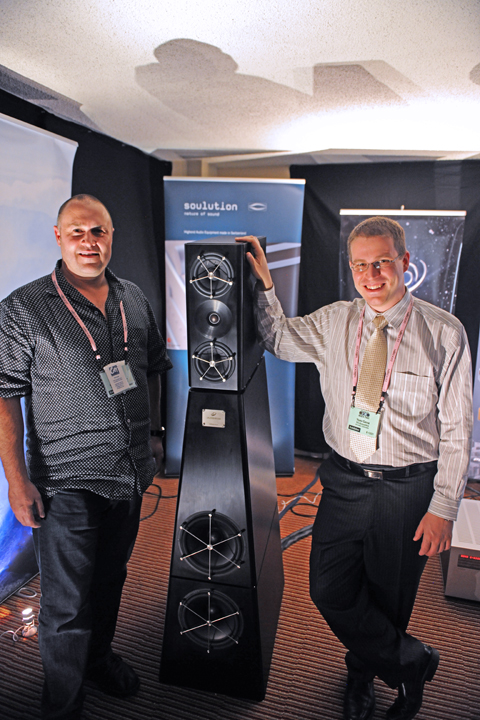 Bill Parrish of GTT Audio and Yoav Geva of YG Acoustics, enjoying the moment…
Next on my list is the GTT Audio & Video/YG Acoustics/Soulution Electronics/Kubla-Sosna/Korg room, featuring the splendid YG Anat II professional speakers, the Soulution 745 SACD player, 720 preamp, and 700 monoblock amps, all strung together with Kubala-Sosna's exceptional Elation cables for power, interconnects, and speaker cables. The source being used while I was in the room was a set of magnificent transfers from analog to double-DSD (128 fs, which equals a sampling rate of 5.6 mHz) recordings, played back through the terrific KorgMR-2000 S. In this, my audio and photographic amigo, Joe Kubala was complicit, since he handled the transfer task via Korg Double-DSD for both open reel tapes (using a Tim de Paravicini modified Technics RS1520… excellent!... via Kubala-Sosna Elation cables… superlative) and LP sources (feed taken from a VYGER Indian Signature turntable with Air Tight PC-1 MC cartridge, using the Swiss-made Soulution 750 phono amp, again using Kubala-Sosna Elations). The Double-DSD transfers sounded simply unbelievable: transparent, pristine, and completely analog-like. I'd have to say that they sounded truly faithful to their analog sources, which is what Joe Kubala confirmed to me when I asked him.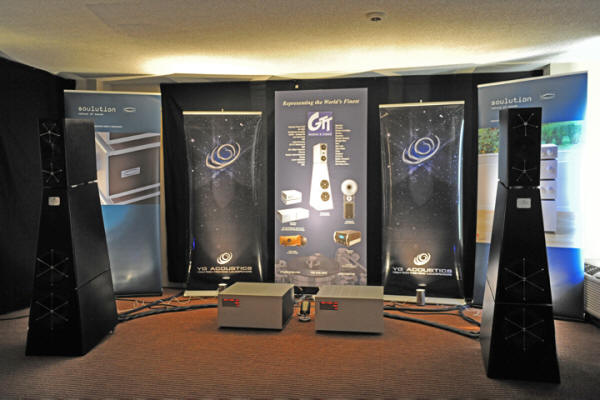 The GTT Audio "big room," with the humongous Soulution700 monoblocks: big sound for the big room
The sound in the large GTT Audio room was large-scale, and yet capable of real nuance. I knew the superior quality of the Kubala-Sosna cabling, but was unfamiliar with either the Soulution electronics or the YG Acoustics line. But the music and the sound drew me right in the doorway.
Bill Parrish was a good host, and kept the Double-DSD music flowing, using the handy-dandy track listing guides that he had printed out. This sure makes it easy for an exhibitor to hop from one great cut to another. I have to say that the synergy in this room was special; these components seemed built for one another. Given the rather eclectic collection of companies, the results were terrific.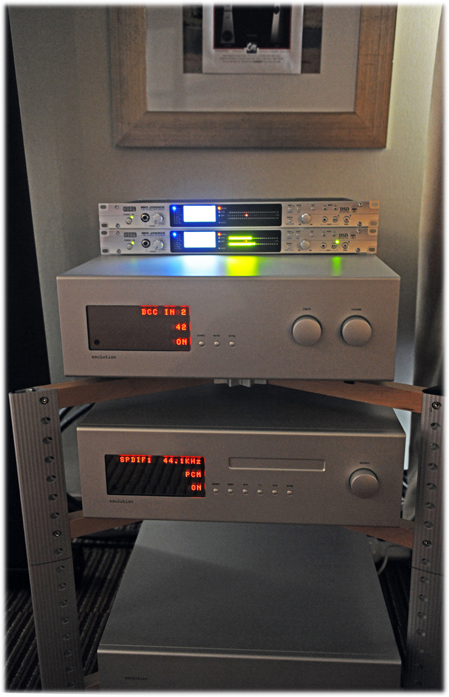 A pair of Korg MR-2000 S Double-DSD units on top of the Soulution 720 preamp, the Soulution 745 SACD player, and the Soulution preamp power supply… exceptional sound.
Sooooooo… you sit down, and see what happens. Pretty soon, there it was: the toe a-tapping, the eyes a-closing, relaxation into the groove… and at a show! That's the clue. Nothing that sounded "digital"; full-range sound, clean and well integrated from top-to-bottom, with deep power reserves… the music never sounded constricted or constipated. Effortless audio reproduction… it had "ease" written all over it, and in spades.
I've known Bill Parrish for a number of years now; he has carried some very fine lines over that time. This room was no exception. I spent some time talking with Bill, and with Yoav Geva, the designer behind the YG Acoustics line. Yoav and I are talking about a reference-level loudspeaker review project for next year, if the logistics come together; we'll see. Meanwhile, the YG Anat II professional speakers were certainly impressive, and the Soulution electronics played together with them in the sandbox very nicely.
No doubt about it: a 2010 Audio Oasis! Award for this room, for sure.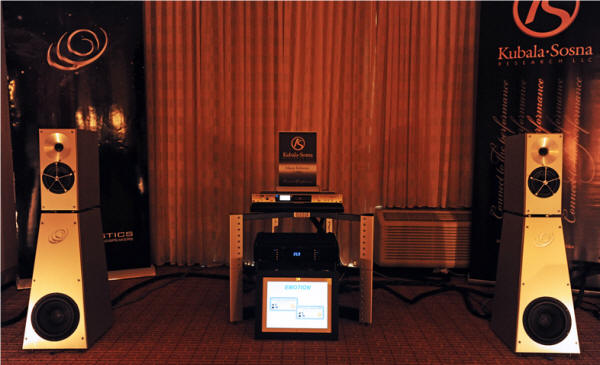 The YG Acoustics Kipods, with the Korg MR-2000 S recorder and the mbl 7008 integrated amp, all cabled with Kubala-Sosna: very spiffy sound!
Right next door was the YG Acoustics/Kubala-Sosna/mbl/Korg room. This was a smaller space, featuring the YG Acoustics Kipod loudspeakers, Kubla-Sosna Emotion and Elation! Cables, the mbl Model 7008 integrated, and the Korg MR 2000 S Double-DSD Recorder. It was ably Emceed by Joe Kubala, a person that I have special esteem for… after all, he is a fellow lover of fine black and white photography! It's hard to find a more congenial fellow than Joe: great music, and a mutual love of the masters of the fine print!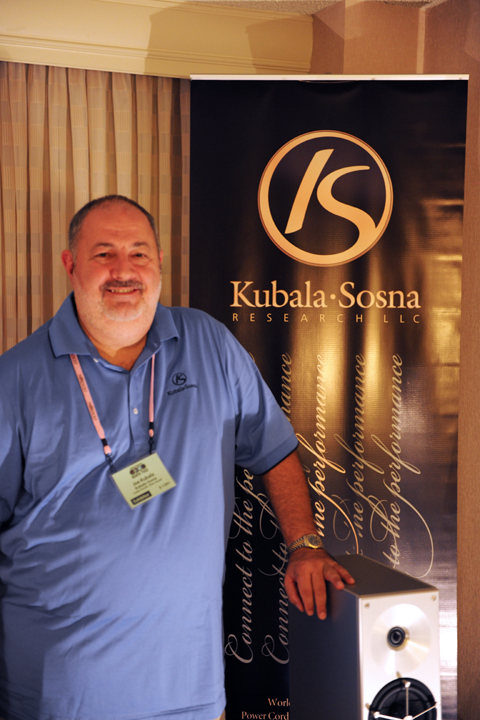 The inimitable Joe Kubala of Kubala-Sosna… a man who truly gets it!
Joe and I spent nearly two hours listening to an unending string of terrific Double-DSD recordings that he had transcribed from LP sources via the abovementioned VYGER turntable/Soulution/Kubala-Sosnachain, and from open reel tapes courtesy of the Timmy de P Technics RS1520. Tasty, very tasty, indeed! Joe had a printed list of tracks on the MR-2000 S; with its 80 GB hard drive, it will handle nearly 15 hours of Double-DSD recordings, or, if you prefer, up to 120 hours of 44.1 kHz/16-bit music. At the Double-DSD rate of 5.6 mHz, I could discern nothing but the feel of LPs and tape, all conveniently fed from the Korg MR-2000 S. I've got to look at getting one of these for the magazine in 2011… what a handy, great-sounding source!
The Kipods were tossing a nice soundstage in this room, and that despite the fact that the room was small, and less than optimal. I wasn't surprised at how clean the sound was; I've got a lot of respect for mbl, whose electronics spent some months with me back in 2008. The 7008 integrated was certainly quite capable, and mated with the Kipods quite nicely, giving a convincing replay of vinyl and open reel, courtesy of Double-DSD. No crummy 44.1 kHz/16-bit grain and edge that I heard in some rooms; just the clean feel of DSD transporting extremely well mastered sources. And Joe was able to control it all quite easily with the Korg. Extremely fine.
What can I say? Joe Kubala and this room also deserved one of my PF Audio Oasis! Awards richly, and I give it with pleasure.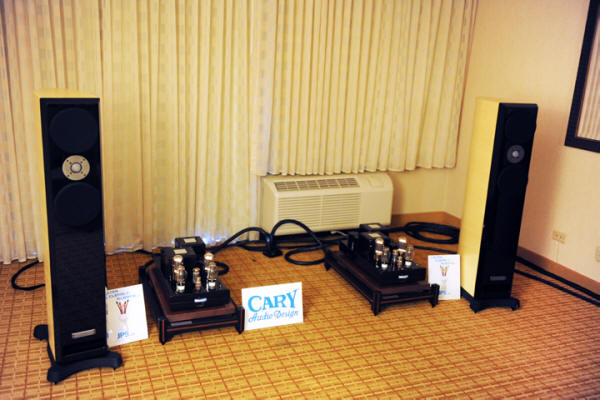 And then there was the Cary Audio/JPS Labs/Puget Sound Studios/Usher room. Featured were the Cary Audio CAD 211FE 211 monoblocks, the Cary Audio SLP-05 preamp, Usher Mini Dancer Two loudspeakers, and cabling by JPS labs. The source recordings were ultra-high-resolution (352.8 kHz/24-bit PCM or DSD files) provided by Bruce Brown of Puget Sound Studios.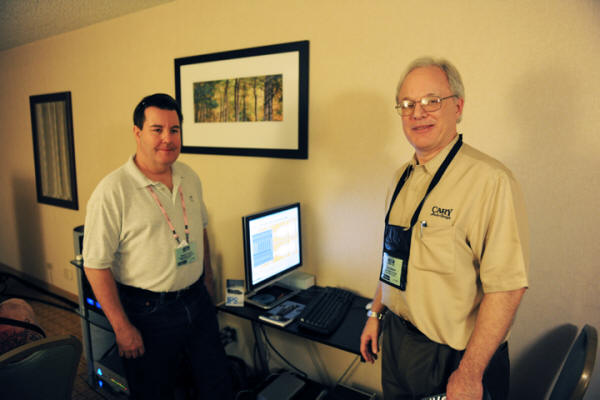 Bruce Brown of Puget Sound Studio, next to his workstation for his high-rez DSD and PCM recordings, with Tony Weber of Cary Audio. It all sounded great through the Cary tubes and JPS Labs pipelines!
Bruce Brown and I talked for a while about his exceptional recordings. He had recordings in both DSD and 352.8 kHz 24-bit, and some sources that I wish I had in my own music library! Bruce is deeply involved in mastering projects, and is doing first-rate stuff via his Pyramix DSD/DXD workstation and his new Sonoma gear. He's linked in with those in the DSD know like Gus Skinas, Andreas Koch, Jonathan Tinn, and others… the results are stellar. I sat in this room for quite a while, listening to undigital sound… a breath of fresh, fresh air in a world filling up with compressed music format. Bruce clearly gets it, is a member of the DSD fraternity, and deserves the projects that he's getting nowadays.
The quality of the sources in this room made everything else that much better, and I've never heard the Cary 211's to better advantage than at this show. The JPS cabling was nicely synergistic, with a rich, elegant presentation. Good stuff for all recordings, and the Ushers did a music job in delivering the goods. I spent some time in this room… lovely, lovely!
Another Audio Oasis! Award winner, for sure.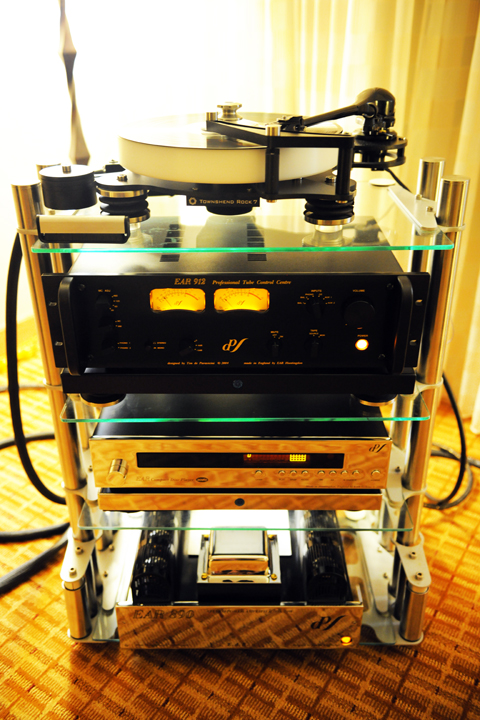 A glorious E.A.R. stack supporting a Townshend Audio Rock 7 turntable/Helius tonearm/Dynavector XV-1S MC via Jorma cabling: a musical and visual treat!
Dan Meinwald's E.A.R./Marten Design/Townshend Audio/Jorma room was another musical treat for me at RMAF 2010. As always, Dan showed attention to detail in his setup, and quality in his choice of source materials… primarily LPs, whenever he can! In place was the Townshend Audio Rock 7 turntable, with Helius Omega tonearm, and the Dynavector XV-1S MC cartridge, a cartridge that I know, and reviewed in system a few years back in my own listening room. (Way back in Issue 25, no less; see http://www.positive-feedback.com/Issue25/monaco.htm.) Also in place as a source was the E.A.R. Acute CD player, though I didn't get a chance to hear that component while I was in the room.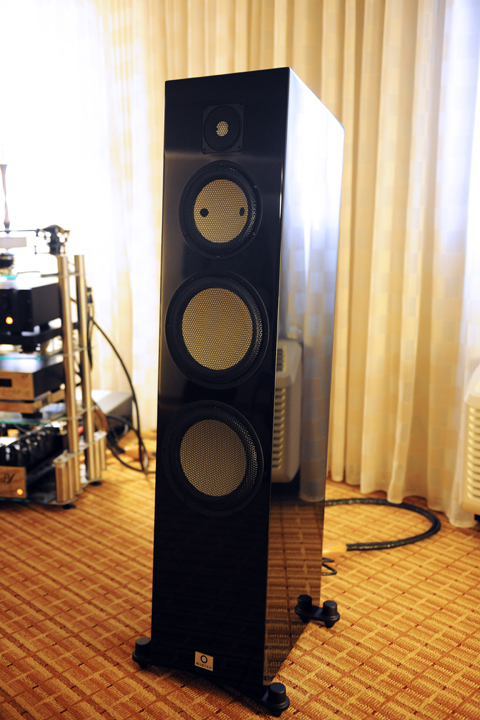 The Marten Design Getz loudspeaker
The EAR electronics stack consisted of the E.A.R. 912 preamp feeding the E.A.R. 890 amplifier. The Townshend Audio Virtual Seismic Sink Stand was the equipment rack for the stack. All components were hooked up with Jorma cabling, which seemed to synergize with the electronics very nicely, and piped to the Marten Design Getz, a speaker that I was not as familiar with as the Marten Design Coltrane.
As always, the sound in the E.A.R. room was elegant, rich, and always musical. Dan Meinwald has his traveling pile of LPs, and they're always a fine and rewarding listen. I hadn't heard this particular combination of turntable components before, though I've been familiar with Max Townshend's head shell trough for absorbing vibration from the cartridge. In this case, the turntable sounded very good, with the usual rich, vintage tone that I recognized from my time with the Dynavector XV-1S years ago. This is an MC that makes Frank Sinatra or Nat King Cole LPs sound glorious! And so it sounded while I was there; the music was lush, rich, but remained clear and incisive. This I attributed to the Marten Getz speakers, which speaker line I have always found to be nicely transparent and detailed, never overblown or euphonic. (And yes, Virginia, there are still a number of euphonic… in the worst sense of the word…speakers in circulation, busily pouring honey all over anything that passes through.)
In fact, it sounded so good that I talked with Dan Meinwald once again about doing a reference-level stack of E.A.R. for PF before the end of 2011. Of course, we've done this before…nothing's happened. Maybe something will come of it this time….
Meanwhile, a tip o' the hat and a 2010 Audio Oasis! Award for this room. And kudos to Dan Meinwald for being so consistently excellent in the quality and interest of the music that he provides.
JH Audio in the CANJAM space…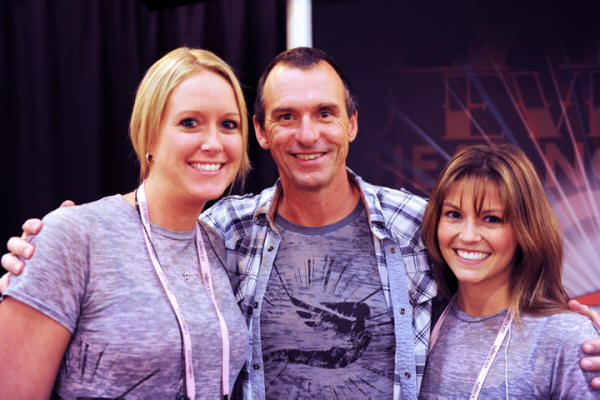 Bradi Hanrahan, Jerry Harvey, and Bri Jeffords at the JH Audio space… smile!
My last PF Audio Oasis! Award "room" isn't really a room at all. It's the space in the CANJAM room where Jerry Harvey and the JH Audio crew were once again pitching their really terrific reference-grade in-ear monitors. I had spent time at the JH Audio space at the 2009 RMAF show, and had been impressed with a test run (with putty as an acoustic sealer) of the JH13 Pro's, which was their top o' the heap model at that time. In fact, Lila Ritsema, Positive Feedback's Business Manager, was so impressed with the JH Audio in-ear monitors at RMAF 2009 that she had custom ear channel impressions done right at the show, and purchased a pair of their JH5 Pro's. She loves them… and Lila is very hard to please!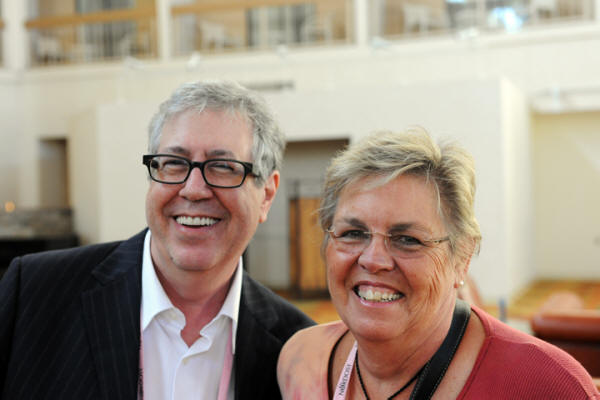 Our good friend Jonathan Scull with PF's Business Manager, Lila Ritsema, who is the proud owner of a pair of JH5 Pro's. And yes, she is hard to please… that's one for JH Audio!
This time around, and given all of the air travel that I do, I was determined to give the JH Audio line a more serious try. "My turn!" sez I to Lila. (My iPod 5.5 is up to nearly 4100 songs, and I'd like to hear them much more clearly than I have been using my consumer-grade Sony noise-canceling ear buds, which have been rather mediocre in their performance.) The new JH16 Pro's were out, and I gave them a run. Featuring double dual low drivers, single dual mid drivers, and single dual high drivers, a three-way crossover network, and a noise attenuation of -26dB, this had the look of what I was seeking.
Once again I sat down with the ear putty and gave the JH16 Pro's a shot. The sound was quite full and rich, with great detail and a lovely, uncongested presentation of all types of music. I spent quite a while with a source iPad (we have the 64 GB Wireless+3G here at PF central, a delightful device), trying all sorts of musical genres. Sure enough, the JH16 Pro's were champs with whatever I tossed their way.
Color me sold!
So it was off to have custom silicon molds made of my ear canals, which is an interesting sensation, by the way. After determining all of the options that these highly customizable in-ear monitors have, I ordered them up. They've arrived, and in my initial listening have surpassed my expectations, which confirms my show impressions.
I'm therefore giving JH Audio an Audio Oasis! Award for in-ear monitoring above and beyond the call of duty. Great fun, great sound, and a great time at their CANJAM space! If you're looking for in-ear monitors… well, here they are.
Finally…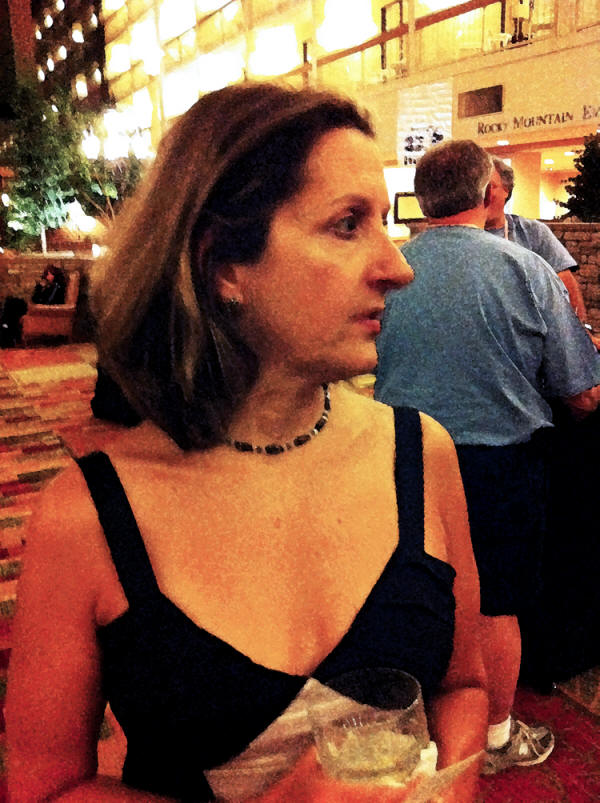 Marjorie Baumert, the Director of RMAF
[Watercolor by Robinson]
I wanted to take a moment at the close and salute our good audio friend and gracious hostess/director, Marjorie Baumert, for all of the great times we had at RMAF 2010. Al Stiefel and Marjorie built this show up over a number of years, and Al worked hard to make it the best regional audio show in the country. I think that he succeeded, and Marjorie was his capable right arm during those times. With Al's passing in 2009, Marjorie made the courageous decision to carry on, with the energetic support of the Colorado Audio Society. I salute Marjorie for her strength in the midst of great personal sorrow, and the CAS for its kindness in helping her to maintain the vision that Al had for this exceptional audio show. It's the best audio show/party that I know of…wouldn't dream of missing it!
I look forward to RMAF 2011… hope to see you there.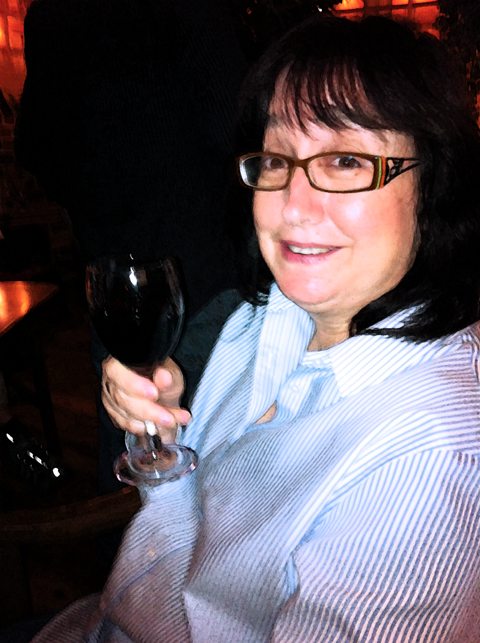 And a big "Cheers!" from Carol Clark, and all of us, to you!
[Watercolor by Robinson]