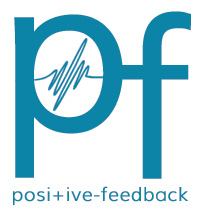 You are reading the older HTML site
Positive Feedback ISSUE 52
november/december 2010
2010 Rocky Mountain Audio Fest (RMAF)
by Jeff Parks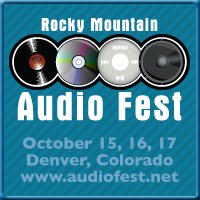 Hi everyone! It is Day One at the Rocky Mountain Audio Fest (RMAF). Rather than a "normal" show report I am going to do something a bit different. I am on a quest—that being the search for the perfect 'sounding' room. Please don't be offended if I didn't list your room within my report. For clarity's sake, products I took a pass at were: Gear that was priced so high into the stratosphere most of us mere mortals could never afford to buy them, products that haven't changed over the years, they have that "been there done that" mentality, and products that seemed to be another rewriting of what is already available. Last, and most importantly, the number one reason why I would enter a room and stay a bit was—did I get that welcoming feeling upon my entry.
Even in these troubling times where our hobby is dying like a grape on the vine, we should treat each and EVERY enthusiast as gold. Unfortunately, there are still many within our industry that perpetrate a high-end snobbery reputation that has shot this industry in the foot for decades. Having only two days to get into as many rooms as I could I just didn't have time for that kind of self-serving behavior. One example that really stood out at the RMAF, and for a moment got my "undies into a twist," was when I inquired about pair of speakers that were sounding great! Quietly, in the back of the room, I tried to capture the attention of one of the representatives. At first I was completely ignored, even with that person looking directly at me. At no point was I interrupting the listening experience for the others in the room, as a long time audiophile I know better. In addition, it was quite clear this person was there to answer questions. After I politely inquired a second time, the representative took one look at my badge and sized me up. He then responded with an indignant and annoyed response "What do you want?" I was blown away. I am here to report on all products and that is the response? Completely unnecessary!
Often when I speak to a neophyte audiophile hobbyist this is their number one complaint—high-end audio snobbery. It is this turn off that keeps so many "newbies" from our hobby. There really is no excuse for this type of behavior. I am sure this has something to do with the current status of our hobby being on the fringe of the electronics industry as opposed to being what once was considered the mainstream. The good news is I am seeing this type of buffoonery happen less and less over the years. Anyhow, I came to have fun, and truly enjoy this experience as a writer and most importantly as an audiophile.
Another factor that came into play as to whether or not I visited a room was, it needed to be making great music using realistic sized sound rooms. I tried to stay out of the huge static display rooms or overly glamorous displays where the sound room was so big that in my opinion would not represent what most of us have at home. My main focus was to visit displays that had a "real world" mentality to them—meaning a room that is anywhere from 12' x 14' or a bit bigger. For the most part I stayed out of the rooms that could have doubled as a conference room since most of us audiophiles don't have rooms that size. In short, I was trying to accommodate the little guy of the industry, or the person who displayed his or her gear in a more real world type display. As many of you may already know, especially those of us who attend these types of venues, getting good sound out of a small hotel room is truly a challenge. Finally, in addition to my quest for the perfect sound room, I will discuss the atmosphere at RMAF, highlight the various vendors, show offerings, and most importantly the room displays. This is going to be a daily diary of "my" experience at the Rocky Mountain Audio Show from Friday morning to Saturday evening. There will be no show report for Sunday, it was my 50th birthday and I flew home early that morning to be with my family.
Day One: 9:00AM. After an evening of cocktails with Editors Dave and Carol Clark of Positive Feedback, getting reacquainted with lost friends where Gentleman Jack and I got way too friendly, I retired for the evening around midnight. As one would expect the following morning I went to breakfast with one hell of a headache. I ate brunch at the Marriot Tech Center main restaurant. Hungry and hung over, I ordered one very large glass of V-8 juice, a large glass of iced milk, and a killer omelet. Finishing up breakfast I bumped into Steven Rochlin of fame and Kevin Deal of Upscale Audio at the table next to enjoythemusic mine. Moving on from our brief hellos, I sat back down at my table to enjoy a quiet moment with my coffee.
For a large chain hotel, I have to say the meal was pretty good. Thank goodness for that since the show was located within a cluster of hotels in an industrial park. So, to say there wasn't a lot of food choices unless you were willing to go into town would be putting it mildly (actually within a 5 minute drive are several very decent restaurants – Editor). The only choices were the Mexican restaurant across the street or the offerings at the hotel. Anyhow, the food was good and the service at the Marriott Tech Center was fantastic, so with one less thing to worry about, I was off to my first Rocky Mountain Audio Fest!
10:00 AM. First stop was registration to get my show badge. While waiting in line standing right in front of me was none other than The Absolute Sound's Editor in Chief Robert Harley. This was the first time I have had a chance to talk to him in person. What a nice and kind man, much more mild mannered than I expected. We talked for a few minutes till it was his turn to sign in and register. Get this; the person who was signing up Robert Harley didn't even know who he was; so much for audio royalty. For this audio geek meeting Robert Harley was a real treat—more on that later.
Once registered, I was ready to go. Before going into Pee Wee's playground of high-end audio, I had to meet Marjorie Baumert RMAF's show director. As always, I register late for CES and Rocky Mountain Audio Fest which usually results in me getting a poor room assignment in the event's hotel, or in some cases, no hotel room at all. Obviously my fault on that one. Couple that with me being a new parent while also being very busy and committed as a public school teacher, I usually end up canceling my stay realizing I just don't have the time. However, this year was different. So, here I am. Besides surprising myself that I am finally here at RMAF, I also surprised Dave and Carol Clark. Knowing how often I have told Dave and Carol that I would be coming to a show, and then at the last minute realizing not, it was no small wonder they were surprised. To tell you the truth I should have done this all along, the show was great!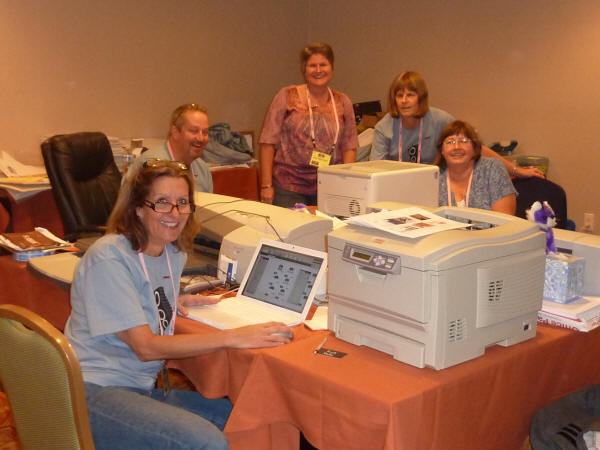 Anyhow, back to Marjorie. Marjorie and I exchanged several emails and a couple of phone calls and she helped me acquire a room assignment and registration for the event. In all of my years in this hobby (30+ just in case you were interested) there is no one better than Marjorie. She is a real gem. Not only did she get me a room assignment, but I got a suite at the regular show price to boot! You got to love that! I guess happy B-day to me!
With the RMAF directory in hand, listing over 300 different vendors and 160 different rooms, I am back in my room planning today's itinerary. Yeah, that is right I did say 300 different vendors. If I remember correctly RMAF started out six years ago as an audio get-together sponsored by the Colorado Audiophile Society. Though still sponsored by the Colorado Audiophile Society, the RMAF has grown from a small high-end audio show to what has now become the premier high-end audio event of the year. With CES not being very accommodating these days regarding the high-end with its added cost, difficult to get to venues, and a slowing economy, vendors are becoming much pickier as to which event to attend. Most of the vendors I have spoken to state RMAF is the event to attend to show their gear. Why? It's the atmosphere of course!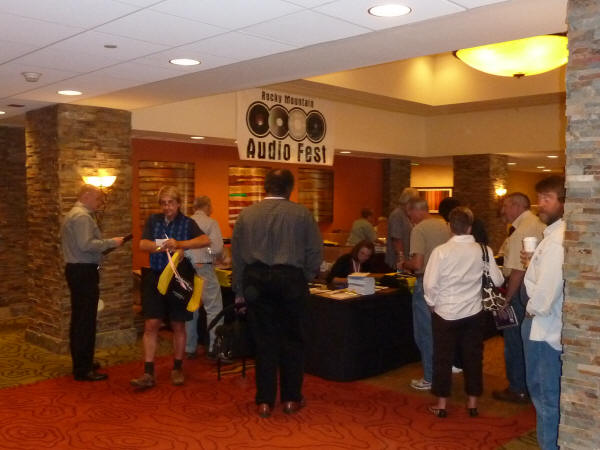 Coming here for the first time reminds me of CES back in the day at Alexis Park when the high-end was the darling of the industry as opposed to how it is perceived today. Once again, it is fun to be an audiophile with vendors speaking directly to the general customer and showing off their wares. This is where vendors and consumers have a chance to meet directly. I can't think of too many venues with this scale of industry participation where the general customer can "meet and greet" the designers of the products they love under one convenient roof. And as an added bonus, if the consumer wants to buy the gear they find at RMAF they can do so, and usually at a discount.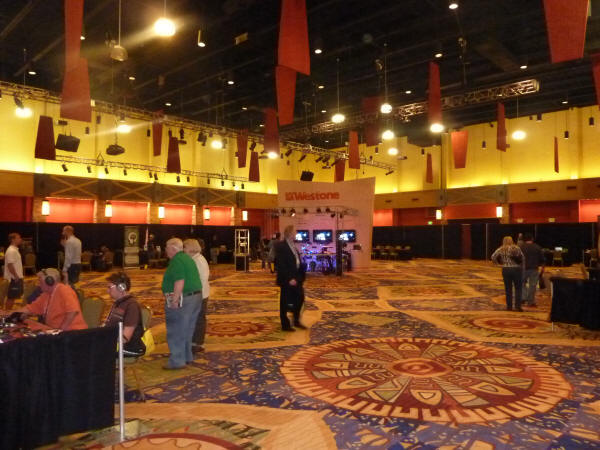 10:30AM: The Can Jam. Since I have been a headphone guy lately, this was my first stop. I had so much fun at the Can Jam listening to several pairs of headphones, headphone amplifiers, and many lossless downloads. All in all I spent over two hours at the Cam Jam, and through-out the show I returned three more times for more listening.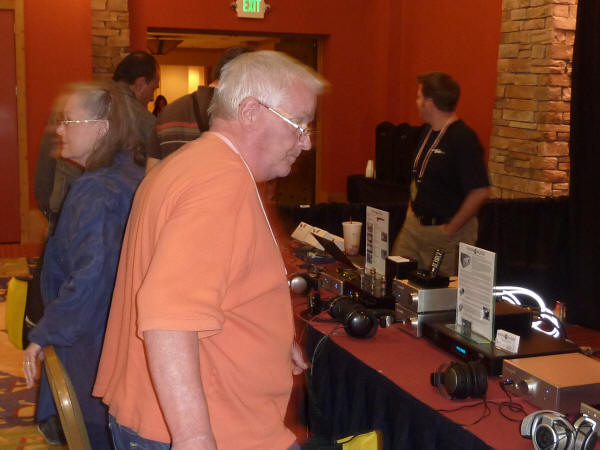 The first display I checked out was Drew Beard of Moon-Audio. Though a retailer, Drew also offers custom cables for many headphones based on his Moon Audio Dragon series which include the Silver, Blue, and Black Dragons. I was so impressed with his Dragon Series that I bought a pair for my Sennheiser HD-650 headphones. Believe me when I say these cables make a huge difference—well worth the retail of $265.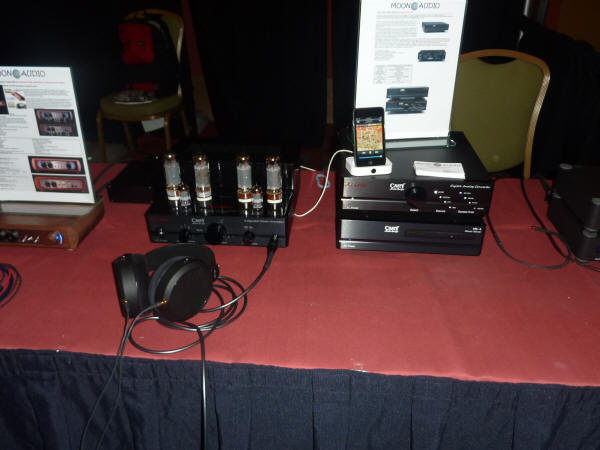 At Drew's table one could find just about anything and everything regarding headphones and headphone amplification; products represented were those from Cary Audio, Sennheiser, Beyer Dynamic, Hi-Fi Man, AKG, Ultrasone, Audio Technica, Burson Audio, Creek, Antique Sound Lab, Grado, PS Audio, Grace, and a USB DAC from High Resolution Technologies—The Music Streamer Pro. All in all pretty slick stuff. Of course my favorite gear to listen to at Drew's table were my review samples (review upcoming) of a modified Cary Xciter Integrated headphone amplifier based upon Drew's upgrade suggestions (installed by Cary) along with a pair of Sennheiser HD-800s headphones with one of Drew's Dragon series cables. I have to say the sound that was coming out of these headphones was extraordinary. It was big, detailed, and with fantastic micro- and macro-dynamic reproduction! I was smitten and could have stayed there the entire morning.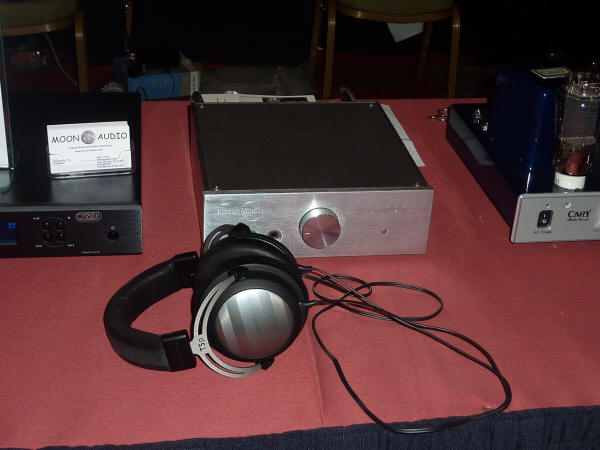 One more product worth mentioning was from Burson Audio a headphone amplifier and DAC combination, which as you know, works great for those of us who have computer-based music systems. Again, what I heard was big, dynamic and very musical. I was impressed! However, time was running out and I had to move on—besides Drew had more customers to serve. Thanks Drew, I had a great time.
The next stop: Audio Line Out. It was a year ago that I gave a Writer's Choice Award to Ken Ball's modified pair of Ultrasone Edition8 headphones, so with that in mind I had to see what Ken has been up to. Ken was displaying a new set of headphone from Audex e. What is unique about these headphones is that they are built right here in the United States—Southern California to be exact. With their solid wood cans, the sound coming out of these headphones was truly impressive—very natural sounding with an excellent top to bottom response that was very inviting. I could imagine myself listening to them for hours on end. Ken has promised me a review sample.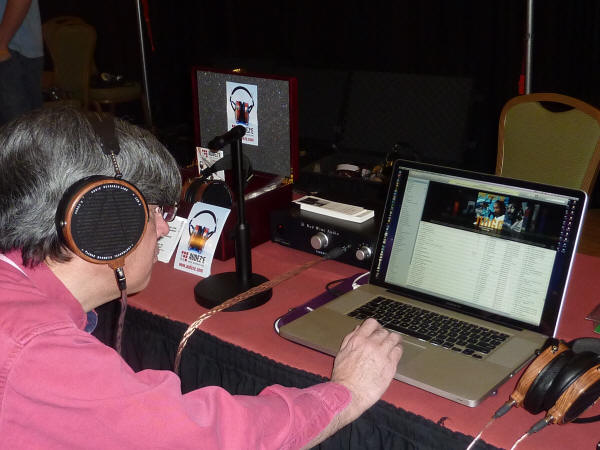 Another product that was truly extraordinary was a small pocket size battery powered AlgorRhythm Solo DAC along with its corresponding Rx MKII battery powered headphone amplifier; both from Cypher Labs. At the show Ken was demonstrating these with an iMac Server. The sound coming out was truly the best I have heard from a computer-based system. The AlgoRhythm has to be launched officially pending some licensing issues. For the PC owners, sorry, right now the AlgoRythm Solo is only compatible with an iPod, iPhone, and iPad products.
However, the RxII headphone amplifier will accept any analog signal; thus, it is compatible with any product out there today. Both of these units are totally portable and can easily fit in your front pocket. Boy I sure could have used these products for the long flight home. After sitting next to a person who just wouldn't shut the entire flight, you can bet that I will have a pair of cans on my head listening to my favorite music next time. Anyhow, once again the sound was stellar. So much so I asked Ken if he would be interested in helping me acquire a computer-based/portable music system. As a long time "old guard" audiophile, I have been putting off this type of technology. Based upon my new found experiences at the Can Jam, and being truly surprised by the sound being produced by these battery powered devices via computer-based music servers, I can no longer ignore this as a source. I will be writing a two part series discussing my experiences into this new foray of high-end audio in 2011.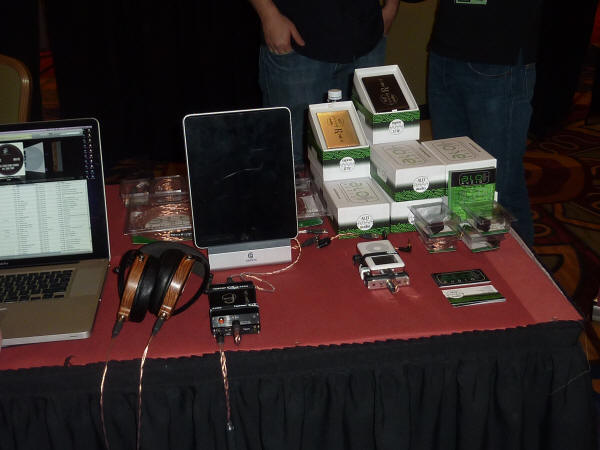 My last stop at the Cam Jam was the offering by Ray Samuels Audio. At the show Ray was showing his usual products with model numbers representing various military jets; an homage to Ray's days when he worked in the aerospace industry. When I inquired as to what his job duties were Ray responded with a famous quote from the movie "Top Gun", "I could tell you, but then I would have to kill you." Moving on to less serious topics I inquired about the naked product on the table. This is Ray's new battery powered fully balanced headphone amplifier; the SR-71B. I listened to several different pairs of headphones through the SR-71B and the consistent sound I was hearing was powerful, detailed, and very nicely layered—again another winner! Another cool thing about the SR-71B is that Ray offers it with a multitude of colors which would surely catch anyone's fancy.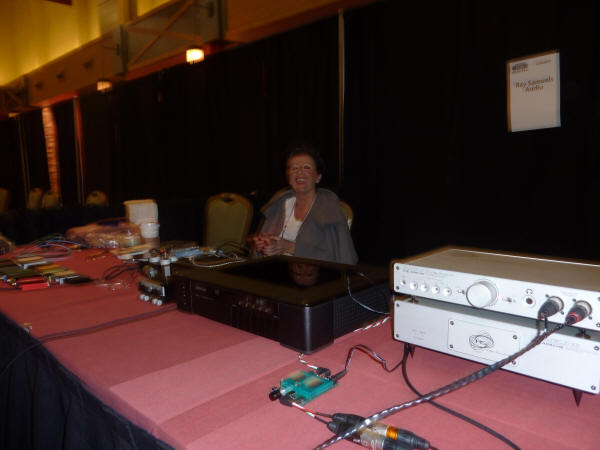 As always, Ray's enthusiasm clearly shows as he spent a good amount of time with me discussing his various products. Ray and Grace are such nice people; I really enjoyed my time with them—they are one of a kind.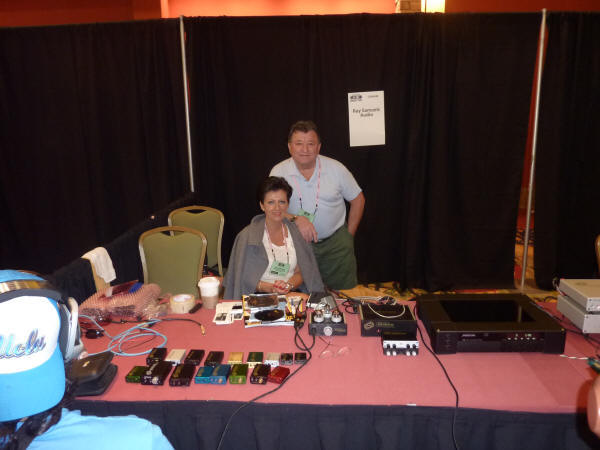 12:00 PM: After having spent the better part of two hours at the Can Jam, and realizing there is an entire show out there to visit, I was off and running. As usual, I got distracted. Rather than going straight to the elevator to the various display rooms I ventured toward the lower floor vendor room. The room was chock full of offerings from Acoustic Sounds and other venders who were retailing records, CDs, and SACDs. Like a kid in a candy store I wanted one of everything. Once again, I lost track of time and what was supposed to be a short 15 minute visit turned into an hour and a half long search for some great sounding SACDs.
While in the room I bumped into my friend from 2-Channel Audio, Chuck Kennedy, who was moonlighting at the Acoustic Sounds booth. Chuck and I spoke about the usual audio things, when he mentioned his new found love for classic jazz. Knowing how a friend had turned me on to BeBop, Bop, and Classic Jazz of the 1940's through 1960's I had to get Chuck started on the path to Jazz nirvana. So I was picking up discs from Art Blakey, John Coltrane, Donald Byrd, Sonny Rollins, Dexter Gordon, and Kenny Burrell to name a few.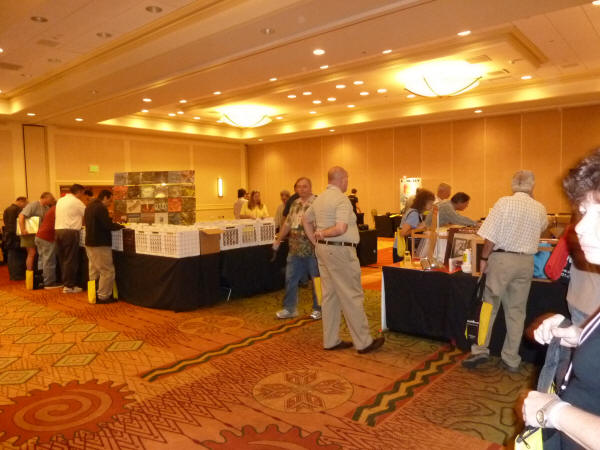 At first Chuck was a bit overwhelmed. Then I gave him a bit of insight that I was taught a long time ago by my close friend and jazz nut Charlie. Find a guy you like, say Sonny Rollins, and look at the back up players on the disc. Since all of these guys played on each other's records moving from one gig to another (no huge egos or corporate mentality here), if you like one disc and its range of players, the likelihood of liking records made by the backup musicians when they take their turn as the main player is almost a sure thing. This is how my Jazz collection grew from just a few discs to well over 1000. With that said, I started Chuck off with a new SACD Blue Note reissue from Acoustic Sounds—Sonny Rollins Saxophone Colossus. [Analog Productions CAPJ 7079 SA] After another hour and a half of shopping, I had stocked up with 10 titles from Acoustic Sounds newly released SACD Blue Note collection; all of which sound great!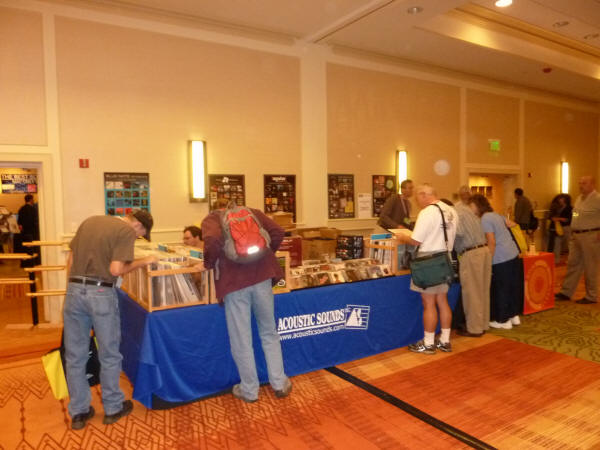 2:00 PM I am finally ready to hit the rooms. In looking at my itinerary it seemed that the fourth floor with rooms 400 to 495 seemed to be the best place to start. After passing on several rooms or staying for just a short quick visit, the first room to stand out amongst the crowd was Usher. I knew this was an easy bet since Usher consistently comes up with great sounding rooms and this year was once again a winner. Usher was showing the new Dance Mini-Two from the Usher Diamond Revolution series of speakers with products from Cary Audio and cables by JPS Audio.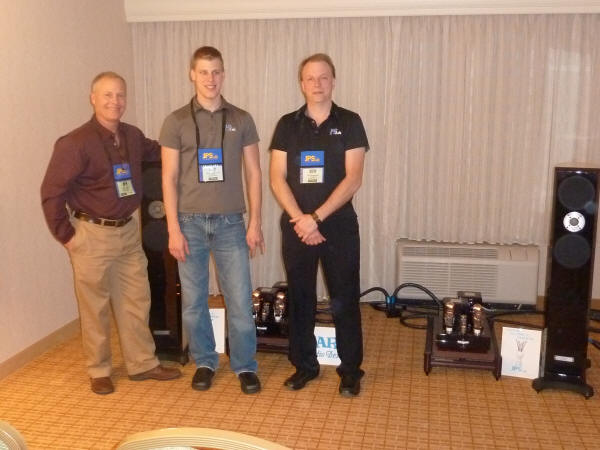 What was truly enticing about this room was the terrific bass response these speakers deliver while not sounding the least bit bloated. The system was very tight sounding, with deep powerful bass, that threw out a realistic and believable soundstage that was so harmonically rich that I found it hard to leave the room. In fact, I was so impressed with the sound that I came back to visit three more times over the course of the two days I was at the show.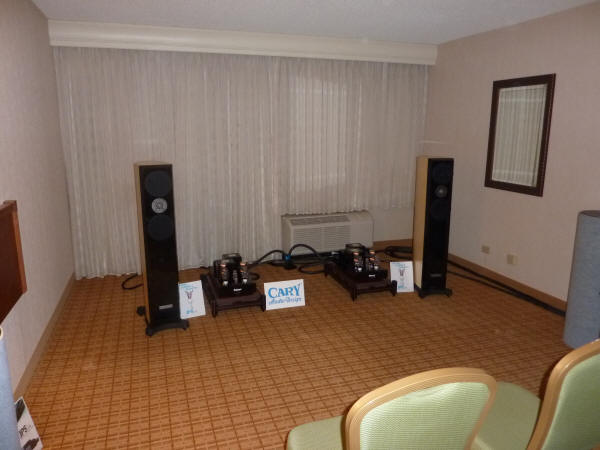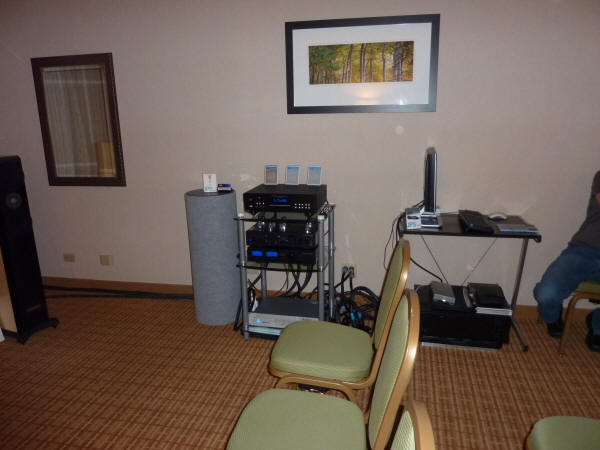 Once again, the audio experience I was getting from such a small room was outright spectacular! I am sure that not only did the stunning Usher Mini Dancer IIs have a part in this, but we cannot forget the JPS labs cables backed up by the Cary Audio gear. Other than in Dave Clark's system this was the only other time I have had a chance to listen to Cary Audio gear of this caliber—I was definitely impressed! This stuff rocked!
Next stop was my friend Ty Lashbrook of Tyler Acoustics. As always when Ty and I get to talking both of us can really get it going. I love conversing with him. In fact, I got so distracted during our many conversations I completely forgot to take any pictures—my apologies. With that being said, the picture I am showing are from those by my editor, Dave Clark.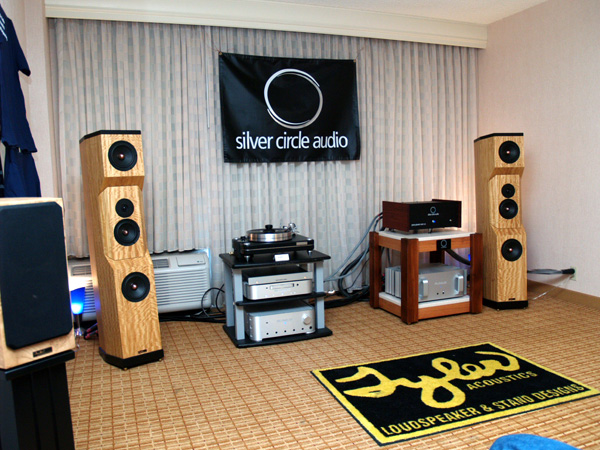 As many of us know Ty has a long reputation of creating great sounding speakers at bargain prices. For RMAF, Ty was showing a pair of Decade D2 tower speakers, with a Plinius SA-103 amplifier, Tautoro preamplifier, and CD-101 CDP. Also showing along with Tyler Acoustics and Plinius were products from Silver Circle Audio; the 5.0 line conditioner and cables.
Sound in this room was big and powerful with a nicely layered soundstage. What really got my juices running was when Ty hooked up a pair of Tylo monitor speakers which use a Seas Excel 6" long throw woofer and Scanspeak Revelator tweeter. After Ty had these speakers in place they really knew how to fill up a room with darn near full-range sound, and my god they can disappear within a soundstage like a cat on the prowl. From the lower mid bass region to the top, these speakers were about as smooth as I have ever heard from any monitor. At $2400 per pair in standard finishes they are truly one of high-end's best bargains. In fact, I so impressed with the Tylos I commissioned Ty to make me up a pair in the premium Bird's Eye Maple finish. More on these later. I can hardly wait!
4:00 PM Next up was Red Wine Audio. This is the first time I have met Vinnie in person, though we have spoken on the phone a couple of times in the past, it was nice to meet him face to face. One of the things that enticed me into the room besides the great sound was how welcoming Vinnie was; it was almost like I was family. It is so nice to be treated that way—especially at an audio show when everyone is so rushed. After Vinnie gave me a rundown regarding what is new for Red Wind Audio, it was time to do some listening. I have a confession to make, this is the first time I have listened to a system that runs completely on batteries. Yes, I do have a headphone amplifier from Audio Line Out (the Amphora) which is based upon the Red Wine Audio headphone stage and, like Red Wine Audio products, is battery powered. This sounds great for headphones, but driving a pair of conventional speakers in a reasonable sized room to near concert levels—are you kidding me? I really didn't think I was going to hear a system with thundering bass, dynamic range, or visceral impact of a conventional AC based system. What I heard was a room that was detailed, full range, and with enough dynamic impact to knock your socks off—so much for the misconception that battery powered rigs can't rock. Once again another winner and a system I would like to put on my Christmas list. Nice stuff!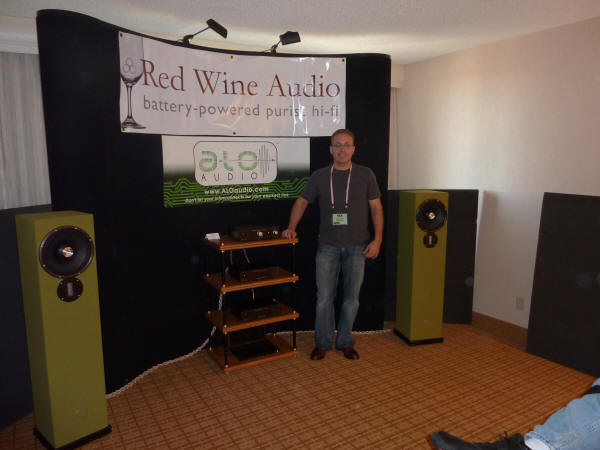 5:00 PM Having enjoyed myself I decided to spend the rest of my day with Ty at Tyler Acoustics and go back and listen to the Taylos for a second time—they were just too cool not to hear one last time. Though on my first day I wish I could have visited more rooms these were the ones that at least stood out amongst the crowd of 30 different rooms that I hit on my first day at RMAF. Being tired with all of the walking and listening I called it a day.
6:00 PM With my feet killing me I decided to eat at the hotel and make a night of it where I finished with cocktails with the PFO gang.
10:00 PM. After cocktails with the PFO gang and other industry people, I called it a night and hit the hay. I was beat. Good night everyone, I will talk with you tomorrow.