A while back Stephaen (6Moons) and Pete (Pete Riggle Audio) stopped by for some early morning coffee drinking and music listening, which I think is a mighty fine way to start a day. Stephaen brought along a Pass Labs' INT-30A solid-state integrated amplifier that he is reviewing for 6Moons. We plopped the Pass into my Review System #1 in place of my normal Leben RS100U preamplifier and CS660P power amplifier, then let its insides warm up while we warmed up our own insides with some freshly brewed Peet's coffee from the Jura Capresso.
Our initial impressions with the Pass INT-30A in the system were mixed: it sounded reasonably pleasant, but a little uninspired compared to the Leben gear, and a little dry (as opposed to the Leben's tube liquidity). To see if I could help things along a little I decided to swap out the stock Pass power cord for one of the Acoustic Revive Power Reference power cords that I normally use in my system ($750 for a 2-meter power cord). Here's Pete's take on the results:
"Had I been blindfolded I would have been able to guess that the Pass amp was a solid state unit when it was played with the stock power cord. Yes, it was dry in the midrange, and not fully enjoyable. The bass, which should have been superior to that of the Leben power amp, was maybe a little tighter and dryer, but not more enjoyable than the bass of the Leben. When the Pass amp was played with the Acoustic Revive power cord I would not have recognized it as the same amp played earlier with the stock power cord. Blindfolded, I would have identified it as an excellent tube amp with performance both evenhanded and holistic. When the Pass Labs amp was played with the Acoustic Revive power cord the midrange went from dry to lush. The bass went from non-musical to musical, and the tautness of the bass, to my senses, was an improvement to the system."
If you've never heard the difference a really good power cord can make in a system, you're in for a nice surprise one of these days, just like Stephaen, Pete and I were in our listening session with the Pass and Acoustic Revive Power Reference cord, which brings me to the subject of this article, a new and impressive contender in ultra high-performance power cords, the Sablon Audio The Robusto power cord.
The Sablon Audio Robusto Power Cord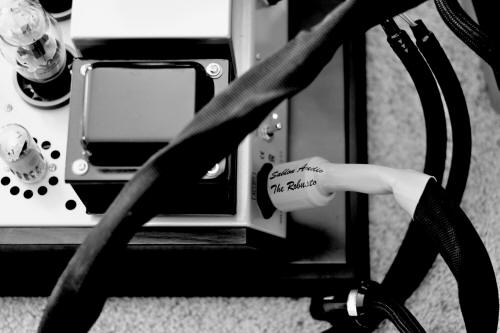 More often than not, it's through the 'audio underground' that I get tips about new or relatively unknown Hi-Fi products that really deliver the musical experience in spades, for it is from the underground's deep recesses that the imaginations of the audio illuminati's passionate experimentalism evolves the state-of-musical art in vacuum tube amplifiers, horn-loaded loudspeakers, vinyl front ends, and those rare accouterments that can bring to them to magical life, allowing an infusion of the living and breathing sound of music into our listening rooms.
It was in this context—right on the heels of Stephaen and Pete's visit—that my pal Cato in London told me about the Sablon Audio Robusto power cord designed by Mark Coles:
"… thought I'd share my latest… power cords from Mark Coles… they really trounce my collection of JPS, Nordost, and various other power cords from well known manufacturers. The Robusto is beautifully made and a lot of thought has gone into the design and the terminations… highly recommended stuff! Stay well and keep the ink flowing!"
Cato has good taste in things Hi-Fi, so as you can imagine, after just hearing the magic wrought by changing power cords on the Pass, I was quite interested in finding out more about Mark Coles and his Sablon Audio The Robusto power cords which had so impressed the discriminating Cato.
Cato put me in touch with Mark, and the rest, as they say, is history. Mark, like quite a lot of talented designers, got started doing DIY projects; with the results that evolved over time being so good, so unique, that it started getting peoples' attention. Then by popular demand Mark was pestered into making his power cords available as a product. I asked Mark if he would share with me a little more about himself, how he got involved in audio, and how the The Robusto power cord came to be:
"My starting point wasn't actually when I used the pocket money from a school holiday job to buy a BandO system, as I had always believed. No, thinking about it deeper the real start came a few years later when I heard my first heard a tube amp (Audion Silver Knight 300b mono-blocks). I can recall to this day being mesmerized by its rich tonal presentation and enveloping soundstage—quite a contrast to the run of the mill transistor amps of the 1980s. That's when I really became hooked.
In the 20 years since that moment, I've largely been a 'buy and hold' sort of guy with my system, keeping gear for some time before contemplating moving up the ladder. If it didn't live up to expectations, then I'd persevere with tweaks and tuning until I'd get the best from it. Of all the tweaks toolbox, it was mostly the cables that caught my attention.
This is the point where my story starts to sound like the confessions of a cable nerd. For the past decade, I gorged myself on cables, especially high-end power cords. I dread to think how many I've been through. Let's just say lots and leave it at that. Copper, silver, gold, carbon, ribbon, solid core, stranded, twisted, woven, shielded, and unshielded. I've had them all. I played around with quite a few, dismantling many to see how they were built and how they performed with different connectors. At one stage I had $6k invested in connectors alone."
Mark found that each variation he built had its merits, and he came up with a list of lessons learned from his experiments:
1. Silver is not necessarily more transparent than copper in power cords.
2. More wire usually sounds better (Mark's not kidding—compare the Robusto to the Acoustic Revive in the photo below – it's the equivalent of two AR cords!).
3. Teflon can make things sound thinner.
4. Ohno cast '9 to the power of n' purity isn't automatically better sounding.
5. Platings add colorations, be it for good or bad.
6. Above all, synergy is the MOST important thing.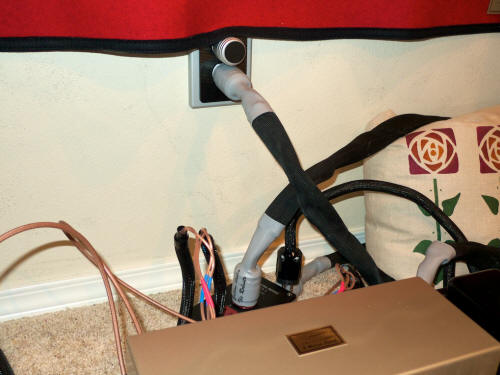 Mark said, "The challenge I faced was to blend all these ingredients, like a good chef would to create a stunning dish. About 18 months ago I hit upon an unusual, possibly unique, configuration that sounded better than anything I'd ever heard. I started building a number of prototypes with variations on the same theme and lent some samples for my friends to try; they were all blown away and implored me to go commercial with the design."
Technical Description
So that brings us to Mark's first commercial design, The Robusto high-performance power cord. As you'll read in a moment in my listening impressions, Mark's design is extremely good, both sonically and musically, but before I get too far ahead of myself, let's have Mark tell us about the design of The Robusto:
"So what makes The Robusto tick? Well in this cable I've worked hard through iterative listening sessions to blend tube midrange qualities with solid-state frequency extension and solidity. My sonic ideal has always been a full, open and transparent sound with good rhythm and drive. Musical and analytical, yin and yang, all living together in harmony, with the net result presenting a robust musicality which begat its name, a play on cigar types in place of wines as others have done.
The cord is made from finely stranded soft annealed high purity copper conductors, lots of them in each phase. My testing results reinforced the notion that a large cross-sectional area (CSA) delivered greater transparency, dynamics and solidity. I use equal CSA in both live and neutral phases, unlike some other manufacturers, for best performance with both normal domestic power supplies and also for those enjoying the benefits of balanced power. These conductors are thickly insulated within a vibration absorbing dielectric and are arranged in a unique noise canceling geometry. The cable is earthed for safety, using an external counter-wound earth lead to keep noise away from the music. I tested the cable fully shielded, however it dampened the vitality / musicality of the design and was therefore omitted—this cable already has a very low noise-floor on account of its noise canceling geometry. All of this is covered by a highly durable and resonance controlling shrink-wrap fabric, selected after listening tests.
The IED is rhodium plated for greater detail and dynamic punch, whilst the AC plug is un-plated, high purity cryogenically treated copper, for warmth and an expansive soundstage. These are both carefully fitted using contact preservatives and enhancers for a lasting performance."
The Robusto is an impressively and beautifully made product that positively oozes quality, and it's easy to see what your money is going towards. The quality of construction of the Robusto is superb, and right up there with the Acoustic Revive Power Reference, which is to say, as good as it gets.
Listening Impressions
For this review I used my primary system of Clearaudio Virtuoso Wood cartridge, VPI Classic turntable and arm, Leben RS-32EQ phono equalizer, Leben RS-100U line amplifier, Leben CS660P power amplifier, and Tannoy Westminster Royal SE loudspeakers, all connected with Acoustic Revive interconnects and speaker cables, and treated with a full suite of Acoustic Revive performance products, as described here.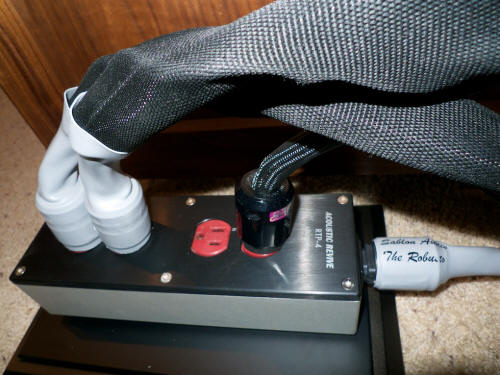 Compared to a generic power cord, the performance gulf between a high performance super cord like the Sablon Audio Robusto is so vast both musically and sonically it's really quite astonishing. The Robusto absolutely slaughters a generic power cord in every meaningful way: there's more timbral realism at the band level (the band's signature 'sound'), and at the individual instrument level (the unique 'voices' of instruments). A super power cord like the Robusto displays more of instruments natural tone and texture, allowing more of the full tone color to develop, which lends a feeling of beauty and expressiveness to the music.
The melody (the tune you 'whistle while you work'), harmony (treble and bass accompaniments to the melody) and rhythm (the steady beat that determines the tempo) have a much more life-like flow and connectedness in how the musicians interact with the Robusto compared to a standard power cord. Plus, the dynamics (variations in loudness) of the Robusto are much closer to what you hear in life, giving a much greater emotional connection to the melody and rhythm. The tempo of the Robusto, compared to a generic power cord, is portrayed so that both the mood and speed of the music are much more convincingly conveyed.
The improvements in performance don't stop there either, as the Robusto is also significantly superior to the sonic performance of a generic power cord on the non-musical artifacts of the recording process like transparency (being able to 'see' into the recording), soundstage (the three dimensions of the recorded space in width, height and depth), soundspace (the acoustic 'space' of the soundstage), and imaging (the feeling of solidity and localization of instruments and musicians on the soundstage).
Well, comparing the Robusto to a generic power cord is almost unfair, as there's just no comparison, and there shouldn't be for a power cord that costs $750 USD. As a more realistic comparator for the Robusto I used my Acoustic Revive Power Reference power cords, which are superb super power cord by any measure.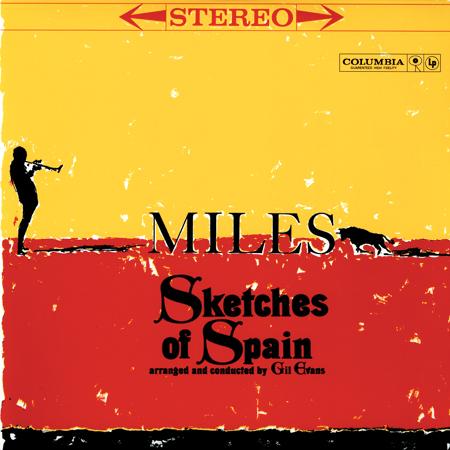 Ok, so let's listen to a little music and see how these two super power cords—the Robusto and Acoustic Revive—perform in the listening room. First up is Miles Davis' Sketches of Spain, which was a product of the collaboration between Miles Davis and Gil Evans as an arranger and producer. Recorded from November 1959 to March 1960 at the Columbia 30th Street Studio in New York City, Sketches really has a different feel to it than Davis' other albums, essentially being a large production derived from Spanish folk music, with Danny Bank on bass clarinet, Bill Barber on tuba, John Barrows on French horn, Albert Block on flute, James Buffington on French horn, Eddie Caine on flute and flugelhorn, Paul Chambers on bass, Earl Chapin on French horn, Jimmy Cobb on drums, Johnny Coles on trumpet, Miles Davis on trumpet and flugelhorn, Harold Feldman on clarinet, flute, and oboe, Bernie Glow on trumpet, Dick Hixon on trombone, Elvin Jones on percussion, Taft Jordan on trumpet, Jack Knitzer on bassoon, Jose Mangual on percussion, Jimmy McAllister on tuba, Tony Miranda on French horn, Louis Mucci on trumpet, Romeo Penque on oboe, Janet Putnam on harp, Frank Rehak on trombone, Ernie Royal on trumpet, Joe Singer on French horn, and Gil Evans as arranger and conductor (whew!).
So, here in Sketches we have a large complex work that is a real challenge at a lot of musical and sonic levels, and is a good test of any Hi-Fi's ability to play music convincingly. Listening to Sketches with the Robusto I heard realistic timbre across the soundscape (e.g. at the band level); and at the instrument level as well, where percussion sounded very natural, the horns sounded burnished (or blatty when called for), and you could hear breath rendered naturally on the mouthpieces. The Robusto has a somewhat dark presentation compared to the Acoustic Revive Power Reference, which is a trait a lot of people are going to really love about it, because that means it will really complement a lot of equipment, particularly the equipment that is voiced on the bright side to grab people's attention in the showroom, in which case the Robusto will perform a nice little magic trick by restoring the musical balance.
One thing the Robusto does really, really, impressively is to provide a very broad range of dynamics. For example, the Robusto captures those long dynamic swells that flow in and out like a tide in a musical composition better than anything I have ever heard (which in fact, I had not really heard to any significant degree in the music until putting the Robusto in the system), not to mention those macro big hits that occur instantly, or the micro-dynamic shadings that are so important to expressiveness.
In Sketches I heard a slow rolling tempo develop, with the melody riding on top like a surfer, captured in a large sense of space, that had really good layering of images from front to back. Side to side the soundstage was really wide, and the height good (although a little smaller than that of the Acoustic Revive Power Reference).
Bass performance of the Robusto was particularly impressive: the bass was deep, articulate, tuneful, and detailed—the exact opposite of one note bass. I loved the way the Robusto rendered blatty horns, the expressive dynamics, and the dark backgrounds. I also loved the way the Robusto made the music swell in and out like a tide, unfolding in musical suspense. There was no edge, no grit, no glare or other nasties introduced by the Robusto, in fact it was quite the opposite, it wiped them away. Oh but the bass: Stygian bass, weighty, menacing, and growling in the background like a wild animal.
The Robusto is a bit softer and quite a lot darker sounding in its presentation compared to the Acoustic Revive Power Reference. The Robusto is also more organic sounding, and more laid back and relaxed. On Sketches I like the richer, darker, presentation of the Robusto better than that of the more spacious, detailed, and brighter Acoustic Revive Power Reference.
The Robusto has more of a classic music lovers balance, and bests the Acoustic Revive in maintaining a sense of forward motion, where the emphasis of the AR is more on the 'now'. I think timbre is more accurate with the AR, but the Robusto is more endearing, more the way you want timbre to sound by being richer and fuller. On Sketches I preferred the overall balance of the Robusto, its musical balance, its wider soundstage, its colorfully rich presentation of the music.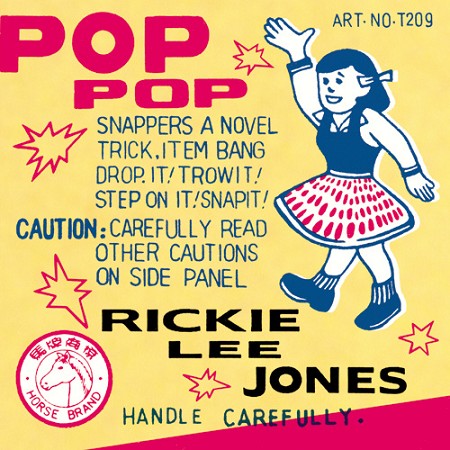 I've always been a big fan of Washington State musician Rickie Lee Jones, and my favorite Jones' album is Pop Pop, with its minimalist jazzy covers of chestnuts like "My One and Only Love", "Spring Can Really Hang You Up the Most", "Second Time Around", I'll Be Seeing You", and "Bye Bye Blackbird". The minimalist arrangements, with superb musicians like John Leftwich (bass), Joe Henderson (saxophone), Walfredo Reyes (brushes), along with Rickie's vocals, just makes for spectacular music-making. Robben Ford's guitar playing on "The Ballad of the Sad Young Men", "I Won't Grow Up", "Love Junkyard", and others, just knocks me out. Did I mention the Charlie Haden plays bass on a number of the tracks? Well you get the idea: great musicians, great music, minimalist arrangements that show off their virtuosity, and you have an album that is just plain fun to listen to over and over again.
Rickie's voice is very dynamic and can get a little peaky on a couple of the tracks with the Robusto, as it also does with the Acoustic Revive Power Reference (it's in the recording), so you can't expect miracles when something is a bit off in a recording, but the Robusto does come pretty close to being miraculous in the way it handles the music's dynamics for the most part. Just like with Sketches, the Robusto's bass performance was really natural sounding, had superb timbre, and was also taut and detailed. The Robusto gets the bass better than the Acoustic Revive Power Reference, or for that matter, better than any power cord I've ever heard.
Compared to the Acoustic Revive power cord, the Robusto sounds louder at the same volume setting—probably because of its bass and dynamic prowess—and has a little more rounded, slightly less chiseled imaging of instruments and voices. The notes trail off a little sooner with the Robusto compared to the Acoustic Revive, which lets the notes fade off more slowly, a little more elegantly.
On Pop Pop the Acoustic Revive Power Reference sounds a little lighter and more lithe, more melodic than the Robusto, which suited the music nicely. The decay of the notes with the Acoustic Revive Power Reference was a little longer, and the timbre of the instruments seemed a little more accurate, closer to 'real'. But having said that, I still preferred the Robusto's overall presentation, which maybe was a bit richer and more romantic, but beautifully so in a way that served the music on Pop Pop.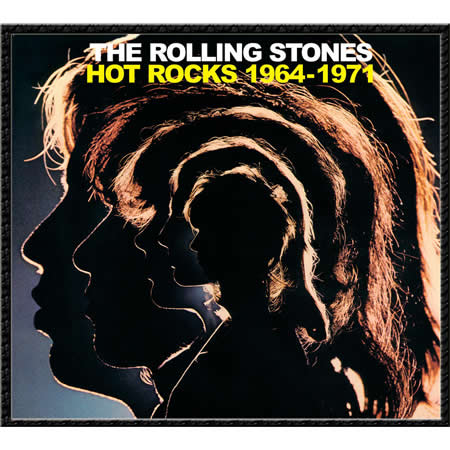 The Rolling Stones' Hot Rocks 1964–1971 album is a great compilation album of the Stones early work and is just a lot of fun to listen to, and represents some of the best of early rock and roll, and as I've mentioned in the other examples, the Robusto has great texture and resolution in the bass, and on Hot Rocks the bass really struts. Interestingly though, the bass actually dominates the lead guitar causing the guitar to recede a little into the mix on "I Can't Get No Satisfaction", which throws off the vibe of the song. In this case the Acoustic Revive is more balanced in portraying the bass versus guitar lines, driving forward the music with a harder edge that suits the Stones. But boy, the Robusto sounds really great too, and on "Time is On My Side" the Robusto really pulls you into the mix.
The Acoustic Revive power cord throws a wide and deep soundstage, is very transparent with lots of detail, and has a very lively overall sound that really suits the Stones. The downside is that the Acoustic Revive power cord sounds a little threadbare at loud rock and roll-approved volumes, but it does get the raw driving power of guitar perfect on "I Can't Get No Satisfaction". The Acoustic Revive power cord really lets the energy of the Stones come through, and as a result it just works better on the Stones, giving them a hard driving forward momentum and edge that fits them to a 'T'.
After wrapping up the auditions on my separates based system, I also tried the Robusto in my system based on the Leben CS300X Limited Edition integrated amplifier, Omega Super 3 loudspeakers seated on Skylan Super 3 speaker stands, Apple iMac, Locus Design Group Polestar USB cable, and Mhdt Labs Havana USB DAC. The Robusto and Leben CS300X had a synergy going akin to that of the Pass Labs' INT-30A and Acoustic Revive Power Reference described above, and was one of those 'Wow!' moments that you run across every now and then that puts a smile on everyone's face. I have never, ever, heard my Leben CS300X Limited Edition based system sound that good! Wow again! The Robusto achieved a jump in musicality, in tone color, in dynamics, and overall just plain fun that was truly profound. If you have a Leben CS300X integrated amplifier you know what you need to do!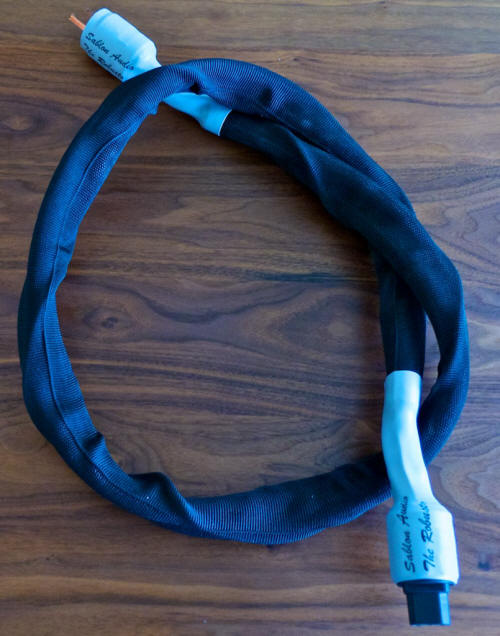 Conclusions
The Sablon Audio The Robusto power cord is a remarkable achievement in a power cord design, with performance that puts it right at the very top rung in the super power cord category, and for many, particularly those with equipment that is to the neutral or brighter side of life, it will come as a revelation in the way it improves overall musicality.
Like its name implies, the Robusto is rich and full-bodied in its presentation of the music, with superb bass performance and dynamics. The Robusto performs remarkably well both sonically and musically, and particularly serves equipment well that needs to be nudged towards a fuller, richer, more dynamic sound. I can't imagine a better choice of power cord than the Robusto, and I really can't imagine anyone being disappointed with its performance, with the caveat that if your system is already sounding laid back, kind of dark, and a bit heavy in the bass, then you would be better off with the Acoustic Revive Power Reference, which will balance out those attributes better.
Mark is offering the Robusto at an introductory price of $625 for the remainder of 2010, after which it will sell at its usual list price of $750 for a 5-foot power cord. To sweeten the offer, Mark is offering the Robusto on a 30-day trial period during its initial launch, so if you're not happy with it, you can get a refund of the purchase price, less a 10% charge to cover shipping and handling charges. I'd say that's a good deal, and I doubt Mark will see any Robustos coming back his way. Very, very, highly recommended to music lovers and Hi-Fi nuts everywhere! Well done Mark! Jeff Day
Sablon Audio
web address: http://sablonaudio.com