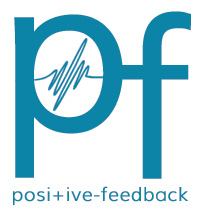 You are reading the older HTML site
Positive Feedback ISSUE 53
january/february 2011
Notes of an Amateur: David Matthews, Music@Menlo 2010, Carl Nielsen's Symphonies
by Bob Neill
Note: This news release just received from Florestan Trio violinist, Anthony Marwood:
JANUARY 14, 2011 - FLORESTAN TRIO ANNOUNCES FINAL SEASON
The Florestan Trio has announced its final season of concerts. After 16 years of exceptional achievement and having recorded the major works of the Piano Trio repertoire to great acclaim, the career paths of the members of the Trio are diverging. The Trio's last concerts include a tour in March, the Florestan Festival at Peasmarsh in June, and they conclude with a celebratory Beethoven cycle at the Wigmore Hall, London, in January 2012.
Their last release, which features the two piano trios of Shostakovich, is expected in May.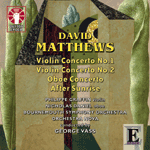 David Matthews, Violin Concertos Nos. 1 & 2; Oboe Concerto; After Sunrise. Philippe Graffin, violin; Nicholas Daniel, oboe. Bournemouth Symphony Orchestra; Orchestra Nova. Conducted by George Vass. Dutton Epoch CDLX 7261.
I love to listen to the best of contemporary British composers to remind myself that one doesn't have to drink the Boulez Kool-Aid and go round the bend into the terrain of the radically new and disorienting to compose interesting modern music. David Matthews, older brother of better known (to me) Colin Matthews, does not write especially memorable music, which is not necessarily a criticism. He writes peripatetic music that takes us on musical trips, investigating thematic and sonic ideas. His music wanders about, drawing us after it.
His Violin Concerto No. 1 (1980-81) features the violin but also calls on the oboe, flute, and bassoon for periodic solo commentary. The first of its two movements has the qualities of a rhapsody, the second (vivacissimo) is desperate and more complex and various in mood, even calling on a harp and surprise piano.
The Violin Concerto No. 2 (1997-98) is the star work of the album. Here the violin as dominant voice speaks eloquently, at times hauntingly, as it carries us through all kinds of musical weather. There is emotional power in this music, especially in the outer movements. Phillipe Graffin is a fine and dedicated violinist who commands the role of soloist in this music well.
Sandwiched between the two violin concertos, is Matthews' antic Oboe Concerto (1991-1992). This work has almost as many different moods as notes. On three hearings so far it escapes me as a whole vision or narrative; but periodically it does make persuasive arguments for our attention. Oboist Nicholas Daniels has considerable work set out for him and sounds committed to the task. His solo in the final movements is spectacular.
Again, Violin Concerto No. 2 is the work in this set that makes the strongest case for Matthews, but there is some interesting music lying in wait for us in the other two concertos as well. I can't think of an appropriate final sentence here to suggest whether you should pursue Matthews or not. I enjoyed the album and was pleased to find it more adventurous than a lot of the composers' contemporaries. How's that?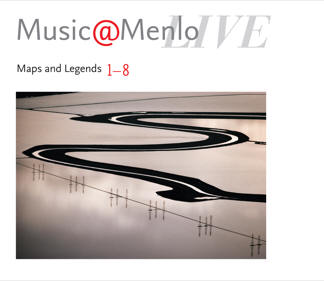 Music@Menlo Live 2010, 1-8. Maps and Legends. www.musicatmenlo.org
It's January, so it must be Music@Menlo time again! A 'live' chamber music festival in a box for those of us in the provinces without access to such a richness. Still run by cellist David Finckel and pianist Wu Han, who are also co-direct the Chamber Music Society of Lincoln Center. Still engineered by deserving "Six time Grammy winning" Da-Hong Seetto. Still performed by an audibly top-notch roster of professional musicians, some with familiar names (to me), some newcomers. This music, as always, was performed and recorded in the summer preceding release.
Festivals must, it seems, have themes: thoughtful listeners will make the connections here without the program notes, though as always they are germane and well written. The Paris in the Twenties CD, Volume 5, is especially successful in this respect.
This is the eighth annual Music@Menlo festival and set of releases and I gladly own them all. I save them for cold snowy/rainy weekends in front of the wood stove and just feed the CD's in one after the other letting the musicians have at me. Because the individual CD's amount to recital programs, listening is a good deal less 'studied' than usual for those who tend to listen to one composer at a time. You can get individual CD's or all eight, at the festival website: www.musicatmenlo.org, where individual program details are spelled out.
One of the most surprising performances is of Vivaldi's Four Seasons on Disc 1, in which the solo violin part is passed among Erin Keefe, Ani Kavafian, Philip Setzer, and Jan Swenson. We've all heard many versions of this great chestnut, but I'll have to say this is the freshest one I've heard in years. Forgive me, but it really is like hearing it for the first time, perhaps in part because of how distinct each of the soloists is. Whatever the reason, this Four Seasons breaks free of our expectations and truly lives—on modern instruments for a nice change. For me, this performance is the highlight of the festival. The Disc 1 program concludes with a (literally) stunning performance of George Crumb's Music for a Summer Night, dancing far out toward the periphery of music but still in sight of Vivaldi. I doubt most of us have heard this work since the old Nonesuch LP.
Other highlights: Meeting new Finnish pianist Juho Pohjonen on Disc 8 playing a program of themes and variations by Mozart, Grieg, Handel, Brahms, and Couperin.
Brahms' String Sextet No. 2 on Disc 3, played by Erin Keefe, Joria Fleezanis violins; Lily Francis and John Largess, violas; and Ralph Kirschbaum and David Finckel, cellos combines richness of tone and clarity of articulation in one of the best Brahms performances I've heard.
The Miro Quartet's characteristic tight as a drum style takes enough of the varnish off Elgar's Piano Quintet, Opus 84 on Disc 2 that even Benjamin Britten, whose little Charm of Lullibies is also on the disc, might have enjoyed it. Inon Barnaton joins the Miros forcefully on piano in the Elgar. I'm no more a fan of the old British gentleman than Britten was, but the clarity and power displayed here gave me second thoughts, as good performances often will. Romanticism's last passionate moment on the stage. This kind of performance is precisely what the Menlo festival is for.
Listening to or watching the nineteenth century turn into the twentieth in the arts can be a fascinating business, in music especially so if the musicians really get it. Alessio Bax, piano; Arnaud Sussman, violin; and Laurence Lesser, cello, really get it in Ravel's Piano Trio on Disc 6. This work is interesting because it is transitional, speaking a musical language that is both traditional and new, but it's also engaging because it has an emotional life independent of its role in music history. The musicians capture sophistication and irony along with power and passion, the latter something that performances of this music often miss. We recognize the complex mood as the one we have lived in since the arrival of modern times. It speaks to us in a more direct and immediate way than pre-modern music can. This is easily the best performance of Ravel's Trio I've ever heard. This disc also introduces us to the Jupiter Quartet, who play another famous transitional work, Debussy's String Quartet.
There's much more music in this set than I can touch on here. If you've enjoyed this series in the past, have no fear. The festival's still going strong.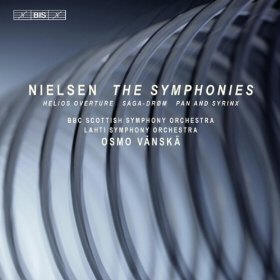 Nielsen, The Symphonies. BBC Scottish Symphony Orchestra. Osmo Vänskä conductor. (BIS CD 1839/40)
A taste for the symphonies of early twentieth century late romantic Danish composer Carl Nielsen is only slightly less of a guilty pleasure than a taste for those of Sibelius, less because mixing Scandinavian romanticism with Bruckner as Nielsen does often means trading off poetry for repetitious fanfare. That said, there is no denying this Dane's appeal, especially by the time you get to his Symphony No. 4 (1914-16). It is warm, melodic, atmospheric, sometimes heroically dramatic—and seldom goes where you think it will. Part of Nielsen's appeal has to do with the attractiveness of the whole late romantic aesthetic. Coming out of the less mythy and chromatic side of Wagner, composers Nielsen, Sibelius, Richard Strauss, and Mahler (who seems to understand best what this style or sense of things was really about) dramatize the end of the old world, most immediately the nineteenth century. All of their music, despite plenty of heroic rhetoric along the way, is ultimately elegiac, bitter sweet, and melancholy—in Mahler, tragic. It is easy to fall in love with this music, and some of us never really get over it.
Vanska's Nielsen, like his Sibelius, brings out the music's suggestiveness—innuendos rather than inflections. He backs off the Bruckner influence and gives Nielsen's 'northern' side more weight. This just released set of the six symphonies was recorded and released a decade ago as three separate CD's, when Vanska was leading the BBC Scottish Symphony Orchestra and not yet at Minnesota (where he recorded a great set of Beethoven symphonies last year). His Sibelius set was recorded with the Finnish Lahti Symphony Orchestra, the institution he began with and put on the map. BIS has released the Sibelius, Beethoven, and now the Nielsen as box sets at a considerable discount over the original cost of the individual discs. Vanska's star is rising late but rising indeed.
System used for this audition: Audio Note CDT3 transport, Dac 4.1 Balanced Signature, M6 preamplifier, P3 Silver Signature 300B stereo amplifier, E/SPe HE speakers and Audio Note cable.
Bob Neill, in addition to being an occasional equipment and regular music reviewer for Positive- Feedback Online, is also proprietor of Amherst Audio in Amherst, Massachusetts, which sells equipment from Audio Note, Blue Circle, and JM Reynaud, among others.