Anedio is a newcomer to the high fidelity audio market. Given the impressive quality and performance of Anedio's initial products, the D1 DAC and A1 power amp, I expect them around for a long time. Anedio's market strategy is to offer high value components at reasonable prices. About thirty years ago when I began to earn a paycheck, a few hundred dollars could purchase a respectable receiver from NAD or separates Adcom. In the present day, however, the thousand dollar bill is the new hundred. Would Anedio's first offerings match or exceed the high musical value to dollars ratio set by classics from Adcom and NAD?
The D1 DAC lists for $1270 while the A1 goes for $1090. Both products are available for purchase directly from Anedio in their E-store. The D1 and A1 share the same compact case work. Five blue horizontal lights accent each side of the brushed and engraved aluminum face plate. At 17 pounds, though, it is best to handle the dense A1 with both hands. Compact dimensions, reasonable prices, E-store? Surely, these components must be mass produced and rebadged electronics from the orient. Nevertheless, Anedio's products are engineered and fully serviced in New Jersey.
D1 DAC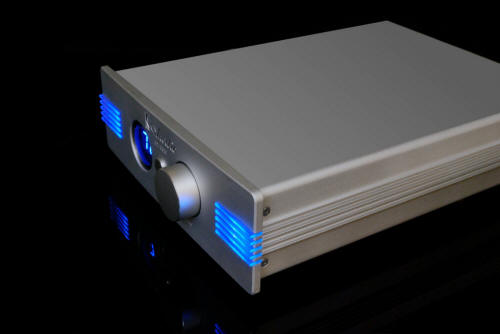 The D1 is a digital to analogue converter with volume control and headphone output. The D1 can support four digital inputs; USB, SPDIF 75-ohm BNC, RCA, and optical. Decoding is handled by the ESS Technology ES9018 Sabre Reference 32-bit DAC. Anedio has gone to great lengths to reduce fatigue inducing jitter, clock errors, and noise. Read Anedio's article on multi-stage jitter reduction for more information. The D1 was connected to my Mac Mini via Locus Design Group's Axis USB cable. My Oppo BDP-83 BluRay player was also connected to the D1 with a SPDIF 75-ohm cable. Switching between sources is achieved by pressing a small button next to the volume control. A pair of high quality RCA outputs on the back of the D1 completes the music's journey from bytes to beats. A remote control was included but not used during the course of this review. Ninety percent of my listening was dedicated to iTunes playlist with the remainder spent viewing DVDs.
A1 power amp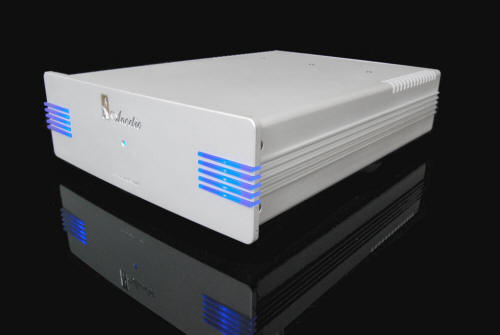 The A1 is a 70-watts per channel power amp. The amp design is based National Semiconductor's LM3886/LM4780 integrated circuit. The musicality of IC amp designs was first brought to prominence by 47 Labs' GainCard some years ago. Anedio believes there are many advantages to designing with ICs. Their comprehensive technology article explains IC's elegant simplicity and musical performance. An additional feature of the A1 is its ability to be bridged as a mono amplifier. This is achieved by flipping a small switch on the back of the amp effectively disengaging one of the RCA inputs in what Anedio refers to as passive bi-amplification. Two amps and second set of speaker cables are needed to take advantage of this feature. A follow up article by another reviewer will be posted at a later time that evaluates the amps under these conditions. The A1 power amp was connected to my Marten Design Miles 2 speakers with a single run of Analysis Plus Oval 9 speaker cable with Nordost Norse series bi-wire jumpers. I would be remiss if I did not mention one fact regarding the A1's binding posts. As currently configured, the A1's binding posts accept only bananas or bare wire. Accommodations will have to be made by customers with speaker cables terminated in spades. My solution was a loaner pair of spade to banana adaptors from Esoteric Audio. Likewise, larger spade to banana adapters like those from Monster cable will also not fit because the posts are set closely together.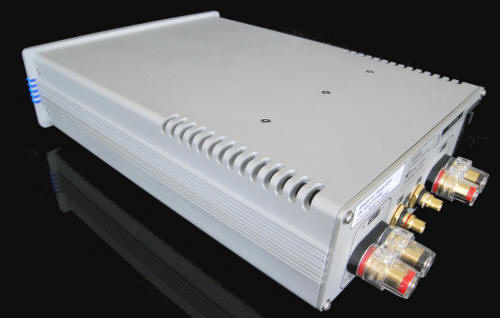 Limiting Factor
The limiting factor in this review was interconnects. Since discovering the musical advantages of USB DACs mated directly to power amps, as is the case with the Magnum Dynalab 209 hybrid receiver or April Music's Aura Note Music Center, I have not listened to music through RCA's unless I occasionally spun some vinyl. Of the handful of interconnects in my collection, a vintage one foot pair of original Nordost Blue Heaven meshed best with Andeio's overall gestalt.
Music Time
Reproducing music with exceedingly low levels of noise and distortion was high on the list of Anedio's design objectives. Based upon my one week of burn in and three weeks of listening, I must concur that Anedio achieved their goal with aplomb. The D1 DAC and A1 power amp combo produced clear, quiet, and uncompressed music from my iTunes playlists. As my years in the audio industry tally up, I find my audio values have changed over time. At present, I value space and depth of perception above all else. I don't really care if a component produces two watts or two hundred, is tube or solid state, is affordable or expensive, if a music device can convince me that I'm not sitting in my living room but rather in the presence of a musical performance, I'm content. The Anedio combo gets these musical values right. Even if one were uninitiated in the audio arts, one would agree that the sound coming from the Anedio system was extraordinarily clear and present.
For example, Handel's Zadok the Priest (Coronation Anthem No. 1) HWV 258 as performed by The Choir of King's College and the English Chamber Orchestra on Decca sounded absolutely magnificent. The separation and scale of baroque chamber orchestra in the foreground and massive choir in the background was effectively communicated. Voices soared and reverberated with harmonious grace. Furthermore, sections within the choir were clearly rendered and focused. Schubert's Impromptu No. 3 D.935 as played by Aldo Ciccolini sounded quite lively. Low left hand notes pulsed with energy and right hand chords shimmered with intensity of tone and color. Classical downloads and Apple Lossless imports were well served by Anedio's clear precision and musicality.
I purposely watch DVD's as part of my evaluation process because I find nothing challenges an audio component like heavy artillery fire, car collisions, or hand to hand combat with men in robotic metal suits as was the case with Iron Man 2. Early in the movie, Iron Man jumps out of a flying transport plane to the sounds of AC/DC's Shoot to Thrill. On the way down he dodges exploding fireworks before landing with a thump on a stage in front of a chorus line of Stark dancers. Of course, the adoring crowd goes wild. I imagined the 70 watt A1 would show some signs of audible or thermal stress during this scene or many others throughout the film. Nevertheless, the A1 kept pumping sound effects, metal mayhem, and clean dialogue without a hint of strain. When I gingerly placed my hand on top of the amp, it was barely warm to the touch.
I also listened to the D1's headphone feature. Although I frequently use earbuds for listening to iTunes playlists on my iPhone, I do not use headphones for critical listening because my MD 209 does not have a headphone jack. The only way to enjoy music with headphones from my Mac Mini is to plug my trusty Grado SR60's into the back headphone output which would then suffer from the Apple's limited internal DAC. With the D1's superior decoding and clear grainless signal amplification, I was able to enjoy the sonic richness, depth of perception, and musical details I have come to expect from the full system. This feature alone vaults Anedio's D1 to the head of its class. I found myself enjoying playlists until late into the evening. Listening to headphones directly from the Mac resulted in a sound that was dull, lifeless, and sorely lacking in musical precision.
In comparison to my $6000 Magnum Dynalab hybrid receiver, the Anedio combo performed auspiciously. Both systems produced hours of refined musical enjoyment from iTunes downloads and Apple Lossless imports. However, with a list of advantages that includes a tubed preamp stage, enhanced dimensionality, 125 watts, digital and analog inputs, the Magnum Dynalab 209 ranks in a class above the A1 D1 combo. If I had to choose one Anedio to build a system, it would be the D1 DAC. The ESS Sabre chip alone costs more that some USB DACs on the market. Factor in the D1's handsome case, multiple inputs, headphone output, smooth precise volume control and I believe $1270 to be more than fair investment for its level of performance. As for the A1 amp, it controlled the big Marten Miles with dynamic speed and power that belied its 70 watt capacity. To understand what I'm referring to, download Ray Barretto's version of "Killer Joe" from iTunes now. The song begins with a taut mambo baseline that energizes the room before percussion, piano, and horns join the contagious Cuban clave rhythm. I very much enjoyed my time with the Anedio D1 DAC and A1 amp combo. Their sound was characterized by transparency, grainless resolution, and impressive depth of perception. If you are a listener with a hard drive full of music looking for the next level of refinement, I highly recommend these products from Anedio. Victor Chavira
D1 DAC
Retail: $1270
A1 Amplifier
Retail: $1090
Anedio
web address: http://www.anedio.com