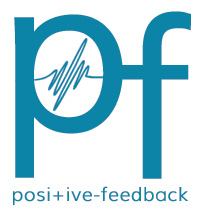 You are reading the older HTML site
Positive Feedback ISSUE 53
january/february 2011
High resolution digital and analog music at T.H.E. Show and CES 2011
by Teresa Goodwin
Images courtesy of Dave Clark
I'm not an equipment junkie so this is not the usual show report. I was able to attend for two days only as I traveled by car with my friend, audio designer John Curl so there are lots of suites at both the T.H.E. Show (Flamingo) and CES (Venetian) I missed. I tried to hit all the ones that struck my fancy.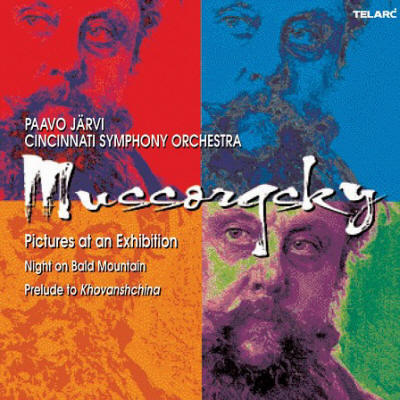 I took my favorite and best sounding SACD Mussorgsky: Pictures at an Exhibition, Night on Bald Mountain, Prelude to Khovanshchina - Paavo Järvi, Cincinnati Symphony Orchestra Telarc Pure DSD which uses the Sanken CO-100K microphone for the main orchestral pickup, whose frequency response goes out to 100kHz. I played it in every room that had an SACD player including the Playback Designs MPS-5, EMM Labs XDS1 and the Ayre DX5 and it sounded fantastic.
There are people on the internet who for decades have been spreading the false rumor that Telarc recordings overemphasize the bass even though the engineers claim to not use equalization or do anything else to emphasize the low frequencies; they just take great pains not to lose them. After listening to the Mussorgsky/Järvi Telarc SACD on several dozen systems I can now report that the naysayers are incorrect, Telarc's are not bass heavy but in the correct proportion, and to me sound very much like what I hear in a concert hall. I played it with speakers in all price ranges up to $150,000 per pair.
In both locations Stereo, Tubes, Vinyl, SACD and high resolution downloads sounded the best. 44.1kHz PCM and CD are getting better but still sonically unacceptable to my ears, even in rooms using the most expensive equipment. If I went into a room with blah or dreadful sound I knew they were playing CD or 44.1kHz computer files, in which case I asked if they had an SACD player or any high resolution downloads from Reference Recordings, M·A or Chesky. Once they put on the right software their rooms can alive.
The best sound at the shows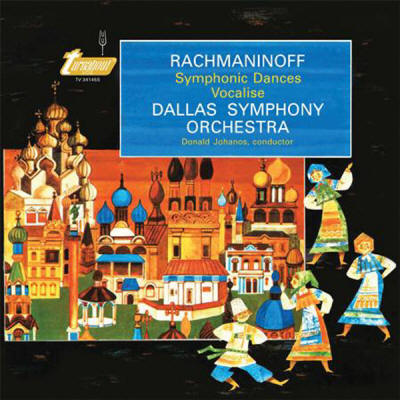 The best sound I heard at CES was from audiophile LPs. As much as I love SACD and high resolution downloads I have to admit this painful simple truth, high resolution digital is getting closer but it is still not the equal of the best analog.
I heard the new Analogue Productions 45 RPM 180 Gram LP pressing of Rachmaninoff's Symphonic Dances with Donald Johanos conducting the Dallas Symphony Orchestra, in the Blue Light Audio suite and it was the best sounding recording I have ever heard and I have heard 2 Track 15 IPS master tapes. It was amazing, I got goose bumps galore. It was like Telarc on steroids, the deep bass was "finally" like what I hear in a good concert hall, those who do not like realistic deep bass may wish to avoid. This also proves that LP still does the deepest and most powerful bass, well at least at 45 RPM! The LP was killer and was my highlight of the entire show!
I've always believed that belt drive turntables were the best, however this wonderful LP was played on a newly designed Wave Kinetics NVS Reference Direct Drive turntable with a $7900 Durand Talea II Reference tonearm and the $4200 Ortofon MC A90 moving coil cartridge, which turns this widely held belief on its head.
Live versus DSD
The VMPS suite had a "Live versus recorded demonstration". The music was recorded 2-channel DSD while the musicians play and then directly thereafter played back on the VMPS RM 50 BiPolar Array ($14,500 pair). It was very close, closer than I thought was possible!
M·A high resolution digital in the Edge suite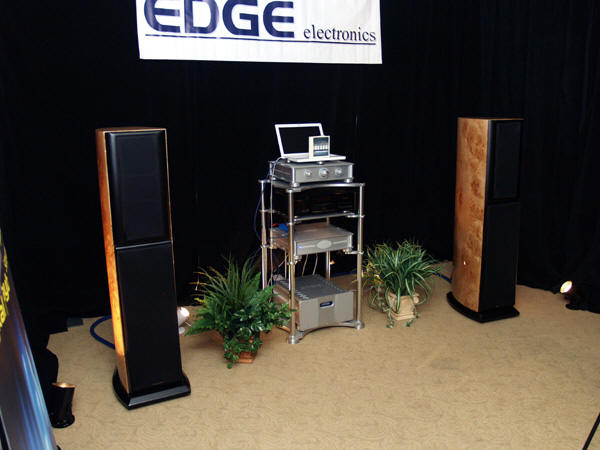 Upon entering the Edge suite I inquired about high resolution downloads and not only did Steven Norber have some of the same M·A high resolution music files from DVD-Rom that I also had on my computer but he was a neighbor of Todd Garfinkle. He played for me the 24 Bit 96kHz Será una Noche through the $499 HRT Music Steamer Pro USB DAC and it was very impressive.
The Sony Suite with Sony turntable, EMM Labs SACD, Pass Labs amps and Sony SS-AR1 Speakers
When I walked into the Sony room the new Analogue Productions 180 Gram LP of Nat "King" Cole was playing. Yuki Sugiaro the designer of the speakers was giving the demo and he did mention that all the Nat "King" Cole albums were coming out on SACD. After the demo he played my Mussorgsky/Järvi Telarc SACD and I asked him about SACD plans for the USA but he didn't know as he said he was from Japan.
Ray Kimber - IsoMike 4 channel demo
I enjoyed the four channel demo and visiting the very friendly Ray Kimber. While most of the audio rooms were 2 channel stereo even for SACD, Ray was demonstrating the advantage of multichannel audio. Due to the how the IsoMike technique works it is not possible to utilize a center channel however his "phantom" center channel was solid, detailed and to my ears better than any real center speaker I've heard. The IsoMike 4 channel recordings prove that a center channel is not needed. This is multichannel I could live with however at the end of the demo he played an older 2 channel stereo IsoMike recording and to my ears the sound improved when the rear speakers went silent. Your reaction may very well be the direct opposite of mine as I have never cared for quadraphonic, surround sound or multichannel. However I dearly love the IsoMike SACDs I've heard in 2 channel stereo, I will be reviewing a couple of them soon including a superb blues SACD by Joe McQueen
New Magnepan MG 3.7's in the Audio Research Suite
No SACD player so I listened to Fritz Reiner's version of Mussorgsky's Pictures at an Exhibition on Classic Records 180 Gram LP, it was very impressive with a very warm midrange and delicate highs however the bass seemed a tad weak.
Vinyl through single-ended tubes at the WAVAC Suite
I thoroughly enjoyed the original European LP pressing of Eric Clapton's Unplugged through smooth beautiful sounding single-ended triode tube amplifiers.
TAD Labs Suite - High Resolution music files, The Tape Project and Sheffield's Bill Schnee new label Bravura Records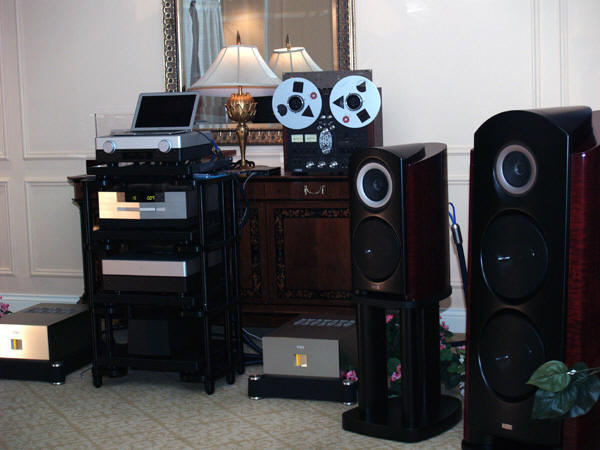 Many suites had the TAD Reference One speakers but this was the actual TAD suite. This was my favorite speaker at the show and when I got home and started reading the specifications I discovered why; this is the perfect speaker for high resolution music sources with its extended frequency response: 21Hz - 100kHz -10dB. I spent the most time in this room which included a presentation by Bill Schnee and his new label Bravura Records.
Bill Schnee played recordings of some of his Sheffield Lab Direct Discs and his new 24 Bit 192kHz PCM live to two-track recordings for his new label, Bravura Records. This new label is a return to the spontaneity and excitement of direct to discs in the digital domain. The music was great as was Mr. Schnee's repartee and sense of humor.
Andrew Jones of TAD used an all solid state MacBook Air, interfacing it with the new TAD preamp/DAC via an asynchronous USB input supporting up to 24/192.
Quotes from the website www.bravurarecords.com:
"There's a new paradigm in recorded music. The music of Bravura Records is played and sung completely live as a real performance, in the controlled environment of the recording studio. We intend to offer you the highest order of quality in music and in sound. We will cover all genres of music - the common thread being incredibly talented singers and musicians who are able to share their artistry live with you, the audience. Music is a language and we absolutely believe that the synergy of people all playing and singing together offers something special for the listener that studio wizardry does not, and communicates that language most effectively. The music is heard just exactly the way the musicians played it-not edited for better time or corrected in any way-and samples are never used for 'better' sounds. The vocals you hear are the singers' actual live performances that have not been altered in any way-and never electronically tuned for 'perfection.' Even the final mixes are created live, in real time as the musicians perform, which inspires a 'live performance' from the recording engineer as well. This spontaneous integration of creative energy from talented professionals of the highest caliber results in a listening experience that is unrivaled in its emotional impact on the listener. Take a seat and experience music as it was meant to be heard."
"Our future album releases will be available as 24/192 hi res copies of the original master recordings."
"Bravura Records is actively working to establish the media that will be used to distribute our music in high resolution. The three most likely formats are a data disc, downloads, or a Blu-ray Disc, all offering a 24/192 uncompressed wav file."
After Bill Schnee's presentation Andrew Jones played for us a new Tape Project 2 Track 15 IPS reel to reel tape on a modified Technics Reel to Reel recorder and some more high resolution computer music files. I was entranced with all the great high resolution digital and audio in the TAD suite.
After hours with NFS Audio
Nights were party time with NFS "not for sale" Audio. Two local Las Vegas audiophiles who love good music and wine. It was their sixth year at T.H.E. Show. They had plenty of music and libation.
Playback Designs CD and SACD players
The Blue Light Audio suite (4044) had the new $8500 Playback Designs MPS-3 CD player whose USB input will handle PCM up to 24 Bit 384kHz and DSD up to 6.1MHz.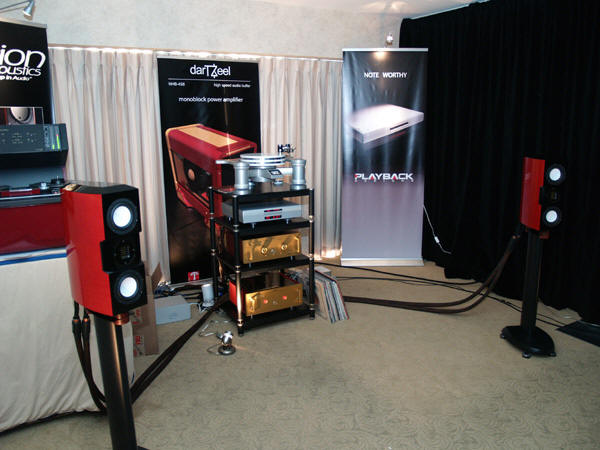 Suite 4009 had the $15,000 Playback Designs MPS-5 SACD player whose USB input is currently limited to 24 Bit 48kHz however according to Jonathan Tinn there will be an optional outboard box that will connect to the 5 Series products to allow up to 6.1MHz DSD through USB and 24 Bit 384kHz PCM through USB. The box is 6"L x 2"W x 1"H. Target release date is the same as the 3 Series products, sometime in May/June 2011.
I listened to my Mussorgsky/Järvi Telarc SACD in Suite 4009 and it was the most exciting of any of the rooms however the speakers in use were bass-light. After further inquiry I may have discovered why, the EBB Raven cardioid speakers had four 5 3/4 inch woofers forward firing and two rear firing. Problem was the rear firing ones were aimed into drapes, and I am sure they were designed to work with a rear wall instead. The rear firing woofers are out of phase with the forward firing ones to eliminate front wall reflection. So with the proper wall they may not have been bass deficient.
Arriving home to my comfy stereo
When I got home I played the Mussorgsky/Järvi Telarc SACD on my Infinity Kappa 7 Reference speakers and I liked it best. My speakers have fuller, more powerful bass with greater impact than most of the high-end speakers at the show, so once again those who claimed I like Telarc because my speakers are bass deficient are once again misinformed. It could be my 12 inch woofers, which seem to out of favor nowadays for the speed of multiple smaller drivers. 12 inches may be slower but to me they sound more real.
Also I had unlimited time to correctly position my speakers so it is possible that even better performance could be rung out of some of the speakers at the shows. At any rate it did make me feel great arriving home and discovering that my vintage system sounds better than most of those I heard at CES and T.H.E. Show.
It is also true over the decades I have gotten used to the sound of my system. If you love your stereo going to an audio show is a great cure for up-graditis and an affirmation that you made the right choices when you purchased your gear.
I also noticed that speaker grill cloths seem to be disappearing. I do understand no grill cloth is completely transparent sonically but I don't like the look of raw drivers. While my Infinity Kappa 7 Reference speakers handle ultrasonics up to 45kHz, if they ever die I would want a speaker that extends up to 100kHz such as the TAD Reference One. Maybe by then they will have a model with a beautiful grill cloth.
The Future
CES and T.H.E. Show have renewed my faith in the future of high resolution digital and analog. And the reassurance that 2 channel stereo and tubes are here to stay. Bravo!