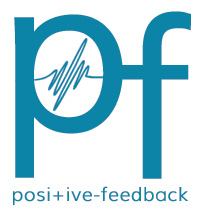 You are reading the older HTML site
Positive Feedback ISSUE 53
january/february 2011
The Headphone/Headphone Amp Roundup: A Humorous Pavin (*)
by Andy Schaub
(*) According to Wikipedia, this is the definition of Pavin, "The pavane, pavan, paven, pavin, pavian, pavine, or pavyn (It. pavana, padovana; Ger. Paduana) is a slow processional dance common in Europe during the 16th century (Renaissance)." My particular knowledge of the term comes from the title of a work by Tobias Hume as performed by Jordi Savall on the CD, "Tobias Hume: Musicall Humors, London 1605" which the ubiquitous Gerry introduced to me.
So why would I want to write a headphone/headphone amp roundup? Well, being an apartment-dweller, proponent of portable music and occasional traveler, headphones have become important to me; it actually started when I owned a converted industrial loft in Berkeley and the women in the unit next to mine complained if my stereo went about 2 decibels, mostly because I wouldn't let her have my parking place. She was young, pretty and had entitlement issues. I tried to be a cooperative neighbor however and ordered the best headphone amp I knew about at the time, the original HeadRoom Max, along with a pair of Sennheiser HD600's and the 20-25 foot Cardas custom cable for the Sennheisers, all in a single-ended or unbalanced configuration. I wish I could say it sounded good, but it really didn't. Perhaps it was a reflection of the source system, which was mostly Audio Research with a Classé CDP-1 CD player, SME Model 30/2 and a lot of early Nordost cables, kind of generic "high end", basically ordered out of the Stereophile Class A list like a catalog with no thought of synergy, "like a complete unknown", to paraphrase Dylan.
I was looking for a very lush, tube-like sound; the sort thing I remembered hearing in the mid 70's with my Tandberg TR-2075 receiver (which used transistors but did it well) and my first generation Sennheisers which, in those days, looked really cheap, cost about $35.00 and sounded wonderful. I still remember my friend Cliff sitting in the lounge chair in his room in his very modern house with a pair of those "cheap" Sennheiser headphones connected to a Sony stereo tape recorder and Garrard turntable by a long extension cable and quite happily listening to Beethoven, the Beatles (songs like "Norwegian Wood") or the mid-1970's equivalent of podcasts of Socrates and Freud (I imagine); and I think all of us were very happy with the sound. In retrospect, a second hand Melos SHA-1 and a pair of the closest thing Grado made to their original Signature headphones (probably the SR325is's in today's lineup) would have done the trick; but my head was a little fuzzy in those days (circa 2001) and I just threw money and Stereophile at the problem, NOT to disparage Stereophile. It's not their fault I randomly picked current-production items in the Class A list and put them together without reading the actual reviews that might have said, "This is not a good amp for an already bright-sounding system", or something like that.
All of these comments about randomly assembling components leads to a point, specifically that what I'm reviewing here are headphone listening systems, not just individual components, often with a suggested source player as well; and I plan to organize things with a title like a menu in a restaurant, sort of like Frank's Sandwich Shop—now long gone—in my hometown that had the best submarine sandwich I've ever had, called "The Cold Cut Special" or the vegetarian version called "The Cold Cut Special Without Meat Plus Extra Cheese", literally. So, in no particular order: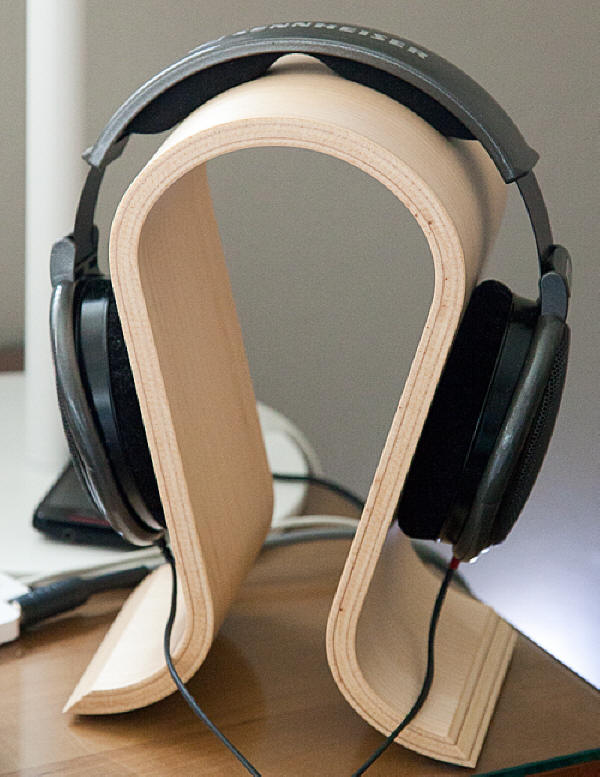 The Classic
Ray Samuels HR-2 Headphone Amp
Sennheiser HD650's
Moon Audio Blue Dragon Cable
This is the combination that reminds me most of that mid-1970's sound, rich, warm, slightly rolled but bearing very low distortion and just so easy to enjoy; metaphorically, it's sort of real New York cheesecake with the engine of a classic American muscle car such as a late 1960's Corvette Stingray T-Top or a Mustang GT. The HR-2 can drive pretty much any pair of headphones out there; and I think the HD650's are designed to be smooth and melodious. Combine that with the added clarity and sweetness of the Blue Dragon cable and you get the headphones that you want to wear when you have a really old glass of single malt Scot's whisky. Quite honestly, I have this combination on my bedside table driven by Apple lossless files on my iPhone 4 while it charges in its cradle using a 1 meter Cardas mini-plug to RCA "iPod Cable" and an old Nordost El Dorado power cable, which is really quite warm and open without being excessively euphonic, and I can queue up my Jordi Savall playlist when I have trouble sleeping and just feel wrapped in additional blanket. Just as an "FYI", I have had this combination in my main system as well with equally enjoyable results.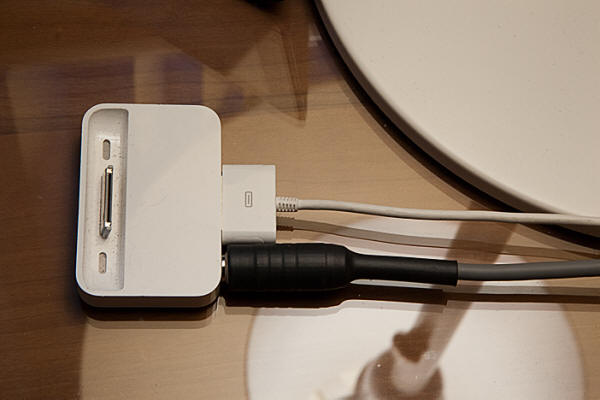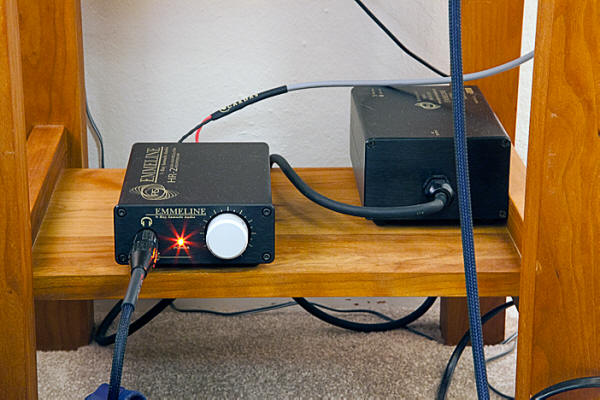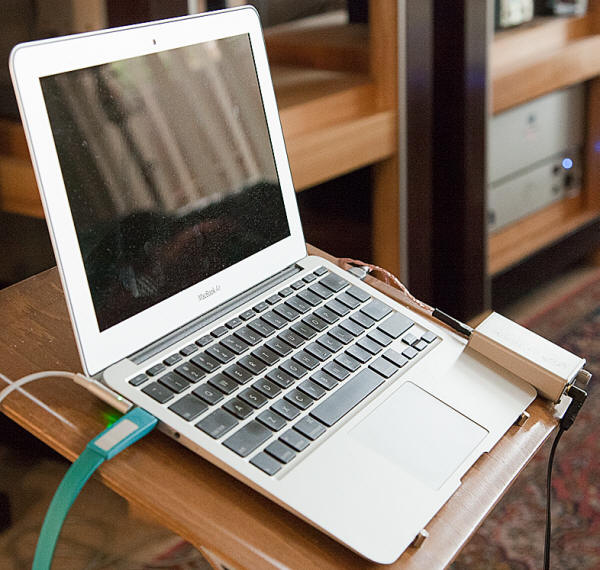 The Executive/Executive Audiophile Deluxe
11" Apple MacBook Air
ITunes using AAC or Apple Lossless files governed by Amarra Junior 2.1
Moon Audio Silver Dragon Ultrasone Edition 8's going straight into the MacBook Air with the rhodium-plated right-angle mini-plug
or
ALO (Audio Line Out) custom built mini-B USB cable
Ray Samuels Predator (in "clear" or aluminum)
Beyerdynamic Tesla T5p's with stock cable
I have this combination sort of anchored to my Ekornes Stressless lounge chair's "personal table", made of black aluminum and teak, the MacBook Air being small and light enough to allow the table to be angled acutely upwards; and between the flash memory in the MacBook Air, Amarra 2.1's ability to smooth out the rough edges of the AAC files and the internal DAC/headphone amp and the very unique ability of the Edition 8's to be driven by pretty much anything—plus the added clarity, richness and "air" around the instruments provided by the Silver Dragon cable when I use the Edition 8's—this combination has a natural synergy where the visual elegance of the MacBook Air and Edition 8's echoes in the sound. The rhodium-plated right-angle mini-plug continues the theme of elegance and allows the thicker Silver Dragon cable to run down the side of the MacBook Air rather than jut out to the left. I leave the Edition 8's plugged in all the time, simply hanging from the personal table rail and put them on as needed. Since there's no way to load music onto the computer without using the external optical drive or accessing the iTunes store (oddly, Apple will allow you to access another optical drive on your home network to load software but not music), you really need Amarra Junior 2.1 to clean up and smooth out the sound of the occasional iTunes store download; but once you've accepted that fact, you have a combination that would travel well particularly in the Kenneth Cole New York 13"/15" Coated Canvas Flap over Messenger Bag. I have found that—if you want to take it up without investing a lot more money in the arrangement—using a hand-made ALO (Audio Line Out) mini-B USB cable with an aluminum or "clear" Ray Samuels Predator and an unmodified pair of Beyerdynamic T5p's takes things up several notches; so I dub this marginally more complex arrangement as The Executive Audiophile Deluxe.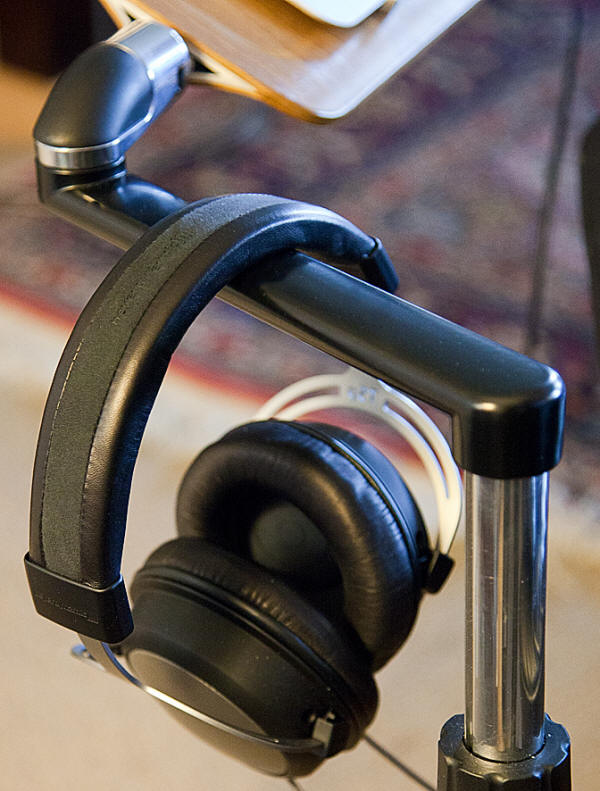 The Transatlantic
Version 1 (for accuracy):
64GB iPod Touch
Whiplash Audio Right Angle TWag Micro LOD
Ray Samuels Protector balanced portable headphone amp
JH Audio JH 13 Pro's connected to the Protector by the Whiplash Audio 48" TWag Protector Replacement Cable for the JH 13/16 Pro's
Version 2 (for lushness), nicknamed The Transpacific:
64GB iPod Touch
Moon Audio Silver Dragon IEM LOD
Ray Samuels Protector balanced portable headphone amp
JH Audio JH 16 Pro's connected to the Protector by the 4-foot (also 48") Moon Audio Silver Dragon IEM Protector Cable for the JH 13/16 Pro's
Please note that in both of these cases I choose to use the aluminum, or "clear", Protector because it better matches the 64GB iPod Touch aesthetically and rather than using a large rubber band to hold the two of them together, which gets in the way of the iPod Touch's Retina Display and could allow scratches to both, I used two strips of Blu-tack which essentially disappear but can be removed easily from the devices when the time comes. Also, I choose the iPod Touch based on sound; but having the large, "landscape" orientation available for movie viewing remains handy. In fact, I have a copy of Avatar and Eat, Pray, Love on my particular iPod Touch—both visually striking films—just in case I ever get to fly back to Paris or Tokyo.
Which version of this sandwich you choose really depends on your personal tastes; some people with prefer the cleaner, leaner, slightly more open sound of the Whiplash Audio 48" TWag Protector Replacement Cable and the JH 13 Pro's— which could be used for mastering recordings in a very noisy environment—while others will prefer the lusher, more romantic sound of the Moon Audio Silver Dragon IEM Protector Cable with the more bass heavy JH 16 Pro's, which also appear to have slightly lower distortion and slightly more headroom or dynamic range; it's sort of a Sennheiser HD600 versus HD650 kind of decision. However, you can't go wrong either way; and in both cases—although the JH Audio IEM's (In Ear Monitors) are expensive and a minor hassle to have custom made particularly with the requisite ear wax removal followed by a visit to an audiologist to have the latex molds formed—you do get the isolation and comfort that one can get from custom-made IEM's alone. My experience flying to see my Dad when he was sick with the "regular" Whiplash Audio 48" TWag Replacement Cable terminated in a gold-plated mini-plug and JH 13 Pro's driven directly by my iPhone 4 was near complete isolation from airplane noise and only minor irritation from wearing the IEM's more or less constantly during my visit to watch videos downloaded from the iTunes store on my MacBook Pro.
The Night Stalker
Black 160GB iPod Classic
ALO (Audio Line Out) LOD
Black Ray Samuels SR-71A
Beyerdynamic Tesla T5p's with stock cable
I think, all things considered, this is my favorite combination and if I could only have one pair of headphones, it would be the T5p's although I will likely have them modified with either Moon Audio Silver Dragon or Black Dragon cable. If I was traveling and music was my main and only goal, I would take this combination alone although I might throw in my black JH 16 Pro's with the Moon Audio Silver Dragon IEM cable that goes with them, this time terminated with a mini-plug, just for the plane ride. These headphones are specifically designed for portable electronics but they pretty much reflect what you put into them, so I like having the dual 9-volt battery powered SR-71A portable muscle amp which I think must have been voiced with the ALO LOD because it makes such a sweet combination, the whole thing held together with a single, black ALO rubber band. I should mention that when I plugged these headphones into my slightly tweaked Triode Audio Corporation TRV-84HD 6BQ5 single ended stereo headphone integrated amplifier that's part of my main system fed by my all-silver loom power cord arrangement, the results were rather amazing. So I know they are not a limiting factor. This is the portable music system that I will likely take to the beach on Christmas Day while I listen to Andras Schiff play Bach's The Goldberg Variations (ECM New Series 1825), the most perfect interpretation of The Goldberg Variations I have ever heard.
As an addendum, I should mention that after a long talk with Ray I sent my SR-71A back and ordered an SR-71B. There's something about the balanced sound that I really like with headphones; it has a cleanness and warmth even if driven by a single-ended source. Most importantly, the SR-71B uses an internal rechargeable battery and while it's nice to be able to change Duracell's on a long flight, the battery has a very long life and I've already burned through two sets of 9-volt batteries by using my SR-71A for late night listening and just leaving the amp on; so I think the SR-71B will be a step up with no loss of functionality and I can't see running out of juice on a 14 hour flight, which I am very unlikely to take anyway.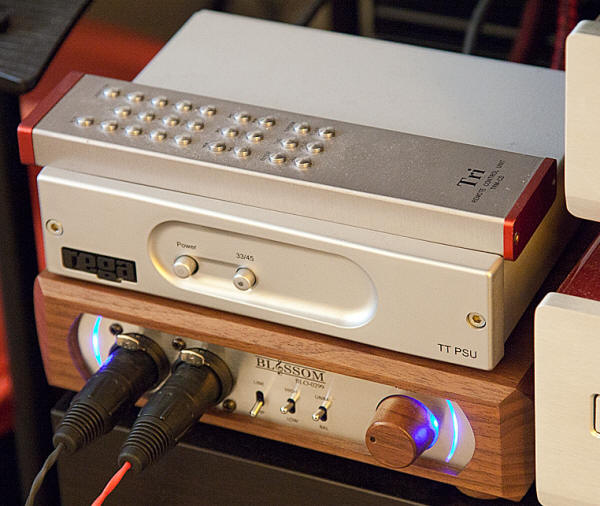 The Reference
My office stereo system feeding …
Blossom Blo-0299 Balanced Headphone Amp with Welborne Labs Upgraded Power Supply and Moon Audio Silver Dragon interconnect cable
Sennheiser HD800's with Moon Audio Silver Dragon balanced headphone cable using Neutrik XLR's
or
Same arrangement as above with Whiplash Audio TWag V2 balanced HD800 cable
I was reading Jeff Park's truly excellent review of the Moon Audio cables in issue 52 of PFO and I noted his comment, "Now for the Silver Dragon cables. Though I found their transparency and top end extension a bit too much for the HD-800s […]". I would have agreed with him up until I replaced the Audio Note AN-V interconnect cable I had feeding the Blossom amp with the Moon Audio Silver Dragon interconnect. Simple logic would suggest that would make things worse; however, that was the exact opposite of what happened. My Silver Dragon balanced HD800's now took on a depth and richness they had never had before, even when I had them running from a Ray Samuels all tube Raptor in my main system using the single-ended version of the Silver Dragon cable. While the HD800's retained their clarity and nuance, they also took on a stunning sense of depth and richness; and I'm quite certain the Blossom Blo-0299 Balanced Headphone Amp with Welborne Labs Upgraded Power Supply (which I had preassembled) helped, a lot. I think it was just a matter of establishing some synergy; and now I have a reference headphone/headphone amp setup ready to mix audio I have recorded onto an external SSD (Solid State Drive) using Apple's Logic Studio on my 13" MacBook Pro along with an Apogee Duet and a pair of Schoeps Collette Wide Cardioid microphones (if Yo-yo Ma ever drops by and plays for his beer). I will say that I think—although it still needs many hours of burn in—that the standard version of the Whiplash Audio Dynamics HD800 balanced TWag V2 cable has a more open, more natural sound than the Silver Dragon; but that as each hour goes on it, it comes that much closer to sounding like the Silver Dragon—just with the added touch of clarity—so I think it's hard to go wrong either way.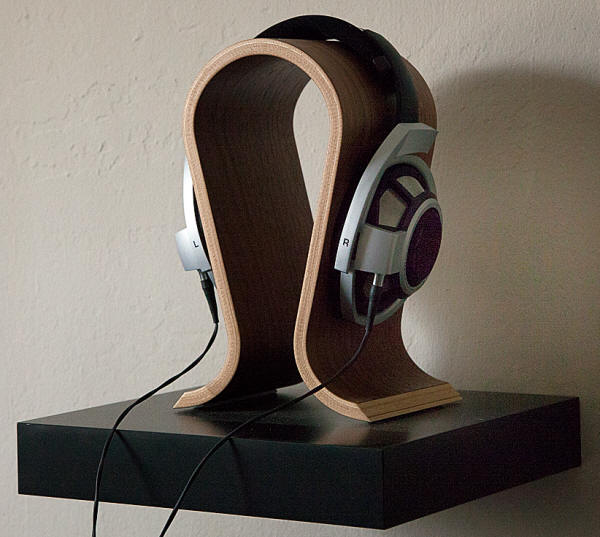 The Ultimate
My main stereo system with an all-silver loom power cable system feeding …
Slightly tweaked Triode Audio Corporation TRV-84HD 6BQ5 single ended stereo headphone integrated amplifier
Heavily modified AKG K701's using Audio Note AN-SPx speaker cable and a Furutech FP-704(G) stereo phone plug
I hesitate to even mention this headphone subsystem because the AKG's are so heavily modified—pretty much as a one-time thing—and also because with the "loom power cable system", which means that I use all the same 2" diameter silver power cables in my main system, it would be very difficult to reproduce the sound of this particular arrangement. However, with a pair of AKG K701's or K702's using the Moon Audio Black Dragon modification and the Triode Audio Corporation TRV-84HD headphone amp using your own loom power cables system (Nordost seems popular but I am also quite fond of the Locus Design Keynote), you might come close; what this arrangement gives me, and the reason I call it "The Ultimate", is because it truly brings me closer to the music than any other headphone system I have used and this is what I use as my personal point of reference when evaluating other headphone systems and when I just want to forget about equipment and listen to music.
The Seasoned Traveler
Silver (not that it really matters) 160GB Apple iPod Classic with mostly Apple Lossless files
ALO Triple Pipe LOD
ALO Rx Portable Headphone Amplifier with digital volume control
Moon Audio Silver Dragon modified Ultrasone Edition 8's with gold-plated mini plug
I know that I have discussed traveling music systems in other contexts; but I have actually taken this combination on the road with me and found it to be extraordinarily musical while at the same time quite portable and usable on a plane; in fact, this is exactly what I took to Chicago with me for a Cowboy Junkies concert with my good friend and confident, Laurie. I found it very easy to enjoy music and get jazzed for the concert both on the flight and in my private hotel room overlooking Water Tower Place (in the far distance).
The Honorable Mention
Apple 120GB iPod Classic
Moon Audio Silver Dragon LOD (terminated in RCA connectors)
Ray Samuels XP-7 Headphone Amp
Moon Audio Silver Dragon modified Grado RS-1's with gold-plated mini-plug (for direct attachment to computer) plus Grado mini plug to ¼" adapter
I haven't actually heard this combination myself; however, my friend Gerry highly recommends it. My understanding is that it is on the brighter side but still quite musical and an extraordinary value in addition to which it runs on two 9-volt batteries so it can be carried around the house even if you wouldn't necessarily want to take it on a plane; in fact, I know you wouldn't want to because the headphones—lovely though they are and which I do know—leak sound all over the place and block very little sound. They do sound quite lovely though.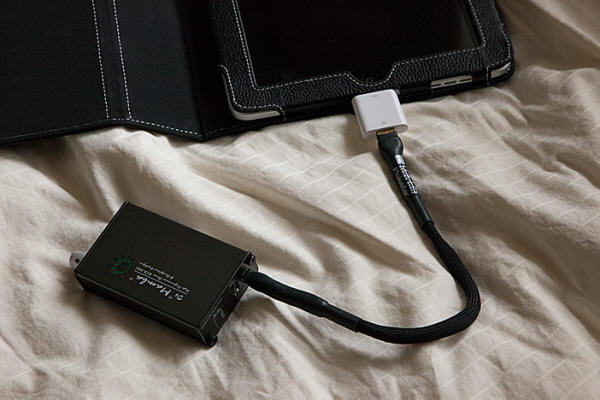 The Camera Kit
Apple iPad (any version, but I use the 64GB Wi-Fi + 3G version)
Apple Camera Kit for the iPad
Locus Design Polestar mini-B USB cable
iBasso D4 Mamba DAC/headphone amp
Beyerdynamic Tesla T5p's with stock cable
I discovered that if you get the iPad "camera kit" which gives you attachments creating both a USB A connection for your iPad and an SD card slot, you can use the attachment creating the USB A connection to attach a self-powered DAC/headphone amp like the iBasso D4 Mamba equipped with one 9-volt Duracell via a short (12") Locus Design Polestar mini-B cable driving, again, the unmodified Beyerdynamic T5p headphones and get some really sweet sound. It's not perfect and some sound processing software besides the ubiquitous portable spectrum analyzer and virtual SPL meter would be greatly appreciated; but time will tell.
I hope you can see that my point has been that there's no one "right" or "better" headphone or headphone amplifier, that's it's all a matter of synergy and application, and situations where you try to say, "In a side by side comparison, device A was an X on a scale of Y to Z but device B was X+1 and was half the price," may just mean that device B was more burned in, that it had more synergy with the other components or that the source player—including file type(s) and resolution(s)—may simply sound better. So I hope this guide helps you to look out for some opportunities that might otherwise pass your way or absorb all your energy deciding which of three LOD's (Line Out Docks) sound best between your black 160GB iPod Classic and black Ray Samuels SR-71A or SR-71B, you Night Stalker. I should mention that one concession I've made to standardization is that I've generally moved toward the Moon Audio Silver Dragon cables with the 4-pin mini-XLR universal connector. This allows me the option of terminating my headphones any way I want; so while I like the sound of the Whiplash Audio Dynamics cables—particularly the V2—there is something to be said for getting 4-5 feet of Silver Dragon cable for a given pair of headphones or in-ear monitors, then being able to terminat them for anything from fully-balanced, full-sized XLR's, to Protector plugs, to a ¼" Furutech FP-704 (G), and anything else one can imagine.
Addendum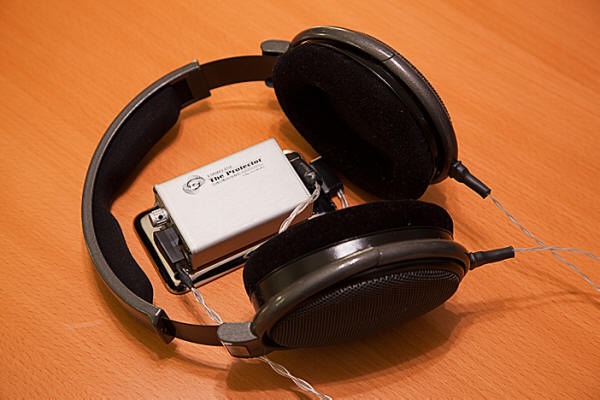 The Portable Listening Room
Apple 64GB iPod Touch
Whiplash Elite Micro Line out Dock (LOD) - Right Exit
Whiplash Elite TWag Protector Balanced Replacement Cable
Sennheiser HD650's
I have to apologize to Craig Sanborn at Whiplash Audio because in my zeal to burn in the new version of his TWag headphone cable for my HD800's, I had completely forgotten that Craig had made up a very special cable for me, a Ray Samuels Protector to Sennheiser HD650/600/580 cable and the also very special Elite Micro Line out Dock (LOD) using the right exit. In my "Classic" system I discuss the warmth that the combination of the Ray Samuels HR-2, Moon Audio Blue Dragon (copper) headphone cable and HD650's impart, giving one the sense of being wrapped in a gentle blanket; but there are times when you want the deep bass definition and ultra-low upper midrange distortion of the HD650's while at the same time having more detail overall. In this context, I can highly recommend the Apple iPod Touch, Whiplash Elite Right Angle Micro Line out Dock (LOD), Whiplash Elite TWag Protector Balanced Replacement Cable (and here I'm just talking about the original TWag cable, which is well burned in) and the otherwise somewhat euphonic Sennheiser HD650's
After assembling "The Portable Listening Room" and carefully auditioning the CD Ali & Toumani, I have no reservations about recommending this combination to anyone who wants the highest caliber of reproduction with no need for caveats like, "best for hip hop, rock and rap", or, "excels at strings". The reason I had overlooked this combination is because I find the Moon Audio Silver Dragon to be a bit bright sounding with the HD650's and they fight each other; but with the Whiplash Elite TWag Protector Balanced Replacement Cable—also made of silver—the tonal balance was just right. It had deep bass definition, it had that ultra-low upper midrange distortion that I've come to love from the HD650's; but it also had a nuanced sound that just made me want to listen to music and with the comfort level of the HD650's, this combination would be what I would pick if the power was out and I didn't have access to my heavily modified AKG K701's or I need a weekend away from the kids; and I don't have kids, so that's saying something. What can I add? I owe Craig an apology for overlooking this combination and a debt of gratitude for making the cables that bring it all together.
Kindest regards,
Andy
Whiplash Audio www.whiplashaudio.com
Ray Samuels www.raysamuelsaudio.com
Locus Design www.locus-design.com
Moon Audio www.moon-audio.com