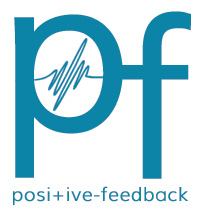 You are reading the older HTML site
Positive Feedback ISSUE 53
january/february 2011
The Classical Divide: Absolute versus Program Music
by Teresa Goodwin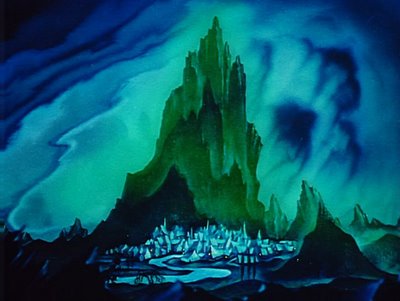 "Program music" often uses the tonal colors of musical instruments to imitate the sounds of nature from wind, rain, and thunder, as well as the sound of animals and mankind including tools and machinery. In contrast to "Absolute music", this always sounds to me like musical instruments playing. Even when "Program music" is NOT imitating nature or man, it has the ability to make me forget I am actually listening to musical instruments and transports me to another world in the unique realm created by the composer.
Drama, Adventure, Comedy and Excitement in Program Music versus Absolute Music
When people hear classical music for the first time often it is what is referred to as Absolute Music, instrumental music composed purely as music, and not intended to represent or illustrate something else. Generally following established rules of composition, this is the type of classical music most listeners have trouble connecting to as there is no earthly connection to their everyday lives, or even a feeling of the music flowing on a definite course with a recognizable story line.
Program Music is intended to evoke images or convey the impression of events. When Program Music was brought into "high-brow" classical music it offered a way to connect to the music and be caught up in its journey. Most importantly this type of classical music is highly addictive, creating a deep love that will last the listener a lifetime.
With the exception of programmatic and dramatic symphonies that use colorful orchestral painting, I am not a fan of symphonies in their pure absolute form. One example of a programmatic symphony I love would be Berlioz's Symphonie Fantastique. I prefer tone poems, symphonic poems, symphonic pictures, ballets, instrumental music from operas, marches, dances, overtures, and other colorful types of program music.
In short I like program music the best when it has the ability to transport me to another world. The colors, the excitement, the joy, the sadness, the despair, the triumph, the adventure and the drama are all things I enjoy. I am not a fan of pure absolute academic music and perhaps never will be, although there are isolated compositions of absolute music I do enjoy on occasions.
Absolute music is free of overt extra-musical implications. Its comprehension depends solely on its musical structures, not on any narrative, pictorial, or other nonmusical ideas. Absolute music typically is identified not by a descriptive title but by the name of a musical form, such as symphony, sonata, quartet, concerto, invention, toccata, or fugue. In its orchestration instruments are chosen to play notes in their "comfortable" range. In contrast program music is written about various subjects and instead uses the entire orchestra as a musical canvas choosing instruments based on their tonal colors to evoke the scene, mood, or emotion the composer is conveying. For example anything from a rainstorm, a volcanic eruption, the sea, a donkey ride down the side of Grand Canyon, or anything else a composer wishes to paint in orchestral colors.
The History of Program Music
One of the earliest examples of Program music is Antonio Vivaldi's The Four Seasons written in 1725. The concertos are based on descriptive sonnets, one each for spring, summer, autumn, and winter. However to my ears this sounds more like absolute music even though it had a program, as it does not evoke the feeling of or being in any of the four seasons in my opinion. It was not until Beethoven's Symphony No. 6, The Pastoral written in 1808, that program music actually began to sound like its program. I can just picture Beethoven out fishing, getting caught in a rainstorm with the violent thunder, and when the storm ends I can feel the relief and even smell that unique aroma left after it rains.
Full-blown music depiction began in earnest with Hector Berlioz's programmatic Symphonie Fantastique written in 1830. The composer subtitled the work "Episode in the Life of an Artist" and provided all five movements with a detailed autobiographical program. The entire symphony is united by a recurring theme that Berlioz called the idée fixe (fixed idea), which, according to the program, represents the obsessive image of the hero's beloved.
Berlioz followed up with another program symphony, Harold en Italy written in 1834. He inspired Franz Liszt to compose similar works, notably the Faust Symphony in 1854.
Liszt also created a one-movement version of the program symphony and in 1854 called it a symphonic poem. Such a work is a continuous form with sections in contrasting character and tempo, and with various themes developed and transformed to create a musical analogy to a word poem.
The inspiration for a symphonic poem could be a literary work, a picture, a natural scene, a personality, or anything else. For example, Liszt's Les Préludes was based on a poem by Alfonse-Marie de Lamartine, while his The Battle of the Huns was inspired by a mural painting.
The most successful composer of symphonic poems after Liszt was Richard Strauss, as in his Don Juan, Death and Transfiguration, Till Eulenspiegel's Merry Pranks, Also Sprach Zarathustra, Don Quixote, and Ein Heldenleben.
In the late 19th and early 20th centuries, other contributions to the genre, showing various degrees of extramusical depiction and bridging the stylistic change from Romanticism to Impressionism, include Paul Dukas' The Sorcerer's Apprentice, Jean Sibelius' Finlandia, Claude Debussy's La Mer, Igor Stravinsky's Fireworks, and Ottorino Respighi's The Pines of Rome.
One of the first great pieces of modernistic program music was Arthur Honegger's symphonic poem Pacific 231 written in 1923, named for an American type of locomotive. Although the music does not actually imitate the sounds of a locomotive, it does musically suggest the physical impression of its starting, rising to full speed, and stopping. It takes very little imagination to "hear" the steam powered locomotive coming down the tracks.
Program music continues to play a primary role in modern music. Examples include Johan de Meij's Symphony No. 1 "The Lord Of The Rings" written in 1987 and Michael Daugherty's Metropolis Symphony written in 1993.
However my favorite Program Music composer of all time is the wrongfully neglected Ferde Grofé. All of his decorative and uniquely orchestrated suites are a world by themselves. I feel transported, each suite is like a vacation without ever leaving home. He took Program Music to its absolute limit, using the tonal colors of the instruments of the orchestra in ways no one has done before or since. In short he is an orchestral genius and in my humble opinion one of the finest classical composers of all time.
I highly recommend every single suite by Ferde Grofé including the Grand Canyon, Mississippi, Hudson River, Hollywood, Aviation, Death Valley, and Niagara Falls. He wrote over 50 suites and from what I have read they are all just as colorful orchestrally as the popular ones. Someday I hope someone records the others, preferably in high resolution.
Finally some of the most colorful Program Music comes not from the traditional classical realm but the cinema, from traditional classical composers as well as composers who write only film music. Film music composers include, Sergei Prokofiev, Dmitri Shostakovich, Ralph Vaughan Williams, Aaron Copland, Robert Farnon, Danny Elfman, Jerry Goldsmith, Bernard Herrmann, John Williams, Max Steiner, and many, many others. Some of my favorite film music includes Lieutenant Kijé, Hamlet, The Tale of the Priest and his Servant Balda, Journey to the Center of the Earth, The Day the Earth Stood Still, Vertigo, Captain Horatio Hornblower, Batman, The Red Pony, The Twilight Zone plus all the Star Trek and Star Wars movie music.
Also check out my earlier essay for Positive Feedback "The Basic Power Orchestral Repertoire or Classical music for folks who don't like Classical music" http://www.positive-feedback.com/Issue35/classical_music.htm for recommendations on specific Program Music compositions.
I still occasionally listen to Absolute Music; however it is Program Music that has captured my heart and my imagination. When I reach for something to play to introduce a new listener to classical music it is 100% of the time Program Music.