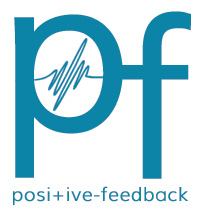 You are reading the older HTML site
Positive Feedback ISSUE 54
march/april 2011
Notes of an Amateur: Savall's Remastered Marais, Hilary Hahn's Higdon and Tchaikovsky Concertos, Higdon Chamber Music.
by Bob Neill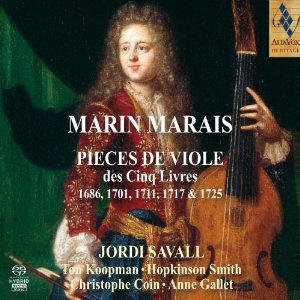 Marin Marais, Pièces de Viole des Cinq Livres. Jordi Savall, Ton Koopman, Christophe Coin, Hopkinson Smith, Anne Gallet. Alia Vox AVSA 9872 A/AE.
When Jordi Savall established Alia Vox in 1998, his intention was to issue new Savall (family) recordings but also to secure the rights to the classic 1970's and 1980's recordings he made for Michel Bernstein's Astree label that effectively died with Bernstein in 2006. Some of Savall's original Marais recordings for Astree started out on vinyl in the 1970's and were transferred to Redbook digital in the late 1980's and early 1990's. Others were recorded digitally and released as CD's in the 1990's.
My sense of all of the Astree CD's is that they err appealingly on the conservative side; that is, they are warm and pleasing, reasonable approximations of some of their LP fathers. So the obvious question, especially for those who own the Astree CD's and are confronted with this new remastered SACD hybrid set of all five of the original recordings (at a reduced rate, by the way), is: Are the Alia Vox releases better, worse, or just different? Those who don't own the original Astrees can listen in.
The new recordings are more open and intimate sounding. We are aware of more detail of all kinds, somewhat as if the performers are under higher magnification. The instruments are smooth sounding when they should be but a bit less sweet and more present and immediate; the recordings as a whole are less 'laid back,' in audio parlance—more forceful, less beguiling. This difference will be less conspicuous if your audio system in somewhat on the warm side of high noon neutral. When I switched from silver speaker cable (Audio Note Sogon) to copper (Audio Note Lexus), the presentation remained forceful and immediate but the light on the performers was slightly reduced. Note: these DSD recordings are recorded at a higher level than the Astree CD's, so turn your volume down to start with. I enjoyed the Alia Vox recordings most at a moderate to low level.
My conclusion here is that the new DSD recordings (in Redbook—I did not listen to the SACD layer, no SACD player at hand) have the effect of bringing us much closer to the performers. If this sounds exciting to you, there you are. If you prefer your Marais a little farther away, you'll have to hunt down the old Astrees still available if you search a bit (I saw some on Amazon)—even in a five CD set at a collector's premium price (!) Failing that, there are also some recordings done by Belgian gambist Philippe Pierlot with his Ricercar Consort, which may also take some work to find.
As for the music, well where does one start? Marais, along with his mentor, Sainte Colombe (their joint story is romantically told in the film, Tous les Matins du Monde, with Gerard Dépardu in the leading role and Savall on the soundtrack, of course) created the melancholy, bitter-sweet, languorous sound of the essentially unaccompanied viola da gamba of the French baroque. Couperin wrote two elegant and melodious suites for gamba which also belong in the conversation, and Savall has recorded these as well. Compared with Bach's solo suites (played on either gamba or more often, cello), Mariais' suites in particular are...French: we have the sense that their very structure is emotional. This is music composed to enable the instrument to sing to itself first, then to us. We often feel we are overhearing Marais, just as the film suggests Marais himself first overheard Sainte Colombe. For many of us the gamba/cello music of Marais/ Couperin and Bach are wonderful parallel lines that never cross, none of which we could live without.
The performances are definitive, meaning mainly that Savall taught us to listen to and love this music, so it's hard to accept anyone else's view of it quite yet. That said, Pierlot is very good, if a bit staid. He is also very good on the Couperin suites.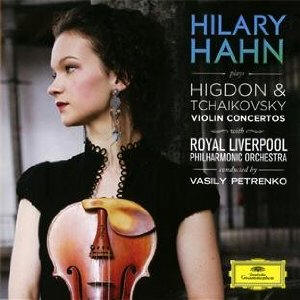 Higdon and Tchaikovsky, Violin Concertos. Hilary Hahn, violin. Royal Liverpool Philharmonic Orchestra, Vasily Petrenko, conductor. Deutsche Gramophone DG 477-8777.
Jenifer Higdon wrote and dedicated her Violin Concerto to Hilary Hahn. Tchaikovsky did not but he might well have had he lived another hundred years.
One might ask why I wished to present the Higdon and the Tchaikovsky together. For me the answer is rather simple. I believe that these full-scale grandly conceived concertos... illuminate each other. While they come from different centuries and compositional worlds, they share a great many qualities: lyrical delicacy, a brooding gentility, energetic abandon, and fine maturity of spirit. Placed back to back, they suggest the range of musical possibilities open to the violin in the early twenty-first century. Hilary Hahn.
Setting aside the composers' relative stature and merits (if this doesn't bother Hilary, it needn't bother us), the two do share a musical spirit and provide an excellent demonstration of how it sounds from before and (perhaps) after modernism.
In Higdon's case, clearly a love of the violin (and how HH plays it) is a major force. A great many contemporary composers want to compose for Hahn just to see how much she can make of their compositions, and who can blame them! She is what her reputation says she is, an extraordinarily gifted young musician who plays both classic repertoire and new music with equal brilliance and insight. This concerto (2008), receiving its recording premier here, is lyrically compelling, carrying occasional subtle hints of Appalachian fiddle music well and tastefully beneath the surface.
So how is the Tchaikovsky, the album's insurance policy? Tchaikovsky is every music lover's guilty pleasure, often a wonderful surprise to revisit, the composer who proves over and over again that if your heart is great (not just large), of course you can wear it on your sleeve. Where else?! Higdon hears Tchaikovsky as a lyric composer, full of eloquent refinement, rather than the athlete we are often presented with. In this sense, she sometimes reminds me a bit of Erica Morini, who charmed people of my age with her version of this concerto on vinyl in the 1950's. Beauty first was what we remember of Morini. Hahn has all of Morini's beauty but frames and sustains it with energy and élan, making it quite simply a better all round performance. I did not hear the "abandon" she speaks of in her introduction to the two concertos, but I guess abandon is a relative quality. The Russian conductor of the Liverpool, Petrenko, agrees with her view of the music entirely. The balance of energy and beauty seems perfectly judged, the pace maintained to remind us this music is rooted in dance, not drama or narrative. This is Russian music that like much of Russia in the nineteenth century faces west toward Paris and western Europe. No bears or Cossacks.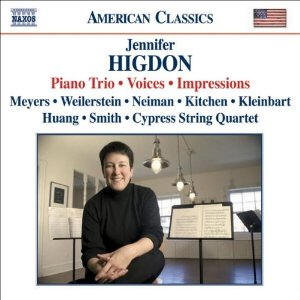 Jennifer Higdon. Piano Trio. Voices. Impressions. A Variety of musicians. Naxos 8.559298.
Tracking down this CD of chamber music by Jennifer Higdon was a necessity after hearing her violin concerto.
Her two movement Piano Trio (2003) brings us chromatic rapture in the first movement, then pays for the poignancy with a furious second. The piano writing for this work is brilliant throughout, sometimes controlling the musical proceedings with single chords that provide discipline and rhythmic structure. Anne Akiko Meyers, violin; Alisa Wellerstein, cello, Adam Neiman, piano.
Voices (1993), a three-movement work for string quartet, opens with the furious energy of the Trio's second movement in its first, called "Blitz;" modulates into a restless second movement called "Soft Ending," which becomes more spirited before settling into the third, "Grace," which takes us home with grace indeed. Toward the end Higdon kicks things up a bit to remind us where we've been before letting us go. Nicolas Kitchen and Melissa Kleinbart, violins; Hsin-Yun Huang, viola, Wilhelmina Smith, cello.
Impressions (2003), a four movement string quartet, comes at us from four different emotional directions, but all are in a familiar unprovocative idiom aimed at engaging diversion. Cypress Quartet: Cecily Ward and Tom Stone, violins; Ethan Filner, viola; Jennifer Kloetzel, cello.
This music is not intended to do all that her full scale concerto does. It performs its more modest work well and confirms, for me, that Jennifer Higdon is the real thing.
System used for this audition: Audio Note CDT3 transport; Blue Circle BC501ob dac and FtTH hybrid integrated amplifier; JM Reynaud Offrande Supreme V2 speakers; and Audio Note cable.
Bob Neill, in addition to being an occasional equipment and regular music reviewer for Positive- Feedback Online, is also proprietor of Amherst Audio in Amherst, Massachusetts, which sells equipment from Audio Note, Blue Circle, and JM Reynaud, among others.