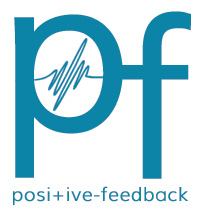 You are reading the older HTML site
Positive Feedback ISSUE 54
march/april 2011
High Resolution Computer Music Reviews and Updates
by Teresa Goodwin
Fellow "high resolution" downloaders I want to tell you about a new website, but before I do, I think it will be important to discuss the difference between 16 and 24 bit recordings as many of you will not consider this new site "high resolution" since most computer users feel a minimum of 88.2kHz is required for high resolution. I do sympathize with this as my 24 Bit 176.4Hz Reference Recordings HRx music files prove beyond a shadow of a doubt. However it is possible, in my humble opinion, to get excellent sound at 24 Bit 44.1kHz and this new site offers an alternative for those recordings which are not available in higher resolution.
24 Bit versus 16 Bit
Just looking at the two numbers 16 and 24, one would assume that 24 bit would have 50% more resolution, but in reality this is not how it works. Bit depth refers to the number of bits you have to capture audio with. The easiest way to envision this is as a series of levels that audio energy can be sliced at any given moment in time. With 16 bit audio, there are 65,536 possible levels. With each single bit of greater resolution the number of levels doubles. By the time we get to 24 bit, we actually have 16,777,216 levels. That is quite large; 256 times as many levels is not 50% more!
The sample rate is the number of times audio is measured (sampled) per second. 44.1 kHz is sampled 44,100 times each second and 96kHz is sampled 96,000 times each second. The advantage of a high sample rate is not just extended frequency response but also faster transient response.
In PCM audio, it is felt by many that the bit rate is more important than the sample rate as the greatly increased number of numerical values means more resolution to resolve the intricate details in the music.
eClassical.com a new unique Classical music download store
eClassical.com offers classical music in lossless 24 Bit FLAC, 16 Bit FLAC and 320kbps MP3 formats with no DRM protection and pricing is for the first time ever, per second. Most download stores charge per track, regardless of how short or how long the track is, up to a limit, then the price per track increases. In addition most complete albums are the same price whither they are 30 minutes or 82 minutes long. At eClassical you pay for precisely what you buy, not more, not less. This is done by charging per second, and the charge is set at a level where a normal album will not be more expensive than before, rather very often the contrary. The per second price is .2 cents per second, which works out at $8.40 for a 70-minute album. 24-bit FLAC downloads are priced are .3 cents per second or $12.60 for a 70-minute album.
Most of the 24 Bit FLAC files are 44.1kHz, however some are as high as 96kHz and this is not revealed until after you download. Test files are on the 24 Bit FAQ page http://www.eclassical.com/pages/24-bit-faq.html. There are sets of two test files. the first one includes 320kbps MP3, 16/44.1kHz FLAC and 24/44.1kHz FLAC. The second one includes 320kbps MP3, 16/44.1kHz FLAC and 24/88.2kHz FLAC
FLAC stands for "Free Lossless Audio Codec" and compresses audio files to about half their original size without losing any of the information.
If your computer playback software does not support FLAC you will need an update or plugin to play the music in its native format, however often the update will only do 16 Bit. For full-featured FLAC playback, choose media player software that inherently supports FLAC, such as MediaMonkey, Winamp or Foobar2000 for Windows, and VLC or Play for Macintosh.
Since iTunes does not support FLAC and I want to stick with iTunes as my media player and I own a Macintosh computer I covert FLAC to Apple Lossless. Apple Lossless supports music files up to 24 Bit 192kHz and is a lossless format very similar to FLAC. I am currently using a free program designed for Mac OS X 10.4 or later, called MAX http://www.macupdate.com/app/mac/19873/max and it works like a charm. If you do decide to convert FLAC to another format go into the music file's information tab and make sure it shows 24 Bit and the correct original sample rate.
How often have you downloaded a new piece of music after listening to a 30 second streaming audio sample only to discover you can't stand the music, performance or sound quality and you deleted it, which effectively means you just flushed the money you spent down the drain? This will never happen at eClassical.com as they have a couple of very unique features to protect your pocketbook. First you can "Pre-listen" to a whole track in 30 second segments, it will stop after 30 seconds and you just click play and it resumes, in addition the quality of the streaming audio is the best I have heard on the Internet which enables me to determine which tracks have the 'sound' I like thereby giving me a vague impression of the engineering. In addition they have a very unique guarantee: eClassical.com will give you a full refund not just for poor quality but even if you don't like the music, no questions asked. That is flat-out amazing, no downloads and no physical software has ever offered such a guarantee! Indeed LPs, Cassettes, CDs, SACDs, DVD-Videos, DVD-Audios, etc can ONLY be replaced with the SAME title if defective. No one I am aware of has ever guaranteed that you would actually like the music.
In addition you can download booklets in the PDF format for most albums.
Currently eClassical.com are only offering BIS and Chandos titles as 24 Bit downloads, however they do offer many other record labels in 16 Bit FLAC and MP3, so I am sure in time other labels will be added.
You can search using the "Text search" box or browse by Composer, Conductor, Orchestra/Ensemble, Performer, Instruments, Mood and Events, Periods, Genres, and Labels. 24 Bit releases have their own section which can be browsed in the same manner.
How I discovered eClassical.com
I was never a big fan of BIS Records and have been an outspoken critic of their SACDs. I liked the three early Grieg/Ole Kristian Ruud & the Bergen Philharmonic Orchestra BIS DSD recorded SACDs which I purchased in 2003 and 2004. I was very impressed with the sound quality with the sole exception of the lack of deep bass which I blamed at the time on the concert hall. However I didn't like the sound quality of the PCM recorded Grieg SACDs that followed these beginning in 2005. Between 2005 and 2011 I only found a couple of BIS SACDs that were to my liking. And I spent many years trying to get BIS to switch back to DSD recording to no avail.
It was Robert von Bahr, CEO of BIS Records who was so proud of Andrew Litton & the Bergen Philharmonic Orchestra's new recording of Stravinsky's The Rite of Spring saying it was a "sonic blockbuster with deep bass and the very best that BIS can do". He kept after me until I finally agreed to purchase it at eClassical.com with a money back guarantee.
BIS discovers bass: A tale of three Stravinsky's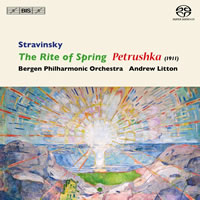 Stravinsky: The Rite of Spring, Petrushka (1911 version). Andrew Litton, Bergen Philharmonic Orchestra. 24 Bit 44.1kHz PCM in Stereo and Multichannel. BIS SACD-1474. Version purchased: 24 Bit 44.1kHz download from eClassical.com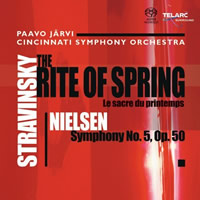 Stravinsky: The Rite of Spring, Nielsen: Symphony No. 5 Op. 50. Paavo Järvi, Cincinnati Symphony. Orchestra. Pure DSD in Stereo and Multichannel. Telarc SACD-60615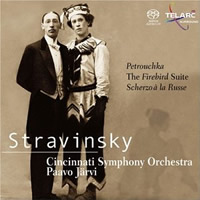 Stravinsky: Petrouchka, Firebird Suite, Scherzo a la Russe. Michael Chertock (piano) Paavo Järvi, Cincinnatti Symphony Orchestra. Pure DSD in Stereo and Multichannel. Telarc SACD-60587
On Robert von Bahr's insistence I downloaded the BIS/Litton version of The Rite of Spring and I am very glad I did. If I didn't know better I would swear that BIS made this recording just for me. It sounds very much like a Telarc PCM recording, if the label said Telarc rather than BIS, everyone would believe this is a Telarc. I never expected a BIS recording to even approach the "concert hall" realism that Telarc does on all of their recordings, but that they did I find truly amazing! And it put BIS back on my radar for future purchases.
The bass drum has as much impact, depth and presence as the best audiophile recordings, in fact even more impact than my favorite the above Paavo Järvi.
The string tone is smoother than the previous BIS PCM recordings I've owned but still not as sweet as the best DSD or analog recordings, about the smoothest I've heard in PCM including those from much higher sampling rates.
The deep string and wind instruments have more warmth and weight in the Paavo Järvi SACD which could be a difference in the halls or microphone placement. Also I preferred Paavo Järvi's performance which was more rhythmically alive and more savage. In addition the Järvi/Telarc SACD has more ambiance especially noticeable at the beginning of Part Two. However the performances are different enough that I will have to keep both versions. The bass drum in the Litton/BIS version is perhaps the most exciting yet recorded.
As mentioned above I loved the first three Grieg/Ruud BIS DSD recorded SACDs with the exception of the somewhat weak bass. Double-basses are really important to me as they are what give that weight and foundation to the symphony orchestra like I hear live in concert. This is something I have trouble explaining when I try to explain why accurate bass is so important to symphony orchestra recordings as people automatically think of the obvious deep percussion instruments, deep bass in the low strings and winds are just as important. Since I am not an engineer I do not know how they captured this but the fact that the best recording companies do almost without fail is evident by their recordings being released. And now we have deep bass from BIS, I am thrilled! Delivering realistic bass such as this is more important to me than the recorded resolution. And the fact that BIS has done this at 24 Bit 44.1kHz is amazing! I am hoping that this deep bass will be a hallmark of future BIS recordings.
I really listened closely and while the highs sounded great for PCM and quite enjoyable they are not quite as smooth as DSD. I have never found the correct audiophile terminology to describe this but the high frequency percussion on the best DSD recorded SACDs have the "zing" I hear and the "tingle" I feel on my skin… like I experience when I listen to live instruments in a concert hall, PCM recordings I've heard so for do not. The zing and tingle seems to be something unique to DSD. This is not something absolutely needed to enjoy music, just something extra that is nice to have. BIS has shown that lower resolution PCM can sound great, now if I could just get them to try DSD recording again now that they have discovered deep bass and more realistic recording techniques.
When I tried to get Robert von Bahr to reveal which recordings were made with these new techniques he denied his engineers did anything differently and said, "...we just put down for posterity what actually sounded in the hall?" That non-answer is not good enough and I will be searching eClassical.com for any other BIS recordings with this increased realism and accurate deep bass response. If I find any I will report them here.
I was so impressed I went back several days later and downloaded the BIS/Litton version of Petrushka as it is the 1911 version and the Telarc/Järvi version is the leaner 1947 orchestration. I have always in the past preferred the 1911 version to the 1947 version but the Telarc/Järvi SACD makes an excellent case for the 1947 version both sonically and musically. I like it considerably better than the Litton. Also the BIS/Litton Petrushka is not quite as realistic as their Rite of Spring, revealing different recording techniques between the two works. The timbre of the instruments is more "true" as is the feeling of being in the hall on The Rite of Spring. From BIS' program notes The Rite of Spring was recorded in August 2008 by engineer Matthias Spitzbarth and the Petrushka June 2009 by engineer Hans Kipfer. Both used Neumann microphones but different microphone preamplifiers and high resolution A/D converters… and based on the resulting sound, different microphone techniques as well. I liked Matthias Spitzbarth's engineering considerably better.
The Rite of Spring and Petrushka are on two different Telarc/Järvi SACDs and their accompanying compositions are both musically and sonically of the highest order, including a magnificent Firebird Suite and the wonderful version of Nielsen's 5th Symphony. Petrushka was recorded March 2002 by engineer Jack Renner and The Rite of Spring was recorded January/Feburary 2004 by engineer Michael Bishop. Both are pure DSD recordings.
Since the BIS/Litton is from a 24 Bit 44.1kHz master the SACD should sound very close to the high resolution download, if you prefer the physical format. I highly recommend all three recordings.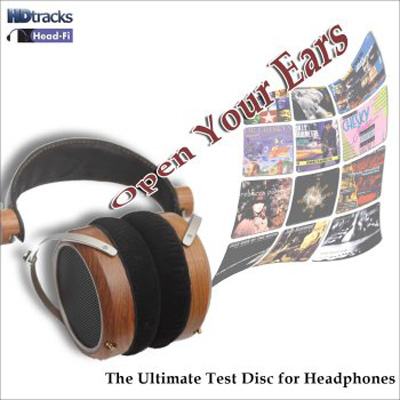 Head-Fi And HDtracks: Open Your Ears
The big news at HDTracks is the release of the Rolling Stones catalog in both 24 Bit 88.2kHz at $19.98 and 24 Bit 176.4kHz at $29.98. I feel the prices are too high for such short playing times especially compared to the original analog to DSD SACD releases. In addition Dr. Aix of Aix Records and iTrax.com has measured these and feels they are not deserving of high resolution treatment. "Stones in HD? Spectrographs Tell A Different Story" http://www.itrax.com/Community/content.php?133-Stones-in-HD
However I have discovered a real bargain in an excellent "authentic" 24 Bit 96kHz high resolution sampler of Chesky artists with tracks specifically hand-picked to show showoff the strengths and test headphone audio systems, they of course sound great through speakers as well: Head-Fi And HDtracks Open Your Ears 96kHz/24bit is on sale for only $8.99
1. Midrange tonality - Stuck in a Moment You Can't Get Out Of from "The Persuasions Sing U2"
2. Low-Level Resolution - Money - Sam Yahel, Ari Hoenig, Mike Moreno and Seamus Blake from "Jazz Side of the Moon: The Music of Pink Floyd"
3. Transparency - Get Behind The Mule - John Hammond from "Rough & Tough"
4. Visceral Impact - Sare Tete Wa by Babatunde Olatunji from "Love Drum Talk"
5. Out-Of-Head Imaging - Gadamaylin - I-Ching from "Of the Marsh and the Moon"
6. Center Focus - Texas Ranger - Rebecca Pidgeon from "Four Marys"
7. Palpable Detail and Texture - Chesky: Concerto for Bassoon and Orchestra, Movement 3 - Martin Kuuskmann, Rossen Gergov, Symphony Orchestra of the Norrlands Opera from "Urban Concertos"
8. Rhythm - Hajji Baba from "Calypso Blues: Monty Alexander Plays Nat King Cole"
9. Spatial Depth - Percussion Imaging Test from "Best of Chesky Jazz and more Audiophile Tests Volume 2"
10. Depth - Tumbao De Tamborito - The Conga Kings from the "Jazz Descargas"
11. Bass Extension - Heartbeat from "Dr. Chesky's Sound Show"
12. Bass - Everything is Broken - Billy Burnette from "Memphis in Manhattan"