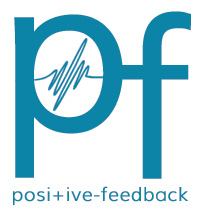 You are reading the older HTML site
Positive Feedback ISSUE 54
march/april 2011
Holst Orchestral Works series on SACD
by Teresa Goodwin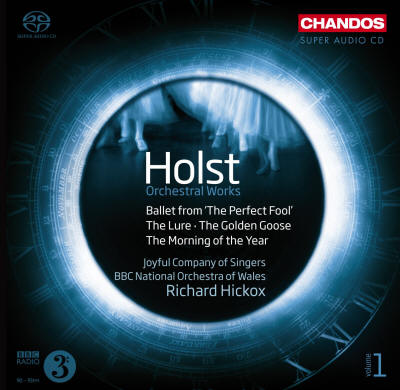 Gustav Holst: Orchestral Works Volume 1
The Morning of the Year, The Lure, The Golden Goose, The Ballet from "The Perfect Fool". Richard Hickox, BBC National Orchestra of Wales, Joyful Company of Singers. Recorded in Brangwyn Hall, Swansea July 1-2, 2008. Producer: Brian Couzens - Sound Engineer: Ralph Couzens. Stereo/Multichannel Hybrid SACD - DSD recording. Chandos CHSA-5069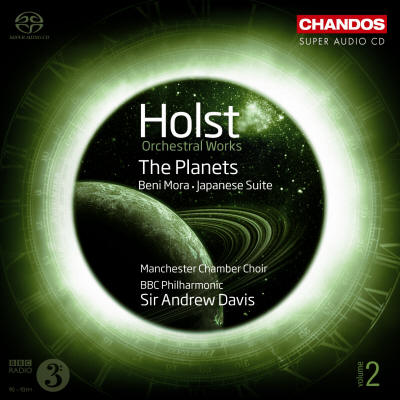 Gustav Holst: Orchestral Works Volume 2
The Planets Op. 32, Japanese Suite Op. 39, Beni Mora Op. 29 No. 1. Sir Andrew Davis, BBC Philharmonic, Manchester Chamber Choir. Recorded in Bridgewater Hall, Manchester June 24-25, 2010. Producer: Ralph Couzens - Sound Engineer: Mike George. Stereo/Multichannel Hybrid SACD - DSD recording. Chandos CHSA-5086
Chandos started this series of Holst's complete orchestral works in 2008 with the first volume released the following year in 2009 in my favorite format, DSD recorded SACD. With Telarc gone DSD recordings are getting less common on SACD, it seems most DSD recordings are now only released as CDs. So I usually cheer any new DSD recordings released on the SACD format, especially of compositions not yet available on SACD. These two SACDs are a bonanza of Holst's seldom recorded masterpieces. Many of these works have not had any great recordings since the wonderful series of analog Lyrita LPs.
Most listeners only know of Holst's most popular composition "The Planets", hopefully this series will expose more of them to his other wonderful compositions.
The series was started by Richard Hickox who died on November 23, 2008 while beginning recording on the second volume, Chandos has written up a nice obituary http://chandosrecords.blogspot.com.
After his death it was feared that this new series of the complete Orchestral Works of one of my favorite composers would not continue. After two years, it has now been taken up by Sir Andrew Davis much to my delight.
Volume One begins with The Ballet from 'The Perfect Fool', Op. 39 (1918-22) The movements are Andante, Dance of Spirits of Earth, Dance of Spirits of Water and Dance of Spirits of Fire. It is a very exciting and wonderful ballet from his unsuccessful comic opera of the same name, a satire on Wagner's Parsifal. This opening ballet is danced by the Spirits of Earth, Water and Fire in rare live performances.
The second work The Golden Goose, Op. 45 No. 1 (1926) is a choral ballet based on the fairy tale by the Brothers Grimm. The movements are 'Sound of drum and trumpets play' The Mummers' Play, The Human Organ, Jack creeps up, unseen by court, Dance of the Three Girls, The Goose Dance, Jack and Princess embrace. Followed by Ballet music from "The Lure" (1921) a scenario by the American artist and patron of the arts Alice Barney about moths dancing round a candle flame. It was never performed either as a ballet or an orchestral piece and Holst eventually withdrew it from his list of compositions. It is exciting, colorful, beautiful and sensual which makes this all the more surprising.
The SACD ends with The Morning of the Year, Op. 45 No. 2 (1926-27) which is a choral ballet about the yearly spring mating rituals ordained by nature with words by Steuart Wilson. The movements are 'I am that which men did make', Dance of Headman and Hobby-horse, Dance of Youths, Dance of Maidens, Mating Dance and Dance of the Youngest Couple. The sonic tableau is magical and full of wanderlust.
The SACD sound is very natural with lots of ambiance, excellent soundstaging and realistic deep bass and the performances equal or surpass the previously definitive Lyrita Recorded Edition LPs.
Volume Two begins with the colorful oriental suite "Beni Mora", Op. 29 No. 1, H 107 (1909-10) The movements are First Dance, Second Dance, In the street of the Ouled Naïls. It is very exciting and exotic with a very oriental flavor.
This is followed by my very favorite Holst composition since I first heard it decades ago on Lyrita SRCS 50 LP, the "Japanese Suite", Op. 33, H 126 (1915). It is dedicated to Amanuensis and was written for Michio Ito, a Japanese dancer who supplied Holst with most of the themes by whistling them to him. The movements are Prelude: Song of the Fisherman, Ceremonial Dance, Dance of the Marionette, Interlude: Song of the Fisherman, Dance under the Cherry Tree and Dance of the Wolves.
This very generous 79 minute program ends with Holst's most popular composition: "The Planets", Op. 32, H 125 (1914-16) It is subtitled "Suite for Large Orchestra" The movements are Mars, the Bringer of War, Venus, the Bringer of Peace, Mercury, the Winged Messenger, Jupiter, the Bringer of Jollity, Saturn, the Bringer of Old Age, Uranus, the Magician and Neptune, the Mystic.
This wonderful version of the planets replaces my previous reference DSD recorded SACD with Mark Elder conducting The Halle Orchestra on Hyperion. That one also had Colin Matthews' Pluto which is not included here, likely because it was not composed by Holst and because Pluto has lost it's planet designation. Looks like Holst was right after all.
http://www.universetoday.com/13573/why-pluto-is-no-longer-a-planet/
A pair of excellent sounding SACDs by one of my favorite composers. I am so thrilled Beni Mora and the Japanese suite made it to SACD! I will be getting every volume of this series. Volume Two sounds even better than the wonderful sounding Volume One, very natural with lots of ambiance, excellent soundstaging with realistic deep bass that is even warmer.
Beni Mora and the Japanese Suite surpass the previously definitive performances on Lyrita Recorded Edition LPs and the Planets is perhaps the most exciting and colorful version I have heard yet, not only surpassing Mark Elder's version mentioned above but the Zubin Mehta, Los Angeles Philharmonic 180 Gram Speakers Corner LP and the Georg Solti, London Philharmonic MFSL LP.
On November 26, 2008 I posted on sa-cd.net http://www.sa-cd.net/showthread/32648//y?page=first
"I'm hoping Volume 2 will have the Beni Mora and Japanese Suites." I got my wish, thank the gods! Either I am very lucky or someone at Chandos read my post and suggested them, either way I want to thank Chandos from the bottom of my heart for providing my favorite Holst compositions on DSD recorded SACDs. Bravo and I love you guys!
Not to push my luck, but I am hoping for the Fugal Overture, Hammersmith, Indra, Sita, the Somerset Rhapsody, and Suite de Ballet for the next couple of volumes but of course will be happy with whatever Holst compositions come next.