From the beginning
This remarkably musical tale begins some four years ago now: First envisioned in January 2007 during the historic fortieth CES (and the first to be held in The Venetian), at the site of the Richard Beer's highly successful companion T.H.E. Show held at the St. Tropez. That was my first real opportunity to hear, rather than just hear about, WAVAC amplification. The amps in play that day were the (then) $150,000/pair HE-833 Mk II. They are the four-box little sibling to WAVACs flagship eight-box, $350,000 SH-833. No, you read that correctly, I said just over a third of a million dollars.
On that visit to room 1604 of the St. Tropez campus, the utter immediacy and control of the system in play overwhelmed me. The resultant sound in that room was so very close to pure music that it was almost frightening. To say that the experience superseded the expectation still wouldn't give you a sense of just how good it really was. I could not recall having heard a piano reproduced with such percussive accuracy, so rich in tonal texture, and so vibrantly alive in its own space. It was as close to the sound of a real piano being played in a live space as I had ever heard from any electro-mechanical system up to that point, period. Then again, with a total system price of half a million bucks, you'd expect something that memorable, wouldn't you?
Once my 2007 CES report published, I was inspired to send a cold call directly to WAVAC, asking if they might consider allowing me to examine the top of their 805 power tube series, the MD-805 Mk II monoblocks. Imagine my great delight when Jonathan Brown, principal and all-round good guy at Covenant Audio Consulting, responded affirmatively to my request less than a month after the show.
Jonathon is a NASA engineer and seasoned audiophile of over 20 years. By day, he is the Branch Chief for Flight Assurance, and is responsible for system safety and software assurance for aeronautics programs and projects at NASA Dryden; he also enjoys the privilege of being the US Distributor of WAVAC Audio Labs products. His message indicated that he would be happy to facilitate my auditioning of the MD-805 MkII, just subjected to a 10th Anniversary treatment. As these are rather rare beasties, only built to order, given their build cycle of 45 to 60 days it would take some time to put the plan together.
Though a ship date of April 1, 2007 was originally planned, shipping damage and further unrelated business issues stayed the project for what came to seem like forever. However, after visiting Jonathan in the WAVAC room at 2009'sT.H.E. Show held in the Alexis park, the old site for the CES' so-called High Performance Audio exhibits, I was comfortably and confidently assured that he still wanted me to do the review, and that they would ship early that year. Having had the pleasure of getting to know him through many correspondences and our mutual fascination with feudal Japan, it was with unbridled excitement that I maneuvered the five package shipment into my basement listening room the last day of February 2009. Sidelined by some major damage to my left shoulder in early May of that year, undergoing full open Rotator Cuff corrective surgery that July, then rehabbing my arm, the project suffered even further setbacks of yet another five or six months. However, what follows, dear readers, is the chronicle of one music lover's privileged trip into splendid excess at the gracious hands of the melodic necromancers of WAVAC Audio Labs.
History
WAVAC Audio Labs come into being in 1994 when Yasuo Yoshizawa, the executive director of the former Yoshiki Industry Co., stumbled upon the book "Production of Single Amplifier" written by the late Nobu Shisido. Mr. Yoshizawa was so taken by the read that he sought out Mr. Shisido at his home, and the two rapidly developed a friendship, one that blossomed into a project to develop and produce tube amplifiers.
Though the circuit was the brainchild of Mr. Shishido and the chassis was the result of the efforts of Mr. Yoshizawa, the company eventually grew to include a development staff which included Yuzuru Ito, a stage, sound effect, and recording engineer, Yasunori Matsuki and Masakuni Kudo. One of the earliest identified goals of the company was to create a large output tube amplifier to drive today's modern, more moderate to low-efficient loudspeakers easily, not just to recreate yet another good nostalgic tube amp.
In March of 1998, when Mr. Shishido abruptly passed away, Yuzuru Ito took up the reins of the company and followed his tradition, continuing to develop fine tube based products.
In October of 1999, Sigma Co., Ltd, the large Japanese industrial firm where Mr. Ito is a Vice President, took over the development, production, and sales sections of WAVAC Audio Lab from Yoshiki Industry Co., and the sale/joint venture provided additional funds for growth and expansion. However, by 2004, as soon as was practical for WAVAC to financially stand on its own, Mr. Ito was able to make that a reality, which it is to this day.
Hardware
Five packages landed here in all; four at nearly seven and a half cubic feet (21" x 21" x 29") each, housing the pair of amplifiers and their two respective power supplies, and one much smaller (and lighter), full of valves. All told, with a combined shipping weight over 320 pounds, my delivery driver was only too happy to have my assistance unloading my prizes.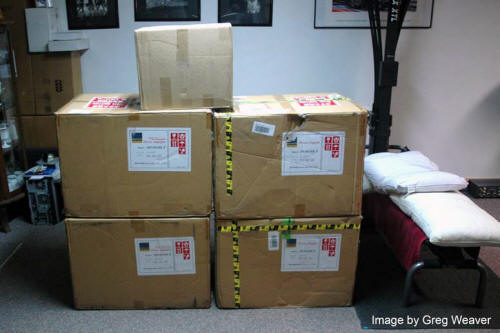 Five boxes of audiophile heaven
Once the quintet of boxes made it into my listening room, the REAL fun began. Jonathan had taken the added precaution of inserting some customized Styrofoam and plastic spacers inside the power supply chassis' to prevent any shifting, loosening, or other untoward damage to the numerous transformers inside the sturdy bodywork during shipment. After taking a few minutes to figure out how to loosen the top plate, I was able to extract that extra material and get the enormous power supplies ready to go. Unpacking them, situating them on my Grand Prix Audio Monaco Amplifier stands, connecting them, and preliminary start-up required the better part of an hour and an half of solid schlepping and toting.
The core of the MD-805 Mk II, as its name implies, is a sole, single-ended, directly heated 805 high power triode transmitter tube. With a filament voltage and current capability of 10 volts and 3.25 amps, the 805 transmitter tube is likely one of the most powerful single device available for SET designs (the 833 has the same voltage, but draws 10 amps!). If you are unfamiliar with that tube, don't worry, I'm sure you won't be alone. While I can think of other amps that are built around the 805, like the $4750 per pair Antique Sound Lab Explorer 805 DT, they are not that popular. WAVAC also employs a 6Y6GT driver tube and a 5751 input tube. Not a common configuration, to say the least.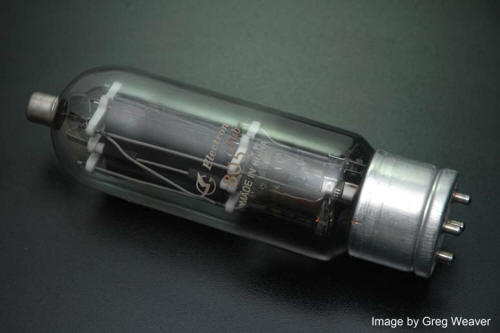 The stock Chinese 805 power tube
As shipped from WAVAC, the MD-805 Mk II uses current production, Chinese sourced tubes. As such, these tubes are both in stock and seem to be readily available. The bulk of my evaluation saw the supplied stock tubes in place. Not to fear tube rollers, there is more on that subject to come.
The phrase "thoriated tungsten filaments," used to describe their 805 tubes in the WAVAC literature, found me doing a bit of research. "Thorium dioxide is used as a stabilizer in tungsten electrodes in TIG welding, electron tubes, and aircraft engines. As an alloy, thoriated tungsten metal is not easily deformed because the high fusion material thoria augments the high temperature mechanical properties, and thorium helps stimulate the emission of electrons (thermions). It is the most popular oxide additive because of its low cost, but is being phased out in favor of non-radioactive elements such as cerium, lanthanum, rhenium, and zirconium."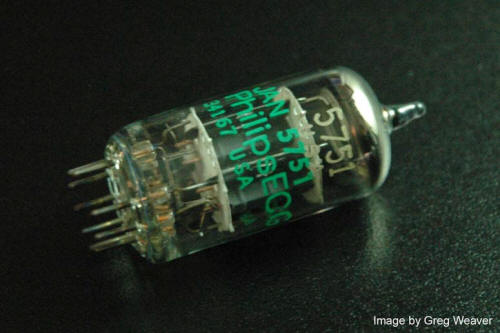 The stock 5751 input tube
That bit about its "…being phased out in favor of non-radioactive elements such as cerium, lanthanum, rhenium, and zirconium…" led me to do just a tad more research. Though commonly used in light bulb filaments for decades (now most commonly replaced by rhenium), potential doses are ridiculously low. The U.S. Nuclear Regulatory Commission calculated an effective dose equivalent to less than 0.001 mrem per year for an individual spending eight hours per day at one meter from a lamp employing a thoriated tungsten filament and 20 hours per day at two meters from two such light bulbs. Compare this with an annual average exposure of approximately 300 mrem due to natural background radiation. No worries, mate. In a nutshell, it is used to afford longevity to the filament of the tube.
Described as being bullet proof, the 6Y6GT Beam Power Tetrode driver tube is a common power supply driver tube for amplifiers in which the plate voltage available for the output stage is relatively low or in radio frequency-operated, high-voltage power supplies, like those in television or radio transmission equipment. At this point, if you've gotten the impression that the MD-805 Mk II employs a beefy power supply, you'd be correct.
The MD-805 Mk II offers what I see as not only a logical, but a truly inspired use of the 5751 dual triode input tube. Where many other amps (the aforementioned Antique Sound Lab Explorer DT, for example) uses what many find to be a harsher, more hollow sounding 12AX7, WAVAC elected to use the 5751 for its improved clarity, texture, tonal color, smoothness, and lower noise floor. While only offering about 70 percent of the gain of a 12AX7, it is not uncommon to find 5751s employed in high gain guitar amps, as musicians tend to prefer its more classic "crunch" and effortlessness. While the term "palpable" is unquestionably overused in audiophile journalism, please forgive me its use here, as it truly is the ideal descriptive adjective for the sonic enrichments afforded by the 5751 tube.
The Boxes
So, what makes the WAVAC design and resultant sound so distinctive? Most is the result of the unique circuit design, one formed around a theory originally envisioned by the late Mr. Shishido and patented in 1995. Called the Inverted Interstage Transformer Circuit (or IITC for short), it is describe as "the combined circuit of electric tubes using a transformer."
While I have a strong engineering and electronics background, the Japanese to American English translations made available to me on the subject proved to be, well, let's just say that they were less than helpful in aiding my comprehension of the circuit design. I will leave it to the adventurous among you to research this circuit on your own, should the mood strike you.
The four-box amplification system is remarkable impressive, even before you light them up and listen. Left and right channel components are identical, not mirror images of each other, consisting of a 90 pound, 10 ¼" wide by 18 ¼" deep by 11 ½" tall black power supply and a 55 pound, 10 ¼" wide by 18 ¼" deep by 10 ¾" tall champagne colored amplifier per side.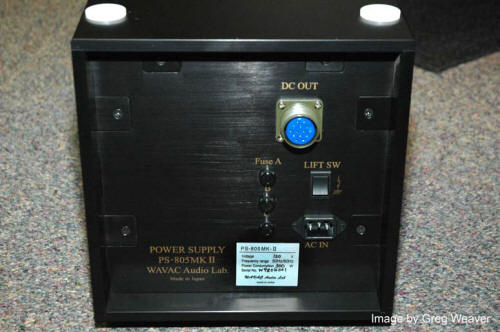 The back of the MD-805 Mk II power supply, showing the fuse holders, IEC socket, ground lift switch and the HUGE 14-pin connector to carry DC power to the amplifier. You can clearly see two for the four "receivers" for the amp, which rests atop the supply in use
The enormous black power supplies for each channel are a marvel, hosing the substantial primary transformer, as well as the additional B and C transformers, isolating them from the amplification stage, and offering greater protection from magnetic affects. The B power circuit employs a special double choke transformer in hopes of further reducing induced hum. All the transformers are mechanically isolated, both from the case and from each other, by a material WAVAC calls Al fur gel. I'm sorry to say that I was able to learn nothing more about the material.
The back of the Power Supply houses three fuse holders, an IEC socket for the power cable, a ground lift switch, and the huge 14-pin DC connector for the power umbilical to connect to the amplifier. The front of the supply has a rectangular green Status LCD display, as well as a set of 5 vertically placed green LEDs. During the 60 seconds it takes to fully power up, the LED displays a digital countdown, and the LEDs light up in sequence, from top to bottom, indicating the start up status as well. Finally, located in each of the four corners on the top of the supply are four shallow disc "receivers," which appear to be fabricated of white Teflon™, for the four feet of the amplifier, which rests on top of the supply when in use.
The elegant alumite (a surface finishing process, similar to anodizing) finished Champaign-colored amplifier housing includes Teflon sockets for all three tubes. The shallow front panel reveals a large round power push button switch as well as an input volume control with a triangular knob, aiding in the ease of visually matching knob settings between the two amps. The "tube cage" employed is a unique shaped piece of glass. When looked at from the top, it is a U shaped form that, when in place on its edge (on plastic stand-offs) on top of the front of the amp, stylishly shields the tubes from the odd inadvertent touch.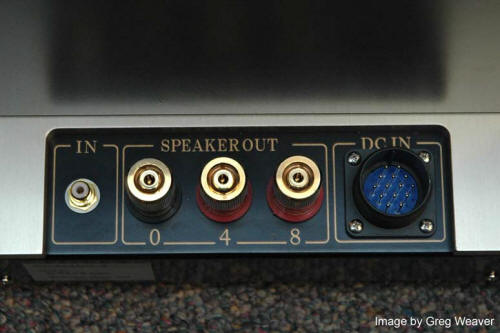 The connections on the amplifier, single-ended input, 0, 4Ω, and 8Ω speaker taps, and the 14-pin DC power input
All connections to the amplifier are mounted on the top surface of the very back of the amp. From left to right, looking at the back, you have the single-ended input, next are three large speaker posts (0, 4Ω, and 8Ω taps), and then the mating 14-pin DC connector to receive the DC umbilical from the power supply.
DC power is delivered from power supply to amplifier via an enormous 2½" thick umbilical cable terminated at both ends with threaded industrial plugs which appear to be manufactured by ITT/Canon. After connecting my preamp to the single-ended inputs with my Stealth INDRAs, tightening down the Von Schweikert Master Built Signature Bi-wire speaker cables, and then installing my favorite IEC power cables, it was time to press the power button and see what these puppies could do.
The Sound of One Hand Clapping, Revealed
I should make it clear that I am not a blind "toob" devotee; in fact, quite the opposite is true. While I readily acknowledge that both tube and transistor designs each possess their own unique métiers, strengths, problems, and faults, I just as freely reveal that, overall, when employing today's multi-driver, complex impedance loudspeaker systems, I find the faults of solid-state amplifier designs less musically compromising than those of valve design – typically!

That is not to say that there are not some spectacularly effective tube designs out there. Tim de Paravicini, Ralph Karsten, and Vladimir Lamm, to name but a few, exemplify, to my mind, some of the more gifted designers who have realized some of the most effective results. However, I still find MANY highly regarded tube designs afford an overly round, warm, bloated, and syrupy sound that tends to "editorialize" and "euphoricise" the resultant sound, especially in the upper bass-lower midrange regions.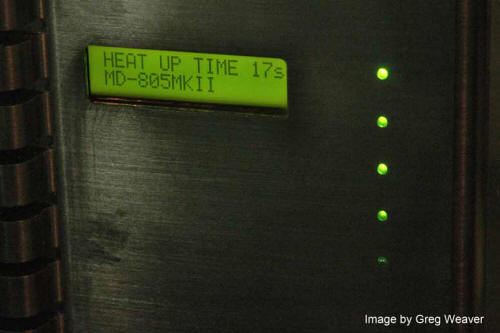 A close look at the integrated display showing the time left until the tube voltage has stabilized and they come out of protection.
Deep bass pitch definition has regularly been an area where the lion's share of affordable tube offerings have left me wanting. Now, don't take my statement as general disparagement of all valve re-created bass; that would be a mistake. Honestly, some of the most tuneful and realistic sounding bass I've ever heard has been at the pleasure of valves.
Further, tube amplification traditionally offers relatively low power output (sub 100-watt devices rarely are able to "light my fire") as well. This is such an issue, that I will not even broach the subject of the bevy of infinitesimally small, single-digit watt output SET amps.
It is the synergy of these comparatively consistent shortcomings that has conspired to keep the majority of tube amplifiers off my lust lists. Well music lovers, I'm here to tell you that Jonathan Brown and WAVAC have managed to change my mind—completely.
Given my previous preamble, I feel compelled to start with bass performance, which, as I've suggested, has long been a serious point of contention for me (and other like-minded music lovers) with many—not all—tubed designs. I had more than one visitor to my listening room during their extended stay (due to my shoulder surgery) that seemed to think they were somehow lacking in the bass department. I can assure you this is NOT the case. Some of these listeners appeared to be easily confused; their general impression was that sheer amplitude equates with quality of low frequency information. Sad, but something I've run into more often than I'd care to discuss.
I'm just going to say it; the MD-805 Mk II monos deliver the most articulate, detailed, deepest, and accurately pitch defined bass I've ever experienced from any amplifier in my home, let alone one of the 60-Wpc variety! They exhibit and define the leading edge of bass transients in an especially lifelike way, one that many respected amplifiers would do well to emulate, if only they could.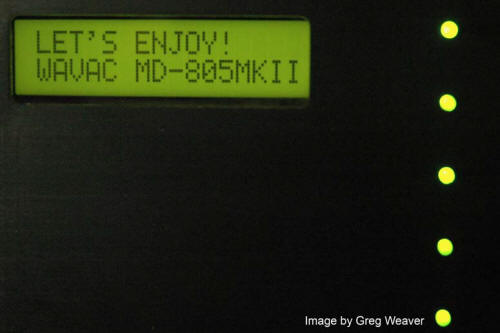 Once out of the warm up stage, this displayed message says it all!
As you might expect, the midrange was exquisite. These amps simply breathe life into and through out the mids and lower treble, with no hint of editorialization or addition of any euphonic color. Rather, they almost seem to celebrate in recovering indolent vocal pauses, articulating enunciation and breathing artifacts, and serving up any other form of realistic vocal construction with which they are challenged. All the myriad nuances of the human voice are reproduced so tangibly as to leave me wondering why ALL amplifiers couldn't be this involving.
Treble, especially lower and mid-treble, was gloriously fleshed out, replete with meticulous detail, definition, and decay. The trailing edge of triangle strikes lingered on for 10's of seconds when the recording permitted. Uppermost treble was so cleanly portrayed, clearly, with exquisite detail, and in an unusually truthful and recognizable manner, if not as fully extended as with the best solid-state designs.

One of my first utterly transfixing experiences with these magnificent behemoths in place came with Little Earthquakes [Atlantic 82358-2], the 1992 release from Tori Amos. The experience was near religious. Their ability to reveal the nuanced textures and shades of inflection in Tori's voice, to uncover and deliver up the subtleties and evocations of her lyrical style, afforded an unprecedented exposure to the meaning and tendered a clearer understanding on the stories behind this unique songwriters works. They simply gave life to them by seemingly divulging more of the artist's intention and meaning than I've ever experienced from that recording in all the years I've been listening to it.
Their ability to reconstruct the space of a recording, synergizing with the inherent abilities of my reference Von Schweikert VR-5 Anniversary loudspeakers, was nothing short of exquisite. The space recreated in my room during the opening of the title cut from Dire Straits 1985 masterpiece, Brothers in Arms [JVC XRCD5483572], and the entirety of Roger Water's Amused to Death [Sony/Columbia CK53196] was 5.1-channel surround-like and downright haunting! It was as though the physical boundaries of my listening room had melted away in the eerie glow of these enchanting 805s, giving way to a much larger, more open space.
Listing to the delectable SACD of Elton John's 1971 release Tumbleweed Connection [Island Rocket B0003611-36], the cut "My Fathers Gun" has a haunting solo guitar that noodles in and out all throughout the track. With many amps, that solo guitar is delicately tied to the right speaker. With the MD-805 Mk IIs in place, that guitar was now floating outside the physical location of the right speaker by several inches. And not only were the strings as liquid and creamy sounding as I've ever heard, but the body of the instrument was more realistically sized as well. Moving on to the cut "Love Song," there was the overwhelming sense that there was simply nothing coming from the speakers; I was left with only the music, magical voices and instruments, occupying a different space and time in my room.
One of my all-time favorite classical records is the 1972 Sir George Solti/Chicago Symphony Orchestra version of Beethoven's 9th Symphony. While I do have a 2-disc UK Import Decca/London copy, I happen to have the Mobile Fidelity, two-record release [MFSL2-516]. While this is far from a perfect audiophile recording, the individuality of instruments was presented in a breathtaking fashion, both in the utter clarity of their phrasing and the specificity of their individual placement. The WAVACs afforded a heightened degree of musical expression, illuminated instrumental lines more clearly, with better demarcation, yet at the same time, offering a more effectively interwoven musical tapestry from those discrete voices.
Tympani skin tone and impact was unlike I can ever recall from this recording, one that I have heard literally hundreds of times. Horns were rendered with a creaminess more akin to what you hear in a good hall than from a great record. Smaller strings took on more of that silky texture, while cellos and double basses were more full-bodied, resonant, and woody sounding. This all lead to a greater communication of the underlying musical message. It was one of the most deeply moving experiences I've ever had in front of an electro-mechanical aural illusion engine!
You may recall my previously stated concerns about amplifiers in the sub 100-Wpc range, so this merits some discussion. I am fond of "realistic" playback levels. That means that whether I'm listening to full scale orchestral Classical or some seriously electric Progressive Rock, I expect my system to hit 95 - 98 dB peaks when called upon.
I'll freely admit that these may not be the amps of choice for those who solely listen to Techno, Rave, Club, or similar bass heavy genres, and want +100 dB SPLs in their room. I can say that, with my Von Schweikert VR-5 Anniversaries (94 dB @ 1w/1m using 2.83v), and in my room, the WAVAC MD-805 Mk IIs delivered the sonic goods, across all the genre's I fed them, consistently. In this exalted application, it is my honest assessment that the MD-805 MKIIs offer sufficient power and dynamic reserves for most traditional American audiophiles.
Tube Rolling
Tube rollers, take heart, and pay attention. Jonathan was kind enough to send along some NOS 1950's GE made 5751s and a set of Radiotron RCA VT-143s (805s) stamped March 1943 (can you see me drooling in anticipation?).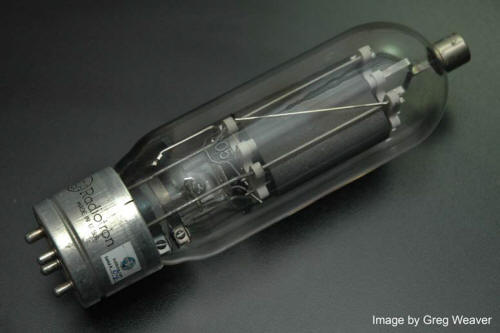 The well travel, Kühl-Tube cryogenically treated NOS RCA VT-143s
Both sets of NOS tubes traveled to Tube World and were subjected to the Kühl-Tube Cryogenic Treatment. While a new 805 triode may be had for as little as a single Ben Franklin each, the Kühl-Tube cryo treated NOS units run more like a grand a pair. The 5751s are a bit more reasonable, with new ones sourced for less than an Andrew Jackson, while a pair of the Kühl-Tube cryo treated NOS units cost just a tad over a single Ben Franklin.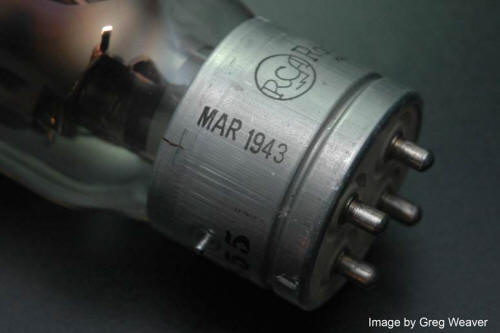 When these tubes were manufactured, Japan was starting to lose the war in the Pacific and there was a failed murder attempt on Adolf Hitler!
With the cryo-ed NOS 5751 input and VT-143 power tubes in place of the stock Chinese fare, the magic, along with the tiny hairs on the back of my neck, went up—way up! In virtually every category, harmonic texture, spatial recreation, tonal color, there was more, and I mean clearly and noticeably MORE!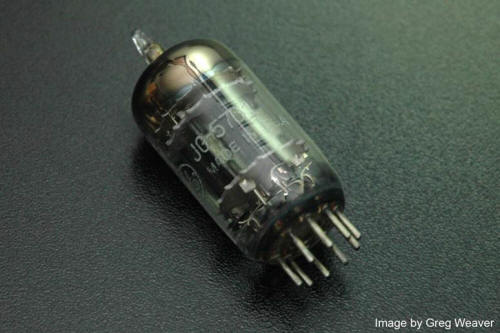 Cryo treated 1950's NOS GE 5751
I don't think anyone would try to argue that a thousand dollars is cheap, even for a set of matched, cryo-treated, NOS 805s. But, in the larger scheme here, if you have the $56 grand to opt into these seductive amps, is $57 grand going to be a deal breaker? Not very likely, eh? And what an addition they afford! This option is not to be overlooked if you delve into this luxuriant territory.
The Magic of WAVAC
With the creation of the MD-805 Mk II, WAVAC has managed to forge iron and glass into something akin to pure magic. It is quite possible that mere mortals are undeserving of such music rendering devices; I'm referring to those audiophile's whose quest is the pursuit of yet the latest and greatest new device rather than the latest and greatest recording. These devices are lovingly and magically crafted for the true music lover among us, for they reveal a glimpse of the inner soul and motivation of the singer, songwriter, or composer under their charm.

While we could spend countless hours debating the definition and the attributes of the term accuracy, I'll leave that discussion to those who seem to value measurement over expression. While I cannot simply disregard the value of metrics and their resultant subjective informative value, I have no particular use for those measurements alone, out of context, as some sole indicator of a components value or worth. To me, the facility for a component to express the tenor and passion of the artist unfailingly, to afford that heightened degree of communicative ability, in a manner that consistently moves me as a listener, is both the ultimate achievement and an elusive goal.
These amplifiers, in a manner and to a degree which I've never come close to experiencing in my home prior, deliver the pure and simple musical truth…an unquestioned, indisputable, inescapable, enlightening, and noble musical genuineness. They are quite simply the most musically expressive, emotionally involving amplifiers I've had the pleasure to experience in my home.
If you have the coin, you owe it to yourself to revel in the musical voice of these stunning looking, and even more stunning sounding, music makers. These mono's are most enthusiastically recommended for the well-heeled music lovers among you. Greg Weaver
WAVAC Audio Labs 805-Mk II 10th Anniversary Edition Amplifiers
Retail: $55,900/pr. Serial Numbers of Evaluation Units – W7Z0K000/1
WAVAC
web address: www.wavac-audio.jp/index.shtml
US Distributor
Covenant Audio
web address: www.covenantaudio.com