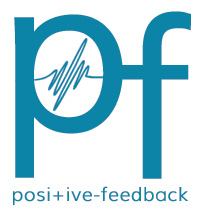 You are reading the older HTML site
Positive Feedback ISSUE 55
may/june 2011
Notes of an Amateur: Górecki's Quartets, Shostakovich's Symphonies
by Bob Neill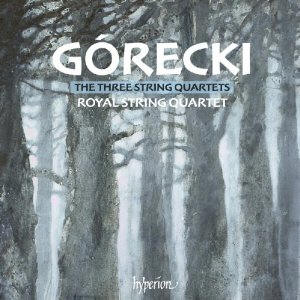 Górecki. The Three String Quartets. Royal String Quartet. Hyperion CDA 67812.
If you come to Polish modernist Henryk Góecki's (1933-2010) string quartets with the memory of his world famous Symphony No. 3 - Symphony of Sorrowful Songs (1976) in your head, you'll be in for a big surprise. Symphony No. 3 in its recording with Dawn Upshaw on Elektra is the sixth best selling classical CD of all time. (The earlier recording featuring Stefania Woytowicz on Koch Schwann, which introduced the work to the world is arguably more powerful.) The work is a hauntingly beautiful 'old world' sounding symphonic oratorio for solo soprano and orchestra that presages some of the spirutal music of Pärt, Kancheli, and Silvestrov and is characterized by the sorrow of its subtitle. The quartets are well past sorrow into a world of anger and regret. Lean, minimalist, chant-like—sometimes almost mind-numbing—rhythmic rituals, which move between insistence and defeat. There is a repetitive chant-like quality to the symphony but its feeling is more spiritual than angry. Quartet No. 2 (1991) weaves folk themes through the frenzied, beating storm, creating peculiar mood changes and suggesting they are what is being suppressed by the dominant thrust of the work, perhaps both of the first two. It is hard to feel anything but defeat in this quartet's final moments. Nor for that matter in most of Quartet No. 1 - Already It is dusk (1988), which gravitates between a hammering motif and a cowering murmur.
This music was introduced to the world nearly a generation ago by the Kronos Quartet and it suits their love of primitive vigor and drama—in No. 2, we sometimes sense the presence of Stravinsky's Rite of Spring. The Polish musicians of The Royal Quartet give the music a bit more of an eastern European quality, as we might expect, especially in the quieter passages. It is fascinating to hear this difference, like hearing Hungarians play Bartók.
Quartet No. 3 - Songs are Sung (1995/2005) is a near hour-long outgrowth of the vision of the two earlier quartets. It as if Górecki's musical thinking has developed and matured but without leaving his original sense of things behind. The first and second movements amount to an extended lamentation, beyond sorrow but also beyond anger and regret. The title he gives the work is taken from a poem by Russian writer Velimir Khlebnikov:
When horses die, they breathe,

When grasses die, they wither,

When suns die, they go out,

When people die, they sing songs.
The third movement returns us briefly to the minimalist drive of the first two quartets, then delivers us back to the mood of the first two movements: extended whispery, dirge-like, song, hovering just above despair. Well into the fifth and final movement, the 'song' swells and modulates into something like tranquility, as if some sort of peace has been made with the forces of darkness. The final dominant voice we hear is the cello's, which is, if not full of promise, is at least firm. It is not alone but it is the strongest voice.
This music, thanks in part to The Royal Quartet, reminds us that Górecki's music belongs to the world of modernist Eastern Europe and Russia; it is part of the musical vision of Pärt, Vasks, Gubaidulina, Kanchelli, and Schnittke, fathered by the tragic vision of the quartets of Shostakovich.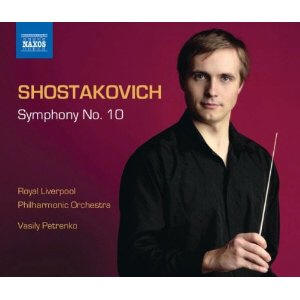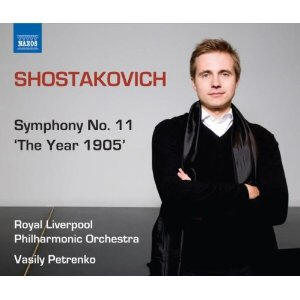 Shostakovich, Symphonies 1& 3, 5 & 9, 8, 10, 11. Royal Liverpool Philharmonic Orchestra, Vasily Petrenko, Naxos.
I came (back) to the symphonies of Shostakovich expecting (from memory, by reputation) public music, in contrast to the quartets' more thoughtful vision. Not music written for public occasions or about public events, but music that has no inside, no relation to inner life, no privacy. Lots of rhetorical flourish, fanfare, and fury. I came back because I had the sense that a lot of knowledgeable people feel differently about this music and that perhaps I had missed something, or just plain got it wrong. I came to Petrenko's Shostakovich because I sensed that he was responsible for a lot of what I liked in Hillary Hahn's recent recording of the Higdon and Tchaikovski violin concertos.
So I spent two weeks listening and re-listening to Petrenko's first five recordings of the symphonies on Naxos. And while I found plenty of the expected public ceremony and rhetoric in the music, not all of it was shallow; and more important, especially in the hands of Petrenko and the Royal Liverpool Philharmic, I heard something else. To begin with, I heard how Russian the music is, the Russian of Mussorgsky, not the 'new' modernist Russian. It is almost upside down Tchaikovsky, Tchaikovsky disillusioned: there is grandeur here—and lyricism and dance—but it invariably goes off the rails. Big affirmative feelings get plowed under and then become anger and fury. A great deal of the music of the symphonies is played fortissimo, which may be what is largely responsible for their reputation. But there is also a good deal of brooding, shadowy dark song, lyrical but troubled music which seems to give rise to the frenzied fortissimos. In a word, there is much drama here, in the original sense of the term: great contrast. Nothing can long remain at rest.
Compared with many other interpreters I've heard, Petrenko seems to hear more music amidst the fury and so holds his orchestra back a bit to let the music through. This may be the main reason I find (his) Shostakovich more moving this time around. And moving it is. Also great fun. It can be a great joy to hear music written and played so that lots of interesting textures are heard but also at near full sail with flags flying.
Start with Nos. 10 and 11 and if they get you aweigh, go on to the rest.
System used for this audition: Audio Note CDT3 transport; Blue Circle BC501ob LOC dac, BC 3000II GZpz preamplifier, and BC204 KQ amplifier. JM Reynaud Orféo Supreme speakers. Audio Note cable.
Bob Neill, in addition to being an occasional equipment and regular music reviewer for Positive- Feedback Online, is also proprietor of Amherst Audio in Amherst, Massachusetts, which sells equipment from Audio Note, Blue Circle, and JM Reynaud, among others.