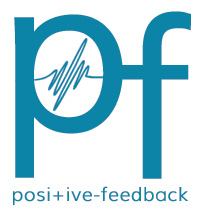 You are reading the older HTML site
Positive Feedback ISSUE 55
may/june 2011
Building a Digital Music Server, Epilog Part 2: A Moment of Stability
by Andy Schaub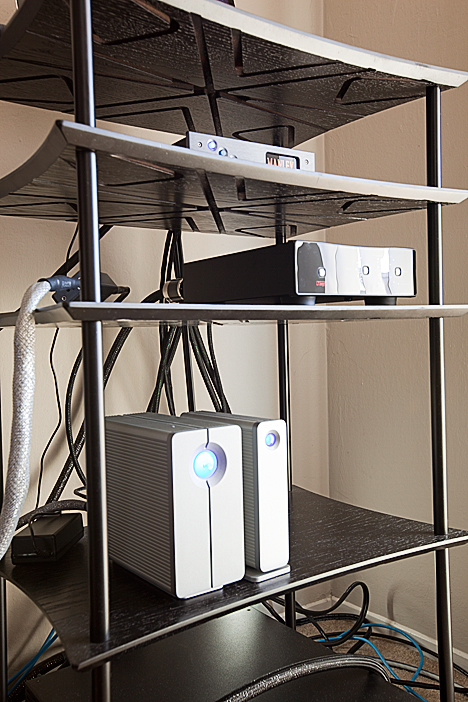 Cold hearted orb that rules the night
Removes the colours from our sight
Red is gray and yellow, white
But we decide which is right
And which is an illusion
–The Moody Blues
There's been a lot of movement in building my digital music server. I've tried several different kinds of DAC's, two Macintoshes, many cables and a hand-crafted 20 Amp Equi=Tech. I've also thrown two universal disc players into the mix, just for fun. Let me summarize my current arrangement:
Computer: 17" MacBook Pro, 256GB solid state drive for OS and applications, 8GB of RAM; software = Amarra 2.2 and the latest version of iTunes (which seems to change about every 3 days lately)
USB Cable: Locus Design Cynosure
USB to S/PDIF Converter: The original Sonicweld Diverter
S/PDIF Cable: Locus Design Core
DAC: The Rega DAC
Analog Interconnects: Locus Design Parables
Power Cables: Locus Design Keynote
Music Storage: 2TB LaCie RAID 1 drive (yielding an effective 1TB of storage) backed up nightly to a 2TB LaCie non-RAID drive
FireWire Cable (for data connection to LaCie RAID 1 drive): Locus Design Herald with Sonnet FireWire 400 to 800 adapter, which I preferred over the more elegant looking Moshi adapter, the Sonnet sounding more open and the Moshi a bit lackluster and excessively euphonic
Power: 20 Amp Equi=Tech 2Q
Stand: Black Quadraspire
Throw in a Manley Skipjack and some spare power cables and interconnects for testing and evaluation purposes, not to mention the 4.5 meters of Audio Note Lexus analog interconnects coming from my Theta Compli Blu and you have about everything.
Now the crazy thing is that at the heart of this system is the < $1000 Rega DAC, the most musical DAC I have had in my system; although it is getting tremendous help from all the Locus Design Cables and Sonicweld Diverter. I get most of my music from HDtracks and am currently evaluating The Look of Love by Diana Krall and Days of Future Passed by The Moody Blues, both of which sound fantastic. In an ideal world, they would be 24/192 and the Rega DAC would have a couple of tubes in the analog section, but whether I am playing it out loud on my Audio Note AN-E loudspeakers or via the Woo 22/Whiplash Audio TWag v2 balanced/Beyerdynamic Tesla T1 combination (a remarkably engaging trio), I am taken back to the 1970's when my friend Marc and I owned a mobile disco and played Nights in White Satin at the end of every dance, no thought of equipment at all. I should mention that latest copy of Amarra (2.2) is really fantastic both in the quality of the sound I get and in that they finally support gapless playback, so Days of Future Passed plays as one continuous album with no two-second interruptions.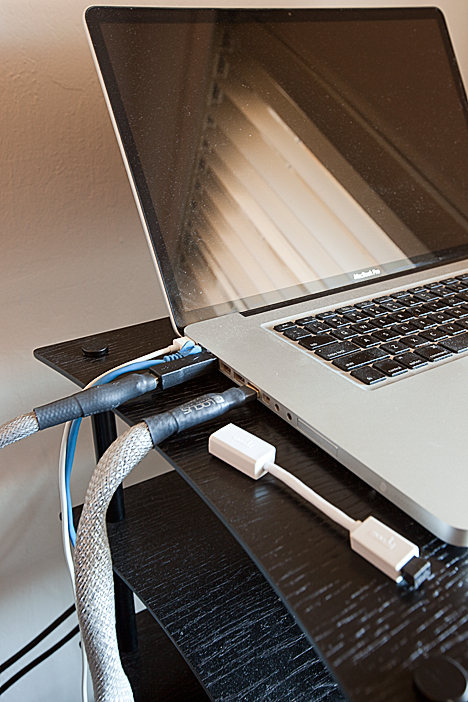 Also, based on a conversation I had with Toan Pham at Music Lover's Audio, I decided to insert an audiophile quality FireWire cable into the data recovery chain; between the 17" MacBook Pro and the LaCie RAID 1 drive, and much to my surprise, it made a huge difference. I heard depth and detail that had never come out of my digital music server no matter how expensive the DAC all with pinpoint imaging, tons of air and space around the instruments and a rich, lush, tube like sound with ample bass and sparkling treble; in fact, the only problem was that there was a bit too much detail and a tad too much sparkle. So to quiet things down I inserted the insanely expensive but utterly extraordinary Locus Design Parable analog interconnects between the Rega and the Skipjack which in turn feeds my Audio Note Meishu via a two (2) meter Kondo KSL-LP interconnect; and the Parable had a quieting effect—like dampening a slight tendency to ring—that just brought the most beautiful music to me through this little $995 DAC. In fact, I would say that for the first time since I assembled a digital music server, it competed favorably not just with my Theta Compli Blu universal disc player but in fact with my CEC TL-0/Audio Note Pallas/Audio Note DAC 4.1X combination; and when I played Days of Future passed, the massed strings had a distinctly analog quality, like a very quiet turntable playing an original vinyl pressing in pristine condition, all controlled from my iPad. So to those who say that the data recovery cables don't matter, I say the moon is made of cream cheese; and if you can possibly afford them, get hold of a pair of Parables.
Having said all this, the turntable, Redbook CD player, universal disc player and digital music server all do sound different; but each in its own way comes close to the truth of the music in that it involves one emotionally in the music and all thoughts of, "If only I could afford the XYZ..." go away and you just sit and listen to the music. That's what happened to me this morning when I hooked up the TWag v2 modified Tesla T1's to my Woo 22 and—using my iPhone as a remote control—just started listening to music. I had no thoughts like, "If only my DAC was made by DaVinci"; I just felt wrapped in a warm, engaging blanket of sound. So all these obsessive compulsive experiments and carefully considered observations have their purpose: they serve to bring my digital music server—through whatever means—up to the level of the rest of my system where I experience a Zen-like direct connection to the music; and that makes me very, very happy. In fact, it keeps me sane. Do I plan to sell my turntable, to let go of my CEC TL-0? No, not yet; and probably never; but with so much music out there coming out at 24/96 or better—or just better sounding 16/44.1 files being released—and knowing how much music can sit in one of those LaCie 2TB RAID 1 drives compared to the massive shelves of storage I have for 45RPM vinyl—not to mention the 24/7 access to music downloads the web provides—it makes a very compelling argument for having a truly remarkable sounding digital music server even if it is cobbled together out of products in vastly different price classes and, sometimes, plain old fashioned spare parts.
I imported the Redbook CD of Roxy Music's Avalon using error correction and Apple Lossless Correction, and when I engage it has all the depth, richness and warmth I would expect from a well-mastered Redbook CD. I've also been playing Elizabeth Watt's J. S. Bach Cantatas & Arias with The English Concert under Henry Bicket, and I have to say that Watt's voice flows from floor to ceiling in a way that I would expect from a good tube analog system; however, all those 0's and 1's are somehow making from the LaCie RAID 1 drives through the Herald/Sonnet into my 17" MacBook Pro and out again into the Rega DAC indirectly through the Cynosure, Diverter, Core S/PDIF cable and Rega DAC, "well tempered" by the quiet Parables, and I'm controlling everything from my black iPhone 4. In a word, "amazing". Even the Locus Design Keynote power cable, run via an adapter I picked up from Amazon and support by a block of African Black Wood, makes a difference. Everything makes a difference; and before you go saying, "Yes, but imagine all that with the dCS Debussy", you have to remember that I am building a system and as with all systems what works with DAC A doesn't necessarily work so well with DAC B or C. So consider carefully your choices when you decide just to throw money at the problem, as I have so often done. Perhaps, when the time comes, I will have the Sonnet FireWire and generic Amazon IEC adapter cryogenically treated. I hear it makes a difference.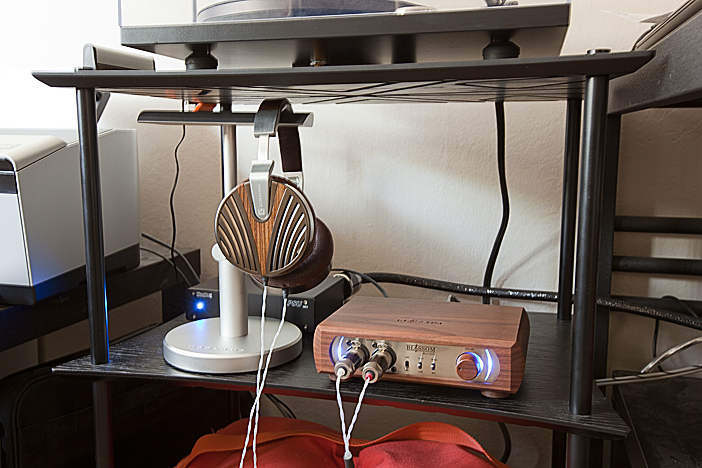 Lastly, I wanted to mention that the straight from analog master tapes HDtracks 24/96 and 24/192 versions of Waltz for Debby by the Bill Evans Trio are really fantastic and seriously vinyl-like. I listened to the 24/96 on my main system as described above and the 24/192 version on my office system with a 27" Quad Core iMac, the Locus Design Axis USB cable, an Audiophilleo 1, a Locus Core S/PDIF cable and the Orb Jade 2 DAC I reviewed a while back and kept in place of my much-loved Ayre QB-9 because, well, it sounds better and has a S/PDIF input. Although I have an amp, speakers and a subwoofer, I did that listening (while working in Quicken) through a pair of Whiplash Audio TWag v2 balanced Ultrasone Edition 10's driven by the Blossom Blo-0299 headphone amp with an external KingRex power supply in lieu of the paltry "walwart" that comes with the Blossom. The Blossom Blo-0299, TWag v2 balanced and Edition 10's make for a lovely, shockingly neutral combination particularly with the KingRex power supply, Locus Keynote power cable and gain set on high, using all Audio Note interconnects with Eichmann Silver Bullet Plugs. Although the jury is still out because the TWag v2 cables and Edition 10's are still burning in—and don't forget that I'm using a different USB to S/PDIF converter and a different DAC—I would still say that the 24/192 copy sounds more open with greater palpability and an even more vinyl-like quality. I can't wait to get 24/192 support for my main system. As an aside, I should mention that some DAC's have a "measure" versus "listen" setting rather than giving you a myriad of filters like the Rega; I believe the Ayre QB-9 does that as does the Orb Jade 2, only the Jade 2 calls the settings "Direct" and "Comfort" respectively, which is really more to the point; and I do prefer the "Comfort" setting for extended listening.
I feel compelled to mention that, as much as I love the Sonicweld Diverter and as good as I think it sounds, after I finished this article I did some rearranging and now have the Audiophilleo 1 that was in my office system in my main system and have a KingRex UC192 USB to S/PDIF converter (with the optional PSU, which makes a world of difference in the sound) in my office system so I can listen to 88.2, 176.4 and 24/192 files in both systems. It's a tradeoff. There's no doubt that at 24/96 the Diverter beats the pants off of anything else out there that I have heard and that the treble is particularly analog-like compared to the Audiophilleo 1 at the same resolution. When the Diverter 192 is released, I promise to write another article no doubt extolling its virtues; but for now I want Friday "music day", when I get to buy records, CD's, SACD's DVD-A's or music downloads, to include everything it can. I really just have to have Waltz for Debby and Beggar's Banquet at the highest possible resolution in both systems. It's an exciting time (and, as I mentioned in an audiophile forum, a scary one as well).
Kindest regards,
Andy
Audiophilleo 1 http://www.audiophilleo.com
Sonicweld Diverter http://www.cryo-parts.com
Locus Design http://www.locus-design.com
KingRex http://www.kingrex.com
Whiplash Audio http://www.whiplashaudio.com
Rega http://www.rega.co.uk or http://www.soundorg.com