During CES I stumbled into Mission Audio's room and saw so many goodies! This is a company that makes a lot of stuff, but what really caught my eye was their mini "lifestyle" system. It was love at first sight, smitten in a sense with the cool shape and color. These little orbs of auditory goodness had to be reviewed!
My wife was with me as well and she also liked what she saw because it fits nicely into the category "lifestyle audio." This term is being thrown around lately, as it seems there are more "mini" systems out there that encompass many features such as iPod docs, amplifiers and preamps all built into one device. Lifestyle can mean many things; with this mini system in particular it means a versatile system that can be used for two things—playback via analog in or USB in. What's cool about this is that if you had a little desk set up where you just want to connect an analog source like a computer or iPod it's as simple as plugging it in and turning it up.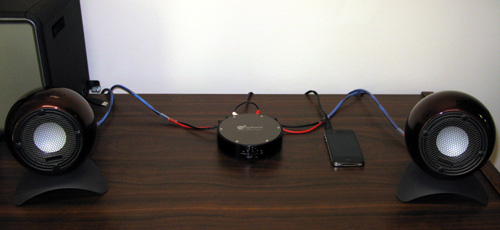 The USB interface is equally as easy: plug it into a Macintosh or Windows based PC and you start getting music right away. No fussy drivers, no configuration changes, just plug and play. The device isn't high resolution or anything, but for this category I don't give it any knocks. The amplifier itself is slim and could fit in with any modern décor. A gripe that I have here is that the speaker connections limit the size of wire that's used—then again who really cares considering it's more about aesthetics… right?
So, how about what's important; how does it sound? Well, because of simplicity, the drivers here operate in full range, meaning they are crossover-less. There are a lot of smaller speakers being released these days that can handle the entire frequency spectrum—there's a natural roll-off happening here due to physically limited characteristics. What I mean by this is that due to the size of the speakers, you will not get a lot of deep loud bass. Perhaps a matching powered woofer that could be hidden somewhere out of sight would really do the trick. Okay, so we noticed that there wasn't much of a low end but then again, that might not be your thing (keeping in mind these might just be used for ambiance.) Mission audio does make a larger set of these which covers that low-end spectrum quite nicely I might add.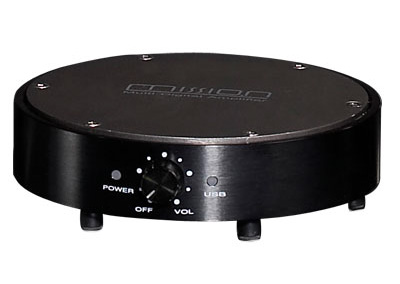 The amplifier itself uses Class D amplification, which is probably how they packed so much power into such a small unit. After several hours of blasting music, the unit gets barely warm to the touch. 20 watts are provided per channel in an 8 ohm load.
The speakers are really cool—going more on what I said earlier about them being cross-over less utilizing what they call LRT (linear reproduction technology.) This gives a more natural sound with no fussy electrical parts in the way. There's a lot to be said about this technology, I've heard similar setups with larger drivers and it's really cool to hear just the music and not the components in between. Also—the rear of the speakers are ported. They come with foam-plugs to give the user a way of tuning the sound that they want. Usually, ported designs allow a bit more bass but less driver control (boomy), whereas stuffing the ports emulates a sealed enclosure giving tighter but less pronounced bass.
I started my listening tests with several vocal—centered albums from artists such as Radiohead, Feist, Ray Lamontagne and wow what a sound. I get a nice detailed image with excellent tonality (although a bit of a pronounced midrange.) I then moved to some electronic music and these things can boogie. Since they lack some low end it didn't make me want to get up and dance but I really got into the music here. Soon I forgot I was listening to a system and was really able to enjoy myself. This system really knows how to integrate!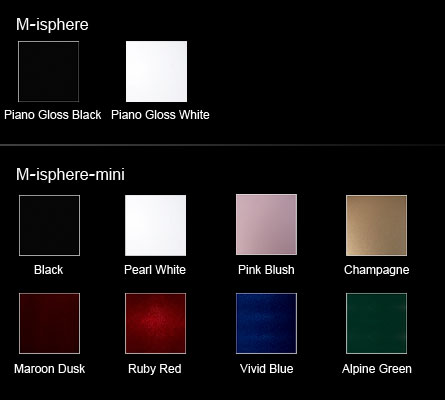 Since these are in the life-style category, one can choose from the color they'd like for the speakers—options are Pearl White; Pink Blush; Champagne; Red Ruby (my fav), Metallic Black; Alpine Green; Maroon Dusk; and Vivid Blue.
All in all, if you are looking for a really upscale set of computer speakers, or a mini system of sorts to put in your room, Mission Audio has the answers. They've been doing this for a long time and have it down to a science. The system retails for only $399.
What I would have really liked to see is some sort of iPod dock on top. I know, I know, it's become so passé these days in the audiophile world, but we aren't really in that world. This is about lifestyle and convenience… If I could just come home, throw my keys on the table and dock my iPod that would be cool! Maybe next time… Peter Davey
Minisphere
Retail: $399 a system
Mission UK
web address: www.mission.co.uk
Mission US
web address: www.missionspeakersusa.com