Alright! Freshly back from CES.. well, sorta. Always love meeting passionate people that love music and making cool affordable gear. I say affordable because there doesn't appear to be much of a middle class for audiophiles. There is the cheap stuff then the ridiculously expensive stuff.
I've been interested, lately, in researching gear that is appealing to people that are more into the music than into the gear—most of those people don't have a lot of cash to blow on equipment. Or, they do and they just have other priorities… So, why not find something good for them that is decently priced that actually sounds good! Enter the Mission Audio MX5's. These are Mission Audio's current flagship speaker, the larger towers. I first saw them while at "The Show" in Vegas this year and was taken aback by their sound and price tag. These retail for $1299 a pair!
Now, those that know me, know that I'm also into strange esoteric stuff as well—and I currently own a pair of completely refurbished Apogee Scintillas, a pair of speakers I don't think I could ever sell. I have my ups and downs with them because of how picky they are, and fragile, but man—once they are up and running there's nothing like it. So why then a box speaker for review? Well, this one is for everyone else out there that is not wanting to mess around with a finicky speaker and just wants to sit back and enjoy the music.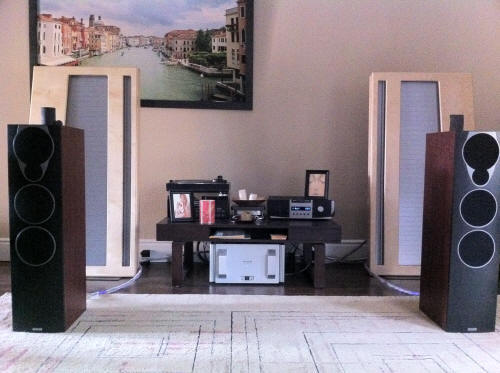 I remember my pals coming over to help me unbox these—they certainly don't feel cheap at all—coming in at about 62lbs each. The first thing I noticed was two sets of binding posts with an included jumper for those that don't want to mess around with bi-wiring.
I removed the jumpers, connected my set of bi-wires, and fired them up. Immediately I was immersed with sound, dynamics, and detail! It took me a while to figure out how to position them as I'm used to the dipole ribbons. It's nice that they can be placed closer to the rear-wall, however I did seem to enjoy them a few feet further out into the room.
I started off with some RJ Valeo's September. I'm sure no one has heard of this album, but for those into the electronic 'sound' this is a good one. I chose it because it has lots of highs and dramatic lows. I wanted to test the overall bass response of these speakers as they have a "pluggable" vent on the rear for both the woofer and the mid-bass drivers. It really made a difference… Un-plugged and fully ported, you get fully extended low bass—which you can feel in your bones. Personally I like this, but there are others that enjoy a bit more tightness and accuracy. So, just plug the ports with the included plugs and away you go! Very versatile.
I recently got the new Radiohead release, The King of Limbs while the Missions were still plugged in. I'm thinking to myself… do I want to decant this bottle of wine on my Scintillas or just go for it on the Missions? Ah hell, they're connected so let's see how it sounds. Wow! After several minutes of listening, I completely forgot I was auditioning a new set of speakers and was so immersed in the music. I guess Radiohead has become sort of cliché these days, but you have to give it to the engineers, they really make great recordings. Of course, the musicianship surely doesn't hurt. This band really has it together and it really shows with these speakers. Thom's voice shot right through me like a bullet—there were no issues with the crossover points—something critical with a box speaker. Sometimes Radiohead gets the midrange wrong and it just doesn't sound natural to me—not with the MX5's, I was smitten at first listen.

What about WAF? Yes—there are those out there that aren't as blessed as I am and have significant others that don't enjoy looking at two huge speakers in the living-area, but these really fit in with the décor nicely. They are offered in several finishes—Black, Chery, Rosewood (what I have here) or Walnut. The faces have a really cool integrated grille system, flush with the bezels. They can be removed if desired but I didn't hear much of a sound difference either way.
I've done some searching and it looks like these have been reviewed a few times in the UK, which is where Mission Audio is based, so that's understandable—but fear not, there is some amazing US representation here for the brand. Rest assured; you will have all the support you need.
For the propeller heads out there, the system consists of 4 drivers each (configured as a 3 way system.) There are two 6" woofer units, a 6" mid-bass and a 25mm dome tweeter. The woofers cover 200hz and below, while the mid-bass seems to operate in a band-pass mode all the way up to 2k where the tweeter picks it up in a high pass configuration. After this, the efficiency is around 90dB per watt, meaning you could power these with either solid-state (I use a Plinius SA-250) or tubes. Foot spikes are included for those wanting isolation or have carpet and need to offer solid support.
All in all—if you are looking for high-end, but have a budget and don't want to go out and buy some "Brand-X" from the local Best-Buy, this is the definite option! Peter Davey
MX5 Loudspeakers
Retail: $1299 a pair
Mission UK
web address: www.mission.co.uk
Mission US
web address: www.missionspeakersusa.com