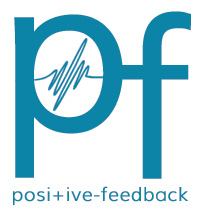 You are reading the older HTML site
Positive Feedback ISSUE 55
may/june 2011
Mussorgsky, Orchestral Music
by Stephen Francis Vasta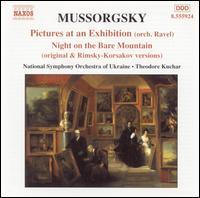 Night on the Bare Mountain (arr. Rimsky-Korsakov). Sorochintsy Fair: Hopak. Khovanshchina: Golitsin's Exile. Night on the Bare Mountain (orig. version). Pictures at an Exhibition (orch. Ravel). National Symphony Orchestra of Ukraine/Theodore Kuchar Naxos 8.555924. TT: 63:24.
Even at budget price, this account of Pictures may seem superfluous amidst a roster of conductors and orchestras that includes Ormandy in Philadelphia (RCA); Reiner (RCA) and Giulini (DG), both in Chicago; and Karajan in Berlin (DG). The surprise, then, is how well the National Symphony Orchestra of Ukraine holds its own in such company. While you'd not mistake it for one of the high-powered virtuoso ensembles —though its bold, powerful brasses needn't yield to anyone else's—the playing is polished, enthusiastic and committed. The horn is firm and sensitive in the second Promenade; the string playing is full-bodied. On the other hand, the trumpet octaves in Samuel Goldberg and Schmuyle seem, not tentative, but a bit reined-in; and the well-blended woodwinds don't come across with the same presence as the other sections. The latter may be a product of the recording, rather than the playing—either way, unfortunately, it dilutes the effect of the saxophone's sinuous solo in The Old Castle.
Theodore Kuchar leads a well-organized performance. The opening Promenade briefly threatens to lose momentum as it proceeds, but quickly recovers. Tempi are judicious: The Old Castle is gently rocking and not too fast, Bydlo ("The Ox-Cart") heavy but not labored. Occasionally, Kuchar crosses the fine line between nuanced and fussy phrasing—as if his straightforward musicality were insufficient—but such moments are fortunately few.
Among the fillers, the program includes not one but two versions of Night on the Bare Mountain: both Mussorgsky's original and the more familiar redaction by Rimsky-Korsakov. The Rimsky version is conservatively paced, in the manner of the old Ormandy (Sony) and Ansermet (Decca) accounts; the string playing, save for a single scrappy moment in the basses, is full-toned, and the brasses have a bold impact. The coda's long-breathed clarinet solo, daringly slow, is as sensitive as any other you'll hear.
The problem with Mussorgsky's original Bare Mountain is that, at this juncture, most listeners can't avoid hearing it through the prism of Rimsky's more familiar edition. Inevitably, the composer's version sounds comparatively shapeless and discursive, though Kuchar draws vivid colors from the Ukrainian players. It's good to have as a reference, I suppose, but I'd have preferred the "usual" Prelude to Khovanshchina. We do get the unusual Golitsyn's Exile passage from that opera, however; it's ominous and elegiac by turns, ending in despair. The Hopak from Sorochintsy Fair, conversely, goes with a cheerful strut.
A handy, low-priced collection—but it would have been handier had the producers found room for the Khovanshchina Prelude.