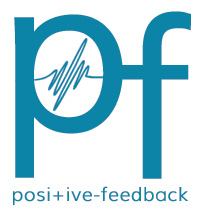 You are reading the older HTML site
Positive Feedback ISSUE 55
may/june 2011
The Neoteric Listener... the NOLA Contender Loudspeakers
by Dean Seislove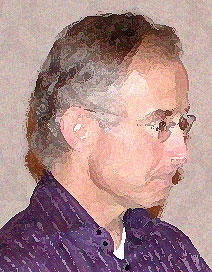 Audio is one of the few games where, no matter if you make a play or stand pat, someone thinks you're a loser. One old duffer tells you that nothing sounds better than the Western Electric 1086A amplifier sitting in his garage; while slick Johnny-Glib blathers on about the newest dark-matter enriched hydro powered tweeter he saw in Munich ("Playa, the Germans really know how to listen!") One's braggin' and the other's sellin', but, either way, it gets you to thinking about buying. It's all about the upgrade you missed, didn't know about, or are about to make. This is why last summer was such a rare and wonderful moment...
You might remember that about this time last year I wrote about my encounter with a startling good stand-mount monitor, the Nola Boxer. I touted it for its tonal balance, spatial separation of instruments, and excellent soundstage, among other admirable qualities. Finally abandoning all restraint, I declared, "If you're looking for a pair of stand-mount monitor speakers and you have about $1500 to spend, buy the Nola Boxers. End of review." So I did, and I've never had a moment of buyer's remorse. It's been a wonderful year, enjoying the Boxers, trying them out with other gear, and comparing them to the many fine speakers I've been lucky enough to review. Even if I heard something better at a show, I've always been comforted by the fact that the Boxers deliver so much of what I like in a speaker, why would I want anything different?
"Ooh, I like those speakers!"
And just like that, things change.
As soon as she utters these words, I know I'm in trouble. For Gaga's sake, the Nola Contender floor-standing tower speakers aren't even hooked up, yet! Her enthusiasm is probably inspired by the beautifully slim design and true piano cherry high gloss finish of the Contenders (piano black's available, too). The 44" H x 8" W x 12" D dimensions certainly fit my smallish room, but that doesn't do me much good if it is matched by an equally smallish sound. Fortunately, the two 6 1/2 inch bass drivers and silk soft dome tweeter produces a disproportionately large sonic impact that validates the claimed response of 35Hz to 28kHz, with a 25Hz usable response at the ready. Over a two month review period, the sensitivity of 90 db and impedance of 8 ohms means I have no trouble driving the Contenders with a series of amps: My own Arcam A80, and the Cary SLI 80 and Bel Canto C5i integrated amps recently reviewed. Sources include my Arcam CD82 and several DACs: the devilsound II, the Furutech GT-40, and the Bel Canto previously mentioned. Suffice it to say, I've been fortunate to have a number of excellent audio products to pair with and compare to these newest Nola speakers. The results were, I'm sorry to report, terribly disappointing. Disappointing, that is, because after all this time and perspective, I'm now faced with the fact that my beloved Boxers have been out muscled, outshined, and ultimately outdone by this most recent Nola star.
To be perfectly honest, I didn't expect this result. When I first heard the Contenders at CES last January, I was slightly perplexed by how many of my peers were going on and on about them, while I remained unconvinced. In hindsight, it it's the Dave Justice Knucklehead syndrome, where even Halle Berry gets taken for granted. "They sound a lot like my Nolas, only deeper," I thought at the time. I guess had become complacent, and, hey, Audiogon is built on jilted audio products. At the time, though, I gave myself credit for being loyal to the stand-mounts waiting faithfully for me to return home from Vegas. Still, I jumped at the chance for a review, I'm not a complete idiot. Nonetheless, I wondered if I would have to come up with a tactful way to say that the Contenders just aren't worth double the asking price of the smaller Nolas.
But they are. And then some! I wish all of my worries cleared up that easily.
Listening in my tiny shack from a near-field position with no toe-in and speakers firing straight ahead, the Contenders take the best attributes of the Boxers and significantly elevate the performance. The imaging is still very good, and the superb spatial separation remains, but there is an added extension of soundstage that makes the speakers envelop the room in a way that the monitors can't quite match. Playing Ella Fitzgerald's live recording of "Mack the Knife" from the Ella in Berlin CD, the singer's vocal line is punctuated by a series of finger snaps accompanied by a rim shot on snare. The two sounds could easily blur; fortunately, the Contenders not only convey both stick on rim and finger snaps as distinct sounds, but the accurate soundstage ensures that one sound is clearly placed behind and to the left of the other.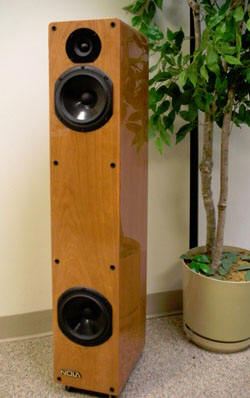 Like the Boxers, these new Nolas handle the human voice superbly. "My Brilliant Mistake," from the underrated Elvis Costello album, King of America, features a fine outing by Elvis when he still had the range to straddle the higher notes without gasping. On lesser speakers, the vocals always sound a bit pinched, but the Contenders' slight accentuation of midrange (to my ears, anyway) brings out the full dimension of Costello's voice. Similarly, the double-tracked harmony vocals of Harry Nilsson in the quirky classic "Coconut" (You put de lime in de coconut, you drank 'em bot' up...) were so melodic, it sent me scrambling to play "Without You" loud enough to reach an Emo nation for two city blocks. One more crescendo classic later, Roy Orbison's "Running Scared," I knew the Contenders could handle the volume of my occasional high dives into rock's nostalgia pool. When all of the trendy music and audiophile sleights of ear are done, it's the way that great products like the Contenders give us new insights to our musical touchstones that make the effort and expense of fine audio worth the bother. In sum, the neighbors were probably not as enamored with the Contenders' dynamics when playing the B-52's "Planet Claire" as I was...but I was.
I've written before how much I enjoy Lambchop's "Steve McQueen" when auditioning new speakers, because it's one of those few examples when a beautiful song is artfully played and recorded exceptionally well. Kurt Wagner's soulful growl (growlful?) of a vocal resonates in concert with a beautiful blend of strings, guitar, piano and rrrreally low bass. It's the easiest going edgy song I've ever heard. Lionel Ritchie, it ain't, but the Contenders' ability to swaddle the guitar and piano in a rich bass compelled me to play this tune again and again. Lovely! And loveliness is at the heart of these speakers, because there isn't an audible edge anywhere to be found. This is true even when cranking some silly alt rock like Soul Asylum's "Somebody to Shove," recorded when engineers read too many issues of Guitar Player, and no song was safe from a close-miked overdriven vintage Marshall or Vox amp. The Contenders deliver that quintessential rock guitar tone with power and musicality, and I preferred this brand of rock and roll to speakers that are more... hard hitting. Doesn't mean the Contenders can't rock with verve and resolution, as shown by their ability fully deliver the musical chaos of Frantz Ferdinand's "This Boy," but there are other speakers at this price point that are better suited for creating panic at the disco. Those who like their speakers to power party at the first note should look elsewhere, because the Contenders are made for music, not mayhem. Instead, every tone has a splendor that makes these speakers eminently enjoyable. Tchaikovsky's Violin Concerto in D, Op.35: 2. Canzonetta: Andante - attacca, featuring Anne-Sophie Mutter, had me transfixed by the glorious swell of the violin's glissandos, and the Contenders were truly in their medium when working with the large expanse of a full orchestra. Having established that the Contenders could t-t-talk about my generation's music, it was very satisfying to hear the full expression of these speakers when playing something more challenging.
More important than the loveliness of the Contenders' tone, imaging, and soundstage, however, is the coherence and depth of its 3-way system. The low frequencies bring a dimension and power unknown to the Boxers, of course, but it's the sound of these low registers that makes this speaker such an improvement over the stand-mounts. In Benjamin Taylor's "It's Only Love," from his The Legend of Kung Fu Folk (The Killing Bite) CD, the bass guitar shapes the song in the way that one normally associates with a piano or rhythm guitar. To make it work, the speaker has to bring body and definition to the low notes, without being overly obtrusive. The Boxers are good at providing really tuneful bass, too, but the Contenders communicate the bottom notes in full screen. When called upon, the Contenders do a good job reproducing the dub and trance bass notes that crowd everything else out of the room, but it's their ability to present low notes recorded with touch and delicacy that makes them the choice of those who don't need the bass to hurt so good.
Once again, a Nola speaker kicks off the summer with a breakthrough product. The Boxers were so accomplished, especially at the price, I knew that they would be immediately accessible and embraced by listeners across the board. They were a cinch to recommend to almost anybody looking for a stand-mount. I could compare the Contenders to a number of other speakers that have radically different approaches to sound reproduction, but speakers are a matter of preference, and I enjoy the Nola sound. Although there are several good options at this price point, the Contender is a really special speaker that is sure to be as universally appealing as the stand-mounts, maybe more so. In any event, they are just as easy to recommend. That doesn't mean that I'm throwing the Boxers in the trash, mind you. They're still wonderful speakers to be sure, and as soon as the Contenders leave, I'll love them again... just with a little regret. It's an uneasy time when you know that there's something out there that really is bigger and better, and it's just a purchase away, old timers and young punks be damned.
"Oh nooooo! Do you have to send them back? Can't we keep it?"
It's going to be a long summer...
Recommended.
Nola Contender floor-standing tower speakers
Retail: $3400
NOLA http://www.nolaspeakers.com