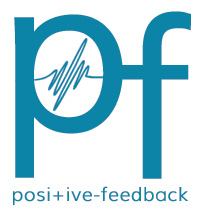 You are reading the older HTML site
Positive Feedback ISSUE 55
may/june 2011
Music Reviews - New Releases from Telarc, 2L, PentaTone, ASO, and NCA
by Karl Lozier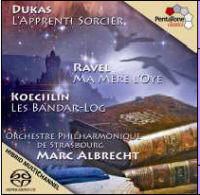 Dukas, L' Apprenti Sorcier. The Sorcerer's Apprentice. Ravel, Ma Mere L'Oye. Mother Goose. Koechlin, Les Bandar-Log (Hindu Language). Monkeys (Jungle Book). Orchestra: Strasbourg Philharmonic. Conductor: Marc Albrecht. PentaTone Hybrid Multi-Channel SACD PTC5186 336
I certainly approve of the varied selections to be heard on this truly outstanding release. Melodic and attractive join with upbeat and propulsive for the most part offering a change of pace for serious classical lovers and appealing to newcomers. The Dukas' Sorcerers Apprentice was elevated to a most lofty perch in the musical world by none other than Michael Mouse, commonly better known as Mickey Mouse; courtesy of Walt Disney's heroic efforts to create mass appeal, combining motion pictures with classical music that appealed, and still appeals to this day, to young and old as well as new or long time lovers of classical music. If memory serves me, it was also the first attempt to bring stereo to movie theaters all because of Fantasia! If you have children, grandchildren or great grandchildren, do them and yourself a real favor; one way or another get them to a theater or your home theater and introduce everyone to the life long love of classical music-soon. The unforgettable Disney efforts presented Mickey Mouse as the apprentice/assistant to the wizard/magician. Told to cleanup while the wizard was gone, Mickey had learned enough to get the broom really going full blast sweeping. Unfortunately the apprentice had no idea how to stop it. Listeners can dream up your own visions of where that led to and quickly. Though more subtle, Ravel's Mother Goose is similarly oriented all in good appealing taste. The offering by Koechlin is a bit more questionable and was unknown to me. Based on a story by composer Koechlin, the at times wildly descriptive music is making it clear that this crazy group of small monkeys could be the demise of the surrounded Indian boy. Interesting and colorful in the extreme, your stereo system may not be used to so much going on at the same time.
Hopefully your audio system is in tip top shape and will clearly reveal the excellent rapport of conductor Albrecht and orchestra beautifully presenting the less than real serious classical music heard here. You are extremely lucky in another way here. As happens every few years, I have solidified my choice of musical audio components and have no desire to change in my reference stereo system. I have previously mentioned my upgraded Sony SCD-1 and model SX-5400 players as designed by the well known Allen Wright of VSEI fame and who sadly passed away just a few weeks ago. His designs and upgrades will continue to available from his representatives world wide. Mine were done by Bill Thalmann of Music Technology inc. Now I have added Keith Herron's latest continuing efforts to perfect his familiar basic designs, both his tubed preamplifier and cool running solid state monoblock power amplifiers. My audio system is even more revealing than ever before with no hint of exaggerating any recorded flaws. I have listened to a rather limited number of new review recordings since these changes have been made. With that background firmly in mind I want to make a bold statement. Repeated listening in the SACD mode in stereo to this recording reveals it to be the most nearly perfect recording I have heard in many weeks. In every respect that is, from clean powerful deep bass to smooth extended treble range and the beauty of the all important midrange. Audible flaws have not registered in my mind and mental comparison with live large-scale orchestras very recently (last night) from my usual seat in row four leave me as contented as I am probably ever going to be! These observations definitely include qualities such as soundscaping, dimensionality, spaciousness and strong hints of ambiance or whatever creates a feeling of immersed in the recording space. Here the space is the Palace of Music in Strasbourg, France. These qualities are to be expected as the forte of good SACD recordings and of multi-channel reproduction. In this review all is attributed to the SACD stereo format. So far I have not listened to this superb recording on my multi-channel system. No high end distortions are to be heard or any bass end muddiness or lack of clarity has been audible using my upgraded stereo system. The highest possible recommendation is easy to award as a result.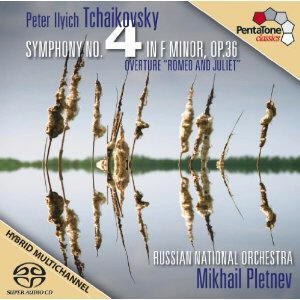 Tchaikovsky, Symphony No. 4. Romeo and Juliet Overture. Orchestra: Russian National. Conductor: Mikhail Pletnev. PentaTone Hybrid SACD PTC5186 384
This symphony, to my ears uniquely for Tchaikovsky, sounds almost as if some other composer could have written parts of it. Sometimes I think it is my personal favorite, with its subtly beautiful massed pizzicato playing in the third movement. Other times my favorites are the second symphony, logically subtitled "Little Russian" because of the obvious included number of true Russian folk songs and very melodic through and through. I never get to hear it live any more, it seems to have dropped from favor. My other favorite from time to time is his sixth, "Pathetique" with its emotional extremes perhaps mirroring Tchaikovsky's generally sad life and various stages of depression. Like many aspects of this new release, I consider the performance to be good to very good and very acceptable. The words excellent and outstanding just never came to mind. When listening to recorded music there is nothing else to please any of one's senses. Added video can often add to listening enjoyment for a prime example and often included with new Blu-ray releases. The recording sounds like a studio recording and it is. Items mentioned in the preceding review are noticeably diminished much of the time and this release suffers in comparison. Ambiance is closed in a bit or restrictive and individuality of many of
the strings is smeared and lost in the top end in much of the first movement, perhaps caused by limited space and natural interferences picked up by the sensitive microphones? No hint of that was heard with the overture though there the venue and/or a heavy hand on the bass gain control creates a peculiar though impressive bass drum excess. Yes, this is apparent in the SACD stereo layer with my revealing equipment, but most audio qualities are definitely better with the Romeo and Juliet overture. Pletnev and the orchestra are really in sync here with a very lyrical rendering of the overture. In any event the symphony determines whether or not to purchase in this situation. Typical, good and definitely acceptable, just do not quite let me add a personal top recommendation after listening to the superb preceding efforts above, also by PentaTone.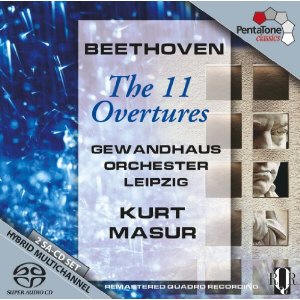 Beethoven, The 11 Overtures. Orchestra: Gewandhaus Leipzig. Conductor: Kurt Masur. Remastered Quadro Recording 2 SACD set. PentaTone Hybrid Multi-channel PTC 5186 148
I realized that I was a bit familiar with the contents of this two disc set of all of Beethoven's overtures from almost forty years ago. Though started a bit earlier, most were released in 1973 and the last in 1974. Some things never change and the performances are still remarkably consistent and easily described as rock-solid though possibly a tad inflexible in some of the lyrical passages. The compositions spanned almost the same time period as Beethoven's nine symphonies. Most are associated with stage works though Opus115, "Nameday" Overture was written to be used when and as needed. The relatively brief liner notes do a fine job describing interesting information about all of them.
When originally released all were highly regarded for their performances and audio quality. The recordings were recorded so that they could be released in Quadro by Phillips. The four recorded channels were right and left front (no center channel) and right and left rear. The remastering job also has no center channel and is a surprisingly good update. Though there is still a bit of top end quality concerns, few would guess that the recordings are as old as they are. The remainder of the audio range lacks perhaps the last bit of fine detail and is no slouch and competitive with CD releases from some contemporary companies. Though in SACD mode no center channel exists and may not matter at times.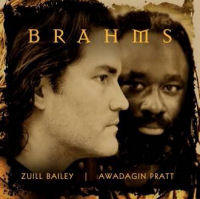 Brahms, Works for Cello and Piano. Cello; Zuill Bailey. Piano: Awadagin Pratt. Telarc CD TEL-32664-02
Wow, what an absolute gem of a recording and it's not even a SACD. I am so lucky as it makes my review so easy, simple and short. The performances by the two respected musicians are simply excellent. The recorded audio quality is without audible flaw and is unusually full, rich and realistic. Each performer is treated equally; that is not always true in releases such as this. Many years ago I had been treated to many sessions in my own living room by a professional cello player performing. Here the result appeared to be very similar if not identical. If you like music for the cello or music for piano and cello you will love this recording. Buy it. Highest possible recommendation has to be given!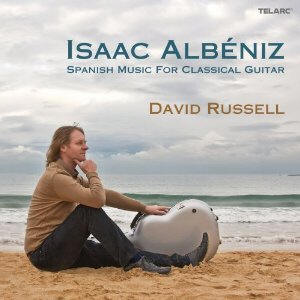 Isaac Albeniz, Spanish Music for Classical Guitar. Guitar: David Russell. Telarc CD TEL-32712-02
What a coincidence this is. If I were more nearly certain of my accuracy evaluating Classical Guitars I would simply repeat the above brief review. Grammy Award winner David Russell seems to be at the pinnacle of a great career and I find his performances here the equal of any I have heard if not the better, certainly in recent years. The audio quality is again without flaw and to be praised in every respect. I again must give my highest possible recommendation; probably the most ever in one review article set. The title accurately describes the wide ranging fifteen selections only one of which is very familiar to me.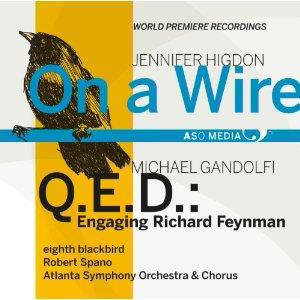 World Premiere Recordings, Jennifer Higdon, On a Wire. Michael Gandolfi. Q.E.D.: Engaging Richard Feynman. Conductor: Robert Spano. Sextet: eighth blackbird. Orchestra: Atlanta Symphony. Chorus: Atlanta Symphony Orchestra. ASO MEDIA CD-1001
If you noticed a different/new label for this recording try to figure out what the letters stands for. I'll let you know at the end of this relatively short review. It almost seems like old times here with Robert Spano conducting the Atlanta Symphony with Elaine Martone recording producer and the well known and respected Michael Bishop as the recording engineer. Two obviously missing names are Telarc on the label and SACD as a format choice that would also offer multi-channel high definition on a layer of the disc. If I had space for five or six thousand words, I could give you a pretty good idea about what Music Pulitzer Prize winner Jennifer Higdon and Grammy nominee Michael Gandolfi have created here. Much typical musical terminology does not accurately describe contemporary compositions and I am often at a loss to do so. I have often found recent contemporary classical music disappointing, hard to follow and frequently almost extremely irritating. Well, in that famous nutshell, that is not true for me this time. Though very different, each composition has some attractive lyrical and melodic passages; a delightful surprise for me. Return listening visits to these compositions will certainly occur. Both use many instruments, some are not very common but do add variety and truly interesting effects. I could use either instrumental listing as an example and here is Higdon's list of musical instruments needed to perform On a Wire: Flute, piccolo, alto flute, clarinet, bass clarinet, violin, viola, cello marimba, piano, bassoon, four horns, three trumpets, two trombones, tuba, vibraphone, glockenspiel, snare drums, temple blocks, guiro, sizzle cymbal, Chinese suspended cymbal, xylophone, chimes sandpaper blocks, rute, bass drum and strings! Gandolfi's list of instruments is as long though slightly different. Variety is expected here and we certainly get that. There are some passages that take us audibly to far away and provocative places. The orchestra and conductor are up to the task and the result is so delightful at times, that I am recommending this release to even newcomers to classical music as an outstanding introduction to contemporary classical music. The simply excellent audio quality sounds as if it is the equal of a good SACD recording. We can probably thank the well known audio engineer, Michael Bishop and recording producer Elaine Martone for the superb audio quality on this initial release by ASO Media, the Atlanta Symphony Orchestra Media. Another top recommendation is easily earned and I personally want to suggest that non-lovers of contemporary music give both of these interesting compositions some serious listening time. Sharp eyed readers might have picked up the name of Dr. John Cooledge singing bass with the chorus. He was the first reviewer hired by Harry Pearson for the Absolute Sound magazine and at one time we found ourselves writing about the same new Heil loudspeakers with some almost identical comments that defied logic; he now sticks to performing rather than writing about music.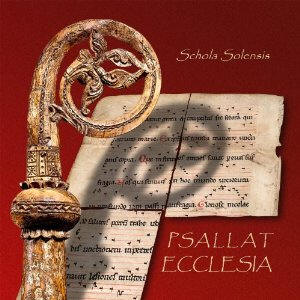 Psallat Ecclesia, (Sequences from medieval Norway). Choir: Schola Solensis. Conductor: Halvor Osttveit. 2L Hybrid SACD-070
As we have come to expect from the 2L Recording Label ( Lindberg Lyd ) here is another of their excellent high definition that they refer to as Digital eXtreme Definition. It is a professional audio format with 32 bit floating point at 352.8 kHz; refer to their background information about it. As is also fairly common, the music presented here is not quite mainstream. This recording contains music or varied repertoires of sequences found in medieval Europe and in Norway specifically arriving from England and France. It specifically contains sequences for the patron saints of three Norwegian bishoprics. The small choir, ensemble, Schola Solensis is connected with the Sola Ruin Church as a fine environment for a group performing what is commonly referred to as Gregorian chants. The music here may not sound to you as chants; that is because that is a covering term for really old music starting with the Golden Age of Gregorian chant, the 12th century. Performances are outstanding from this seeming all female group. The recording quality reveals no flaws while clearly revealing the rather large acoustical environment of a church, even with the 2 channel stereo SACD layer, with a fairly close up perspective of the outstanding choir. It is easy to find the overall presentation to be very relaxing at the end of a tough or work day. I cannot think of any way to improve on this recording and a top recommendation is simply a must.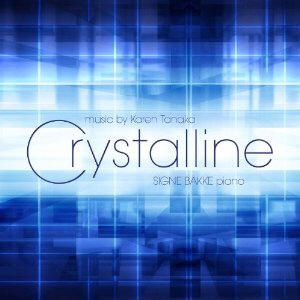 Crystalline, Karen Tanaka compositions. Piano: Signe Bakke. 2L Hybrid SACD-074
I started listening to this fine 2L recording shortly after the above 2L release of Gregorian chants from about nine hundred years ago. Even though all the compositions could be called contemporary, the first group titled "Crystalline" on this recording, somehow has a direct kind of clarity that kept reminding me of the above's Gregorian chants. How can that be, I thought and still do. This release is actually almost an over-view of much of Karen Tanaka's compositional output. Other titles include: Techno Etudes 1, 11 and 111, 3 Water Dances, Crowned Eagle, Crystalline 11 and a half dozen more. All is simply beautiful, interesting or attractively descriptive solo piano music. At times it is almost mood-setting. I am unable to accurately describe it as often happens to me with many contemporary compositions. Much of it has simply grown on me. The beautiful sound quality has much to do with its appeal I am sure. The two channel SACD stereo layer lets me think that I am listening in a fair size church to a beautifully recorded German Steinway piano. I do not know when or if I will ever find out if that is correct. If you are looking for something new in the way of piano music beautifully recorded, here it is. It certainly can be recommended on that basis alone even though I have not been very helpful.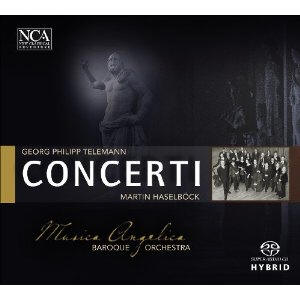 Telemann, Concerti. Orchestra: Musica Angelica Baroque Orchestra. Conductor: Martin Haselbock. NCA Hybrid SACD 60194
Are you one of the many lovers of Vivaldi's famous "4 Seasons"? Then there is a distinct possibility that you may like much of Telemann's music at least as well as or even more so. Many, many years ago these two contemporaries were vying for music lovers' attention and box office receipts. Critical reviewers usually favored Telemann back then and so have I now. That is particularly true here with a notably outstanding release right down to impressive packaging, liner notes, performers and performances as well. I have to mention the superb audio quality that clearly and cleanly reveals every detail and seems to make the audio quality even a bit fuller and smoother than usual using "Period Instruments." What great luck finding another top recommendation here. The new to me label of NCA, is almost uniquely excellent, if this release is typical. Seemingly the well known Musica Angelica Baroque Orchestra based in southern California, is augmented here by five fine soloists. Baroque music lovers should rejoice. My assumption is that NCA stands for New Classical Adventure.