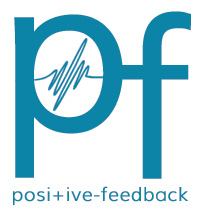 You are reading the older HTML site
Positive Feedback ISSUE 55
may/june 2011
T.H.E. Show Newport 2011
text and photos by Steve Lefkowicz
What a great way to reenter the world of writing and reviewing. My first assignment from Dave was to cover the T.H.E Show Newport (in Costa Mesa actually). T.H.E Show had wide sponsorship (including PFO) and seemed very well promoted. The official claim was over 6000 in attendance, making it one of the largest specialty audio shows ever held in the US. That is potentially great news for the industry and for the exhibitors. The crowds did make it more difficult to get decent photos, and even more difficult to get any of the exhibitors to play any of the music I brought with me. But hey, that's how these things go.
I've always enjoyed attending various audio shows, including CES, T.H.E Show, and many other smaller audio conventions and trade shows over the years. There's something special about the atmosphere of a trade show, whether it's the too-large-for-the-small-hotel-room systems displayed, or the $100,000 plus systems that all claim to have found the one true path to audio nirvana, or the incessant use of really crappy (but well recorded) music to entice us to sit and listen. And the shows that are open to the public, rather than just those in the trade, are the best, with all the lookie-loos and couch-potato-know-it-alls getting a chance to actually meet their industry heroes.
And yet, in spite of how that sounds, I really do love going to these things. I can be as much of a lookie-loo as anyone else, and though I am sitting on my couch right now as I type this, I do like to get out occasionally and talk to people. Plus, I have been in this for a long time, and enjoy getting to meet up with old friends and acquaintances, especially those that have been around since the early 80s when I started covering shows.
With all that being said, I always feel a need to start a show report with a few standard disclaimers. I don't attend shows expecting anything to sound good. I really don't. I understand the difficulties of trying to set up a system in a room with unknown acoustics and limited time to tune and tweak. I've been there in other industries as an exhibitor where we'd have two or three days to set up several pieces of commercial equipment that normally took a week or two each, only to have visitors complain about the most minor things. So unless an exhibitor insists on telling me how good their system is sounding, I can be very understanding should that not be the case.
However, that also means that if a display or room actually does sound exceptionally good, I think it deserves special mention. If someone can get really nice things to happen in a hotel room (well, with their audio equipment, anyway…) that says something about either the gear, their ability to set up properly, or, most likely, both.
I went there looking to find those special pieces of gear that offered potential for good sound at reasonable prices. I figured that since this was open to the public, and had been advertised to car enthusiasts, cigar aficionados and friends of the vine, too, there might be some effort to appeal to a broader base of people, including those who don't think cables should cost $20,000 or more. For the most part that didn't work out too well for me. Most companies chose to display their more expensive gear, though that is kind of understandable given the likelihood that most attendees would be the traditional hard-core audiophiles. Fortunately there were some notable exceptions.
Well, on to the show!
First, There were two "hospitality suites" set up that were always refreshing places to stop. First off, of course, was Positive Feedback's own room, hosted by the ever lovely and hospitable Carol Clark. However, in this photo, there's Dave with some guests. The room had computers set up for people to check out the PFO website, and some of the best refreshments available at the show.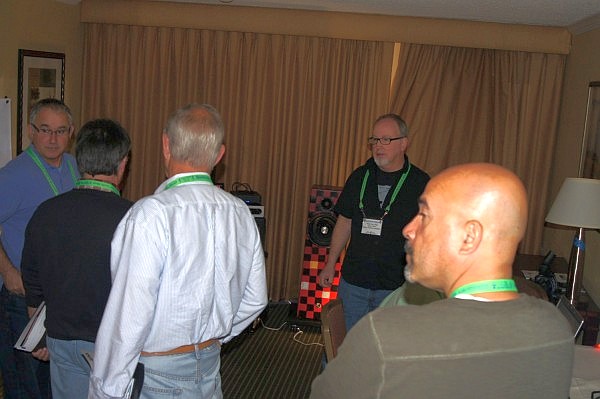 The system in the background of that photo has a special story behind it, to be documented in PFO in a separate article, but the system, Zu Audio Soul Superfly Speakers, Bel Canto C5i DAC/integrated amp, Nordost Purple Flare cabling, XLO/Ultra Power AC Power Strip, Wadia 171t, Oppo BDP-85SE universal player, and Pure Music Software, was all donated to the school where Dave and Carol teaches. You see it here sitting on the school issue AV cart that they keep it on. Not at all surprising, it sounded really nice in the room, and had probably the best collection of music of any room in the hotel. It also shows the way to get kids to appreciate music and good sound in an environment that makes sense to them.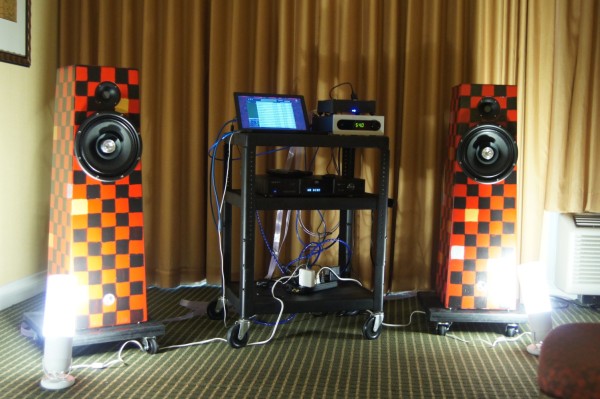 Bob Levi and the Los Angeles & Orange County Audio Society hosted the other hospitality suite that was a regular stopping point. They had comfortable seating and a wide variety of snacks, including Dr Pepper. A constant crowd of people waiting to chat made it a place to either hang out in or avoid, depending on your state of mind.
Actually, Bob and the LAOCAS have to be credited with the whole idea behind this show. Their efforts and choice to work with Richard Beers of T.H.E Show are why we had this show, the first in Southern California on several years, in the first place. Kudos all around to Bob and his crew for that!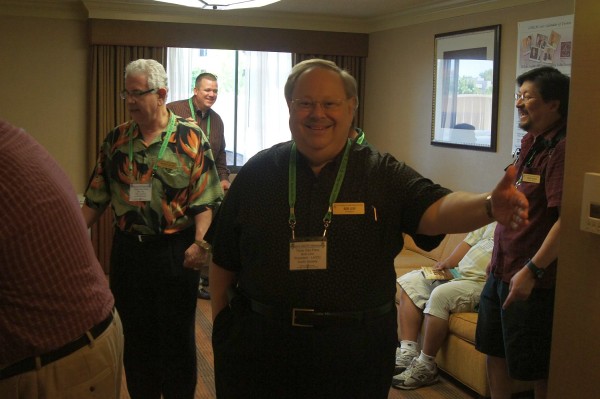 Now, let's get right to the things I went there specifically to see. Here are the displays that impressed me for their combination of really nice sound and reasonable prices.
Fidelis AV, the US importer for Harbeth speakers, shared a room with Southern California dealers Gene Rubin (Gene Rubin Audio) and Peter Selesnick (Venice Audio). They had a wonderful sounding room, showcasing Harbeth Compact 7es ($3650 - $3950 depending on finish) or P3ESR ($2095 - $2195), LFD Integrated Amps, NAIM CD player, and a beautiful Palmer turntable (out of my price range at $6000). I stopped in here several times just to relax my ears and soak up the sound. Gene and Peter are good people too, and demonstrated with a great selection of real music.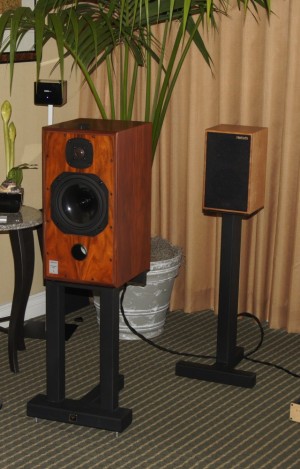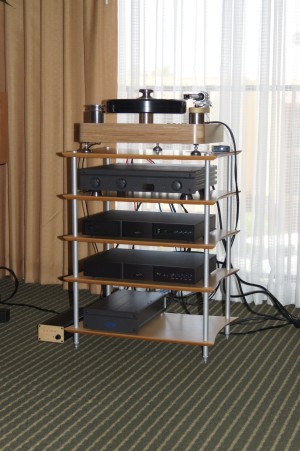 Napa Acoustics raised a lot of eyebrows. They showed a little system made up of the $399 NA-208A hybrid integrated amp (tube front end and "chip amp" based output section) and $199/pair NA-208S speakers, using an iPod classic (Apple Lossless files) as the source. The sound was way better than you could imagine based on size and price. The CD players pictured under the amp was also $399. The larger Bow 3 speakers were nicer still, but at $999 they should have been.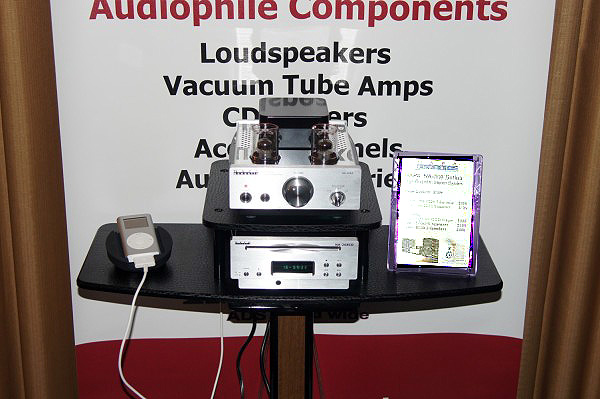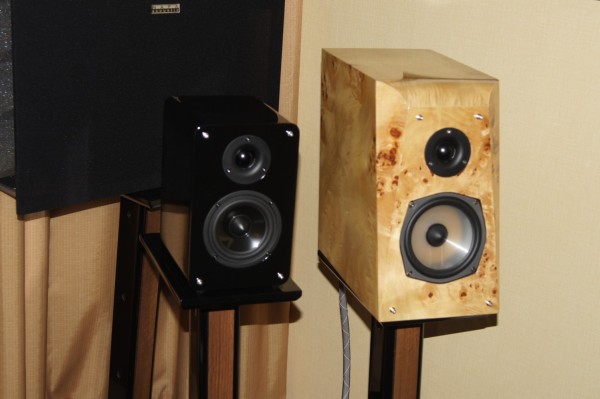 Albert von Schweikert is best known for making exceptionally good though rather high priced speakers. But at this show he teamed up with Jolida, known for making very nice lower priced tube gear, and showed his factory direct VR-33 speakers ($3750/pair). Using a JD 100A tube CD player ($1000), JD 1000RC tube integrated amp ($2400) and Master Built Purple Line cables ($500 interconnect, $800 speaker) it made for a thoroughly enjoyable system for under $8500! That's less than many of the interconnects I saw in other rooms. The sound was nicely dynamic, extended in range and tonally rich. Also heard it with the $7998 United Home Audio UHA Phase 8 HQ open-reel tape deck, based on the Tascam VR20. That just made things that much sweeter. Jolida also showed their new FX2 Tube DAC, 24/192 capable for only $379.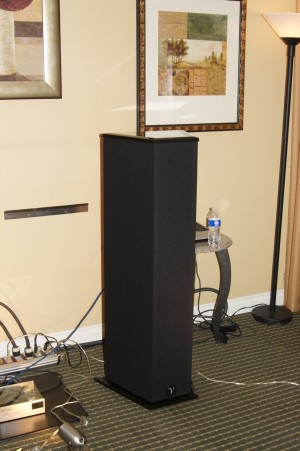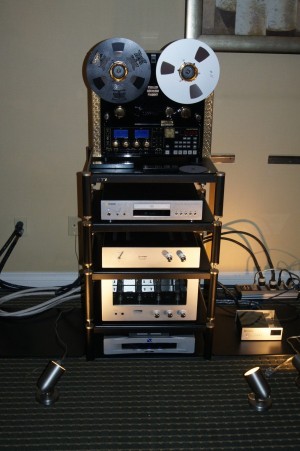 I've been attending shows for years, and one thing that is always a consistent factor in every one, is seeing how Hsu Research always manages to have a superb sounding room using some of the lowest prices equipment. This show they showed a 5.1 surround system using four of the HB-1 Mk2 speakers ($179 in real wood veneer as shown, or $149 in satin black), an HC-1 Mk 2 center channel ($279 or $209) and a VTF-15H subwoofer ($999 or $879). Sources were an inexpensive receiver and disk player. Non-descript "speaker wire" connected everything. I tried to avoid movie demos in most rooms, but the little bit of two-channel music I heard here, with the exception of having the sub up a little too much, was dynamite. I have a set of the HB-1 speakers and a smaller sub in for review already, and will have much more to say on them soon. Unfortunately, my photos in the active demo room didn't come out, so here's a photo of one of the HB-1 speakers from their static display next door.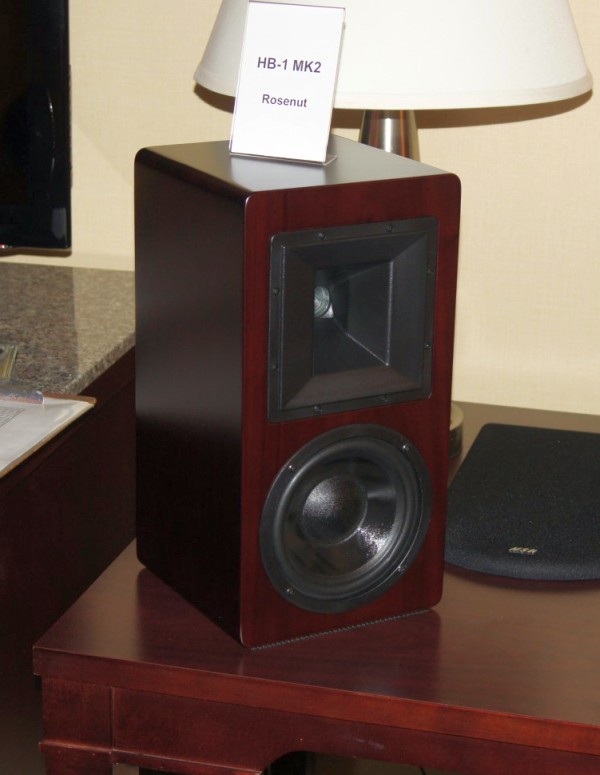 Zu Audio certainly likes to remind show goers that music and audio is supposed to be fun. They were showing Soul Superfly speakers ($3000) in a custom finish, in a DJ type system with dual Technics tables (though modified with Rega RB700 arms and Zu DL103 cartridges). The speakers were powered by a small Audion 12 watt EL-34 amplifier. With Zu's Sean Casey spinning only vinyl as a source, their choice of music was probably the best in the whole show, though some may not agree. The sound was lively, fun and rocked out! A welcome respite from the moribund sound in so many other rooms.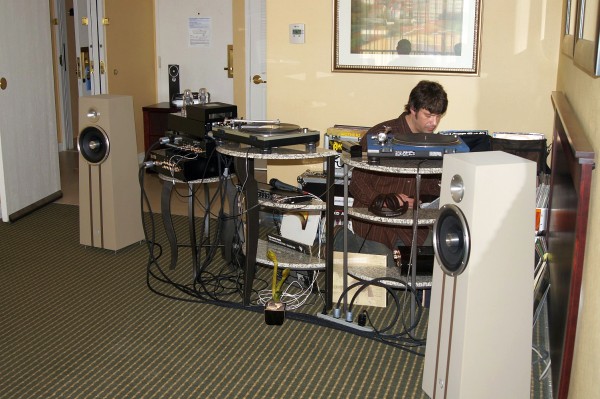 It's a sign of the times when I start looking at $6000 speakers as reasonably priced, but in terms of this show, that's the case. When a speaker sounds as nice as the $5895/pair Sonist Concerto 4 driven by an Audion Sterling Silver EL34 Anniversary integrated amp ($3499), it makes the price seem fairly reasonable. Other gear included Wired for Sound electronics and Cable Research Lab Bronze cables. This was another room I found myself stopping in often to give my ears a break.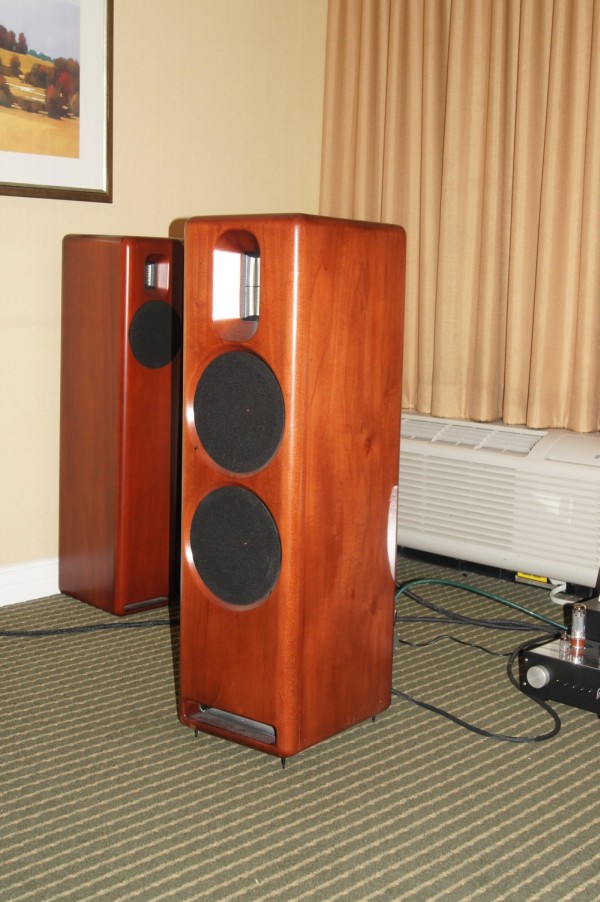 Kevin Deal of Upscale Audio (Upland, CA) had two room showcasing Carl Marchisotto's Nola speakers. Nola is another brand where over the years, at every show I've been to, rooms using their speakers have always been amongst the best sounding at the show. This year was impressive, not just for the high quality sound, but for the fact that both rooms used relatively low priced gear to drive them.
In one room, the $25,000 Metro Grand Reference was powered by Prima Luna tube gear to great effect. I thought the room would be way too small to show what these speakers could do, but sitting in a relatively near field setup, the sound was fine. Prima Luna has a rep for excellent sound at good prices, and as this was my first experience hearing them, I was certainly impressed.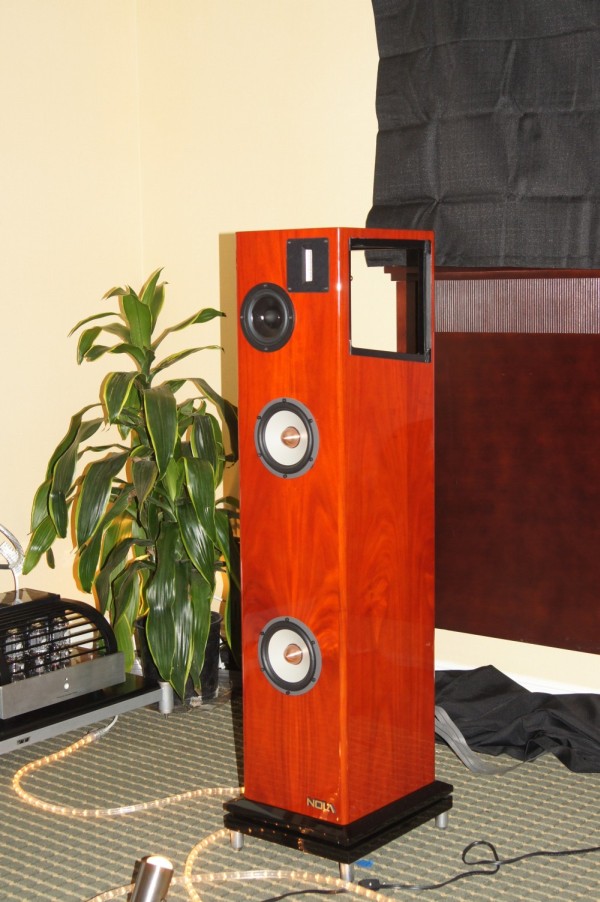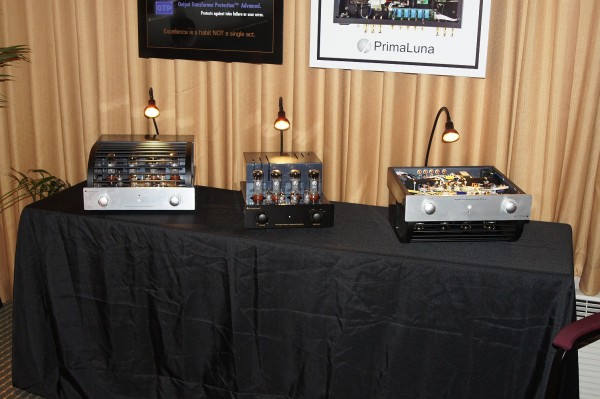 In their other room, the Nola Contender ($3400) powered by Mystere tube electronics was showing that you don't have to spend big bucks for quality sound. Though the Metro Grands were clearly superior, I was more impressed by what the Contenders could do for about 14% of the cost. The Mystere electronics looked beautiful (sorry, no photo) and from both a sound and appearance standpoint seemed downright bargain-priced. I hope to try some of their products out someday.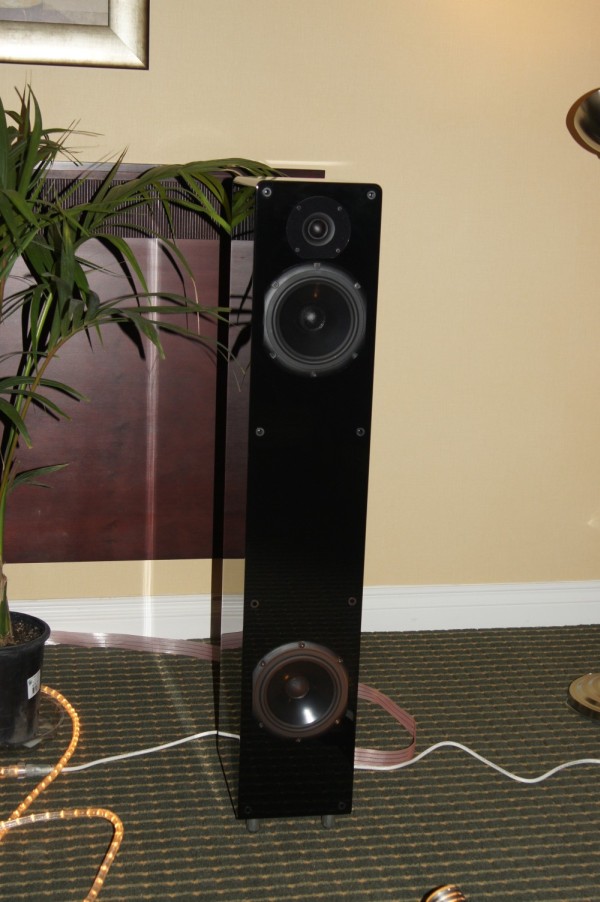 Those of us who remember the Southern California audio scene from the 70s and 80s (I moved here in 1980) will remember Rogers Sound Labs. They were small chain of mid-fi to better quality hi-fi (though not really "high-end" stores that sold speakers of their own manufacture. They have been out of business for many years. However, the original founder Howard Rodgers is back, with a new line of affordable speaker/subwoofer systems. The CG Stereo system (2 satellites and one subwoofer) is only $1250, and the slightly larger Studio Monitor System in only $1400 (using the same sub, available on its own for $750). Again, as in most rooms with subs, they had them turned up a little too much, but factoring that out (easy with the sub being remote controlled!) I found the sound of both of these systems to be very encouraging. Have already asked for revue samples.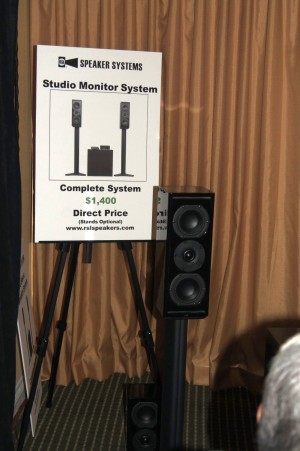 Fritz Loudspeakers was showing their $1750 Carbon 7 monitor speaker that looked and sounded quite beautiful. They were driven by Modwright LS100 Preamp ($3495 w/phono) and KWA 100SE power amp (100 watts, solid state, $3995). The source I heard was a Thorens TD 309 table ($1900, sorry, no notes on the cartridge) playing mostly through a new Zesto Audio Andros 1 Tube phono stage ($3900). All cables were by Wywires. This was one of three room using Wywires exclusively, and they seem to be a significant up and coming player in the quality cable for not outrageous prices category. We expect to hear more from them in the future.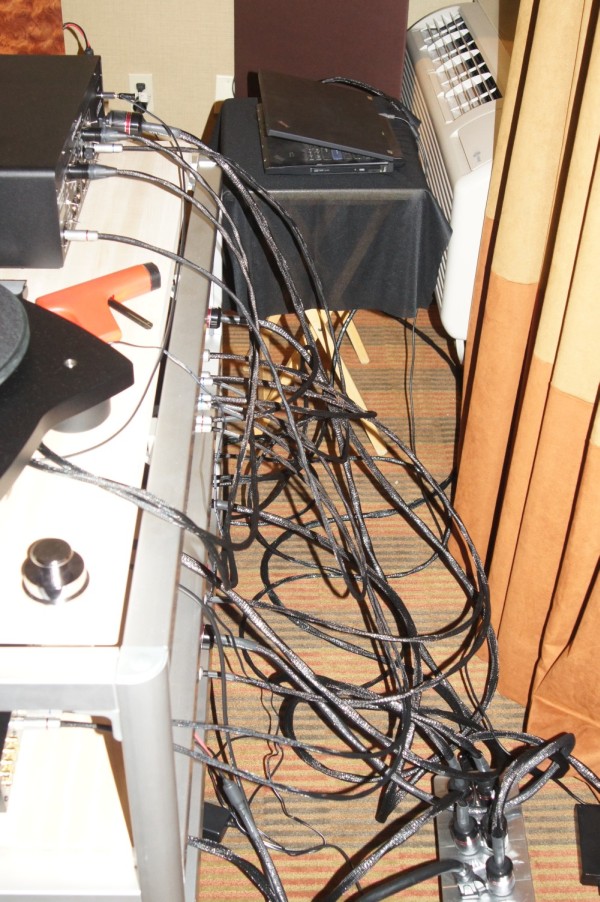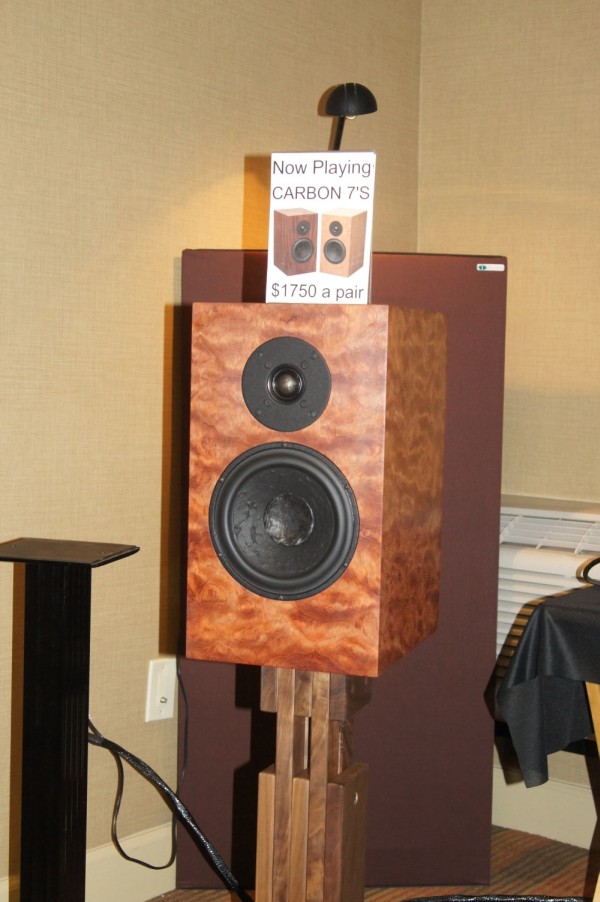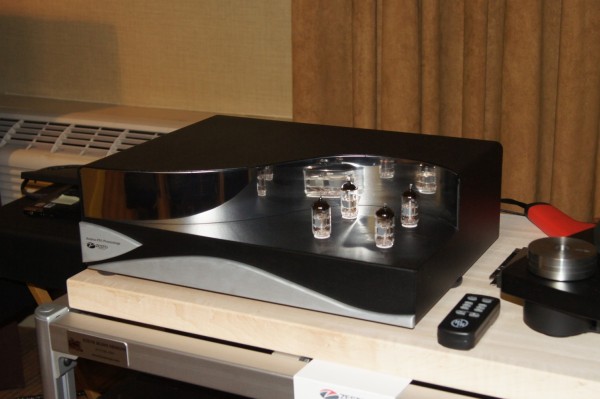 A $4500 small monitor speaker hardly seems like an affordable good idea, but, the small Transmission Audio MI1I speakers, driven here by a Bel Canto integrated amp, and fed by a Korg DSD Recorder, sounded remarkably full range and dynamic. This was actually a fine sounding system, especially playing high-resolution files from the MA Recording collection, with whom they shared the room. Pictured here with importer Chris Sommovigo of The Signal Collection.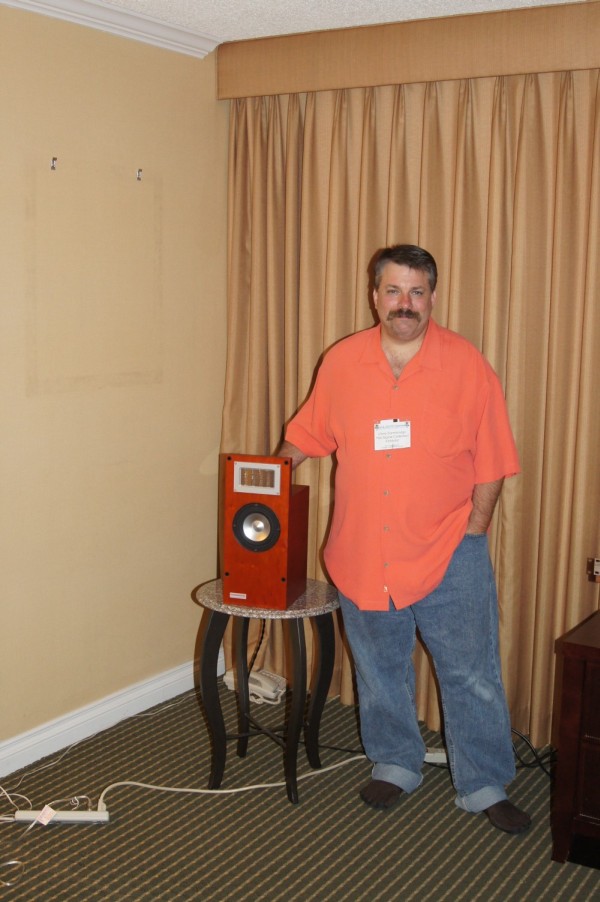 Though he has recently been venturing into the world ever higher priced speakers, Richard Vandersteen has long been known for producing some the very best affordably priced speakers, such as his legendary 2C series. Here is the new and surprisingly stand mounted VLR speaker. At $1195, it could strike fear into the hearts of companies making overpriced small speakers. Let's just say it sounded like what you'd expect from a Vandersteen speaker. Here it was fed by an all Audio Research system.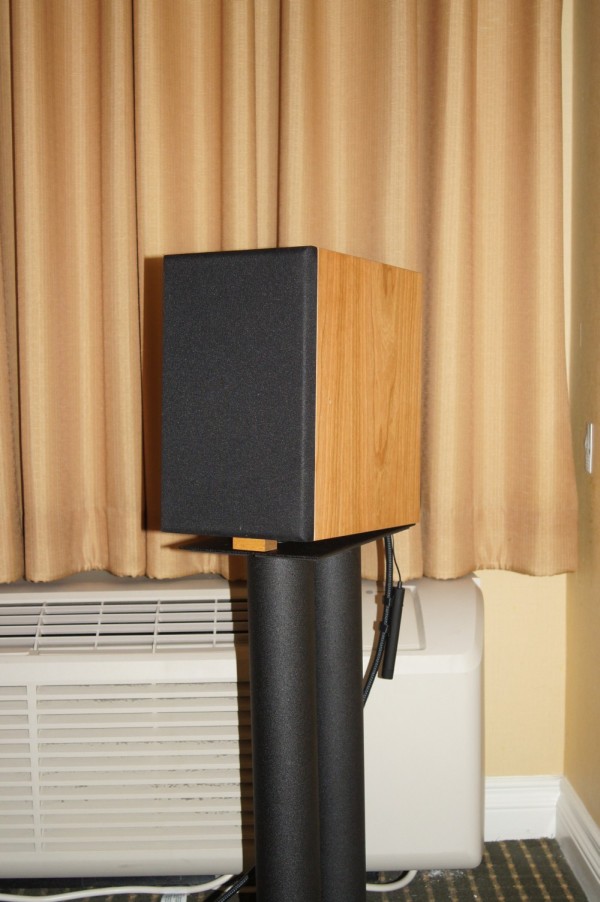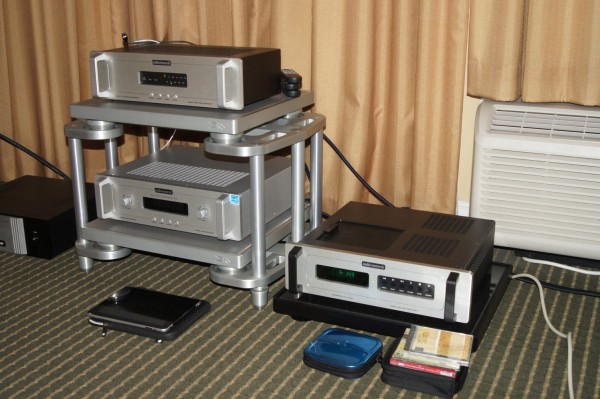 Although we'll see more from Peter Noerbaek and his PBN speakers in the "expensive" section, a very significant demo from PBN was their Pennywise Speaker kit. For $1250 you get all the components (drivers, crossover, plans) and can build your own. For an additional $3000 you can buy the cabinets already built and ready for finishing. Not a simple cabinet to build from plans, but if you have some woodworking experience and a reasonably well equipped garage or basement for the task, you can probably handle it and save yourself $3000. Excellent sound in the PBN tradition.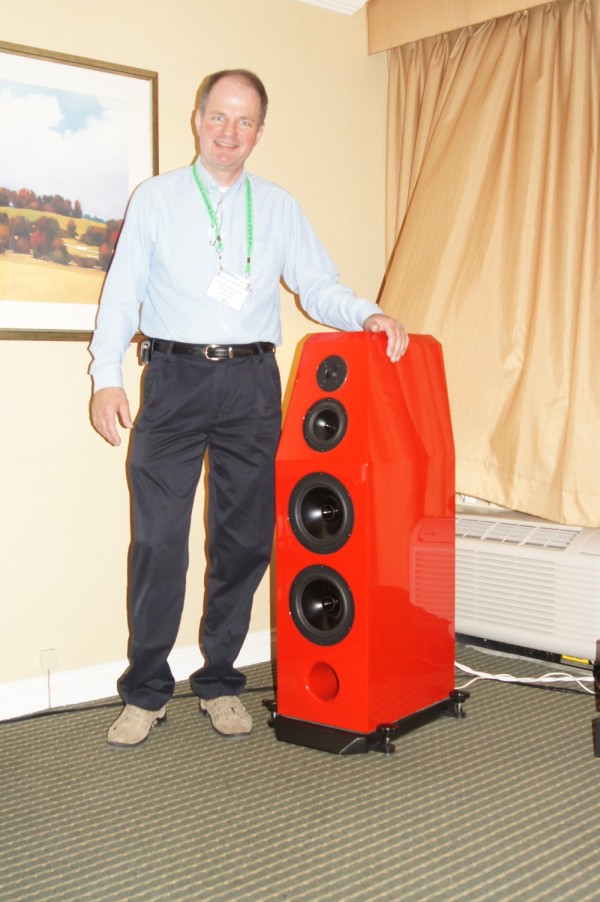 At $5495—$5895/pair, the new Magneplaner 3.7 represents a substantial value in terms of high-end loudspeakers. I think the room they showed these in was a little too small to show what they could really do, but the brief audition I heard was very impressive. These didn't seem to have the need to play overly loud to sound good, as some past Magneplaner models have. As usual for their demos, all electronics were Audio Research, which I'm sure helped in how this system sounded.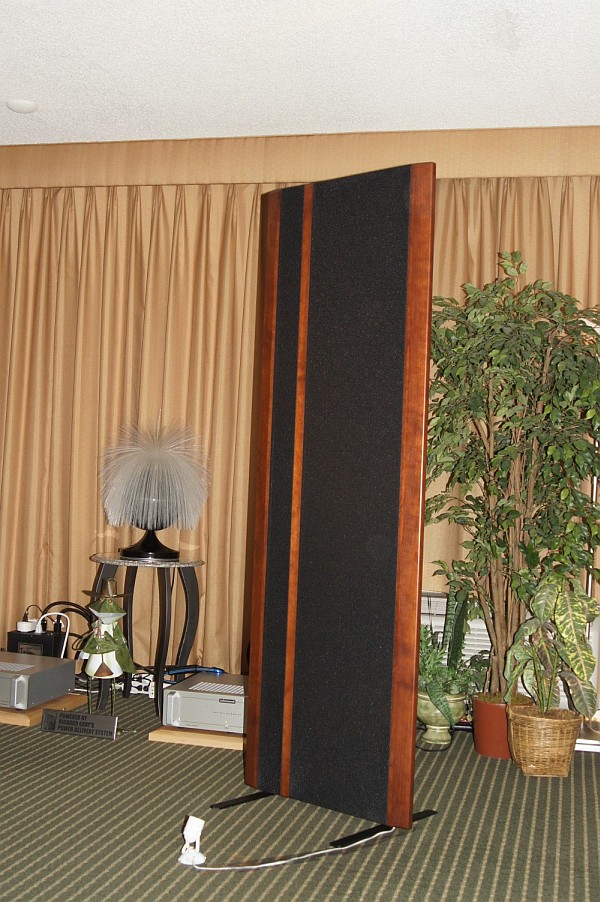 This show marked the return of ESS Loudspeakers, including a new version of the ESS AMT 1 speaker from the 1970s, now selling for $5495. These are new production, and there are new models too, like the LD-10LR ($3995) that in spite of its lower price, is listed in the brochure as the company's flagship. Driven by rack full of Channel Islands Audio electronics, I was really impressed by the sound of both of these systems. They may look just like the originals, but the sound is very up-to-date.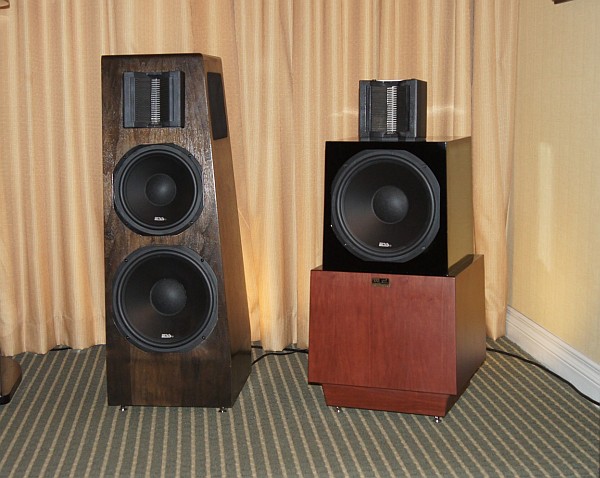 For those of you who prefer a desktop system at your desk instead of a headphone-based system, Audioengine was showing why they're considered one of the premier players in this category. The little system shown here worked very well in the near field when seated at the desk, and not everyone likes the sense of isolation when wearing headphones.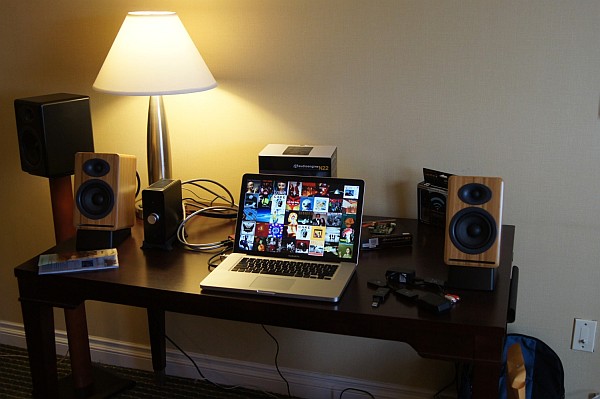 No show is complete without a visit to the VMPS Audio room and proprietor Brian Cheney. Brian has long forged on producing extremely high quality speakers that compete with systems many times their price. With the small room at the hotel, he chose to display his RM-30 Ribbon speakers (long time reference of PFO contributor Roger Gordon). As usual he used all Spread Spectrum Technologies Ampzilla electronics. The fact VMPS price their products fairly, as does Mangepan and a few other companies, is one reason (other than how good they sound) why they have been a long time favorite on mine too.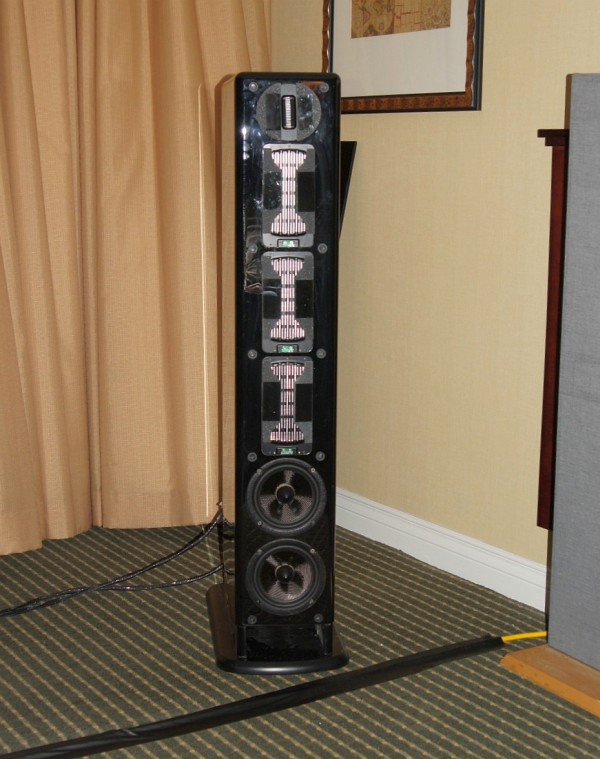 Speaking of great products at fair and reasonable prices brings us to the Bluebird Music room, importer of Spendor speakers and Exposure electronics (and several other brands). The system they had on display, using Exposure 3010 series CD player and integrated amp driving Spendor A6 speakers. A simple display making beautiful sounds with real music. They also showed the Chord Chordette series of mini components. Cute stuff!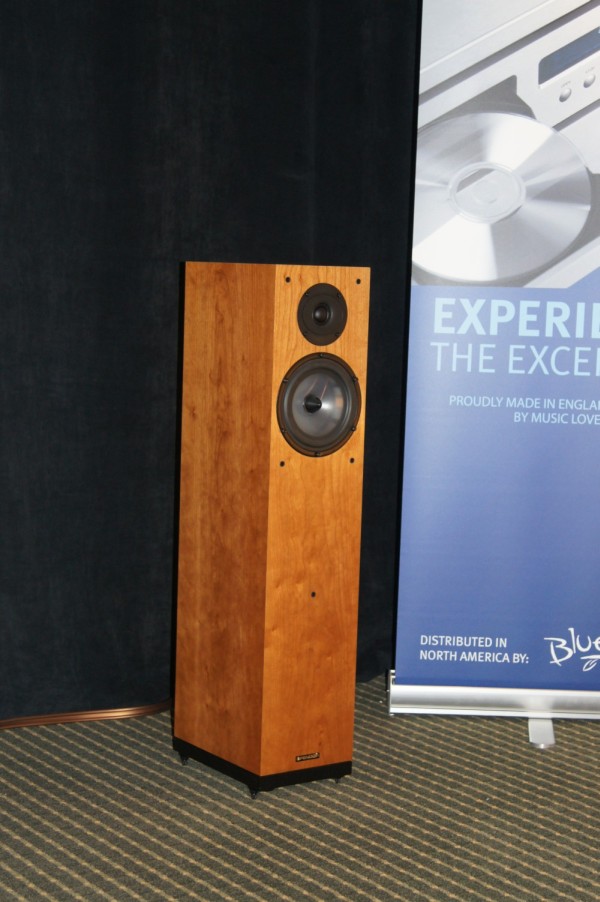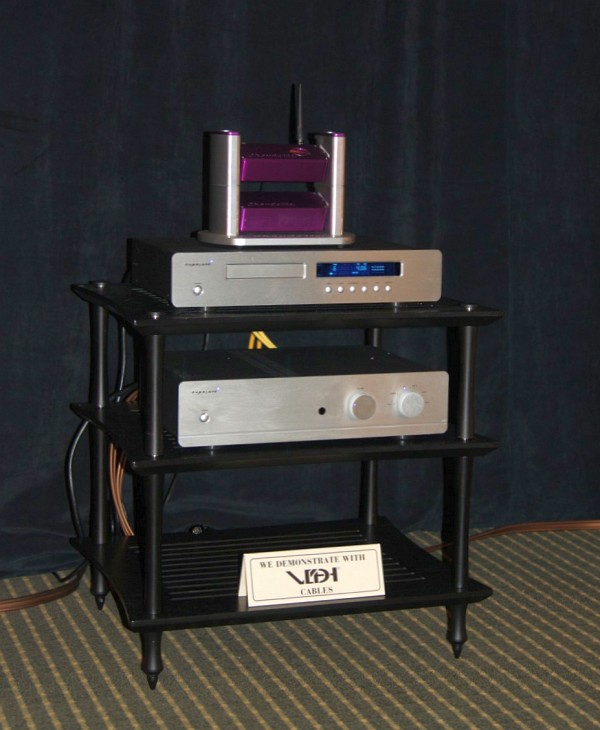 I first heard Tonian Labs speakers at the last show I attended about five years ago (the Vacuum Tube Valley show). I thought they sounded quite nice. Apparently over the last few years they've grown, PFO's Francisco Duran uses their TL-D1 speakers in his system, and now they're showing in a much higher profile show.
Here they showed their TL-S1 ($4300/pair) that sounded rich and smooth and very musical. Everything was hooked up with their own Tonian Acoustics cables. So as to not detract from the display of the speakers, they used fairly non-descript and old electronics (Audiolab 8000 integrated amp and Magnavox 650 CD player) from the 1980s.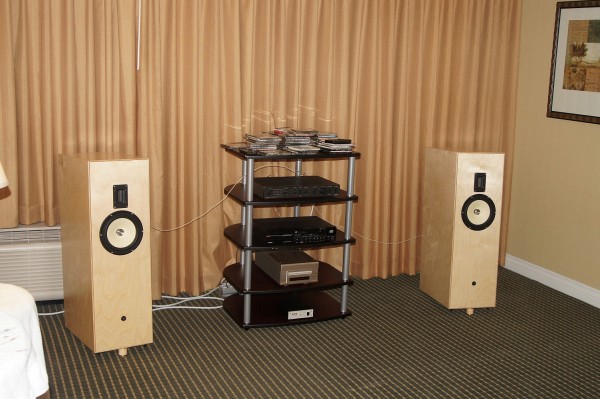 Channel Islands Audio has been long been known for combining extremely high quality electronics at sometimes surprisingly reasonable prices. It is common to see many speaker manufacturers using CIAudio amplifiers in their demonstrations at larger shows. Now Channel Islands gets to demonstrate their own speaker too. The Soul Sister speaker, ready for sale in about two months, and will come in at $5000, though custom finishes will be available for slightly higher prices. Playing files from a notebook server, they were sounding sweet, subtle and yet powerful when the music called for it, driven by (of course) and all CIAudio chain of PLC Mk2 Passive Controller ($899) and a pair of D-500 Mk2 500 watt power amps ($5000/pair) and a prototype of their new USB Asynchronous DAC (32/384 capable, approximately $1500). Cables were inexpensive Mogami interconnects and Harmonic Technology speaker cables.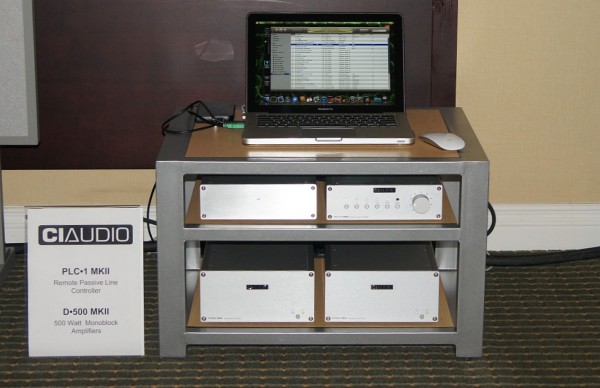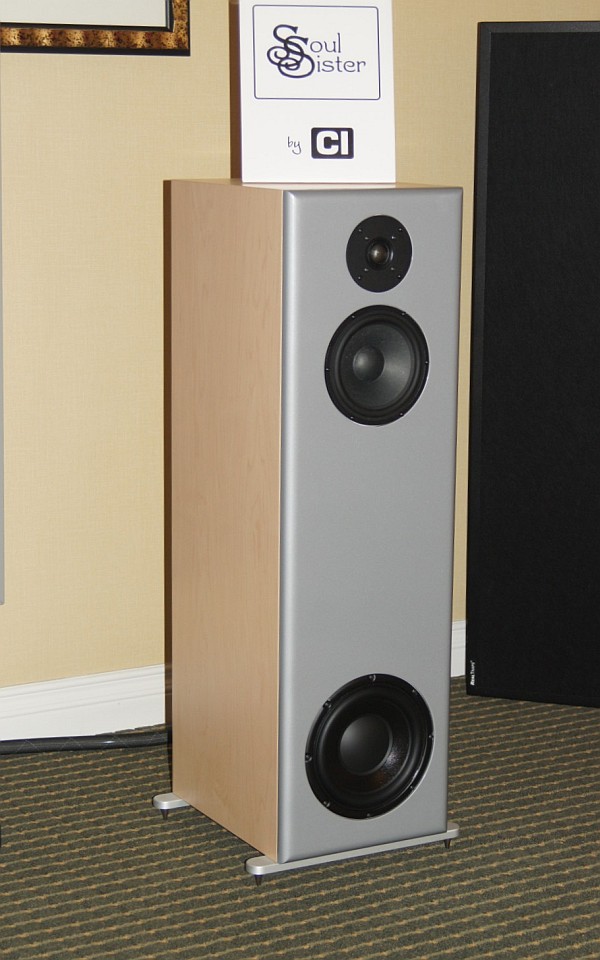 One last stop for my roundup of affordable gear was the Grant Fidelity room. They were showing a wide variety of gear from China, including Opera-Consonance, Jungson Audio, Shengya Audio, Psvane Audio and Compact Loudspeakers. For some reason I didn't see any of their own Grant Fidelity speakers in the room. This was another room I stopped in several times, and always enjoyed the hospitality and the good sounds. Here are a few of their offerings.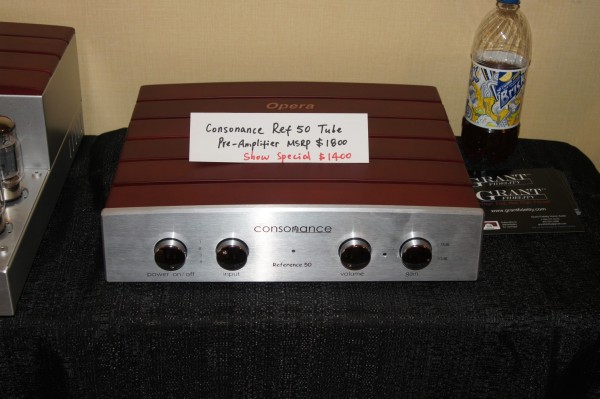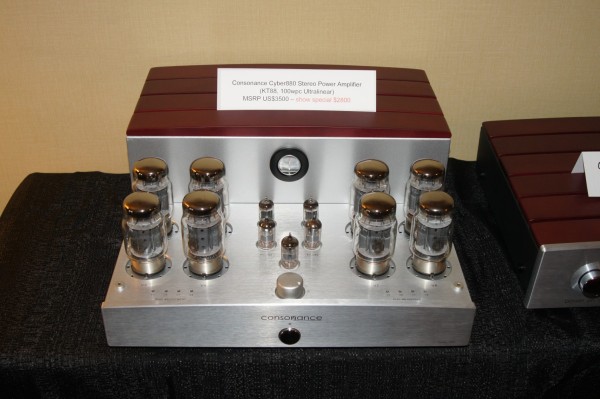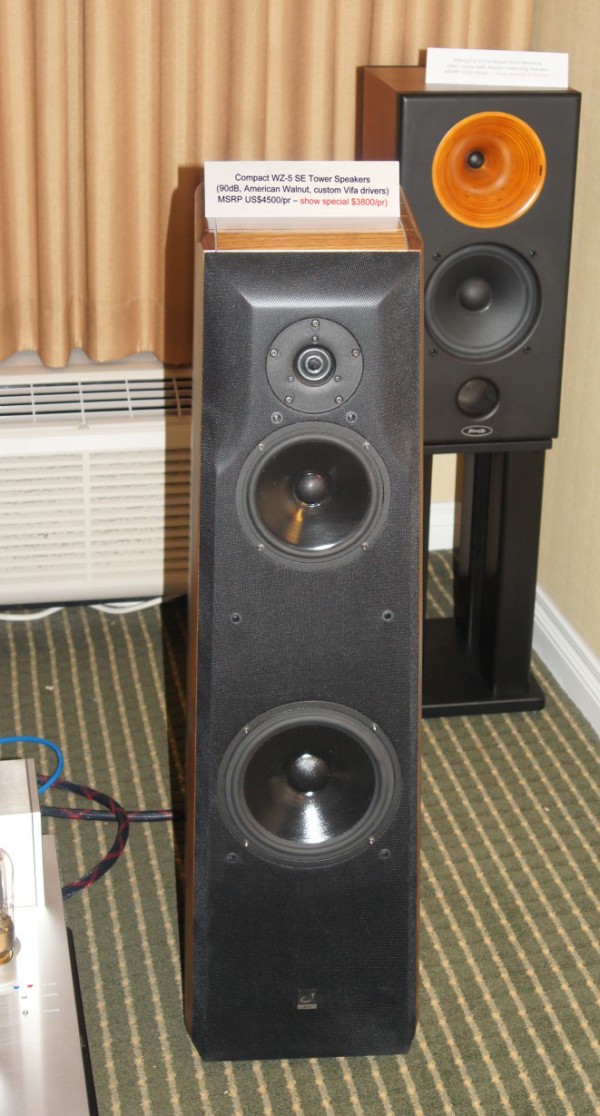 All told, if it seems I liked the sound of everything in all these rooms, please remember, as I stated in the intro, I am fairly understanding of less the great sound at a show. None of the rooms mentioned above sounded bad, and all showed at least promise of even better sound in a better environment. I came away from these rooms pretty encouraged about the state of the art for moderately to reasonably priced gear, and heard some truly outstanding sounds.
Coming next, Part 2 The Expensive Stuff!