I used to pass a Land Rover dealership on my commute and fell hopelessly in love with the LR3 V8. A test drive confirmed it was the toughest, cleverest, most regal and invincible car in its class. I was so smitten that I bought a Volvo XC90. Why? Because really, with reliability ratings near熔r sometimes at葉he very bottom of the charts, that Rover was inevitably going to break my heart.
What the entire British car industry should do is start visiting their counterparts in audio manufacturing. Anyone ever heard of a Rega breaking down? I had a 30-year-old Planar 3 that was recently passed on to yet another owner. My Spendor speakers will probably outlast me with a little maintenance here and there. Okay, sure, there have been exceptions but I have yet to have an issue with any piece of British made audio gear, new or vintage.
And so it seems with Avid. Their Diva II (reviewed here) is built like a tank. It was supremely confident and effortlessly resolving葉hough also slightly aloof for my tastes. Granted, I like my analog to sound really analog, which is to say I'm skeptical of any turntable design conceived after, say, 1975. So it was with a mix of both excitement and trepidation that I welcomed Avid's new mid-priced phono preamplifier, the Pulsus.
I knew it would be thoughtfully engineered and well constructed in the same relentlessly purposeful manner as the company's turntables. I also suspected it would probably be resolving beyond its price point. My concern was, what if様ike some other phono preamps in its price range擁t was a little too focused on detail retrieval? That could make for a thrilling listen for those some, but certainly not for me.
After listening for a few hours, clearly I was wrong in terms of not only my expectations but also the company's design philosophy. The Pulsus isn't designed to sound like the company's turntables, or amplify any aspects of their performance. It's designed to get out of the way. Basically, throughout the course of my listening, it sounded like whatever it was connected to. It makes me think Avid should start working on a line stage, too.
The design is simple and purposeful. Two boxes: one housing the power supply, the other with everything else, connected via a captive umbilical. Three sets of easily accessible DIP switches on the bottom of the main unit allow the user to select from a vast array of gain and loading settings that should suit just about any cartridge on the market. I wish the umbilical cord were black instead of an ugly shade of gray. I'd be hard pressed to criticize the design beyond that.
It took me all of ten minutes to get it unpacked and hooked up. Setting the DIP switches to suit a given cartridge will be self-explanatory to most vinyl enthusiasts. The instruction manual offers a simple and useful explanation of its functions that will be helpful for novices. I tried moving the power supply to the left and right of the main unit and also relocating it to higher and lower shelves on my rack for better isolation. It didn't make any audible difference. Keeping the two units a half-foot apart in any direction was sufficient.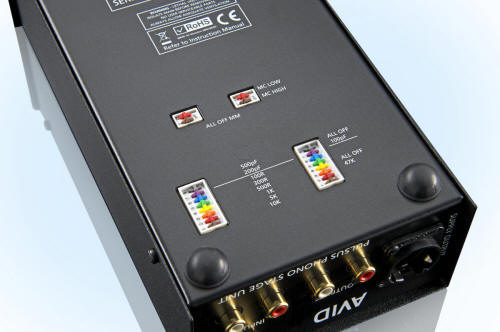 When the Avid arrived, I was using a phono stage with tube output because, frankly, it sounds tubey and I like that. Swapping it out for the Avid didn't provide the same jarring experience as switching to, say, my old Audio Research. The Avid lacked the coloration (and noise) of the tube unit but didn't sound conspicuously solid-state. In this case, it sounded like a 1980s Linn because that's what was playing through it. The sound was grippy and highly tuneful above all with a focus on musical flow.
I've long believed that, unless you're an incurable experimenter like me, you should buy the best phono stage you can afford on day one. So naturally I was keen to test my theory with a nice Harman/Kardon from the 1980s葉he kind of thing one could pick up for $200 or $300 on the used market. The Pulsus let its strengths shine right on through, including good rhythm and timing with a fair sense of air and space. Yet it didn't ruthlessly rat out the table's mediocre bass performance or cabinet-induced colorations. The Avid focuses on the music. Hooked up to a Rega, it sounded like a Rega用acey, a bit dry. You get the idea by now.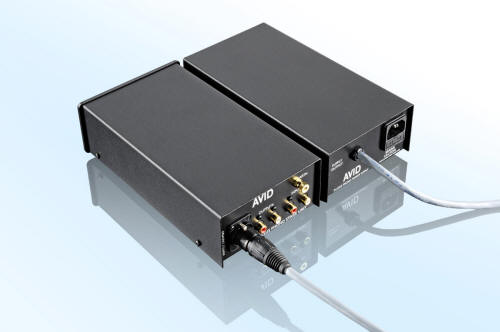 I was hard pressed to identify any overt character or significant deviation from neutrality. Unlike a lot of phono stages, this one won't hold back any front end at or near its price point in any way. The flip side is that if your table/arm/cartridge are already aggressive or overly explicit, the Avid won't step in and tone things down. I didn't have an Avid turntable on hand, but something tells me I'd love the massive soundstage and pinpoint imaging I've come to expect from the firm, while being somewhat less than enthusiastic about the conspicuously structured sound. Most others would probably be enthralled.
You should also know that, in addition to its long list of strengths, the Pulsus is extremely quiet, even with the lowest low-output moving coil cartridges in my collection. I tried using step up transformers, both of which were admittedly low priced, and preferred the sound without them. Moving magnet or moving coil (or moving iron), high output or low, the Pulsus always delivered the goods.
At $1599, it's not cheap but, like Avid's entry-level turntables, makes a fantastic argument for itself. First, it offers some degree of trickle-down engineering from the $4999 Pulsare, though less obviously than in the company's turntable range. Second, it's essentially neutral and works well with a wide range of turntables, arms and cartridges. Third, it's totally un-fussy and made to last a good long time. Finally, for novices, it begs the question, why waste time and money slowly inching your way up the entry-level ladder when you can get one of these now? You'll enjoy every last drop of performance your entry-level turntable has to offer and appreciate the more expensive rig you someday hope for when that day comes.
So, an unqualified recommendation for Avid's Pulsus. Whether you're shopping in this price range or not it deserves a listen. It may convince you to spend a little less than you expected, or a little more than you'd hoped. Either way, unless you yearn for some specific coloration, the Avid will provide as spacious, bold, detailed, tuneful, and layered a performance as your front end is capable of; up to and somewhat beyond its price point. It will also last a long time. If I ever decide to start living in the analog present, this is likely the phono stage I'll buy. Ed Kobesky
Pulsus phono stage
Retail: $1599
Avid HIFI Pulsus Phono Stage, distributed by Music Direct, 318 No. Laflin Street, Chicago, IL. 60607. Tel.: (312) 433-0200.
Avid HIFI
web address: www.avidhifi.co.uk
Music Direct
web address: www.musicdirect.com