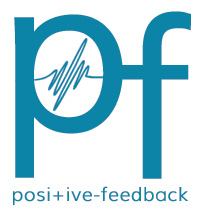 You are reading the older HTML site
Positive Feedback ISSUE 56
july/august 2011
AXPONA NYC, 2011
by Marshall Nack
'Twas a foggy day in New York town, as my wife Lynn and I wended our way to AXPONA NYC, 2011 on Friday morning, June 24. The audio expo was held in the Affinia Manhattan Hotel, just across the street from Penn Station, a busy commercial neighborhood not far from Macy's Herald Square.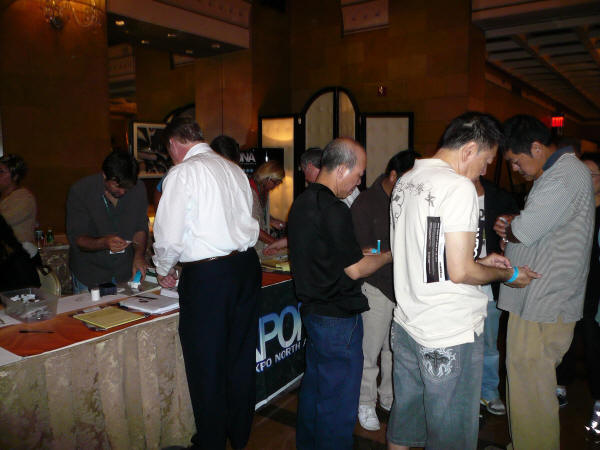 Registration and day ticket buyers.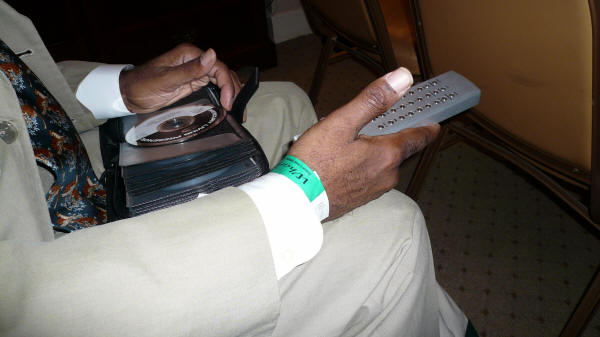 Day ticket buyers were given ID bracelets that looked rather like those provided to hospital in-patients.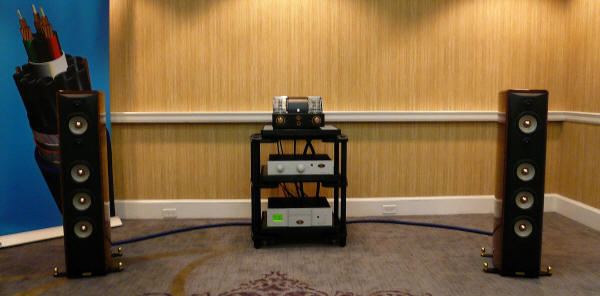 Opera Grand Callas speakers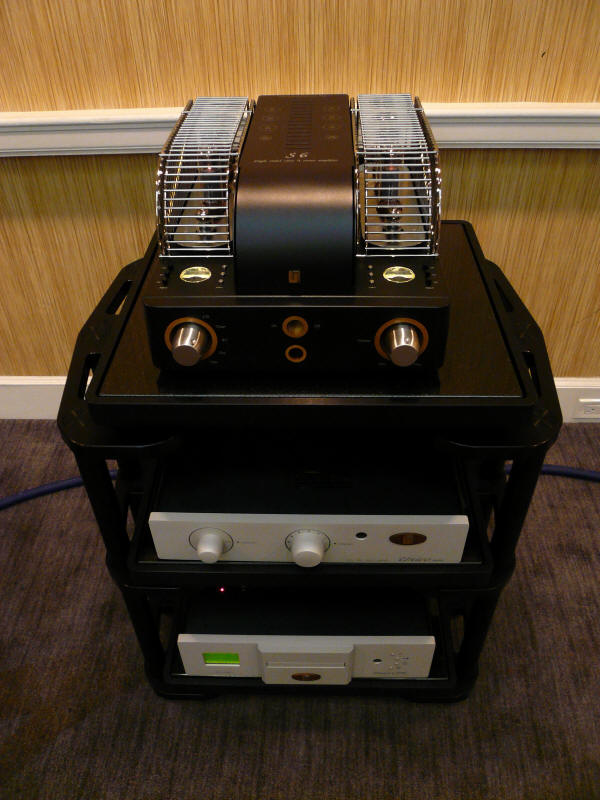 Unison Research stack
Unison Research, Opera Loudspeakers
We began our tour in the Unison Research electronics/Opera Loudspeakers room. The unmistakable presence of tubes—the components were either hybrid or full tube—made my CD of the Quatuor pour le Fin de Temps by Oliver Messiaen sound like analog, with plenty of body and a nice tactile feel. This was not at all a bad place to begin.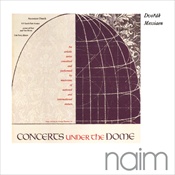 The room was bare of treatments and, consequently, bare of a soundstage. Cabling was Cardas Clear, which we would find deployed in many of the rooms.
A few minutes into the session, John Marks of Stereophile magazine came along and treated us to several recordings which he had engineered, including an about-to-be-released CD of a string quartet by the composer Morten Lauridsen dedicated to John. Lauridsen composes in what seems like an old-fashioned style, until you listen more closely and you begin to hear harmonics that could only have been written now. Modern, but very accessible, the presentation won us over. I made a mental note to get acquainted with Mr. Lauridsen's oeuvre.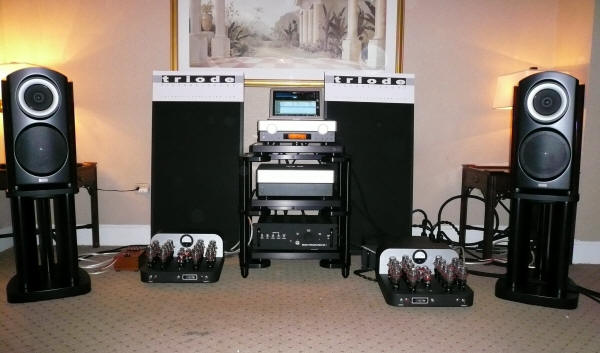 TAD System
Triode Picture + Sound
On Friday morning this room was running all TAD gear. (A second setup of Atmosphere electronics waited in the wings.) I was familiar with TAD speakers, which I heard at RMAF 2010. The TAD CR-1 monitors were outstanding then and made a lasting impression. Here they were mated with TAD electronics, including the C2000 DAC/Preamp and M2500 stereo amp.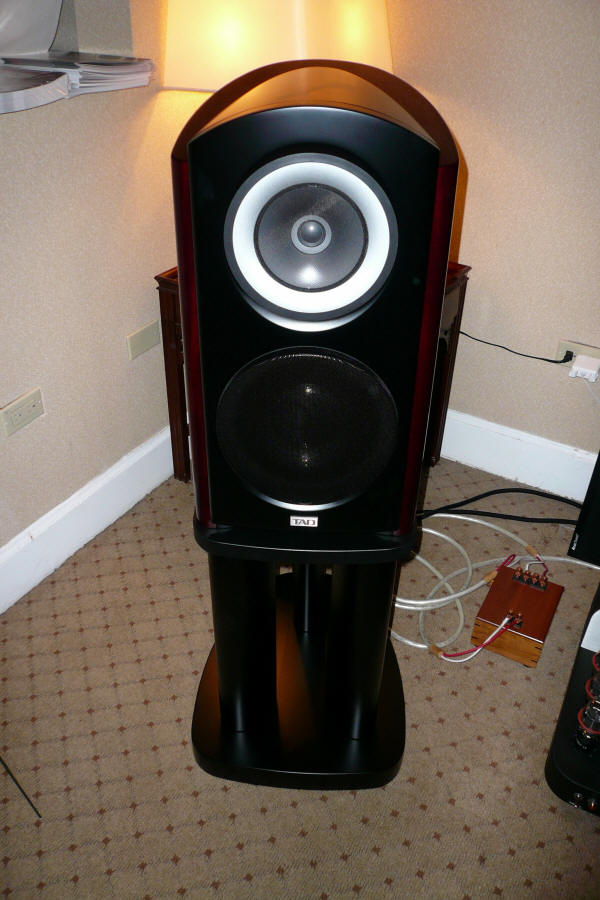 TAD CR-1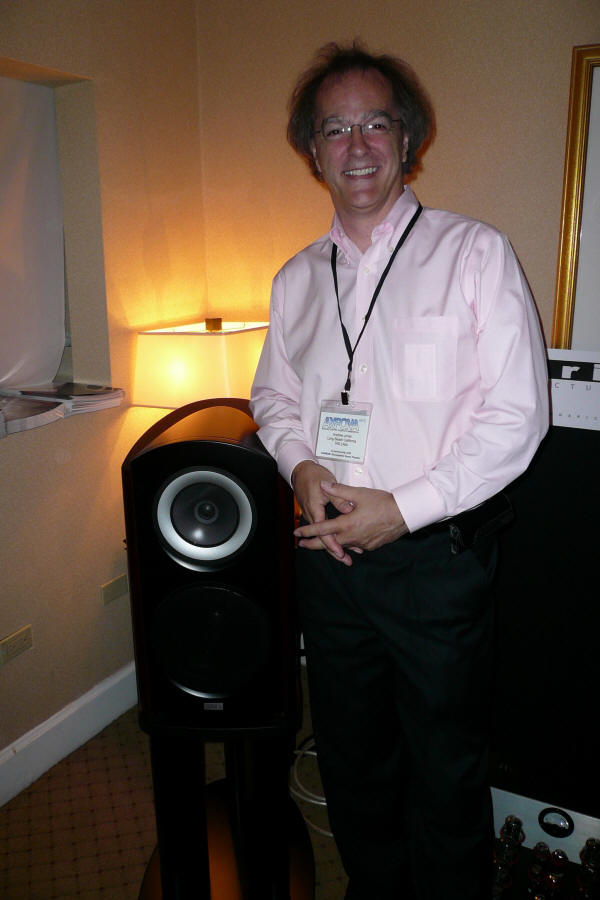 TAD designer Andrew Jones
After the Unison Research room, this system was a bit of a shock. It was so clear, forceful and forward.
When they played Aaron Copland's Fanfare for the Common Man (a favorite in many rooms), the opening strikes on the bass drum made the walls vibrate. I asked Andrew Jones to play it again, just to confirm I heard what I thought I heard. You might say there was a "tad" excess bass energy. At the other end, there was a "tad" less treble, judging by the lack of high overtones. Maybe this was due to the source—a computer server feed into the C2000 DAC/Preamp. I've noticed this before with music servers. This was another room without treatment, yet you didn't hear the room—there was no evidence of the room's contribution to the sound. Instead, you heard something approaching the mic feed.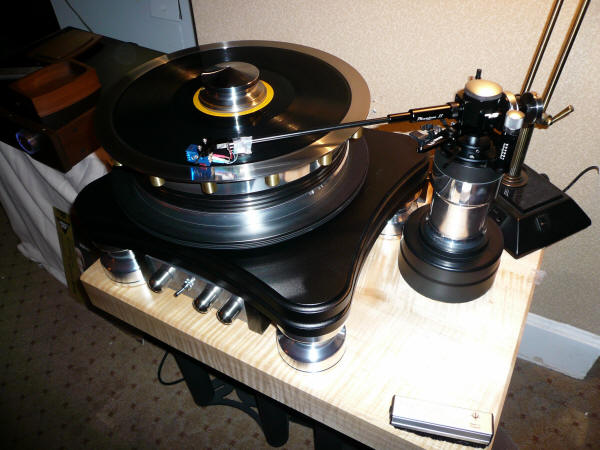 This is the impressive new Momentus Duo Drive Turntable from TTWeights. They had it spinning when I returned on Saturday and, in spite of some lingering setup difficulties, it sounded good.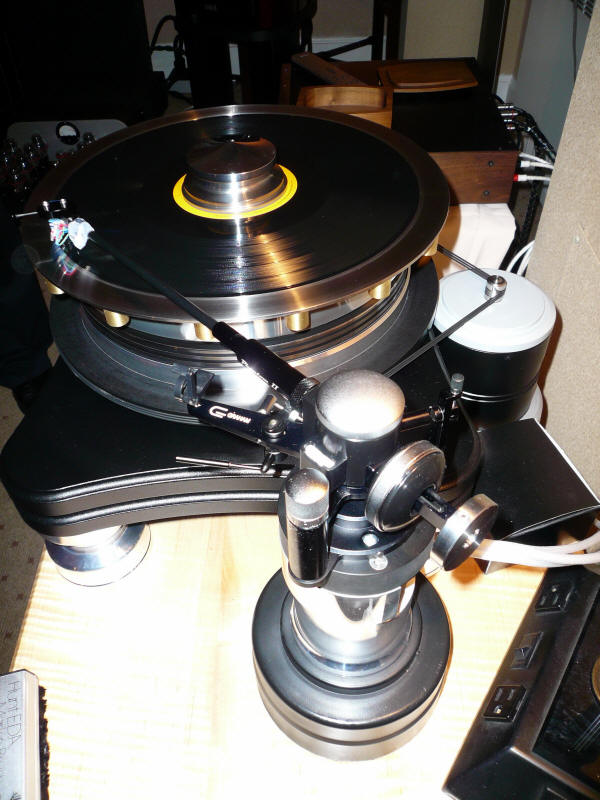 My complaints aside, the TAD gear, both speakers and electronics, are seriously good.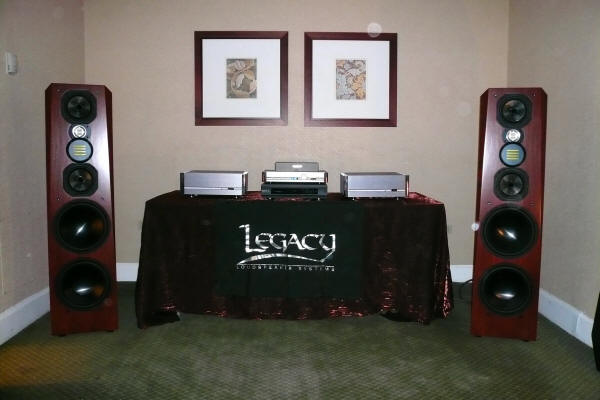 Legacy Loudspeakers
Legacy Loudspeakers
First you have to get over the visual of the multiple driver technologies in the very tall cabinet. Then we had trouble settling on a volume level. Dynamic range was beyond the room's capacity. Set for signal peaks, we couldn't hear soft passages, and vice versa.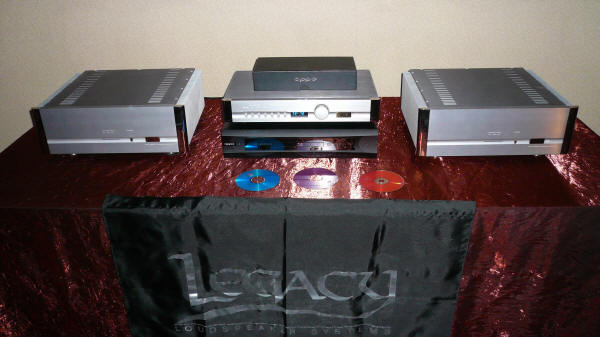 Oppo Digital gear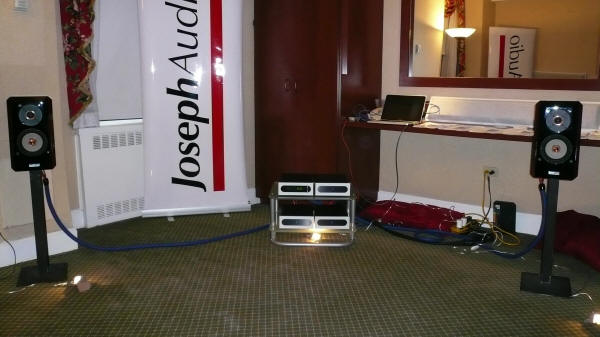 Joseph Audio and Bel Canto
Joseph Audio speakers and Bel Canto Design
The photo shows a smallish system and it does not lie. But somehow, these Joseph Audio Pulsar speakers (MSRP $7000) driven by Bel Canto gear managed to fill the room. And the miniscule two-driver speaker had satisfying bass to boot!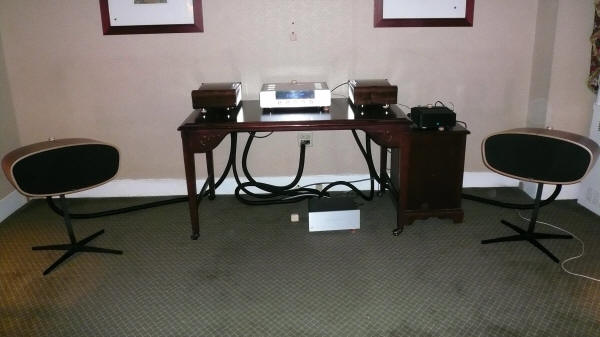 Sensorium room with Davone speakers
Sensorium room
No, this is not a still photo from My Favorite Martian, the 1960's sitcom.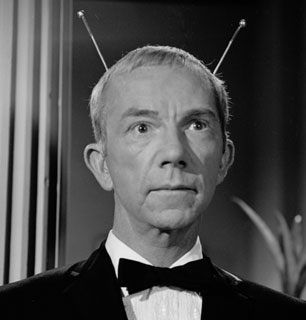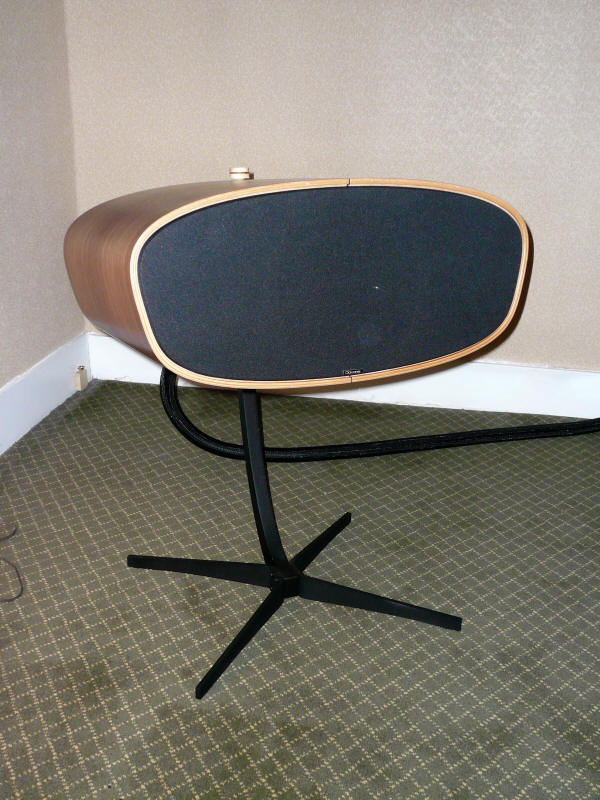 These are the Davone 'Ray' speakers (MSRP $6000).
The source was a Purist HDR Mini D Music Server, which fed into the AMR DP-777 Digital Processor. (Both products made their USA debut at this show.) The AMR DP-777 DAC has variable chip sets and filter options, sort of like the AMR PH-77 phono stage, which has a multitude of "on-the-fly," user selectable RIAA curves.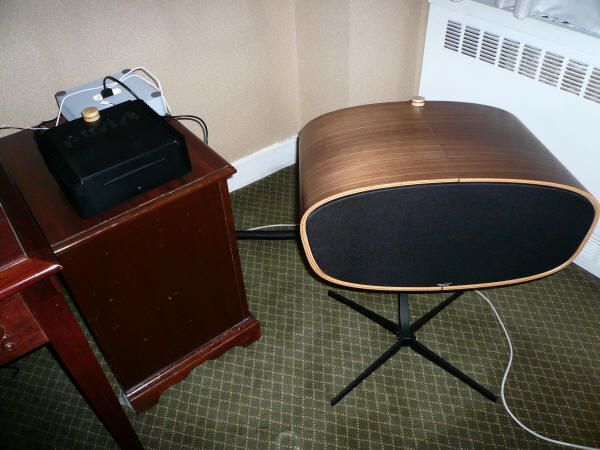 Davone Ray and Purist HDR Mini D Music Server.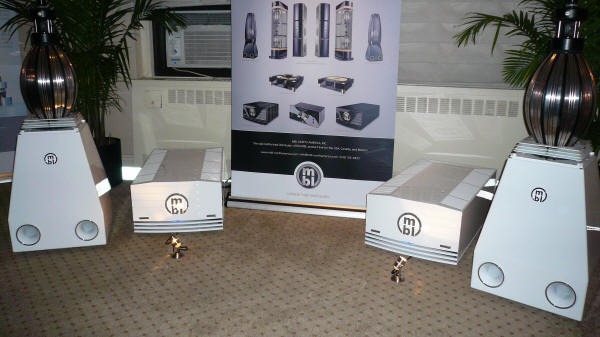 mbl Reference Line in Piano White with Chrome plated accents.
mbl
Entering the mbl suite at mid-morning after the previous rooms was a breath of fresh air. We were fortunate to have come during the Trade Only hours and Classical music was playing at a sensible level. The sound was civilized and refined. (Later, when I attempted to return, as I rounded the corner I was stopped dead in my tracks. It was the usual thing: the line extended halfway down the hall.)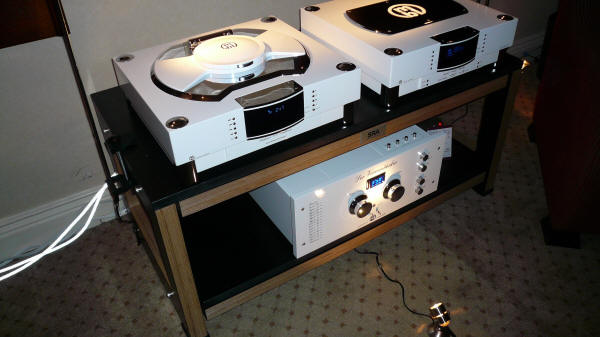 mbl Reference Line
It was here that I heard the most realistic piano reproduction from a simply stunning recording made by Jurgen Reis, mbl's chief designer. And it was sourced from a custom Sonore Music Server. This was the first time a computer source sounded as good as, and possibly beat, the best CD players.
There was the mbl trademark wide dispersion, of course, and the effortless display of power without flaunting it.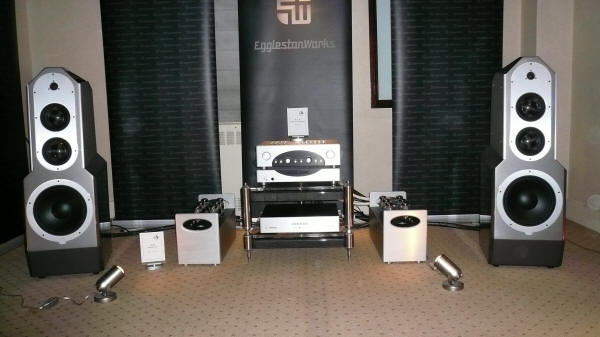 Egglestonworks Speakers and Rogue Audio
Egglestonworks and Rogue Audio
Saturday began with a visit to the Egglestonworks/Rogue Audio room. I pretty much had the room to myself at this early hour, so I chatted a bit with Jim Thompson, the Egglestonworks rep. When I requested a brochure, he said there was none left—they ran out yesterday.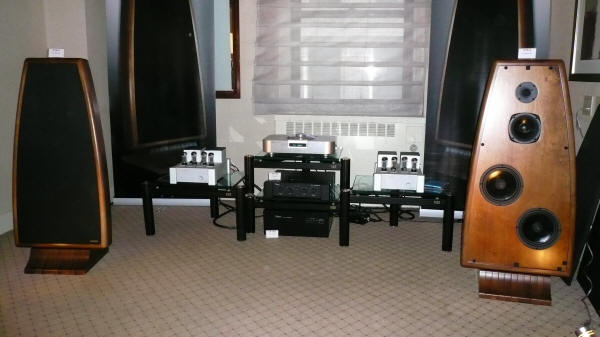 Nightingale Audio
While enjoying lovely tube sounds of a traditional sort in the Nightingale room, I again inquired about literature for the components and was told the same thing: "I'm sorry, we ran out of brochures yesterday." I found that curious, because Friday looked like low traffic to me. Apparently, there was a surge after I left in the middle of the afternoon.
Nightingale makes interesting looking, good sounding speakers and a full line of electronics and wires.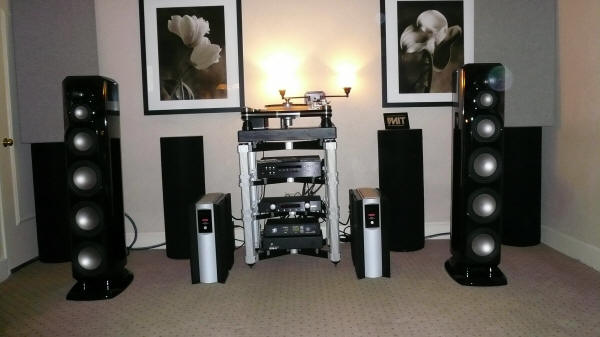 Woodbridge Stereo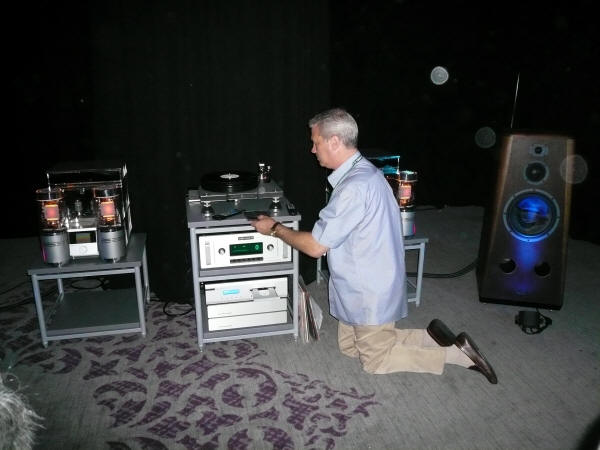 Audio Power Labs system
Audio Power Labs
Audio Power Labs was showing off their majestic 833TNT monoblock amps. Each has a pair of 833C AM Broadcast transmitter tubes. These monster tubes look like nothing you've seen before, except maybe those in the Kronzilla amps of yore.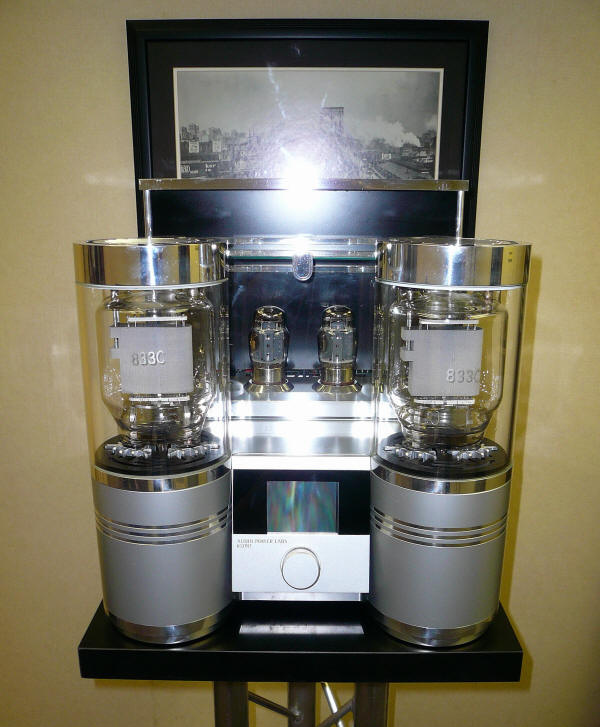 Audio Power Labs 833TNT Monoblock
Unbelievably, the tubes are still made and available new for about $170 each, should you ever need to replace one. The amps were visually stunning. Fit-n-finish was off the charts, clearly reflecting that the project was a labor of love. The 833TNT design is a group effort and many team members were present. I had a long chat with Clyde Holobaugh, whose ID sported the fancy title "Tube Engineer."
If your preferred musical fare veers to BB King or Stevie Ray Vaughan, these amps will put you in the pocket. The will also set you back a cool $175,000/pair.
Conclusion
This was the first NYC audio show in four years, by my reckoning. I wish I could be more upbeat, but the fact of the matter is there weren't a lot of exhibitor rooms. I counted about 30 live demos. You could easily have covered the show in a single day.
On the other hand, all of the exhibitors I spoke to said they had good traffic and were up beat. The show was well attended.
The biggest trends? That's easy—music servers and computer audio were all over. And whereas RMAF 2010 had lots of turntables and even many rooms with tape decks, analog was scarce at the Affinia Manhattan Hotel.