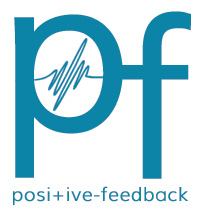 You are reading the older HTML site
Positive Feedback ISSUE 56
july/august 2011
The Future Is Here- Audio Still Rules
by Karl Lozier
Blu-ray recordings may be video, audio or most commonly video plus audio. If the video is a distraction turn it off though I would suggest watching the video at least once; at times it can be interesting or entertaining. Naxos is again following up with more high definition (Blu-ray) audio only releases. For many listeners that will be a distinct improvement in audio quality if the HDMI digital output signal is used instead of the analog. That one cable carries everything including stereo or multi-channel audio in addition to the very high quality Blu-ray video signal. Greater clarity and a smoother treble will be noticed with many if not most home audio systems. So far this seems to be consistently true. Easier connection needing only one cable is appreciated by all. Sometimes new-fangled things are even easier to use while offering better quality, at least in the audio musical field.
An easy way to get into the beauty of audio and video qualities of Blu-ray releases is by getting a truly good player (a good start is important with many things in this old world) a very decent AV receiver such as by Onkyo, Integra, Denon and others that have multiple HDMI cable inputs and good digital or digital to analog connections and jump right in. Your newer television sets will have the correct and simple HDMI connections for simplified setup. The AV receiver will let you add surround sound easily. Remember that quality is more important than quantity in the long run.
Notice the generally favorable brief revues I write each issue? There are logical reasons for that to happen. Changes such as digital and HDMI connections have made pretty darn good audio to be easier for the manufacturers to give us and easier for us to put to use. Same is true for the video portion that we pretty well take for granted here. As you purchase and use some of my suggested performances you may notice that relatively unknown sources and performers are often doing a superb job and why not! Unlike
many of the big professional outfits and famous performers they can and possibly do practice for many months on end, repeating the same music or performances. That can be the way for an individual, or group, chorus or orchestra to be discovered by being on these well done Blu-ray recordings! Pay attention, watch and listen to the possible stars of the near future in the comfort of your own listening and viewing room.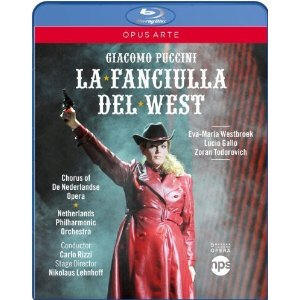 Puccini- La Fanciulla Del West, Orchestra: Netherlands Philharmonic and Chorus. Conductor: Carl Rizzi. Opus Arte Blu-ray OA BD 7075 D.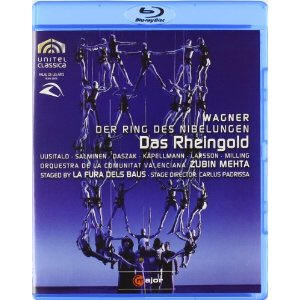 Wagner-Das Rheingold, Orchestra: De La Comunitat Valencia. Conductor: Zubin Mehta. United Classics, C Major Blu-ray 700604.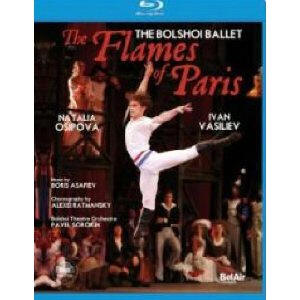 Boris Asafiev-The Flames of Paris (Ballet), Orchestra: Bolshoi Theatre. Conductor: Pavel Sorokin. BelAir Classics Blu-ray BAC 462.
Giacomo Puccini, one of the greatest and very best, along with Giuseppe Verdi, opera composers ever, decided to come to the United States a bit more than a hundred years ago. He considered that it would be a challenge to write an opera with the setting in the good old U.S.A., then the almost dream land of many Europeans. It was kind of unknown other than for motion pictures and stories to many people, unlike nowadays. Originally at this point I was going to make you interested readers guess what many
Europeans (not all of course) thought was going on over here; I finally gave up that idea though you can take a guess right now. Times up; we were often thought of being populated with cowboys, plus some Indians of course with bandits stealing gold from miners and horses from others; the old wild-west in other words in much of our country. This is Puccini's American opera. The commissioned opera was performed at the Metropolitan Opera in 1910. The most famous conductor in the world, Arturo Toscanini led the production featuring the most famous singer in the world, Enrico Caruso. It was a huge success though not commonly repeated; it is almost a satire on our American way of life. I am not surrounded by many fanatic opera lovers and have never seen it personally or known of it being performed anywhere near me at any time. It is supposedly "so tightly written" that it is really not suitable for excerpting or condensing. This is a very interesting and unusual production that here is very well performed and executed aided by fine audio and visual qualities though a bit strange to hear cowboys singing in Italian. Definitely for those that enjoy something a bit different and yet way out in a different, a very different opera direction. Yes, I got a kick out of it.
Das Rheingold is Wagner's prelude or introduction to his overwhelming Der Ring Des Nibelungen or so called "Ring Cycle" that takes three long theater evenings to perform. Many believe that Wagner is the opera or music drama composer for lovers of symphonic music; I am in general agreement with that. We are audio lovers first and foremost though I would be remiss if I did not mention that there are many unusual and spectacular visual effects here and are definitely not traditionally done. Mehta and the orchestra are well able to handle Wagner's demands from the horns and brass with outstanding audio quality if your home theater components are up to it. We all know Wagner is at his best at rather high volume levels and that seems to be true here and there are no wimpy voices to be heard. A top recommendation for listening quality is easily obtained here. Das Rheingold seems to translate as ring of gold and that the man who wins the Rhine gold and forges a ring from it will gain unbelievable powers. The Rhine maidens/daughters are charged with guarding the gold; that's enough for now.
The third Blu-ray production for this issue, "The Flames of Paris", is supposedly well suited to the Bolshoi Ballet's well known strengths. Insurgency with a cannon travels from near Marseille to Paris and all sorts of bad thing happens to some people and groups as well as lovers and the Bolshoi Ballet Corps can strut their stuff with quite a bit of variety. This ballet seems new to me and though I can say that nearly all aspects of the performance are good, somehow in various ways they could be better and the music suffers a bit compared to Puccini's and Wagner's. Of course that is a personal choice and as the person doing this review it is my choice and I stand by it and that should not affect anyone's enjoyment of this good overall production of a rather sad chunk of history.