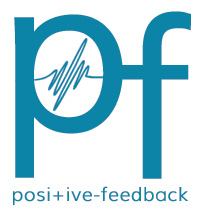 You are reading the older HTML site
Positive Feedback ISSUE 56
july/august 2011
Farewell to a Fallen Brother - Saying Goodbye With a Heavy Heart to Lee Weiland of Locus Design & Cryo-parts.com
by Michael Mercer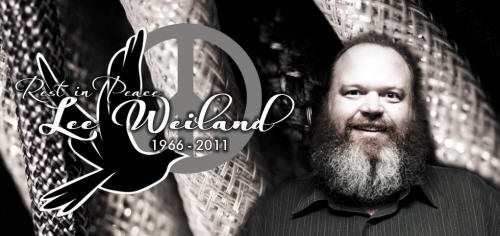 The world of high-end audio lost one of its finest soldiers pre-maturely last week. Lee Weiland, owner of Locus Design Group (designer and manufacturer of some of the greatest high performance USB and digital audio cables in the industry) and Cryo-parts.com died in his sleep on August 19th. Lee was forty-six years old, and is survived by his wife Robin as well as his five kids, and despite his young age he was also a proud grandfather. In addition to running his own companies, he also consulted with Josh Heiner of Sonicweld (his closest friend and confidant) and helped guide the marketing and promotion of Heiner's exquisite products, such as the critically acclaimed Sonicweld Diverter (a beautifully hand-crafted USB to S/PDIF interface). This component, along with Lee's own products, showcased what it means to be truly high-end; not only in functionality but meticulous, forward-thinking designs. Lee, alongside his friend Josh, was constantly pushing the envelope of high performance computer-based audio, and many of us are the proud recipients of his work. He made our hard-drive based audio systems better, plain and simple. He managed to bring us closer to the music through a delivery system that is far from the analog experience. His products raised the bar of possibility when it came to sonic integrity while using the computer as a music source.
He was larger than life, physically and emotionally, and the marks of his legacy are inscribed in the hundreds of posts all over the interwebs this last week on various Hi-Fi enthusiast websites like AudioEvo.org (which Lee was a proud sponsor and consistent participant) as well as forums like AudioCircle. Most of the sharing about Lee that you'll find online describes stories about his wild, no-nonsense attitude, his wonderfully dark sense of humor that framed his professionalism, and candor that made him a beloved businessman in an industry full of snake oil salesman and soulless thieves. There are exceptions of course, and Lee exemplified those exceptions: People involved in this crazy business because they genuinely love the sound of music and the community. He was also on a non-stop mission: Finding ways to show the youth about quality audio through devices they used everyday (thus his forward-thinking ComputerAudioSystems.net website). He and I spoke often about how the high-end needed to bring in new blood in order to expand, and unlike many people whose idle talk rarely preceded action, Lee was all about reaching new potential Hi-Fi converts. It was his graceful attitude that enabled him to reach people without giving them the hard pitch. Actually, this characteristic is how I came to know Lee.
Now, people may deem it selfish, injecting myself into this article about Lee, but he was like a brother to me, and I don't know any other way to write this piece. I think telling the story of how we came to be such good friends shows what a straight-shooter he was, and why I and many others loved him so very much. A few years ago I became obsessed with figuring out how to get my computer (more specifically, files on my hard-drive) to sound better through my reference system. As a music writer/reviewer, I was starting to receive more and more releases as downloads rather than getting the physical product in the mail. Many labels were trying to save money by distributing their promos digitally (which made sense at this point – methods of music delivery had changed dramatically).
I needed to find a way to get closer to the music. I began trying all sorts of USB DACs and other devices. Dave Clark, my editor here at Positive Feedback, as well as other fellow scribes had written very favorable things about Lee's Locus Design USB cables (namely the Polestar and Axis cable). Admittedly, I had been talking to engineers who, back then, firmly believed that a USB cable could not have an impact on the sound of your system. I believed them. However, when I learned that Lee was also a dealer for DACs and other electronics, I reached out in order to get some pieces for review (specifically I was on the hunt for affordable USB DACs). He offered to send me a couple of DACs, and asked if I would have a listen to his Polestar and Axis USB cables. He said he was a fan of my Sonic Satori column and, having worked for Harry Pearson, he said he trusted that I would be open-minded about the cables. I told him I wasn't interested, that engineers for whom I had the utmost respect told me they could not have an impact in the audio chain. He did not attempt to sell me. He merely said (and this is almost exactly what he said): "Mercer, just try the fucking cables, if you don't hear a difference I'll accept that, I just want to get your opinion." I said go ahead and send them, that I would give them a try. When I received them I installed the DAC he sent first (the StyleAudio CARAT-TOPAZ USB DAC/headphone amp, which I later reviewed and loved so much I bought it). I needed to get to know the sound of the DAC itself before changing another variable and try these garden-hose looking USB cables (though they did look like art, and were hand-made by Lee). Well, after many long listening sessions I tried the cables, and, almost immediately, I felt obligated to call Lee (we had only exchanged emails at that point). I got his phone number and rung him up. I told him to prepare some crow, that I preferred mine well-done, and (since I'm being completely honest) that I felt like a "complete asshole" for making assumptions before trying something, that Hp had taught me better. His cables had such a profound impact on the sound of our system that my wife came from the other room when I installed them—she could hear the difference from the back of the house. I proceeded to give his Nucleus USB cable (still my reference) a PFO Brutus Award that year as it forever changed my impression of how good computer audio could sound (amongst other components of course, but the Nucleus, in my opinion, is a masterpiece).
He laughed hysterically at me, and we then spoke for hours about music. He wanted to know about my time at Atlantic Records and TAS (he was so interested in hearing about Arif Mardin, and also had great respect for Hp). We bonded instantly, and we became fast friends. Whenever we were together at industry events (like RMAF or CES) we would get into all sorts of trouble together, but we built memories that I'll cherish forever. Another important aspect of Lee's character that I want to share is that he never (not to me anyway) blasted anybody else's products. In the cable business that's a true rarity. But, for example, he knew I was a big fan of Nordost cables, and he always told me how much respect he had for the Nordost team and their approach to cable science. He even gave his competitors their due! When I received the new LITSPD USB cable from Alex Sventistky at WyWires Lee told me he thought it was an "excellent cable". How often does that happen? But that's who Lee was.
Lee Weiland wasn't just a great man; he was a visionary and a gentleman. This industry needs more people like him, and we have all lost something with his untimely passing, whether it is his friendship, his business partnership (I have yet to find a person for whom he had business with that did not genuinely enjoy dealing with Lee) or his overall passion for the constant advancement of the audio arts. I just hope I can live up to his expectations, and live a life that honors his memory. I miss him so very much, and I hope this article conveys a bit of that, and also a bit of the magical person he was. It's one of the toughest things to do: Attempting to describe the things that make somebody so special. In Lee Weiland's case, his products will live on and so will his spirit, his zest for life will live on through the people that loved him the most. By the way, he also loved Scotch (and was a true connoisseur) so if you have some in your liquor cabinet, crack open a bottle and lift a glass to our fallen brother. That's what he would want, for us to celebrate his life, not his death. I for one will never forget him, and I will miss his infectious laugh forever. So long my good friend, I sincerely hope you found peace, and perhaps even a sweet spot for which to listen to your favorite tunes, and just in case you haven't yet – I'm going to play one of your favorites right now and think about our time together.
Because Lee left us so suddenly, his family is in dire need of assistance. A fundraising campaign has begun, and anything you can contribute (even a dollar or two) would greatly help the Weiland family through these troubled times, even if only for a little while. Please use the links below to make your donations.

You may also visit the RMAF site to make a Credit Card payment towards supporting the Weiland Family.