My wife loves all things contemporary. This includes furniture, art, clothing, and men. Yep, that's me—Mr. Contemporary even at the ripe old age of 55. For this reason, it makes sense that she also loves the looks of virtually all the Pass Labs' designs. I just wish I was as understated and streamlined, with just that same touch of class. In my house, the WAF (wife acceptance factor) is usually very high whenever this product line comes in for a visit.
The newer Pass Labs X.5 and XA.5 series monoblock amplifiers, with their industrial look metal chassis and blue volume dials, were especially appealing. The only departure was the earlier Aleph series. Though my Aleph 0 amp sounded wonderful, the machine gun metal gray, cubic proportions, and porcupine like heat sinks just did not cut it in her eyes.
The Pass Labs XP-15 Phono Preamp continues the most recent tradition and then some. The metal casing is sleek, with just enough straight-line and simple detail to catch your eye but without abusing your good sense of taste. The good news, for us purveyors of quality sound, is that this product is more of a "form follows function" design than one might initially believe. Yes, the XP-15 is sexy looking, but do not fear. Sound performance is the key here and Pass Labs has hit this one out of the park.

Description
The XP-15 is a solid-state single chassis design with an internal power supply. Playback is based on an RIAA equalization curve with accuracy better than 1/10 dB over 10 octaves.
Two sets of single ended inputs are provided—one pair for moving magnet (MM) cartridges and one pair for moving coil (MC) cartridges. One pair of balanced and one pair of singled ended outputs are also included.
One of the key advantages to the XP-15 is the flexibility provided for gain and load adjustments. Multiple dipswitches on the rear of the unit render an almost endless number of combinations and possibilities. For proper implementation, the user manual is very well written and easy to follow.
Gain is adjustable from 46dB to 76dB. This will support most high output MM cartridges and low output MC cartridges without the need for a step up transformer.
The XP-15 has a fixed MC input value of 47k-ohms and user selectable values of 10, 25, 50, 100, 250, 500, 825 and 1k-ohm. Again, though these values should cover the range that might be needed for most cartridges, dipswitch settings can provide a tremendous amount of additional flexibility and tweaking. See the chart below.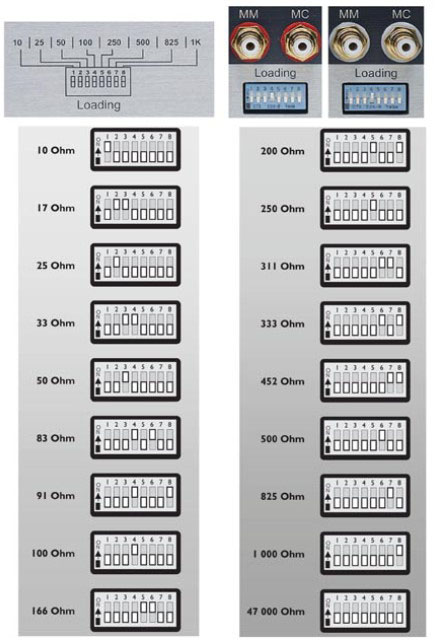 System
The XP-15 was evaluated with my current two-channel system:
VPI Aries 2 Extended Turntable

VPI JWM 12.6 Memorial Tone Arm

Van den Hul Frog MC Cartridge

Pass Labs INT-30A Integrated Amp

Sonus Faber Amati Anniversario Speakers

Vienna Acoustics Klimt The Music speakers.
Kubala Sosna Elation balanced interconnects, speaker cable, and power cables were used throughout. Just as an aside, the Elation balanced interconnects provided an extremely synergistic combination with the XP-15.
The VPI Aries 2 includes all possible HRX upgrades. One might describe it as something close to a "Mini-Me HRX" with a smaller footprint. A custom-made SRA VRA isolation platform was used under the VPI Aries 2 and belt drive motor.
Caveat Emptor
You have heard it before but it bears repeating. System synergy and personal taste are critical when evaluating high-end audio products. This review is based on my subjective requirements, my subjective ears, and my specific system. These combinations of components are only a few data points of many that exist out there. For further insight into my personal biases, check out the "Meet The Writers" section of Positive Feedback Online. Please consider my comments and analysis appropriately.
Sound
On several occasions, I have previously stated my frustration with the tubes versus solid-state debate. These two design philosophies continue to evolve and merge at certain points of performance, but there are still many disbelievers and strong loyalists.
I, for one, do not need wonder in my daily dose of music. Based only on my personal experience, I find that tubes are typically either breaking in, or burning out. You never quite know if everything is OK with the sound. Yes, when tubes hit their magic zone it can be thrilling, but I can live without the thrill and wonder when current solid-state designs can provide almost the same qualities as tubes and so much more.
The Pass Labs XP-15 is an excellent example. I will admit that there is something wonderful about listening to vinyl on a tube-based system. Midrange bloom, detail, and richness can be intoxicating. Yet, the solid-state XP-15 can meet the challenge. Based on my listening experiences, only the very best tube phono preamps in the $10K and over range can make a case for better performance in this critical area. Even then it is very subjective.
Female vocals and woodwinds are my keys for midrange evaluation. The XP-15 can provide a beautiful rich creamy flavor to the very best recordings. The so called "spotlight" on a typical vocal or saxophone solo is not quite as bright as you might find on many of the elite tube phono preamps, but I prefer it that way.
For my ears, this allows for more information and detail at the other frequencies to come forward, and even pour through on occasion. It sounds more real to me. We are not talking chocolate here. The XP-15 provides just the right amount of bloom without the overhang and also without the "in your face" level of detail. Please see my specific music choices below for examples.
Even without a standalone overly engineered power supply like many typical expensive designs, bass performance is the best that I have experienced in my system. No tube based phono preamp evaluated in my system has ever come close, regardless of design and cost. I can only imagine what its big brother the Pass Labs XP-25 with a standalone power supply might sound like.
Proper weight and texture on kick drums, electric bass, and acoustic bass is delivered in spades. In the past, when I have tried to articulate to friends and family what certain levels of bass detail, speed, and slam can provide to the listening experience, it was always a difficult challenge to be clear. With the XP-15, I need to only drop the needle into the groove, sit back in the corner of my listening room, and watch the multiple smiles pop up from ear to ear.
Highs are fast and detailed. The shimmer on acoustic guitars and drum cymbals are exciting and realistic. There is a nice balance between hearing the metal body of the cymbal, and the trailing edge. Many solid-state designs get this wrong. Like fingernails on a chalkboard, even great recordings can sound shrill and metallic. Tube designs can sometimes take a step in the opposite direction lacking the air and sizzle of the real thing. For both of these extremes, you can try to adjust your phono preamp impedance settings and/or your cartridge VTA and tracking weight, but you can't put back what was never there to begin with.
Music
Sometimes it is easier to describe what I am hearing with a specific component by discussing a specific piece of music. Luckily, in the past month I have received three outstanding new reissues that clearly demonstrate the advantages of vinyl playback and the superb qualities of the XP-15.
Fleetwood Mac – Rumors
I love this LP. Now, I love it even more. For many, Rumors is considered one of the best sounding rock recordings ever made. I own the Nautilus and Japanese releases. Mobile Fidelity Sound Lab (MFSL) never reissued this title. I also own an original domestic first pressing, which until now was my favorite. Kevin Gray and Steve Hoffman at AcousTech Mastering have taken this recording to a new level. Repackaged and released as two 180 gram LPs cut at 45 RPM and pressed at Pallas in Germany, this reissue sets new benchmarks for analog sound. Add the XP-15 into the mix and this is as good as it gets.
I can go on and on about several of the tracks, but my favorite is "The Chain". With the XP-15 in the system, the opening acoustic guitar riff sounds like Lindsey Buckingham is in the room. When Mick Fleetwood and his kick drum begin, you are startled by the level of detail and weight. There is a natural bloom to the sound as male and female vocals enter the mix. Electric guitar and bass are locked in as the sound stage never wavers. If you want to help newbies understand the difference between CDs and LPs, put the CD on first. You will get plenty of oohs and ahs as even the CD sounds pretty good. Put this LP on and you will see jaws drop to the ground.
Beck – Sea Change
I am not a huge Beck fan, but this recording is fascinating. I own the MFSL Gold CD, SACD, DVD-A, and now the new MFSL LP. I have been told that Sea Change was one of the few releases recorded specifically for hi-res release. I can understand this. The SACD and DVD-A, in multi-channel mode, and in a good home theater system, are both outstanding.
The 180 gram two LP set is another matter. Supposedly the folks at MFSL had a tough time getting this all down on vinyl. The amount of bass and ambient information, along with the extreme dynamics, made this a challenge like no other, even though MFSL has been pressing demonstration quality LPs for decades.
Track 5 "Lost Cause" is the cut that always tugs at my emotions and sets me floating away. Beck wrote all of these songs in homage to a romantic breakup at the time. With the LP, you are listening to two-channel playback, but an atmospheric blanket of sound that could fool even the most sophisticated ears surrounds you. The XP-15 provides impressive definition to the bass lines, acoustic guitar, and orchestration that seems to hover in every direction. The level of detail and the richness of tone are mesmerizing. Radiohead and Pink Floyd fans will not be disappointed.
Frank Sinatra – Live At The Sands
If you never understood all the hoopla about Frank Sinatra, check out this recording. You get the legendary bombastic personality, a strong confident entertaining voice, the infamous Count Basie Orchestra in all its glory, and sound to die for. Recorded at The Sands Hotel in Las Vegas, this is one experience that you would never want to consider for those silly commercials that state "What happens in Las Vegas stays in Las Vegas". You want to bring this LP home and you want your friends and family to experience it!
Some of the banter between Sinatra and the audience is quite entertaining, but much would be politically incorrect by today's standards. Still, Sinatra is in full form and he is having as much fun as anyone in the room. You can feel the excitement and energy throughout the performance.
The song "I've Got You Under My Skin" is an old Sinatra standard, but here it takes on a new life. The XP-15 brings out a vibrant and rich quality to Sinatra's voice that was somewhat hidden in past listening sessions. When he shouts out "take cover" and the brass section kicks in, you can feel it in your chest and you can easily imagine the waves of sound hitting the audience like a rush of fresh air. Trumpets have the proper "blatt" and "attack" that digital never provides. The size and dimensions of the venue are clearly defined. Ambience cues pop out and get your attention like never before. This is how a majestic voice and a big band with some of the best talent in the world at the time deserve to be recorded and remembered.
Summary
The Pass Labs XP-15 is an incredible value. Aesthetics and performance belie the $3800 price tag. As long as products like this continue to enter the market, vinyl playback will continue to exist, if not grow well beyond current projections. The next generation of high definition digital playback systems will have a difficult benchmark to beat, and a wonderful legacy to build on. Robert Youman
XP-15 Phono Preamplifier
Retail: $3800
Pass Labs
web address: www.passlabs.com