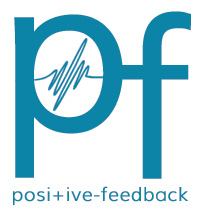 You are reading the older HTML site
Positive Feedback ISSUE 56
july/august 2011
THE Newport Show, 2011
by Francisco Duran
Some dubbed The Show Newport 2011 the audio show in our own back yard. We southern Californians have a pretty big back yard. But I will buy that. Sponsored by the Los Angeles and Orange County Audiophile Society and helmed by the man I call the "Impresario" Bob Levi and company really pulled off a very impressive first event. Not only could you enjoy the latest and greatest hi-fi gear but there was a cigar booth, car show and live music sprinkled throughout the three day affair. What more could you ask for? Well in my case more time. I was lucky enough to have my son attend the show with me. Unfortunately we could only attend the first day. Construction being done at my house going slightly awry kept me from attending the two remaining days. Fortunately we saw ninety percent of the show on that first day. And what a show it was. Feedback from various manufactures was very "positive". So with that in mind please accept my abridged version of my favorites of this show report.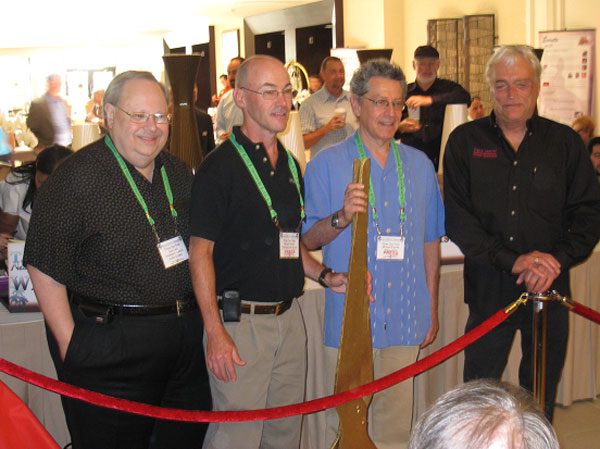 By the way, recognize any of these gentlemen?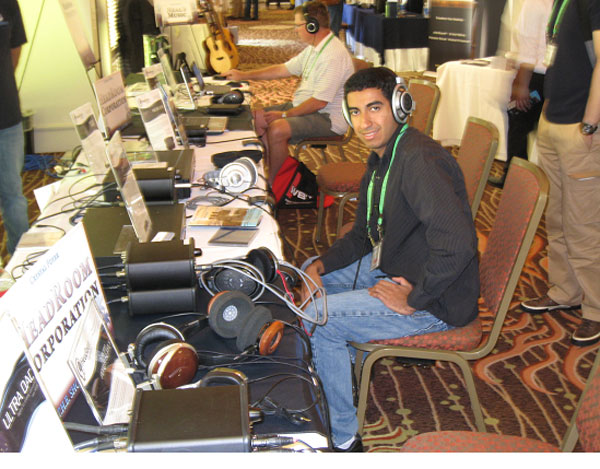 I couldn't pull my son away from the Headroom display. These kids now days!
Alls I can say is Fritz loudspeakers rule! You didn't hear that Tony Minasian! Carbon 7's, Wywires and Modwright and the Zestro Audio Andros 1 phono preamp equals music.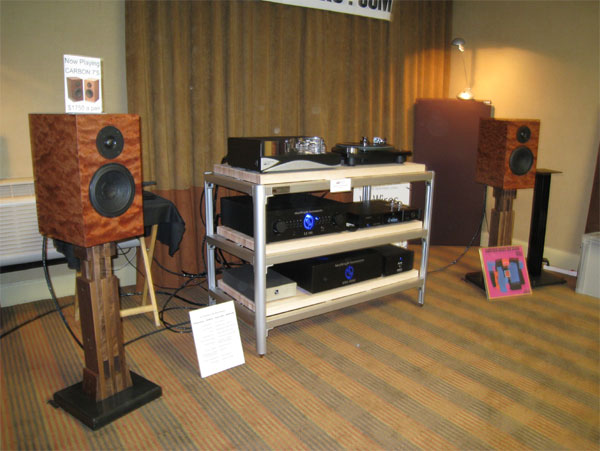 OK, I hereby dub Tony Minisan a genuine Iconoclast. Here with his beautiful new TL-S1 speakers and what do you think is running them? A 90's Audiolab 8000A integrated amp and Magnavox 650 CD player, 80's vintage. The sound? most excellent in my humble opinion. At times I run my TL-D1's with an OG Sonic Impact T-amp with very good results. By the way, I will have more to report on soon about Tonian Labs new wire.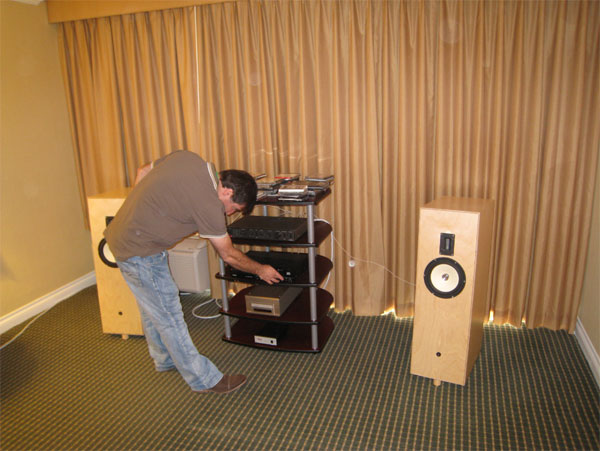 I was glad to see Sean Casey of Zu Audio. What impressed me about this room was not only the Great Soul Superfly's the Zu modded Technics with Zu D103 cart, the Audion 300B amp it was the music he was playing. In the matter of minutes that we were in the Zu room he played, The Band, The Flying Burrito Brothers, Silver Jews, Ray Lamontange, and Steve Earl, on vinyl. Not only that, Sean inserted small stories about the music in between songs. It was very refreshing to hear great music being played at an audio show. Talk about a personal DJ. Thanks a million Sean for steering around "audiophile" music.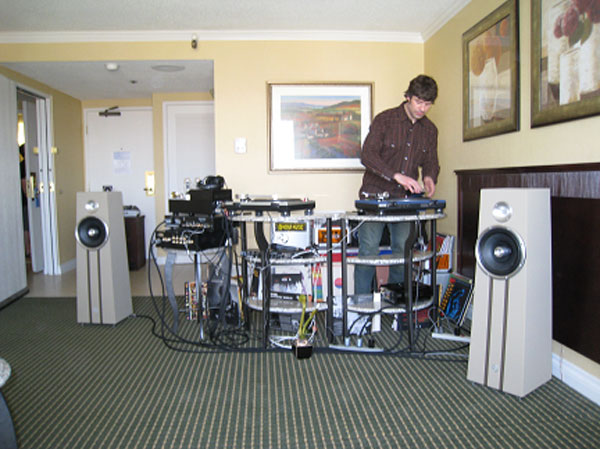 Randy Bankert and his new Sonist Concerto 4 loudspeakers were sounding fine too. High-efficiency speakers always have a place in my heart. So do stuffed animals.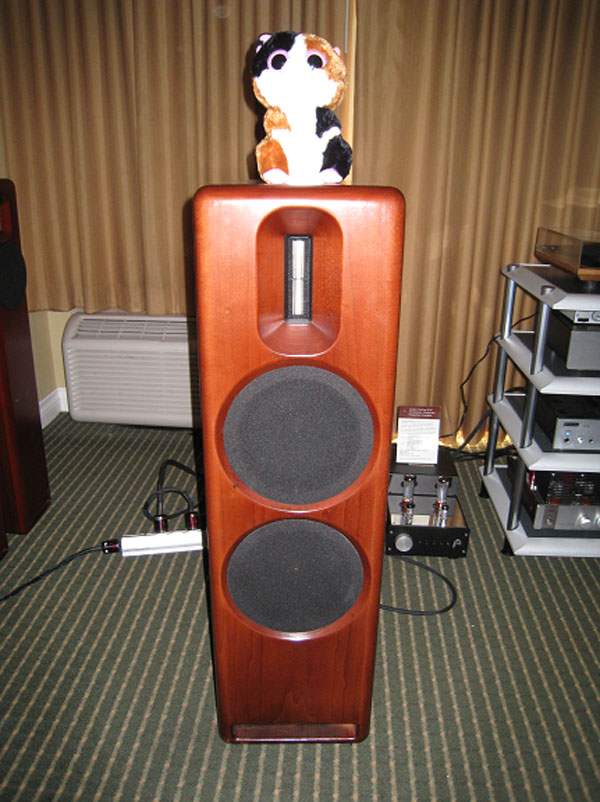 This is the first time I heard Chapman speakers and they were a knock out. No wonder they have a great reputation.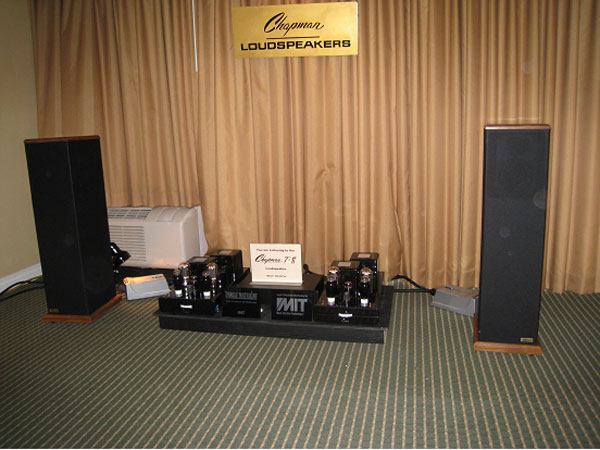 PNB Pennywise Speaker Kits are one of the best ideas to come along in high-end audio in a long time. Bravo PNB.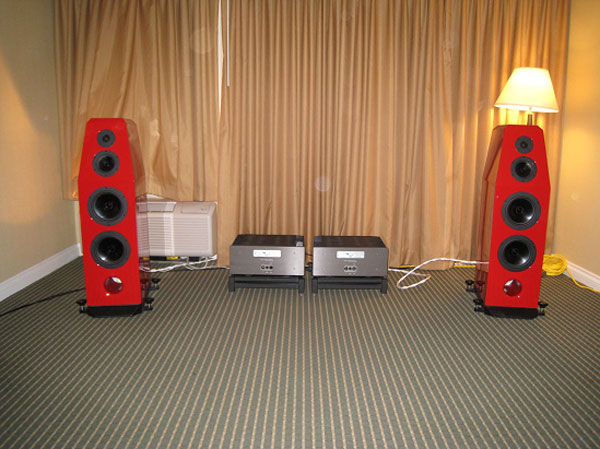 Last but not least are Dan Meinwald and his EAR/Marten room. I have never heard Dan's room sound less than excellent at any show I have been to.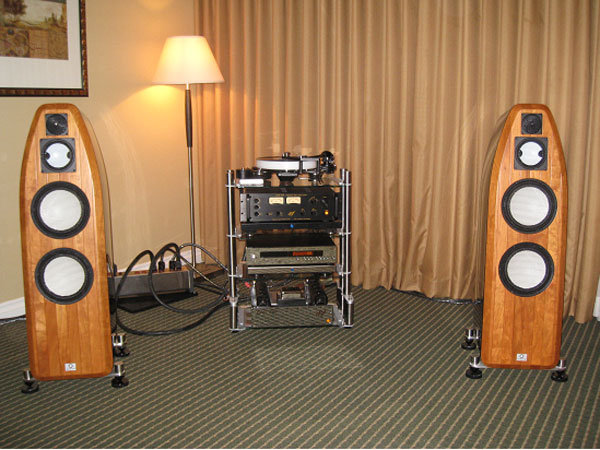 And finally, live music is better. You just have to wait till they set up.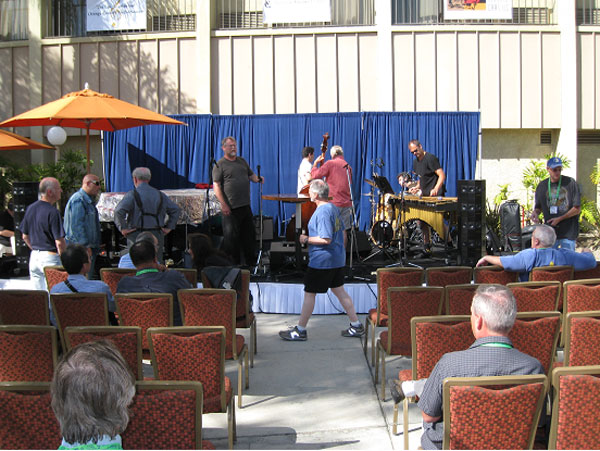 Well that's it. Franco's down and dirty gonzo one day show report. Great job LAOCAS. See you next year.