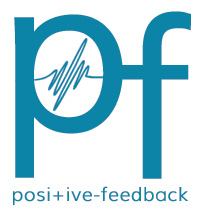 You are reading the older HTML site
Positive Feedback ISSUE 56
july/august 2011
T.H.E. Show Newport 2011 - Part 2
text and photos by Steve Lefkowicz
In part two of my report of T.H.E Show we will look primarily at the high priced equipment that was shown. I understand for most show goers that is the reason they go. It is a chance to hear the gear that they might have read about somewhere, but probably have had no chance to see. This is the supposed state of the art, the crème de la crème, the bees' knees, the cats' pajamas.
However, first I want to mention a set of speakers that I missed the first part, and that should have been listed with the "affordable" gear. Unfortunately, I don't have a photo of them. The stand-mounted Southern California based Angel City Audio Trinity loudspeaker was pretty interesting for $1895. At 24" tall and about 50 pounds, it is bigger than a lot of the stand-mounted speakers displayed in other rooms. Nicely made cabinets using a Vifa Concentric Ring Radiator tweeter combined with a pair of custom made 7" mid/woofers made for a worthy sound. I'd be interested in hearing these again.
Now, on to the "if I hit the lottery" gear!
Here we have the room shared by MIT Cables and Chapman Audio System. I remember hearing Chapman T-7 speakers about fifteen years ago and being quite impressed. Here are their current T-8 speakers ($9000/pair). They use a single 10" side firing woofer, a 5 ½" inch midrange and a 1" soft dome tweeter for a rated 28Hz to 20kHz frequency response.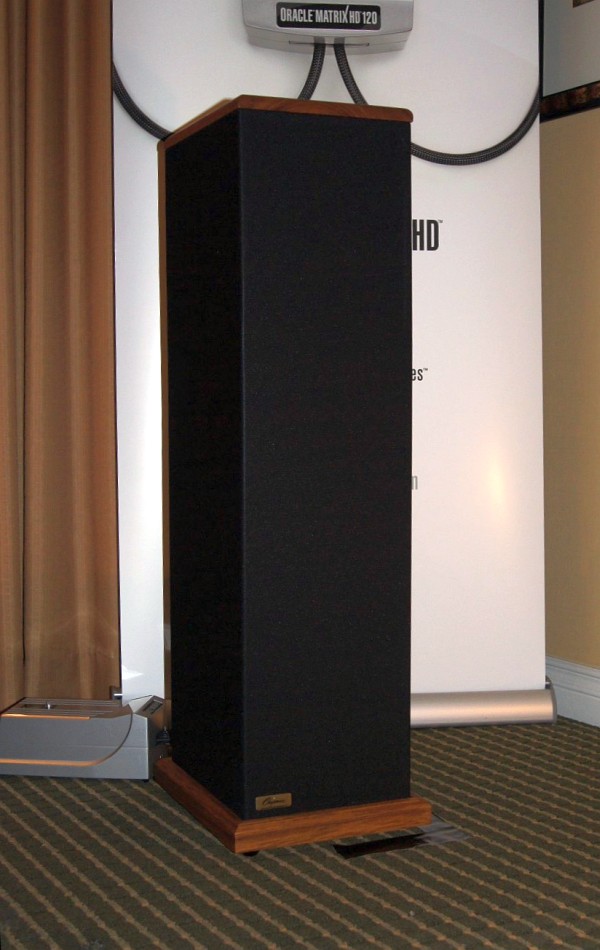 Here is the interface box for MIT's Oracle Matrix HD speaker cables. I saw these in several rooms too, so other manufactures certainly like them ($22,000 for a set).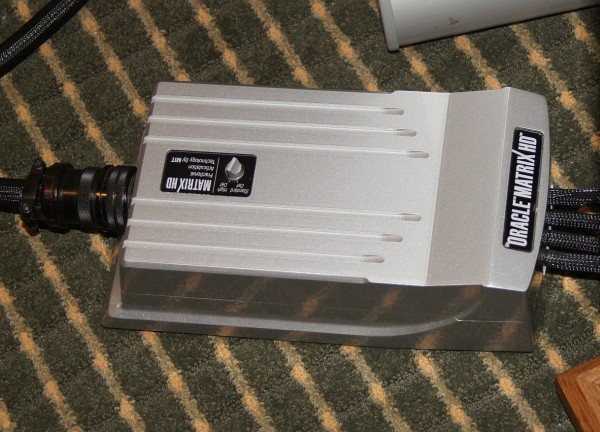 When I saw the size of the Sonorus Audio's system I figured it couldn't possibly work in the small hotel room they had it in. Surprisingly, it worked really well in there. They build all the products in their system, which included; ATR10 Analog Tape Reproducer ($10,000, modified Revox 99), VPA 11 line preamplifier and OTL headphone amp, ESL06 200Wpc High Voltage OTL tube amplifier, OTL09 120Wpc OTL amplifier and ESL06 full-range electrostatic loudspeakers. Although I hadn't noticed at first (listening in a darkened room) they also had two Definitive Technology woofer towers, which you can see next to their speakers in the photo. Rather than individual prices for each item, they gave a system price of $100,000 for the preamp, power amps and speakers.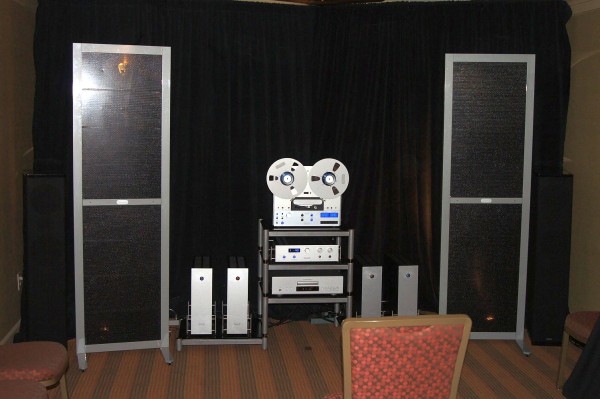 Brooks Berdan has spent many years developing a reputation as one of the premier dealerships in the high-end audio world. At the show he was displaying Wilson Audio, dCS, VTL, Grand Prix Audio and other brands. They had a large suite and brought their own rather large room treatments. Other than fine sound, this was one of the few displays of really high priced gear that still managed to play a lot of good music. They clearly weren't trying to hide anything by playing "audiophile" recordings only.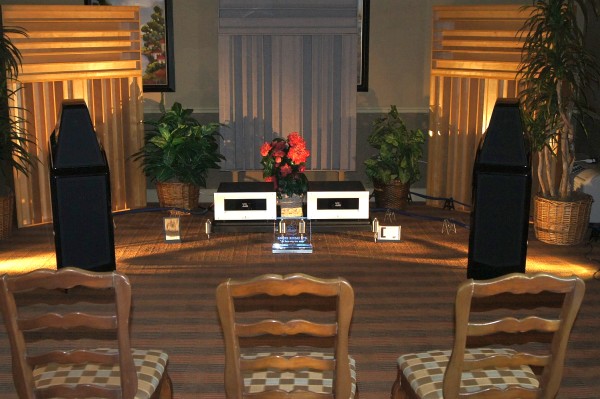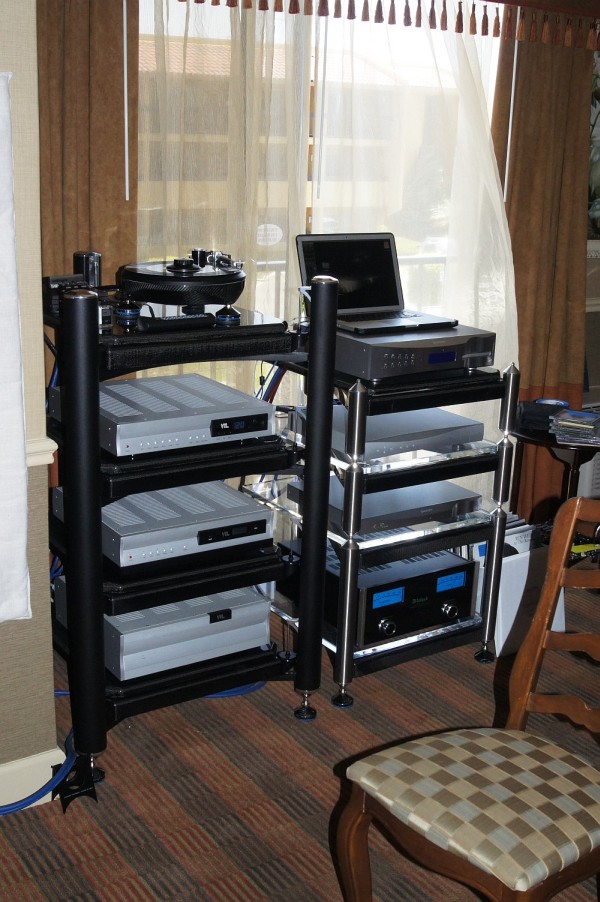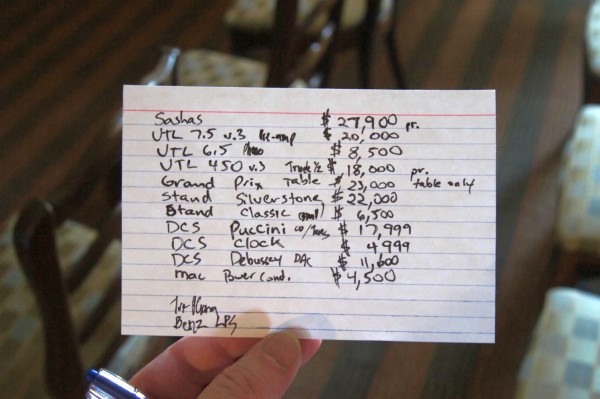 Dan Meinwald of E.A.R USA, importer of E.A.R., Marten, Townshend Audio and Jorma Design, has for many years managed to host rooms at shows and conventions that simply sound great. I have always sought out his rooms as placed to relax (especially my ears) and hear a good tune or two. On display this time was E.A.R. Acute CD player ($5895), Townshend Rock turntable ($3200), Helius Omega Arm ($2900), London Reference Cartridge ($5295), E.A.R. 912 Preamp ($12,500), E.A.R. 890 amp ($7995) and Marten Coltrane speakers ($70,000). Cables were all Jorma Design Origo – interconnects at $5250/meter ($1875 each additional meter) and speakers cables $7000/meter ($2200 each additional meter). Just an observation, but the Townshend turntable seems like quite a bargain in comparison to many of the more expensive tables I've seen.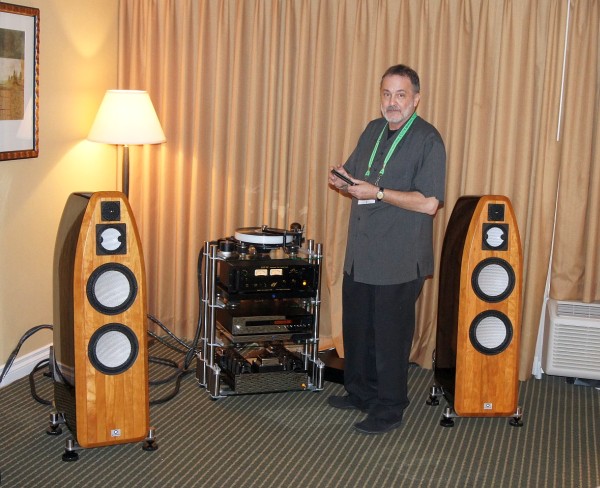 I was looking forward to hearing the Lotus Group's room, as I have developed a recent fascination with open baffle speakers. The system shown included the Lotus Group's Granada G2 speakers ($74,500 including X-1 DSP Crossover, room correction and 500 watt/channel woofer amps). Also displayed was the SMc Audio VRE-1B Preamp ($15,950), Hanss T-60 turntable ($7000) with Ortofon T-110 arm ($1599) and Winfield Cartridge ($3750). DCS Puccini CD/SACD layer ($17,999) and Clock ($5499), Aesthetix Io Eclipse Phono Stage ($15,500), Aesthetix Atlas Hybrid Stereo Amp ($8000). They also used $120,562 of Prana Wire interconnects, speakers cables and power cords.
The total system price as displayed was $281,984, which I have to admit, made me shudder a little. But this was clearly, to my ears at least, one of the highlights of the show in terms of pure sound quality. Huge, lifelike sound with seemingly unlimited dynamics.
That's SMc's Steve McCormack in the photo.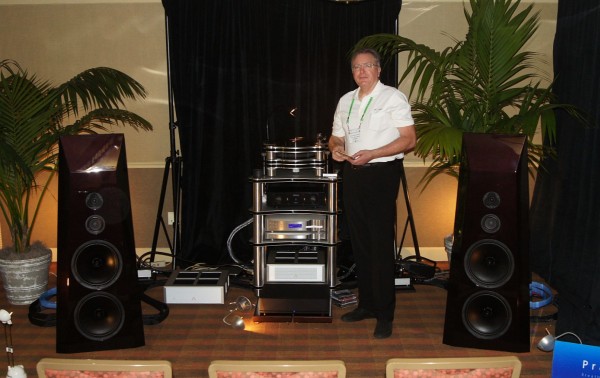 Earo was demonstrating their two single-driver, self-powered speaker systems. Unlike most single driver speakers I've seen, which tend to favor low powered tube amps, these relatively small systems are self powered with high-powered Class D amps and include DSP. The smaller speaker (the Ulf, $18,000) uses a five-inch driver while the larger Earo Eight ($28,000) uses an eight-inch driver.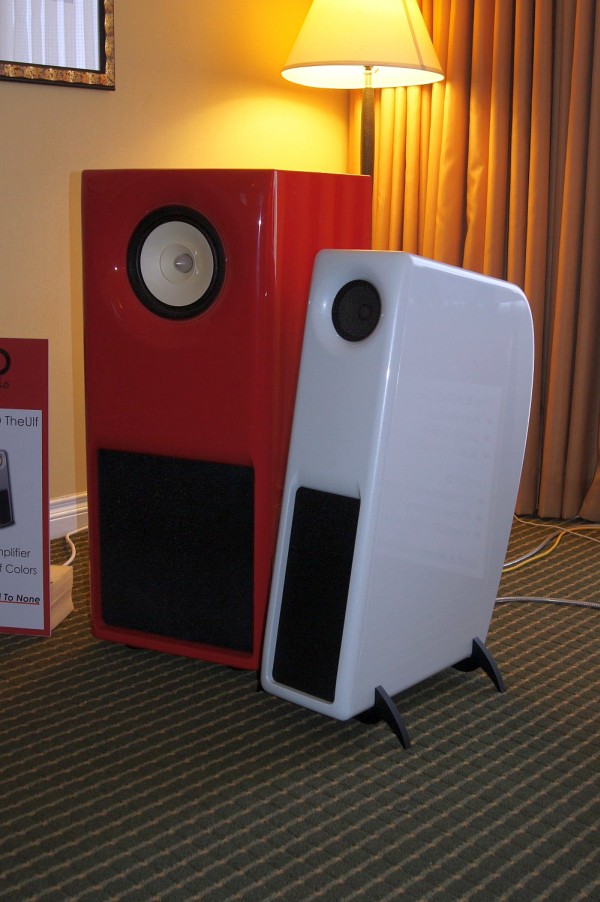 Long time Santa Monica based dealer Optimal Enchantment hosted a room displaying Vandersteen, Audio Research and Audioquest. They also used a Basis turntable. The Vandersteen 5a Carbon ($24,000) looked way better in person than in my photo. The system showed how valuable the Vandersteen's multiple adjustments can be, sounding just dandy all weekend.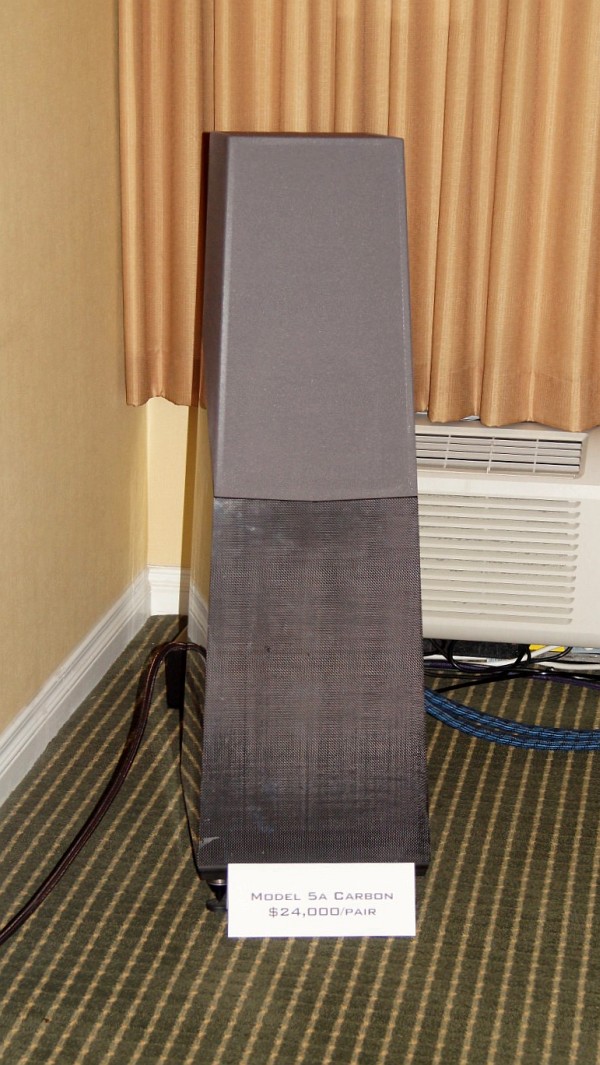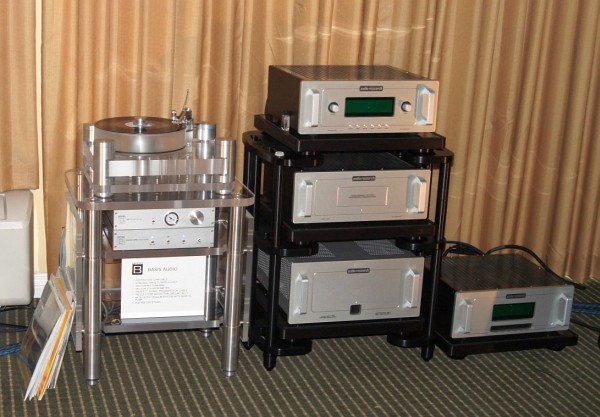 I walked by the room hosted by The Home Theater Experience, a dealership in Oceanside, CA, several times before I opened the door and walked in. I just wasn't interested in "home theater" displays. Imagine my surprise when I saw a beautiful music-only, stereo setup, using Tannoy Yorkminster SE speakers and Cary electronics. There is something special about the sound of the large Tannoy duel concentric drivers that has always worked for me, and the Carys certainly match up well with them.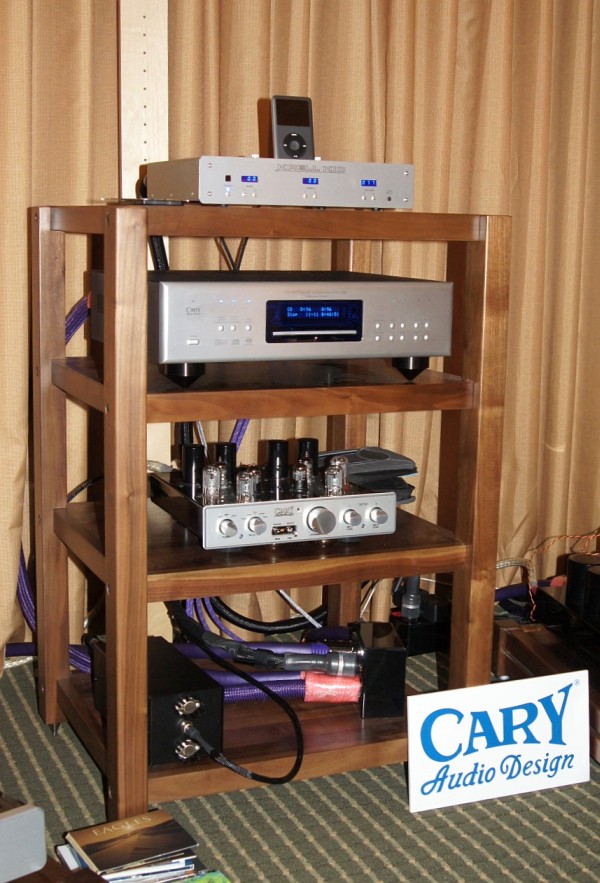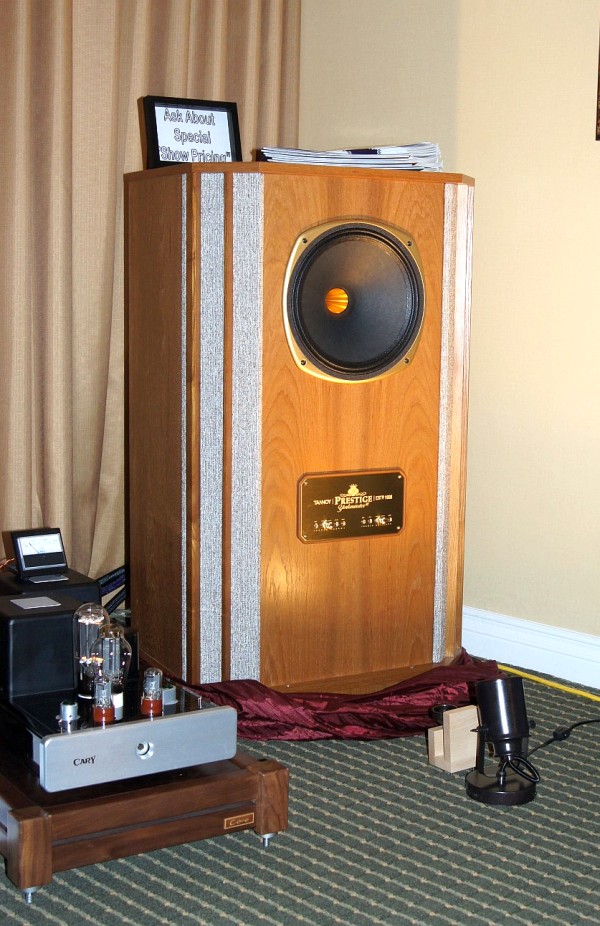 Antelope Audio showed their Zodiac Gold ($4500) 64/384 DAC. It has inputs for USB, AES/EBU, S/PDIF, and TOSLINK and both balanced and unbalanced analog. Outputs for headphones, balanced and unbalanced analog, and a volume control, allow it to be used as a line stage also. They also have two lower priced versions, the Black at $2500 and the Silver at $1800.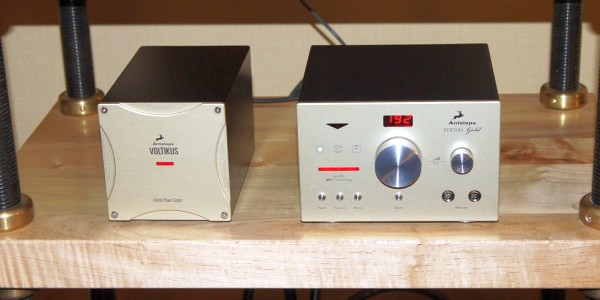 We already saw Peter Noerbaek in part one of the show report with his highly cost-effective Pennywise speaker kit. Here we see him with one of his regular line Montana speakers, in particular, the new Liberty ($15,000). The rest of his system included his EB-SA1 amplifiers ($15,000 each), Olympia LX preamp ($20,000), Olympia P phono stage ($20,000) and the Groovemaster turntable ($7000 to $10,000). In the context of high-priced high-end equipment, the Liberty speakers in particular certainly impressed and seem like rather a bargain.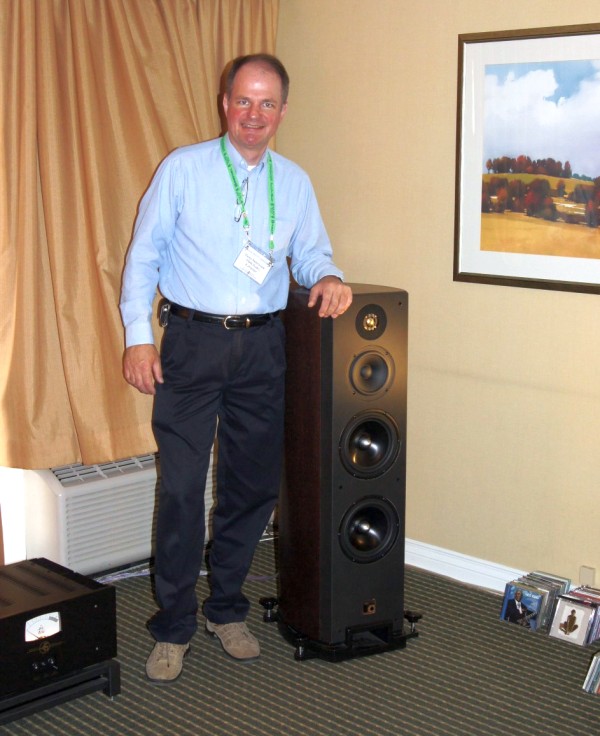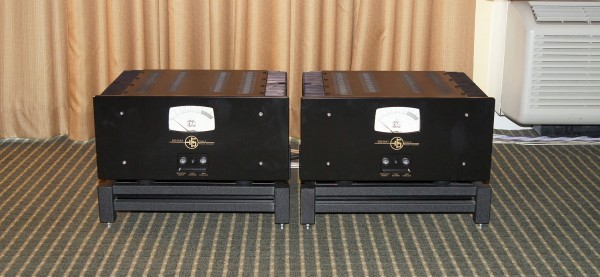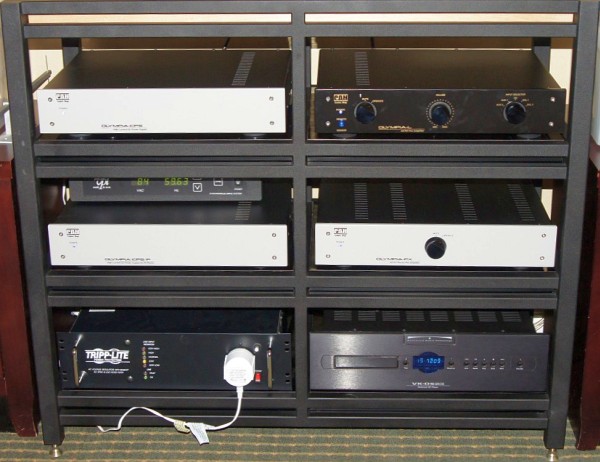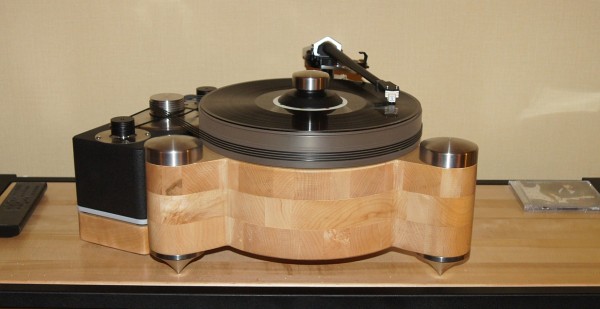 Highend-Electronics is a retailer based out of Apple Valley, CA. That's part of the Inland Empire, kind of on the beginning of the way to Las Vegas, for those of you not from Southern California. The handle a lot of very, as you might guess, high-end brands. There room was sounding quite lively with the German built Voxative single driver full range speaker system ($29,750). Also included were KR Audio's new VA 340MkII 300B tube integrated amp from Prague ($8000), Audio Synthesis DAX Discrete DAC ($6000), a modified (by Highend-Electronics) Sony XA9000ES CD transport ($3000), hand crafted component racks by GregiTek from Italy, and room acoustic resonators by HighEnd Novum from Germany. All told, all the gear we listened to came out to about $75,000.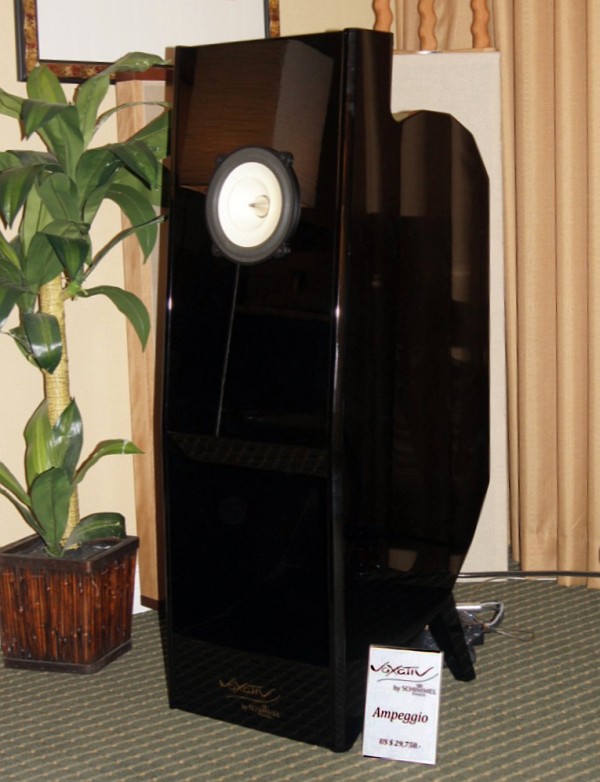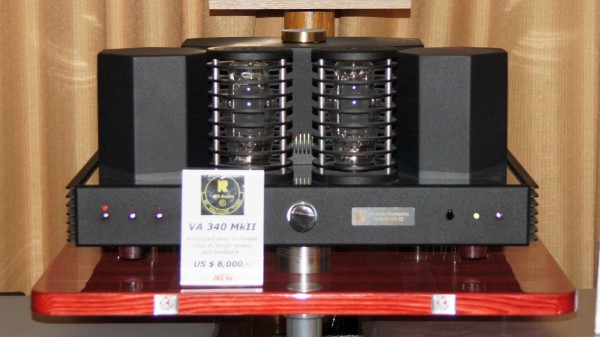 I have to admit, I kept thinking I should sneak in here, tip the Highend Novum PMR on its side, and fill it with M&Ms.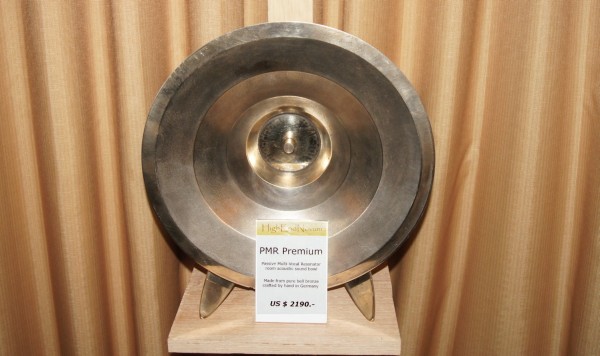 Acoustic Zen is another long time favorite, always seeming to sound nice regardless of show conditions. Here we enjoyed their Crescendo speakers ($16,000). They were driven by a system of Triode Corporation (Tri) electronics, the TRV-CD4SE tube CD player ($2200), TRX-1 tube preamplifier ($3000) and TRV-845SE amplifier ($6000). All cables were of course from Acoustic Zen.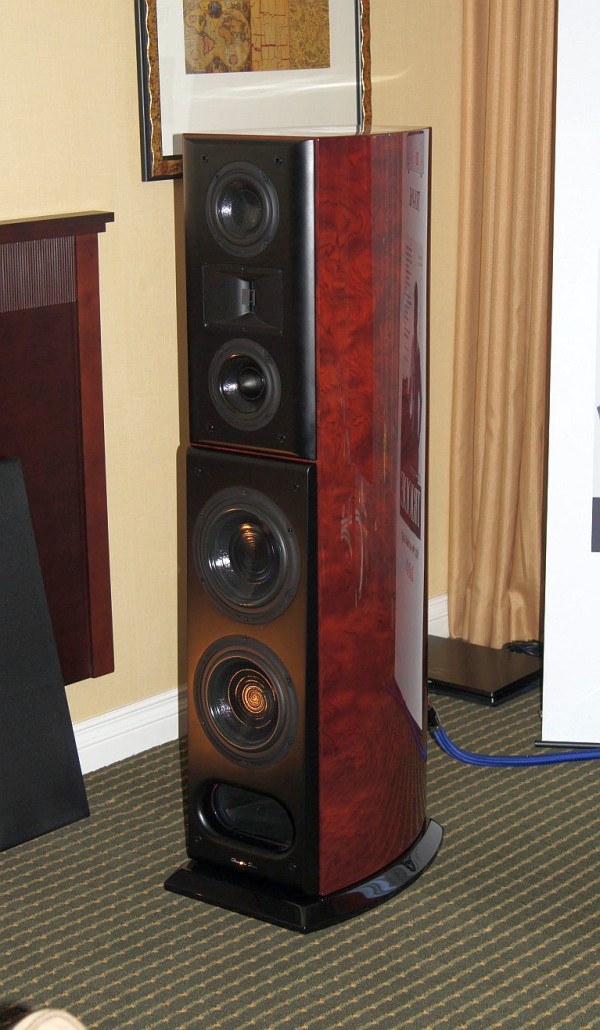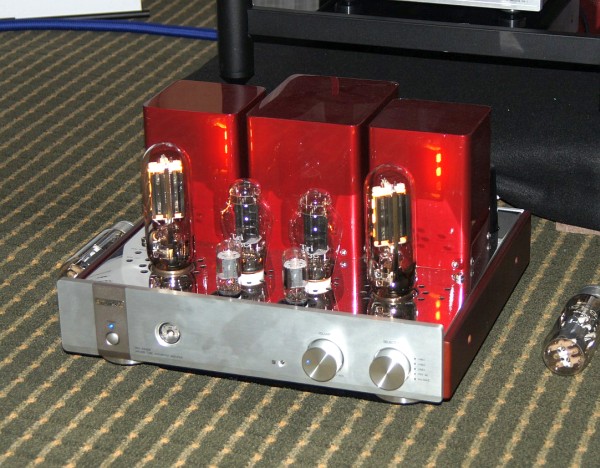 Sunil Merchant, proprietor of Sunny's Components (also known as Sunny's Home Theater and Music Systems) is based in Covina, CA, and was showing a variety of products from Wilson, Dynaudio, Boulder, Spiral Groove, Transparent Cables, Qsonix, T+A Elektroakustik, Naim, Rega, Quadraspire, Wadia, Octave, and Ocos spread out over two rooms. Sunny is one of the nicest people you'll meet in this business.
Here's some T+A Elektroakusitc gear...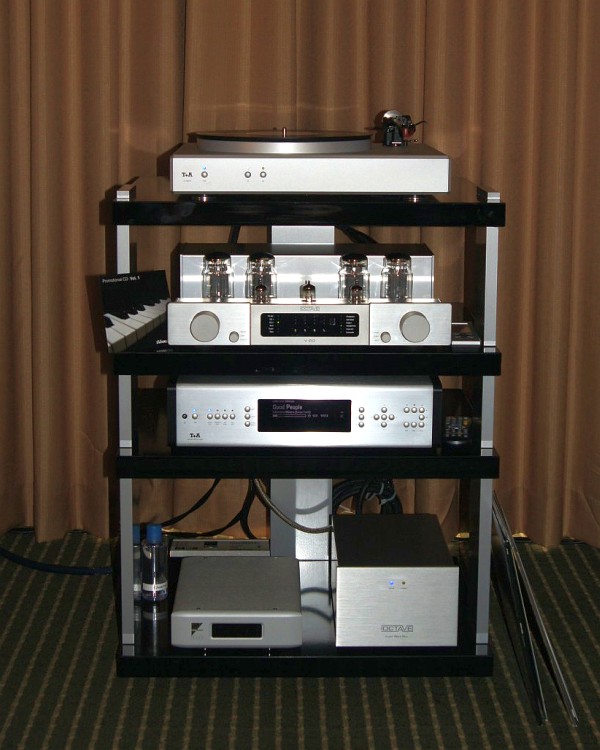 Dynaudio speakers...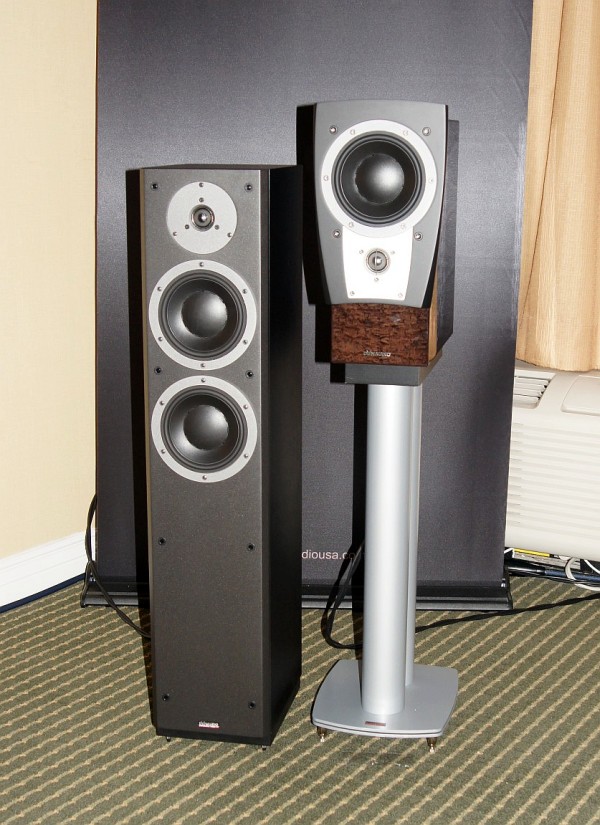 The Spiral Groove turntable...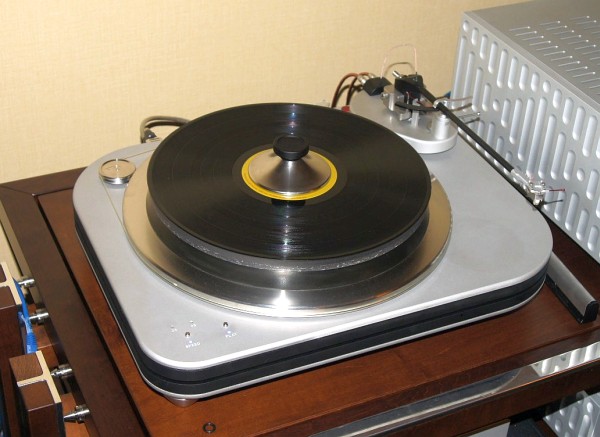 Veloce Audio was showing off their line of electronics driving YG Acoustics Carmel speakers. In the system was the LS-1 Linestage ($15,000), LP-1 Phono Module (didn't get the price, sorry), and V6 hybrid amplifiers ($14,000). Everything was hooked together with Kubala-Sosna Cables. Sources were an Amazon 1 turntable ($7500) and the PS Audio Perfect Wave Transport and DAC ($2999 each). This was the first time I've heard any of these components, and the system overall was mighty impressive.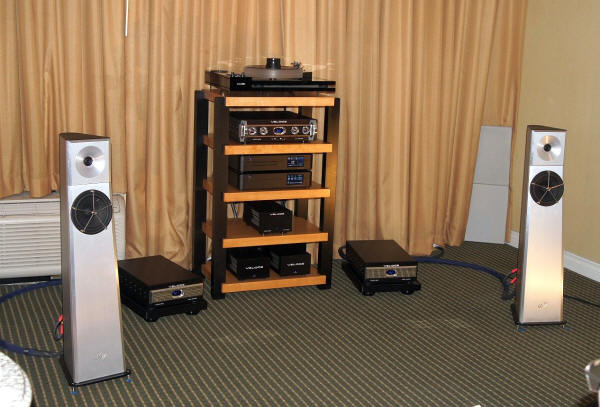 Let's take a little break here and look at some other stuff that was going on at the show.
A couple of the vendors brought their cars with them. First, Kevin Deal of Upscale Audio had his fully restored Isetta parked by the front door of the hotel all weekend. If you've never seen one of these close up, you can't imagine how small they really are.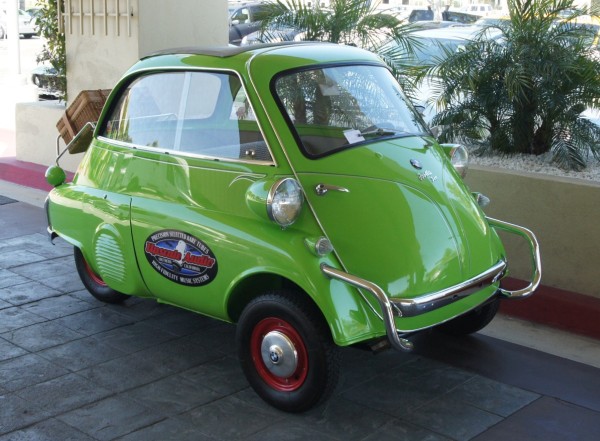 Parked facing the Isetta was Vincent Audio's mint Mustang Cobra. I'm guess the Cobra could do 0-60 and back to 0 quicker than the Isetta could get across the street.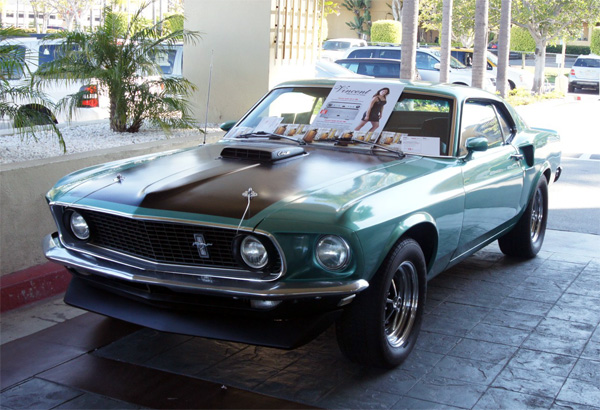 There were seminars and discussion panels to attend, though I only made it to one. Here is the panel from the "Meet the Editors" discussion where attendees had the opportunity to pose their questions to some of the famous names from the major print and online media. In the photo from left to right are; Steve Rochlin (Enjoy the Music), Robert Harley (Absolute Sound), David Robinson (Positive Feedback), Dave Clark (Positive Feedback), Michael Fremer (Stereophile), Paul Seydor (Absolute Sound) and Neil Gader (Absolute Sound).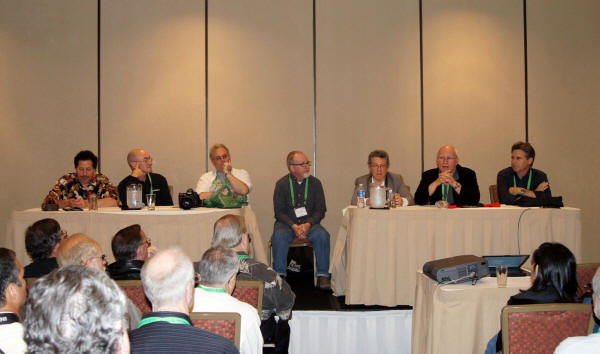 Guess which manufacturer had the good taste (or the audacity, depending on your take on it) to play this LP?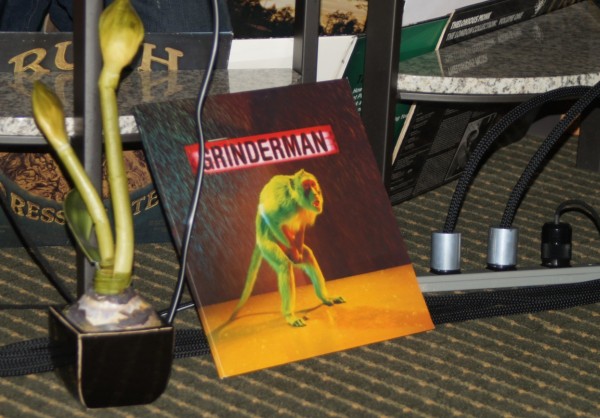 Of course there was live music. I wanted to joke about "audiophile" concerts when I saw that this was "just a bass player and a drummer." But (and a big but for me) Dean Peer is not just another bass player, and this was a fascinating show of how to make a solo bass concert captivating. Brett Mann was a pretty kick ass drummer, too.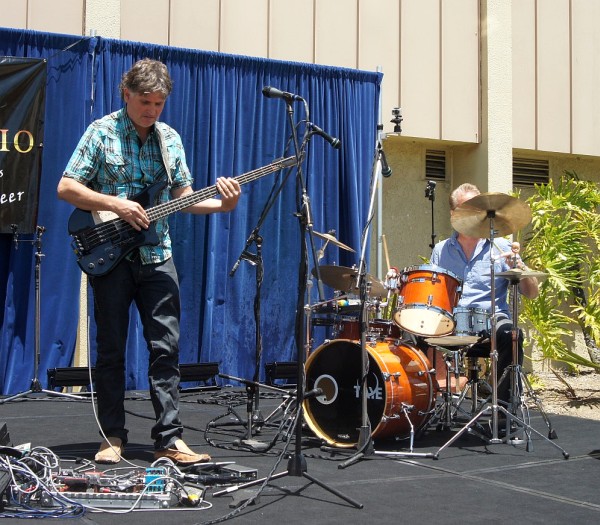 Here's a photo of Alan M. Kafton of audio excellence az, long time friend of Positive Feedback and manufacturer of the Audioharma Cable Cooker, doing his best Groucho Marx pose for the camera. There are now three versions of the Cable Cooker available, ranging from $799 to $1099.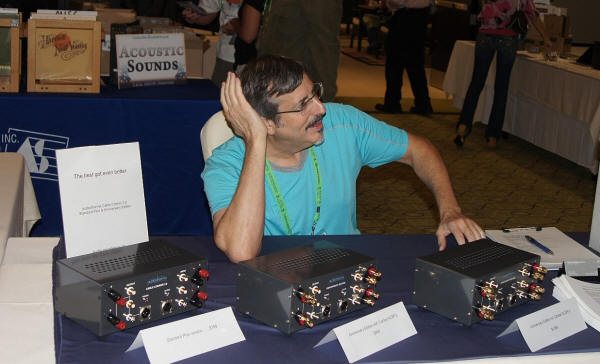 Years ago I had a Nitty Gritty 2.5FI. It worked great and I loved using it. Believe it or not, someone stole it. It was great to see Nitty Gritty showing new versions of their cleaning systems. Here are Monireh Moghadam, Gayle Van Sickle (the owner), and BJ Moghadam of Nitty Gritty with their new 2.5FI-XP system ($899) that features dual reservoirs and allows for two separate cleaning solutions. Other systems start at as low as $389. Clean and dry in no time!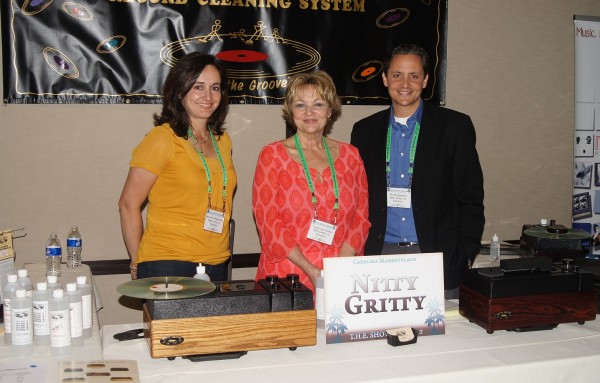 For those wanting clean records on a smaller budget, the Spin-Clean comes in at only $79.99 with a basic kit, or as a kit with fluid, extra drying clothes, spare brushes and more for $124.99 it lacks the vacuum drying of other cleaning systems. But is does seem to be well designed and word is it works well.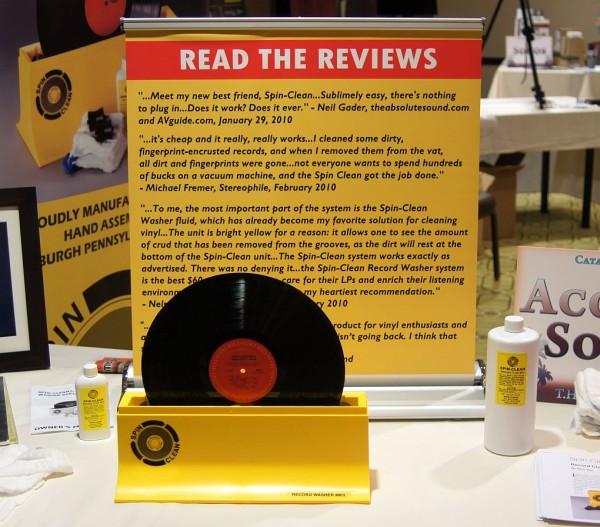 Headroom had an active and constantly busy display of their various headphone amps, DACs and many brands of headphone. I have two of the amps at home, and appreciate the effort they put in to spreading the word of better sound, especially to the iPod generation.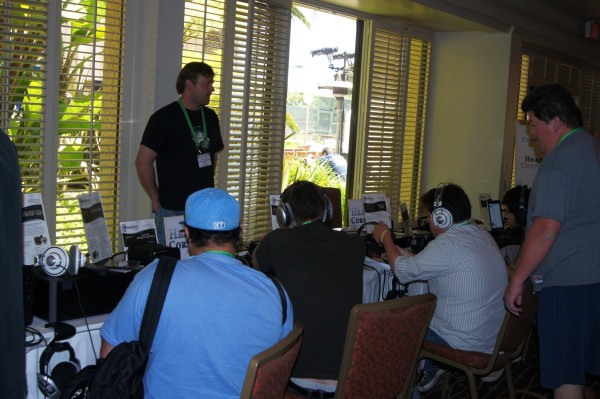 Okay, enough of that, let's get back to the rooms with the gear everyone wants to see. Let's get back to the real high-end, high-priced stuff!
Precision Transducer Engineering (PTE) was doing demos that were very lively, to say the least. Their smaller powered Phoenix speaker ($5400/pair including bi-amplified 130 watt amps) comes off as a bit of a bargain, though here they were sitting atop the Foundation subwoofer (no price given). The larger speaker is The Statement. It sells for $44,000 and uses a Tannoy dual concentric main driver, but with the tweeter driver replaced with a TAD Compression driver. It then uses an 18-inch woofer to supply the bottom end. It comes tri-amplified, with a separate electronic crossover and equalizer. This was another room using WyWires for all their cabling.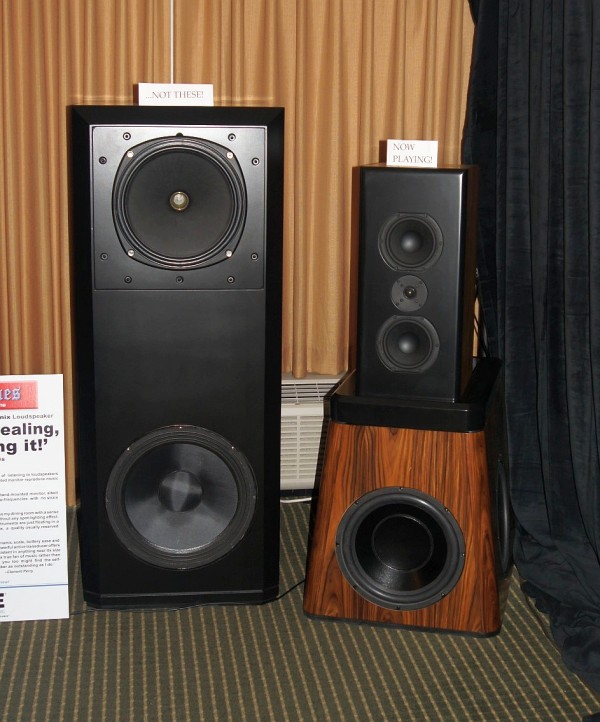 Orange County, California dealer Digital Ear offered several rooms of equipment to display the many lines they carry. Here we see Revel speakers and Mark Levinson electronics in a nicely understated setup.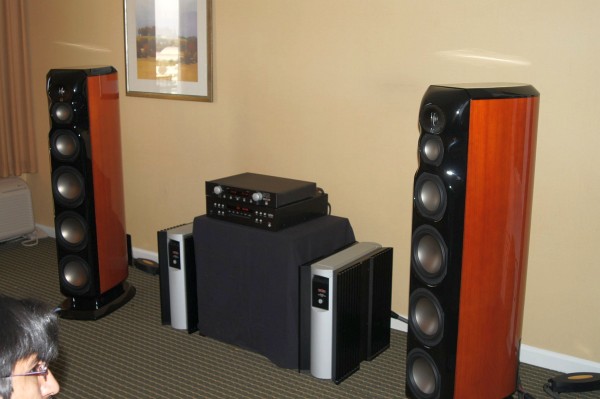 In another of their rooms, we see Digital Ear's Christopher Brightwell standing with the 575 pound (each) Focal JM Labs Grande Utopia EM speakers ($100,000/pair). That's a Burmester 911 Mk3 amplifier ($29,995) and 089 CD ($28,995) sitting between them. Cables were from Transparent.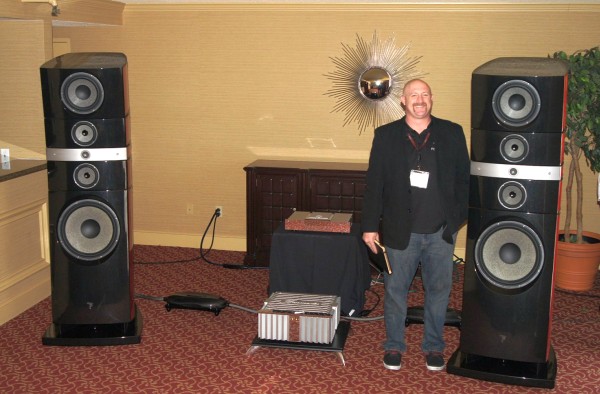 I've been seeing and hearing Legacy speakers at shows for years, and every time I hear them, they sound better to me than the time before. It is difficult to tell how physically imposing the Legacy Whisper HD speakers feel when you sit in front of them, but at $20,000 they do offer a lot for the money. Coda supplied the electronic chain for this room; monoblock amplifiers ($20,000/pair), 05X preamplifier ($5500), I didn't get a price for their CD player. Cabling was from Kimber.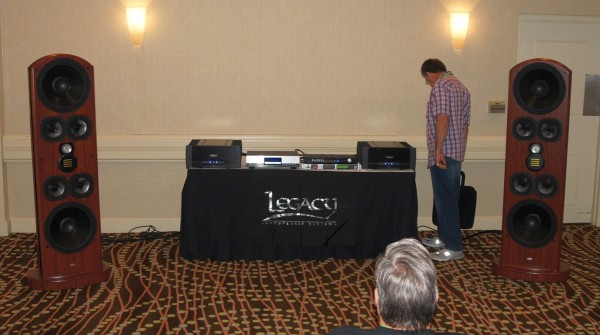 Here a detail view of the Legacy speakers: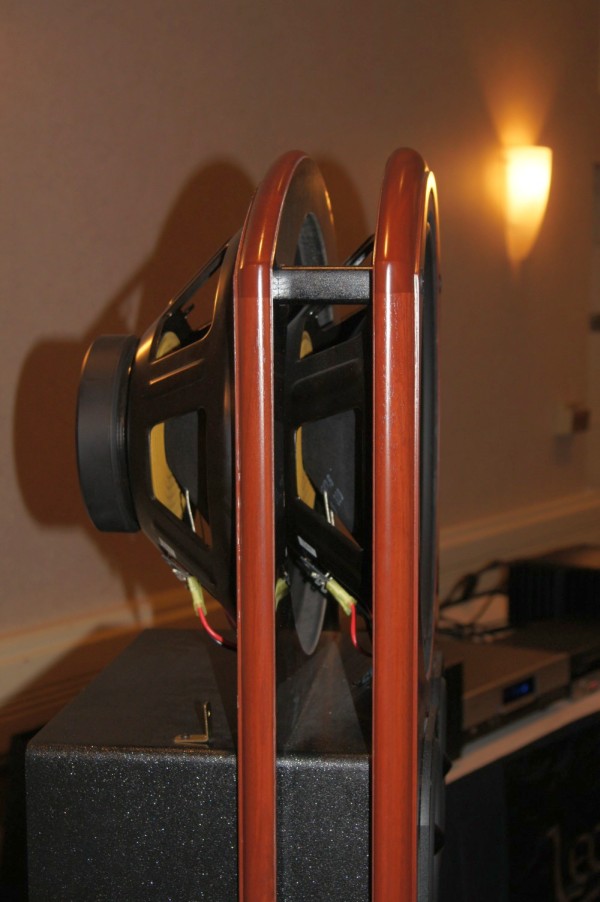 More from Legacy, their smaller (though still large) $9000 Focus SE speaker.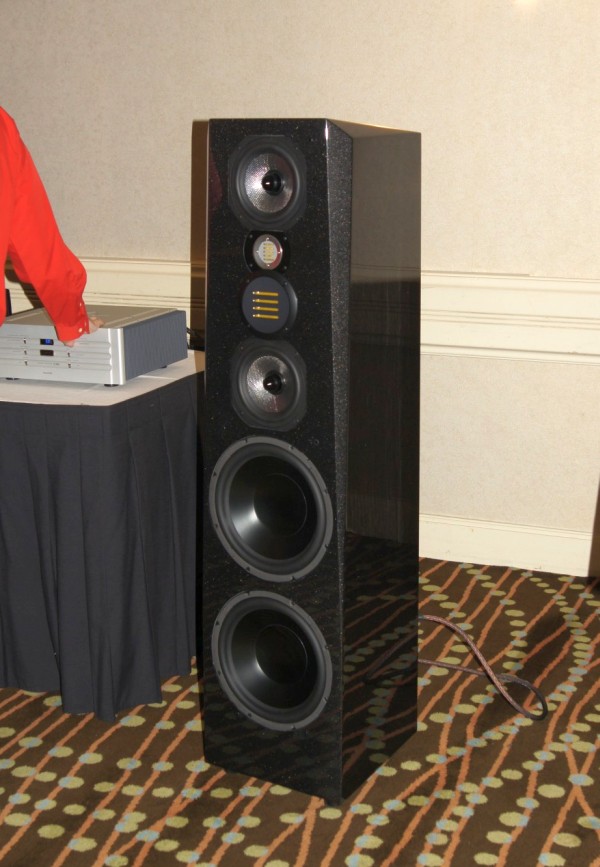 Over the years, Andrew Jones of TAD and Pioneer, has shown, at least to my ears, that he is clearly one of the world's premier designers when it comes to audio gear. The TAD suite was showing a system all of their own making. Every time I went in, they were using their smaller stand mounted Compact Reference speakers, so I didn't get the chance to hear their Reference One. Prices are in the "if you have to ask…" range, but if any room showed me it might be worth it, this one did.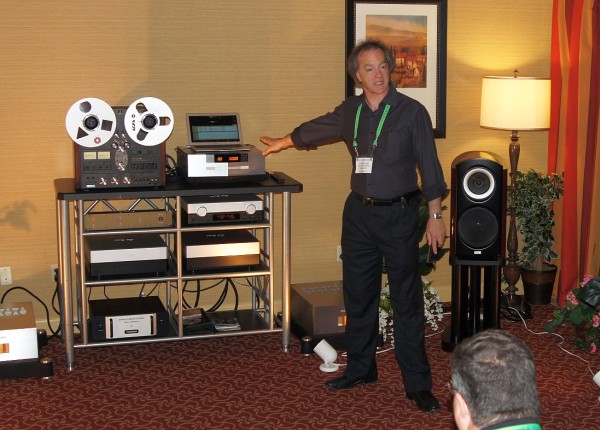 Here Jones is explaining the cast iron base of their new M600 mono amplifier. 300 watts and 198 pounds each!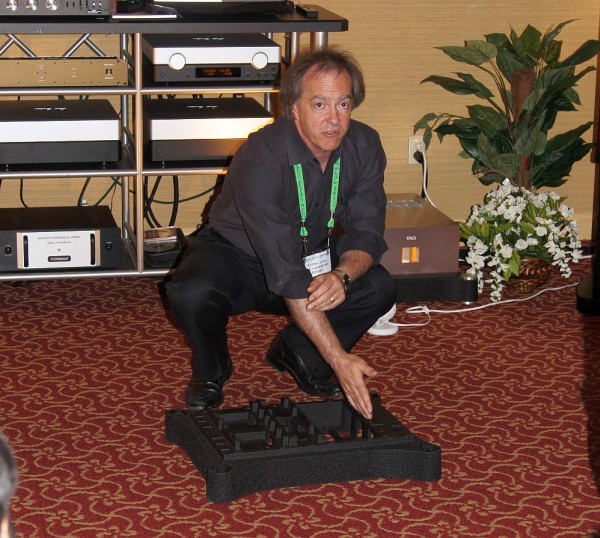 Importer On a Higher Note, was treating attendees to products from Audio Revelation, Audioaero, Brinkman, Luxman and Vivid. Here is the G2 Giya speaker, which is as much a visual treat as an auditory one. This was another room that also treated visitors to real music, rather than audiophile standards. Lou Reed never sounded so good!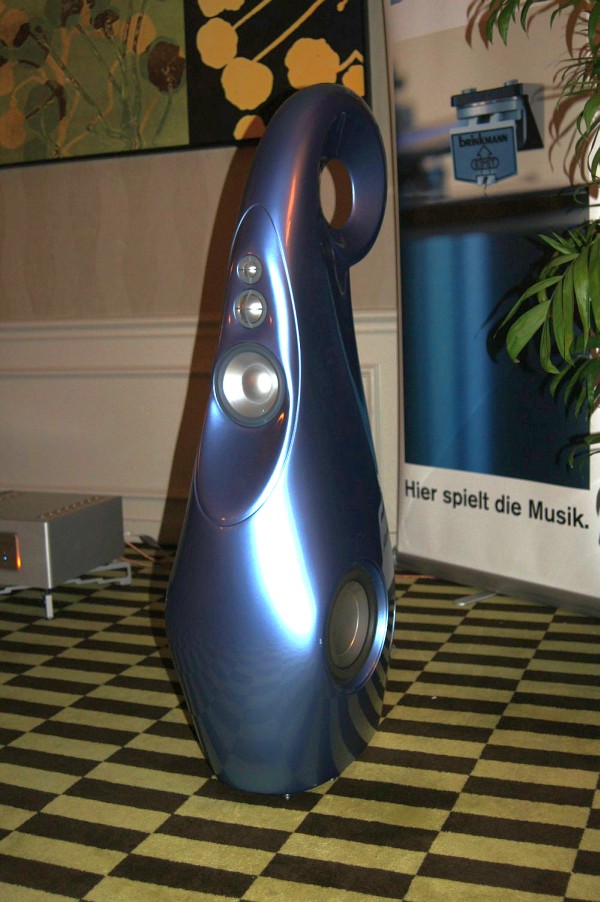 Well, there you have the bulk of the show. I'll have an update with some rooms that missed the write up, and maybe some further thoughts on what we all might take as the state of the industry, or the meaning of life with regards to high-end audio and musical enjoyment. I'm looking forward to CES in Vegas already!