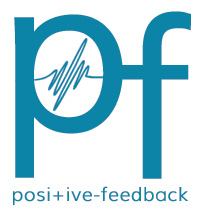 You are reading the older HTML site
Positive Feedback ISSUE 56
july/august 2011
The Triode Audio Corporation TRX-PM84: Everything You Need in One Package, Tubes Included
by Andy Schaub
"I was born in a cross-fire hurricane
and I howled at my ma in the driving rain,
but it's all right now, in fact, it's a gas!
But it's all right. I'm jumpin' jack flash,
It's a gas! gas! gas!"
–The Rolling Stones
I'm very familiar with, and fond of, Triode Audio Corporation in Japan; they make excellent audio components. In fact, my office system centers on their 45 wpc push-pull integrated amplifier and tube CD player with a Rega P3-24 linked to the whole thing by an Audiomat Phono 1.5 phonostage. It also features the Rega DAC. So imagine my surprise and delight when I was asked to review a rather novel product, the TRX-PM84, a combination 15 wpc integrated amp, 24/96 USB DAC, MM phonostage, and headphone amp using—as much as is humanly possible—all tubes. It even has a remote control.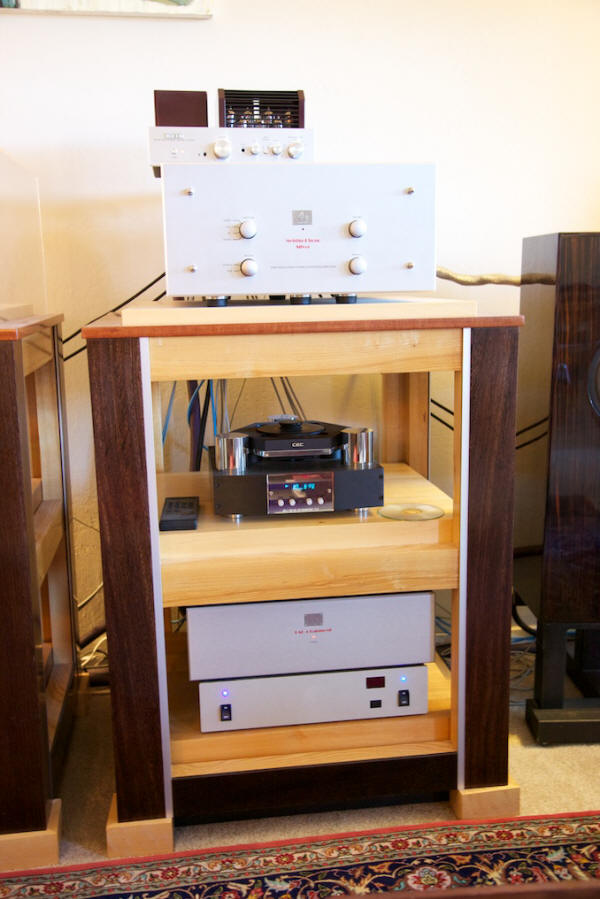 I decided that since the TRX-PM84 only puts out 15 wpc, it needed to be matched with a highly efficient pair of speakers; so I plugged it directly into my Audio Note AN-E's, with silver-wired tweeters, hemp woofers, Alnico magnets, and muRata super tweeters all going through several meters of Audio Note AN-SPx silver wire. Since the AN-E's that I have are at least 96dB efficient, if not 98, I had no trouble driving them to ear-splitting levels; but mostly I listened to them at normal levels. I also tested the headphone output with a pair of Moon Audio Silver Dragon Beyerdynamic T5p's and Black Dragon Grado 325is's. Note that, unusually, the TRX-PM84 has a 3.5mm mini-socket on the front, not a standard ¼" stereo phone socket. It also has no provision for a line out. That being said, both pairs of headphones sounded terrific.
I used the following source players:
(1) Transrotor Fat Bob Reference with DaVinci Grandezza Grand Reference tonearm and matching phonograph cartridge, all going through a DaVinci MC step-up transformer into the MM input of the TRX-PM84.
(2) CEC TL-0 belt-drive CD transport with Audio Note Pallas digital interconnect and Audio Note DAC 4.1 Balanced CD-resolution DAC.
(3) Theta Compli Blu universal disc player.
(4) 17" MacBook Book Pro connected directly to the "PC-USB" input of the TRX-PM84 as well as indirectly through the original Sonicweld Diverter, Locus Design Core S/PDIF cable, and Berkeley Audio Design Alpha high-resolution DAC, in both cases using the Locus Design Cynosure v2 USB cable.
(5) The very pretty little green USB card containing a vast selection of The Beatles material in stereo.
I found a great consistency to the sound, almost to the point of it being rolled off a little, but with a sweetness that made it oh so musical and made me just want to keep playing music. Here's a sample of some source material I used:
(1) Vinyl
Classic Records reissue of Mussorgsky's Pictures at an Exhibition and A Night on Bald Mountain Everest SDBR 3053
Madeleine Peyroux's Standing on the Rooftop double LP set
(2) Red Book CD's
From ECM, Paul Motion's Lost in a Dream and Anouar Brahem's Le pa du chat noir
From Mo-Fi (Mobile Fidelity Sound Labs), Keb' Mo'
(3) SACD's
Yo-yo Ma Plays Ennio Morricone
Miles Davis's Kind of Blue
(4) High-Resolution Downloads
Allison Krauss & Union Station's paper airplane at 24/96 from HDtracks among many, many others including 24-bit releases from the B&W Society of Sound such as In Trance by JuJu
(5) Flash Drive
The Beatles stereo set
I found a certain sweetness to the sound of the TRX-PM84 that was beguiling and kept me listening to the music regardless of the source; and although my digital music server certainly sounded better than the direct "PC-USB" input of the TRX-PM84, the latter was not half bad. In fact, it was much better than half good; it was very, very good. In each case, I found the sound of the TRX-PM84 slightly—and I mean ever so slightly—lesser than that of my Audio Note Meishu Phono Silver; however, when you consider that the tubes in my Meishu alone are worth more than the TRX-PM84, and it's about four times as large, it's really amazing what I got out of, "the little amp that could". Now most of you are going to buy this to use it as a headphone amp; and given that, you should be forewarned that it's a very good headphone amp driven by any source, and oddly, they chose to mount a 3.5mm mini-socket on the front rather than the traditional ¼" stereo phone plug, meaning that I did have to use an ALO ¼" to mini-plug adapter. It's no big deal, but seems like an odd choice on the part of Tri and probably has to do with faceplate territory. They DO include defeatable bass and a treble control that works very well to fine tune the sound for a little extra late-night-listening bass or to soften an overly bright recording.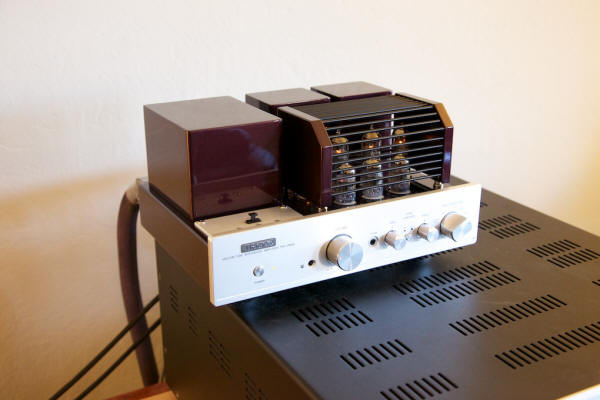 As mentioned before, the headphones that I used the most were my Moon Audio Black Dragon Grado 325is's and my Silver Dragon T5p's. In both cases, I found the sound of the headphones to fall nearly into the same category as the now-discontinued Tri TRV-84HD 6BQ5 single ended stereo Head Phone integrated amplifier; and while it didn't quite reach the heights of my Woo 22, my Woo 22 isn't a fully functional integrated amp with an MM phonostage and two USB inputs with speaker taps. If you're looking for raw power and a convenient ¼" phone plug, the Tri TRV-88SE KT88-based integrated amp—which I use in my office system—might be a better choice; but when you consider all the functionality packed into the TRX-PM84, it makes an awfully compelling argument for just buying that adapter, picking up a Rega P3-24, plugging your PC or Mac into the TRX-PM84 and getting a small, efficient pair of speakers and playing music! Or, you can just use it as a headphone amp with your office computer (remember that USB input and the Locus Design Polestar) and have screaming excellent sound; I found the Black Dragon 325is's, terminated in a mini-plug, to be a very natural match.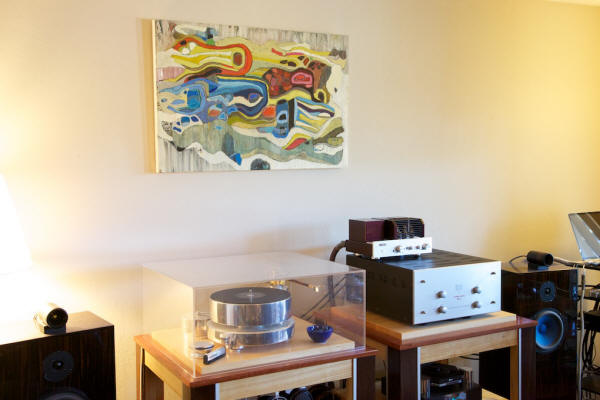 I've tried playing The Beatles stereo set flash card – which comes nested in a green metal apple – in a number of different players, including the Bryston BDP-1; and while the control mechanism in the Tri TRX-PM84 left a little to be desired, I've never heard the set sound so musical, particularly on older recordings like, "I Want to Hold Your Hand". For better or worse (and I think it's for the better), the remote control only controls volume and mute; so you have to operate the minimal controls for the flash drive input from the TRX-PM84 itself; however, if you think of each flash card as a separate playlist—as a linear succession of music or sound—then it becomes quite a convenient way to bring music from your home to your office without having to install CDs into iTunes, or even connect the TRX-PM84 to a computer; and, like I said, I got very good sound. In fact, I would say there was an overall consistency of sound for a product that retails around $2600. It was smooth and musical, never harsh nor bright, with ample bass and plenty of gain from the MM phonostage. In short, the TRX-PM84 is a real winner. I will admit a bias towards Tri equipment; I have three pieces in my home office system along with a loom power cord arrangement from Stealth; but if I didn't like the TRX-PM84, I would say so and will admit that I find it quite alluring. It did have the help of my all Audio Note system (except for the TRX-PM84) along with a 2" diameter pure silver power cable that probably cost more than many cars by today's standards; but I got lucky on that.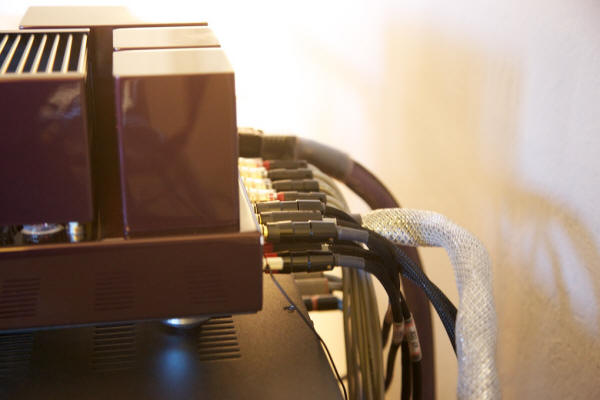 In terms of interconnect cables, I used mostly Kondo Sound Labs KSL-LP interconnects with the exception of my Theta Compli Blu which can sound a little bright or aggressive, so there I have an Audio Note all-copper Lexus interconnect—a 4.5 meter one—to tame the treble; and the result is quite lovely sound with all forms of discs including the SACDs that I mentioned; and, of course, coming out of my Berkeley Audio Design Alpha DAC are the wonderful Locus Design Parables. Both the Lexus copper interconnects and parables go into a Manley Skipjack—the most silent switcher I know—which in turns feeds my Meishu (or in this case the TRX-PM84) via a two-meter KSL-LP interconnect; and, as I think I mentioned, I fed the speakers via bi-wired Audio Note silver AN-SPx speaker cable with Eichmann banana-like connectors, a short run of Audio Note silver AN-SPa running from the five-way binding posts on the back of my AN-E's up to my muRata super-tweeters (that they don't make anymore). And again, just for clarification, the USB cable I used to feed the TRX-PM84 is the same one I use in my digital music server, a Locus Design Cynosure v2; but I'm sure there are many others that would get the job done admirably.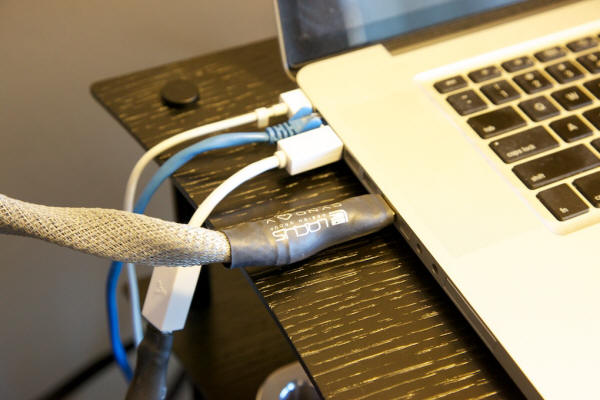 I guess the true measure of the device is how much I wanted to listen to music; and I found myself curling up one night with my T5p's connected to the TRX-PM84 which in turn was being fed by my 17" MacBook Pro directly playing music like "Jamm" by Cheikh Lo, and thoroughly enjoying it as if I was testing nothing at all. I can't think of any higher praise for a piece of equipment.
Kindest regards,
Andy
Twin Audio Video Inc.
PO box 681
Loma Linda , CA 92354
951-347-2732
909-954-2175