GREG WEAVER'S SYSTEM
LOUDSPEAKERS
Von Schweikert Audio VR-5 Anniversary, Escalante Designs Fremont, Acoustic Zen Technologies Adagio, Buggtussel Somu, Buggtussel Circa.
ELECTRONICS
ModWright SWL 9.0 SE with Tung-Sol upgrade, Channel Islands Audio VPP-1 (passive) preamplifiers. Channel Islands Audio D●200 Monoblocks (Class D), Channel Islands Audio VMB●1 Monoblocks (gain-clone). DSA Phono ONE, ModWright SWP 9.0SE, Monolithic Sound PS-2 with HC-1 supply, and Channel Islands Audio VPP-1 with VAC-1 Supply phonostages.
SOURCES
Redpoint Audio Design Model D, Oracle Delphi Mk III/with Mk V suspension and other mods (including sapphire thrust plate), Tri-Planar Mk VII Precision arm, Origin Live Silver 250 Arm, Transfiguration Temper V, Clearaudio Virtuoso Mk II, Denon 103-D/with vdHul Mods, McCormack UDP-1 Deluxe.
CABLES
Von Schweikert Master Built Signature bi-wire speaker cables, Audience Au24-e speaker cables, Stealth Hybrid MLT and Acoustic Zen Hologram II speaker cables. Stealth Indra, Stealth Nanofiber, Stealth PGS, Audience Au24-e interconnects, Acoustic Zen Absolute, and Acoustic Zen Silver Reverence II interconnects. Acoustic Zen Absolute and Gargantua II power cables, Audience powerChords.
ACCESSORIES
Grand Prix Audio Monaco Modular Isolation System equipment stand. Formula Shelf, Apex Footers, Audience adeptResponse aR-12-T, Furutech eTP-80, Monster Cable HTS 800, Quantum Products, Inc. Symphony Pro's for power conditioning. Aurios 1.2 MIB, Extreme Phono Solid State Stylus Cleaner, VPI HQ-16.5, Nitty Gritty Mini-Pro, Audio Intelligent Vinyl Solutions, Buggtussel Vinyl-Zime, Disc Dr. Miracle Record Cleaner and Quick Wash, Xtreme AV Quicksilver Gold, KAB phono Tools, AudioQuest DM-100 demagnetizer, CornerTunes, Furutech RD-2 demagnetizer, Digital Systems & Solutions UltraBit Platinum and Gold, Audience Auric Illuminator, and Xtrem AV Liquid Resolution.
If you've been in or around this hobby/sport/disease we refer to as high performance audio for any length of time, you'll surely have heard of Audience. They have been fighting the good fight for some 15 years now.
My first exposure to their products was a revelatory experience with their remarkably thin and world-class cable line up. I can confidently say that you will not find a more musically engaging and sonically rewarding cable for the money than the Audience Au24-e/powerChord-e cables deliver, period. Their new ClairAudient line of loudspeakers is setting the audio world on its ear, literally. Their adeptResponse power conditioners have elevated and re-established the benchmark for the product category, and, to these ears, remain THE unparalleled leader in that product group. And, that was all before the latest iteration hit the streets. While I owned the original Audience aR12 and then wrote about it when the updated aR 12-T arrived and blew it away, the aR12-TS ups the ante yet again!
From my review in Issue 39:
"...First, the aR-12 T (to denote the Teflon® components) is even quieter, allowing for the formation of darker backgrounds and the rendering of more vibrant, lifelike images, all with cleaner edges and spectacularly realistic depth and width. You are treated to layer upon layer of intricate detail, all with NO glare or edge, unless it should exist in another component or the recording under examination. Be warned, you will hear the true voice of your system with the aR-12 T in place.

Music is released with even greater dynamic contrast (both macro and especially micro), abounding with complete harmonic structure, affording more enunciate pitch definition and more fully realized and complexly textured overtones. Timbre is overwhelmingly honest, simply blustering with life, rich in detail, and full of harmonic bloom. The entire musical spectrum is recreated with an inescapable sense of ease and warmth, a delicate coherence, a lucid dimensionality, a tangible presence, a wholeness of texture and a spooky immediacy that is so evocative of the live event that I consistently found myself wondering how such an unassuming change in component composition could be so remarkably significant."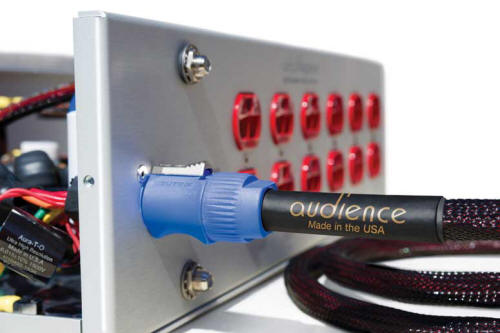 >
The newly updated adeptResponse12-TS adds a star ground plane, employs their new Aura-TO series of high-resolution capacitors throughout (Teflon® with OHNO leads), as well as some "magic dust" that Audience is reluctant to discuss to the already superb adeptResponse 12-T! While it affords an convincingly audible advance over the landmark aR12-T, the degree of that improvement is, to my ears, nearly as incremental an advance on the T's performance as the T iteration improved upon the original aR12.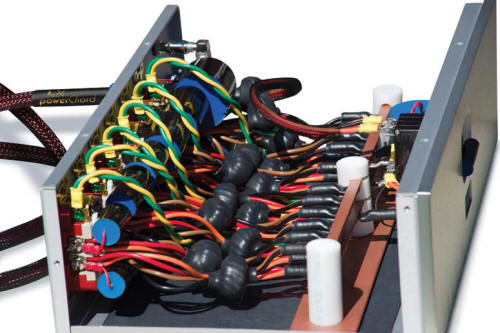 It is immediately apparent that the aR12-TS is quieter than either of its predecessors. Talk about a velvety black background! GAWD! Beyond that, the improvements come in a more subtle and nuanced manner—slightly creamier tonal texture, better focus of instrumental voices—both in portraying individual size and physical location—and a somewhat heightened or more apparent sense of drive and pace. Overall, the result is even more of that wonderful transparency that the aR12-T ushered in. All these newly elevated attributes combine to offer an even more coherent presentation over all. All in all, the Audience aR12-TS represents a significant advance upon an already very significant product.
While I couldn't have asked for a more effectual AC supply conditioner than the aR12-T, the posse at Audience has somehow managed to heap significant improve upon their already benchmark product. Those guys never cease to amaze me… and the new aR12-TS is most ENTHUSIASTICALLY and musically recommended. Greg Weaver
adeptResponse 12-TS
Retail: $8995 with the powerChord e and $10,545 with the Au24 powerChord
Audience
120 N Pacific Street, #K-9
San Marcos, CA 92069
web address: www.audience-av.com