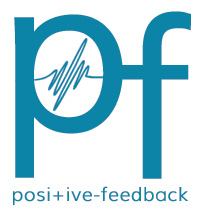 You are reading the older HTML site
Positive Feedback ISSUE 57
september/october 2011
Comic Con 2011
by Francisco Duran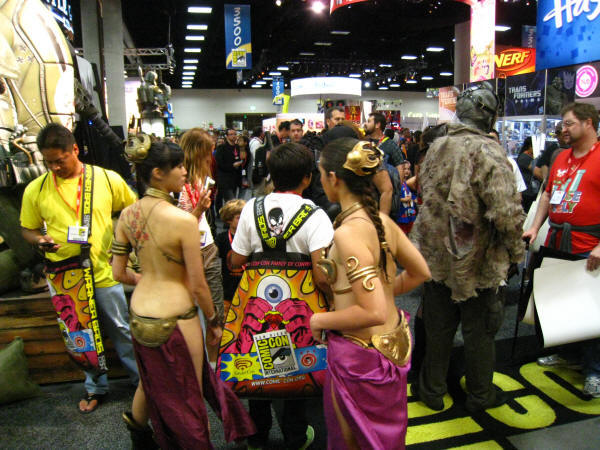 Back in early February I was recruited by three nephews and one son to accompany them to a certain event. Comic Con 2011. I have heard about this phenomenon from friends and relatives down through the years. Mostly out of curiosity I have been meaning to attend. What I thought this event was all about was long lines, people walking around in strange costumes and a whole building full of comic vendors. Well that is pretty much what we saw with one exception. The Panels. OK that was an over simplification of this grand event. The Panels to me are the most interesting because they show previews of upcoming feature films, mostly with the principal actors and the director. But between the Panels, there are seminars and workshops with comic book professionals, events with video game companies, screening rooms devoted to Japanese animation and lest we forget, the miles and miles of exhibitor floor space for movie studios, TV networks, comic book dealers an autograph area and Artists Alley and vendors selling every kind of toy, tee shirt, posters, decals, and comic book you have ever seen. The list of events goes on and on. Believe me, if you have even the smallest interest in today's media of any kind, you won't be board.
Upon arriving we were herded past two hotels and around the back of the San Diego Convention Center for our badges. The wait seemed long but once the line got started it went pretty fast and we were soon all wearing our convention badges and carrying these humongous Comic Con bags. The time spent was well served though. We spent the time figuring out which panel we wanted to attend. Luckily for my son and I the panel on the top of our list was only a short wait after we got our badges.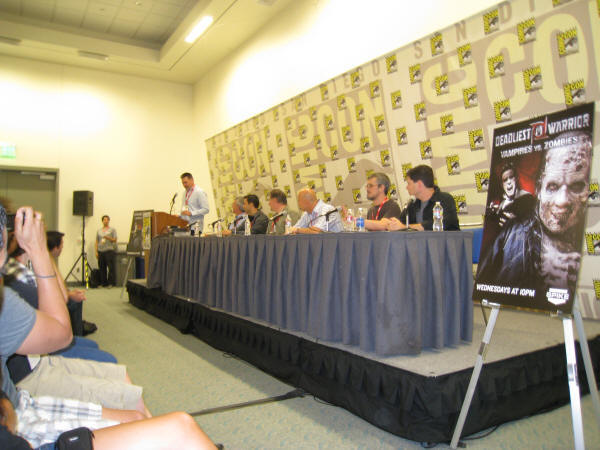 The Deadliest Warrior panel. Leave it to Spike TV to create one of the coolest shows on the old flat panel. The team of Richard Machowicz, Dr Armond Dorian, Robert Daily, with guests Steve Niles and Max Brooks were on hand to field questions from curious fans. The panel was supplemented by film clips highlighting what is to come in future episodes. Just what is the Deadliest Warrior all about you ask? It is a fictional show that pits two types of warriors either historical or contemporary against each other. Their culture, weapons and fighting style are analyzed by weapons experts. Pig carcasses and human jell torsos; targets and mannequins are used to analyze the effectiveness of the weapons. And a genuine trauma doctor is on hand to analyze the damage inflicted on the torsos. Not only that but pressure mats, accelerometers and chronometers are used to test the force of weapons. All of this info is fed into a special computer program and the winner is determined after one thousand simulated fights. To put the icing on this man cake, a fictional battle scene between two actors or team of actors is played out, each wearing full and original battle regalia. Cool huh?
Past episodes have matched William Wallace verses Shaka Zulu, Spartans verses Ninjas, and for team matchups, the IRA verses the Taliban and the Jessie James gang verses the Mafia. My favorite shows were the Russian Spetznaz verses the Green Berets and Vlad Dracula verses ancient Chinese tactical master Sun Tzu. In the Vlad episode, we witnessed one of the most horrendous methods of torture ever implemented on a jell torso. Yes you guessed it, they demonstrated the fine art of impalement on a very translucent and anatomically correct jell torso. Let me tell you that was a very uncomfortable scene to watch. At the end of the episode, hosts and guests get together and discuss the outcome of the battle and voice their opinions. There is also an Aftermath segment of the show where they focus on specific match ups and discuss its outcome and controversies with the producers of the show and viewers. For season three the producers have really ramped up the fun. There will be a "much stronger focus on education in all aspects of Deadliest Warrior", a new laboratory to better explain scientific facts, better diagrams, and demonstrations as well as increasing the historical accuracy. These will help bolster the facts for upcoming matches with Genghis Khan Verses Hannibal which will include a demonstration with an elephant and a jell torso, Saddam Hussein, and the most anticipated of the series, a duel between vampire and zombies. Notable writers Steve Niles (30 Days of Night) and Max Brooks (World war Z, How to Survive a Zombie Apocalypse) will be on hand to help with the blow by blow account. Dr. Dorian explained at the panel that they knew this was the most fantasy they have had in the show but they are approaching this particular episode with as much science and technology as with past episodes. Dr. Dorian also explained that much research was done for this episode in the area of communicable disease, pandemics and trauma to the human body.
Season three was viewed by more than 1.7 million viewers so that seems to make it quite a popular show. Although not known for being a blood thirsty reviewer, I have gone on a bit about a series that for all intent and purposes, handily takes the place of Monday night football at our house.
But all was not lost on zombies and ruthless leaders, Thursday brought more surprises. At Hall H we were party to the Film District Studio Panel. This panel was comprised of one of my favorites, Mexican director Guillermo Del Toro. With such notable films to his credit as Pan's Labyrinth, The Devils Backbone and Blade II to name a few, the man knows how to keep the suspense and action going. Along with director Nicolas Winding Refn, actors Ron Perlman, and Guy Pearce, Del Toro dispensed his sharp wit with wild abandon as he and the rest of the panel discussed each directors new films, Don't be Afraid of the Dark and Drive. Short footage and a Q&A further enticed the crowd's anticipation of these two fine director's new projects.
Since the next panel was to be held at Hall H, why not wait it out there in a nice semi- comfortable folding chair. To our surprise before our next panel was ready, none other than Pee Wee Herman AKA Paul Ruebens held a one man one hour panel. Ruebens charmed the crowd with his reminiscing and sharp wit. It was great to see him live.
Rounding out our Thursday was another favorite director Robert Rodriguez. His quick Draw productions gave us a sneak peek at upcoming productions. Let me tell you they are very exciting. Are there any Franzetta and Heavy Metal fans out there? Believe me you are in for a surprise.
Since we only had tickets for Thursday and Sunday, we tried to get as much in on Thursday because we figured Sunday would be a crap shoot. And commuting back and forth from LA was no picnic. We spent most of Sunday on the bottom floor of the convention center where the vendors reside. This floor went on seemingly forever with every kind of comic known to humankind being bought, sold and autographed. Sunday was host to The Cleveland Show panel. Being huge fans of family Guy and not able to attend that one, we were back in Hall H for some real entertainment. The panel included Mike Henry, the voice of Cleveland, Kevin Michael Richardson, Regan Gomez, Rich Appel, Kara Kallow, and the beautiful Sanaa Lathan. The buzz with this panel was a sneak peek of their full length feature, Die Semi Hard, a parody of Die Hard in the tradition of Family Guy's versions of Star Wars. From the film clips this future block buster is not to be missed.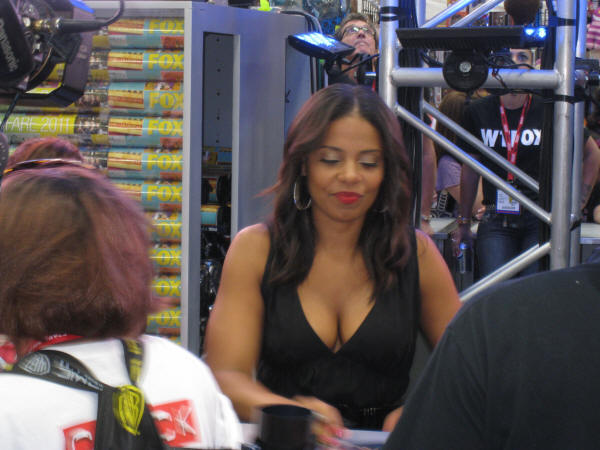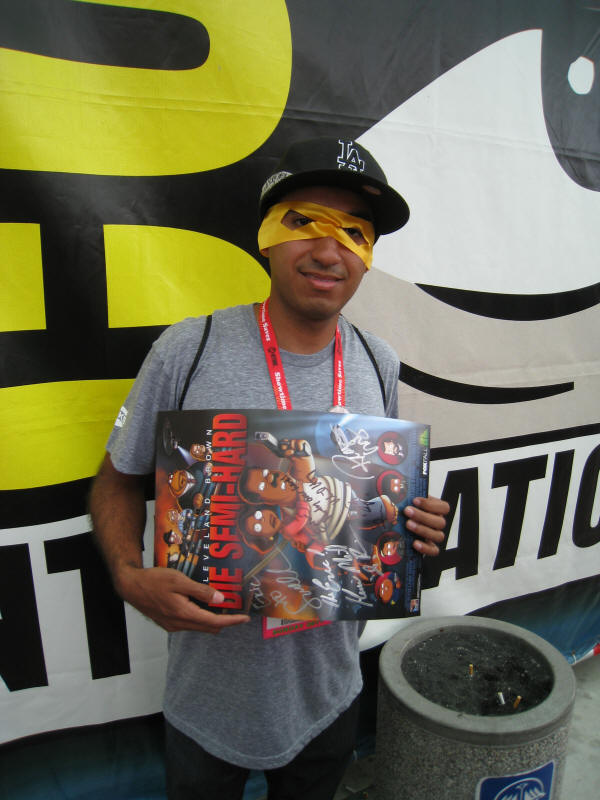 Driving back to LA my mind wandered to all of the things we experienced in the past few days. The panels, the people in costumes and all the comic junkies and the miles of walking we did all came flowing back in vivid color. But the one image that was the strongest in my mind was the thought of Sanaa Latham sitting there signing autographs. Ah I sighed, what a lovely lady! As I was driving up our beautiful coastline, a song came on the radio that stirred me to my soul. It was James Blunts, "Your Beautiful". Slowly I started to play with the lyrics in my head till I came up with a fitting parody. Well why not? We all do this from time to time don't we? So with a thank you nod to James Blunt and a wink to Ms. Latham, and without further ado, here goes:
My life is empty I am a comic geek
My love is pure for these printed pages
I saw an Angel at the Comic Con
She smiled at me I am so sure
She signed my poster so fast and cool
She's beautiful, she's fabulous, she rules
You signed your name at the Comic Con
But I freaked out and didn't talk to you
Because I could never hook up with you
Because I am a geek thru and thru
And I know that Darth Vador rules
And my Spider Man suit looks cool
I have some comics I want you to sign
But I'm afraid to ask you now
You signed my poster that I got for free
And I'll go home and show my mom
She's beautiful, she's fabulous she rules
I don't think I'll see her again
Till maybe next years show
But I'll never be with you
Because I know Darth Vador rules!
Till next year's show
Francisco Duran and crew