It's always a pleasure for me to introduce to the readers of Positive Feedback Online a talented fine audio constructeur, this time Andreas Hadjiminas, working out of Nicosia, Cyprus. Andreas does his artistic expression in vacuum tube circuits, and has created the impressive SPA-II phono preamplifier containing a whopping 22 vacuum tubes—it is a delight to behold! The SPA-II (Stereo Phono Amplifier-II) is the statement phono preamplifier that Andreas developed for his audio electronics company, New Valve Order (NVO) Audio.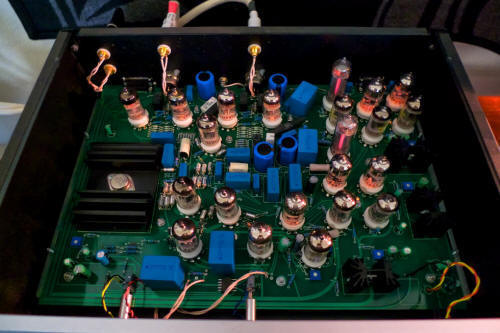 Andreas got his start working with vacuum tube circuits while still a youngster in high school, repairing a friend's vintage 1958 Leak Stereo 50 amplifier and matching Leak Point One preamplifier that he had just bought. Andreas said of the Leak, "Everyone looked upon it with amazement, what with all those big parts on top, especially the glowing tubes! Unfortunately, it stopped working some days later. That's when I took it upon myself to fix it. It was a daunting task, since at the time I had no idea what a resistor or a capacitor was, but soon enough it came back to life with new zest. I didn't stop at replacing all the parts. I also replaced all the wiring with expensive Teflon-insulated wires from my local Hi-fi shop, Craft Audio. After listening to the result I was so amazed with the sound that I simply refused to give it back! I told my friend I would trade him my solid-state B&O amp for it, but my friend was not impressed. He suggested I simply make a duplicate of the Leak amp, and so I did! A couple of years later the seemingly impossible task was completed, and I had created a clone of his Leak amp: chassis, transformers, and all. As fate would have it, I happened to be working at a small transformer factory at the time, so I managed to duplicate the transformers as well."
Andreas has kept his muse as fine audio constructeur of vacuum tube circuits vibrantly alive over the years by building many amplifiers and preamplifiers. Andreas told me, "I was swept along by a frenzy of tube amp building. This included two 240W mono block amplifiers with 16 EL34s per channel!"
As you might imagine given the nature of his muse, Andreas was also a strong patron of his local Hi-Fi shop, Craft Audio, owned by fine audio connoisseur Panikos Kontemeniotis, whose 30-years of experience with fine audio would come in very handy indeed, as you shall see. Andreas told me that Panikos' Craft Audio carried all the good loudspeakers, amplifiers, turntables, cables, phonograph cartridges, and that he has many fond memories of listening to and debating the merits of Panikos carefully handpicked selection of Hi-Fi components. Andreas told me that as a result of Panikos excellent taste, "I always ended up with a great piece of equipment." It turned out that Andreas and Panikos both shared a love for analog, and they built a nice friendship during those times of listening to records that still holds strong today.
After much contemplation of possible design approaches, Andreas set out to build the best phono stage he thought was possible. Andreas told me, "My intention was to build a phono pre-amp lacking nothing, a statement of tube excellence, with the best possible engineering." Andreas' first criteria was that his new phono preamplifier had to be an ultra-low noise design, one that could easily amplify even the lowest output moving coil cartridge designs. Andreas also wanted his phono preamplifier design to have over 40 dB of dynamic range, plus headroom. Andreas decided his RIAA network/filtering would contain only high precision resistors and capacitors that he would handpick by ear for each and every position. Andreas also decided that only the very best power supply for the sensitive signal circuitry would be able to get the best from the design.
Andreas told me he had never been completely happy with the commercial phono preamplifiers that he had listened to, "They were just too noisy." While working out the details of his design Andreas came to the conclusion that, "The biggest problem with most phono preamplifiers is with noise. Most MC input stages are really too noisy for use with low and medium output moving coil cartridges. I quickly moved away from a 12AX7 at the input stage. The 6922/ECC88 is very good, but I felt I needed something even quieter. After searching for the right tube, I came across the Russian model 6C45Π. It's a heavy-duty pre-amp tube with the lowest equivalent noise resistance of any tube I could find. One single triode per tube, it has a thick plate to withstand an excess of 40mA plate current, cranking up the consumption to that of a small power pentode! In this design I use two per channel, making this the lowest noise tube phono preamp I can imagine."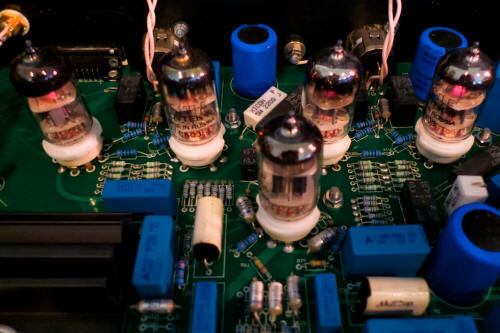 After Andreas had achieved an ultra-low noise input stage he moved on to designing the RIAA equalization. To get the level of performance that Andreas wanted, he told me that; "This design requires ample amplification, with more than 40dB plus headroom. To implement it properly one tube stage is not enough. So I use two 12AX7 stages, with a 12AU7 cathode follower output, while taking advantage of the merits of both passive and active equalization." Andreas has used quality parts throughout the design of the SPA-II, with each part specifically selected for each particular task in the system, with hand picked precision resistors and capacitors that are used in RIAA network/filtering.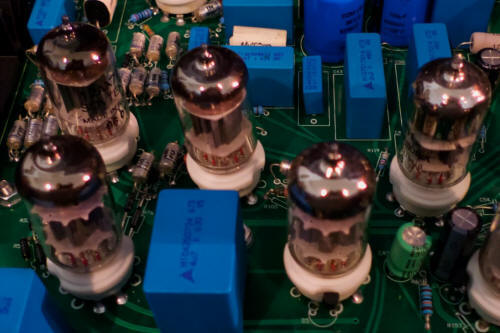 Andreas told me that because the power supply is so crucial to ultimate performance that he went for a "cost-no-object design" The power supply is dual mono, is housed in a separate chassis, uses two tube plate regulators per channel, has "ample filtering", and utilizes star grounding. All heaters are regulated DC.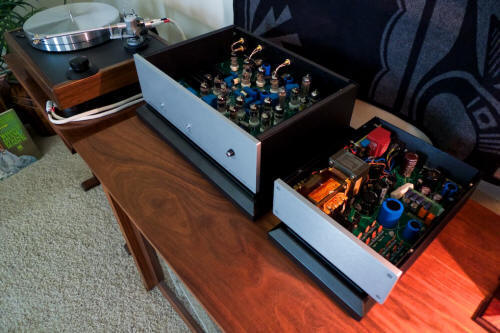 Andreas said, "My intention was to build a phono preamp lacking nothing, a statement of tube excellence, with the best possible engineering. I am satisfied with the results!"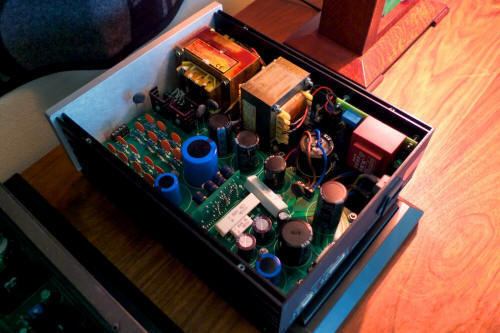 Andreas he had Panikos listen to his new phono preamplifier design, and Panikos was very impressed with what he heard. Panikos told me that when he first tried Andreas' phono stage in his system, "I instantly knew that Andreas' design was a truly great phono stage." Panikos said, "Andreas is a perfectionist in every sense of the word, which is one of the things I really like about him."
Panikos suggested that Andreas should consider offering his phono preamplifier as a special limited edition production item rather than as his usual artisan constructeur products. As most of you know, purchasing an artisan constructeur product often involves a long wait. A case in point is Don Garber, who has orders extending out 9 months, so when you place an order it takes 9-months before Don gets to building your order and delivering it to you. That's the way it is with fine audio constructeurs building one order at a time. Like Don, Andreas has customers who would love to be able to purchase products that are readily available, but until now it just wasn't a reality.
To put Andreas a context familiar to those of you who regularly read my reviews and blog, think of Don Garber and Noriyasu Komuru, who have been quietly building ultra-quality, artisan-level products in the Grand Constructeur tradition in North America for years. What Panikos had suggested would be the equivalent of Don or Nori building special production runs of limited edition electronics, much as Taku Hyodo did with the CS300X Limited Edition for his private label Leben lineup in Japan.
Andreas said of Panikos suggestion, "The idea of making this a commercial enterprise came naturally. Everyone who knows me expected me to do this eventually. After all, it's what I do!" Andreas told me that after Panikos had 'discovered' his phono preamplifier there was no stopping him, and "Panikos went head on into promoting it! The rest is history!"
Andreas and Panikos have been working closely together to bring the NVO Audio SPA-II statement phono preamplifier into limited production that would make it more accessible to Hi-Fi enthusiasts around the world. With the SPA-II you really get the best of both worlds: An artisan high-performance design in the hand-built Grand Constructeur tradition, but with the cost effectiveness of being able to offer it as a Limited Edition production product.
Panikos told me, "Every NVO Audio SPA-II that is built is individually 'blueprinted', or tested and tuned according to the prototype. The vacuum tubes are all checked for microphony, with only the best tubes being selected for their important tasks in the phono stage. Great care was given to the choice of components, especially in the RIAA equalization, with very close tolerance in the capacitors and resistors. Andreas has kept wiring to the minimum possible, and then uses Japanese PCOCC-A wire of very high quality. The tubes we use are select new production types. Experimenting with NOS tubes can bring the usual benefits as they do in any other piece of tube equipment, but for obvious reasons of consistency and spares availability, it was not possible to use NOS tubes as standard items."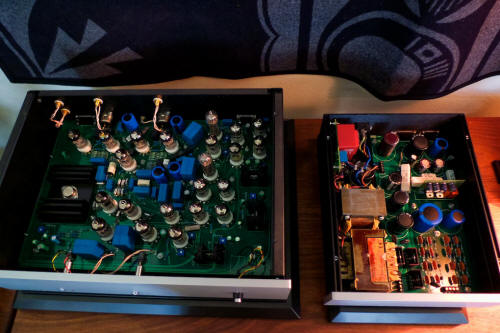 Panikos went on to say, "So now the NVO-II has become a reality and it is now in a very small Limited Edition production. Also, in response to friends' and customers' requests we will be offering a vacuum tube integrated amplifier, one that will make for a very special combination with the SPA-II."
As you might expect, a cutting edge vacuum tube phono preamplifier with 22 vacuum tubes and a separate power supply is very expensive to make. So for the time being, the New Valve Order Audio SPA-II phono preamplifier is only available direct from Andreas and Panikos in order to keep the retail costs under control. Here's the good news from Panikos: "We will be offering the NVO Audio SPA-II directly at a price of $4,600 USD, and that includes all the shipping costs and insurance. Customs duties and any taxes will be paid by the buyer."
As is my custom, I don't really like to know what the price point is for a product until after I have spent a lot of time with it and formed all my listening impressions, and then just before writing up the article I ask about the price. So when I asked about the SPA-II's price while writing up my results, my jaw just about bounced off the floor when I found out the very reasonable price that Andreas and Panikos are asking for the SPA-II. I figured the SPA-II's price would be 50% more to double what Panikos and Andreas are offering it at, so it was a nice surprise to find out that its charms will be accessible to a wider base of Hi-Fi enthusiasts.
Given the quality of the construction (the SPA-II reminds me of Audio Research electronics both in appearance and build quality), the fact that it is a cutting edge phono preamplifier design with 22 vacuum tubes, and that it sounds magnificent, $4600 USD is a ridiculously fair price for the SPA-II. Think of it like this: remember when word just started to leak out about the musical significance of Shindo or Leben electronics, and when you could buy them for a reasonable price before the price shot sky-high? Well that's what you have here with the New Valve Order SPA-II, an opportunity to get in on the ground floor of something wonderful at a very fair price.
Impressions of the SPA-II
The layout of the SPA-II is really nice, with a front panel switch that allows you to select between circuits optimized for moving-magnet (MM) cartridges or moving-coil (MC) cartridges, a mono switch, and a power switch. Out back there are both RCA and balanced Neutrik inputs, RCA outputs, a grounding post, and two umbilical connectors that connect the main chassis to the outboard power supply.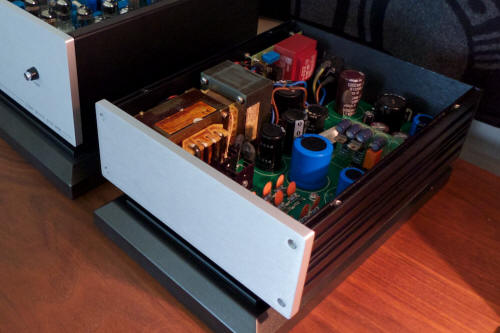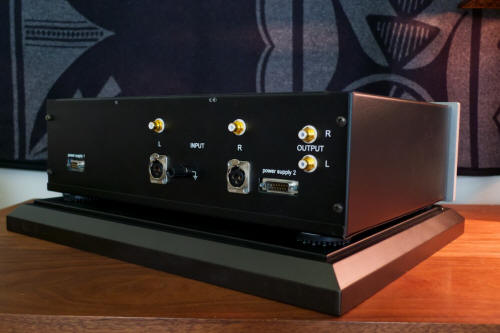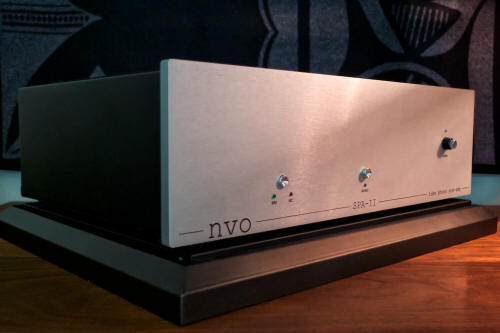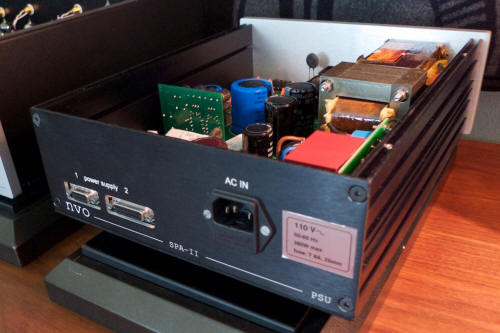 One of the nice things about the SPA-II having switch selectable circuits for both MM and MC cartridges, is you don't have to worry about buying a separate step-up transformer plus an extra pair of interconnects for it to use with a MC cartridge, like you do with the Leben RS-30EQ I use as a reference. When you add up the costs of the Leben RS-30EQ phono equalizer ($2695 USD) with an Auditorium 23 step-up transformer ($995 USD), along with an extra pair of Acoustic Revive Single Core RCA interconnects ($1295 USD) necessitated by the step-up tranny, you end up with a total of $4985 USD, or $385 USD more than the NVO SPA-II asking price of $4600. From a cost standpoint I think the NVO SPA-II is a bargain for what you get.
Ok, so for this review, I worked on optimizing my Hi-Fi rig's components & setup around the SPA-II to get what I thought was the best performance out of it according to my tastes. The best balance of performance on the musical content of recordings (timbre, melody, harmony, rhythm, etc.) and recording artifacts (soundstage, imaging, transparency, sense of recorded space, etc.) resulted from the following complement of equipment: an EMT TSD-15 moving coil phonograph cartridge mounted on VPI's 30th Anniversary Classic 1 turntable, Sablon Audio Panatela interconnects connecting the VPI to the New Valve Order SPA-II phono preamplifier, Acoustic Revive Single Core interconnects connecting the SPA-II to the Leben RS100 line preamplifier, Tom Evans Audio Design interconnects connecting the Leben RS100 to the Sophia Electric 91-01 300B mono amplifiers using Sophia Electric Royal Princess 300B carbon plate vacuum tubes (which Sophia Electric was so kind as to allow me to keep as an ongoing reference after the review), a bi-wire pair of Auditorium 23 speaker cables connecting the 91-01 amps to my Tannoy Westminster Royal Special Edition loudspeakers. As for power cords, I plugged the SPA-II into the wall directly with an Acoustic Revive Power Reference power cord, a Sablon Audio Gran Corona (review to come) connected my VPI Classic 1 to an Acoustic Revive RPT-4 Ultimate Power Distributor, a Sablon Audio Robusto connected the Leben RS100 preamp to the RPT-4, which itself was plugged into the wall with another Robusto. The Sophia Electric 91-01 300B mono amplifiers were plugged directly into the wall courtesy of a pair of Sablon Audio Robusto power cords.
The reason I went into that in detail about associated equipment for this review is because I wanted to highlight that choices of associated equipment matters: you generally can't just drop a piece of equipment into your system and expect to get the best out of it. Certain combinations of associated equipment brings out the best in one piece of kit, but not necessarily another. So what gets the best out of the SPA-II in my system (above) isn't necessarily the same mix of gear that gets the best out of the Leben RS-30EQ phono equalizer. For the Leben RS-30EQ optimization involves adding the Auditorium 23 step-up transformer (because the Leben doesn't have a separate MC stage), and another pair of Acoustic Revive Single Core RCA interconnects to connect to the A23. The Leben RS-30EQ really likes the Robusto power cord over the Acoustic Revive that I used with the SPA-II, and it likes the Acoustic Revive Single Core bi-wire speaker cables as well.
That makes it a little tricky when comparing an optimized setup for a SPA-II to an optimized setup for a Leben RS-30EQ, because they're different, but if you don't do that it's truly an injustice for the manufacturers' of the components being reviewed or compared. I'll do my best to summarize the differences in what I'm hearing for you so you can get a comparative idea where things are when both are running in a top state of tune.
Listening Impressions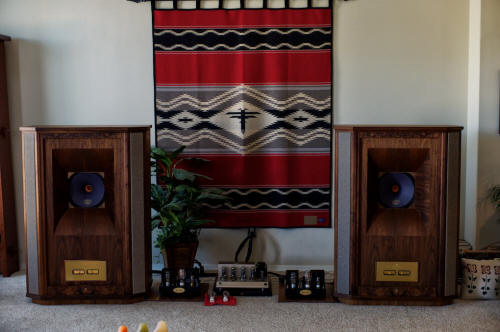 The first thing that struck me about the NVO SPA-II was how quiet it was in operation, even with my 99 dB sensitive Tannoy Westminster Royal SE horn-load loudspeakers. I actually had to walk over and check the SE 91-01 300B mono amplifiers to make sure that I had remembered to turn them on—I had. The SPA-II is extremely quiet, and even quieter than my reference Leben RS-30EQ phono equalizer (and I wouldn't call the RS-30EQ obtrusively noisy by any stretch). I actually accidentally left my SE 91-01 mono amps on all night once because I couldn't hear anything coming through the speakers (and with the SE Royal 300B tubes you don't get a light show like you do with the mesh plates to remind you they need to be turned off).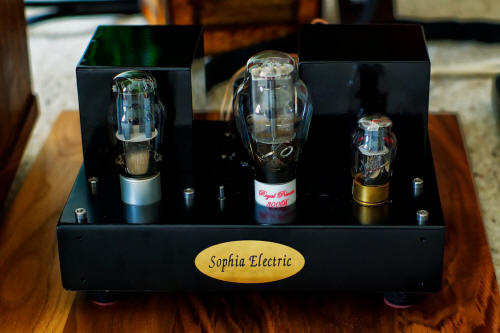 I gave the MM stage in the SPA-II I a workout with my trusty Clearaudio Virtuoso Wood MM cartridge and the music always flowed out of the Westminster Royals in an engaging and satisfying way. For an MC workout my EMT TSD-15 did the duties (by the way, I noticed the guys over at Stereophile put the EMT TSD-15 into their "Class A" category in the October 2011 "Recommended Components" issue—cool!). Once optimized, the EMT performs at quite a higher level than the Wood, so all of my comments here on out will refer to what I heard using the EMT. Suffice it to say the Wood sounded wonderful through the SPA-II's MM stage, which is essentially a lower gain version of the MC stage, which I will describe in detail.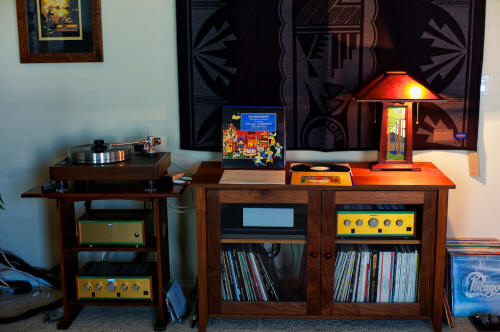 A general observation: after playing a lot of records through the SPA-II during the review period, I was impressed by how well the music came through as engaging, musically believable, and fun, regardless of the recording quality.
You know how some Hi-Fi equipment sounds amazing with certain recordings and makes other recordings barely listenable? I've listened to some systems that can play a handful of records and make them sound stunning in the recording artifacts categories of soundstage, imaging, sense of space and the like, and at the same time make most recordings sound like crap. For whatever reason, usually such a system isn't all that good at portraying the musical content of a recording like the timbre, textures, tone color, melody, harmonies—the actual fabric of the music.
Due to the choices of capacitors, resistors, vibration isolation (or not), shielding, grounding scheme, amplification devices used, wire used, transformers used, power supply design, and on and on, some gear accents recording artifacts over musical content, and some gear accents musical content over recording artifacts. It's largely a voicing thing during the design process, although there is more to it than that, but certainly the effects are there for all to hear who really are familiar with what music sounds like in the wild (e.g. live).
For the most part (but not always), the systems that tend to accent recording artifacts at the expense of musical content tend to have digital front ends, solid-state electronics, and utilize box loudspeakers with three drivers or more. Systems that tend to emphasize musical content over recording artifacts tend to have (but again, not always) analog (vinyl, tape, or FM) front ends, vacuum tube electronics, and simple box loudspeakers or horn-loaded loudspeakers.
Although a fair amount of musicality has to do with the 'skill of the chef' in voicing one's Hi-Fi system (see Jim Smith's excellent book—or new DVD set, review to come—Get Better Sound for more on this topic), the ultimate ability to get a musical balance in a system has quite a lot to do with what you start with: components' display a particular electronics designer's acumen in understanding the nature of music itself, and how to bring that musical understanding to life in the voicing of electronic circuits, and the end result in your system's sound reflects that.
Andreas is such a designer, and the SPA-II is such a component, one that has an inherent musicality, an ability to display timbre, textures, tone color, melody, and the harmonies, in such a way that makes music engaging, musically believable, and fun to listen to. Really, for most people who just really enjoy listening to a wide variety of music, this is what's most important in a piece of Hi-Fi kit. In other words, the SPA-II has the ability to musically open up a lot more of a music collection than most gear, because it brings out the best of the musical content, while still managing to sound good in the typical audiophile sense of that word, for imaging, soundstage, sense of space and the like. At least that's what I've found with my time using the SPA-II in my Hi-Fi rig. The SPA-II makes a greater percentage of my LPs musically satisfying to listen to than any other phono stage I've had come through my system yet, and it sounds great while doing it. That's really, really, high praise on my part for the SPA-II, by the way.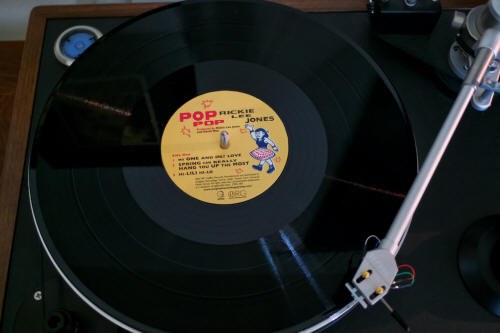 I've always enjoyed Rickie Lee Jones' Pop Pop album (ORG 007 Geffen, 1991) for Rickie's take on old standards like Bye Bye Blackbird, Second Time Around, and Spring Can Really Hang You Up the Most. Rickie said about Pop Pop, "The album's got a kind of old flavor about it. There's no electric music, no keyboard and no drums. A couple of songs have snare and a bongo, but no drum kit. Real intimate. It's real nice listening… just what I wanted to do, what I like to listen to. All standards. I can't remember when I decided on just guitar and bass. I was thinking about it for a couple of years, because I had practiced 'Valentine' with a guitar and bass when I lived in France and said 'Oh, that's really beautiful and different without a keyboard.' I think I got the idea then and it was growing on me. [That sparer sound] is what I grew up with. My uncle and my dad used to play together all the time: they would sing those standards with the guitar so for me it's the most natural sounding. It's not jazz in the way that people who like jazz like jazz. It's my own way of looking at it. The album is old, it's very special."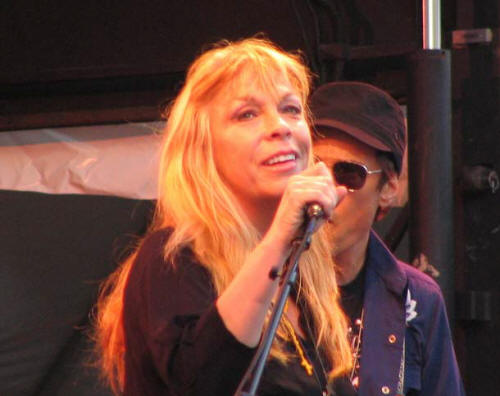 Not only is Rickie's Pop Pop very special musically and sentimentally, its simplicity also makes it handy for getting a feel for how well a piece of Hi-Fi gear handles Rickie's vocals, Charlie Haden's bass playing, Joe Henderson's sax playing, and Robben Ford's guitar playing. When you note that it was mastered by Kevin Gray & Steve Hoffman, and remastered by Bernie Grundman, you know you're in for a treat. Take My One and Only Love as an example, with Rickie doing vocals, Robben Ford playing acoustic nylon string guitar, Charlie Haden on upright bass, and Dino Saluzzi on bandoneon. First of all, the song hangs together in melody, harmonies, and overall musical flow just beautifully, making it sound like I got the talented quartet sitting around my Westminster Royals playing a number. Rickie's vocals come through the SPA-II with tremendous naturalness in texture and presence, with Charlie Haden's bass having lots of natural timbral texture & color, sustain, depth and pitch definition. Robben Ford's nylon string guitar comes through as punchy, but with the typical nylon string tonality, and you get a real sense of his touch on the strings—what a great guitarist! Saluzzi's bandoneon is an amazing folk instrument cable of all sorts of unique musical sounds, one moment it's obviously reedy, in another moment you can hear its buttons being pushed, sounding almost like an accordion (it's really a concertina), and it is a beautifully expressive, tonally colorful, and texturally rich instrument in this cut. The SPA-II makes beautiful music with Pop Pop.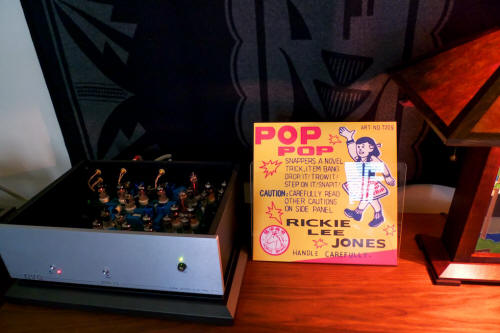 Compared to the Leben RS-30EQ the SPA-II is a little darker, richer, and more laid back overall in its presentation of the music on Pop Pop, and in general. From a timbre, texture, tone color perspective, the RS-30EQ and SPA-II are pretty well matched, which is to say they are both exceptional in this regard, with perhaps the SPA-II being a little more natural sounding, and the Leben being a little more Technicolor in its presentation. In the yin-yang, interdependent, and interconnected world of musical content versus recording artifacts, the SPA-II recovers a little less detail, has a little bit less sense of space, and the imaging is slightly more diffuse in direct comparison to the Leben. So the Leben bests the SPA-II by a little in audiophile-style sonics, but the counter point is that the SPA-II is more evenhanded across a greater number of recordings than the Leben is, so a greater number of recordings come across as more enjoyable to listen to regardless of their recording quality.
The Leben is a great design, and comes with NOS tubes, which I think is part of the reason it sounds so good and plays music so well. The SPA-II is a great design too, and comes with current production tubes for practical reasons, as I mentioned earlier. I did not have a complement of NOS tubes to try in the SPA-II, but it would be really interesting to see what the result would be, given that the Leben & SPA-II are so evenly matched musically, with the Leben having a bit more sonically with its NOS tubes. Would NOS tubes allow the SPA-II to match or surpass the Leben sonically and musically? I don't know the answer, but the question intrigues me.
For those of you who want to do a little tube rolling with your SPA-II and find out the answer to that question, Panikos told me, "Of all the tubes in the circuit, the most important are the V5, 6, 7, 8 & 9, the 3 x 12AX7, and the 2 x 12AU7 (the positions are marked numerically on the circuit board). I have tried some of the usual famous NOS from Mullard, RCA and others, with the usual nice results one gets from them. Substituting a few choice NOS tubes can help you to fine tune the SPA II to the rest of the system and personal tastes. My personal preference are the Mullard 12ax7 for I61 & I63, and the Mullard 12AU7/ECC82. I like them for their rich and warm sound, but also got nice results from RCA and Raytheon JAN CRP types."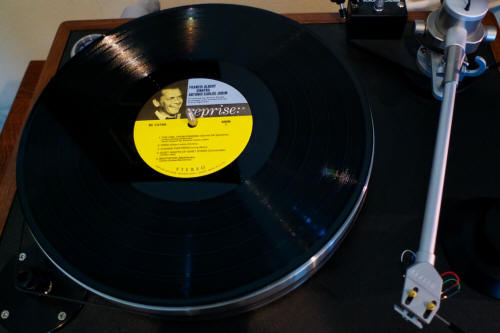 To give the SPA-II a little workout on male vocals I chose Sinatra's & Jobim's Francis Albert Sinatra & Antonio Carlos Jobim studio album from 1967 that was nominated for Album of the Year at the Grammy's in 1968 (Reprise 73798). The album starts with The Girl from Ipanema, one of my favorite Jobim songs, and is about Rio de Janeiro's Heloísa Pinheiro (below).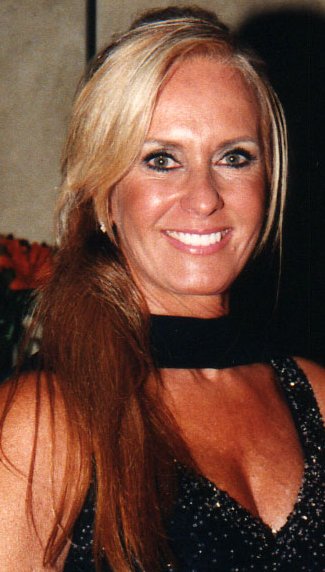 The SPA-II presents the Sinatra & Jobim album in a big, spacious, warm, rich, engaging, and colorfu alt="nvo premaplifier"l fashion that I find irresistible. As I was writing my impressions I thought, "This is what music is like when you dream about it." Sinatra's vocals on The Girl From Ipanema (and the rest of the album too) are amazing through the SPA-II, being rich, textured, colorful, and expressive. Jobim's guitar accompaniment is sublime, with the orchestra's contribution to the overall textural & tonal landscape of the recording being quite breathtaking as well.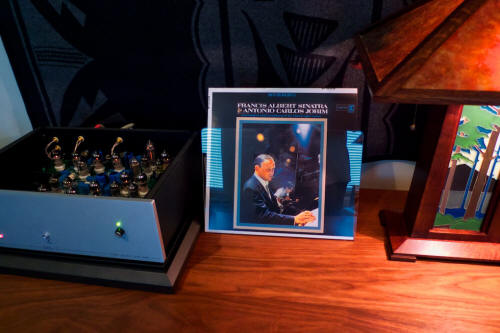 The SPA-II really imbues vocals, whether Rickie's female vocals or Sinatra's male vocals, with a richness and life-like presence that is really captivating and enthralling. The SPA-II really held my attention on the music, hanging on every word sung, every toot of a horn, every strike of stick on cymbals, or every strum on a guitar. The SPA-II's the musical equivalent of being in love, of eating chocolate, or having a glass of fine Pinot Noir wine, in that it enhances the emotional aspects of everything I listened to with it, making me hang on every word, be enthralled with every musical nuance, and to be crushed every time that lovely music came to an end. Sigh. Music lovers will be enthralled with the SPA-II, I predict, certainly I was.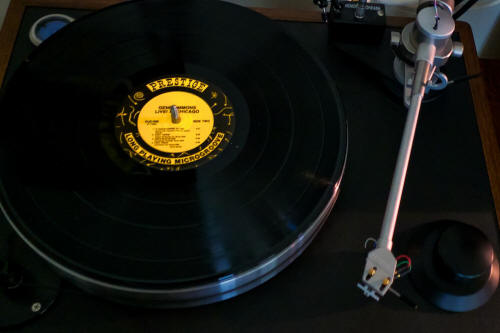 The recording quality of Gene Ammons' album Live! In Chicago (Prestige 7495, 1961) sucks. That's pretty much what Gene Ammons said about the sonics of the recorded in a nightclub Live! album. The organ isn't recorded properly, and Jug's mug sounds kind of muted. It actually says that on the album back cover notes. So why would anyone press a record and offer it for sale if it sucked? Well the sound does suck a bit, but the musical performance is inspired, that's why.
It shouldn't surprise you then if I tell you that the SPA-II takes this flawed recording and makes a magic-like transformation of it into an inspired listening experience, an experience that transcends the recording quality to let the music sail free, so riveting an experience that it gave me goose bumps! The SPA-II also made Live! In Chicago 'sound' better than it has any right to, with Jug's tenor sax coming through like The Voice of God, with tons of recorded depth and space in evidence, solid imaging, and a you can even pin-point the appreciative listeners in the nightclub crowd making themselves known as the performance moves through its paces. A Hi-Fi rig, or any component, that has been voiced to excel primarily on recording artifacts will totally hose this recording up and you'll wonder why they ever released it. A Hi-Fi system like mine, with a phono stage like the SPA-II, which is voiced to complement the musical content first, and sonics secondly, can provide a breathtaking ride through this music that you'll never forget. The SPA-II nails the timbre, the textures, tone color, and momentum of this recording, making the music from the night of 1961 in Chicago come to vibrant life right before your ears. The tenor sax thrills and the Hammond B3 is revelatory. It's exciting, it's kind of shocking, and it matters, because for the vast majority of listeners it's the musical performance that matters most, and it comes through like a five alarm fire on Live! In Chicago with the SPA-II.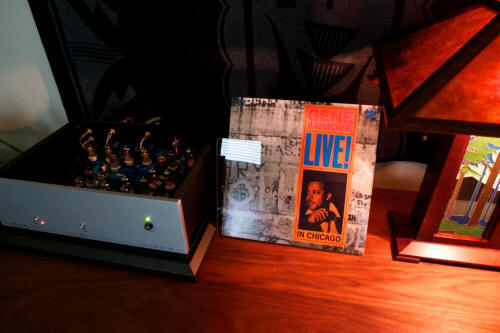 You get the maximum dose of musical performance with the SPA-II even on poorer recordings like Live! In Chicago, enough so that you'll wonder why anyone would ever want to hear it any differently. The SPA-II is good, really good, where it counts the most, playing music like one's life depends on it, and in the case of music lovers it does. Until this very moment, playing Live! In Chicago via the SPA-II, I've never realized what a really amazing album and musical performance this is, so thank you Andreas, for you've done some marvelous work in your design of the SPA-II for getting the best out of the music.
Summary and Conclusions
That basic scenario took place time after time while spending time with the SPA-II. I'd put on an album, any album, and be blown away by the music. Whether it was Mozart's Don Giovanni (Maazel, Columbia Masterworks 35192, 1979), or Rickie's Pop Pop, or Sinatra's Sinatra & Jobim, or Jug's Live! In Chicago, or any jazz album, or any blues album, or any rock album, or any classical album, or what have you, I always felt I was getting musica maximus from my records with the SPA-II, and man, is that ever gratifying.
Overall, the New Valve Order SPA-II when setup the way I had it in my system was rich and a bit dark & warm; excelled in reproducing the textures and tonal colors that make up timbre; and performed beautifully on all of the musically meaningful elements like tempo, melody, harmony, rhythm, and dynamics that make music come alive in your listening room. I'd say it was about dead even with the Leben in regard to musical content prowess. The SPA-II is very good in the way it performs on audiophile-style recording artifacts like imaging, soundstaging, sense of space, transparency, and detail recovery, but not quite as adept at these elements as the Leben RS-30EQ is. However, the artful balance between musicality and sonics that Andreas has achieved with the SPA-II makes for a compelling statement, and it does make a greater number of my LPs sound more like music than my Leben does. On a few really good recordings the Leben is superior, but the most of the times the SPA-II gets the nod for being more musically engaging. That's pretty impressive, because the Leben's calling card is about being musically engaging as well, but the SPA-II does it better on more records.
The New Valve Order SPA-II designed by Andreas Hadjiminas is a significant achievement in vacuum tube phono preamplifier design, and it's easy to understand why Andreas' friend Panikos Kontemeniotis is so enthusiastic about it. At $4600 I think Andreas and Panikos are going to have lots of new friends and fans from around the world. Highly recommended to music lovers everywhere! Jeff Day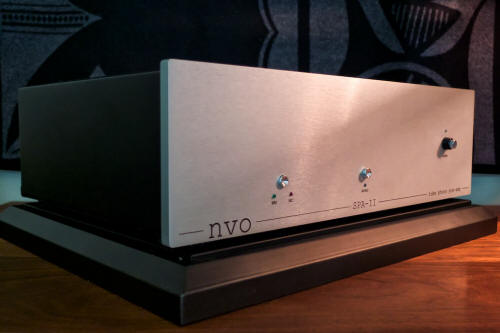 To make arrangements to purchase the NVO SPA-II (or for inquiries), please contact Panikos Kontemeniotis at kontemeniotis@cytanet.com.cy
NVO
web address: http://nvoaudio.blogspot.com/