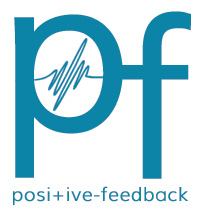 You are reading the older HTML site
Positive Feedback ISSUE 57
september/october 2011
THE Show Newport Beach: The PFO Audio Oasis! Awards
by David W. Robinson
[All photographs and image processing by Robinson, unless otherwise noted.]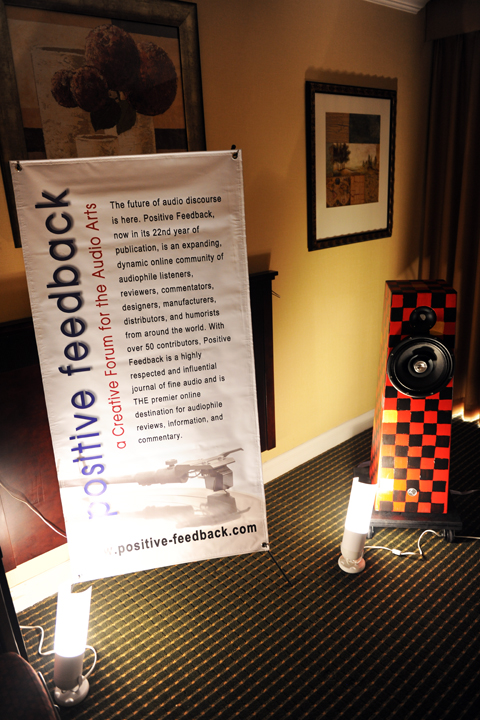 T.H.E. Show Newport Beach: A Winner!
You know, I've got some fond memories of really excellent audio shows over the past 22 years.
CES before it got too putrid. (Yes, I know: it was always somewhat putrid.)
The Stereophile Show in San Francisco…1997, as I recall.
VSAC, 2001, with Doc B. and company, until they ended up being too much work for him and his crew.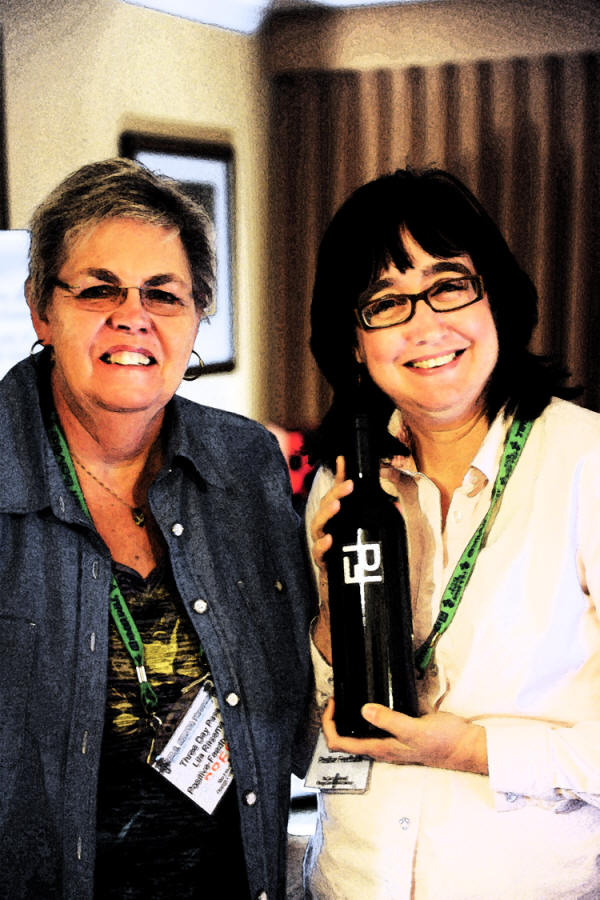 A fresco of PFO's Lila Ritsema and Carol Clark enjoying a bottle of that fine "PF Red"!
And the current champion on my list: Rocky Mountain Audio Fest. Al Stiefel and Marjorie Baumert launched it… and now Marjorie carries on the great tradition of the benchmark audio show and party in the country. RMAF is firmly embedded on my calendar each fall... I don't miss this one! As far as I'm concerned, there haven't been any real rivals to RMAF…until now.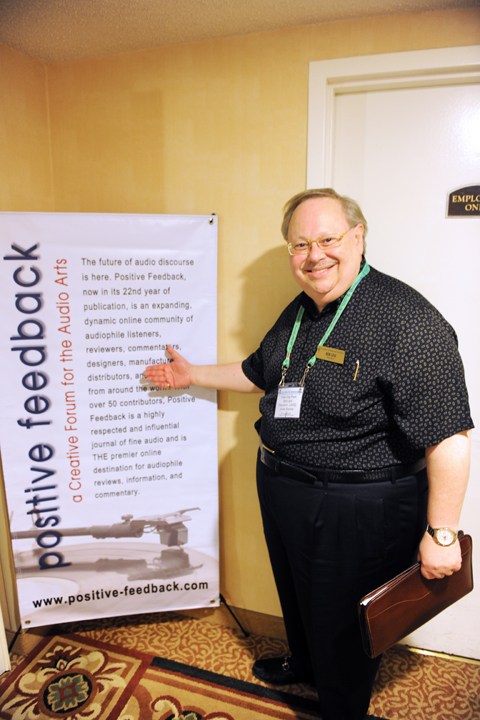 It isn't too often that a new high-end audio show is launched. It's even less often that new shows turn out to be a real hit, right from the start. The 2011 T.H.E. Show at Newport Beach, held on June 3-5, was ambitiously billed to be a real winner from its very first year. Organized by Richard Beers, with much assistance supplied by PFO's own Bob Levi, President of the Los Angeles/Orange County Audio Society, and highly experienced friends like Majorie Baumart of RMAF, the event attracted over 150 companies, a stellar outcome for an initial launch.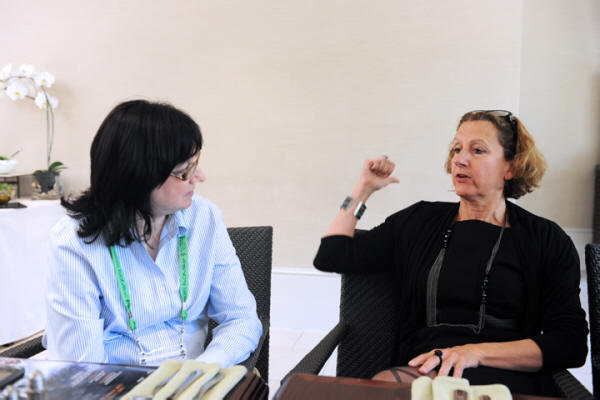 PFO's Carol Clark and RMAF's Marjorie Baumert share tea and sympathy during a lunch break
Even more impressive, this show drew over 6000 attendees, an amazing result which exceeded all expectations. In its very first run, T.H.E. Show Newport Beach leaped into the first rank of audiophile shows, which is no less than amazing. At this rate, RMAF and T.H.E. Show Newport Beach will be the two "must-attend" fine audio parties in the USA. In fact, I'm already planning to make the trip to T.H.E. Show Newport Beach 2012, when organizers promise that this next event will be significantly bigger and better than 2011 was. If they keep that promise, it's going to be one heckuva bash!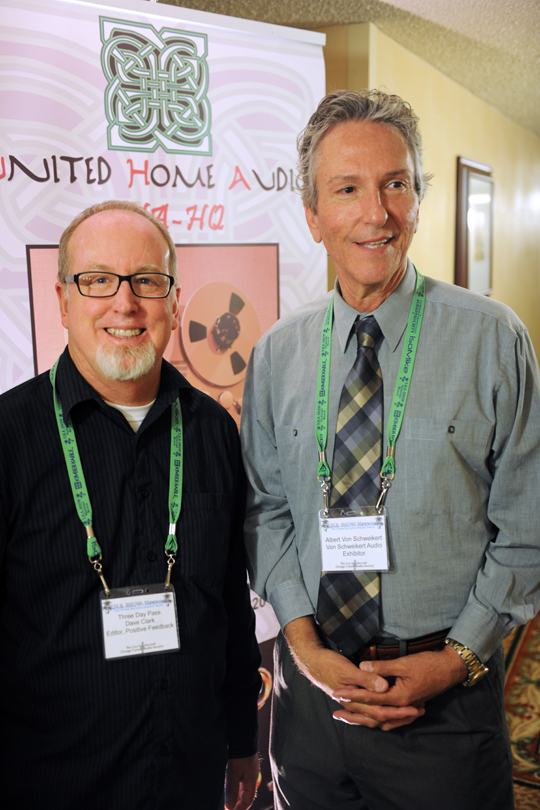 Dave Clark enjoying the moment with Albert Von Schweikert…
In other words, if you missed 2011, do not miss the 2012 show….
My PFO Audio Oasis! Awards for T.H.E. Show 2011
Shift gears.
Every show that I attend these days gives me an opportunity to hand out an award that I developed years ago: the PFO Audio Oasis! award. The idea hit me when I found myself getting jaded by overdosing on room after room, trying to see every system and demo without exception. I'd reached the point where these were a waste of time for me. All that I was doing was pounding pavement, without really enjoying the special rooms that really allowed me to connect to the music emotionally. I decided that I would quit my room-chasin' ways, and focus on the audio cream. I'd tell our readers about where the gold was, and not where it wasn't, and use the Audio Oasis! awards to put the word out on the good stuff.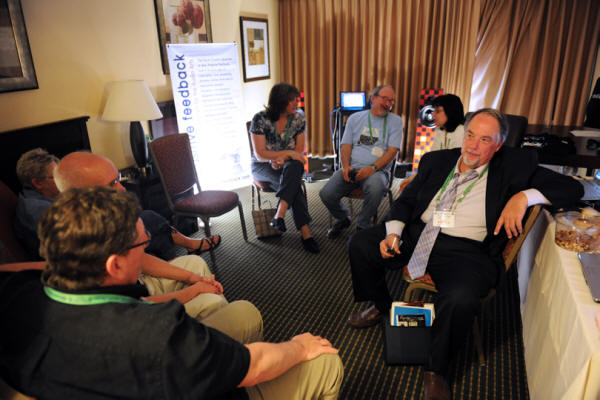 A typical moment in the Positive Feedback Online Hospitality Room… good folks, good food, good drinks, good music!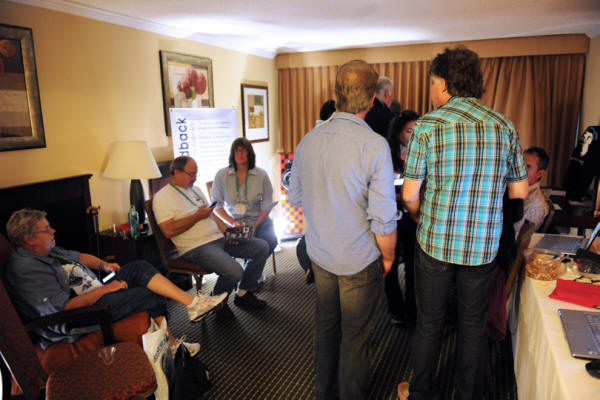 And so it has been. My AO! Awards are given to the (rare) rooms that really speak to me. Understand that I don't get to every room… there simply isn't enough time and energy to do that. But of the rooms that I did hear at T.H.E. Show 2011, these were the ones that really floated my boat...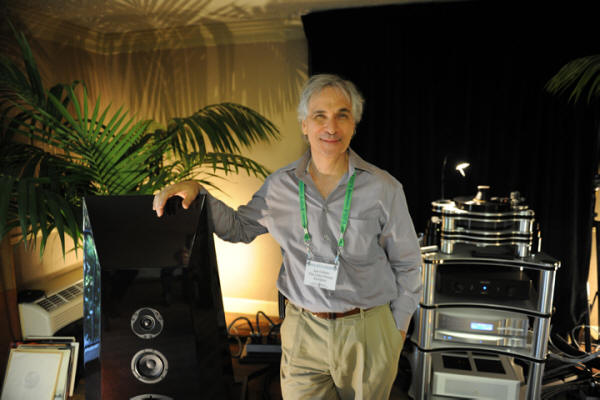 Joe Cohen: The Lotus Group
Joe Cohen's rooms have been real sanctuaries over the years. There's always something fundamentally right about the way that his systems present the music there… a harmonic richness, with tone that talks to the soul.
This means that Joe puts together rooms and music that do a really good job of reflecting his own love for music, for the harmonic wholeness and richness that great music can bring to our lives. He's been doing this for a long time now, and his room was a restful place for me.
I will say that the sound in Joe's room this year was larger, more dynamic, and more authoritative than I've heard in the Lotus Group rooms in past years and other venues. While nuance was there, so was real oomph; I was impressed.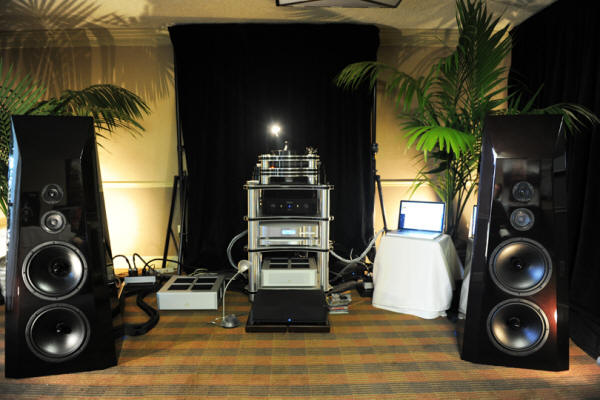 The equipment in this room included:
dCS Puccini CD/SACD player
dCS Puccini Clock
Hanss T-60 Turntable with Ortophon T-110 Tonearm and Ortophon Winfield Cartridge
Oyaide STB-MS LP Stabilizer
SMc Audio VRE-1B Preamp
Aesthetix Io Eclipse Phono Stage
Aesthetix Atlas Hybrid Stereo Amp
Lotus Group Granada G2 Loudspeakers with X-1 DSP Crossover and room correction, and 500 WPC woofer amplification
Cables were various PranaWire models; power was handled by the Oyaide MTB-4 R1 Power Distribution Box
The combination was extremely musical. Good show, Joe!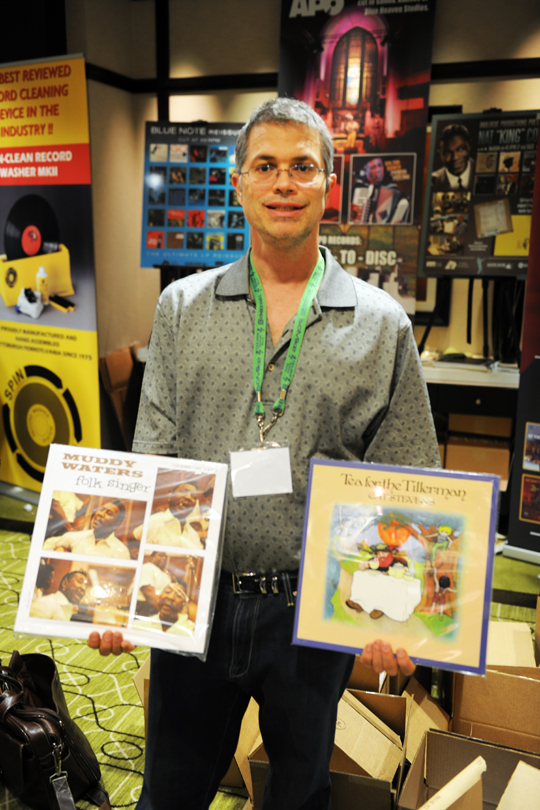 Chad Kassem proudly displays his latest LPs: glorious heavy vinyl reissues of Muddy Waters Folk Singer and Cat Stevens Tea for the Tillerman. And they're great… so I bought 'em!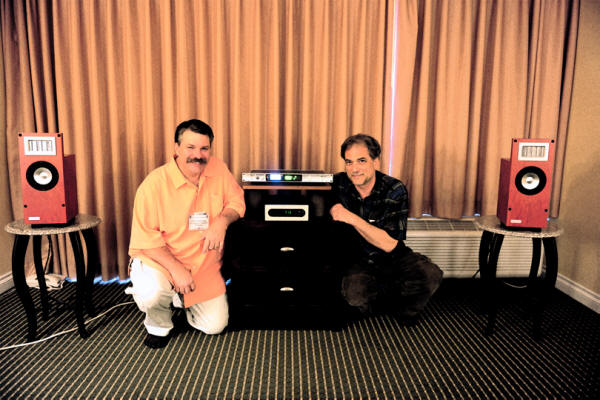 Good friends Chris Sommovigo of The Signal Collection and Todd Garfinkle of MA Recordings show that good sound can come in smaller packages...
Philip O'Hanlon: Music on a Higher Note
Rats! Here's an embarrassing thing to confess: I enjoyed Philip's room so much…especially that bloody Lou Reed "Take a Walk on the Wild Side" EP…that I forgot to take some photographs!
Unreal.
Talk about the end of a long day…I got to Philip's room, truly pooped, and looked over the gear. It consisted of:
Audioaero La Source CD/SACD player and preamp
Brinkmann Oasis direct drive turntable
Brinkmann 9.6 tonearm
Brinkmann Pi cartridge
Luxman E-1 phono stage
Luxman M-800A Class A stereo amp
Vivid Audio G2 Giya speakers
Revox PR99 with Sonorus mods
Crystal Cable used throughout
Master tapes from The Tape Project
Philip kindly volunteered to put on an LP that I would really like, so I sat down. On came the Lou Reed, in an EP that was the best pressing that I've ever heard of that song. (Philip? What EP was that one, anyway?!) A real find…as I recall, he said that the EP was 30 years old, and that it was hard to find…ain't that always the way?
Anyway, those special moments were worth an Audio Oasis! Award all by themselves.
And a big tip o' the hat to Philip, whose room did such a great job of reminding me why we all love fine audio!
Dan Meinwald: E.A.R. USA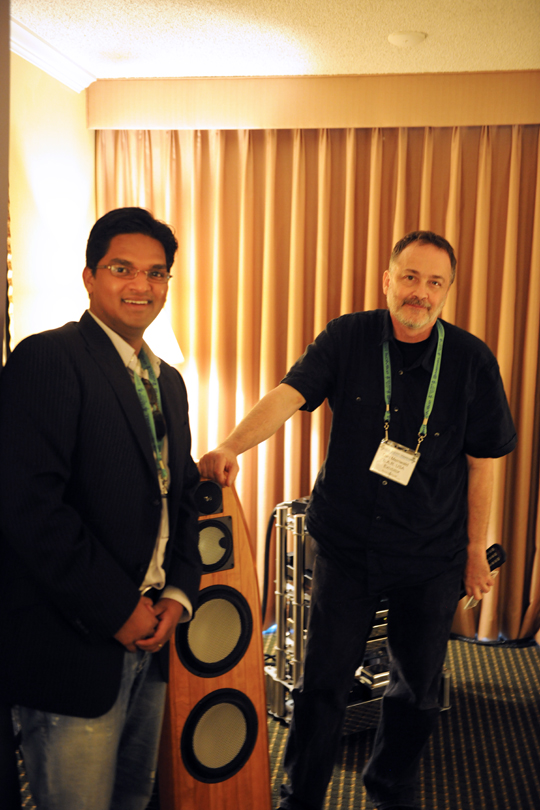 Dan Meinwald (right) in his musical domain…
Here's a big no-surprise: Dan Meinwald's room was sounding superb, as always. Yes, Dan's long-standing combination of E.A.R. electronics from maestro Tim de Paravicini and Marten Designs speakers is always musical, but much of the reason for this is Dan's musical sensibilities. His selection runs strongly to vinyl, and he always brings along interesting recordings. The synergy between the E.A.R. stack and the Marten line has always struck me as muy simpatico, and this time was no exception.
The equipment that Dan featured in his room included:
E.A.R. Acute CD player
Townshend Rock 7 turntable
Helius Omega tonearm
London Reference cartridge
E.A.R. 890 amplifier
E.A.R. 912 preamplifier
Marten Coltrane loudspeakers
Jorma Origo interconnects and speaker cables
Dan and I didn't get any time to talk this time around… he was busy while I was there…but it's nice to know that some things don't change. You can count on Dan Meinwald's E.A.R./Marten Design room to always be topnotch. If you take the time to talk with him about his music, instead of inflicting your music, you'll learn something good, too!
Kudos, Dan. Don't change a thing.
And an Audio Oasis! Award for sure…
Jeremy Bryan: mbl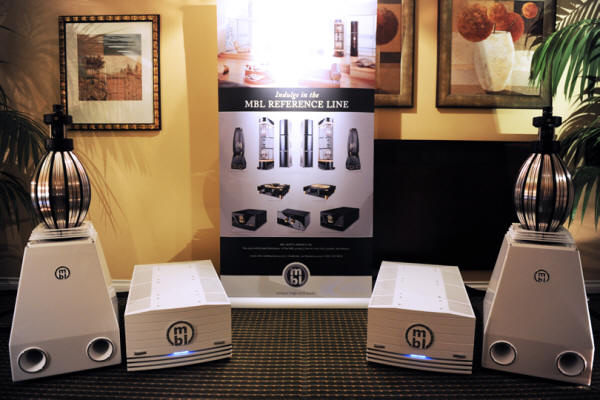 The splendid mbl reference line (101E MK II omnidirectional speakers and 9011 monoblock amplifers) on parade…
mbl was a line that once was not even on my radar. Back in the mid-'90s, Positive Feedback had done some reviewing of mbl, when we had a writer who had a good contact with them. After he left us, that link dried up immediately and blew away.
Then, in October of 2007, I happened to stick my head into the mbl room on the end of the last day of the Rocky Mountain Audio Fest. The room was packed, and in just a second, I could see why: the sound of the recording (a classical piano piece, as I recall) was astonishing.
A review project followed, leading to a Brutus Award for 2008 for mbl. Since that time, there has been a bit of a row over mbl distribution in the USA, which led to my review commentary being truncated, since American distribution of mbl was not clear for a couple of years following. That's always a serious concern in the review biz.
Now, I am glad to report, mbl's distribution in the USA has been settled, with Jeremy Bryan taking over as the President of mbl North America, Inc. Jeremy and I met that T.H.E. Show Newport Beach, and I find that he is a very pleasant and professional person. I sat in for a while listening to their reference line in a glorious white and chrome finish.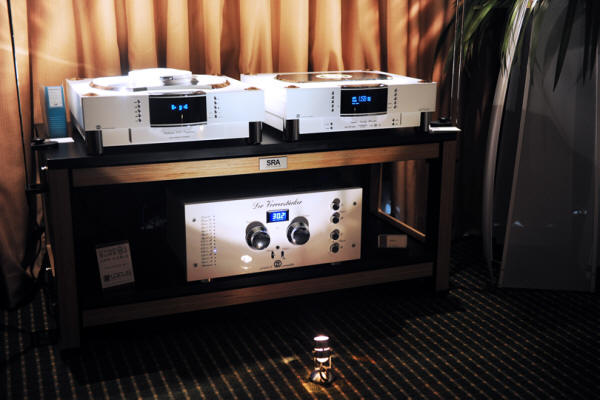 Left to right, top shelf, the mbl 1621A CD Transport, 1611F D/A Converter, and (lower shelf) the 6010D Preamplifier.
The 101's that I had previously heard in my listening room were startling in their truly holographic imaging and soundstaging. There was excellent detail, extended high end, and delightful bass, all being well integrated. No metallic brassiness; no lack of integration…and all richly harmonic and musical. I was enchanted, as were all visitors to my listening room back in the halcyon days of 2008. (You know…way back then. You'll find my summary comments in Issue 41 at http://www.positive-feedback.com/Issue41/brutus_awards.htm).
The 101's have now been revised to a MK II level, and, judging by what I heard all too briefly in the mbl room, there is improvement in the clarity of the 101's. I can't tell more than that, since the room was unfamiliar and somewhat small…but the mbl system was extremely promising.
Definitely Audio Oasis! Award territory, though… I spent quite a while in this room.
The good news is that mbl has promised a complete reference system for review in the fall of 2011: the new 101E MK II speakers, a pair of the mighty 9011 monoblocks (instead of their smaller brother, the 9008's that I had review in 2008), a return of the 6010D preamp, and their 1611 and 1621 digital tandem. This will be quite a synergy to explore… the room is ready.
And thanks to Jeremy Bryan for a brilliant, very pleasant listening session!
Los Quatro Amigos! The YG Acoustics, Kubala-Sosna, and Tenor room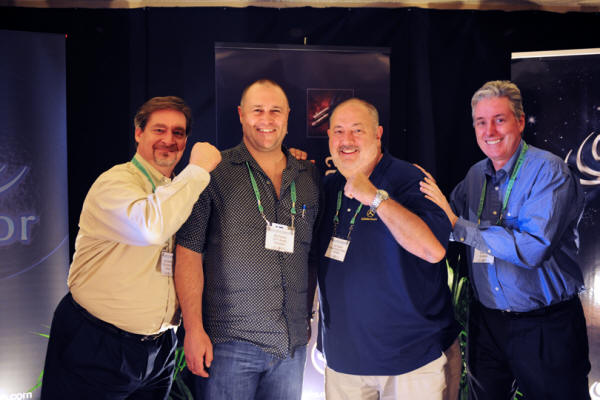 Yep, there there are…in the flesh! Left to right, Dick Diamond of YG Acoustics, Bill Parrish of GTT Audio, Joe Kubala of Kubala-Sosna, and Jim Fairhead of Tenor. Quite the gang!
Over the past year I've gotten a couple of opportunities to hear the design work of Yoav Geva and company over at YG Acoustics. Ditto the splendid work of Joe Kubala and all over at Kubala-Sosna. At this show, I found them in the same room with Jim Fairhead of Tenor Audio, and sharing a room with GTT Audio's Bill Parrish. Once again, as at RMAF 2010, there were some fine DSD sources, fed via Korg 2000's to the new Tenor preamp (not yet shipping, as I understand it), the massive Tenor 350W hybrid monoblocks, and thence on to the YG Acoustics Anat III loudspeakers via Kubala-Sosna's Elation! cabling. Very tasty!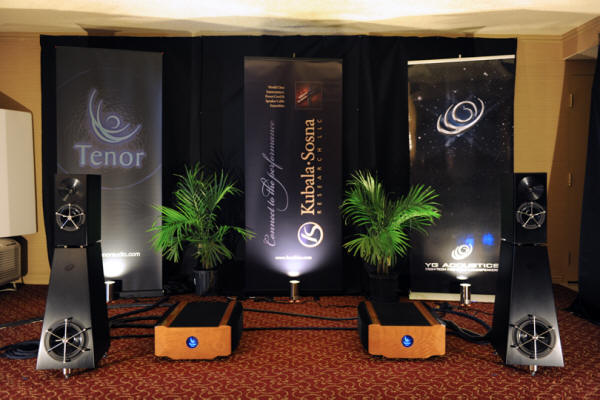 At RMAF 2010, the amplification was supplied by the big Soulution monoblocks, certainly very authoritative iron for the YG's. (And yes, the YG's do prefer some serious juice, just in case you were wondering.) This show provided me with the opportunity to hear the Tenor hybrids in action. The result was yet another stellar room full of big sound: clear, clean, wide-range, and very dynamic audio reproduction. And yet there was delicacy when necessary, and a remarkable degree of detail. The quality of the source recordings came through every time, and drew me in more than once to sit down…or stand… and take it in.
In fact, I was so impressed, that I arranged to have the big YG Acoustics Anat III Signatures, with their powered woofer section, together with the Tenors and the Kubala-Sosna Elation! cabling, to be shipped to our reference listening room here in Oregon to check it out. I'm up to my neck in it right now...
This is Audio Oasis! synergy, all right. That three such diverse companies should come together so well under show conditions is pretty remarkable… well done, gents!
Jonathan Tinn, Andreas Koch, Kevin Malmgren, and Bruce Brown: Blue Light Audio, including Playback Designs, Evolution Acoustics, Wave Kinetics, darTZeel, Durand Tonearms, Ortofon, ATR Services, Audience, and Puget Sound Studios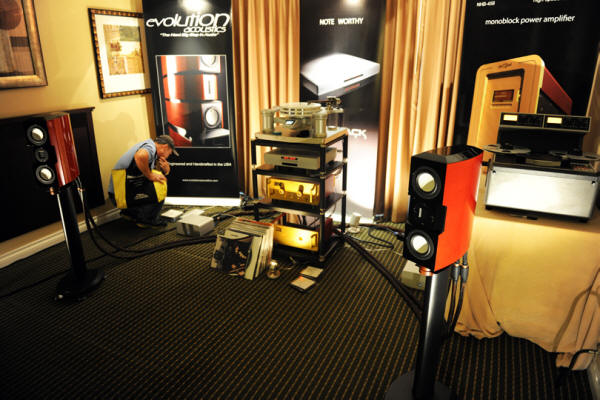 The Blue Light Audio, et al. room at T.H.E. Show Newport Beach 2011: filled with audio wonders!
Of all the rooms at T.H.E. Show NB 2011, for me the one with the greatest density of remarkable audio devices and breakthroughs was the Blue Light Audio room. The room's MC was Jonathan Tinn, who was once again featuring absolutely brilliant sound, with an array of components that not only synergized, but broke new ground in what's possible in fine audio.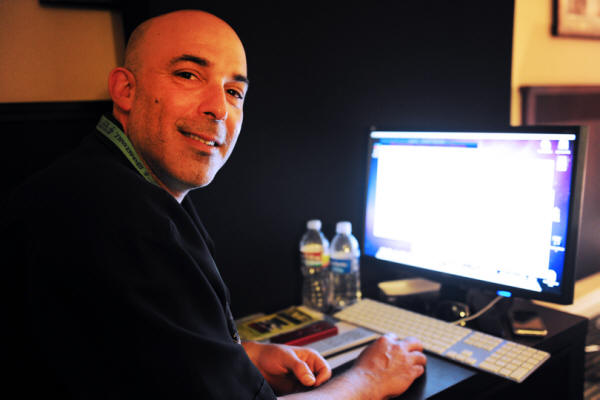 Jonathan Tinn at the controls, sending out very high resolution PCM and DSD files via the new Playback Designs USB-X box and the new MPS-3 player to the rest of the audio chain. In a word: unbelievable!
Just about everywhere I turned in this room, I found significant advances. Not that there weren't some familiar components: the darTZeel NHB-108 Model B, a unit that I have been listening to for over a year now, was pumping the power, while the darTZeel NHB-18NS preamp with phono section, another very familiar design, was at the heart of things. Top o' the heap stuff, all the way.
But then there were the less familiar components. To take the most obvious thing, the Evolution Acoustics MMMicroOne loudspeakers seemed dwarfed by everything else in the room. They're micro, all right: just simple, clean two-ways in the beautiful wood finish that Kevin Malmgren has honed to a reference standard. Simple stand. No subs. And yet – just as soon as these little ninja artists went into action, you were suddenly blown up by the results. Quite simply, this is the best small monitor system that I can ever remember hearing. Period.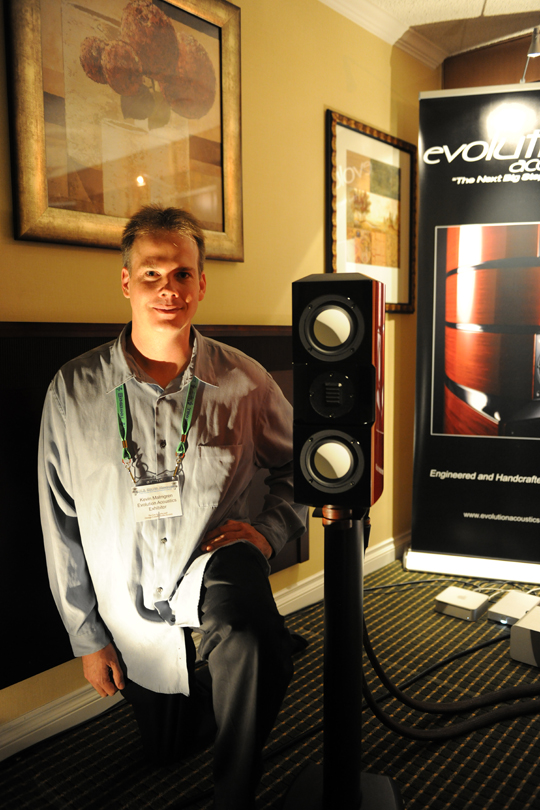 Kevin Malmgren next to the superb Evolution Acoustics MMMicroOne monitor loudspeaker…the best monitor of anything like its kind that I've heard.
You can see how small they are in the photograph above. And yet the sonic result in this room was massive. This is not a secret; the buzz has been building among reviewers and audiophiles all year about these amazing speakers… and rightly so. I think that many 'philes would find that these speakers would be all that they needed for exceptional sound.
And the most incredible news is the price. The full MSRP has been announced at $2,000 per pair.
That's right: $2000 per pair. (The EA stands for these will be another $500.) This is mere chump change in the often stratospheric world of audiophile speakers, even in the category of monitors.
Personally, I think that Evolution Acoustics had better be ready for land-office business when they start shipping in late October and early November. I'd be shocked if they didn't sell tons of these. So far as I know, there are a handful of Positive Feedback Online reviewers who have already signaled that they purchasing pairs.
Naturally, I'll be getting a pair in for review. Smart folks will arrange an audition ASAP…don't miss these!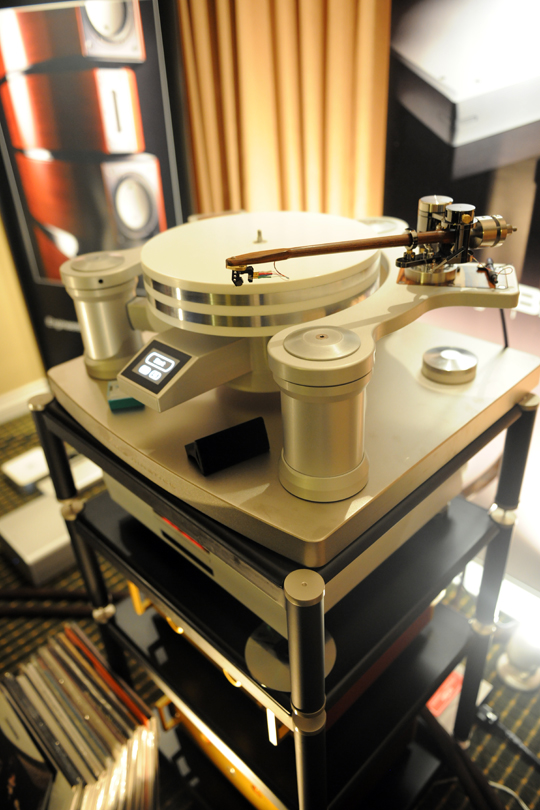 The Wave Kinetics NVS reference turntable… exceptionally seductive!
Also catching mine (and everyone's) eye in this room was the undeniably appealing Wave Kinetics NVS turntable with its Durand Talia II Reference Tonearm and Ortofon MC A-90 cartridge. Made to Jonathan Tinn's exacting specifications, this direct drive system was sounding truly superb, even in show conditions. Clearly this 'table is setting itself up to become a contender in the top ranks of turntabledom… and this at an MSRP of $35K for the table itself. (The Talia II tonearm retails at another $7900; the Ortofon A-90, which was $4200 is sold out nowadays.) Not cheap, by any stretch of the imagination, but definitely less expensive than a number of other reference-grade turntables. I have one on the way now for review… it's going to be interesting to hear how well this system will sound at PFO Central!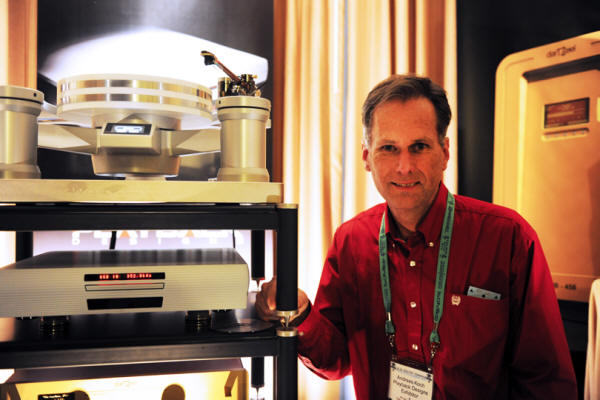 Andreas Koch of Playback Designs with the new MPS-3 CD player/DAC; the player is in external USB mode.
But there was more. On the digital playback side, Playback Designs debuted its new MPS-3 player/DAC and its new USB-X interface. This remarkable new system allows for the playing of CDs optically, and other sources via other inputs,i>but also has a USB interface (via the USB-X I/O converter) that allows for the playback of PCM files up of up to 384 kHz and (gasp!) DSD files of both 2.8224 mHz (1x or 64fs) and 5.6 mHz (2x, 128fs, or "double DSD") sampling rates!
Am I sure about that?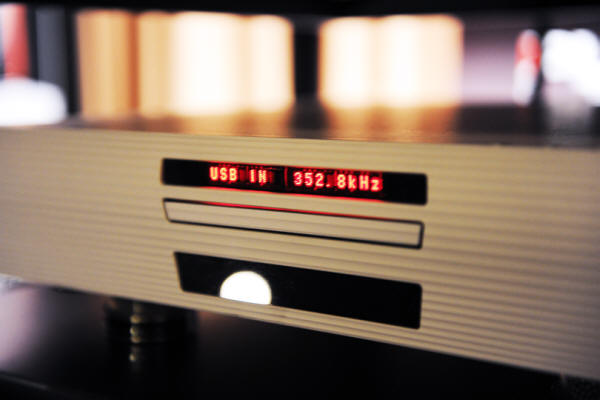 Playback Designs interface signaling a 352.8kHz PCM input…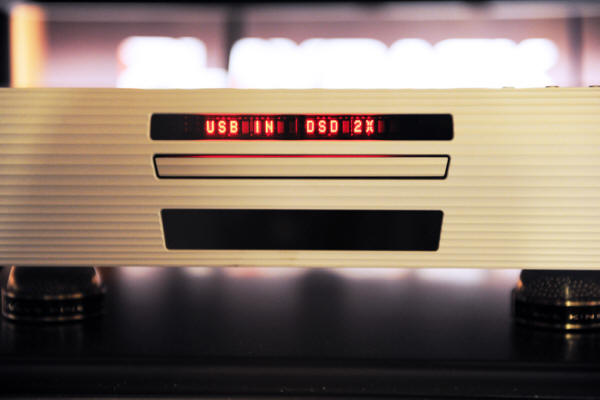 …and also showing the show-stopper, a 2x DSD input over USB of 5.6 mHz.
Yes, I am.
The interface for playback from a Mac was provided by Pure Music, with a look that was very much like an iTunes system. The use of the system was intuitive, with simple double-clicks serving to provide the cuing of the next track. It was startlingly simple; any iTunes user can get the hang of this in a short time.
The quality of the sound was what I would expect of pure DSD and the highest level of PCM played back from hard disk through Andreas' latest firmware revision: transparent, spookily detailed, natural, and effortless. It coupled with the rest of this room's components to produce a quality of sound that I'm not used to hearing at shows. Apart from the obvious show distractions, and the crowds attracted by the quality of the music here, it was more like being in a mastering studio than at an audio show. Like the YG/Kubala-Sosna/Tenor room, the use of DSD files produced a level of source excellence that made lesser sources more apparent by comparison.
I should also mention that this room featured a very nicely restored ATR open reel tape machine, and since I never lost my passionate love of RTR gear…have had it since I was a sophomore in high school…the occasional open reel playback was also a great treat. With top-notch sources, open reel is its own deep romance, maintenance pains and all. Would that we had affordable sources for same.
Overall, the new Playback Designs systems are simply the best that I've heard at a show. They'll be arriving soon to see if they can stand up to careful and extended listening here in Portland. I strongly suspect that they will, which means that a new, true reference standard for audiophiles everywhere has landed….
An Audio Oasis! Award for this room? What do you think?!
Finally…
I should say that T.H.E Show Newport Beach 2011, in retrospect, exceeded my hopes and expectations for a first-year event. The rooms that I've recognized in this essay were all first rate, and collectively demonstrated that TSNB should be at the top of any audiophile's list of shows. I know that the PFO gang is already planning to be there again next year; we hope to see you in Newport Beach in 2012.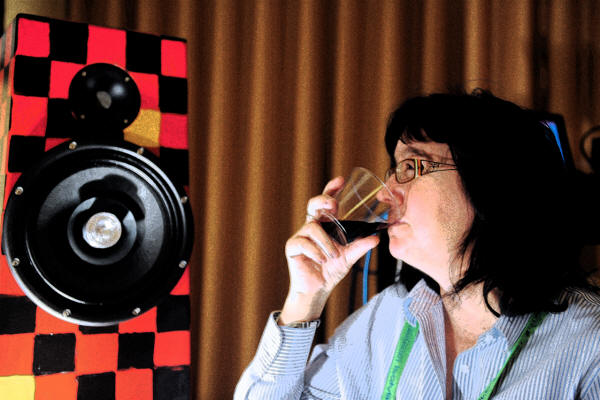 Until then, Carol Clark and the rest of us all tip a glass o' wine in your general direction!