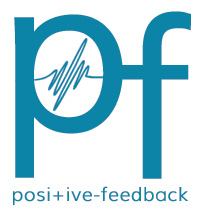 You are reading the older HTML site
Positive Feedback ISSUE 57
september/october 2011
Tinariwen at the Belly Up Tavern, Solana Beach, CA July 12th, 2011
by Andre Marc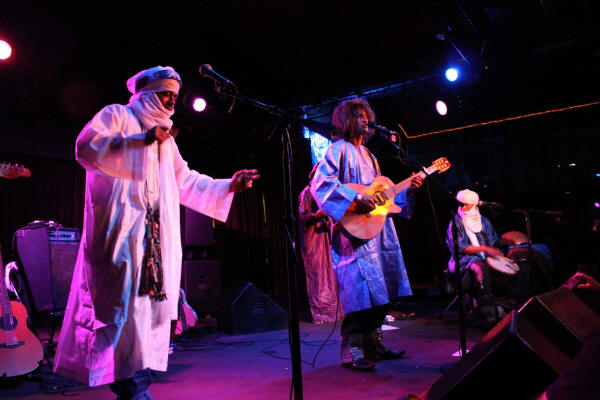 On a Tuesday night in Solana Beach, CA, thirty minutes from downtown San Diego, a group of musicians I never thought I would see perform live took the stage at the Belly Up Tavern. I had been following Tinariwen for a number of years now, having first heard them played over the P.A. at a Robert Plant concert in 2005. They hail from Northern Mail, and are of Tuareg ethnicity, who have traditionally been nomads who roamed the Saharan desert They speak their native Tuareg language, as well as French, and a tiny bit of English. Their MySpace page describes their sound "as if Keith Richards, Santana, John Lee Hooker, various members of Primal Scream and the Grateful Dead had got lost in the Sahara for a decade and then returned as a fully-fledged desert band." Wow
I had seen Tinariwen perform on DVDs and I own several live recordings of the band, but the opportunity to see them in the flesh was an opportunity I was not going to miss, for any reason.
The Belly Up Tavern is one of my favorite venues, with an excellent sound system, superb acoustics, and a laid back clientele. The interior is mostly wood with high ceilings, which creates a great ambiance.
When Tinariwen took the stage, the place was packed, and just from their appearance and stage set up, I knew this was going to be a great experience. They were dressed in their traditional, beautifully decorated, colorful robes, sandals, and head scarves, covering all but one of their faces. Only, one of the co-lead singers, who alternated between acoustic and electric guitar, was unencumbered, and he bore a striking resemblance to Jimi Hendrix. The rest of the band consisted of a rhythm guitarist playing a gorgeous Fender Telecaster, a percussionist, an additional vocalist, and a bass player who played an electric bass upside down.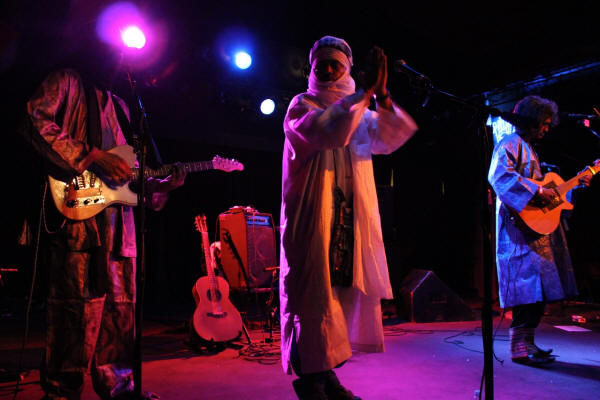 Half way through the first song, the crowd was in a frenzy. The band implored the audience to clap along, and they did... all night long! The music was a stunning, other worldly mix of hypnotic, trance like rhythms, modal, bluesy guitar lines, and chant like vocals. To put it into perspective, the band who come from eight thousand miles away from Solana Beach, had a crowd that did not speak their language utterly under its spell.. I have rarely seen this, and at the midway point the band and the crowded were in lock step.
I have seen over two hundred and fifty concerts, and Tinariwen provided me with one of the most hair raising musical experiences of my life. So much so, I was even contemplating driving up to Los Angeles to see the next nights show. Alas, I did not, but I wish I did. Not only are Tinariwen master musicians, but they are amazing proof that music is borderless. They brought their modal, North African blues with them, but obviously, they don't live in a vacuum, as they play electric guitars, and sometimes slip Western themes into their jams.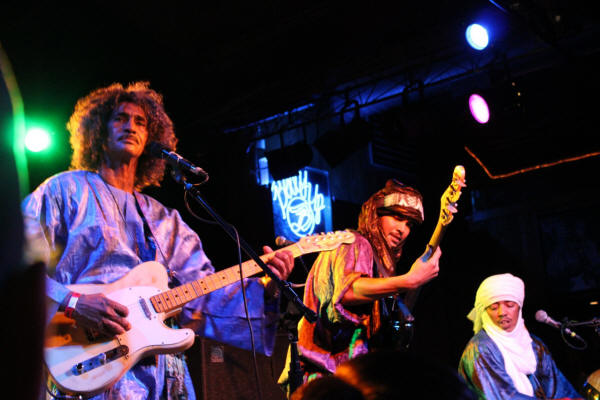 If you are musically adventurous, and are into earthy, hypnotic, and exotic sounds, do your self a massive favor and check out Tinariwen's three CDs'. You will be very happy if you do. They also have a album scheduled for release sometime in September. There are a number of other Tuareg bands as well, each one having a distinct sound, but all drawing on similar elements as Tinariwen. This was easily one of my top ten shows.