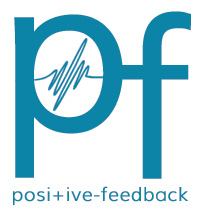 You are reading the older HTML site
Positive Feedback ISSUE 58
november/december 2011
Notes of an Amateur: Shostakovich Quartets and Symphonies; Haydn String Quartets; and Three Short Takes
by Bob Neill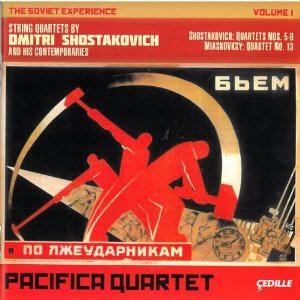 String Quartets by Dmitri Shostakovich [5-8] and his Contemporaries [Miaskovsky, Qt. No. 13]. Volume 1. Pacifica Quartet. Çedille CDR 90000127.
Having shown us how Elliot Carter's string quartets are supposed to go [www.positive-feedback.com/Issue35/amateur5.htm], the rapidly rising American Pacifica Quartet here embark on a complete cycle of the string quartets of Shostakovich (to be followed in due course by a Beethoven cycle if their current concert schedule is indicative).
The traditional approach to this music is tight, frenzied, and wiry: the Borodins and Fitzwilliams, now a generation in the past, introduced that version of the composer, reportedly with his blessing. The Sorrel Quartet suggest persuasively [http://www.positive-feedback.com/Issue28/amateur3.htm] that the music has a more poetic core than the composer and his first interpreters may have been aware of. Composers know what they intend but not always what they actually compose! And now we have the Pacificas, who have a way of revising our ears and taste. With both Carter and Shostakovich, they are forward and direct—almost percussive, which these two modernists invite. But there is also warmth and a love of string timbre in their playing, which seasoned engineer and producer, Judith Sherman, brings to the fore. (She also produced the Carter recordings and the quartet's great breakthrough recordings of the complete Mendelssohn quartets six years so which are richer sounding, which is appropriate for the composer, but also notable for directness and highly articulate strings.) The Pacificas' Shostakovich is not as liquid as the Sorrels but they share some of their warmth. To say they lie between the Sorrels and Borodins would be too simple, overlooking some of their other virtues: drama and an extraordinary feel for this music, their ability to pull us into it without compromising either its starkness or its lyricism. They communicate restlessness and unease even when all seems relatively well.
Choosing to open this series with quartets Nos. 5-8 is likely a calculated strategy to capture us for the whole project. It has got me. An interesting aspect of the project is including quartets from Shostakovich's near contemporaries, in this first album a quartet by Nicolai Miasakovsky. Miaskovsky is a generation older than Shostakovich and has audible musical links to the age of Tchaikovsky. Though he lived long enough (1950) to experience the effects and attractions of modernism and, we are told, suffered even more than Shostakovich from the Soviet suppression of new music, his Quartet No. 13 composed very near the end of this life has a strong and appealing nineteenth century feel to it. Notwithstanding the 'historical' argument for including his music alongside Shostakovich's, it also a generous act—taking advantage of the greater composer's drawing power to build an audience for a highly deserving composer in danger of being lost. An auspicious beginning to what should be a great series.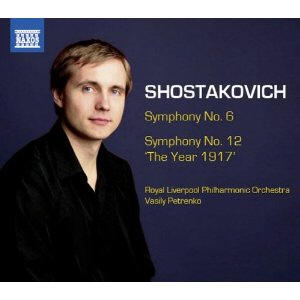 Shostakovich, Symphonies Nos. 6 and 12. Royal Liverpool Philharmonic Orchestra, Vasily Petrenko. Naxos 8. 5726589.
This searching and poignant cycle of Shostakovich's symphonies continues with Volume 6. Does it take a young Russian born long after the social/political circumstances in which this music was composed to find its heart? It would seem so. Beneath the usual flamboyance, passion, and fanfare of Shostakovich's symphonic output (which is here in all of its glory but with more internal energy), lies, we are now discovering, lyricism, melancholy, balleticism, and even pastoralism. Petrenko plays this music for what he hears in it, not what he has read bout it in social history or biography—or heard in its performance history. (Sounds like recent recordings of the quartets, eh?) Critics will likely say he underplays this music, lets the air out of it, releases its essential tension. I don't think so. That's not what I hear. I hear the spirit which his contemporary Russian and Baltic successors—Silvestri, Kanchelli, Vasks, et al—bring to the surface and make more explicit. I hear a Russian Mahler. I hear this music for the first time, not as the foil for his 'profounder' chamber music, but as integral to a major modern composer's oeuvre. Just as Jansons' is revealing the subtler, more beautiful Viennese Mahler in his cycle with the Royal Concertgebouw, Petrenko gives us his deeply Russian successor.
The sound is impressive, bringing out out both detail and weight. Fare forward, Vasily.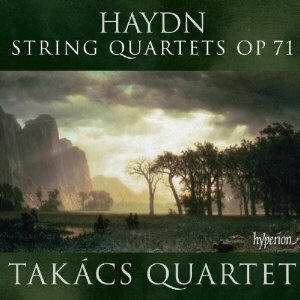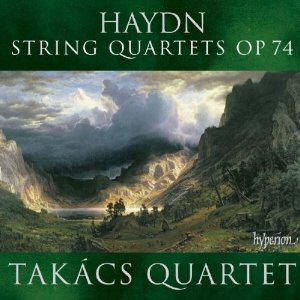 Haydn, String Quartets, Op. 71 and Op 74. Takács Quartet. Hyperion CDA 67793 & CDA 67781.
The Takács Quartet have been among most people's top ten (at least) for some time now. They were formed by four Hungarian students at the Franz Liszt Academy in Budapest in 1975, and while there have been some personnel changes, two of the original musicians are still with them. To my ears, their sound, while it has not changed appreciably, feels a little less European now. (The two newcomers are British and American.) They are probably best known (and most respected) for their multi-award winning album the complete Bartok quartets, music that suits their characteristic sound and style admirably well. They are bold, clear, trim, fleet, and disciplined. As a result, their Haydn is as modern sounding as classical. They eschew elegance in favor of energy and vigor. I don't believe I've heard such forceful Haydn. These performances lean considerably more toward Beethoven than Mozart: the group find Haydn a strong composer who needs to be played strong to be heard right. If you are a Haydn lover or even just a admirer, the Takács will likely confront your expectations, demanding that you choose. If their Haydn is the right and true one, some of us will have to look him and ourselves in the eye and re-think our previous understanding, a reaction the Takács are accustomed to.
An interesting contrast is provided by their peers, the Emerson Quartet, whose Haydn has more sense of ease, is fuller sounding, and which, in a typical example, is a full two minutes longer in Opus 74/3. Comparing these two performances head to head clarifies the earnestness, urgency, and conspicuous discipline that the Takács bring to Haydn. They can sometimes make the Emersons sound a bit lax and sleepy, which of course they are not! But that the Takács can have this effect tells us a good deal about their approach to the composer. If you know the group and have found their Bartok and well received fairly recent Schubert and Beethoven performances satisfying, have no fear. In any event, this is highly accomplished music-making.
Short Takes (during the Hallow'een Storm and power outage in New England, 2011.)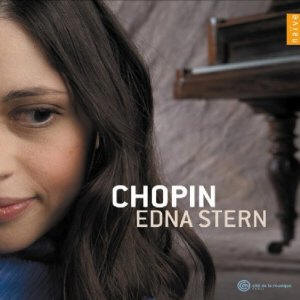 Chopin, Edna Stern, naďve records AM 197
Where does the pianist leave off and the piano begin? I heard about this album by word of mouth and pass it along to you with the same amount of commentary I got—virtually none. This is an Israeli pianist playing Chopin on an 1842 Pleyel piano much like the one Chopin played on, we are told. She loves the piano and clearly has a direct channel to the composer, whose music she writes about in notes with great intelligence. Clearly the composer is telling her to take it slowly: don't play it, let it play through you. Something like that. I love finding and passing along sleepers. I don't listen to Chopin much, but I listen this recording a lot.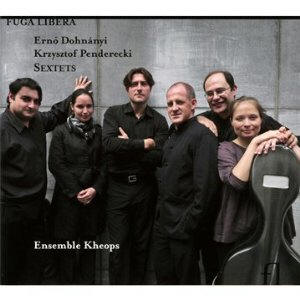 Ernő Dohnány; Krzysztof Penderechi. Sextets. Ensemble Kheops. Fuga Libera records. Fug 585.
And here's another one! Also found through word of mouth, but mostly on a lucky guess. These two works have been recorded together, we are told, because they demand the same mix of instruments and because they are both wonderful. And they are, wonderful. I have played this CD countless times over the past couple of months when I just wanted something fresh which doesn't give up its secrets easily. The works, coming from two different musical time worlds and are nothing alike. I have come to love them both. They tell me things about the old and new world I can't learn any other way, and I wish them upon you.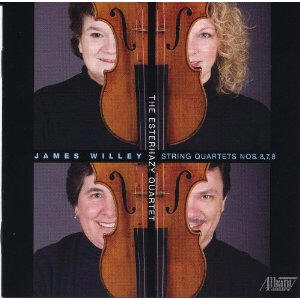 James Willey, String Quartets Nos. 3, 7, and 8. The Esterhazy Quartet. Albany Records. Troy 1245.
I'm not sure how much of a claim to make for this music because I have grown so fond of it. Willey was born in Lynn, Massachusetts in 1939. He writes lyric modernist music—or lyric music that has found a path out of the thickets of modernism without forgetting what we learned there. His music has both textual fascination and moments of extraordinary beauty. It 'remembers' Ives, who went in the other direction. Also Copland, though he has clearly moved on. It has a pronounced American feel to it—and Quartet No. 8 is 'after' a pair of nineteenth century American hymns. These three quartets were composed in 1981 and 1999, the latter two revised in 2010 and 2009. They appeal to me especially because I hear a lot of music that tries to do what it does but succeeds only in expressing the effort: older music resisting new forms like the proverbial oil and water. To my ears, Willey succeeds altogether, which is a hopeful sign for the future of especially American music.
If the modernist aesthetic has become a dry well for some composers (and listeners) coming of age nearly a century after its heyday, ears which no longer feel an urgency for its radical break from the nineteenth century ways of feeling and expressing, it still won't work to simply go home again. Artistic inspiration doesn't work that way. Sentiment does, but sentiment doesn't make real art. Art has to find a way to move ahead to live. And a composer like Willey shows us how, shows us a 'territory ahead' to be explored and recognized.
System used for this audition: Audio Note CDT 4 transport; Blue Circle BC501ob LOC dac and FtTH 2 integrated amplifier; JM Reynaud Bliss Silver speakers on JMR Magic Stands; and Crimson cable.
Bob Neill, in addition to being an occasional equipment and regular music reviewer for Positive- Feedback Online, is also proprietor of Amherst Audio in Amherst, Massachusetts, which sells equipment from Audio Note, Blue Circle, JM Reynaud, and Crimson Audio.