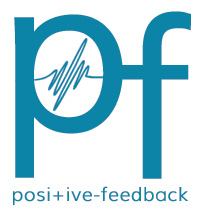 You are reading the older HTML site
Positive Feedback ISSUE 58
november/december 2011
Notes of an Amateur: From Russia with Schnittke and Gubaidulina
by Bob Neill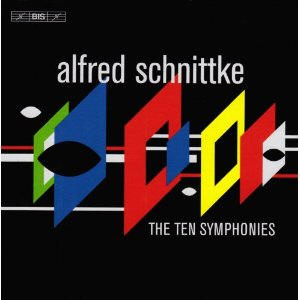 Alfred Schnittke, The Ten Symphonies. Six different Orchestras led by Segerstam, Klas, Otaka, Kamu, Jarvi, Jia, and Hughes. BIS CD 1767/68. (6 CD's for the price of two.)
The only sure way I know to make sense of the term "post-modern" in music is to hear a pure example of it. In its original usage as I understand it, the term meant art that openly turns on itself, exposes and dramatizes its artfulness to us, becomes self-conscious. Music that moves beyond modernism's attempt to find a new language so it can maintain some of the power of the old world in the midst of a new one; to a music that draws attention to how frustrating, even foolish, desperate, and hopeless that ambition is. To the post-modern artist, the new and old are fundamentally at war with each other, like innocence and experience. Post-modern music critiques the very act of making music with a music that refuses to let us receive it in the usual way. It undercuts and interferes with our attempt to suspend our disbelief and engage in it emotionally. It is music that makes fun of, exposes, the very process of composition. As such it comes across as either anti-music or music that wants to sweep the stage clear so we can start over. Arguably the music that starts over is the dissonant, spatial music of Legeti, Saraiaho, Gubaidulina, and the rest. The music that is after Schnittke.
The symphonies of Russian composer Alfred Schnittke (1934-1998) are as pure an example of it as I know. His Symphony No. 1, for example, plays with traditional music (Beethoven, baroque concerti grossi), quoting from it, then dissolving it into jazz, marching band music, and modernism. The experience of listening to it depends on your willingness to play the game. It is either silly and unnecessary or deadly serious and existential, posing fundamental questions about the continuing legitimacy of art. Schnittke's music frequently teases us and makes fun of our traditional expectations. If your usual relation to music is to just 'pass into it' as something continuous with your life, you will find that extremely difficult here. You may have to find another way to relate to this music, which is its point. Schnittke has got himself into a position where he finds music-making that isn't utterly self-conscious and questioning about what it's doing naïve and sentimental.
I came to Schnittke's symphonies out of curiosity. I have not heard enough of his other music to know how representative the symphonies are. The good news to begin with is that this music is not boring. There are places in it where we sense Schinttke proposing the music that should rise out of the ashes of the fire he has lit, humbled and hushed music that sounds a good deal like avant garde Eastern European and Russian music, Silvestrov's, for example. If you listen to music at least partly as a way of listening to cultural history, listening to Schnittke can be fascinating, remembering especially that his formidable Russian contemporaries took him very seriously and admired him. If you don't share any of his fundamental doubts about art and meaning, he can be a chore, just as many of the mid-twentieth century European novelists can be. That fiction and this music are to me art of profound disappointment and disillusion, which has most meaning and power for those who have had great hopes crushed; who had a great deal of emotional investment in the world before modernism. It is the sound of what has been referred to as the 'death of god.' With great hopes come the possibility of great disappointments. In Schnittke's music, the disappointment comes out as gallows humor: lots of musical parody, throwing conflicting musical styles up against each other and watching the odd and sensational results. There is serious stuff going on...or there isn't. Important questions are being asked or they aren't important at all. Human life has great meaning and art is obliged to describe, express, and maintain it; or it hasn't and/or it isn't.
I often get the feeling listening to this music that much of the admiration expressed toward Schnittke by his contemporaries is gratitude: thank you for doing this, writing this insane, honest, witty, passionate music so that we don't have to. So that we can go on and build a new musical world after the flood.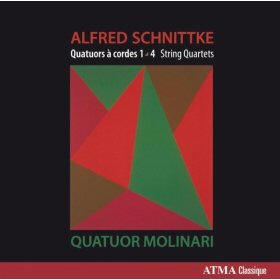 Alfred Schnittke, String Quartets, 1-4. Molinari Quartet, Atma Classique. AC CD 2634.
A more manageable way into Schnittke may be through his string quartets. Here again we have traditional sonorities juxtaposed and overlaid with more abstract ones, in effect asking us to contemplate the contrast and make our way through it all. What dominates this music is a musical mind with an old world heart battling its way as honestly as it can into a modern sensibility. In the Quartet No. 3, for example, the album commentator helps us identify Lassus and Beethoven buried beneath the wild and intoxicating textures of the surface—and the Beethoven in particular (from the Grosse Fuge) is indeed responsible for the old/new tension we hear.
With all of the quartets there is a sense of sorrow that seems to exist behind the music's turbulent foreground. This is not something we hear as much of in the symphonies. It is sometimes as if the melancholy that dominates the music of a Kancheli or a Vasks is submerged below anger or frenzy here. In the third movement of the Quartet No. 2, it comes to the surface and dominates in a mournful whisper which then grows into something more explicitly distraught. So there is clearly an emotional analogue present here. By the time we are into the last movement, we are in an abstract version of Silvestrov's mystical meditations.
Interestingly, Schnittke almost seems at home in the more straightforward modernist idiom in his Quartet No. 1 (1966) when he was 32, a musical language he has left behind in 2, 3, and 4 (1980, 1983, and 1983) when he was hearing age 50. The final movement of Quartet 1 feels like a musical version of a spare, abstract painting composed of splashes or color and diagonal lines. But even in this quartet we can hear sorrow in moments when the wild abstraction seems to have burned itself out.
As fascinating as I find his symphonies, it really is in the quartets, if you come to them with a clear and open mind, that you find inhabitable emotional space rather than disorientation and self-consciousness. This is music that really does show signs of beginning to combine old and new world musical power. I've listened to a lot of Schnittke in recent years, trying to get a toehold in his oeuvre, to hear what it is his eastern European and Russian contemporaries in particular find in him to admire. It has taken the string quartets to really land me. They are not easy fare. They have a discomforting way of staring into the bare face of the world without flinching. But they ring strong and true.
Chamber concerts in which all of a modern composer's string quartets are played (Carter comes to mind) are increasingly popular, especially in cities where a sufficiently large audience of adventurous listeners can be found. I'd love to hear this done with the quartets of Schnittke. They deserve a fresh audience. Quatuor Molinari, "Canada's answer to the Kronos and Arditti Quartets," are truly eloquent performers of this music. Let's get them on the road!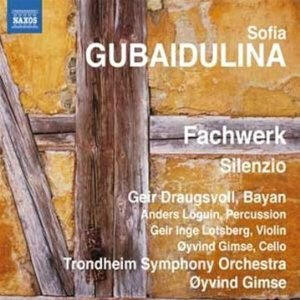 Sofia Gubaidulina. Fachwork; Silenzio. Trondheim Symphony Orchestra. Øyvind Gimse. Naxos 8.572772.
Contemporary Russian modernist composer Sofia Gubaidulina (age 80) clearly loves the bayan, a Russian cousin of the accordion, an instrument traditionally associated with folk and more popular music. In 2009, she truly went for it, composing a full-length concerto for bayan and orchestra, Fachwork, dedicated to Norwegian bayan virtuoso Geir Draugsvoll. The work is given its world recording premiere on this CD, alongside Silenzio, a trio for bayan, violin, and cello, composed in 1991
I have been more interested in Gubaidulina's music than drawn to it. There is an uncompromising and radical spiritualism to her work that, like most authentic matters of the spirit, doesn't care whether it pleases or not. Overly friendly or domesticated spiritualism is more likely hucksterism than anything authentic. We are supposed after all to be dealing with matters essentially beyond us. If not, what's the point? I am not an especially religious person but have always been impressed by Eastern (or Russian) Orthodox Christianity because it seems to understand this best. And I sense the Eastern Church, among some other mystical religious traditions, at the heart of Gubaidulina's work. All of this to say, we needn't be drawn to her music to find it worth attending to.
Part of why Gubaidulina is attracted to the bayan clearly has to do with its peculiar otherworldly (or sensationally sentimental) sound. It has, if it doesn't work for you, some of the properties of an electronic organ's sound. But the bayan is a considerably richer sounding instrument than the accordion we may mistake it for. And in the hands of Draugsvoll it also has the property of wildness Gubaidulina seeks. Listening to it playing alongside the violin in Silenzio, we hear where and how it departs from the classical sound world we are familiar with. But setting the bayan against and with a string orchestra (with percussion) lets its voice stand clear in a way that is more dramatic than in the trio. It strikes us more as the odd, lone voice that, especially in such a context, it is. A bayan can make sounds of which no other instrument is capable. And Gubaidulina gives it good lines! The concerto is a single movement work, which enables it to maintain its particular spell uninterrupted.
It is a quiet work, not so quiet as Silenzio but more meditative and ruminative than declamatory. And both works are more approachable by the Gubaidulina newcomer than many of her better known works. Wouldn't it be fun to see an outlying work like Fachwork makes it way into an American or European orchestra's repertoire!
Terrific sound, by the way. Redbook digital is alive and well.
System used for this audition: Audio Note CDT 4 transport; Blue Circle BC501ob LOC dac and FtTH 2 integrated amplifier; JM Reynaud Bliss Silver speakers on JMR Magic Stands; and Crimson cable.
Bob Neill, in addition to being an occasional equipment and regular music reviewer for Positive- Feedback Online, is also proprietor of Amherst Audio in Amherst, Massachusetts, which sells equipment from Audio Note, Blue Circle, JM Reynaud, and Crimson Audio.