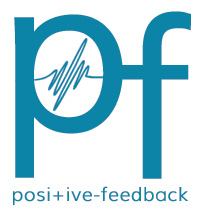 You are reading the older HTML site
Positive Feedback ISSUE 58
november/december 2011
The Future Is Here - Audio Still Rules
by Karl Lozier
Blu-ray recordings may be video, audio or most commonly video plus audio. If the video is a distraction turn it off though I would suggest watching the video at least once; at times it can be interesting or entertaining. Naxos is again following up with more high definition (Blu-ray) audio only releases. For many listeners that will be a distinct improvement in audio quality if the HDMI digital output signal is used instead of the analog. That one cable carries everything including stereo or multi-channel audio in addition to the very high quality Blu-ray video signal. Greater clarity and a smoother treble will be noticed with many if not most home audio systems. So far this seems to be consistently true. Easier connection needing only one cable is appreciated by all. Sometimes new-fangled things are even easier to use while offering better quality, at least in the audio musical field.
An easy way to get into the beauty and audio and video qualities of Blu-ray releases is by getting a truly good player (a good start is important with many things in this old world). In this issue I will continue to use the moderately priced Oppo BDP-95 player for all the Blu-ray reviews, an over performing universal player; other players may be used for SACD recordings. Next item needed would be a very decent AV receiver such as by Onkyo, Integra, Denon and others that have multiple HDMI cable inputs and good digital or digital to analog connections and jump right in. Your newer television sets will have the correct and simple HDMI connections for simplified setup. The AV receiver will let you add surround sound easily. Remember that quality is more important than quantity in the long run.
Notice the generally favorable brief revues I write each issue? There are logical reasons for that to happen. Changes such as digital and HDMI connections have made pretty darn good audio to be easier for the manufacturers to give us and easier for us to put to use. Same is true for the video portion that we pretty well take for granted here. As you purchase and use some of my suggested performances you may notice that relatively unknown sources and performers are often doing a superb job and why not! Unlike many of the big professional outfits and famous performers they can and possibly do practice for many months on end, repeating the same music or performances. That can be the way for an individual, or group, chorus or orchestra to be discovered by being on these well done Blu-ray recordings! Pay attention, watch and listen to the possible stars of the near future in the comfort of your own listening and viewing room.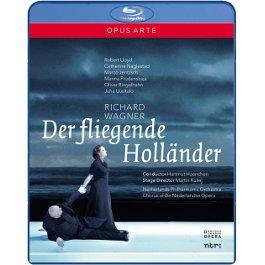 Richard Wagner. Der Fliegende Hollander (The Flying Dutchman). Orchestra: Netherlands Philharmonic. Conductor: Hartmut Haenchen. Chorus: Nederlandse Opera. Opus Arte OA BD7984 D
I have been waiting for many years for a high resolution recording of the Flying Dutchman and have been pleasantly surprised to have unexpectedly received two versions of it in the past three weeks. This one is the only one in the Blu-ray format; the other is a SACD version by PentaTone rumored to be the first in a series of all of Wagner's operas done with the same cast of vocalists where possible. I have deliberately not yet opened the PentaTone release. My old, very old, version had Dorati conducting on a vinyl release on English Decca or possibly RCA. I really loved the way the overture was handled there.
Many of us have heard the tale that the Dutchman is doomed to wander eternally unless he finds a faithful wife. The liner notes go into a fair amount of new to me detail. Senta the seemingly perfect choice wants to get out of town and see the world etcetera; possibly a plot for a new TV soap opera?
The plot is not quite as simple as I remembered it. I am not familiar with the new or current voices in the world of opera or Wagnerian music drama. For those more up to date than I, here is the partial list of the cast: Seacaptain: Robert Lloyd, his daughter, Senta: Catherine Naglestad, Senta's fiancé, Eric: Marco Jentzsch and The Dutchman (Der Hollander): Juha Uusitalo.
The first performance of this production was February first, 2010; the world premiere was January second, 1843. It may be an aid if you realize that the Dutchman is not really searching for home or love but redemption and the same for Senta. Read the fine liner notes carefully to fully realize the story/plot. I simply regard the vocalists and orchestral performance as very good and solid with no single attribute standing out and that pretty much continues with the very good if not particularly outstanding audio quality that displays no faults. The audio is full range and high definition 5.0 DTS with clean and clear multichannel surround sound. It is easy to recommend and will be interesting to compare with next issue's review of the new PentaTone release even though I really dislike doing so after so long without one performance to now have two.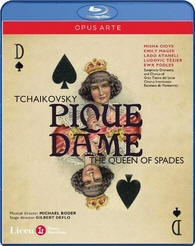 Pyotr Tchaikovsky. Pique Dame (The Queen of Spades). Orchestra and Chorus: Gran Teatre del Liceu. Conductor: Michael Boder. Opus Arte OA BD7085D
Tchaikovsky, usually referred to as Peter Tchaikovsky in most English language writings instead of his given Russian name of Pytor is one of if not my favorite, composer. I should be embarrassed to mention that until now I have never heard either of his operas live nor had a recorded copy of either one. That has now changed with this review article. His other opera, Eugene Onegin was written and performed about a dozen years earlier. I most often use or recommend Tchaikovsky's works as the easiest or most attractive examples for beginners such as his violin or piano concertos, or ballets and so on. This opera is probably not the best introduction to operas for beginners, possibly Bizet's Carmen is, though it was immediately appealing to me. Much of that from the abundance of tenor and baritone solos early on plus the fine chorus passages helped prepare me to listen all the way through. All the voices seemed particularly good, full and pleasingly sounding and the Blu-ray audio quality is easily the equal of any I have heard during the past few months as is the orchestral performance (same goes for the video quality). Though I never saw mention of the game's name, in the gambling casino there is a game that as it is played, a secret sequence of playing three cards always turns up winning. The young officer, German, messes up and plays the wrong third card, the title of this opera, the queen of spades! He then kills himself. Yes, it is just a bit more complicated than that, and you will have to read the liner notes to get the whole story/plot with its various twists and turns. This 1080i High Definition 16:9 with 2.0 LPCM and 5.1 DTS-HD is designed for worldwide playback. I used my system's optional 7.1 (7.2 if right plus left subwoofers equals .2) and all channels were clean and clear and definitely high resolution.
Tchaikovsky's two operas are not widely or regularly heard in the U.S. as those by Verdi, Puccini and a few other others but I still recommend this one highly even though it logically is sung in Russian with English, French, German, Spanish and Catalan subtitles.
The Chopin Piano Concertos, (Ruhr Piano Festival 2010). Joseph Haydn. Symphony in E minor No. 44 'Mourning'. Frederic Chopin. Piano Concerto No. 2. Piano Concerto No. 1. Valse brillante Op. 34/2. Orchestra: Staatskapelle Berlin. Conductor: Andris Nelsons. Piano: Daniel Barenboim. ART HAUS MUSIK BD 108 029
The Haydn symphony listed here is pretty much just a filler, though a pleasing one at least. The unusual subtitle of 'Mourning' is unique because Haydn let it be known that he wanted the third, the slow movement of this symphony to be played at his funeral. How's that for preplanning? The fine, solid and rather introspective performances of the three piano performances here are 'top drawer' if not quite definitive. No big need to wait for some subtly better performance someday in the future. The surprising playing order of the concertos is, as you may or may not know, because number two was actually written first and so is performed first here. The orchestral performances here are really very good here though the unusual at times antics of the conductor is a bit off putting to say the least. To a certain extent the audio and video quality seem to be a tad better, cleaner or clearer than the usual excellent productions. Perhaps a bit better lighting and a slightly closer microphone placement are apparent? Naxos has separate Blu-ray audio only discs available for each of the concertos one of which I reviewed about two issues back and the other probably will be reviewed in the next issue.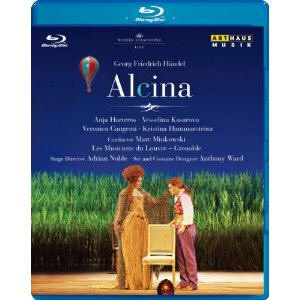 Georg Friedrich Handel, Alcina. Orchestra: Les Musiciens du Louvre-Grenoble. Conductor: Marc Minkowski. ART HAUS MUSIK BD108 028
This early opera by Handel was first performed close to three hundred years ago and should easily qualify it to be a Baroque Opera. With my lack of background in operas I was simply surprised that somehow it did not seem to be Baroque. Style and instruments seemed to be from a later period and all was very pleasing and enjoyable. Long solo showoff arias were missing and fine with me, though the absence of pleasing or powerful choral sections was definitely missed. No harsh or shrill voices were heard and the relatively small orchestral group was quite good and sounded fuller or richer than I had expected. Not a great opera but a very enjoyable one that can entertain and certainly can be recommended. The audio quality is very good and suits the general atmosphere quite well and makes the whole production easy to recommend. The resolution is 1080i and full High Definition running time is just over 200 hundred minutes not counting bonus tracks. The plot being rather simple and straight forward makes for easy listening. One little quirk should be mentioned. When Alcina gets rid of a boyfriend or lover she magically changes him into something else! The video is just fine and costumes are very appropriate.