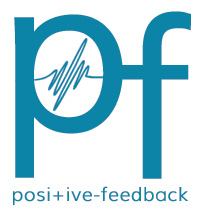 You are reading the older HTML site
Positive Feedback ISSUE 58
november/december 2011
The 8th Annual Positive Feedback Online's Writers' Choice Awards for 2011 - The Best of the Best!
Beginning at the end of 2003, PFO established its first annual awards for fine audio. The Brutus Award was established for the best that Dave Clark and I had heard in our own listening rooms during that year. You can think of it as our equivalent of an "Editors' Choice" award.
The Gizmo Award, on the other hand, was established in memory of my very good audio friend, Harvey "Gizmo" Rosenberg, and is given by me to the most conspicuous audiomaniac(s) of the year. Only one Gizmo is given per year.
The following is an opportunity for our editors and writers to recognize superior merit in the audio arts though their "Writers' Choice Awards". Our writers and reviewers have been given broad leeway to cite excellence in fine audio wherever they find it: products, people, recordings, events, groups, etc., so that our readers can be better informed.
It is our hope that you will find the PFO Writers' Choice Awards to be helpful to you in your audio journey.
All the best,
David W. Robinson, Editor-in-Chief
Coincident Technology Pure Reference Loudspeakers

This year has been a difficult year for me. Lot of family issues and not enough time reviewing the products I love. As we all know family is first. With that said, I am taking some time off from my writing duties with blessings from both Dave Clark and David Robinson. Once things settle down I hope to return soon. Bearing this in mind I only reviewed one product for this year. But it was a goodie. In Issue 55 I reviewed the Coincident Technology Pure Reference. My final comments are as follows: "I had come to the conclusion the CPRs were my hands down favorite for any speaker priced under $35,000, and beating many others above that price point. Overall, what I gained from this 16 week adventure was the final realization that the CPRs are really good speakers. Almost any loudspeaker, after taking a closer look at them, you can usually find a fault. Having the CPRs in my listening room for the last four months and logging well over 150 hours of personal time with them, try as I might, I could not fault them at all!" I still stand by these comments. The Coincident Technology Pure Reference loudspeakers clearly are the best speakers I have ever had the pleasure to listen to, they do everything right. My only regret is I didn't buy the review sample. Retail: $22,000 US
Sonus Faber Toy Monitor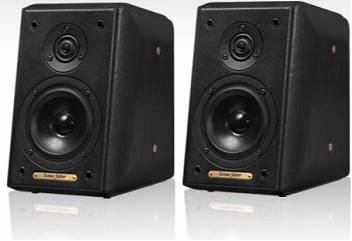 Moving into a rental house, and leaving the 'A System' behind for now—desperately seeking music. What to do? Necessity is the mother. Faced with fixed living room shelves with a maximum clearance of 11". Glad I went into Magnolia Audio in Santa Monica and found these new tiniest of Sonus Faber speakers. Like greeting an old friend; I have owned and loved two similar Sonus Faber models, the Concerto and the Grand Piano. These little gems stand a diminutive 10.5" in height—Viola! Ported, neodymium ring radiator tweeter, 4.5" cellulose paper cone mid-bass, third order crossover, decoupled side panels, 8 ohms, 87dB sensitivity. There is a 'Toy' home theater line available—floor-standers, and a center channel as well. I simply find it hard to believe the amount and quality of the music I now hear coming from these little gems! Talk about disappearing speakers—I can barely find the things. A superb solution for those facing logistic challenges, and a great bang for the buck in terms of getting into the Sonus Faber world. $998 a pair, black leather. $1298 a pair in high gloss black/white/walnut.
Peachtree Audio Nova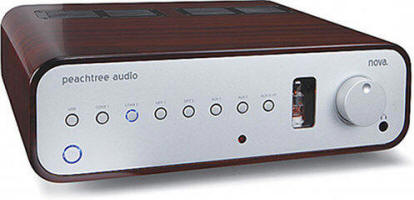 Really a Part B to above—my old integrated having been crushed in the move by UPS. I had already previously bought a Peachtree unit for my college grad—the iNova. This plain old Nova is a step up in terms of wattage and some other elements. Many have written, and are continuing to do so, about this Peachtree lineup. It's a hit. And rightly so! I had heard the combo I got my son, and the evil old hi-fi guy within had thought: "Why did I get him that? I should have one." And now I do. The heart of the matter is the superb DAC, which I now have processing the optical out of my 15 year + old Marantz CD player— and it sounds fantastic! You simply can't lose with these things. Widely available from a number of retailers. $1199
Mapleshade Audio Samson Equipment Racks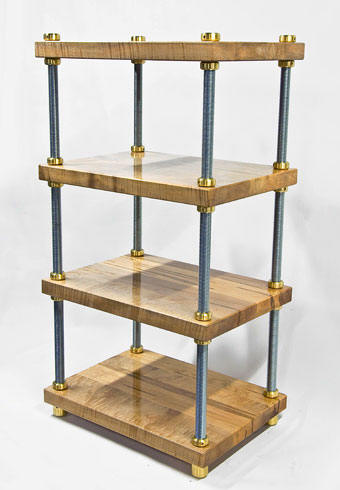 It took me a while, but this past year I finished what I had started with Pierre Sprey and his handsome Mapleshade racks. Mr. Sprey started producing hardware and music software way back in 1990. My hats off to him for continuing to do high quality work in both these areas since then. I had ordered a custom pair of floor stands a couple years ago from Pierre for my whopping Cary 805 monoblocks. Very handsome 4" maple slabs on serious brass footers. Finally got it together to order up a 4-shelf rack, from Mapleshade's Samson line. These continue the high-quality maple and brass materials in 2" thick shelves, with a hefty 4" thick top shelf to provide a home for my VPI turntable. Boy it looks great. And I'll be honest—a part of me had always thought "racks—schmacks…" Wrong again! Tremendous tightening up of the sound and aural picture in all parameters, and reduction of the trampoline effects I was getting on the second floor of an old wood Victorian house. The craftsmanship is very gratifying, the aesthetics rewarding, and sound improvements are significant. Mapleshade was also willing to accommodate my custom request for a 40" height. Compare to other much pricier rack/isolation systems out there, and then give Pierre a call. (Prices vary depending on selections)
The Smile Sessions, The Beach Boys. Capitol Records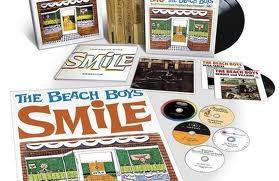 In the history of rock recently, as opposed to brand new stuff, there are always one or two major events per year. The big news just this November of 2011 is this release of the infamous 'Smile'; not a re-release, as most of these recordings have not actually been heard by the public. We've been here before—sort of, in 2004 when Brian Wilson and Van Dyke Parks newly recorded the Smile material. And that was terrific, and Brian has been performing the material off and on since then. But these are the actual recordings that so much has been written about. And then some—the completest 6 CD box set gets into all sorts of studio documentation. But what I have heard and was completely transfixed by, is the very fine quality 2-LP pressing from Capitol of the original album sequencing. Plus one side of bonus re-mixes. Remember that Brian Wilson is a mono guy- stereo mixes were not done at the time. The pressing I bought is superb—and with the nice rainbow Capitol label too. IF it had been released as was originally intended, this music would have been a game-changer; Sgt. Pepper would have seemed almost an afterthought. If you haven't heard it yet, do so.
2012 Toyota Camry Hybrid with Premium Navigation/Audio Package
I've been an early adopter before, but not for a while. Bought one of the very first iMacs, and it was a terrible lemon. I now own the first 2012 Camry Hybrid to be delivered to Santa Monica Toyota—tand this is no citrus. It was a take it or leave it situation. Do you like white? And one of the things it came with is the "Premium HDD Navigation with Entune and JBL." In other words there are bundles within bundles here. Everything you could possibly connect to can be connected to. But my point here is this package includes a 10-speaker JBL "GreenEdge" audio system that sounds darn good! Better than the non-JBL one that I spent time with driving across the country in a regular non-hybrid Camry. That sound was muddy and thumpy—this one is expansive and punchy, with a sub-woofer hidden somewhere in the trunk. And this is not a custom-install that you are going to have to rip the car up for. In Southern California, and other parts of our great country, it's a big plus to have some quality sound on the road. Like a lot of other aspects in audio these days, it seems that quality/price ratios are actually on the upswing. Plus I'm getting 40 mpg with 200 horsepower. Way to go Toyota. MSRP without option packages - $27,400.
EKCO Audio EV55SE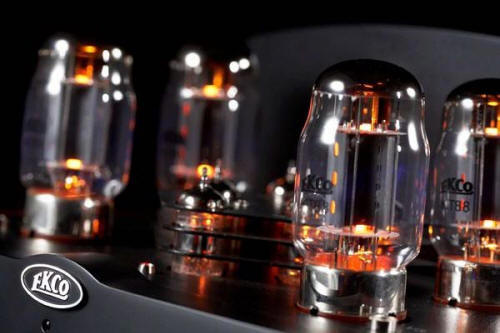 When I wrote about the EKCO it really struck me how efficient an integrated can be. Having reviewed and thusly, lived with a number of integrated amps over the past 3-4 years I always find that I miss them when they are gone. As I stated in my review of this amp many people actually prefer an integrated amp. Less cost with regards to cabling, the sharing of power sources etc. can make for a more cohesive sound and a better overall solution for many audiophiles, especially if space constraints come into play. Certainly for the budget conscious audiophile a high quality, moderate power integrated amp can be the perfect solution. Make that a quality, moderate powered TUBE integrated and now things are cooking with fire.
I will say it again… unless you are out to shift tectonic plates on major fault lines the EKCO EV55SE will provide you with endless hours of listening satisfaction and will only get better with time. Very highly recommended if you are in the hunt for a top flight integrated! $2500
Grant fidelity Compact WZ-5 Collector's Edition Loudspeakers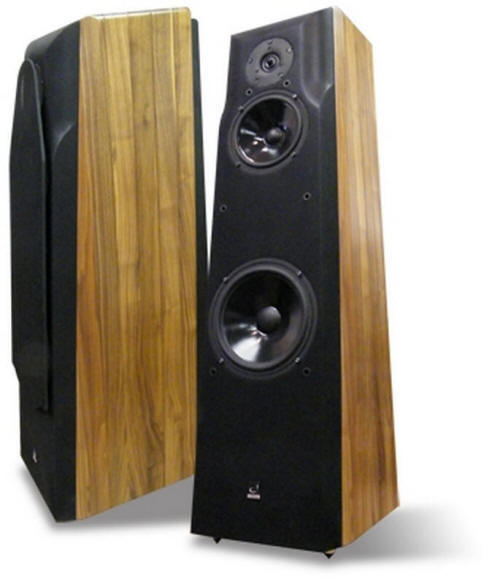 When it comes to speakers there are so many choices and so many excellent choices. While they may fundamentally look very similar there is often a universe of difference in sound presentation. I am always asked, "What are the best speakers (along with best this or that)?" The answer is simple and it is always the same. The best are those that sound best to YOUR ears. At the price point of the WZ speakers there are a plethora of choices. Most of which are actually quite good. What makes this speaker a stand out for me is the performance / price ratio. Colossal value in fit, finish and sound presentation.
In the end I found the Compact WZ to bring a good deal to the party. It meshed well with anything from 211 tubes to 600 watts of pure solid state zoom without a whimper. CD, vinyl? Nothing I threw at it ruffled it at all, and the more I listened to it the more I liked it, especially when it got to the point of having 200 plus hours on it. Perhaps that may seem like an inordinate break in time but it was never hard to listen to right from the box.
As with most things that come from Grant Fidelity, you get a great deal of bang for your buck and the Compact WZ Collector's Edition is no exception. Fine sound, very fine looks in an easy to live with package. If you are shopping in this price range, you owe it to yourself to check them out and decide if you think that a speaker sounding this big and this good should be labeled "Compact". $4500 a pair
Cary SLP-05 Preamplifier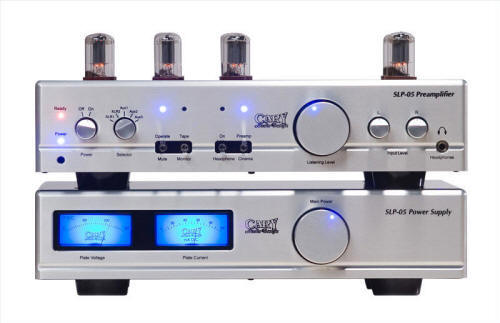 The Cary SLP-05 is a remarkable, complimentary mix of neutrality and sonic character, where neither attribute overwhelms the other. I want the Cary SLP-05 to be my reference. I like it so much that it raises the performance bar of my set up to a level that makes me want to listen to CDs again. With that said, my wife and I have recently taken in sibling pair of girls as Foster parents, so, life as I once knew it is gone and my financial priorities rearranged. But, if I can figure out how to do it, I will. Highly recommended. $7500
Audience powerChord 'e'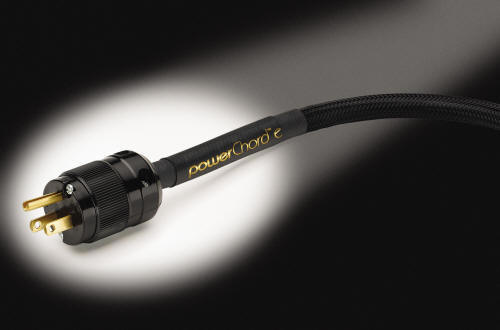 My nomination for PFO's 2011 Writer's Choice Awards goes to the Audience powerChord 'e'. Audience's powerChords have been staples in my system for years, as they've bested every other power cord I've tried, including some considerably pricier. With the 'e' upgrade, the base powerChord's standout attributes of temporal coherence, spatial realism and condign tonality are raised to class-leading levels. The powerChord 'e' exhibits even quieter backgrounds than its non-enhanced stable mate, which translates into greater dynamism. Bass is tighter with greater texture evident, and the highest treble registers are reproduced with less grain and more air around instruments, while the all-important midrange is rendered with increased openness and transparency. On its own merits, the powerChord 'e' is a tremendous value, and may be the best power cord available anywhere near its price. For existing powerChord owners, the low cost of upgrading makes the 'e' version perhaps the greatest bargain in all of high-end audio. Review forthcoming.
The High Resolution Technologies Music Streamer II and Music Streamer II+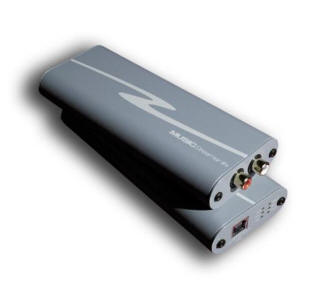 These remarkably affordable gizmos have totally transformed my approach to listening to music. Prior to their appearance in my system nine months ago, I rarely listened to CDs, and any thoughts of using a computer to feed my stereo seemed tantamount to sheer blasphemy! I've since immersed myself into the world of computer audio in ways that have shaken the foundation of my listening experiences, and with a relative minimum of effort, I've been able to coax astonishingly good digital sound from my system through the $150 Music Streamer II using a fairly generic Belkin USB cable. The MS II is probably the least expensive DAC on the market to offer asynchronous data transfer, which essentially eliminates the jitter that is far and away the biggest contributor to substandard digital music playback. I've rediscovered long-neglected CDs that, played through the MS II, approach true analogue quality, and really well-recorded discs sound nothing less than amazing! And the ability to play 24/96 high-resolution files has really opened my eyes (and ears!) to the bounty of music that's rapidly becoming available via the internet.
An additional $200 steps you up to the Music Streamer II+, which increases the overall resolution exponentially. And while the price tag is more than double that of the baseline MS II, you really do get more of everything, and in spades. I wouldn't have believed that this kind of sound was available for anything less than a thousand bucks. There's more air and delicacy in the music; you find yourself hearing details that were previously glossed over, and the entire presentation takes on a strongly more analogue-like quality that rivals even higher resolution media like SACD. My CDs have never before sounded so very much like their LP counterparts as they do through the MS II+, and with 24-bit files, the differences are even more remarkable. And along with the increase in musical detail, there's a greater sense of dynamics; I feel as though I can play the music louder and yet still retain an astonishing level of clarity.
HRT's Music Streamers are made in the USA and are available through their distributor, Elite Audio Video Distribution. The MS II is highly recommended for those on a really tight budget or perhaps just dipping their toes in the murky waters of computer audio; for those willing to spend a bit more, the MS II+ will thrill and delight even the most ardent analogue fanatic, especially with a little judicious work in setting up your computer to stream bit-perfect. You can read more about my experiences with both Music Streamer models in PFO's archives in issues 55 and 57.
Read the reviews here and here
The Emotiva XPA-2 Power Amplifier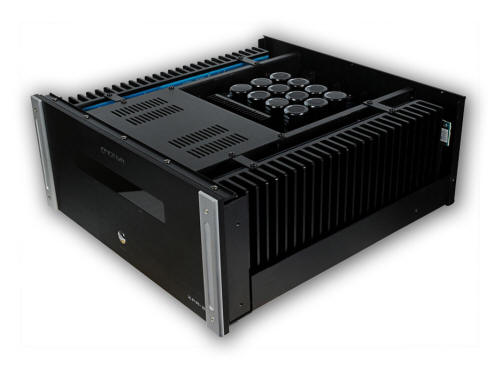 I'd been reading and hearing a lot about the seriously robust audio equipment that's being manufactured in China these days, but until a massive lightning strike earlier this year took out much of my stereo and home theater setup, I really never dreamed I'd pull the trigger and buy anything. Being a creature of habit, I'd tried to build a system that was mostly made in the USA, but when my beloved Acurus A-250 became one of the most prominent casualties of mother nature's little light show, I needed a brute force amp and the Emotiva XPA-2 appeared to fit the job description—especially with its really reasonable $799 price tag.
Robust, indeed! This baby weighs in at a little over 80 pounds—you should have seen me struggling with this thing to my car from the FedEx depot! Despite a no-frills exterior, a quick look under hood reveals the goods—this is one serious piece of hardware, and the interior is almost jewel-like in appearance. Conservatively rated at 500 watts into four ohms, on paper it seemed an excellent match for my heavily modded Magneplanar MMGs, and it has not disappointed. Idling at barely warm to the touch, it maintains that character even after extended listening sessions—I could have cooked breakfast on the old Acurus at that point. And in nine months of near-continuous use, it's yet to show even the slightest sign of strain, despite whatever ridiculously demanding music I'm forcing through it. The honeymoon isn't anywhere nearly over—this amp has the kind of warmth that offers up intoxicatingly magical performances of acoustic music and jazz; vocals are delivered with a silky but weighty presence and "you-are-there" realism that almost defies description. Nothing I've thrown at it has fazed it, from Le Sacre du Printemps, to the Ramones to Rage Against the Machine—the XPA-2 takes all comers.
Emotiva is an American company, and all their equipment is designed here in the US as well, though manufactured in China. While I was initially a bit hesitant to commit, my experience has been so overwhelmingly, positively satisfying—people, I'm serious about this—I'm losing sleep most nights, I just can't drag myself from the listening chair to bed! If the XPA-2 is representative of Emotiva's product line, I wouldn't hesitate to buy from them again. And they offer free shipping on just about everything! Very, very highly recommended! $799
VPI Reference Super Scoutmaster/Rim Drive with "Classic" Aluminum Platter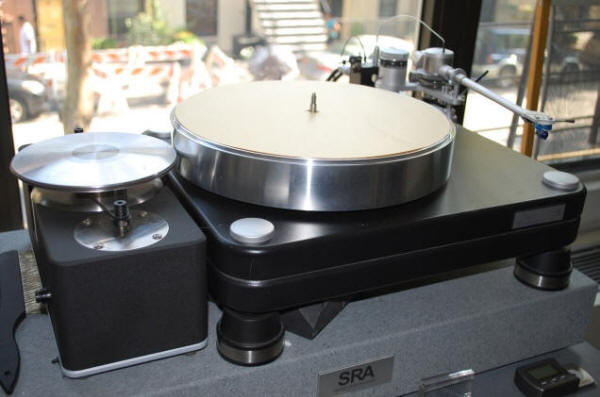 The old adage that what goes around comes around applies to both high-end audio and life alike! VPI's very first turntable, the VPI HW-19 Mk.1, came with an aluminum platter (and yes, the HW-19 Mk.1 drew mixed reactions from the critics of the day); three decades later, Harry Weisfeld has come full circle and returned to a precision made (+/- 0.001 inches/39 inch circumference ) 6061, all Al, 18 pound platter. Some assembly is required (moving the turntable, removing the old platter and bearing and replacing it with the newest platter and bearing assembly) but even those prone to soldering cotton balls to their fingers can update their turntables in ten to fifteen minutes. The result? Quite possibly one of, if not the most significant sonic improvements in the long and storied history of VPI turntables. Gone is the VPI table's characteristic sonic signature: slightly polite, gently rounded and a touch to the dark side of neutral. In its stead is a table possessing extremely quick and explosive low frequencies, neutrality and transparency from top to bottom of the audio spectrum, greater low level resolution and a preciseness to the leading edge of transient attacks. The newest Al platter is a must-have for all VPI turntable owners! $800 for platter and bearing (credit given with trade-in towards new platter also)
Allnic Puritas Moving Coil Cartridge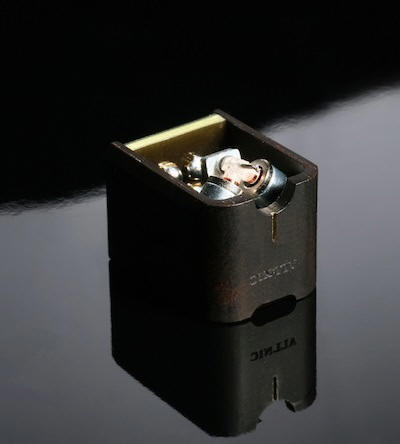 Evolutionary? Revolutionary? Whichever the case, the Allnic Puritas moving coil cartridge from of all places South Korea, is among the most analog tape-like transducers that's crossed my path. Like the best reel-to-reel tapes, the Puritas possesses an uncanny ability to accurately reproduce an instrument or singer's depth of tone, texture and harmonic envelope as well as their three-dimensional, resonating body. If that's not tantalizing enough, the Puritas places the performers in their own individual space on a seemingly boundary-less soundstage that is second to none. Inspired by the design of the actual lathe's cutting head, the coils for this Ebony bodied cartridge are wound around two round, hollow polycarbonate bobbins as opposed to a single iron square or block with a conventional moving coil cartridge. Now the Puritas' low compliance necessitates the use of a heavier mass arm like the new stainless steel VPI Classic 3 tonearm and its lowish 0.34 mV output makes a quiet, high gain, phono stage a must. Place this magical transducer atop your audition list! $4950
Martin-Logan Summit-Xs Hybrid Electrostatic Speakers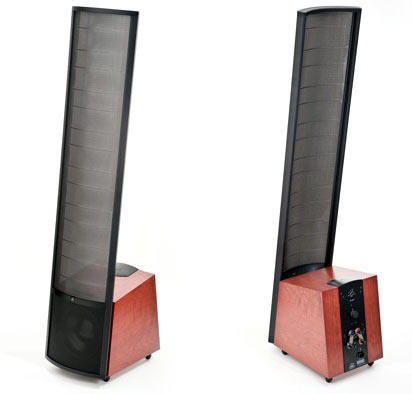 Any resemblance, other than perhaps size and shape between the newest Martin-Logan Summit-Xs and their predecessor, the Summit, is purely coincidental. Among the many changes to the latest iteration of the Summit speaker are improvements to the electrostatic panel, crossover, driver integration and even the tiptoes used to angle the speakers. While the older Summit is certainly no slouch, the newest, retooled Summit-Xs are in a totally different league. The Xs possess far better bass as well as bass integration, quietness, settling times, transparency and less of that "Martin Logan" sound. Reel-to-reel tapes really show off the speaker's strengths, especially when it comes to the ability to resolve tonal, ambient, or low level information. The Summit Xs like power and the 275-wpc of conrad-johnson's ART amplifier does quite nicely. Paired with the likes of MIT's Magnum or Kubala-Sosna's Emotion speaker cables—and remember that this speaker's resolving capacity will ruthlessly expose issues elsewhere in the audio chain—these hybrid electrostatic speakers are more than capable of not only throwing a huge soundstage and an incredible feeling of space but pinpointing the location of each performer on the stage. The best $14,000 bargain in speakers today.
MSB UMT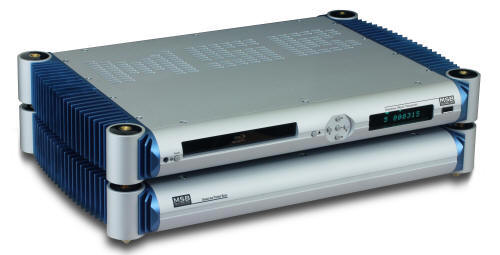 In the digital gear category, the most innovative to come my way this year has to be the MSB Universal Media Transport. In my view, the MSB UMT is exactly what consumers really need, now that shiny plastic discs are rapidly becoming extinct, and online distribution is finally taking hold.
While "online" is certainly convenient in many ways, the overall consumer experience is also highly fragmented, requires considerable skill to use, and the quality is often mediocre: And technically, while personal computers in all their forms may be great for browsing the Web, storing media, and casual entertainment, as source devices for high-end audio systems, they have many limitations.
The main tricks the UMT performs to make these digital blues go away include, firstly, giving consumers seamless and easy access to music and video entertainment in just every commonly-available forms These include several types of plastic discs, streaming media services such as Pandora and Netflix, USB hard drives and memory sticks. Does your computer play SACD?
And secondly, the really hard part. After gathering up all the bits, from diverse and sundry sources, it delivers these digital goods truly state-of-the-art quality (meaning very-low-phase-noise S/PDIF or AES) to your DAC or receiver.
Compared to what music enthusiasts have to go through with personal computers, as well as most purpose-built media servers, the MSB UMT represents a major step forward. Try it out, and you'll probably be as surprised and pleased as I was with the results. Combining universality and real high-end sound is quite an accomplishment. $3995
Vista Audio Phono 1+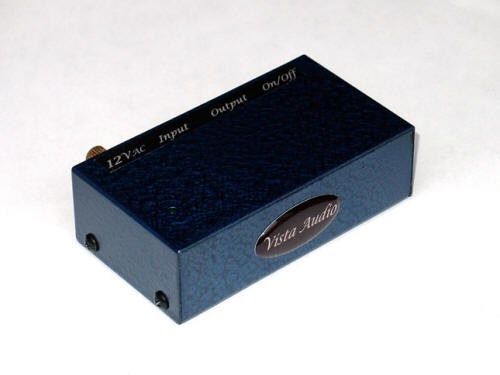 Analog playback has found a sustainable niche in the audio world, but often it comes with a sobering price tag. In the last years of vinyl supremacy, the overwhelming majority of receivers, integrated amps, and preamplifiers contained phono stages that spanned from serviceable to truly excellent. Since these phono stages were part of another component package, very few hobbyists considered the overall value of this sub-component. In the current audio landscape the phono stage is usually purchases separately, and the frugal audio hobbyist has very few choices when it comes to finding a quality component. The Vista Audio Phono 1+ is one of the modestly priced products that stand out in this category. The Phono 1+ is based on a nicely engineered circuit from Boris Sasic, who takes into account the overall cost of parts and how they relate to the overall performance of the component. This is a balancing act of design, parts selection, and the desire to maintain an affordable selling cost.
The Phono 1+ has a price tag of $399, yet it performs at a level that belies its humble standing. This phono stage has excellent tonal balance, surprising dynamic contrasts, and presents a fully formed sound stage. When I weigh the performance provided against the overall cost of the Phono 1+, I find this to be my favorite inexpensive phono stage on the market.
Pete Riggle Engineering 12 inch String Theory Arm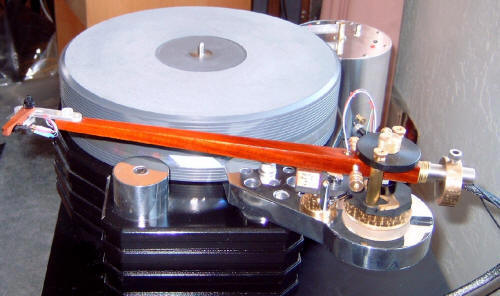 The Pete Riggle String Theory arm has a classic appearance that reflects back to a time in our hobby when everything associated with life was not as complicated as everything currently is. The French polished mahogany arm wand which is accented with brass fittings has captured many an eye at this years Rocky Mountain Audio Show, but there is a great deal of well executed engineering behind this pretty face. Analog playback is a mature discipline, where a great deal of information is known about how to unlock high quality sound from a record.
Over the years there have been many paths explored in the art of vinyl playback, and Pete Riggle has carefully gleaned a combination of design techniques that results in a remarkable tonearm.
The Riggle arm is a constrained sting uni-pivot, which results in a frictionless bearing , yet retains the handling characteristics of a conventional arm. The string bearing is an elegant interpretation of the concept developed by Bill Firebaugh of Well Tempered Audio. The Woody bearing uses four lengths of Kevlar string that are lightly twisted in order to apply the anti skate force, which is a significant departure from the Firebaugh concept. Uni-pivot arms are notorious for being finicky and time consuming to properly set up. The String Theory arm has an unusual pin and snubber arrangement located on the underside of the tone arm body, basically below the pivot point. When used in conjunction with a small level located on the tonearm cartridge mounting plate, the arm can be leveled in a short time period. A pair of weights located on the side of the arm allow for the final balance adjustments. There is an oil dampening cup that may be used to add an extra degree of stiffness to the bearing assembly, but its use is not required. There are several more innovative design elements of this tone arm, which can be found in the text of the PFO review.
High end analog playback has become dauntingly expensive, and the String Theory arm is not bargain basement priced at $1600. Although, where else will you get a hand crafted product that is so carefully engineered for this kind of money? I could not find a better deal in the market, so I made the String Theory arm my primary tone arm on a Galibier Audio Serac turntable. I have been very satisfied with my investment.
Audio Magic Pulse Gen Module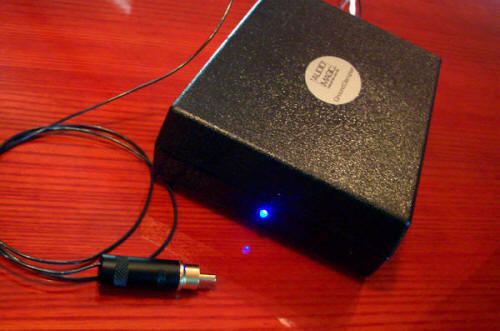 The Audio Magic Pulse Gen module has an innovative application in the world of vinyl playback. The low strength signals produced by a phono cartridge are susceptible to degradation RFI/EMF interference. The conventional solution is to use heavily shielded tone arm wiring, but that solution has drawbacks and limitations in itself. Jerry Ramsey has developed a noise cancellation module that projects a field that cancels RFI/EMF current. The signal does not pass through the Pulse Gen, but the module only needs to be located closely to the component. I place the module behind the phono stage where the tone arm cables plug into the RCA jacks. The use of a Pulse Gen module in an analog system results in a removal of grain and etched high frequency information. Instruments and performers are tightly focused in the sound stage, with an overall improvement in clarity. Also bass instruments gain weight and authority, and also have a corresponding level of focus. My system contains an Audio Magic Power conditioner, and several Pulse Gen modules. One evening I had an audio manufacturer over, and we were listening though vinyl on the system. Without telling him what I was doing, I unplugged one of the Pulse Gen modules at different times during the evening. Every time I did this, my guest immediately noticed the difference and wanted whatever I did reversed. The module that elicited the most significant difference was the one located at the phono stage. If you are interested in getting the final degree of resolution from your analog playback, I would strongly suggest looking into one of these neat little black boxes from Audio Magic.
audiodharma Cable Cooker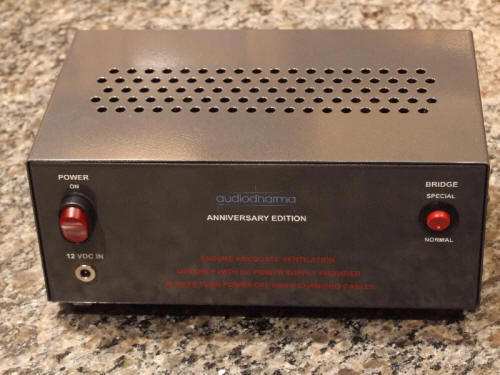 Alan Kafton's Anniversary Edition of his remarkable Audio Excellence cable burner receives a well-deserved PFO Writer's Award" because it fulfills the important role of enhancing cable signal delivery within cables of every sort and structural configuration. It is priced fairly and adds value to any audiophile's sound system by its unwavering ability to create sonic vivacity and greater musical reality —and pleasure. The real deal is here honored!
Soundstring and Van den Hul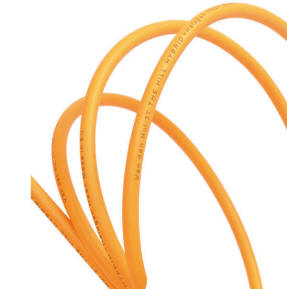 Len Miller's Soundstring line of audio caves and power cords emerged on the scene awhile back with a gentle tug on critical attention here and there. Now, with the new GEN II line of cables, this is a company to be reckoned with for honest overachievement and genuine value. The GEN II cables are authentically price-value champs.
Although A. J. van den Hul's various cable iterations have been on the market for a considerable span, their recent The Rock hybrid carbon cables just may make new friends and arouse the admiration of those who once recognized the unusual truthfulness of there pure carbon The Second cables. This is a significant addition to the high-end audio world.
This year it is a tough call for picking awards. I have only published one full equipment review since returning to the staff of PFO, but still, I have fortunately been able to spend a good deal of time with enough things to feel these three offerings are valid and well deserved.
Hsu HB-1Mk.2 / STF-1 speaker and subwoofer combination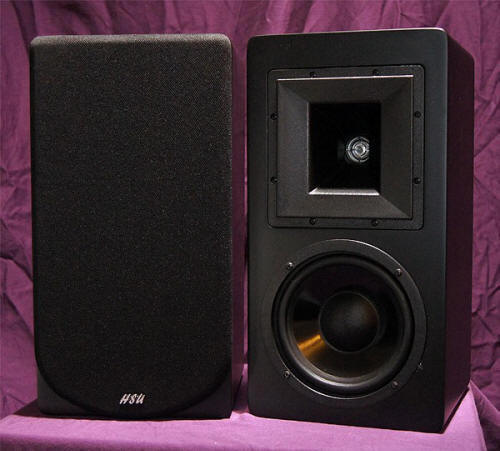 As reviewed in Issue 57, the Hsu HB-1 Mk.2 speakers, when combined with the STF-1 subwoofer, offer a surprisingly satisfying foray into the world of high quality audio. I can't imagine another speaker system that can produce such full range playback for under $600. The only other speaker I have heard that competes would be the Direct Acoustics Silent Speakers (see Issue 26), but those, in updated form, now sell for around $750 a pair. Plus, the Hsu system offers more pinpoint imaging and more placement options, which may be important for many budget minded audiophiles. The system is easy to drive, even with moderately powered tube amps. With some care in setup and tuning, you can achieve a seamless integration between the speakers and sub. Sure, you give up a little in dynamics and scale compared to more expensive speakers, but the overall musical qualities always shine through. The HB-1 MK.2 / STF-1 is simply a great speaker system and an exceptional bargain. HB-1 MK.2 speakers $149 to $179 each (depending on finish) + shipping STF-1 Subwoofer - $299 + shipping
Benchmark DAC 1 HDR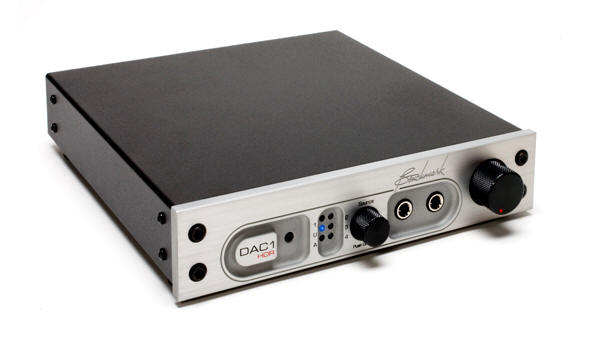 I need to qualify this award on the simple fact that I am basing it on about two hours of listening in someone else's system (Benchmark's Media's reference room, actually). But this time, listening to the simplest of systems; an inexpensive notebook PC streaming high resolution files over the company's wireless network into the DAC 1 HDR, that fed directly to a pair of Klein and Hummel O300 powered studio monitors, was some of the most natural, comfortable, and least digital sounding I've heard ever. There wasn't a hint of anything in the playback that distracted me from the music and told me I was listening to digital playback or even that I was listening to a moderately priced solid-state line stage. Yes, it functions as a full line stage and as a high quality headphone amp, with multiple digital inputs and one analog input. My only complaint would be that I wish it had two or three analog inputs. At $1895, it seems like an exceptional product that can bring true high-end capabilities without an astronomical price.
Moonjune Records
What, giving an award to a record company? Yes, and for good reason too. Though a small company with less than 40 releases in ten years, Moonjune Records has carved out a significant niche for itself, and is offering a voice to a genre and a group of musicians that might otherwise not be heard. If you are a fan of progressive rock or jazz, if you fondly remember the Canterbury Sound, or if you like the music of John McLaughlin, Terje Rypdal, early King Crimson, or Gentle Giant amongst others, you will probably find a lot in the Moonjune catatlog to enjoy.
Owner Leonardo Pavkovic (see interview in issue 57) has managed to find several innovative artists and given them the freedom to produce their music without commercial consideration or constraints. Ranging from avante-jazz/rock bands like Moraine, Iron Kim Style (both fronted by guitarist and composer Dennis Rea), to Indonesian jazz/rock band SimakDialog, to guitar/sax combo Marbin, to Italian singer Boris Savoldelli (a veritable one-man acapella choir!), to Canterbury originals Soft Machine and guitar legend Alan Holdsworth, you still get just the tip of what the label has to offer.
I have heard over thirty of their releases (reviews to come) and all but a few remain in regular rotation in my listening sessions. Although recording quality is somewhat variable, mostly it ranges from very good to excellent. None suffer from poor sound quality to where it detracts from the listening experience.
The musical style offered most certainly won't be everyone's cup of tea, but for those of you with an adventurous side, or a desire for something a little different, Moonjune is clearly working in the right direction.
Quality Record Pressings Verve reissues
When I spoke to Chad (Acoustic Sounds) at this years CES, he briefly mentioned a compelling new software series reissue project from a "major" label that would continue the tradition of simultaneous 45RPM and SACD premium releases. In this case, the vinyl would of course all be pressed at Chad's new state of the art million plus dollar record pressing plant, Quality Record Pressings, right there in Salinas Kansas. Then, sometime this summer, an email landed in my inbox announcing 25 classic Verve titles which included such luminaries as Billie Holiday, Ella Fitzgerald, Oscar Peterson and many, many more. So far, I have nothing but positive opinions to share regarding this reissue set. First, to my knowledge anyway, this is the first reissue of this caliber and production quality in recent memory: these are all truly classic Verve titles that you simply don't want to miss. Second, most importantly, the sound of these reissues (on my sampled 45RPM vinyl) is nothing short of astounding. Particularly the early Billie and Ella mono records are incredible treasures of sonic beauty. I'd definitely ask Santa for the whole set, or, if you want to cherry pick, the most classic titles. Whatever you decide, you owe yourself at least a half dozen!
Korg MR-2000S DSD Recorder

Leave it up to Korg to create a superb sounding two channel digital recorder that, for the reasonable price of $2100, will produce the most analog like recording experience this side of a massive Studer 820 2-track reel to reel. Indeed, with its DSD recording capabilities, you can now capture sound off a mic feed or line level input with unprecedented sound quality. Simple to use and accompanied by clever playback and conversion software to boot, making 1:1 needle drop copies off your favorite vinyl or tape collection has never been easier (or better sounding). With Korg's AudioGate on the fly software file format conversions, ie. DSD to PCM (hi-res or 16/44.1) you have the ability to create compatible files for any of your needs, be it at home or on the road. Add to that the fact that Playback Design's MPS-5 and MPS-3 are fully capable of DSD via USB playback and you have yourself the ultimate home audio recording setup. Well done Korg!
Zu Audio Definition Mk4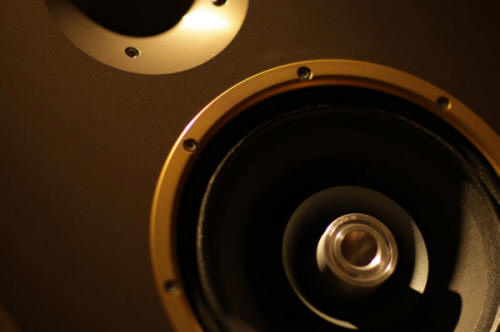 "It was about time!" I told myself when I first heard the news from Sean Casey regarding the forthcoming release of their updated classic gem, the Zu Definition Mk IV. Long having been a proponent of the Zu sound, especially in form of my classic Definition Mk2's, I had almost given up hope on Zu tooling up for a true successor. Sure, over the years Zu hasn't kept quiet at all. Soul Superfly's, Essence' and not to forget the Omen Definition have all been released over the past few years, each exceptional values in their various target segments. But, I wanted more; and now, finally, I heard the Definition Mk4's at this year's Rocky Mountain Audiofest, and, boy, color me impressed. For roughly the same price as the old model (ca. $10k US), the Zu crew has managed to completely rewrite the book on this speakers it seems. All new drivers and cabinet design make for an incredibly compelling upgrade that is at once more open, dynamic and transparent than the already not too shabby old model. Consider this the shortest penned preview of its kind, I have been promised a pair by Christmas. No doubt, this speaker will turn heads and ears. Folks, save up, this is one killer speaker.
Magnepan Magneplanar 1.7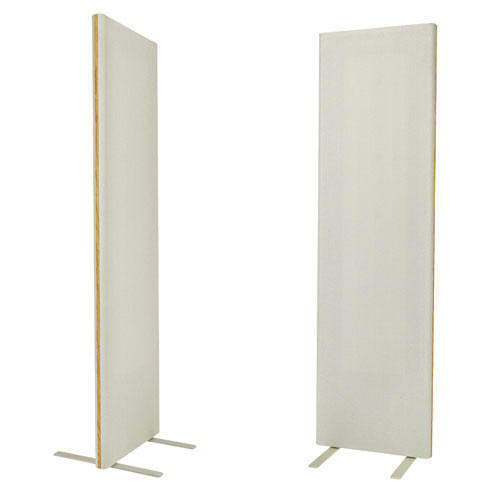 When I thought about the PFO writer's awards for this year the choice was easy. One component easily stood out, its price-to-performance ratio so outrageous that not giving it an accolade would just be wrong.
Magnepan's Magneplanar 1.7 is remarkable. Really. The integration of a uniform quasi-ribbon technology across all the drivers, in concert with crossover upgrades, provides the 1.7 with a compelling, emotional presentation that is further enhanced by its superior dynamics. It is without a doubt a more than worthy successor to Magnepan's vaunted 1.6.
The 1.7 is a world-class offering at a price that is really hard to fathom. The fact that it is handcrafted in the USA and made with virtually all American-made parts puts it in a class by itself. An easily affordable gateway to the high end, these panels give you a balanced, focused sound that has that incredible "you are there" feeling that Maggies are so capable of. They also throw a huge floor-to-ceiling presentation that fills your room with accurate sound that takes no prisoners. The1.7 plays well with modest front-ends and amps, but is more than capable of communicating what a really great source and very high quality amplification can offer.
The Magneplanar 1.7 has no real competition in its price range. Kudos to Magnepan for keeping these planars priced within every music lover's budget. Outstanding. $2000 a pair
Fritz Rev 5 Loudspeakers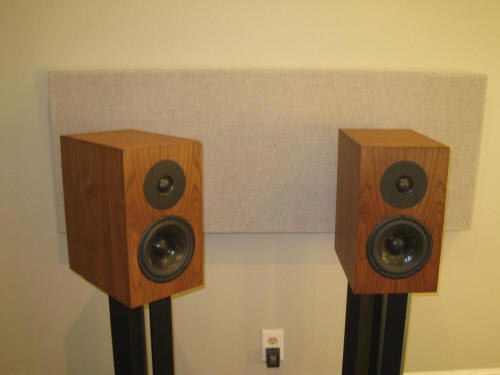 Affordable is a relative term now isn't it? To the home theatre/cheap receiver crowd at work, $2000 for a pair of small monitor speakers is absurd. They are looking for boom and sizzle and want it loud and in at least five channels and cheap. To the well-seasoned audiophile, two grand for a speaker that performs as well as the Fritz Rev 5's is a screaming bargain. What makes these small speakers perform so well? Is it the selection of drivers? Is it the many years of experience of its designer? Or is it the series crossover? I think it is all of these things. Solid dynamics are its calling card. A smooth and articulate top end is its nickname. And a seductive midrange is its way of life. Throw in a finish to die for and you have a small stand-mounted speaker that can compete with the best of them. And I will have fun, fun, fun, till Fritz comes and takes the Rev 5's away!
Upgrade Company's Signature Edition Marantz Modifications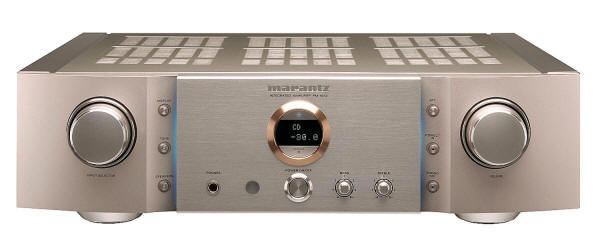 I realize that my writer's choice award for 2010 was for products that I hadn't officially reviewed till the January/February 2011 issue. Give me a break. I am slow to turn in my handy work. And besides being that the Dave's are both teachers, I would never use the standard issue excuses of blaming the dog for eating my homework or I left it in my friend's locker. That would be worse than just being late. But seriously, I strongly feel that one of the best things I have done in regards to an audio purchase in as many years that I have been in this beautiful hobby of ours is to send my gear to The Upgrade Company to have Mr. David Schulte perform his Signature Edition modifications to my gear. Or I should say, work his magic on it. With the permission of our esteemed editors, I would like to vote the Upgrade Company for a second year in a row as one of my top choices for the Writers Choice Award. The reason is for the upgrade they performed earlier this year to the original modifications. When Mr. Schulte emailed me earlier this year to let me know he had some further improvements to make on my gear I was skeptical. I didn't think there could be improvements on the improvements they already made to my stock Marantz amp and CDP. But believe me they did the seemingly impossible and improved an already great modification further. Way further in my opinion. Please stay tuned. I am working on getting the details in as soon as possible.
Audioengine N22 Premium Desktop Audio Amplifier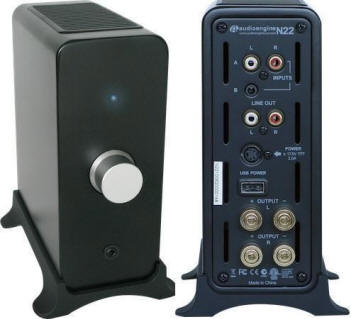 With so many worthy choices, narrowing down this year's Writer's Choice selection is no easy task. I almost tabbed the Cary SLI 80 tube integrated amplifier for the award because its rich tube sound is still the choice to beat for many listeners. Then, there are the star newcomers to the speaker pantheon. But how could I choose between the expressive loveliness of the Nola Contender tower loudspeaker and the thrilling dynamics of the Zu Audio Soul Superfly floorstander? They're both completely different, and both completely wonderful–but probably not for the same listener. Reading my columns should help you determine which speaker suits your taste, naturally, but either speaker is first-rate, so don't worry either way. All of these products are highly recommended for new and veteran audiophiles alike, but, ultimately, I decided that it's important for me to spotlight the exceptional value that is the Audioengine N22 integrated amplifier.
Sitting compactly on its sturdy little stand, the N22 delivers clean, grain-free, full sound at volume levels commensurate with working at a desk top or listening in a small to medium sized room. It's no coincidence that Audioengine products are the go-to recommendation for audiophile grade products on a shoestring budget (note the flood of products by other manufacturers that are, um....inspired by the styling and features of the Audioengine A2, A4, and A5 speakers) This cool running, cool looking amp is something you'd buy for your kids or your buddy, only to end up keeping it for yourself. You'll be amazed at how well this tiny amp can help speakers render detailed, inviting sound, without sounding sterile or inauthentic. Standing on one foot on my soapbox, it's affordable, great sounding products like this that are the true catalyst for audio's future relevance. While many folks today are indifferent to the audiophile products that make PF readers buzz with excitement, the next audio great awakening will be fueled by things like the N22 because it's simple to use, has a (small) crowd pleasing sound, and offers one big knob to turn. The included headphone amp, USB charge/power port for use with a wireless system (like Audioengine's W1), and $199 sticker price ensure that the N22 does what most people want at a price that most people are willing to pay. How often can you say that? The N22 integrated amplifier is an easy Writer's Choice selection for Positive Feedback… and beyond! $199
The Clue loudspeakers from Sjöfn HiFi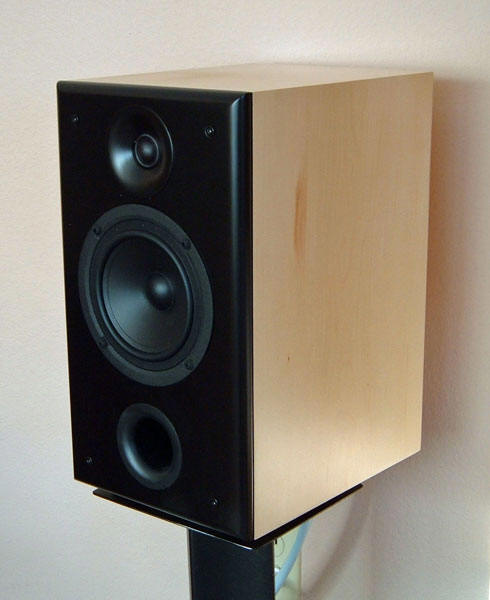 (The Clue) Loudspeakers are one of the few speakers designed to work with, and take advantage of, the listening room's boundaries. With only 5.5-inch bass drivers, (The Clues) are flat into the low 30Hz range. This is made possible by their unique design which exploits a location close to both the floor and front wall of the listening room. Once the distance between the speakers is decided by the room's size and the listening position, the front wall proximity, toe-in, and speaker height are set per Sjöfn's directions—placement within 2.5 inches of the wall; the bottom of the cabinet 20 to 22 inches above the floor; toe-in of 22.5 degrees. It is easy, quick, and it works incredibly well.
Soundstaging in my living room benefited substantially from this set up. (The Clues) brought a previously unavailable level of image stability into my room—a difficult space where the imaging of other speakers consistently suffered from wanderlust. Not any more.
While looking like a typical monitor speaker, (The Clues) use proprietary drivers (the tweeters extend to 42kHz!) and each speaker is matched to within +/- .5dB of (The Clue) reference standard pair. This precision pays off with a listening experience that simply belies the small size of the cabinets.
I purchased the review pair and I enjoy them at least several afternoons per week. (Murray Perahia is playing Schubert Impromptus as I write this.) I have found that, while they will play very happily with moderate power, they really love my Wyred4Sound STI-500 integrated amp. Add your choice of source and this combination is capable of genuine long-term musical satisfaction. $1500 per pair
The Grant Fidelity RP-10 Image Stabilizer/Sound Diffuser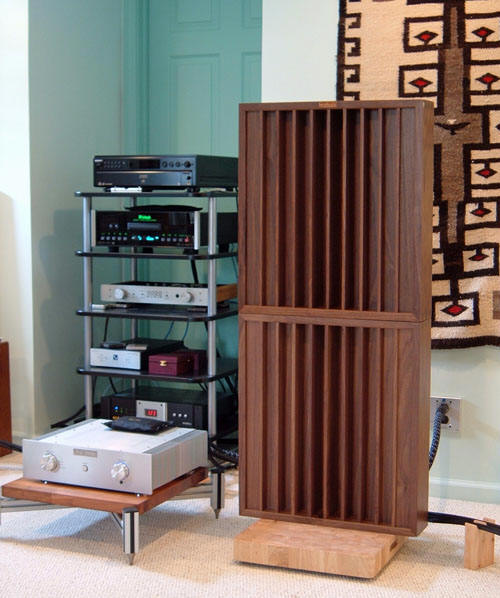 These solid walnut diffusers are designed to keep late-arriving sound waves from interfering with and smearing the sound of the original signal. They work so effectively that simply moving them into and out of the center space behind the speakers can readily be heard by any listener. The RP-10s provide noticeably better definition and focus for the center image.
Each diffuser measures approximately 24 inches high by 21 inches wide by 5 inches deep. I use two of them centered between my Magneplanar 1.7 speakers due to the 1.7's height.
Grant Fidelity recommends placing the diffusers at the front wall and between your speakers. My room allows me to place the 1.7s nearly seven feet from the front wall and I found positioning them further from the wall also worked well. Play with them. You will hear when they have found their sweet spot.
While visually a bit hard to ignore, your attention won't be on them once you hear the improvement they bring to your system's soundstage. Having enjoyed the improvements they render, I would not want to do without mine. $275 each
The ModWright Instruments LS 100 Linestage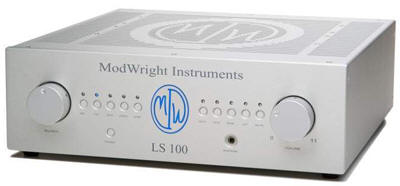 Replacing the overachieving SWL 9.0SE (and the Signature edition) preamp after a long and very successful run of some seven years or so, the LS 100 is a logical, and audible, step forward for ModWright. Where the SWL 9.0's sound was established on a set of 5687 triodes, like its predecessor, the LS 100 is also a hybrid circuit, but voiced on a pair of 6SN7 octals.
For just a slight increase in price, the LS100 makes significant advances on the SWP 9.0SE Signature's heritage. Its circuit uses MWI caps in all critical locations and employs Takman Japanese carbon film resistors. Founded on the same size enclosure as the KWA 100 amplifier, and sporting the same drop-dead gorgeous aesthetics, a 10-function remote control, a defeatable balance control, and a dedicated headphone amplifier with front panel jack! The circuit uses a single gain/buffer stage, phase inversion, has five standard inputs (4 RCA/1 Single-ended XLR), one Monitor input and Tape output, one Home Theater Bypass (HT/BP) input, and three sets of outputs (2 RCA/1 Single-ended XLR). Shoot, it even has a bay for a planned future DAC insert.
This is one damn fine preamplifier. Its strengths are its transparency, vivid tonal color ("Big Tone"), a finely layered and spacious soundstage, combined with a fundamental musical clarity and an organic "wholeness" to the sonic landscape it regenerates. Though it Modwright's least expensive preamplifier, at $3495, it is FAR from an entry-level diva. Dan sent me one just to listen to, and I sent him a check. It is THAT good.
No review yet…
Magico QPods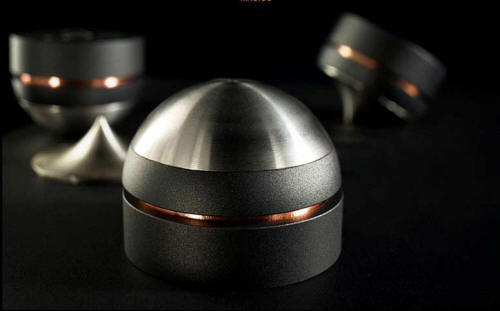 With the QPods under my equipment, music took on an overwhelming sense of silence or calm. Prior to their insertion, the background fabric generated by my optical universal disc player had been remarkably quiet, affording a dense, dark, and unobtrusive background from which all music could emanate. Once the new QPods were in place, the degree of this backdrop of "darkness" was much further and dramatically diminished.
Bass lines were more vividly defined and delineated, with more apparent attack, and heightened definition of timbre and pitch. The upper mids through the lower treble region was deliciously more resolute, with richer, more faithful timber and more perceptible bloom and body, affording a more luxuriant tonal texture. Treble was breathtakingly more resolute, yet not overly detailed; more readily apparent, eminently focused, and clearly defined.
Soundstaging and imaging are markedly improved as well, with instrumental outlines being more clearly defined and their individual size and location more accurately portrayed.
While not cheap, what they offer is a way to refine and enhance an already well thought out and synergistic music (or video?) system by stripping away mechanically induced darkness, coloration, exaggeration, harmonics, and resonances. You must hear them to appreciate the magnitude of their contribution. I've used footers since the original ModSquad TipToes, and these set a new benchmark for the class. 3-pack - $1310, 4-pack - $1680
The Audience adeptResponse 12-TS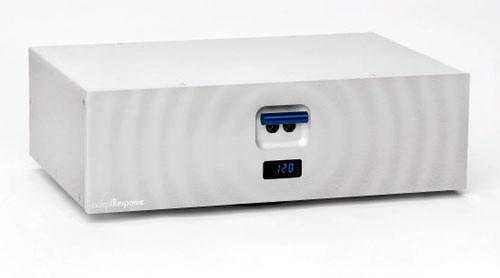 The Audience adeptResponse 12-TS is a 12-socket line conditioner now on its third revision since its introduction. It is immediately apparent that the aR12-TS is even quieter than its predecessors, the original groundbreaking aR12, or the significantly improved aR12-T.
Talk about a velvety black background! GAWD! Music takes on new dimensions and texture with this device in place, with improvements like creamier tonal texture, better focus of instrumental voices—both in portraying individual size and physical location—and a somewhat heightened or more apparent sense of drive and pace. Overall, the result is even more of that wonderful transparency that the aR12-T ushered in. All these newly elevated attributes combine to offer an even more coherent presentation over all. All in all, the Audience aR12-TS represents a significant advance upon an already very significant product.
I said in my aR12-T review that in my experience, this degree of overall system improvement simply cannot be achieved with ANY other individual investment, regardless of the dollar amount of the investment, and that claim is even more true with the aR12-TS. $8995
Zu Audio Omen Def Loudspeakers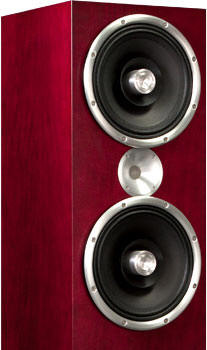 I have been a two-way speaker devotee for many years (as those familiar with my Sonic Satori column surely know by now). There are numerous reasons for this, but perhaps the most important thing is: I like speakers to get the hell out of the way of themselves and let the music shine through. I don't necessarily love the sound of Hi-Fi, rather I get off on the sounds of the music I love, and so the less I think about the system while I'm listening the better. Therefore, complex crossover networks within many floorstanding speaker designs tend to distract me from being completely immersed in the listening experience. I end up focusing on the sound of the gear (or, what I perceive to be the sound of the gear) instead of focusing on the magic within the music itself. In short: The less componentry in the signal path the better in my opinion. This is the main reason why I prefer two-ways, especially ones like the Reference 3A Dulcets (one of my current reference monitors) which couple the bass driver directly to the amplifier and use a high-pass filter for the tweeter.
The Zu Audio Omen Defs may look like full-range floorstanding loudspeakers (with their dual ten-inch drivers and super tweeters), but they sound as coherent and fluid as some of the best two-way designs I have heard. To be brutally honest, I wasn't in love with them at first listen, but after break-in (which normally happens at the factory by the way) I began to love them. I find their sound to be exciting without being fatiguing, and engaging without being too aggressive or harsh. They're certainly not tame (as I find some high end speakers to be a little too withdrawn and safe in their sonic presentation) but they have a liveliness in the midrange (where most music lives after all) and low end that keeps us constantly excited about our system. The Zu Audio super tweeters also manage to reproduce high frequencies without shouting at you (though these did take awhile to settle in—it was well worth the wait). I highly recommended the Omen Defs, especially to fans of rock, pop, electronic, and even acoustic music. Play 'em loud, they are happiest when you're giving them a work-out!
James Blake, James Blake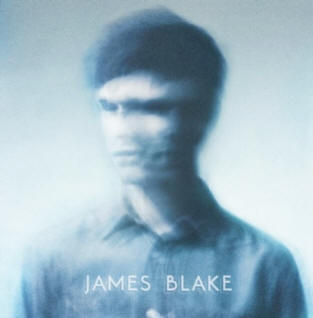 I never get sick of this record, and that is perhaps the best compliment I can bestow upon James Blake's debut LP. It's also exciting to see the Hifi community embracing the sounds of Blake. When I first heard "Limit to Your Love" on vinyl (as a single on a one-sided 45) it just sounded fresh, and new, and modern. What a rarity that is in music today—finding something that doesn't sound like anything, yet has a familiar feel to it. I felt like I was hearing my generations Donny Hathaway. However, Blake's deep synthesized basslines and his use of space between the notes really set him apart from anyone I had heard before.
There is something inherently vulnerable about his lyrical delivery that draws you in and keeps you listening, even through quite passages (again; the utilization of silence in his arrangements are so enveloping even though the music itself is sparse). That is a real gift, knowing how to utilize space in a composition. It's a skill that requires both precision and imagination. James Blake has a bright future if he sticks to his own vision and doesn't get caught up in the musical trends of the day. I look forward to hearing his evolution as an artist. This is my pick for record of the year thus far. If you haven't already heard it, check it out. Its originality may surprise you.
MA Recordings for their dedication to high resolution digital in all forms
MA's Data DVDs are pressed DVD-ROMs that must be loaded into your computer as their high resolution WAV files do not play in DVD audio or video players. All are 24-bit with sampling frequencies from 88.2kHz to 176.4kHz. One DVD-ROM even has bonus DSD music files. Their recordings are recorded naturally in environments rich in natural ambiance with very realistic and convincing instrumental timbre. I would classify their music as mostly world music with very exotic flavors, there are many treasures in their catalog.
eClassical.com for offering high resolution 24 bit music files at affordable prices
eClassical.com offers classical music in lossless 24-bit FLAC, 16 Bit FLAC and 320kbps MP3 formats with no DRM protection and pricing is per second. In addition eClassical.com have a couple of very unique features to protect your pocketbook. You can "Pre-listen" to a whole track in 30 second segments with good quality streaming audio. In addition they have a very unique guarantee, eClassical.com will give you a full refund not just for poor quality but even if you don't like the music, no questions asked. No downloads and no physical software i am aware of have ever offered such a guarantee.
This year I cringed a little bit when the esteemed Positive Feedback Online Editors Dave Clark and David Robinson sent out the call for the Annual Positive Feedback Online's Writers' Choice Awards, as it meant that once again it was time to sift through the past year of reviews and identify only 3 items for an award. As our dear Editors make very clear every year, "This is for THREE (3) components, music, whatever, only! That is 3! Not 4, not 5, not 6 ... but 3".
I very carefully vetted each and every item I accepted for review this year, as my time availability for writing and reviewing was more limited than usual, so pretty much everything that I have written about for Positive Feedback Online in 2011 was a winner in its own right. So that means that I had to pick 3 Writers' Choice Awards out of a group of winners that all deserved special mention, which I found to be no easy task.
Since the 7th Annual Positive Feedback Online's Writers' Choice Awards for 2010 were published in Issue 52, November/December 2010, I have written six reviews of seven products, which made up my list of nominees for 2011:
In Issue 52, November/December 2010, I wrote about the Sablon Audio The Robusto AC Power Cord.
In Issue 53, January/February 2011, I wrote about the Sophia Electric Model 91-01 300B SET Amplifiers.
In Issue 55, May/June 2011, Chapter 9 of The Acoustic Revive Chronicles was published, where I wrote about the RAS-14 AC Power Conditioner and the USB-1.0SP USB Interconnect.
In Issue 56, July/August 2011, I wrote about the Sablon Audio Panatela Interconnects.
In Issue 57, September/October 2011, I wrote about the Sophia Electric Royal Princess 300B Vacuum Tube and the New Valve Order Audio SPA-II Phono Preamplifier.
So 2011's reviews consisted of two reviews of electronic components (the Sophia Electric Model 91-01 300B SET mono amplifiers and the New Valve Order Audio SPA-II phono preamplifier), fours reviews of wire products (the Sablon Audio 'The Robusto' AC power cord, the Acoustic Revive RAS-14 AC power conditioner, the Acoustic Revive USB-1.0SP USB interconnect, and the Sablon Audio Panatela interconnects), and one review of artisan-level vacuum tubes (the Sophia Electric Royal Princess 300B).
After careful consideration, and without further ado, my 3 Writers' Choice Awards from this group of winners are:
Sophia Electric Royal Princess 300B Vacuum Tubes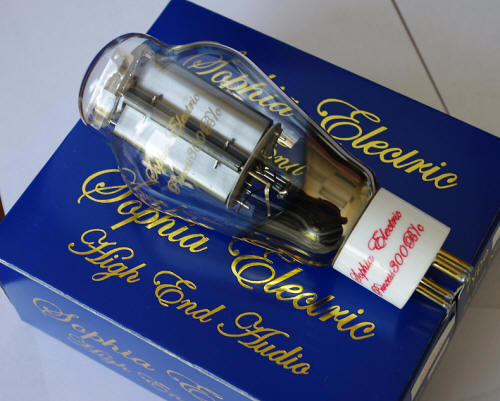 Hands down, my favorite component of 2011 was the $1200 per pair Sophia Electric Royal Princess 300B vacuum tubes that I wrote about in Issue 57. I like the Royal Princess 300B vacuum tubes better than any other 300B I've encountered. The Royal Princess' particular combination of spectacular sonic performance and intense musicality makes it totally unique in my experience. Usually you just get one or the other: the musicality of the ye olde Western Electric benchmark, or the linear 'clean' sonics of the various neo-300B tubes on the market. With the Royal Princess you get both superior sonics and superior musicality in one package. The Royal Princess is a new production vacuum tube that has vintage-like mid-range magic comparable to the original Western Electric 300B, yet betters that fabled benchmark in the highs and lows.
The sort of musical realism and dynamic truths that the Sophia Electric Royal Princess 300B vacuum tubes brought to my Hi-Fi system always thrilled and edified me. Its overall presentation leans to the dark, warm, and musical side of life. It is also sonically very spectacular, being detailed, extremely dynamic, providing a huge sense of space, solid & vivid imaging, and a wide and deep soundstage. Usually you don't find dark, warm, and musical combined with spectacular sonics, but in the Royal Princess you do.
These sonic and musical traits combine in the Royal Princess to deliver a breathtaking musical realism to recorded performances, with instruments displaying rich and detailed timbral textures, deeply infused tonal colors, and an overall sense of drama that kept me on the edge of my seat, listening into the music with anticipation for what was to come next.
The build quality of the Sophia Electric Royal Princess 300B vacuum tubes is impressive, and to see & touch them is to want them. The collaboration of Mr. Richard Wugang and Mr. Zhe Sheng Liu on the Royal Princess 300B has yielded a vacuum tube with stunning sonic and musical performance, and I tip my hat in respect to them both for a job well done! $1200/pair
New Valve Order Audio SPA-II Phono Preamplifier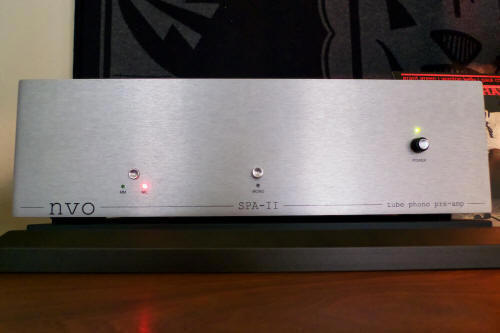 It's always a pleasure for me to introduce to the readers of Positive Feedback Online a talented fine audio constructeur, this time Andreas Hadjiminas, working out of Nicosia, Cyprus. Andreas does his artistic expression in vacuum tube circuits, and has created the impressive SPA-II phono preamplifier containing a whopping 22 vacuum tubes—it is a delight to behold! The SPA-II (Stereo Phono Amplifier-II) is the statement phono preamplifier that Andreas developed for his audio electronics company, New Valve Order (NVO) Audio.
The New Valve Order SPA-II was rich and a bit dark & warm sounding in my system; excelled in reproducing the textures and tonal colors that make up timbre; and performed beautifully on all of the musically meaningful elements like tempo, melody, harmony, rhythm, and dynamics that make music come alive in your listening room. The artful balance between musicality and sonics that Andreas has achieved with the SPA-II makes for a compelling statement
On any jazz album, or any blues album, or any rock album, or any classical album, or what have you, that I was listening to at the time, I always felt I was getting musica maximus from my records with the SPA-II, and man, is that ever gratifying. The New Valve Order SPA-II designed by Andreas Hadjiminas is a significant achievement in vacuum tube phono preamplifier design. At $4600 the NVO SPA-II is a bargain with its quality of construction and its level of performance, and I think Andreas is going to have lots of new friends and fans from around the world. $4600
Sablon Audio Panatela Interconnect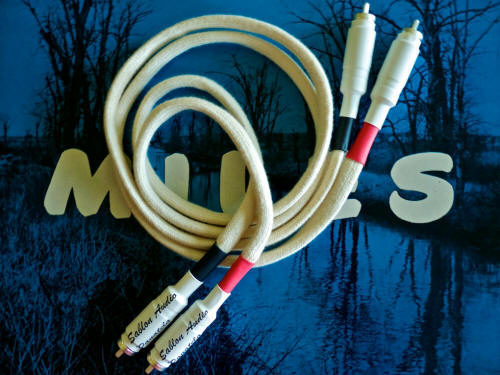 The Sablon Audio Panatela, designed by Mark Coles, is easily the best interconnect I have ever encountered, almost causing me to go into shock during listening sessions. I think the Panatela is a paradigm shifting design, combining incredible sonic prowess with a musicality that has to be heard to be believed, giving an overall presentation that provides the most direct link to the music of any IC I have ever encountered, and it just makes music listening more fun.
Sonically, the Panatela is warm and natural sounding, has remarkable detail recovery and tonality, is colorful and lively, has a huge spacious soundstage with vibrant images, and a seemingly unlimited instrumental layering ability. The dynamic ability, along with an abundance of nuance recovered makes the music come alive in my listening room to a precedent setting degree.
I suppose it is fitting that Mark names his products after fine cigars, because the Panatela is one smoking hot interconnect! The Panatela gets my highest recommendation; it is an awesome achievement in interconnects design. Mark you are amazing! $850 per meter
Tom Evans Microgroove+

Tom Evans Microgroove+ solid-state phono stage. A very good phono stage, for some this might be the product they both start sampling high end phono performance and blissfully exit that arena finding improvements are made only after other system upgrades. Tom Evans' product is precise sounding though with a light touch. With the Microgroove+ my records didn't battle through a noisy phono stage to present clearly arranged sound stages, deftly inhabited by harmonically rich tapestries of sound, unless of course, the recording sucks. Colorations are very low. The Microgroove+ provides what this writer wants, which is letting recordings that should sing to sing amazingly. For those looking only at tube phono stages, add this solid-state gem to your list of candidates as timbre is well and fully developed. The down side of the Microgroove+'s neutrality is that it pulls back the curtain on bozo quality recordings to show who was at the helm; even so, the Microgroove+'s performance doesn't make bozos into villains, they and their recordings are revealed as the products of lesser recordings, while good music and performances poorly recorded are simply revealed as such. $2100
I've met some fine people in the world of audio. And this is my thanks to all of them, though I'll only mention one at this time. My time as a reviewer is winding down, though not ending, and I would like to thank one individual. Left to my own devices I had wandered from one speaker brand to another, at one point owning four brands in two years. All of those speakers were good, but none of which were satisfying to me. As I laid out my frustration with the sound of these speakers a friend pointed me to James Greggan of Sound Asylum in Venice, California.
James, as many dealers will do, lent me a pair of speakers, specifically passive ATC 10s and 20s so that I could do the Goldilocks test. I have since owned four pairs of ATCs since. James' suggested how best to make them work and suggested appropriate amplification to me. Though I've played reviewer, I hadn't settled on a speaker until James pointed me in the right direction. I've since written about six different ATC, as well as penning notes on four of their amplifiers. That's kind of nutty even in an orchard of nuts.
This note should not diminish any of the very fine dealers near you. This is rather my thanks to James as my time as a reviewer diminishes. Reviews are a great place to get an idea of what you might like, but you'll probably get closer to your holy grail and arrive sooner with a dealer than wandering from brand to brand or shuffling the latest popular product into your system.
Audiolab 8200CD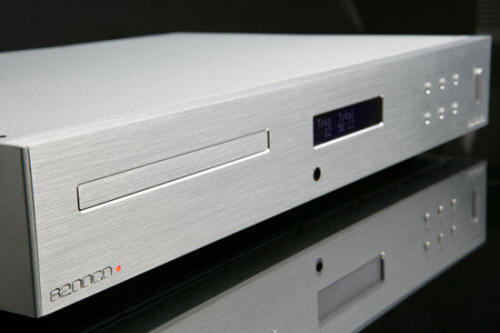 Audiolab, a once well respected British firm has been resurrected from the dead with a a great new line of affordable gear. The 8200CD is a highly engineered Redbook CD player and DAC. It comes equipped with an array of S/PDIF inputs, and as well a proprietary asynchronous USB input. The internal DAC handles sampling frequencies all the way up to 192kHz. On top of all that there are multiple user selectable digital filters. The unit is also beautifully made. All of this for $1095.
Of note is that there is a version of the 8200CD with a built in analog preamplifier and line level inputs, called the 8200CDQ. With products like the 8200CD, Audiolab is betting on audiophiles preferring streamlined, one box solutions that perform as well or better than multi-box expensive configurations. Highly recommended based on sound, build, and feature set.
Channel Islands Audio VDC-SB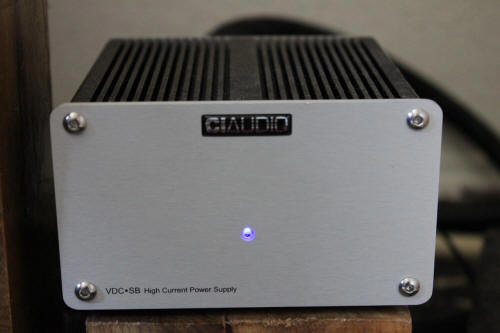 As a long time user of the Squeezebox line of products, I have been searching for cost effective ways to upgrade an already great product. Dusty Vawter of CIA is also a fan of the Squeezebox and decided that its main weakness many the noisy switching power supply. He designed the VDC-SB after a bit of experimentation. For me, it was a clear and immediate upgrade. The VDC-SB enhanced Squeezebox Touch sounded cleaner, more refined, and was beginning to compete with my reference CD player. Made in the USA, and costing, $259, the VDC-SB used with a Squeezebox Touch makes for a formidable digital front end costing less than an "audiophile" grade power cord. The unit is ruggedly built, and is finished in CIA's trademark silver faceplate. A classic no-brainer.
Lisa Hannigan, Passenger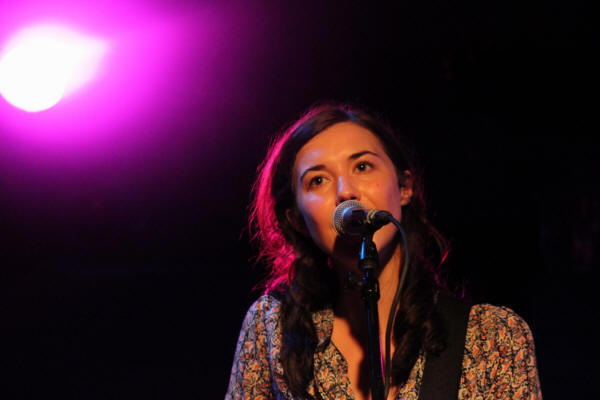 Lisa Hannigan got her start singing on mercurial Irish singer songwriter Damie Rice's first two albums. Since parting ways with Rice, she has released two magnificent solo albums. 2011's Passenger is a stunning work by a truly gifted and charming singer. Hannigan developed her writing skills and each song is like a dreamy soundtrack to a non existent movie. The lyrics create vivid imagery and the gorgeous arrangements are embellished by real players playing real instruments. Hannigan also balances dark and light like a modern day Nina Simone, building and releasing tension at the appropriate time. The album is beautifully recorded, which is a huge bonus, and what this music deserves.
Best Classical Recordings of 2011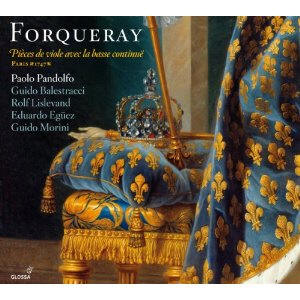 Forqueray, Pièces de Viole avec le basse continnué. Paolo Pandolfo et al. Glossa GCD 929412.
Eloquently lyrical performances of the viol works of Marin Marai's chief competitor among French baroque viol player/performers. Glorious, intimate sound.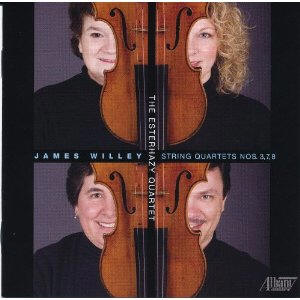 James Willey, String Quartets 3,7, 8. The Easterhazy Quartet. Albany Records Troy 1245.
A wonderful, relatively unknown contemporary American chamber music voice played with command and great feeling.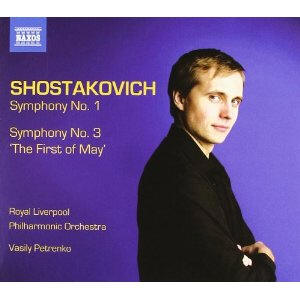 Shostakovich, Symphony Cycle, Volumes 5 & 6. Symphonies 1,3; Symphonies 6, 12. Royal Liverpool Philharmonic Orchestra, Vasily Petrenko. Naxos 8.572658 and 8.572396.
Volumes 5 and 6 of an ongoing series of the composer's symphonies that is likely to be the definitive one when complete.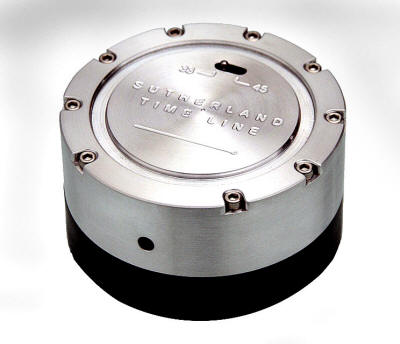 The first time Ron Sutherland demonstrated the Timeline for me at CES, it stopped me in my tracks.
I watched the demonstration as a small laser mark steadily moved its position across the nearby wall as the music increased in intensity. Here at last, visible proof that some turntables are slowed down by the friction of the phono cartridge and stylus drag.
Most of us have tested turntable speed with a lamp and printed disc or by way of a built in strobe. Neither is a true test nor as accurate as the Timeline.
Place the Sutherland Timeline over your turntable spindle (it's also an LP weight) and note the position of the laser display line on the wall. Mark that position on the wall with a tiny piece of tape if necessary and verify the laser remains absolutely steady in that one spot.
If your table passes this test, drop the needle onto the record lead in groove and note the laser position again. If it's still steady and remains so until the end of the LP, you have an extraordinary speed accurate turntable.
Why is this so important? Vinyl playback is mechanical, even if you lack perfect pitch the turntable ability to maintain consistent speed effects tone, dynamics, and timing.
An absolutely vital accessory and important tool for turntable set up. $399
Stillpoints Ultra Stainless Steel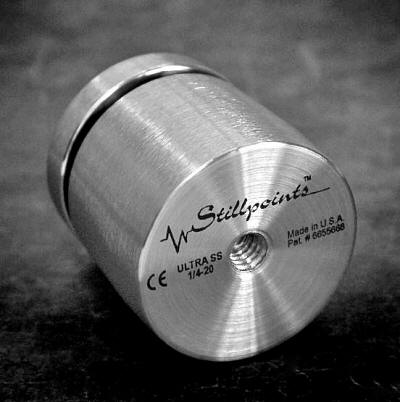 I've experimented with dozens of isolation footers over the last thirty-five years. The first one I purchased probably stands out most in my memory, the original Tip Toe that was the brainchild of Steve McCormack of Mod Squad (and SMc Audio) fame. After Steve's great success many other devices came into the market, mostly variations of that original "pointy" design by manufacturers large and small.
Each evolution of that original cone claimed to be the best but none solved every isolation issue regardless of the material used or variation of design. I admit many of these did sound different, and depending on preference, some were clearly superior to another.
When the original Stillpoints with matching (threaded) riser came onto the scene, it immediately surpassed all my previous standards, an almost perfect fulfillment of my dream for THE universal high performance footer for every application.
Later came the introduction of the Stillpoints Ultra Stainless Steel and I could hardly imagine it out performing their previous product. However, the first set of four Ultras arrived and immediately dashed all skepticism. No question this new footer set the high water mark by which all others would be judged, regardless of price.
My test began under my most sensitive component, the turntable and after proving to be of great benefit there, another set was purchased for the Studer A810 with clear positive result.
I then ordered sixteen Ultras that would replace my four amp stands. These I attached directly to the steel frame of my (four) VTL 750 monoblocks. This was one of the most significant upgrades to overall system performance by any isolation device (ever) and greatly simplified my system in terms of space required.
Stillpoints Ultra can support a weight load of up to 500 pounds. This superior product is usable with components both large and small, even super heavyweights like large speakers.
In short, Stillpoints Ultras Stainless reduced noise and vibration with the added bonus of increase in dynamics, tighter yet deeper bass, apparent speed increase and improved clarity and resolution throughout the spectrum.
These come in several thread sizes and are easily installed and removed. One of those rare products that's a safe, long-term investment for high end components. $225 per footer.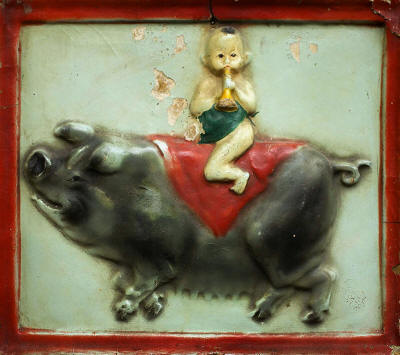 Sometimes I feel strongly enough about a particular work by an artist to call it Product of The Year.
I've been a fan of Daniel Lanois ever since his stunning album; "Acadia" was released in 1989. That being the case I'm a bit embarrassed I did not discover "Black Dub" until a few months ago.
This album is filled with signature Daniel Lanois sound but accompanied by a talented group that work so tightly together they produce an intoxicating new sound. The other members are Brian Blade (drums), Daryl Johnson (bass), and Trixie Whitley (vocal). Belgian born Trixie Whitley is the daughter of the late, great Texas blues man, Chris Whitley (Aug, 1960--Nov, 2005) whose work was as much minimalist Jazz as it was rock and often overlooked because he refused to conform to popular music style.
At age 23, Trixie contributes greatly to the sound that separates this album from all other works by Daniel Lanois. Her voice is sincere and passionate, a combination of power much like the blues-rock style of her father, but softened and transformed by her young, emotional, female voice.
Brian Blade's flawless drum pace holds everything together. A powerhouse of intensity with old school precision. Brian is one of my favorite artists, an admiration that began with the discovery of his jazz release, "Real Book Stories" on Quinton Records.
While searching for a copy of the LP I discovered AAA in Germany, a superb group of music lovers that make available half-track, 15 IPS master dubs. I purchased several of these and subsequently awarded them PFO product of the year. That was the same year Myles B. Astor warded The Tape Project Product of The Year for their master tape reissues.
This from Amazon on Daniel Lanois...
"Among his credits, Lanois produced Bob Dylan s Grammy winning 1997, Time Out of Mind, and U2 s anthemic 1987 breakthrough, The Joshua Tree. Daniel has produced music for an array of genre busting artists, including Brian Eno, Neil Young, Willie Nelson, Emmylou Harris and the Neville Brothers."
I've not heard the CD, but the LP is beautiful and a high quality pressing with only slight compression. The typical Daniel Lanois swelling bass and power as double LP but side four left blank. I discovered an image of Trixie with her father, captured only a few years before his death. I think Chris would be proud had he lived to hear Black Dub. LP $19.99 CD $11.99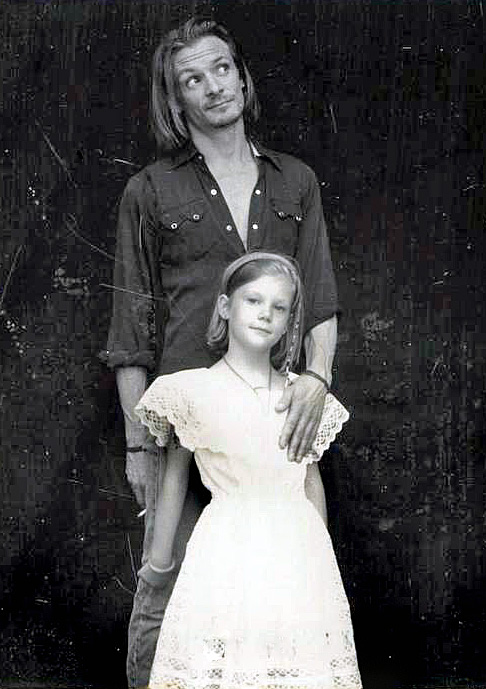 Kubala-Sosna Elation S/PDIF Digital Cable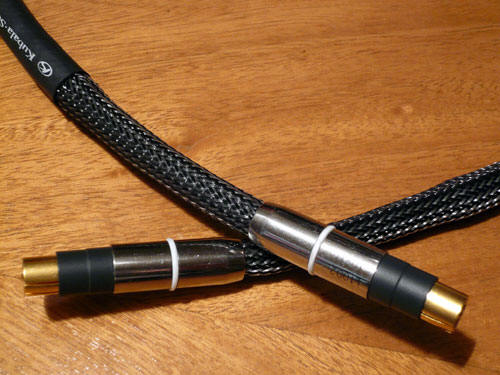 In addition to the facts that Joe Kubala is a mench of the first order and a welcomed cheerleader for high-end audio all over the world, the Kubala-Sosna brand continues to amaze and delight audiophiles everywhere. Seems every time I review cables, the R&D team at K-S comes up with a new superb addition to make my chores easier and more fun.
Just as my new E.A.R. Acute 3 CD Player and DAC was installed sporting digital inputs for the first time, here comes K-S with a new benchmark in digital interconnects: the Elation S/PDIF Digital Cable. At $2700, it is very expensive, but, for the well healed audiophile, a necessity. I have tried every brand around at more or less cost and cannot quite find a cable that bests it in all parameters. Even my home-made brew of purest 1940 era silver wire is less revealing than the Elation.
In a nutshell, the Elation plumbs the extreme and most minute details of the digital signal at all bit rates and still retains the musicality and warmth of the live performance. It communicates delicacy and nuance without equal. You spend less, you get less. It embarrasses the venerable D-60 and out paces the exotic offerings from Tara and Transparent. It is mellifluous and harmonious and works exceptionally in any and all digital circuits I could find.
I understand that a $1000 version is in the works so you might wait for this or not. I love the entire Elation cable line-up and make good use of these in both of my reference systems. The Emotion AES/EBU is the best I've tried and now the Elation S/PDIF is killer, too. Tired of spinning your digital wheels looking for just the right digital 75 ohm cable? Here it is folks… I did all the work for you. Enjoy the Elation S/PDIF cable, my first choice for Writer's Award 2011. $2700 first meter, $400 additional meter
Grado PS 1000s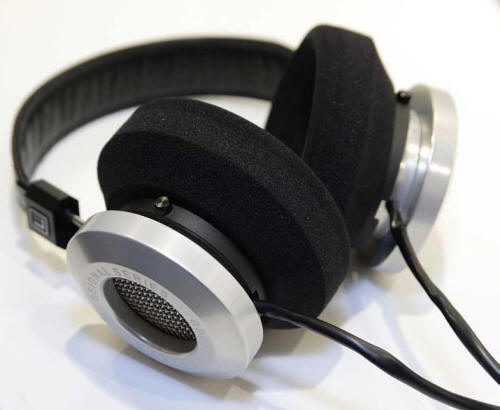 In August in LA, the Los Angeles and Orange County Audio Society held its 5th annual HeadRoom and Friends event in the grand ball room of the Holiday Inn Convention Center. 21 different headphone vendors were present and I had the opportunity to try every brand under the the sun compared to my current preferred reference: the Grado PS 1000. The performance of all these cans was very good to excellent, a true leap in sonics in this part of our venerable personal listening hobby. Headphones used to be for engineers and recording enthusiasts, now they are for everyone.
Bottom line: in the important performance parameters of linearity, neutrality, and definition not one pair of other cans bested the Grado PS 1000s in any convincing way. The Grados even outperformed competitive cans using headamps designed for the competing brand. On the E.A.R. HP-4, the most exotic headamp in the room, there was no contest. The Grado's just produced more, more, and more with a get out of the way speed and naturalness that was right as rain. Their high tech pro fit and finish sets them apart.
Please keep in mind that this is my humble opinion and though well researched is subject to what you personally may be searching for in cans and what you own in a headamp. Though as an owner of six pairs of phones myself, two electrostatic, I have a strong reviewer case to make.
If you are looking for the best in cans for top recording fun or just for personal joy, start with the Grado PS 1000s and go from there. You will save a lot of time and energy best spent in searching for a great headamp to max out the Grados. Grado's own little battery amp works very well with the PS 1000s, by the way, though there are better! The 1000s are very, very comfortable as they are circumnaural. $1695
Well done John Grado. Enjoy the Writer's Award for 2011!
Furutech deStat II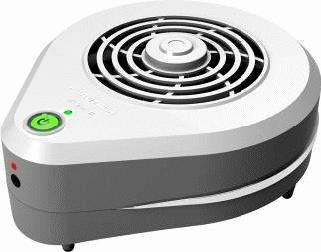 This baby flying saucer from Furutech is, by far and away, the best new accessory for audiophiles introduced in 2011. By bombarding any digital or analog media with negative and positive ions, it eliminates static on LPs and digititus in digital media way beyond its $425 price tag would indicate. It even features sophisticated ergonomics that allow portability and multiple uses that indicate a mature mark two design. I would use it on my wife if she made music instead of dinner.
With a 10 second and twenty second blast setting, a convenient stable platform for CDs, SACDs, and all types of DVDs, plus easy one hand holding to blast LPs while turning on the turntable, it is a joy to use. The reduction in ticks and pops on LPs is fabulous. Its built-in rechargable battery and light show are great and practical. I have never used a superior anti-static device in my 45 years as an audiophile.
Furutech has struck paydirt with the deStat II. I cannot find one knit to pick or quibble to mention. It works fantastically and perfectly every time you use it. You will know when you forgot to use it. The effect lasts about a day then blast again… no harm no foul.
My advice is to buy it now before the price goes up. I would not wait for any mark 3, the mark 2 is all you need! Congratulations Furutech! The deStat II is a winner and more! Keep the hits coming!
Sonicweld Diverter HR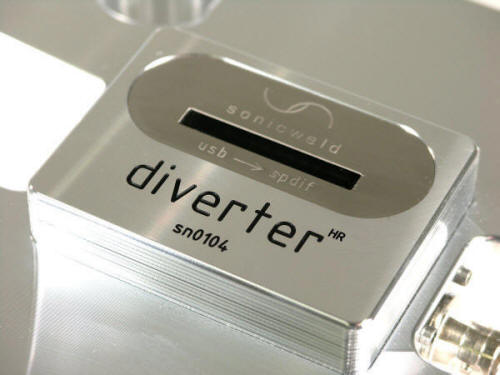 For everything that the original Sonicweld Diverter offered, the Diverter HR offers that much more; capable of working at any resolution up to 24/192 and sounding lovely from the moment I took it out of it's "Storm Case", the Diverter HR is an engineering marvel and proof of what a man dedicated to getting the very best sound possible from a computer can do. If you want the very best sound you can achieve via the USB output of your computer, the Sonicweld Diverter HR and a good—not even a excellent—S/PDIF-based DAC will give you audiophile Nirvana. Since I got mine, which I mate with a Berkeley Audio Design Alpha DAC, I have to confess that I rarely listen to CD's or LP's because it's too damned inconvenient and although one could argue that with the lofty CD player and turntable I have the sound is better, it's SO compelling to be able to queue up long playlists of music with my iPad 2 and just let her go. If you're interested in "computer audio" at all (and you should be), the Sonicweld Diverter HR is the single most essential piece of equipment you can own. Sadly, the Cynosure v2 USB cable and Core S/PDIF cable I use are no longer available because of the demise of Lee Weiland; but I can assure you that even with the most basic audiophile-quality USB cable and S/PDIF cable you will be delighted with the sound you get from the Diverter HR. $2895
PS Audio Power Plant 10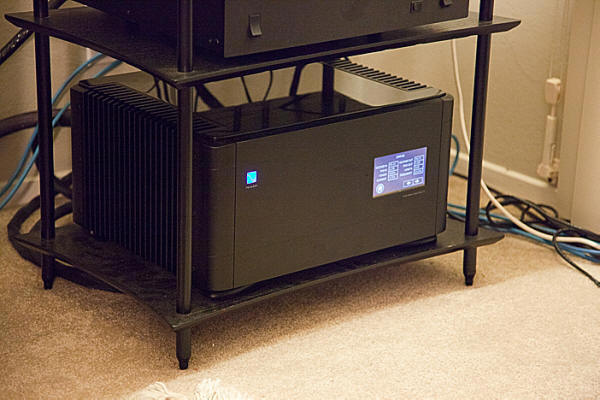 Little did I know how important clean power until I got my PS Audio Power Plant 10; in fact, I was so impressed with it that I got two of them, one for my main system and one for my office system. I had no idea that the power in my home had a sine wave that looked like a dog's hind leg and offered upwards of 7.0% harmonic distortion. Now, with a flawless sine wave and less than 1.0% harmonic distortion, every source component I play just sounds fuller and more full of musical life. Please note that the Power Plant 10 is NOT an AC filter, it's an AC regenerator, sort of like a very high-current Linn Lingo in that it's an amplifier that provides a perfect 50 or 60Hz sine wave and near 0% distortion. It's improved everything plugged into it including my Sony HDTV, the sound AND image of my Theta Compli Blu (which now exceeds the performance of my old standby Ayre universal disc player); and even my modified 27" Quad Core iMac has better image quality. It makes the office system, which consists mostly of Rega and Tri equipment, sound like an SME Model 20 running through a perfectly tuned Spectral or Audio Research system with a big pair of Maggies. In fact, I think it sounds better than that. If offers that much music. By far, this is the most cost-effective component I own and the one thing I would never do without. $4495
E.A.R. 868 Preamp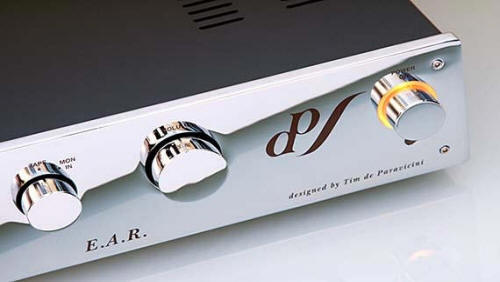 The E.A.R. 868 Preamp is a full function, all tube, preamp featuring single ended and balanced inputs and outputs, a tape loop and remote volume control via motorized potentiometer. The optional phono stage includes a built in step up transformer for moving coil cartridges with several load and gain options. The 868 is beautifully finished, exceptionally transparent and eminently musical. Though it's an all tube design it sounds neither tubey nor solid-state, adding no discernable character of its own to the music. Its one of the best buys in all of high end audio offering state of the art performance at a price that while not exactly cheap, isn't stratospheric either and should be within the reach of many who can appreciate its performance. The phono section is superb and outperforms phono stages costing many times its price adding $1800 to the cost of the 868. Its circuitry is identical to E.A.R.'s own $5595 88PB standalone phono stage. If you are looking for an analog preamp, this is the one to beat.
DEQX HDP-3 Preamp Processor

The DEQX HDP-3 functions as a preamp with both digital and analog inputs, a DAC, a three way digital crossover and a Digital Signal Processor (DSP) with both speaker and room correction. It features one single-ended and one balanced analog input, a coaxial (S/PDIF) digital input and an AES/EBU digital input both capable of up to 24-bit 96kHz resolution. Outputs include six channels of single-ended analog audio with an option to add six channels of balanced analog out using either active electronics or Jensen output transformers. There is also an available digital output module which provides three stereo AES/EBU outputs on XLRs along with an AES word clock sync input on XLR.
The HDP-3 represents the future of high end audio. By digitally correcting frequency and phase anomalies at the speaker and room anomalies at the listening position it mitigates the most egregious source of distortion in any audio system; the speakers and to a larger degree, the room. By removing these sources of distortion it allows you to hear your system the way it was truly meant to sound and in a way you have probably never heard it before. The HDP-3 can be used as part of the Legend Acoustics Tikandi Speaker System, a speaker system designed to work specifically with the unit, or with the speakers you already own or plan to own. Simply put, it elevates your system to a level of performance that is only achievable by building a custom room and spending six figures on equipment and makes it sound as good as anything else you are likely to have heard.

Poor economy or not, seemingly the year revealed an unending number of new or upgraded examples of audio components. Was there a real demand for such a plethora or will the promotional firms be working overtime trying to get us, music lovers and audiophiles, to at least think about buying some new components? Fortunately there are a few companies out there that keep trying to make their products as good as possible as newly designed parts and procedures become available in areas of the world. Some audio designers/engineers are anxious to get hold of those newly released items to hear if they actually sound better and if so they will be using them in their own listening systems. If satisfied, then we will be able to obtain these upgraded products rather quickly; at least that is how it can happen with a relatively small company in any field including audio. How can that company get the word out without great promotional cost and time so we can benefit. Just think about that and the ramifications. Heron Audio's newly released upgrades designated as preamplifier VTSP-3A the 'A' is for the newly upgraded version and the solid-state power amplifiers are designated as M1 and are as expected monaural (single channel).
Designed for music lovers, audiophiles have discovered they meet all of their needs and then some. Almost amazingly, the powerful though small and light weight power amplifiers are almost cool running though the audio quality that comes closest is only from so called "Class A" designs in my experience. Herron also makes an upgraded tubed phono preamplifier that I have not auditioned. That is simply because I have finally decided that the mechanical system of a stylus scratching its way around a disc is just "so last year" or actually "last century" that it no longer makes much sense to me. Is that controversial enough for you? Yes, I have a number of players. The oldest is a belt drive Edison Home Phonograph. It is a late cylinder version, May 31,1898. My disc models include "His Masters Voice" with adjustable speed control and now almost 100 years old. I imagine the ultimate mechanical analog player will be a Blu-ray model. My best listening experiences; I heard players encased/surrounded in extensive isolation or actually located in another room. Using the Herron amplification components with one of the admittedly few outstanding SACD/CD players will give all that record players can and then some. In addition to truly neutral musical quality there will be no exaggeration of any flaws, the bane of most digital music reproduction. I know of no equal in these respects for less than five figures.
Avid Pulsus phono stage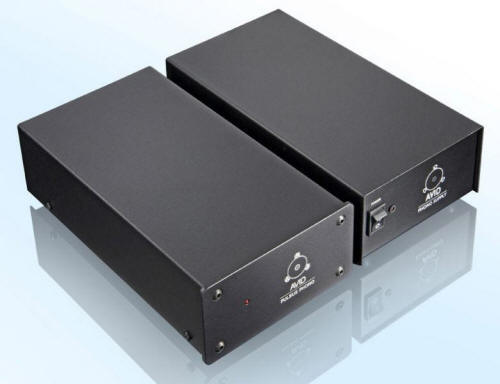 Relentlessly purposeful, Avid's entry-level Pulsus phono stage is well built and offers enough gain and loading options to accommodate virtually any cartridge. It's quiet, essentially neutral and revealing of the source. The Pulsus therefore provides as spacious, bold, detailed, tuneful, and layered a performance as your front end is capable of up to and beyond its $1599 price tag. It partnered well with everything I threw at it, making it a solid long-term investment and potentially even a bargain.
Marantz SA8004 disc player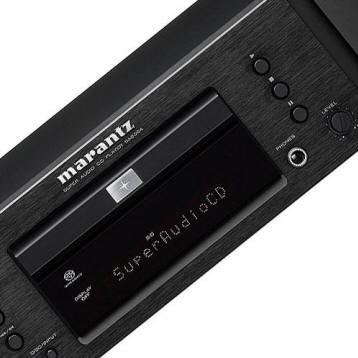 If you need one box that plays CD and SACD discs, can function as a DAC, connects to computers, memory sticks and portable music players, powers headphones, is built very well, sounds excellent and is priced under $1000, Marantz's SA8004 is hard to beat. It's one of the most consistently satisfying disc players I've heard regardless of price: always musical, pleasingly airy, notably rich, and detailed but not fatiguing. As a bonus, the headphone jack is on par with entry-level standalone amplifiers. Give it a listen even if you don't need any of its extra features.
Rogersound Labs Compression Guide Stereo System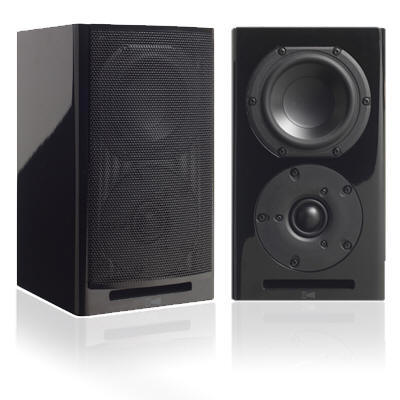 I had the most fun reviewing this year during the time I spent with the Rogersound Labs (RSL) Compression Guide system consisting of the CG4 satellites and the Speedwoofer™ 10 subwoofer. Music leapt out of these speakers with outstanding pace and dynamics that made it hard to sit still. On slower, more sedate music the speakers drew you in to appreciate the outstanding detail. The speakers have a nice warm tonal palette that benefits some from upgraded cables and a good power cord for the subwoofer. The star of the show in this system is the Speedwoofer™10 subwoofer that produces deep and detailed bass. The RSL Compression Guide system is not the ultimate audiophile system but if your main enjoying music you should take a chance and audition this system. A terrific bargain at only $1250. Free shipping too!
Townshend Rock 7 Turntable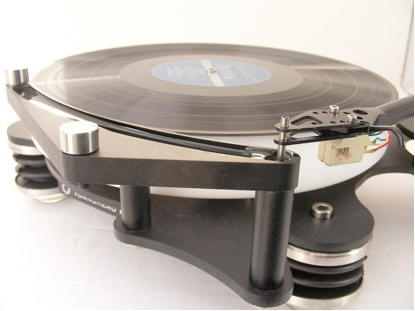 The Townshend Rock 7 Turntable has been my reference for over a year now, well before it started receiving attention in the U.S. audio press and mentions at many audiophile shows. I've sat down to write a review of this turntable several times over the last year, but I was forced to stop due to continuing changes in my reference system, involving the turntable or other components. Each change resulted in better and better sound enabled by the transparency of the Rock 7. A full review is forthcoming but I didn't want to wait another year before giving this special turntable the recognition it deserves. The Rock 7 ranks with other turntables that cost $10K or more yet has a list price of about $3000 (without tonearm). Think of all the extra LPs you could buy for this difference! The Rock 7 has a unique suspension system that effectively isolates the turntable from outside disturbances, but its most noteworthy feature is the amazing "trough", filled with damping fluid, that the tonearm headshell floats in. Damping provided by the trough smooths the bass response and controls other resonances in the cartridge/tonearm system that muddy the sound. Music through the Rock 7 emanates from a dead silent background and the action of the trough sharpens transients and lifts veils that otherwise obscure inner detail. The result is that music literally explodes from the groove and provides a sense of musical flow that I was never aware of before. Whether you have a $100 cartridge or a $5000 cartridge the Rock 7 will get the best out of it. It requires some tinkering to sound its best but worth the effort. Highest recommendation!