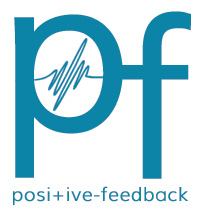 You are reading the older HTML site
Positive Feedback ISSUE 58
november/december 2011
Musings on Building a Digital Music Server: The Lee Weiland Memorial Mac mini and the PS Audio Power Plant 10
by Andy Schaub
"Through this world I've stumbled
So many times betrayed
trying to find an honest word
to find the truth enslaved"
–Sarah McLachlan, "Possession"
So two things happened recently… my friend and audio luminary Lee Weiland passed away and I got a new job. In an attempt to help his family, I purchased Lee's own Mac mini along with the box, boot disc, and generic Apple power cable. Also, my girlfriend suggested I use my first paycheck to buy whatever I wanted, so I choose the PS Audio Power Plant 10 (or at least made a down payment on it). Both the Mac mini and the Power Plant 10 have substantially improved the sound of the digital music server; but each comes with problems of its own and that's what I'm here to discuss.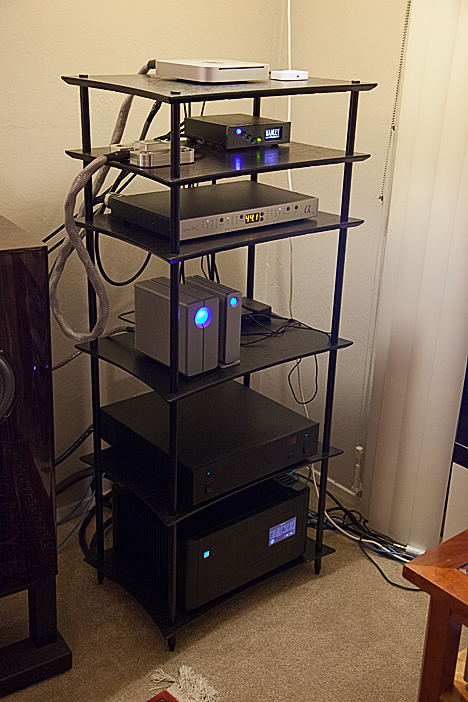 First of all, I wanted to preserve—within reasonable limits—Lee's Mac mini exactly as it had been setup; so I paid Apple $49 for a call where they told me how to crack the system password and change it to something of my own, all done with a wired keyboard and mouse and using my Sony HDTV as a giant, 40" computer monitor, which worked very well; then once I had gotten to the account he used to play music—which I left named exactly as he had—I configured the machine for headless operation using Apple's Remote Desktop application on my 11" MacBook Air. Initially I had some problems with the screen occasionally going black; but I found, after doing some research, that if I disabled the firewall on Lee's old machine and only ran remote desktop when I really needed to, things seem to work just fine. For those of you who are interested, this is a last-generation Mac mini (the last model that still had an optical drive built into it) with a 2.66GHz Intel Core 2 Duo processor, 8GB of RAM and a 128GB solid state drive that Josh Heiner of Sonicweld installed when the machine belonged to him. Yes, this Mac mini has had quite a lineage.
It's still running Snow Leopard with most of the inessential functions disabled and is connected to my now infamous LaCie RAID 1 drive by Lee's Herald FireWire 400 cable, using a Moshi FireWire 800 to 400 adapter at the computer. It still uses Lee's Cynosure v2 USB cable driving the Sonicweld Diverter HR that in turn drives my Berkeley Audio Design Alpha DAC via Lee's Core S/PDIF cable. The folks at Sonic Studio allowed me to transfer Lee's Amarra license into my name and to upgrade to Amarra 2.3. So I guess that's another difference; but boy is it a nice one. Right now I'm listening to the 24/192 HDtracks download of Louise Rogers Black Coffee and boy that album sounds like heaven on this setup, just smooth and deep with gut-wrenching bass and a silky finish like the finest cup of java on the planet. I take back everything critical I said about them (which was really just a complaint about customer service) based on this release alone. If every download sounded this good, I don't know that I would need a turntable, much less a CD player. My copy of the Analogue Productions SACD of Getz/Gilberto just arrived and I immediately popped it into my Theta Compli Blu, well filtered by the PS Audio Power Plant 10, as is the digital music server. I have to say, it sounds fantastic all lush and delicious dripping with soulful and silky voices; but the 24/96 download from HDtracks sounds every bit as good in my humble opinion and is more convenient, when Apple Remote Desktop cooperates with my Mac mini. Sometimes I wonder if I wouldn't be better off just using my iPad 2 as the remote interface. (Yes, if you think of headless operation as being full of poltergeists, "They're back.")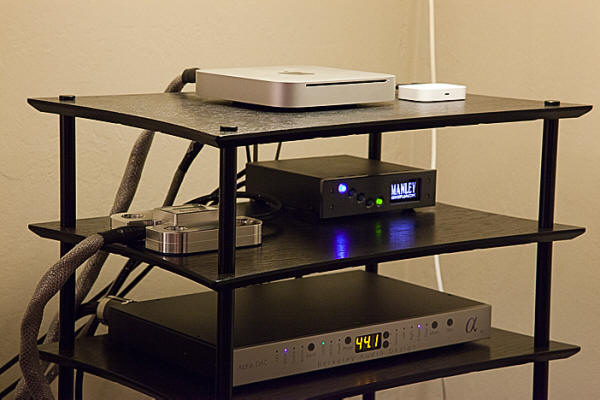 OK, backup a bit and let's be honest; under the most critical of situations, listening late at night to the CD layer of my SACD's via my CEC TL-0, Audio Note Pallas digital interconnect and Audio Note DAC 4.1 Balanced, all driving my Woo WA22 headphone amplifier and using my Moon Audio Black Dragon Tesla T1's with the Furutech Topline XLR's, there is something rounder, gentler, softer, and at the same time, more open than I can yet achieve with my digital music server, even using 24/192 material. But boy does it get to be a hassle flipping CD's. I never thought I would say that, but after using the remote-controlled digital music server and playing 3, maybe 4, albums at a time, even flipping whole CD's seems like a hassle, much less flipping 45RPM LP's every ten minutes. But that's for an entirely different style of listening. Like when I'm in the mood to sit with a glass Nuun Kona Cola and listen very critically—either through headphones or through my AN-E's—and meld with every note that emerges from the system. See, I have an entirely different style of listening when I just want play ECM jazz to, say, help me go to sleep; and there, the digital music server cannot be beat. Bear in mind, with Lee's Mac mini, the Sonicweld Diverter HR, the Berkeley Audio Design Alpha DAC, and the PS Audio Power Plant 10, the digital music server sounds so good I really wouldn't know the difference if I didn't happen to have these other extraordinary benchmarks.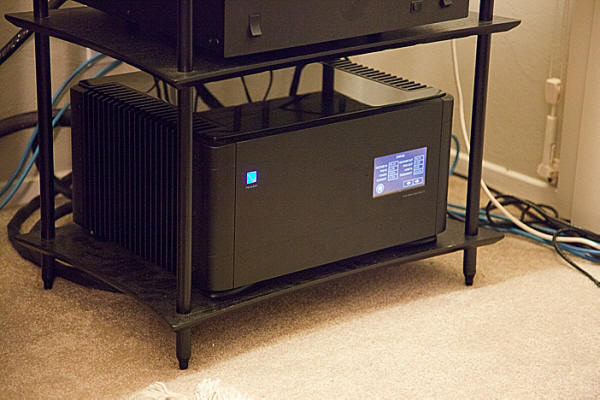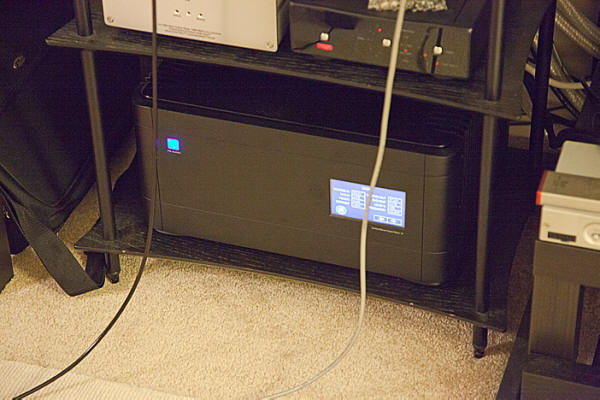 I was so taken aback by the extraordinarily high levels of harmonic distortion intrinsic to my power (upwards of 7.0%) that I ordered a second Power Plant 10 for the office system and to preserve my heavily modified 27" Quad Core iMac that now runs Lion quite happily. That second Power Plant 10 arrived a few days ago (technically during RMAF) along with yet another Quadraspire shelf for the office system, and Nick with his cohort Lee came by to set things up. I have to admit I had my doubts. Even though I knew the second Power Plant was really a necessity, it was expensive and it's easy to ignore to what you didn't know before you found out—say—you had absolute phase set incorrectly (something I honestly cannot hear). Still, after Nick installed the second Power Plant 10, all doubts were set aside. The music took on smoothness and clarity, a cleanliness that I did not think was possible from my little office system. A few nights ago, I listened to a Decca pressing of Mahler's Fourth Symphony on my Rega P3-24, Audio Note IQ3 phonograph cartridge and Audiomat 1.5 phonostage and with the Power Plant 10 it sounded every bit as open and powerful as a Model 20. Plus, when I played the 24/96 download of Elvis Costello's North through my Locus Design digital cables, Audiophilleo 1 (with the latest firmware), Rega DAC (with the latest firmware), and KSL-LP analog interconnects; there was tremendous openness and power to the midrange and that same clean sound I'd gotten from the P3-24.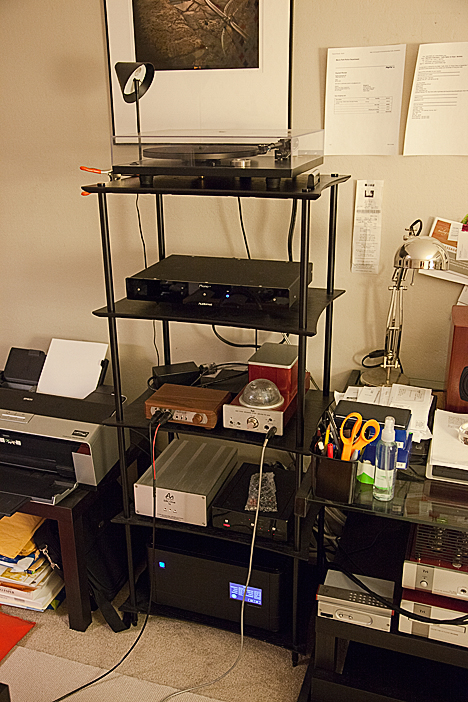 But back to the main system, just last night I played the 24/96 download of Raising Sand using the digital music server with the Lee Weiland memorial Mac mini—still running Snow Leopard—all Locus Design digital cables, the Sonicweld Diverter HR and the Berkeley Audio Design Alpha DAC (the original one) with KSL-LP interconnects going to my Woo WA22 headphone amp and a Blue Dragon pair of HD650's, single-ended. The sound was lush and delicious with no sense of grain or distortion at all and so much better than my 17" MacBook Pro with a cleanliness that can only be attributed to the Power Plant 10. Please note that I have upgraded to Amarra 2.3 and the latest version of iTunes. I have to admit that the sleekness of the Mac mini and the stability of the Power Plant 10 has added to the digital music server in immeasurable ways. The sound is better, my system is more protected and I run everything from the 11" MacBook Air (last generation) sitting on the teak task table attached to my Ekornes Stressless chair from across the room using a Apple Remote Desktop—which seems to work somewhat more reliably since I upgraded the system software and turned SilverKeeper off on my Mac mini—and just enjoy the tunes. Nick and Lee commented that the digital music server now sounds more relaxed and more musical than it ever had in the past. What's next? Maybe nothing. I may have reached a practical point of no return.
Kindest regards,
Andy