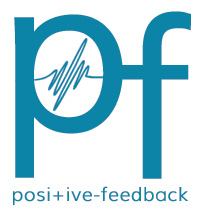 You are reading the older HTML site
Positive Feedback ISSUE 58
november/december 2011
The Singer/Songwriter Lives! - Erick Macek, Just Right
by Steve Lefkowicz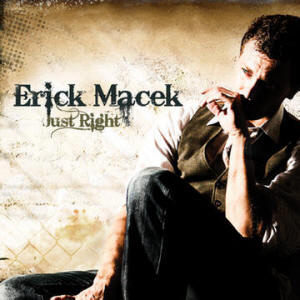 There's something about the phrase "singer/songwriter" that seems to turn a lot of people off. I'm not sure why, when you consider that songs have to be written, and they have to be sung. Why not have the song writer sing their own songs? As long as they have the voice for it, at least you know you're hearing the song the way the writer intended.
Though I have, of course, listened to many singer/songwriters over the years, I'll admit that the simple singer with his (or her) guitar (or piano) generally made up only a small percentage of my listening time. However, over the past few years, I have found myself listening quite a bit to the current group of "mellow" performers in this category, most notably Jack Johnson.
Well, this past summer my son came home from a roller-hockey game (he was filling in for an adult league team that needed a goalie) and mentioned that in the locker room, he had a conversation about music with one of the teammates, who turned out was a singer/songwriter. After a little more discussion, he found out that the teammate, Erick Macek, actually is not some unknown local talent, but has done well enough to open for Jason Mraz on one of his recent tours. He gave my son a copy of his recent CD, Just Right (his second release).
After listening to this CD several times, I have to think that success in this market is largely due to chance and circumstance. If you think of how Landon Pigg became popular after his clever, though excessively cute song "Falling in Love at a Coffee Shop" was heard repeatedly in a few TV commercials, you have to wonder what it will take for Macek to achieve similar or greater success. For my taste, Macek writes better crafted, more satisfying, less pretentious songs than Pigg.
Just Right is Macek's second self-produced CD release. The packaging, liner notes booklet and overall production are as well done, if not better, than any major label would have done. Seriously professional.
As far as the music goes, I love it.
If you are also a fan of fairly mellow music, ala Jack Johnson, Jason Mraz, even extending into Dave Matthews, you will probably like this album too. That is not to say Macek tries to sound like any of these other performers, he does not, and has his own distinct voice and style. CDBaby lists him as "folk, pop, funk and soul" and I suppose that's not a bad description. Macek tends to sing about personal things, whether based on his own life or not is hard to tell, but the songs seem to be about something personal and real. Yet, there is nothing somber or morose about any of the songs. Even the slower paced ones are still fun and flow with a great rhythm. It's actually worth it to pay attention to the lyrics. Can't really say that for a lot of the music I listen to!
For the most part, the songs are all performed with a small band; guitar, drums, bass, and sometimes violin, cello, or piano (both a grand and an electric). The musicianship and choice of how to back each song up is part of what makes this album special. One of the benefits of self-producing is that the artist gets to decide how his songs should sound. For example, the track Live, Love and Learn, could have ended up a sappy, overblown pop tune with a full string section if some big time producer got hold of it. Instead, it's just Macek and his guitar, and an absolutely lovely little song. Although certainly not a country tune, I'll bet someone like Tim McGraw could have a huge hit if they covered this song properly. That should certainly be true for he title track, Just Right, too.
Of the twelve tracks on this album, there's not a one that I feel like skipping when I have this disk playing. It's hard to listen to a song like September Rain or Be My Answer without just smiling and feeling good.
PFO readers are concerned with the quality of the recording and sound too, of course, and they need not worry here. The sound, due largely to the minimalist production, is excellent and very natural. I did get to play this on Dave Clark's big system, and everyone present was impressed.
Macek has recently released his third CD, Living Dream, and though I have not heard the recording, I did catch him performing songs from it at the Orange County Fair over the summer. His talent as a writer seems to be growing, but without losing what made Just Right such an enjoyable listen.
Available on CD or from iTunes.