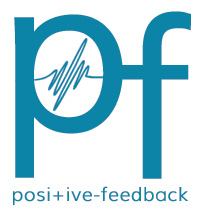 You are reading the older HTML site
Positive Feedback ISSUE 58
november/december 2011
Kanye West/Jay Z, Watch the Throne
by Jimmie Bustillos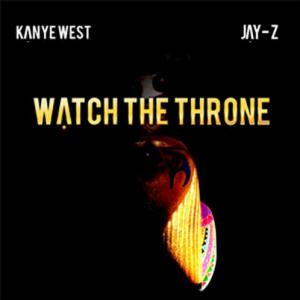 This album feels like a melting pot of production, simply because there are a lot of great producers, Kanye West, along with RZA, Pharell and The Neptunes, Swiss Beats, Mike Dean and so forth. It encompasses great sampling, materialism, and lyricism that involve many themes that seem to coincide with both Jay Z and Kanye's lifestyle of power, success, problems of success, and their own view of the way media portrays Black America.
The fact that so many producers worked on the musical aspect of the album creates a variety of tonality in each track, and a great blending as well, but not without a lack of awkwardness. Some of the tracks sound so gritty and raw, sounding almost as if they are rapping live or on one take. "No Church in the Wild" has a gritty feel to it as it starts, with very low bass drum in the background, almost a jazzy beat two stepping its way while both Jay and Kanye rap alongside. "Lift Off" features Beyonce on chorus vocals, and seems like it could have been produced as a single for the album, but of course it would not give a correct grasp of some of the raw feel of the album production presented. It has an atmospheric touch to it, possibly something Kanye would have had on one of his earlier albums if he had Beyonce on them. The next track is "Niggas in Paris," and it has to be one of my favorite tracks, if not my favorite. There is a nice blending of synth keys in the song, with strong bass line drives. Although the track is about how great either Jay or Kanye are, or would be, it really shows how creative both artists are lyrically. Hard punch lines in this track, Kanye and Jay even express how some things need not have meaning if they are awesome, as long as it "gets the people going!" referencing from the movie Blades of Glory. "Otis" samples an Otis Redding song, with an obvious Kanye touch to it, creating a glitch effect with his vocals in grunt/yelling sounds creating the rhythms. Kanye and Jay made this song one of their singles, with good intentions considering it one of the more commercial sounding tracks on the album.
The sampling on "Gotta Have It" is raw, in the sense that you could almost imagine Kanye or one of the Neptunes hitting a drum pad to play the vocal sample of James Brown over the track. It has such a nice flow and bass drum sampling, contrasting with Jay and Kanye's lyricism depicting their grasp on power and wealth, addressing their meet and greets as if they themselves are Mafioso's staying true to their roots. Both artists seem to keep a sharp mindset in letting the public know their place in the world, and yet they want people to also view them as being humble, respectable professionals in their own field. Seemingly this is presented in "Murder to Excellence." "That's My Bitch" has a very 8 bit feel to it, and lyrically expresses their interests in women, or how media views them, to an extent. The production value of "Illest Motherfucker Alive" is over the top orchestral-sequence-musical-infusion of a seemingly tragic telling of Kanye's love affairs, and some of Jay's troubles in general, whether it is business or personal relations. The song alone sounds epic without lyrical accompaniment.
"Made in America" has a simplicity to it, some 8 bit sounds, simple drum and fanfare, which shows the accomplishments of both artists and brings back humility to Jay and Kanye. Although both artists have had their differences, it becomes more apparent in "Why I Love You." Jay talks about his past, and the people who have stabbed him in the back. "Who Gon' Stop Me" samples a track from an artist known as Flux Pavillion. This track shows how rap is slowly, or more gradually, integrating dubstep and electronic music elements into its production.
Slowly each track creeps a little more creativity from Kanye's previous album, Twisted Fantasy, and runs well with each individual creative element brought to the table from these other producers. Although "H.A.M" was released as the second single from the album, it is only showcased along with "Illest Motherfucker Alive" on the deluxe album with two other songs. "H.A.M" is an interesting track in and of itself because its lyrical content is aimed supposedly toward rapper Lil Wayne, whom Jay disses in one of his verses, claiming Wayne has "Baby money", dismissing his wealth. Although it isn't confirmed, it is something that seems to be hard to debate against at least.
To bring it to a final verdict and summation, everyone has been raving about this album, and once out, it proved that, although Jay and Kanye are close friends, who talk ferociously about how great they are, they still make great albums.