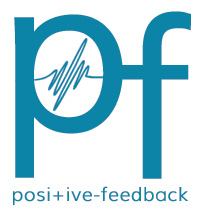 You are reading the older HTML site
Positive Feedback ISSUE 58
november/december 2011
lawrence audio
Violin Loudspeakers
as reviewed by Gary Lea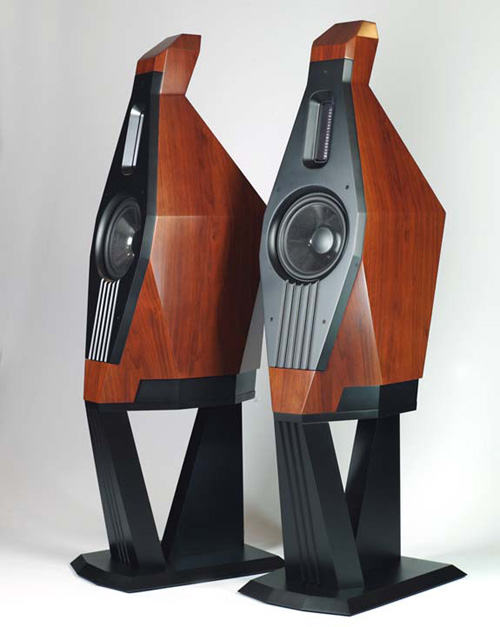 Lawrence Audio is not a house hold name in American audiophile circles, at least not yet. Like a few stellar Chinese manufacturers before them that could well change in short order if the Violin speaker is a harbinger of what is to come from this company.
I ran into Lawrence Liao & Angela Yang from Lawrence Audio at the 2011 CES and was drawn into the room by the sounds that were emanating. It takes a bit to draw me into any room not on my short list of rooms to visit. Suffice it to say I was impressed enough to venture in to the room and certainly enamored enough to stay and visit for a while. Most of my conversation was with Angela as her English was far better than my Cantonese or Mandarin. Lawrence is the designer of all of the components in his line. In addition to speakers he also designs amplifiers and pre-amplifiers. Before I left the room we had the discussion that led to this review. It did take approximately 7 months before the speakers were delivered but when they arrived it became quickly apparent that it was worth the wait.
The Lawrence Audio Violin is an exceptionally eye catching stand mount, two way speaker. The cabinet design does mimic the shape of a violin in a sort of surreal, Dali meets Frank Lloyd Wright sort of way.
Finished in a lacquered Rosewood and black paint finish, they are quite attractive and relatively small in foot print. I could draw many comparisons to other speakers I have reviewed over the years. Suffice it to say these were as much of delightful surprise as many of those were and then some.
Associated equipment for the review:
Jolida Music Envoy monoblocks and pre-amp, Ayon CD7, Opera Consonance turntable and arm with Koetsu Urushi Vermillion and Azule Platinum cartridges, custom configured Blue Circle Phone Lo Thingee phono stage, XLO Signature 3 interconnects, speaker cables and power chords.
The speaker sports two drivers. The first is an 8" carbon fiber midrange/woofer and a Cantus 5" ribbon tweeter. It is a bass reflex design with a bottom port. Frequency response is stated at 35-40,000 Hz, +/- 3db. Sensitivity is a pretty friendly 90db at 8 ohms. Crossover takes place at 2000 Hz with an attenuation slope of -12 db for the woofer and -18db for the ribbon tweeter. Lawrence Audio builds the speakers with high quality MKP capacitors, high purified OFC inductors and metal oxide film resistors in the crossovers. The speakers are rated to handle up to 200wpc. Dimensions: (H x W x D) 32 x 10 x 16 inches. Height of speaker on 29 cm stand is 44.5 inches. Net weight: 43lb ea.
The speakers arrived with matching 29cm high stands that bolt directly to the bottom of the speaker and have an opening in them for the bottom firing port. This height put the tweeter right at ear level in my room. They are also offered with a 39cm stand if that better suits your room and listening chair.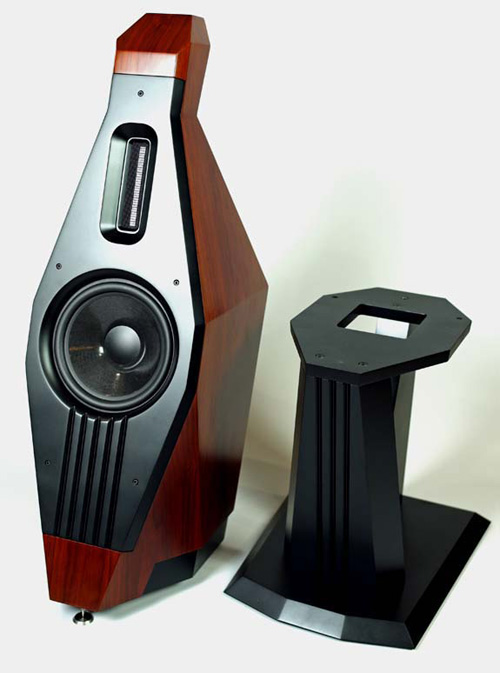 Thankfully for a change I had a pair of speakers to unload and set up that did not weigh in excess of 100lbs a piece. My back was very thankful. It only took roughly 40 minutes to un-box them, put the stands together and mount them to the speakers. Once they were assembled moving them about was a breeze. I initially set them up in the same spot as my Von Schweikert VR4s. Aside from some mild toe in adjustment this location seemed to suit the Violins perfectly. I placed them roughly 70" out in front of the wall and 36" from the side wall. This is where they stayed for the duration of their visit. I also let them run for almost a full week, all day long facing each other to run them in before sitting down and listening to them in any serious fashion.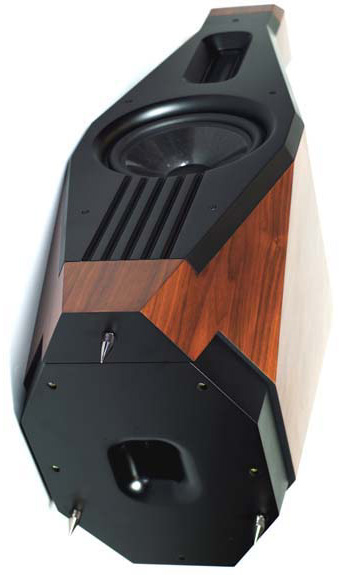 Once I was satisfied that they had a bit of time to burn in I began the formal review process. Out came the trusty Radio Shack digital sound pressure meter. I measured frequency at 1 meter from the speakers utilizing a test CD. Frequency response is stated by the manufacturer at (-3db) 35Hz to 28kHz. The in room response on the speakers was amazingly consistent from 20kHz all the way down to 40Hz. There was a slight drop out between 125Hz and 80Hz, and by slight I mean a 1dB drop off. It was not noticeable in the listening tests but the measurements showed it. There was a 1dB drop off at 40Hz. After that it rolled off at a gingerly rate to 30Hz.
I decided to go with one of my favorite testing recording groups and listened to the following cuts extensively throughout the time the Violins graced the central position in my room.
First up on the Violins was James Taylor's "Fire and Rain" (Greatest Hits, Warner 3113-2). The first thing that really stood out was the double bass. It became incredibly distinct and separate from the other instruments. I have heard this with other speakers but not all of them. Some do this better than others and it is easy to say that the Violins performed in the top ten of speakers I have reviewed. The soundstage was wide and surprisingly deep. There is something very involving about James's voice on the right system. On the wrong system he can sound thin, reedy and nasal which is why I like this track so much for reviewing. Not so through the Violins! Smooth and with a weighty authority was the way he floated out of the speakers.
On Acoustic Alchemy's "Little Laughter" (Radio Contact, Higher OctaveHOMCD84285) I focused in on the vocal performance. This is the first track by AA that features a singer taking center stage. Jo Harrop's vocals come across as smooth as sweet cream on this track but the stand out feature was the sound of Greg Grainger's snare drum. On this particular track he employs brushes which can often make the annoying sound of static scratching on many recordings. Something I generally find aggravating on records, yet quite lovely in a live concert. Generally it is so much so that it almost ruins the recording on some speakers. I have shared this sentiment with an audio buddy of mine, Elliott Burstein, who happens to be an exquisite drummer in his own right and a fan of the brush technique, The normally aggravating brush sound actually sounded more akin to a live performance than most of the recordings of brushes I have heard. So there is a concession Elliott! The brushes simply sounded delicate. This was indicative of things to come. I did notice that the placement of the singer was a bit vague and began to toe in the speakers back in ever so slightly to tighten up the center image. It came in to place but still retained the wide soundstage. Her performance became intimate to say the least.
The Violins really shined in the area of the female voice. I was so enamored with the vocals on the Acoustic alchemy track that I began to run consecutive female vocals one after another to see if it was an anomaly or if they were, in fact, excelling at this. I played tracks from Patricia Barber, Diana Krall, Christy Baron, Karen Lawrence, Niki Yanovsky and the incomparable Eva Cassidy. Much to my delight they all sounded as good if not better than the performance by Jo Harrop on the Acoustic Alchemy track. Normally I am not the biggest fan of ribbon speakers but these speakers delivered the goods in the midrange and they did it in spades.
The next track I moved to was from Spyro Gyra album (The Deep End, Heads Up HUCD 3085). The song "Chippewa Street" has some great interplay play among guitar, horns, and drum solo snippets towards the end of the track. Great dynamic swings always test a speaker's mettle. Everything with this band is so tight and they always hand you some outstanding rhythm and pace that has been getting a great deal of play time on my system. The Violins handled this track without the slightest bit of fluster. The shifts between the instruments were seamless and never seemed to ruffle the speakers. I have heard tracks like this become problematic for other, less capable speaker designs. One particular aspect of this speaker that impressed me was the way that I heard the cymbals decay. Having been a drummer for a time in a previous life, I became attuned to the sound of a cymbal's decay after having struck it. This is one particular facet of reproduced music that I listen intensely for. In many recordings and on many systems the decay sounds much shorter than it actually is. Not so with the Violins. There was a definitive and realistic decay level that I have not heard from only a handful of speakers, most of which cost twice as much as the Violins. The other aspect of the Violins that surprised me during this track was the slam that came from the kick drum. That kind of impact usually comes from floor standing speakers with significant more air pushing capabilities than a typical stand mount speaker. These things really kicked!
The final test track of note that I will mention involves something that I am learning to appreciate more and more, Classical music. I have always admitted and continue to do so, that I have little knowledge of this genre of music and have never really cared for it. Perhaps it is age and wisdom, or at least age that has me venturing into this area with a bit more enthusiasm. I broke out a copy of Gustav Holst's The Planets performed by the Philharmonic Orchestra under the guidance and direction of John Elliot Gardner. (Gramophone's Choice 445 860-2). Let me just say that this particular recording moved me beyond what I am used to from a classical piece. The first movement, "Mars, the Bringer of War" is so captivating and the Violins presented this movement with authority and slam. It was easy to sit back and see the musicians playing their individual instruments as though you were actually at the concert. There are numerous times throughout the piece that the speakers are presented with sudden shifts to very low-level details. The Violins handled this better than any speaker I have ever heard in this price range! It was all there with the trimmings and the exquisite ambiance. Of course a speaker at this price range does not come without some imperfections and the Lawrence Violins are no exception. They are not the last word in plumbing the absolute depths of the frequency spectrum. What they do provide is a delivered with consistency and impact.
Like some other speakers I have reviewed in the past what these speakers DO provide is a very enjoyable experience with a good deal of detail resolution, strong ability to handle aggressive rhythm and pace, excellent sound staging, and a very fluid midrange. At the suggested retail price of $7500 they represent a fine investment in speakers and promise a long and happy life delivering great sound over a wide range of musical styles. At the current price of $4950 they are an absolute bargain. I only hope that this is just the start of a long and prosperous run for Lawrence Audio in the US and that they continue to develop and import fine audio components like the Violin speakers. Perhaps I will get an opportunity to review the Firebird or Eagle speakers in a future issue. Those are even more promising and that is saying a whole lot about the company and its products! Gary Lea
Violin Loudspeakers
Retail: $7500 including stands and delivery (Continental U.S. and Canada only).
Lawrence Audio
www.lawrenceaudio.com
US Distributor
Audio Revelation
2630 Pirineos Way #24
Carlsbad, CA 92009
www.audiorevelation.com
jay@audiorevelation.com
TEL: 760. 944. 0444