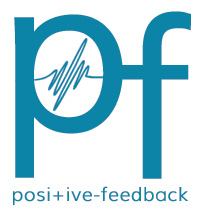 You are reading the older HTML site
Positive Feedback ISSUE 58
november/december 2011
Music Reviews Featuring Releases by PentaTone, Artek, Naxos, Profil, ASO Media, and CSO-Resound
by Karl Lozier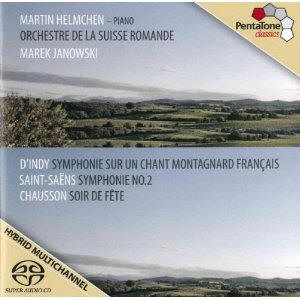 D'Indy, Symphonie Sur Un Chant Montagnard Francais. "Symphonie cevenole" Op. 25. (Symphony on a French Mountain Air). Saint-Saens. Symphony No. 2 Op. 55. Chausson. Soir de fete. Symphonic poem Op.32. Orchestra: De La Suisse Romande. Conductor: Marek Janowski. Piano: Martin Helmchen. PentaTone SACD Hybrid Multichannel PTC 5186 357
It certainly has been a very long time since I have heard this old favorite of mine. Checking on my memory, I found it still functional as the famous RCA prized series was still there with a shaded dog in pristine condition. Of course with the famous Layton and Mohr recording team still residing where left lo these many years waiting for someone to take over. It features Charles Munch conducting the Boston Symphony and next to it alphabetically in the same cabinet I found Ormandy's version with the famed Philadelphia Orchestra. I did not take them out and play them for comparison with the fine PentaTone release being reviewed here. I simply do not like to compare what appealed to me many years ago with the latest and easily obtained current releases, especially if available on SACD. I also realize that with "favorite" recordings the introductory recording seems almost always to be the best one for performance and tough to replace; that seems to be quite logical if you think about it.
This almost piano concerto is kind of masquerading as a quasi symphony and that's simply that, as D'Indy's naming takes precedent over tradition and he called it a symphony, case closed. I just hear sublime beauty, gorgeous musical passages and many accenting touches from the unexpected, in a symphony, piano. It is a personal favorite and rarely heard at concerts. Play it for a classically oriented music lover and watch him or her squirm as you politely ask for the composer or title to be guessed. The recorded audio quality is just about as good as it gets with PentaTone, or any other company if not quite the very best SACD, but very close.
The performance should make ninety percent of you listeners very happy and contented. I must recommend purchase as only those that need more of a French touch or lilt might demur and miss out. A note to really old time audiophile music lovers; look at the orchestra. Does that ring a bell from about sixty years ago? Yes, that group conducted by Ernest Ansermet, founder in 1918 and principal conductor until 1967 and responsible for a number of the most famous and popular early stereo recordings. Those famous recordings were done on the English Decca label and could not be so labeled in the USA as there was another Decca label in the States. They were labeled as "London" records in the states and often were regarded as inferior to the English Decca releases and led to ways to get around problems importing them.
Janowski has been both artistic and music director for the past six years for the one hundred plus musicians of the Orchestre de la Romande. Obviously they form a very good and solidly performing combination with no obviously apparent weakness. The full range recording is simply solid and minus any hints of treble range harshness or bass boom to mar the wide range audio.
The Saint-Saens Symphony No.2 is a very enjoyable, not a great composition, as would be expected of a Mozart or a Mendelssohn perhaps. Certainly not a show piece as is his Symphony No. 3 (Organ). The Chausson's Soir De Fete is a short impressionistic and colorful composition that seems to fit in quite well with the other selections here. The D'Indy selection is the reason I give my recommendation to this release of three compositions making for simply beautiful and varied music making and enjoyment while leaning to the relaxing side of musical enjoyment.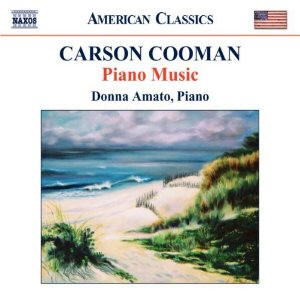 Carson Cooman, Piano Music. Piano: Donna Amato. Naxos American Classics CD 8.559350
Not being the least bit familiar with the name, Carson Cooman, I figured it was time or past time to listen to a couple of recordings of his music as here he is represented by two recording companies. Naxos lists this survey of Cooman's piano music as all being World Premiere Recordings. The Fourth Piano Sonata was composed for pianist Donna Amato. Do you remember, in the film "Amadeus", what the emperor said when Mozart asked him what was wrong his new composition? In this recording exactly the one hundred and eighty degree opposite would be the answer. Here is minimalism at its extreme and modern or contemporary at the same time. I can only recommend this "far out" sampling to a limited group of pianists or music students and certainly not to classical music newcomers. As far as I can tell, the recorded audio quality is very good for the limited group of listeners.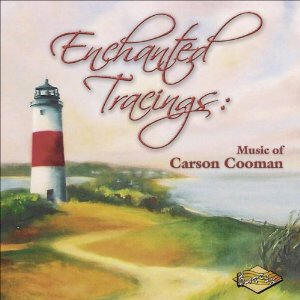 Carson Cooman, Enchanted Tracings. Various Small Chamber Music Groups. Artek CD AR-0047-2
Only for those who are very adventuresome, though here a very few of the compositions may be enjoyed by many music lovers. There is quite a contrast with the above mentioned piano compositions by Cooman. Though most of these compositions are way out, many will find a few delights with choices such as an Oboe Quartet, Piano Concerto, Trombone Concerto and a Brass Quintet. There is a little bit of everything here, so go ahead and take a gamble and find something new and very different! Yes, I mean to experiment. There is some beauty lurking here and all is well recorded though very problematic for newcomers to classical music, with all those caveats, a limited recommendation might be in order for those forewarned.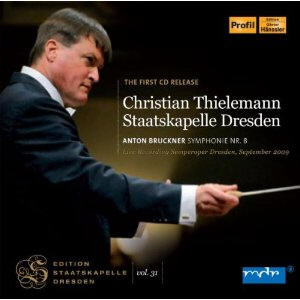 Bruckner. Symphony No. 8. Orchestra Staatskapelle Dresden. Conductor: Christian Thielemann. Profil 2SACD hybrid PH10031
I apologize for the delay in reviewing this particularly fine Bruckner recording. I simply kept pushing it aside and now getting to hear it, I had to share my listening thoughts. This is a live recording with almost no hint of that until the end and even there, conductor Thielemann had the audience hold its applause for a few seconds. There is no going back and fixing problems with live recordings. Years ago many people were somehow linking Mahler and Bruckner as if with similarities if you like the music of one you would like both. There are some aspects of music making that they share such as large or larger scale compositions but little else. This outstanding eighth symphony is, I believe, the longest symphony ever written up to that time. It is big, bold, powerful and almost choral or hymn like in its presentation and effects on listeners. It requires a conductor that keeps this power moving right up to the end and an orchestra that can handle that. Excellently done here on both counts and surprisingly so as Thielemann was a late replacement for the expected conductor. For those interested in such things, here the Haas edition of the score was used and that is neither the oldest edition nor the newest. The atmospherically powerful presentation is simply outstanding and I can not believe that there is a competing performance that is significantly or noticeably better. A particularly nice booklet containing color pictures accompanies this highly recommended, by me, release.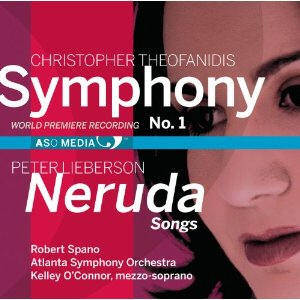 Christopher Theofanidis. Symphony No.1. Peter Lieberson. Neruda Songs. Orchestra: Atlanta Symphony. Conductor: Robert Spano. ASO MEDIA CD 1002
Finally, here is a contemporary composition that is going to be easy to learn to like. Theofanidis' symphony contains some melodies and beautiful passages as well as some powerful statements. Repeated listening has made it even more appealing and I think it will continue to do so. Famed audio recording engineer, Michael Bishop has given us superb audio quality again with CD sound as good as it gets. No it is not quite the equal of the best SACDs, though it is surprisingly close and in the last movement we get to hear and feel some of the most natural sounding drum thwacks in recent memory. Since the Atlanta Symphony commissioned the composition and performed it at the inaugural it is easy to assume this recorded performance is spot on. It is highly unlikely to hear a better performance in the near future. Therefore it is easy to give this release my top recommendation. To top that off is the well recorded and performed, by Kelley O'Connor, Neruda Songs, based on the love poems of Pablo Neruda. Read the liner notes to know the beauty of these love poems as they are not sung in English.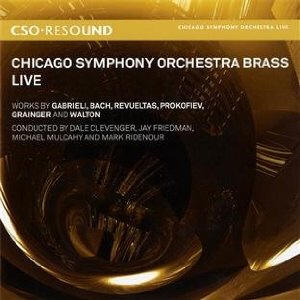 Chicago Symphony Orchestra Brass Live. (Arrangements for Symphonic Brass). William Walton. Crown Imperial March. Giovanni Gabrieli. Sym. No.6, Sonota and Canzons. J.S. Bach. Passacaglia and Fugue. Percy Grainger. Lincolnshire Posy. Silvestre Revueltas. Sensemaya. Sergei Prokofiev. Romeo and Juliet-Three Scenes. Conductors: Dale Clevenger, Jay Friedman, Michael Mulcahy and Mark Ridenour. CSO RESOUND Multi-channel SACD Hybrid CSOR 901 1103
This release may be aimed more toward audiophiles than music lovers, hopefully it may appeal to both. If you are a music lover I would suggest starting with tracks 6 to 11 for Percy Grainger's delightful Lincolnshire Posy and then go back to the beginning with Walton's Crown Imperial March and simply go on from there to the end. The orchestral forces here are a rather small group of approximately twenty musicians and the full richness and dimensionality of the orchestra's usual complement of more than a hundred performers is simply missing at times. The rather close microphone placement makes for very exciting listening if not exactly what you may or may not be used to from your usual seat at your local performing arts theater. Perhaps two or more years ago I reviewed a similar recording from Reference Recording's RR-112. It featured a slightly longer version of the Crown Imperial and also included selections by Gabrieli and Percy Grainger. Brass lovers will feel a need for both recordings and to hear which one is the better sounding. In the meantime this release is definitely recommended. The audio quality from RR's often yields little to many SACD releases though here this release also offers surround multichannel and that is simply above and beyond, if you have a reasonably good multichannel sound setup.
Attention Please: I have an announcement to make about a group of possibly very special recordings made in the past ten years by the well known PentaTone classics recording company. To directly quote from the accompanying booklet: In order to celebrate the 10th anniversary of our label, we have selected 10 albums to include in an anniversary box: one dating from each year of our existence. Not necessarily the best sellers and award winners, but a selection that provides as true a representation as possible of the artists with whom we have worked during these past 10 years. It has proven difficult to do justice to all of them, but we done our best. As a bonus CD, we have added a compilation containing tracks from a number of albums not included in the selection. At the end of this compilation album, there are surround sound effects and test tones that will enable you to optimize the position of your speakers in order to further enhance your enjoyment of your PentaTone SA-CDs. The interesting and thorough booklet says "we can conclude that SA-CD is a stable market—albeit a relatively small one and we will continue to build up a catalogue that will remain "future proof" and at present totaling more than 130 and demand for our CDs and SA-CDs has increased. PentaTone is here to stay." Let us hope that those listeners that claim to want the highest quality recordings will support PentaTone and other companies that continue to support the highest quality releases, SA-CD. All in this special box set are SA-CDs. The special set is: PentaTone The First 10 Years.
Disc 2002 : Tchaikovsky- Serenade for Strings and Souvenir de Florence; I found this to be a particularly rich and full sounding release with no harsh edge to the beautiful strings.
Disc 2003 : Dvorak Symphony No.9 (New World)- Belongs in every music lovers collection and Tchaikovsky Fantasy Overture (Romeo and Juliet) Audiophile oriented bass drum thwacks and simply beautiful melodic music. I intend to cover two "years" each issue. I do not yet have complete information on this unique project; hopefully this full set of ten plus, releases will sell as a bargain. If not it simply means the company realizes it should be at a premium.