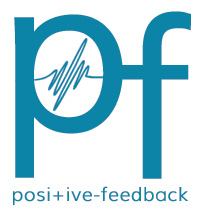 You are reading the older HTML site
Positive Feedback ISSUE 58
november/december 2011
osage audio products
Niangua Cables
as reviewed by Kent Johnson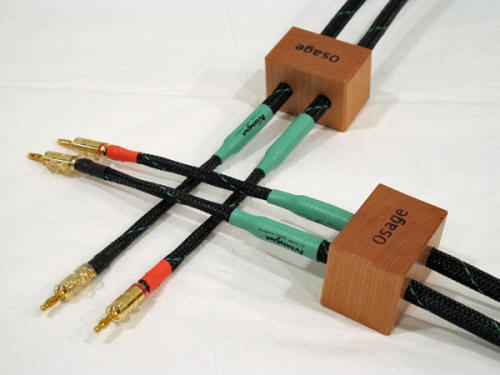 The Niangua and the Osage are Missouri Rivers. They terminate in the Lake of the Ozarks.
Niangua is a new line of cables developed and sold by Osage Audio Products. Osage Audio is perhaps best known for the high-end lines of analog products that they carry. They also make superb proprietary record and CD cleaning products. I have used the CD cleaner for years and truly will not play a disc without first cleaning it with Osage's Listener Select Optical Disc Cleaner ($29).
For review, I received a twelve-foot stereo pair of Niangua speaker cables ($565), a 1.5 meter pair of balanced interconnects ($260), and a 1 meter pair of RCA (unbalanced) interconnects ($225). Both the wire and the finished cables are made in the USA.
I began this review with the speaker cables.
Reviewing cables tends to take a lot of time since differences are typically subtle and difficult to quantify. Don't misunderstand me—I am not suggesting that all cables sound the same. But similarly priced, well-designed cables made of quality materials are not going to demonstrate huge differences. When you get cables that are exceptional in some aspect, however, then you have an entirely different situation.
My first impression of the Niangua speaker cables came when Jim Pendleton of Osage Audio handed me the plastic bag containing them. It was seriously heavy. These cables contain a lot of copper. It was obvious even at this point what sort of priorities were in play here—basic plastic bag packaging to keep the costs down but no cheaping-out where the metal passing the signal is concerned.
Cosmetically, these cables are not unusual. The exterior of each cable is covered in a black nylon braid with a green thread through it—business-like but no design statement. The speaker cables are terminated with ViaBlue banana-plugs. I have never encountered this brand of connectors but they appear to be of very good quality. Each pair of speaker wires is conjoined by two wood blocks, which is a nice touch.
Although Jim had burned in the cables prior to delivering them to me, I still spent several listening sessions assuring myself that the sound was not undergoing any changes before doing any serious listening.
I began listening with the Niangua speaker cables in my main system. It currently consists of a McIntosh MVP-871 universal player feeding an MA6300 integrated amplifier. The speakers are Magneplanar MG1.7s in Mye stands and have HiFi Tuning Supreme fuses. I have also replaced the stock tweeter jumpers with high quality copper wire.
I have only had the 1.7s since September so about 98% of the music I own has not been heard through them yet. Nevertheless, they are, in my opinion, a definite improvement over the 1.6s. As someone still trying to sell his 1.6s, it pains me to say that but it is absolutely true. The 1.7s are more truthful, more accurate. They are also more coherent. By comparison, the 1.6s clearly exaggerate certain frequencies. This makes them sound more exciting but, in comparison to the 1.7s, it is clear that they have colorations that are lacking in the new speakers. The soundstage presented by the 1.7s, thanks to their accuracy, has a laser-like precision that is truly stunning. Listen to the recent Wynton Marsalis and Eric Clapton collaboration, "Play the Blues," a live recording; the musicians' places in the soundstage are so clear that a GPS location seems imprecise by comparison.
Utilizing this new-found accuracy and coherence, I got on with the review.
Serious listening started with Miles Davis' Seven Steps to Heaven (Columbia Legacy CK 93592). (Truly all Miles Davis is serious listening.) Recorded in 1963, this album is transitional in terms of the personnel in Davis' quintet. Victor Feldman plays piano on four of the tracks and is then replaced by a very young Herbie Hancock. Drummer Frank Butler is also replaced by an extremely young Tony Williams. With Ron Carter on bass, and the addition of Wayne Shorter on saxophone, this remarkable combination of talent went on to become the "Second Great Quintet." A group that played together from 1963-68.
This recording features terrific brassy bite from Miles' trumpet combined with extraordinary control. The sound soars and flirts with, but never crosses over into, shrillness. If there is one quality that defines Miles Davis for me it is the sense that he is relentlessly pushing. Even in the playing of a conventional ballad, such as "I Fall in Love Too Easily," the forward momentum can always be sensed.
This isn't really a sonic quality but a good system can readily convey it. I could sense it in the overall excellent reproduction of the soundstage and top to bottom coherence of the sound itself. I did not hear anything through the Niangua cables but an excellent recreation of the original event—a very good thing.
Listening to Miles Davis Quintet Live in Europe 1967 (Columbia Legacy 8697 94870 2) it was easy to hear the differences between the three locales featured in the recording. Being live, this CD conveys an excitement that offsets sound that is somewhat less than studio quality but still quite good. The subtleties of location, timeframe, and audience energy come through as they and the performers become a unified event. Years of playing together have left the quintet capable of almost psychic connections with each other. Every entry and exit within the overall performance seems almost pre-ordained. Fabulous stuff.
As it was near Halloween, I turned to some seasonally-appropriate CDs to celebrate the holiday.
Mythomania is a CD from Deutsche Harmonia Mundi (05472 77815 2) containing songs of witches, fairies, wizards and ghosts performed by a group called Bären Gässlin. It is all sung in German without, unfortunately, an English translation. The liner notes do provide excellent information regarding the differences between Light Elves, Dark Elves, and Dusky Elves, however. The overall sound of the CD would remind most listeners of something by Dead Can Dance.
The soundstage in most cases is quiet stark. A single male voice, accompanied by a drum, is located to the right side, joined later perhaps by a female voice from the left. Then possibly a flute or guitar. The singing is lovely, the drum's tautness is tactile, and the soundstage depth is excellent. All around, this is a sonically excellent recording.
Paul Paray and the Detroit Symphony's Dances of Death came next (Mercury Living Presence D 105750). Despite the title, the music isn't terribly frightening; it is surprising dynamic and well recorded for 1958 and 1959 performances however. The engineers were evidently still grappling with how to best record stereo and this is evidenced by putting about 90% of the performance into the right and left channels. There is little center stage action. Nevertheless, the sheer weight of the acoustic basses in the right half of the soundstage would be impressive in any modern recording. The soundstage itself extends to the outside edges of the speakers. This is an excellent example of a performance that overwhelms the limitations that the recording technology imposes.
I also got out Neil Young's Unplugged (Reprise 9 45310-2). I wanted to hear how "Harvest Moon" sounded. I have not heard it with any of the equipment presently in my system. As with most other recordings it sounded slightly different via the 1.7s. It was more spacious—Neil had room around him that had not been apparent previously. He sounded slightly smaller but better located. The recording was more immediate as well—sharper focused with a bit less polish as you would expect from a live recording. "Harvest Moon" itself was absolutely gorgeous, not a term I readily turn to with male voices. The simplicity of the music and the sincerity of the lyrics combined with the fundamental honesty of the manner in which they are presented evinces an emotional empathy that goes right to your core. I had to hear it four times before I could move on to something non-Halloween.
Holly Cole's Shade is yet another superb recording—a lovely gift—from her (Alert 6152810395). She is back with David Pilch and Aaron Davis (and numerous guest musicians) after 2007's "Holly Cole," in which they were not involved. As good as "Holly Cole" is, I still think her absolute best work always involves these two musicians.
Vocally, Holly could send shivers up my spine by coughing. When she sings she is amazing, finding as she always does an interpretation of the music that makes the song utterly her own. Her singing is all about nuance and shadings. The better the audio system, the more there is to appreciate.
Coming back to the Niangua speaker cables, none of this music sounded anything but stunningly wonderful with them in the system. They offered the same high level of transparency that I am accustomed to hearing from my usual cables. In numerical terms, I would say that the Niangua and the comparison cables were 98% alike.
Extensive listening made clear what comprised the 2% difference. The Nianguas lacked the last bit of soundstaging precision that my reference cables provided. Trading off against this was an equally subtle but worthwhile improvement in bass dynamics and extension on the part of the Nianguas. These are not the sort of choices a Magneplanar owner needs in his life.
The bottom line was that comparisons yielded nothing of any significance between the performance of the Niangua speaker cables and my references.
I moved on to the interconnect cables.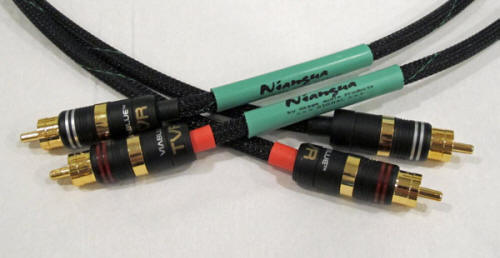 The interconnect cables also feature high quality connectors—ViaBlue TVR RCAs for the unbalanced cables, Neutrik XLRs for the balanced. The fit and finish of these cables is to the same high standard as the speaker cables. Unlike the speaker cables, the interconnects are directional and marked with their recommended orientation. They are quite flexible.
Since the RCA pair I received was only one meter long, I listened to it in my living room system. This system uses only one interconnect making it easy (theoretically) to hear any differences. Currently, the LR system consists of an Onkyo DSP-10.5 universal player, Wyred4Sound STI-500 integrated amp, and (The Clue) loudspeakers.
One of my favorite recordings has also proven to be a useful reference for reviewing. Ray Brown, Oscar Peterson, and Milt Jackson are The Very Tall Band (Telarc CD-83443). Milt Jackson's vibraphone solo on Track 6, "Nature Boy," can reveal a lot about a component's ability to soundstage. The location of the mallet hits and the extension of the reverberation above and beyond the speakers are useful references as to how well a given component is performing. The intelligibility of the audience noises does the same for low level detail. The definition of Ray Brown's bass reveals a great deal about the ability of an amp or speaker's capacity to reproduce low frequencies. And, of course, piano is the single most useful instrument for any kind of sound evaluation. I did not hear any change in the LR system, positive or negative, with the Niangua cable in it. That is praise—it was Swedish in its neutrality.
Having said that, I noted, on a handful of tracks out of all the listening I did, some slight differences in emphasis between my interconnect references and the Niangua cables. For example, the Niangua would slightly emphasize the brassiness of a saxophone while offering an equally subdued sound from the piano. The comparison cables would do the reverse. Hearing any difference at all required listening strictly for differences, they were that small, and, of course, there is no way to know which version is actually the "correct" one. As with the speaker cables, I found myself enjoying the music and impressed by the performance of these cables.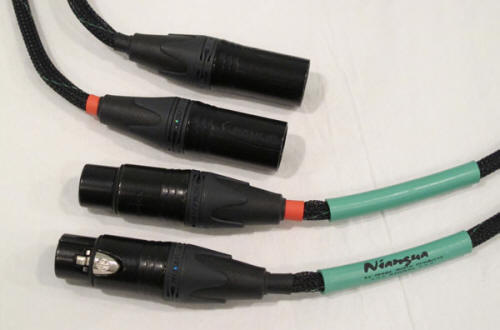 I returned to my main system to listen to the balanced interconnects. I revisited Holly Cole's Shade and got out Diana Krall's SACD Love Scenes (Impulse B0002841-36).
Asking which cable was the best sounding, the Niangua or my references, was as futile as asking which of these women has the more gorgeous voice. Both women sounded as real as recording technology allows and so sexy that you don't so much listen as fall in love for the duration of each song. It was wonderful.
The Niangua cable readily revealed the subtle advantages offered by the SACD. There was more air associated with Diana's voice and she sang with the ease that seems to be an integral element of the format.
Conclusion
So here is the bottom line as I see it and I think bottom line is the completely appropriate term to use as economics are at play.
The sound quality of all the Niangua cables was equal to that of the three different brands of cables with which I compared them. This means that they all sounded absolutely wonderful. They soundstaged as well as I have heard and, but for the slight differences already noted, never deviated from absolute accuracy as best I could determine it. If I had not known what cable I was listening to, I could not have identified any of them by sound, they all were that similar.
Returning to my opening remarks, what ultimately then makes the Niangua cables exceptional is their price. They cost one-half to one-third of what the comparison cables cost. This makes them an incredible value for cables of their sonic quality.
The listener who wants a cable better than the $99 entry level but can't afford the jump to $500 now has a truly affordable alternative that comes with no sonic compromises that I can detect. To improve upon them, is going to take very serious dough. It isn't going to happen at anywhere near two or three times their price.
Jim Pendleton told me that I would be impressed by his cables and he was absolutely right. I am absolutely confident that you will be also. Kent Johnson
Niangua Cables
Retail: 1m RCA interconnect $225/pair, 1.5m XLR interconnect $260/pair, 12 foot stereo speaker cable $565/pair
Osage Audio Products
PO Box 232
Hallsville, MO 65255
TEL: 573. 696. 3551
www.osageaudio.com
Info@audiointelligent.com