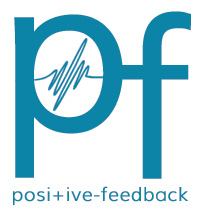 You are reading the older HTML site
Positive Feedback ISSUE 58
november/december 2011
Hot New Products at RMAF 2011
by Mike Wechsberg
What were the hottest new products shown at the Rocky Mountain Audiofest this year in Denver? Some audiophiles might guess "turntables" and there were a few new turntables shown for the first or second time at this year's show. Others might guess "USB DACs" and that would be pretty close. But in an informal survey I took as I toured the show the new product I saw most often was what might be called the "Digital Stereo Receiver." This is a 2-channel integrated amplifier with on-board digital-to-analog converter (DAC) and multiple digital inputs as well as some analog inputs. I call this a Stereo Receiver because it is so similar to products from the 1960's and 1970's from Fisher, Scott, Marantz and even McIntosh and many more where an amplifier, preamp and AM/FM tuner shared a common chassis. Nowadays the tuner is usually missing (so little worthwhile to listen to in over-the-air radio these days—all the action is on Internet Radio), replaced by all the digital inputs including USB, S/PDIF, AES/EBU, Toslink, Ethernet, iPod, and even wireless.
I noticed at least 15 new variants of these digital stereo receivers at the show before I stopped counting, almost all introduced within the last two years. They came from pretty high-end companies such as, for example, Moon Audio, Naim and T+A, to medium high end companies such as Peachtree Audio and April Music, and all the way to companies that service the low cost side of the audiophile community such as NAD and TEAC. I saw such units priced from $6000 down to under $1000. Not all of these receivers were the same as there were many variations in inputs and features, but more than one manufacturer told me their digital receiver product was one of, if not their best, seller.
Now, the reason I'm writing this article is that despite the obvious popularity and consumer demand for these digital receivers, very few of these units were being demonstrated at RMAF. If these products were at the show at all then they were mostly on silent display. I thought it was an interesting anomaly that the manufacturers and dealers attending the show did not believe one of their most popular products would be of interest to the audiophiles attending RMAF. Did this mean they felt their digital receiver products would not sound good? No, I don't think so. I believe they felt the demographic attending the show would be most interested in separate components rather than an all-in-one lifestyle product. This might be true, but I sensed a more profound problem with this situation.
These digital stereo receivers seem to me to be a type of product that can build bridges between the audiophile community and the broader population of music lovers content to listen to music over mediocre equipment. All of us involved in high-end audio know that the great hope for the future of the hobby is to attract new acolytes from the vast population of MP3 music listeners. These digital stereo receivers have the potential to lead many of those lost souls into the heaven of high-end audio. However, almost every home theater receiver sold today has a few digital inputs to go with their mediocre IC amplifiers and other humdrum electronic components thrown together in some sweatshop in the Far East. Most people who dare to take the earbuds out of their ears are plugging their iPods or other music players into these flat and harsh sounding rigs played through tinny speakers with bloated bass. And why would they do this when so many superior sounding components are available from the high end? Is it all cost? No, I believe it is because these listeners never see the better receivers because they never visit an audio store or know their way around the plethora of high-end companies selling on the web.
I asked a few of the manufacturers how they were marketing their digital stereo receiver products. I think most of them thought I was asking an idiotic question, but the answer invariably was they were using normal distribution channels. In other words, they were selling their $2000 digital stereo receivers through the same outlets as their $10,000 monoblock amplifiers. My point is these two types of products have a very different target market so they should probably be sold in different ways. High-end manufacturers are missing an enormous market by selling a product with such vast appeal the same way they sell multi-kilobuck units at relatively low volume.
I had an interesting conversation about this with Bart Greenberg who distributes NAD products in the Western U.S. He shared with me that NAD is working with some of their dealers to develop computer music kiosks that could be used in stores or other venues to educate the public more about playing digital music files on gadgets other than ones that fit in the ear. This sounds like a move in the right direction and I hope NAD sees some success with this concept and that they move out boldly. I hope other manufacturers also try creative ways to get their bridge products out in front of a broader audience. I would like to single out Naim Audio, which was featuring their UNITI All-in-One player in their room at RMAF and held a special pre-show demonstration for the press. I believe webzines like PFO and audiophile print magazines also have roles to play in this. I look forward to future audio shows where these digital stereo receiver products are not hidden away or on silent display, but instead are used to attract more friends into the high-end audiophile fold.