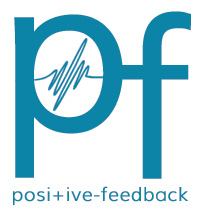 You are reading the older HTML site
Positive Feedback ISSUE 58
november/december 2011
RMAF 2011 - Robinson's Audio Oasis! Awards
by David W. Robinson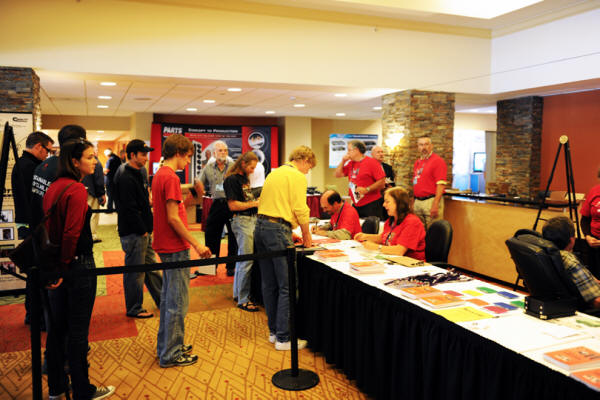 [All photographs and image processing by Robinson, unless otherwise noted]
Another year in audio is fading into the past, and another Rocky Mountain Audio Fest is in the books. Marjorie Baumert's RMAF has become one of my favorite audio events… the combination of location, great support from vendors, and a solid turnout each year has really hammered this one on my calendar. In fact, I've only missed one of these, in 2008, when I was in Virginia. Otherwise, I've caught them all.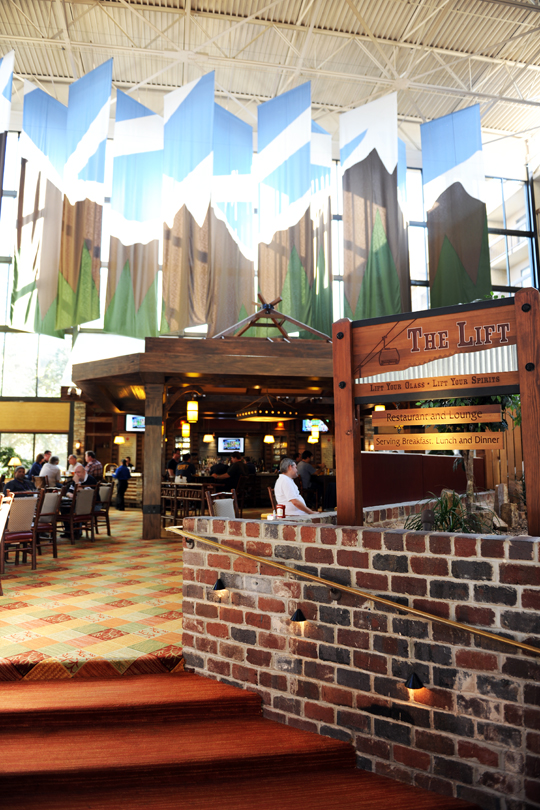 Back in my 2006 CES Report (PFO Issue 23; you'll find the article at www.positive-feedback.com/Issue23/ces06dr.htm), I first launched my Audio Oasis! Award, with these words:
To that end, I concentrated on CES's "Performance Audio" (the recent euphemism of choice by CES) Show at the Alexis Park, and let my PFO colleagues do the elsewhere places this year. (See their reports elsewhere in this issue.) The liberty of a more leisurely pace is a real blessing, and it gave me the opportunity to re-visit some superior rooms and confirm their quality, which is not something you can do if you're trying to see "everything." (Steve Wright: "You wouldn't want to have it all—where would you put it?") Instead, I spent a couple of days browsed various settings, looking for the ones that pulled me in, and had me coming back for more.
The result of this approach is a new PFO show honor, which I'm dubbing the "Audio Oasis!" awards. This is my personal recognition of the rooms that, even under show conditions, really connected with me, and refreshed me in the midst of the tyrannous urgency of CES. If these systems can connect emotionally at CES, I reckon that you can count on them doing great things in your listening room at home. That's a good thing to know if you're looking for guideposts on your audio quest.
A word of warning for my readers: the "Audio Oasis!" awards should not be viewed as a variant of the nearly worn-out "best of show" recognitions that are all too common in audiodom. I did not see every room at CES and T.H.E. Show, and can have no idea of how what I didn't hear sounded like. Furthermore, there aren't nearly enough days at CES to do that properly in the first place, and its hotel-based environment is marginal, at best. "Best of Show" is only a legitimate designation if the listener: a) heard every room at CES/T.H.E. Show, and b) knows what he or she is talking about. Think of it as the combination of opportunity and sensibility. I don't think that these conditions are met very often; if they were, there would probably be fewer of such pronouncements. Enough said.
That's how this award was launched; every year since then, I've concentrated on them when I attend an audio show.
This year's RMAF had a goodly crowd and a solid cross-section of designers, manufacturers, and distributors in play. It was great to see so many audiobuds, and so many good products on display. As always, I couldn't get to them all… there's too much to see and hear, and too little time. And plenty of good friends… hese are the foundation of what I love about audio gatherings… they're like an extended party of folks with a shared passion for the audio arts.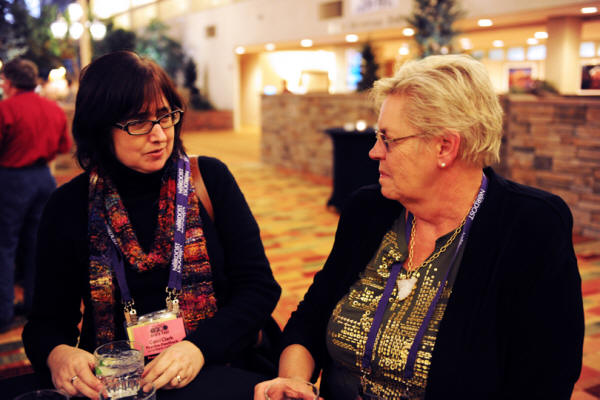 Carol Clark and Lila Ritsema of PFO share a moment (and a drink!) in the Marriott Tech Center atrium.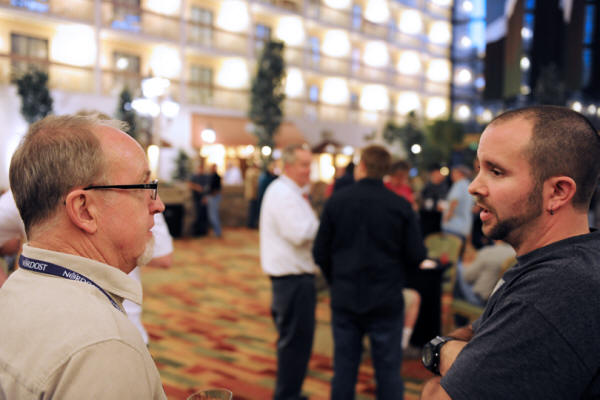 PFO's Dave Clark and Michael Mercer compare notes at the launch of RMAF 2011.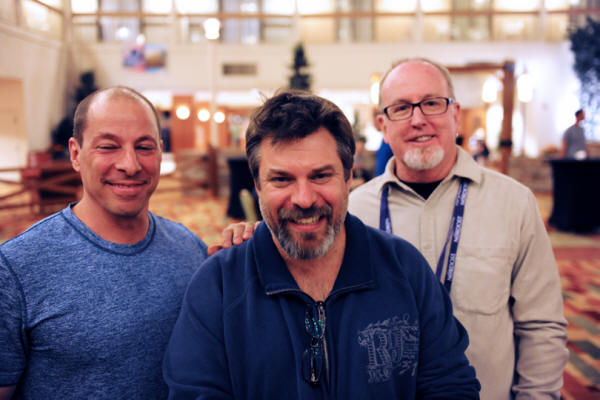 Left to right, Myles Astor of PFO, our good audiobud Chris Sommovigo of The Signal Collection, and PFO's Dave Clark enjoy the kickoff of the show!
Down to business: time to cut to my Audio Oasis! Awards for RMAF 2011.
Analogue Productions Demo Room
My first one goes to the very first room that I visited on Friday morning: the Hyatt Highlands Amphitheater, featuring Chad Kassem's Analogue Productions room, with its demonstration of Pink Floyd's Wish You Were Here in James Guthrie's new surround mix in DSD for SACD. (In fact, I am sitting here right now listening to that SACD as I write these words. Excellent!)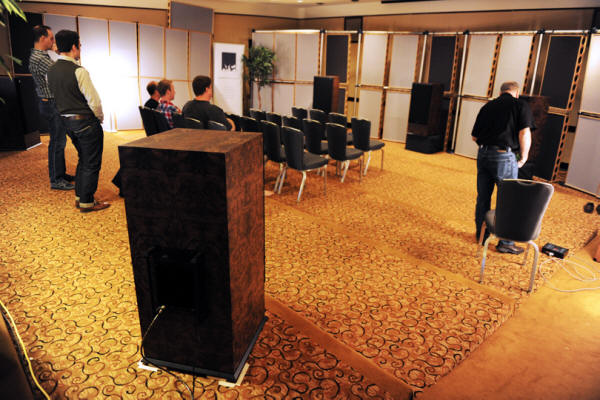 Looking downhill from the rear channels towards the front array of Acoustic Transducer Company (ATC) speakers for the demo. These are the same type of speakers that James Guthrie used to master the new surround mix for Wish You Were Here.
I arrived early for this demonstration, not wanting to be late for such a significant session.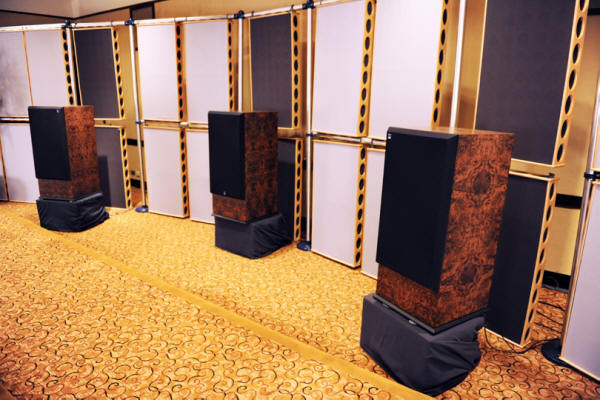 The front speaker array: ATC x 3!
This was also my first opportunity to hear the Playback Designs PLink system used in a surround presentation. I am intimately familiar with the performance of the MPS-5 and MPS-5/USB-X configurations in stereo for both SACD and DSD, but was eager to hear what the results would be in five channel.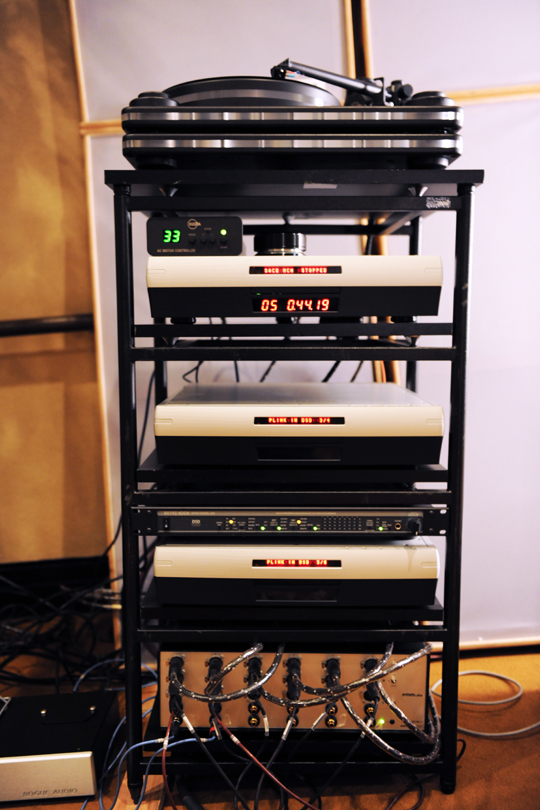 The source stack in the Analogue Productions room: on top, a Kuzma turntable; a Playback Designs MPS-5 on the second shelf; a Playback Designs MPD-3 on the third shelf; a Mytek Digital D/A (in black) and Playback Designs MPD-3 on the fourth shelf; and an EMM Labs six-channel unit on the bottom shelf. The surround mix came from a computer in the rear of the room, however… pure DSD to this stack.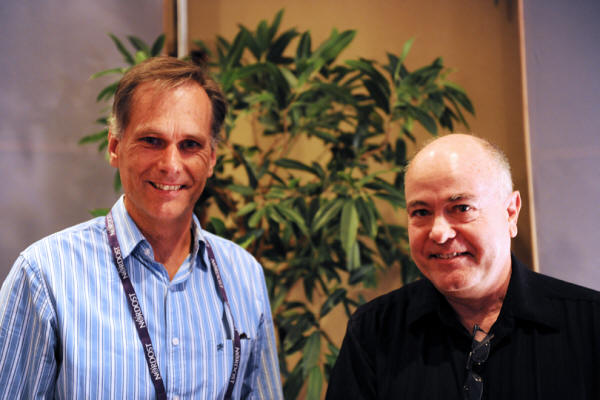 Andreas Koch of Playback Designs and Gus Skinas of The Super Audio Center just before the demonstration of Wish You Were Here. Brilliant fellows, who really dig DSD!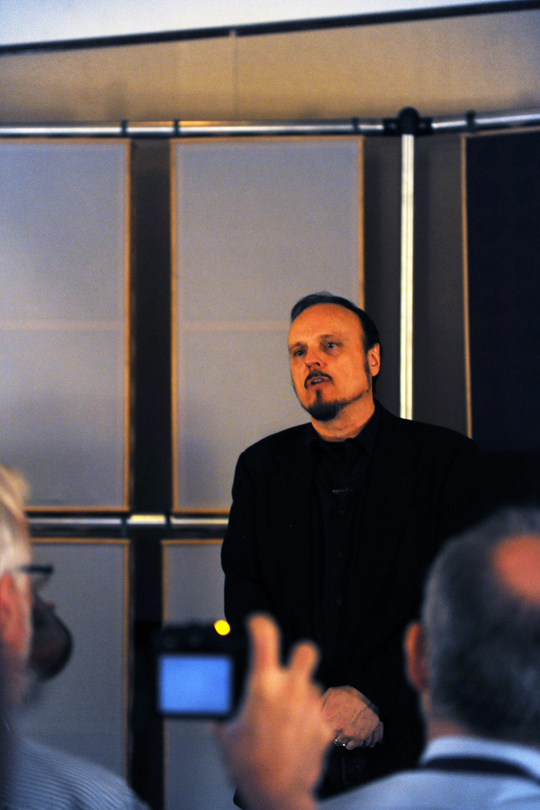 James Guthrie introduces the very first public performance of his new surround mix of Pink Floyd's Wish You Were Here.
When the time came close for the demonstration, a special first-time event for the audio press, I grabbed the central seat that I had reserved (show up early… win a prize!). John Atkinson, a good audio friend, took the chair next to me. After some light conversation between us, James Guthrie took the floor and explained the new 5.1 mix of WYWH. Good-o, and a pleasant introduction.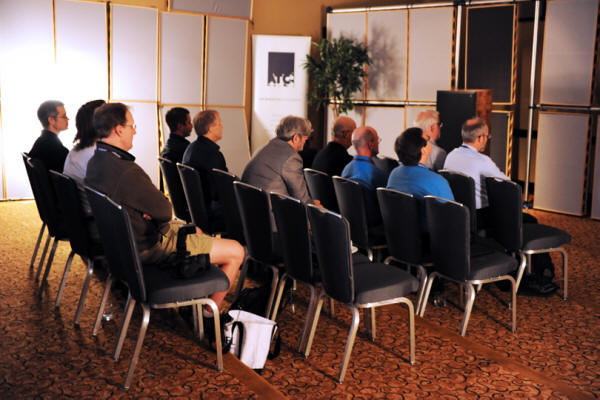 The audio press listens intently to the first presentation of Wish You Were Here in DSD 5.1. John Atkinson of Stereophile is in the center of the image; I was to his right for my listening.
Then came the music. I wasn't familiar with the ATC speakers, but they handled the near-concert-level playback that was used without blowing up… always a good thing! The Playback Designs processors provided extraordinary quality with the DSD signal; no surprise at all, since PD is the best I've heard for DSD. And it did it LOUD, without distortion: according to my trusty iPhone 4's AudioTools SPL meter, we heard WYWH at peaks of over 108 dB, filling the room with powerful dynamics, and a pretty mind-boggling holographic soundfield (not just a soundstage, amigos).
I'll admit it: I've never experienced anything quite like this.
And for an old Pink Floyd fan like me, this was ambrosia!
We listened to the entire album, straight through, and without interruptions. At the end of the demonstration, it was one wrung-out audience…it was like we had been at a concert! Couldn't be better. Clearly Chad Kassem's top-notch production values were in play… Chad's work sets a global standard for excellence in fine audio that everyone in the music business should emulate. Many talk about doing great work; Chad just goes out there and gets it done… and has for years.
If this project is an indicator of things to come, I hope that we see the complete Pink Floyd catalog issued by Analogue Productions.
No doubt about it: a PFO Audio Oasis! Award for Chad Kassem, Analogue Productions, and the entire team for its Wish You Were Here demonstration!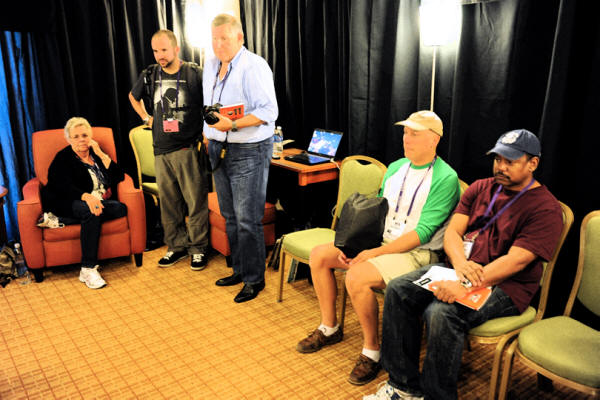 The PFO hospitality room at RMAF 2011; Lila Ritsema (left) presiding!
While I was cruising about from room to room, the Positive Feedback Online room was busy throughout the show. Many visitors and friends dropped by, caught the Sonicweld+DEQX/Unison/Blackbird Audio system in action, and partook of water and "adult beverages." It was good to have a place to hang out and meet the folks.
EAR USA: great sound… again!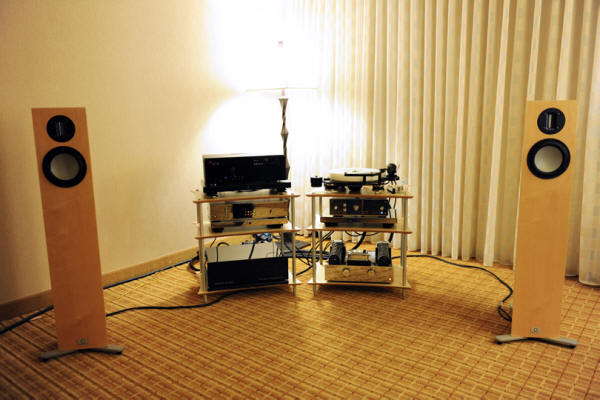 The view from the sweet spot: EAR, Marten, Jorma Design, Townshend/Helius/Dynavector, Music Vault
Handily enough, Dan Meinwald's EAR USA room was right across the hall from us. I dropped in to visit Dan, who is a great fellow, and a very knowledgeable music lover. His room is always a treat, winning my Audio Oasis! Awards on a regular basis.
This time was no exception. The combination of EAR with the Townshend Rock 7 turntable, Helius tonearm, and Dynavector XV-1s cartridge feeding the EAR 324 phono amp and 834 integrated amp cascaded into the Marten FormFloor speakers. These last I was not familiar with, but was impressed with their easy and always-musical sonic presentation. They certainly delivered well integrated sound, much more than I thought they would, as I looked at them. The synergy of this combination was quite fetching. Sitting and listening to some vinyl with Dan was a real pleasure… relaxation in the midst of the hurly-burley of RMAF.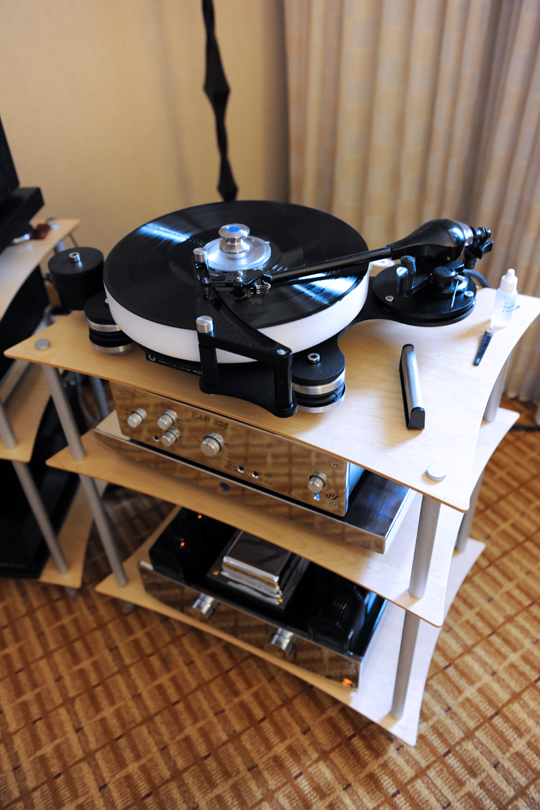 Townshend Rock 7 turntable, Helius Omega tonearm, Dynavector XV-1s cartridge, with the EAR 324 phono amp and the 834 integrated amplifier. Sweet music!
The parts and pieces:
Music Vault Diamond music server: $4495
EAR DACute: $5795 (black)/$6495 chrome
Townshend Rock 7 turntable: $3200
Helius Omega tonearm: $2900
Dynavector XV-1s: $5450
EAR 834 integrated amp: $7995
Marten FormFloor Loudspeaker: $6500/pair
Jorma Designs cables: various price points
Once again, a tip o' the hat to Dan, and an Audio Oasis! Award to his room.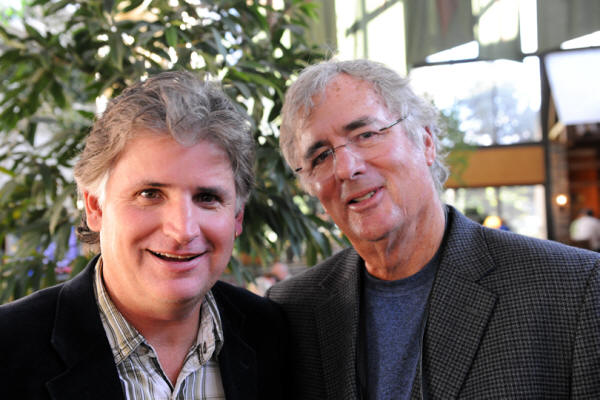 The guitarist Dean Peer and our close friend George Cardas… a good moment at RMAF 2011.
The Signal Collection/MA Recordings room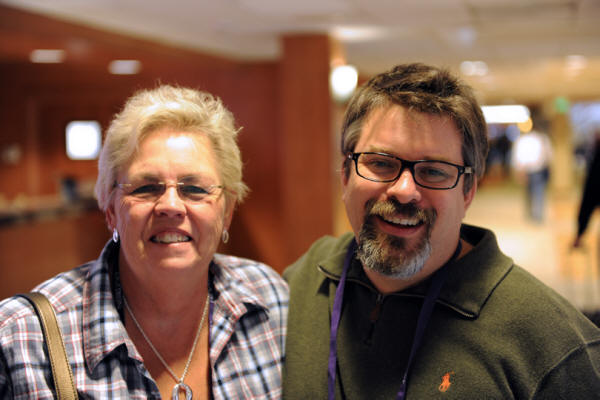 Lila Ritsema of PFO and Chris Sommovigo of The Signal Collection.
One of the most pleasant surprises of RMAF 2011 was how good The Signal Collection/MA Recordings room was sounding. I've known Chris Sommovigo of TSC and Todd Garfinkle of MA Recordings for many years now. I think I have just about every disc that Todd ever produced over the years, in CD, SACD, and high-resolution PCM formats; and Chris and I have been in touch with each other since his Illuminati (remember that?!) days. These two teamed up again to put together a room that at first glance seemed a kind of audio throwback…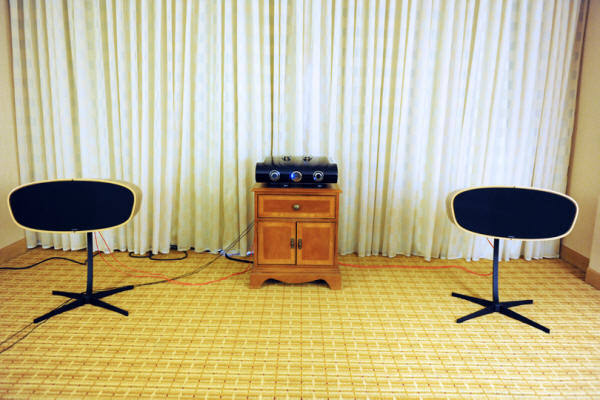 Shades of the '50s! Davone Audio RAY loudspeakers connecting with the Absoluta Partenope integrated amplifier via Stereolab and Black Cat cables: bloody good, boy-o!
…but when Chris and Todd fired up one of Todd's 2x pure DSD recordings, my socks got knocked right off my footies! Naturally, the quality of Todd's pure 2x DSD was match-to-the-fuse… it doesn't get any better than 5.6mHz DSD, in my opinion, but the rest of the system was a highly synergistic pipeline for that signal, delivering it in an almost magical, sensuous way.
The Davones were one of the most iconoclastic speaker designs that I've ever seen. Reminding me of nothing other than 1950's audio styling…very different! Very cool! And, as it turned out, very fine sounding! You could almost imagine a young playboy walking into the room in a smoking jacket, Scotch in hand, to listen to some Miles Davis.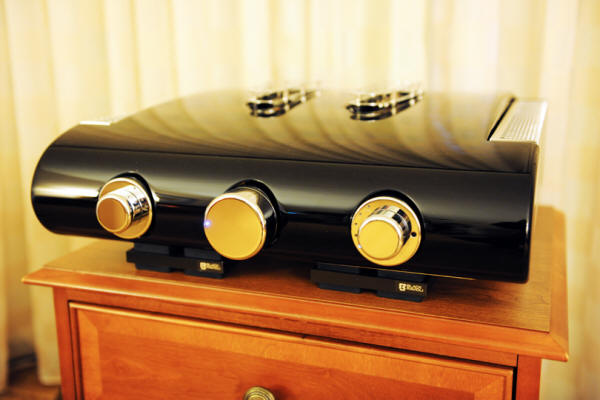 The Absoluta Partenope Integrated Amplifier, sitting on its Black Ravioli isolation stands…quite seductive!
I was unfamiliar with the Absoluta integrated in the room, but was captivated by its rich, detailed sound. Its presentation was not dark or rolled off; just luscious and deeply musical. The Absoluta danced circles with the Davone Audio RAYs; Todd's recordings breathed life and presence in spades coming through this system.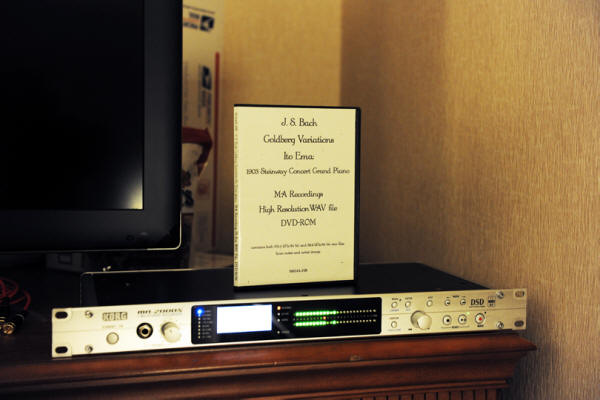 Todd Garfinkle's Korg MR2000s DSD recorder with a DVD of one of his .WAV discs on top. Todd's DSD recordings are amazing testimonies to the possibilities of the format.
Overall, this was the most unlikely system at Rocky Mountain Audio Fest this year… compact, unassuming, stealthy, even sneaky… but then, when you walked in and the music cued up, it knocked you out loaded! I don't think that there was a more jack-in-the-box system than this one.
Davone Audio RAY loudspeakers: $7500/pair
Absoluta Partenope Integrated Amplifier: $15,995
KORG MR2000s digital recorder/player: $2499
Black Cat MORPHEUS Loudspeaker Cables: $350/3 meter pair
Stereolab "TOMBO" Prototype Interconnects: $N/A
Stereolab "TOMBO" Prototype Power Cord: $N/A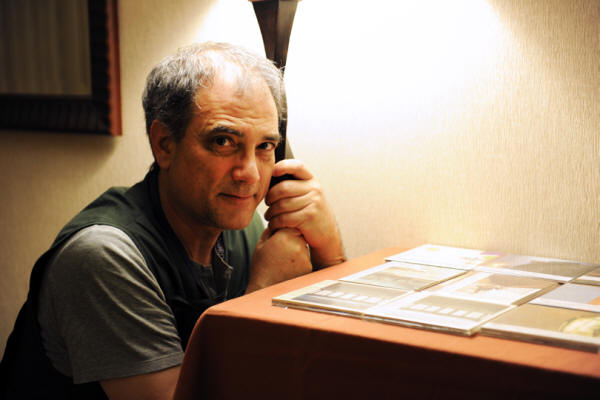 Todd Garfinkle of MA Recordings, the master audio engineer behind his label.
There was no doubt about it in my mind: A PFO Audio Oasis! Award for The Signal Collection and MA Recordings!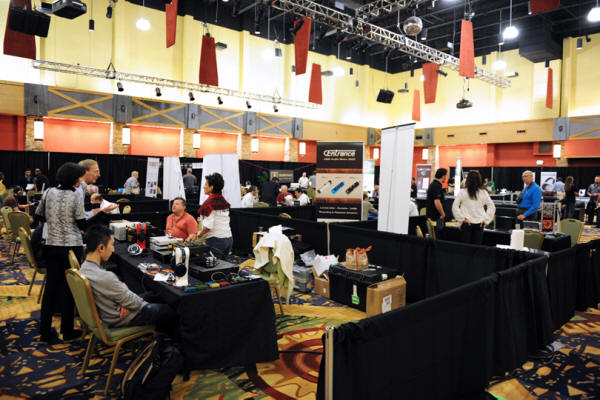 The CanJam area of RMAF 2011: headphones, earbuds and in-ear monitors, headphone electronics, DACs, tubes… quite the active place.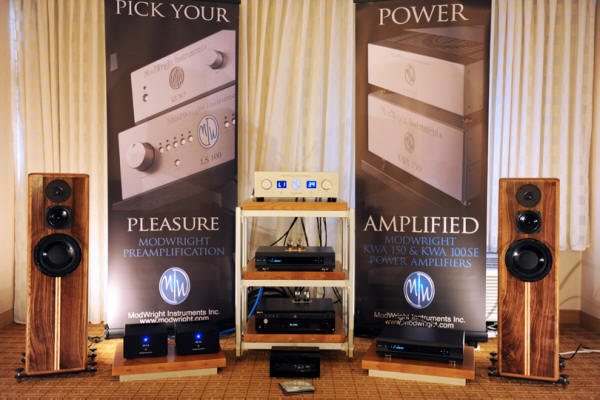 ModWright, Daedalus Speakers, WyWires
Another fine room was the ModWright/Daedalus/WyWires space. Dan Wright was his usual courteous self, and showed off the components on display:
ModWright XA5400ES Truth Tube Mod: $2250
Oppo BDP-95 Truth Tube Mod: $2000
Oppo BDP-95 Stock (for comparison with modded player): $995
LS 100 Tube Preamp: $3495 ($4295 w/optional phono upgrade)
LS 36.5 DM Tube Preamp with all-tube external dual mono power supply: $9995
KWI 200 Solid State Power Integrated Amplifier: $4995
Daedalus Audio Athena Loudspeakers: $11,995
All cabling by WyWires
Overall, I was very impressed with the results here. Dan wasn't using ultra-expensive components, but his modded players and his line of rugged and intelligently designed preamps and amps filled the room with solid, harmonically integrated, well-balanced music. I know the sound of the Oppo BDP-95 quite well…I have an unmodded player right here in my office, which gets constant use while I'm working…and so paid particular attention to his A/B comparisons between them.
No contest. The modded player was more liquid, more three-dimensional, deeper in soundstaging, and without a slight glare that was noticeable only by the A/B check. Impressive… Dan knows his stuff!
I'm not familiar with the Daedalus loudspeaker, but it certainly sounded good with the ModWright and WyWires feed, so points to them all for very good synergy.
And an Audio Oasis! Award for producing such fine music through great craftsmanship.
Merlin Music Systems/Cardas Audio/Ars Sonum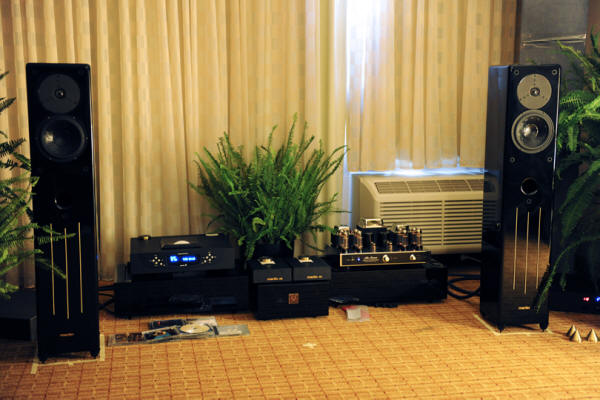 Bobby Palkovic and Rich Brkich returned to RMAF 2011 after missing a couple of years. It was good to see Bobby again after the hiatus.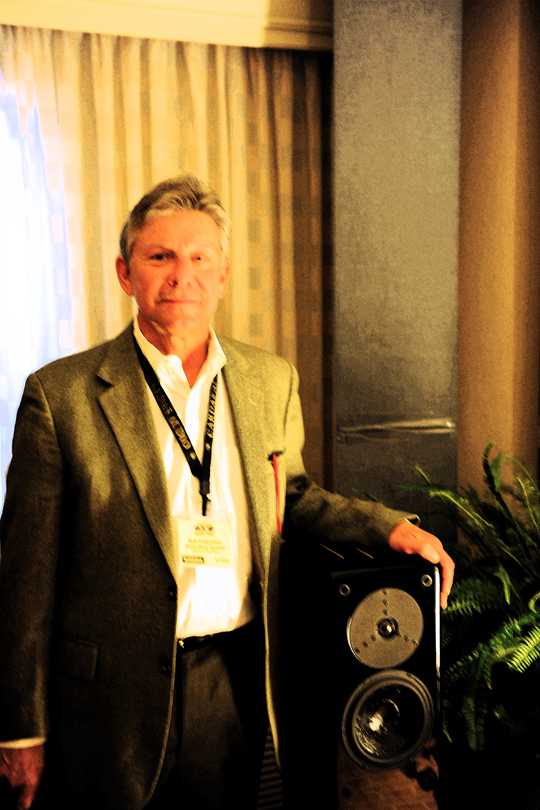 Bobby Palkovic of Merlin Music Systems with his Master VSM, Master BAM, and Master RCs; fresco by Robinson.
Bobby had shifted from his long-standing relationship with Joule Electa VZN-100 100 WPC OTL monoblocks to using the Ars-Sonum Gran Filarmonia 60 WPC (40 WPC Pure Class A) tube amp. All cables were Cardas Audio Clears. The system list:
Merlin Music Master VSM with Master BAM and Master RCs: $15,200
Ars-Sonum Gran Filarmonia Integrated Amp: $10,000
Audio Aero Capitole CD player: No price available
Cardas Audio Clear Cables: No price available
Stands by Critical Mass Systems: No price available
Bobby's rooms are always musical… always. He plays great tunes… this time CDs… and shared his trove of recordings with anyone who came in the door. The Master VSMs were sounding better than anything I've heard from Bobby, period. He's taken his basic design, and has tweaked, and optimized, and fought to get the best that he can get out of his classic two-way design. Given the design parameters, the results were over-the-top: deep, rich bass that was well controlled, a wondrous, luscious midrange, and an extended top end, courtesy of the Ars-Sonum/Cardas Clear combination. The Critical Mass Stands are some of the very best that I know of, and add a level of transparency that's hard to believe, unless you've done the comparisons with other stands. (I have.)
I listened for a while. No doubt about it, this was another PFO Audio Oasis! Award for Merlin Music and Cardas Audio… this time featuring Ars-Sonum and Critical Mass Systems.
Welcome back, Bobby!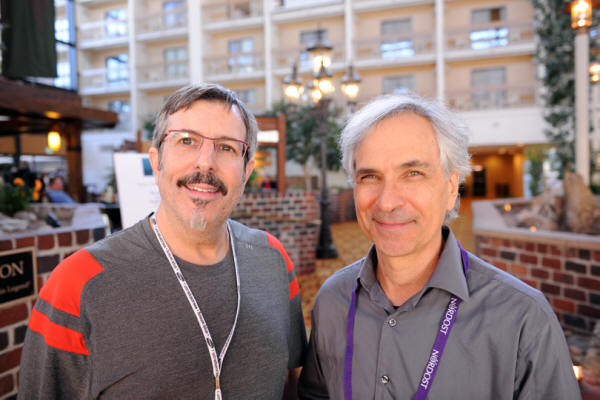 Alan Kafton of audio excellence az and Joe Cohen of The Lotus Group in the Marriott atrium: two good audio friends. We enjoy seeing them at RMAF every year.
mbl USA: Corona Line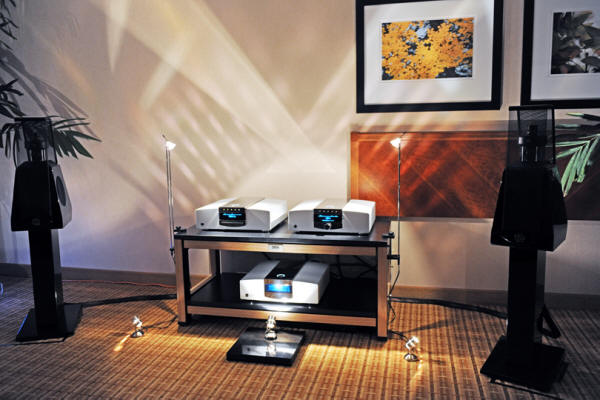 The relatively compact mbl Corona line: beauty and audio excellence combined!
From a completely different vector comes the design philosophy and sound of mbl. I have been increasingly impressed with their work since RMAF 2007 (see my Brutus Awards for 2008 at www.positive-feedback.com/Issue41/brutus_awards.htm), but there have been some ongoing problems with distribution in the USA that have made it impossible for me to complete the evaluation of their line. The good news is that it appears that the distribution problems have been solved; the even better news is that the mbl designs seem to have gotten better, with the 101E speakers now in their Mk. II version. I hope to be able to do a full review of their line in 2012.
This year, mbl USA brought their smaller entry line, the Corona series, to RMAF. At THE Show Newport Beach, I had gotten to hear the big brother line, which took an Audio Oasis! Award at that event; now I spent time with the Corona.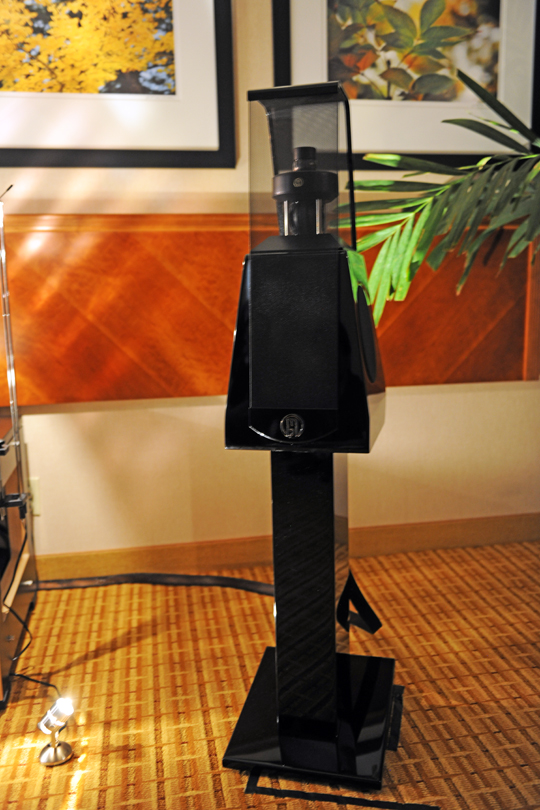 I have to say it: the Corona line does a brilliant job of giving you a sizeable percentage of its bigger sibling system. While it doesn't have global top-flight authority and masterful ease, or the truly holographic expression of the Reference line, it does have the family signature in detail, nuance, and transparency. German values are written all over this system: it's the audio equivalent of driving a really nice BMW. (And I admit it: I'm partial to German cars!)
I don't have a verified components and price list for this room, and since there were two rooms going, I'll have to dispense with that for now. Just check out the Corona line at mbl's web site, www.mbl-northamerica.com. Pricing is available upon request there.
After listening for a while, and talking a bit with Jeremy Bryan, it was clear to me that the mbl Corona line was another PFO Audio Oasis! Award winner. And deservedly so!
Done.
The Jolida, Inc./Von Schweikert Audio room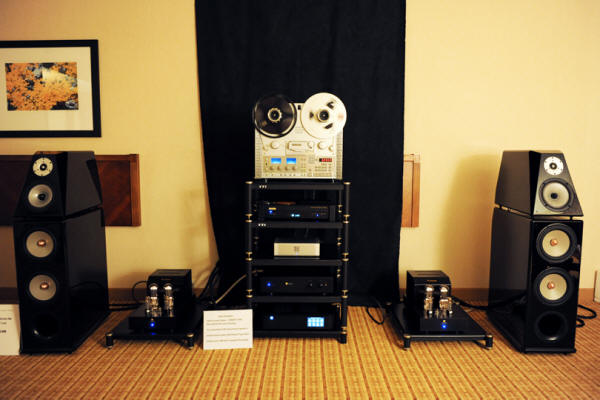 A grand system: Jolida Fusion System Preamp and Fusion 200 WPC Monoblock Amps, Jolida Fusion 200 DAC Transport prototype, Von Schweikert Audio VR-5 Anniversary loudspeakers, and United Home Audio UHA Phase 9 tape deck.
I have been following the Von Schweikert line for a very long time now. As a matter of fact, I've owned several of the VR speakers over the years (VR-4, VR-4 Silver, VR-6), and have evaluated/reviewed several others (the very fine VR-9's, and the VR-5's). Albert had the VR-5 Anniversary Edition on display; I was familiar with them, but I had not heard them with Jolida electronics before.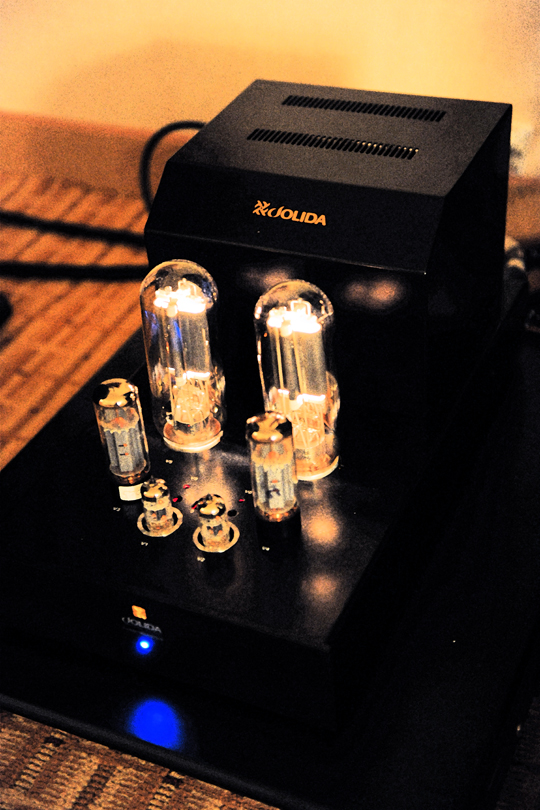 The Jolida Fusion Monoblock: 200 Watts of 211-based power!
The results with the United Home Audio UHA Phase9 open reel tape deck and the Jolida Fusion preamp and monoblocks were really impressive. There is always something very special about open reel tapes… this is where I started in audio, while still in high school…and the overall effect was smooth, richly harmonic, dynamic, and commendably transparent. (I have to admit that I am completely unfamiliar with this company and this tape deck, and had no time to dig in on it while at RMAF 2011.) I sat there for a while, just soaking in the music. It was so good that I forgot to check the titles of the classical recordings that we were listening to! The VR-5 AE's were providing rich, involving sound, with little to fault in terms of musical values. Reasonably compact speakers… but full-range performance! This is the real thing, amigos…Albert Von Schweikert and company have produced a real marvel here. I'm going to have to look into Jolida… that's a lot of bang for the audio buck!
And I guess that I really should see if United Home Audio is interested in a review of their Phase9 sometime, eh?
Jolida Fusion preamp: $1099
Jolida Fusion monoblock amps: $6000/pair
Von Schweikert Research VR-5 Anniversary Edition loudspeakers: $27,000
United Home Audio UHA Phase9 tape deck: $17,000
Anything that gives me such a an exceptionally pleasant, relaxing audio experience at RMAF rates an Audio Oasis! Award in my book…done!
DEQX room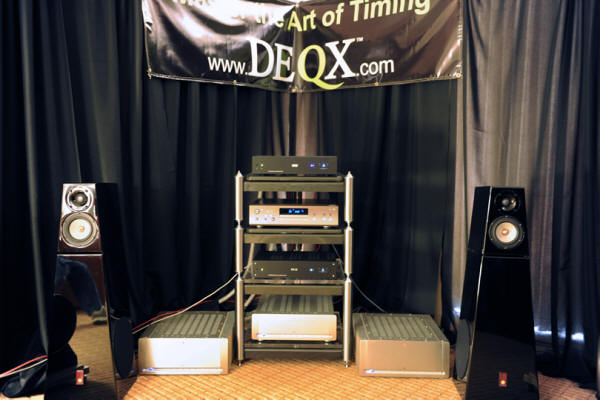 The DEQX room at RMAF 2011…"And now for something completely different!"
This one is a bit different, all right. PFO reviewed the DEQX HDP-3 processor in conjunction with the Legend Acoustics Tikandi speaker in Issue 57 (see www.positive-feedback.com/Issue57/deqx.htm for more), wherein Adam Goldfine did an excellent job of drilling down into the enhancements that the DEQX system brings to audio playback. I hadn't heard an A/B comparison myself, however, and had no experience with the DEQX system.
The kind folks there were quite willing to remedy that! I got to hear a demonstration of the DEQX HDP Express on a Parasound Halo amplifier, Gallo Reference 3s, with active demos happening using the Legend Acoustics Tikandi. While I admit that I'm quite conservative about "signal enhancement" in general, Adam's notes on the HDP-3 in Issue 57 caught my attention… and the DEQX demonstration was pretty convincing. The improvement that occurred during the switchover from no DEQX to DEQX processing was immediate and substantial. The presentation of the music became rounder, richer, more harmonically coherent, ever-so-much-more involving.
It was as if a very major component upgrade had been made on the fly. The Legend Acoustics Tikandi were transformed from good speakers to really good speakers, and the quality of the audio experience went from, "Well, OK," to "Very fine!"
I admit that I'm intrigued by the DEQX system. You should be, too. Check it out at www.deqx.com.
And a room that I probably would have just passed by without the DEQX system became a PFO Audio Oasis! Award winner, just like that….
Burmester room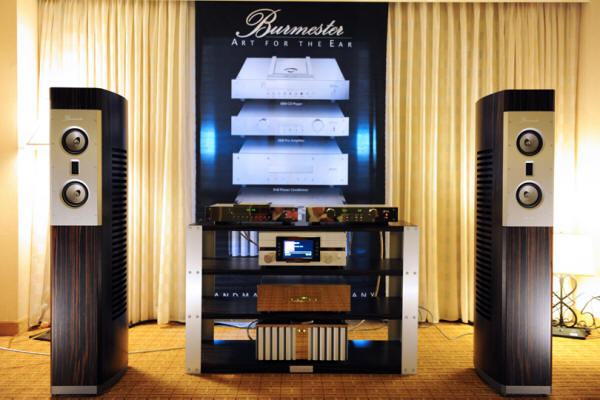 In the Burmester room: engineering begets beauty!
Burmester is a name that has been known in fine audio for years now, but I confess that I hadn't had an opportunity to give their designs a listen. And then I got a chance to meet Robb Niemann, the CEO of Burmester North America, at a high-resolution summit meeting convened by Winston Ma of First Impression Music. Robb was a great fellow, and we agreed to stay in touch with each other in the future. So I made sure that I dropped by the Burmester room during RMAF 2011.
Good thing, too! The Burmester system on display immediately caught both my ear and my eye…especially the new Media Server that Robb was demonstrating with a great deal of pride.
111– Media Server, Beta Unit, with a delivery forecast for late Quarter 1 or early Quarter 2 of 2012, and with an estimated price (at this time) of $50,000. Robb told me that the 111 "…is basically a 069 Reference CD player, an 077 Reference Pre Amplifier, and a Digital Media Box, all in one, with TONS of extra stuff in it."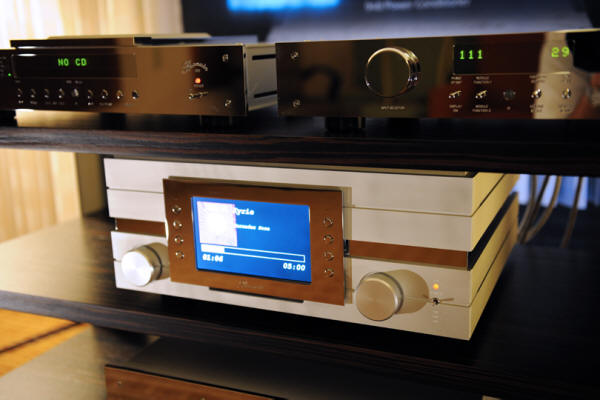 088 – Pre Amplifier: $28,995
89 – CD Player: $28,995
948 – Power Conditioner: $7995
911 – Amplifier: $29,995
B80 Mk2 – Speakers (these were the ones that I heard): $58,995
B10 – Book Shelf speakers: $8495
I enjoyed the sound of the 111 Media Server quite a lot. In conjunction with the rest of the demo system, it was nicely transparent, detailed, and had a sense of ease that was very relaxing to me. The articulation of details in the recordings sounded very promising, even under the usual difficult show conditions. I've made arrangements with Burmester to receive review samples of their line in the near future, and on into 2012. I want to hear more…
But clearly, there was more than enough in what I was hearing to merit one of my PFO Audio Oasis! Awards for Burmester at RMAF 2011.
The VTL room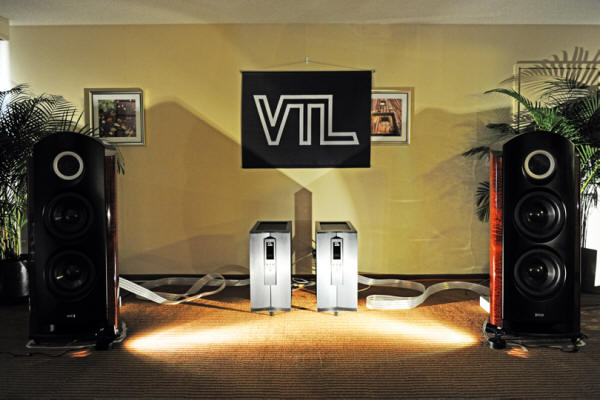 The Mighty VTL Siegfried Series II Reference Monoblock Amplifiers driving a pair of TAD Reference One Loudspeakers, courtesy of Nordost cables. Outstanding!
I dropped by the VTL room to say hello to Luke Manley and to check out the latest there. Luke was doing a presentation about the new Siegfried Series II monos ($65,000/pair), which were being featured in a truly impressive system:
VTL Siegfried Series II Reference Monoblocks
VTL TL-7.5 Series III Reference Linie Preamp
VTL TP-6.5 Signature Phono Preamplifier
dCS Paganini Digital Playback System (Transport, DAC, Clock, and Upsampler)
Spiral Groove SG 1.1 Turntable and Centroid Tonearm
Lyra Skala cartridge
Tape Project modified Otari MTR-20 ½" tape machine w/Bottlehead Repro Amplifier
Nordost Odin, Valhalla, and QBase Power Products; Odin signal and digital cables
TAD Reference One Loudspeakers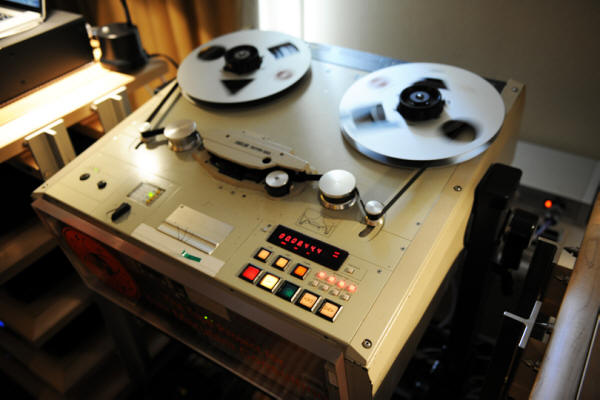 The Tape Project Otari open reel tape machine in action in the VTL room… great sound!
I stayed to listen for a while, catching both analog and digital sources. Good thing, too… this room was sounding truly spot on! Incredible dynamics (no shock there… 650 Watts per beastie in tetrode mode, 330 Watts per in triode mode, with a 5 Ohm load), smooth, well-integrated sound, and reasonable transparency and detail (though these last are always tough to evaluate under show conditions… better to do that back in my own listening room). I had never heard the TADs sound so good as they did in the VTL room that day.
Scrumptious stuff! I've made arrangements for Luke and I to follow through on the Siegfried Series IIs and the TL-7.5 preamp (and perhaps that TP-6.5 phono amp!) in the second half of 2012. We'll see what happens when I try them out in the very revealing space that is my reference listening room… but I'm sure that I won't be disappointed.
I hung around for a while, listening…and listening. This was knock-out stuff, without a doubt.
Sure sign of a PFO Audio Oasis! Award room… rightly deserved, and fitly given!
GTT Audio & Video/Tenor/Kubala-Sosna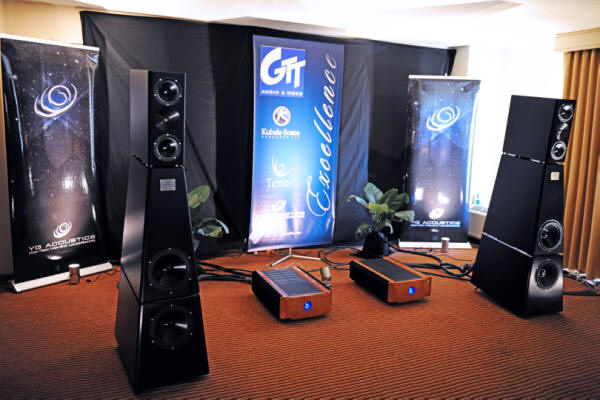 The YG Acoustics Anat III Professional Signatures and the Tenor 350M monoblocks, cabled with Kubla-Sosna: what's not to like?!
Funny. Even before I entered Bill Parish's GTT Audio room, I knew that I was going to like what I heard.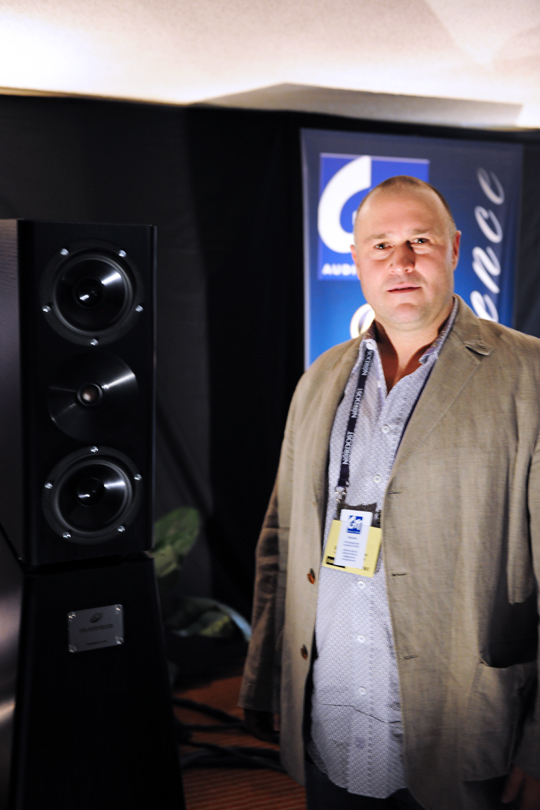 Bill Parish of GTT Audio & Video
What's this?! Evidence of corruption and conspiracy in high-end audio reviewing?!
Not hardly. It's just that I happen to have exactly the same components…the YG Anat III Pro Sigs, the Tenor 350Ms, and the Kubala-Sosna Elation! cables… in my listening room right now, with stellar results. So what I heard was really no surprise at all, discounting for the vagaries of show conditions. In fact, I was interested to notice that the same general qualities of audio reproduction that I've been experiencing back at home base were in clear evidence at RMAF 2011: powerful dynamic range (those Tenors don't run out of gas!), excellent detail, and top-notch imaging and soundstaging. This is real reference grade stuff, amigos. Even in a larger room like the one that they were occupying, the music didn't tap out at all… a very good thing. Some larger rooms overwhelm lesser systems, with a result that is a lot less than pleasing.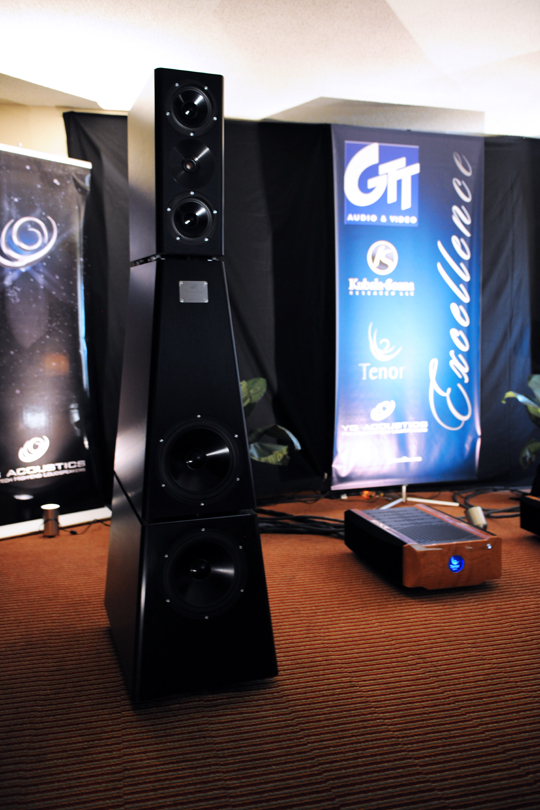 The YG Acoustics Anat III Professional Signature alongside one of the Tenor 350M monoblocks, and cabled with Kubala-Sosna Elation! cables. Synergy in spades!
The system list for the GTT Audio & Video room includes the following:
YG Acoustics Anat III Professional Signature Loudspeakers: $119,000
Tenor Audio 350M monoblock amps: $100,000
Tenor Audio Line 1/Power 1 Linestage: $75,000
Kubala-Sosna Elation! cables: price varies
Soulution 540 CD/SACD Player: $32,500
Bryston BDP-1 Digital Music Player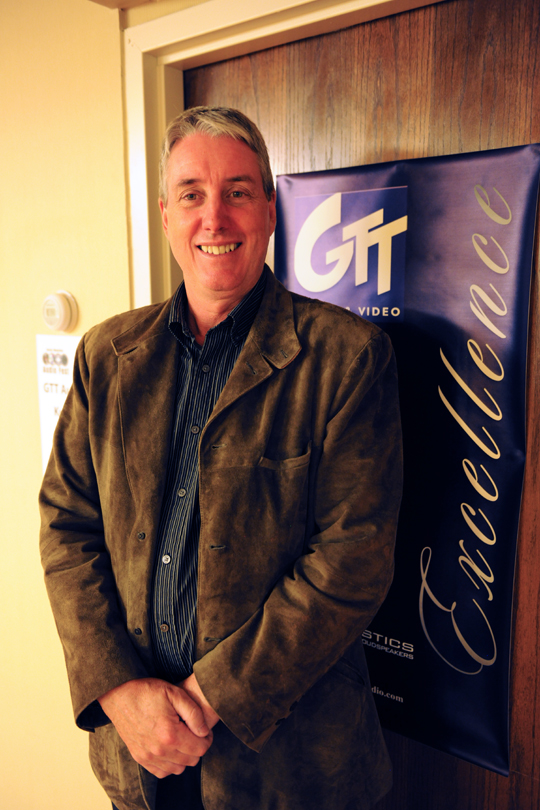 Jim Fairhead of Tenor Audio, a genuinely good guy.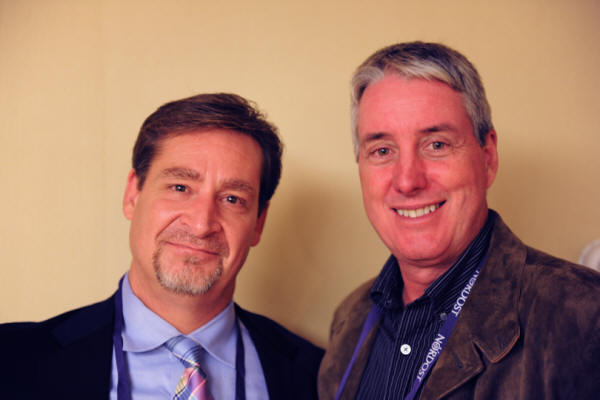 Dick Diamond of YG Acoustics and Jim Fairhead of Tenor Audio: hale fellows, well met!
As a tip o' the hat to my upcoming review of this tandem, I'll say that the synergy of these components from three different companies is as if YG, Tenor, and Kubala-Sosna were three divisions of one company. That's not impossible, but it's rare enough for me to comment on it. Those of you who are keeping track of where synergy lives should add this combo to your sheets.
No doubt about it: this is PFO Audio Oasis! Award country; their award is richly deserved.
Blue Light Audio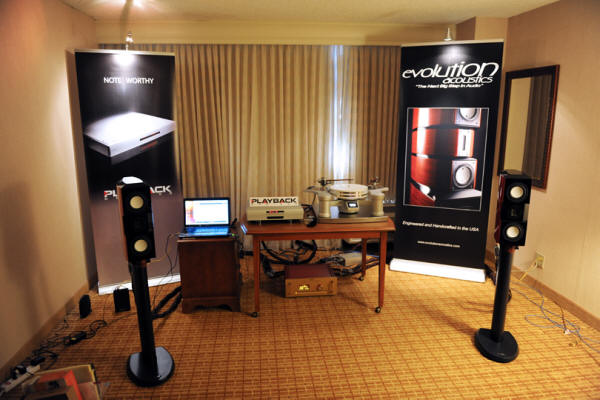 In the Garden of Delights: The Extraordinary Blue Light Audio room. There is far more here than meets the eye….
Once again, Jonathan Tinn and company had a room that was tip-top…no surprise, since Blue Light Audio has been doing this for years now. Every show that I've handed out my Audio Oasis! Awards, I've given one to Blue Light's room, because in every show Jonathan sets a standard for truly superb audio reproduction. Simple as that.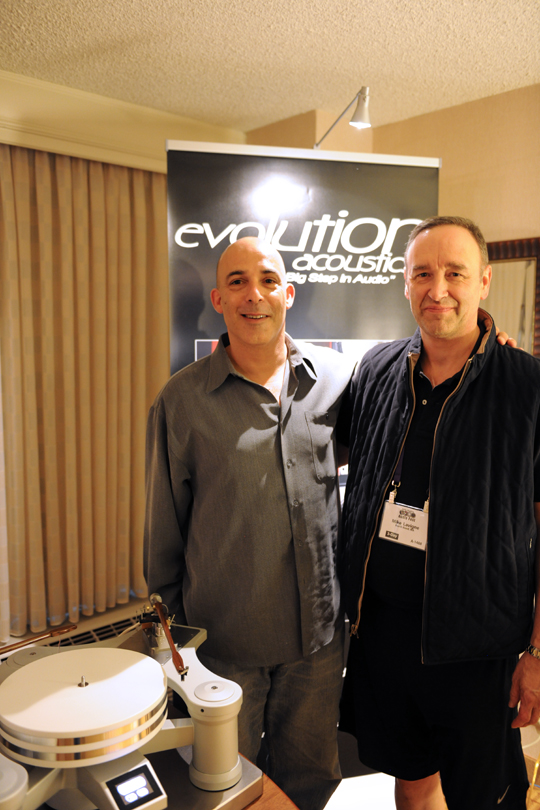 Jonathan Tinn and audiobud Mike Lavigne in the Blue Light room, standing next to the exceptional NVS turntable.
The rich array of sources in the Blue Light room was exceptionally impressive, particularly since the room itself was on the small side. Featured formats were SACD, DSD from hard drive (!), LPs, and open reel tapes provided by Bruce Brown of Puget Sound Studios. Maximum use was made of the room volume by Jonathan Tinn's use of his mighty-mite Evolution Acoustics MMMicro One loudspeakers, undoubtedly the most over-performing speakers in all of fine audio… and only $2500/pair, including the floor stands! The MMMicro Ones have been astonishing everyone who's heard them for the past year now. For bang-for-the-buck, they're unrivaled. Period. And since they are compact, the room wasn't overloaded with gear, despite the numerous sources being demonstrated.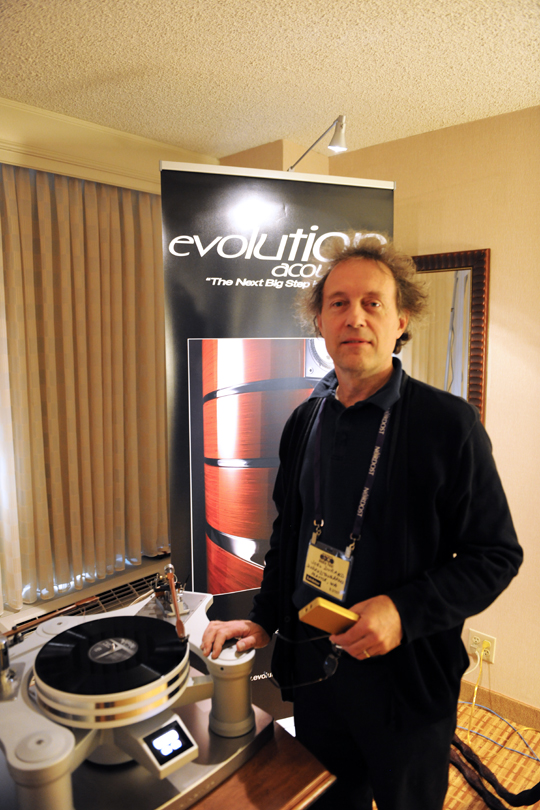 Joel Durand of Durand Tonearms… his work is magnificent sounding, and seductively beautiful!
Blue Light Audio Reference System List:
Evolution Acoustics MMMicro One Loudspeakers: $2500 per pair, includes floor stands
Evolution Acoustics DRSC Speaker Cables: $6000 per pair
Evolution Acoustics The LINK Reference 50 Ohm BNC-BNC Interconnect (for Playback Designs to darTZeel preamp connection): $6000
Evolution Acoustics TRPC Power Cord: $2000
Evolution Acoustics PC2One Power Conditioning Line Cord: $2000
darTZeel CTH-8550 Integrated Reference 250 WPC Stereo Amp with Phonostage: $20,300
Playback Designs MPS-3 CD Player with USB input up to 384 kHz PCM and 6.1 mHz DSD: $8500
Wave Kinetics NVS Reference Direct Drive Turntable: $45,000
Wave Kinetics A10-U8 Component Control System: $700 per set of four
Wave Kinetics 2NS Loudspeaker Interface System: $1600 per set of eight
Durand Tonearms Telos 12" Reference Tonearm: $14,500
Durand Tonearms Talia 9" Reference Tonearm: $8500
Ortofon MC A90 Limited Edition MC cartridge: $4200 (SOLD OUT)
ATR Services, Inc. Ampex ATR-102 Reel to Reel recorder: price by request to ATR Services
Puget Sound Studios 15 ips Master Tapes: not for sale
The Super Audio Center DSD Master Files for computer playback: not for sale
Overall, this is quite an amazing banquet of reference-level sources.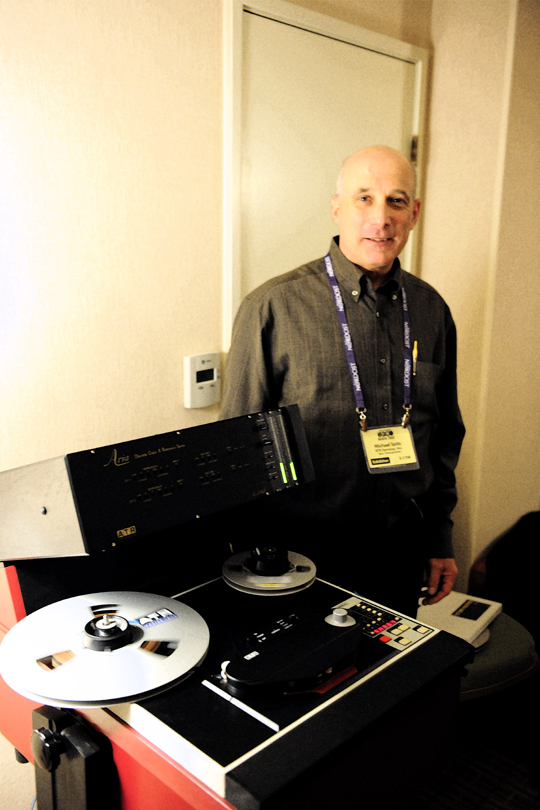 Michael Spitz of ATR Services with one of his Ampex ATR-102 tape recorders with custom Aria electronics… very tasty!
Also being demonstrated was the superb Wave Kinetics NVS direct drive turntable. Poised on its dedicated isolation platform, which seemed to detach it sonically from the underlying hotel furniture that it sat upon, and sporting Joel Durand's latest tonearm masterpiece, the 12" Telos with an Ortofon A90 MC cartridge, it produced incredibly fine LP playback. This turntable system produced absolutely first-rank analog reproduction, which was a mind-bender, given that bloody hotel stand. (I think that this was Jonathan's deliberate effort to draw attention to the quality of the Wave Kinetics isolation system…if so, it worked. I noticed!)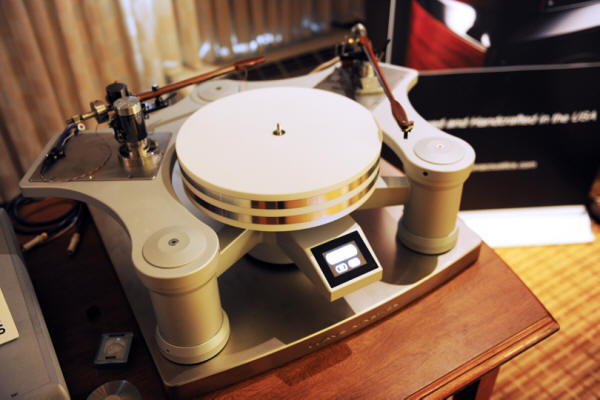 The NVS turntable with the 12" Durand Telos tonearm to the right; on the left is the Durand Talia 9" tonearm. The dedicated Wave Kinetics isolation platform is below, on top of the hotel stand. Unbelievably good!
All of the sound in this room, regardless of the source, was simply outstanding. Certainly a pair of the Evolution Acoustics MM2s could have given us more bass and a higher extension, but the MMMicro Ones sounded like speakers costing 5x-8x their $2500 price tag. darTZeel's integrated amp was another overachiever that simply cracked the whip on the MMMicro Ones… it's an incredible bargain in the rarified realm of world-class amplification. Transparent, clean, clear, and powerful signal pumping; I could be content with the darTZeel CTH-8550 for quite a long time. And the sources! The Puget Sound Studios/The Super Audio Center master tapes was a true delight; LPs were as good as I've heard in show conditions, and listening to Double DSD was mind-blowing. Mic feeds and master tapes for sure!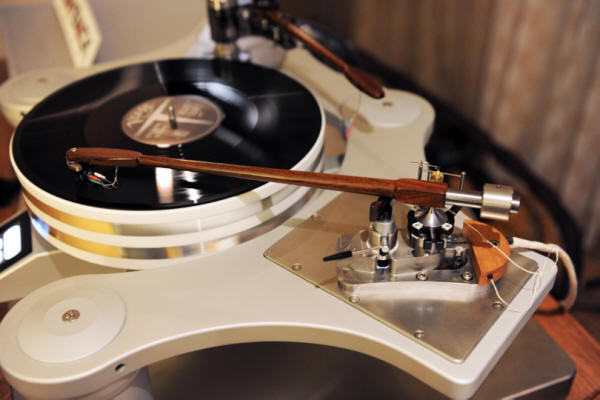 The Durand Telos 12" Tonearm.
Frankly, anyone who wanted to learn what the state-of-the-art in sources sounded like would have benefitted by spending some serious time in the Blue Light Audio room. Between this room and the Analogue Productions surround demo, Playback Designs excelled in every parameter, and every source was an audio education. (We could stand a lot more of that, eh?)
In sum, if you didn't make it to this room, you missed what the cutting edge in fine audio sounds like. Don't make the same mistake in the future!
This was certainly a hands-down PFO Audio Oasis! Award winner… again! And gladly given.
In Conclusion…
This year's RMAF was a great time for all of us from PFO who made the trip. Thanks to Marjorie Baumert and the entire crew there in Denver who worked hard to make this event happen so successfully once again. I've already got RMAF 2012 on my calendar for next October… if you're wise, and love great audio, you'll do the same!